Add WPML Language Switcher To Menu is the first step to having a multilingual WordPress website.
You should stake on multilingualization of your website. It is the original, having been made available at the start of the millennium, long before WPML WordPress 3.0 was even made public.
The one that has more than a million users worldwide quite a few people is very well-liked.
With Electronic Translation, the answer is yes because WordPress WPML Language Switcher is the foundational multilingual plugin for the WordPress ecosystem. But is it a plugin you can use on your website? This in-depth analysis of a plugin that has recently attracted a lot of attention will teach you that.
How To Add WPML Language Switcher To Menu In WordPress
A 6-step Instruction to Add WPML Language Switcher To Menu
Upon completion, a wizard will assist you in configuring the initial settings, which we'll go over in more detail just below.

Choose "Configure WPML" from the menu to get started.
Step 1: Select your site's languages
When you Add WPML Language Switcher To Menu of your website, you must choose the default language for it as well as the languages you want to support.
There are roughly 60 languages available, ranging from English to Spanish and including Welsh and Quechua.
Additionally, WordPress WPML Language Switcher allows access to regional tongues like Catalan and Galician.
If your choices have not yet been made, users can, of course, add or remove a language later.
For this test, the website has been translated into French and Spanish.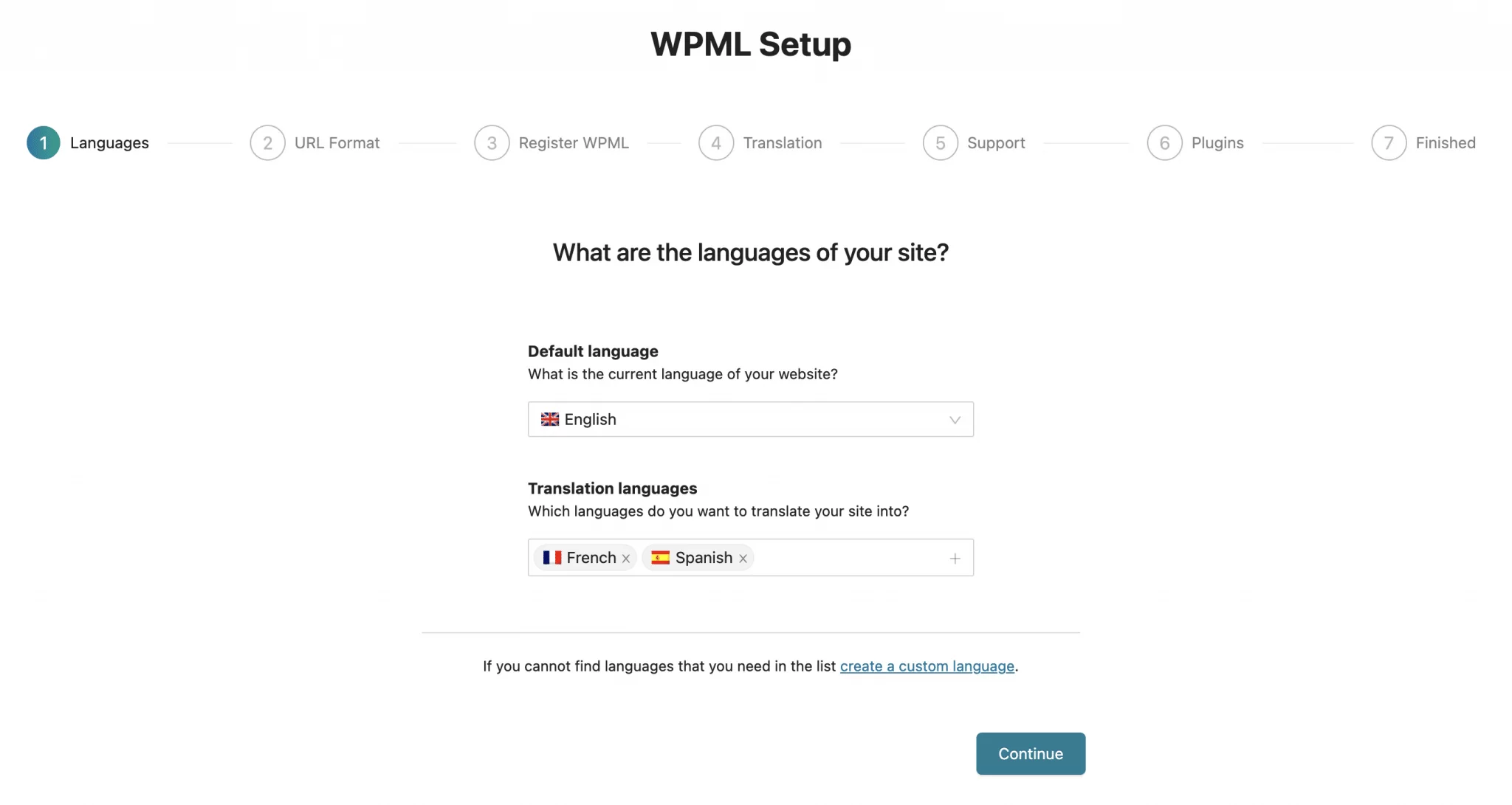 Step 2: Choose a format for the URL.
Three options are available from Automatic Translation WPML:
There are numerous languages in the directories. For example, businesswebsite.com/fr/ is the French version, and businesswebsite.com/en/ is the English version.
A unique area for each language. For example, Businesswebsite.fr for the French version and Mysite.com for the English version
When you Add WPML Language Switcher To Menu, the name of the language is added as a parameter. Use Businesswebsite.com?lang=en for English.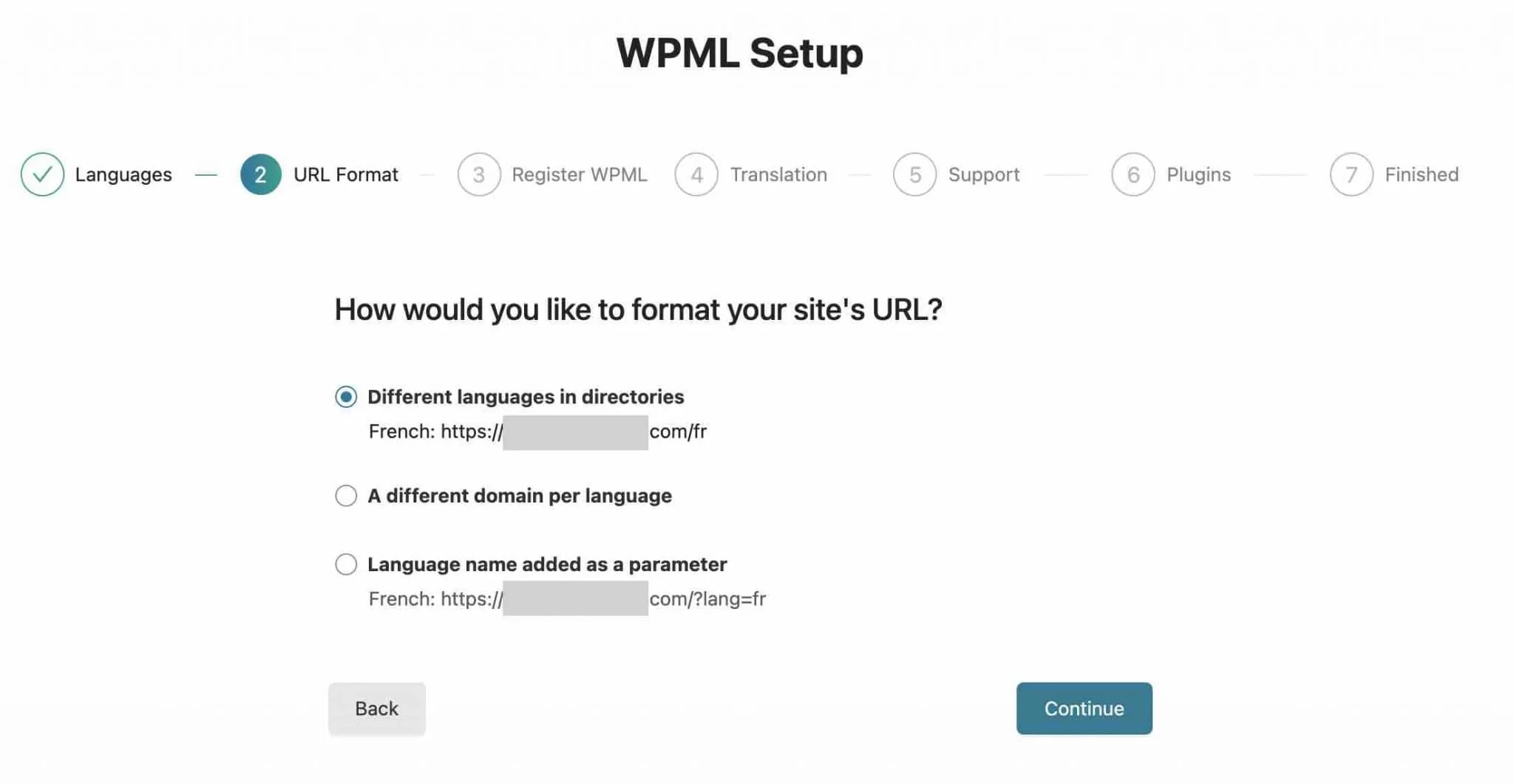 Which structure you select will depend on the task you're working on and your requirements. For example, Kiera took the decision to initiate a URL structure based on the directory name for the English version of WPMarmite, which is shown in the following format: https://wpmarmite.com/en/. Keeping the language slash, he kept the main domain name.
The "A different languages in directories" option requires that "your site's permalink structure be different from the default" (although you've probably already set that option), according to WPML Translation Management.
In this case, we suggest selecting "Post name" from the Settings > Permalinks menu.
Exercise caution if you decide to change the structure of your permalinks. It is intended to be finished as soon as WordPress is set up. The format of the URLs has changed, so if you do it later after you Add WPML Language Switcher To Menu, your content will need to be diverted and your visitors will receive 404 errors.
Step 3: Register with WPML
To receive the plugin's automatic updates, you must now register for your license key, which is typically a good idea, particularly for security reasons.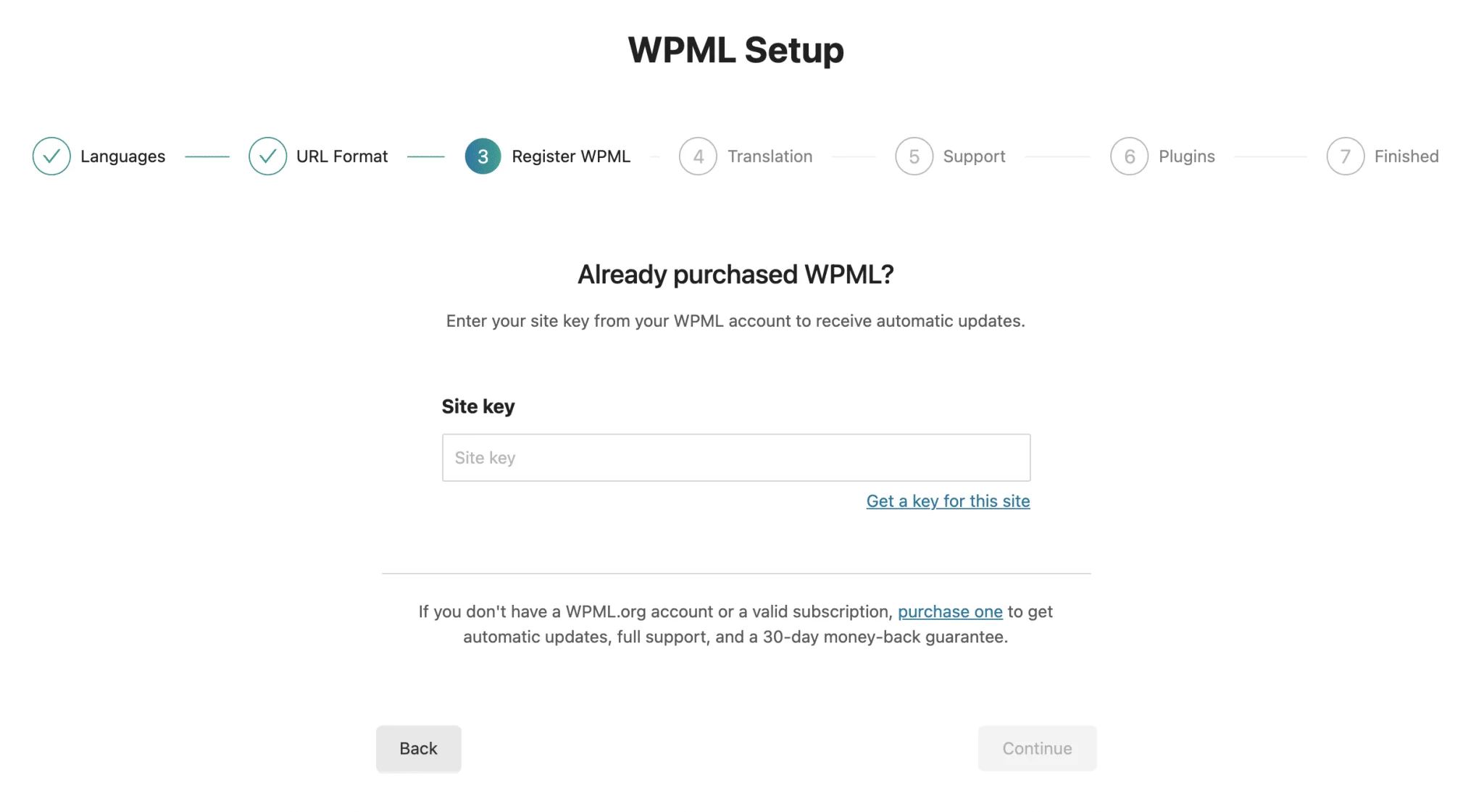 Step 4: Select a mode of translation.
In the fourth step, you must first choose how you will translate your website: Either all of the content will be translated automatically.
You can also translate specific pieces of website content if you don't want to translate the entire thing.
The content can then be translated by you, another user who acts as a translator, or a professional translation service, as you see fit.
Naturally, none of your choices at this point are legally binding.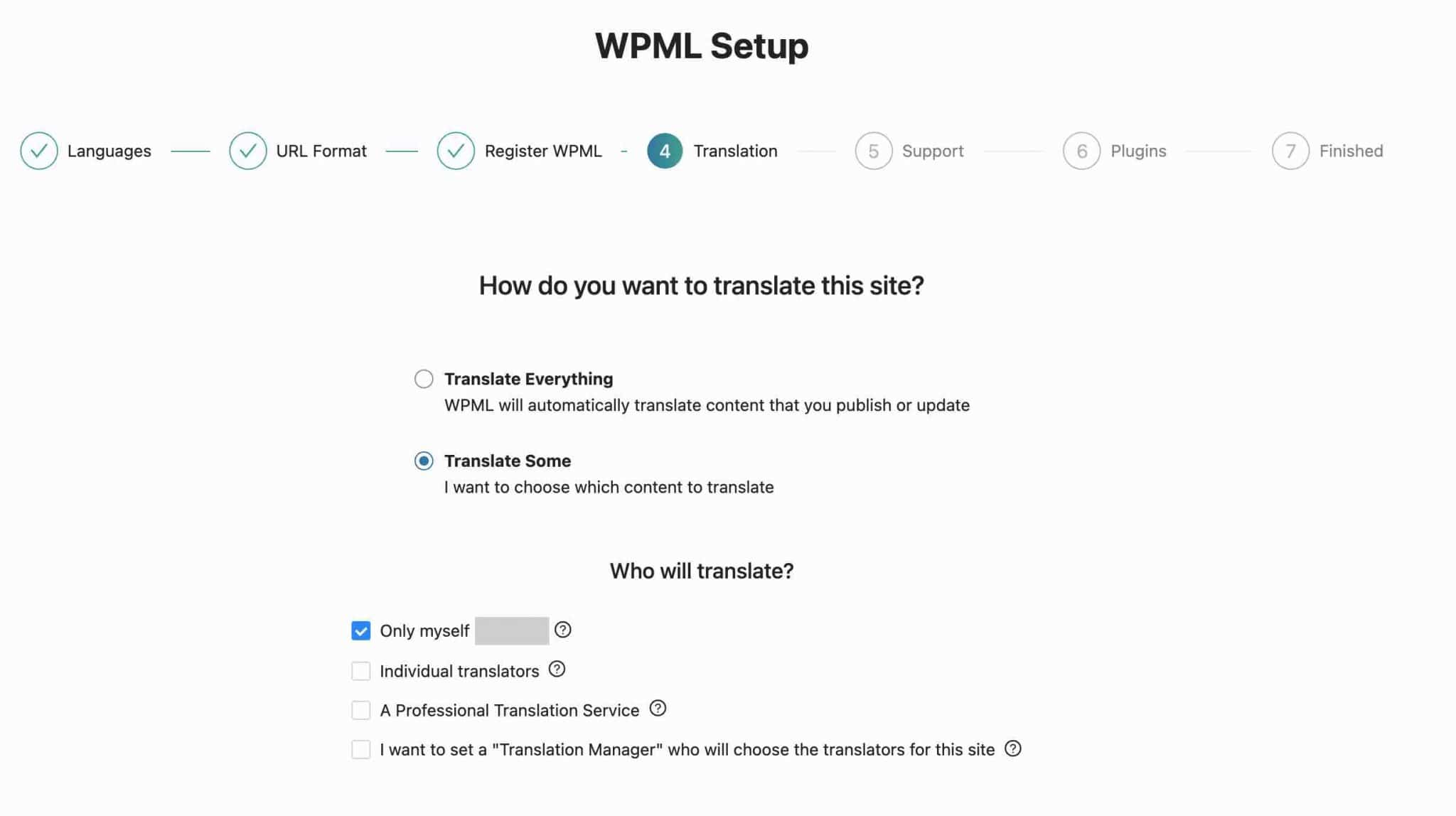 You can later change anything you want after you Add WPML Language Switcher To Menu. If unsure, leave the settings as they are.
Step 5: Create a technical support system
WPML now asks you to indicate whether you want to "send a list of the current plugins and theme being used on your site" in order to "help you much faster," "about potential compatibility problems."
If it applies to you, you can use this to choose the best option.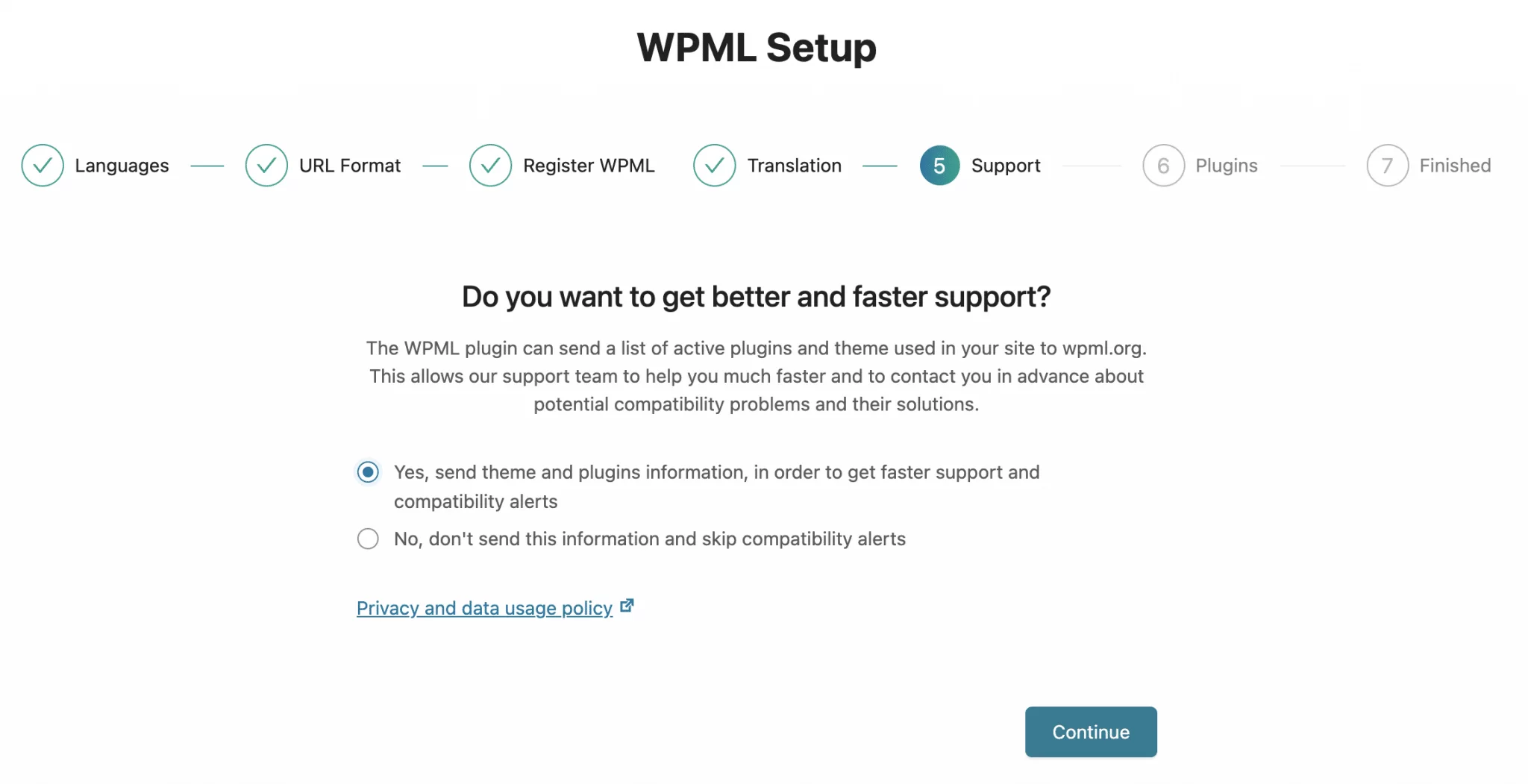 Step 6: Enable any WPML extensions.
The company suggests activating a few WPML add-ons to "translate strings, admin texts, media, and more."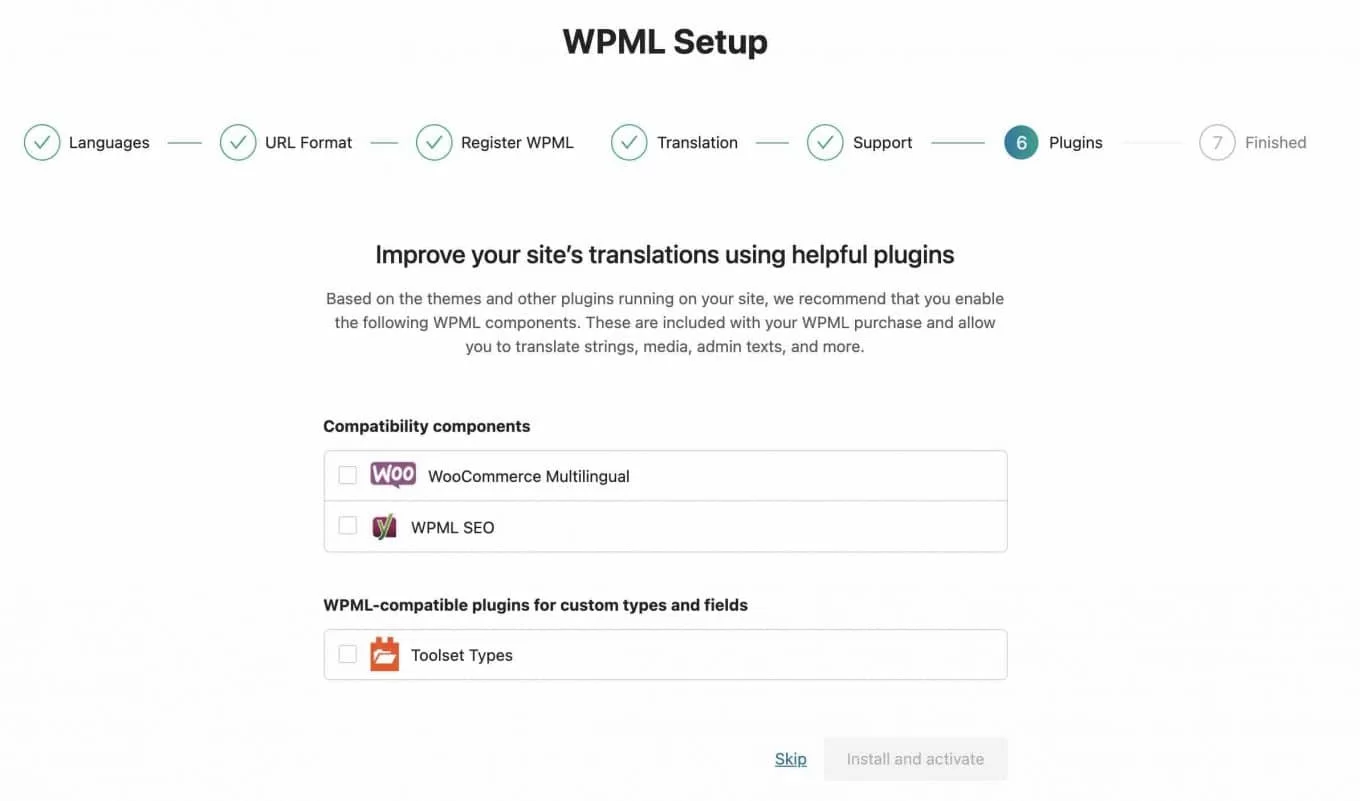 Once you're done, this excellent plugin guides you to the "Translation Management" drop-down list in your WordPress administration interface.
You can begin your first translation jobs here. The navigation bar to the left of your administration interface also has additional submenus (their number also depends on this plugin's modules you have installed, so it may be different for you). Here is a brief overview of them, down below.
After you Add WPML Language Switcher To Menu, you can easily Uninstall WPML whenever you want without any trouble or difficulty.
How to Use the WPML Plugin on WordPress after you Add WPML Language Switcher To Menu?
How to Use WPML to add and edit a language after you Add WPML Language Switcher To Menu?
WordPress WPML Language Switcher is made up of various modules. You can manage and translate the content of your website in a variety of ways. In this article, we'll manually create pages and posts in other languages.
Additionally, you can manually create pages and posts in other languages. This section will walk you through the simple translation process and demonstrate how to change your post in various languages.
One or more languages were typically added to the plugin's translation list during the configuration phase. If you change your mind, you can add or remove a language by clicking the "Site languages" link or the WPML > Languages menu item.

You can choose from the roughly 60 default languages provided by WPML by selecting the "Add/Remove languages" button.
By selecting "Edit Languages," you can manually make WPML Add Language a language if the one you want is missing. Select "Add Language" in the right-hand corner, then enter the necessary data.

You'll notice that you can take action on a number of them, including:
The code, is a value designating the language. An illustration would be "en" for English and "fr" for French.
The translation, or how the visitors will Get Current Langugage WPML.
You have the option of adding a unique flag or using the one that WPML has pre-selected.
Language's regional characteristics.
The encoded URL. If you're unsure, I suggest leaving the default setting of "No," as advised by WPML.
Google's required language code is known as hreflang. Leave WPML's suggested default language settings alone.

How To Use WPML to Add A Language Selector When You Add WPML Language Switcher To Menu?
How can you now make it simple for visitors to your website to Get Current Langugage WPML that they choice? By giving them a language selector, is the response.
Go over to WPML > Languages > Language Selector Options to do this. One can:
With a simple drag-and-drop, select the languages' appearance order.
The language that lacks translations can be hidden or redirected to its home page.
To alter the selector's visual appearance, add CSS code.
All language selectors you add will use the settings you set here.
Don't worry if you don't know CSS. You can use the menu with the same name to create your own custom language selector when you Add WPML Language Switcher To Menu.
If you decide to use flags in your language selector, you can alter their visual appearance without using any programming language by entering their height and width in pixels and, more importantly, by changing their colors (background, border, font).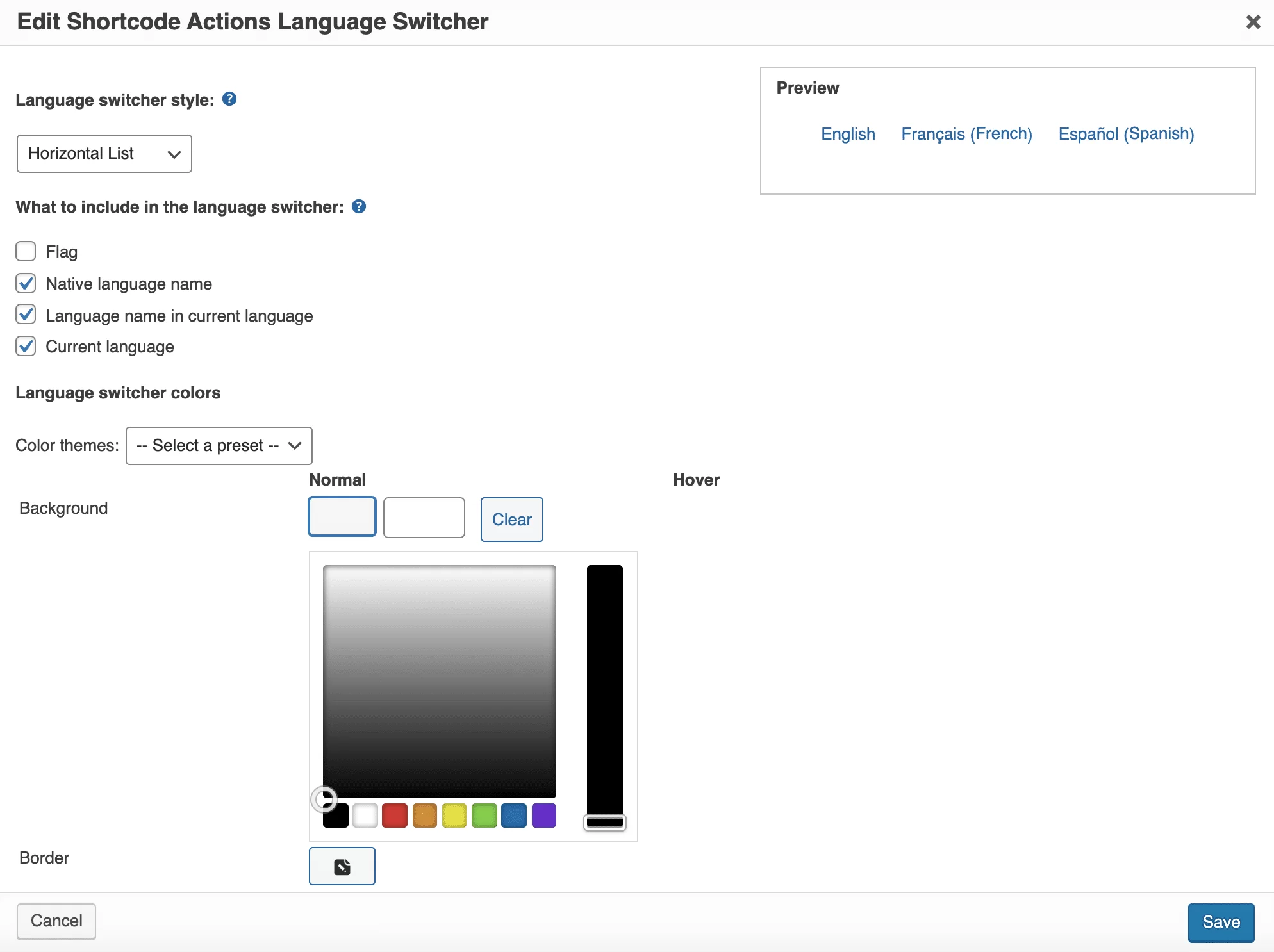 Flagging is frequently a first instinctive response. However, it's not always a good idea to display flags in public. Indeed, it is reasonable to assume that a Brazilian might not always click on a Portuguese flag. It is preferable to just click on the language's name.
How to Add Post in A Specific Language When you Add WPML Language Switcher To Menu?
Let's include a test post. Go to Post => Add New to do this. The post will have the title "My First Post" and a brief description. To publish the post on your multilingual WordPress website, press the Publish button at the end.
To change your current language or switch between languages, go to the panel on the right-hand side of WPML's Translation Editor. Once you publish the post, the available languages will be visible to you.
Select German from the Translate this Document menu and click the + icon to translate the post into that language. For your website, this button will handle the translation.
Change the post's current language to German after adding the German language to your Language Editor, then click Publish.
How To Add Different Types Of Language Selectors When Add WPML Language Switcher To Menu?
WPML gives you the option to add a language selector by default in 4 different locations:
In a list.
Around a widget.
At the bottom.
As a hyperlink, above and/or below your publications.
In the settings menu, each location has a unique preview that can be customized by selecting the pen icon.
This brings up the following window, which is highlighted: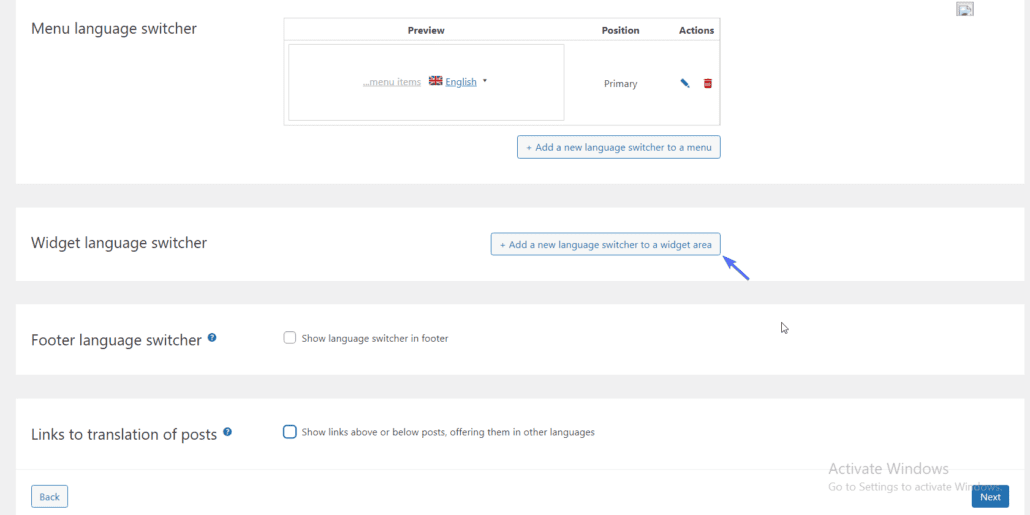 By including the shortcode [wpml language selector widget], you can also add a language selector to your content (an article or a page). Use the "Shortcode" block in the WordPress content editor and paste the aforementioned shortcode there to accomplish this.
How to hide the languages?
Finally, you can hide some languages from visitors and search engines while still viewing the content on your side if you haven't had time to finish and polish your translations.
This is a chance to work stress-free on your production:

The automatic translation of the whole site
As of the time of writing, the most latest ones of WPML (4.5, released in October 2021) offers a new function called "Translate Everything."
By going to WPML > Settings, you can activate it.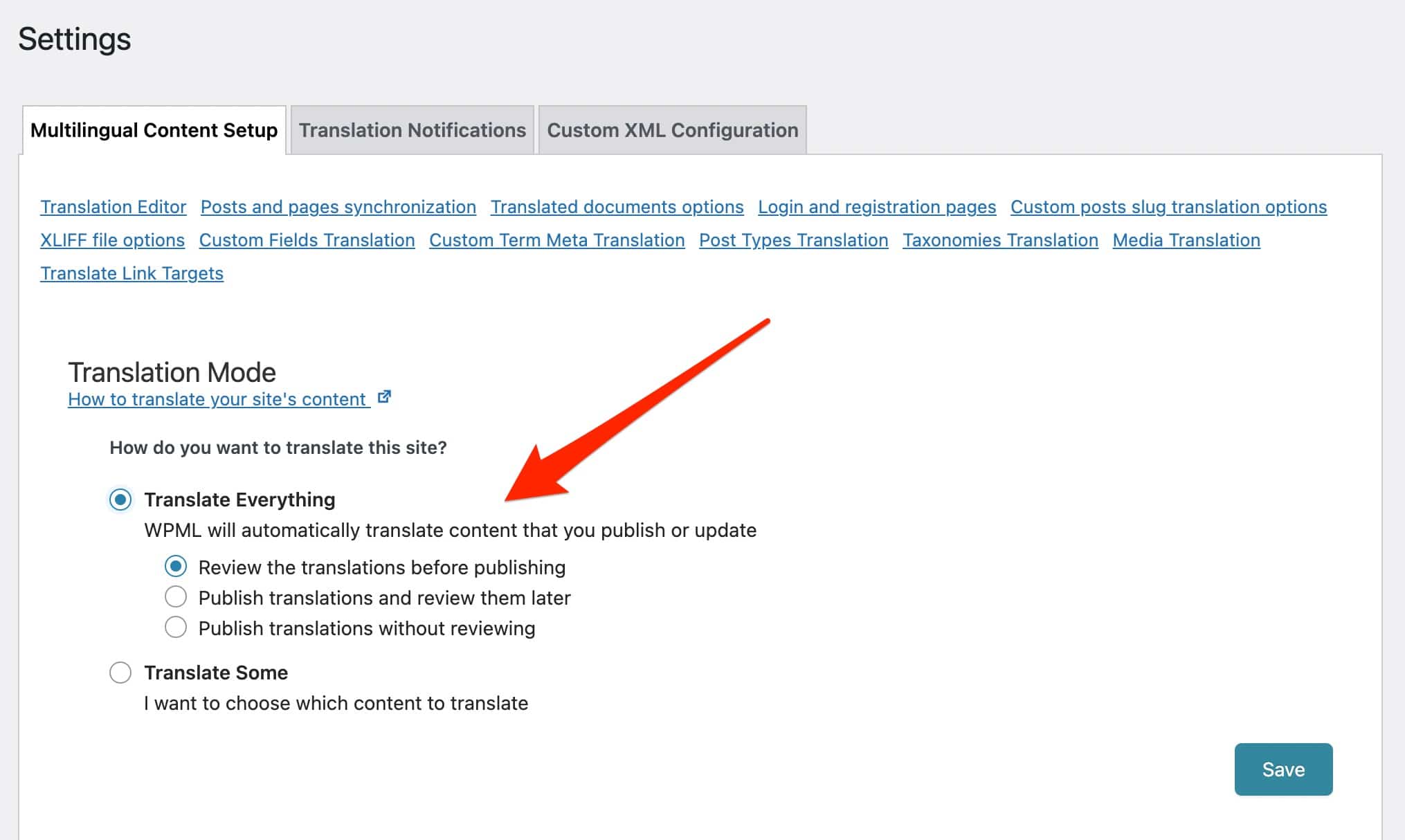 With it, you have two options for getting started: automatically translate both new content as it is created and all of your currently published content as soon as it is published.
Only translate new content automatically.
To use this choice, you must have a machine translation account, though. When customers Add WPML Language Switcher To Menu, each customer is given 2,000 credits per month, which are quickly used up if you don't produce enough content.
Beyond that, it is a paid service, with prices varying from the least expensive to the most expensive depending on the translation engine used: Microsoft Azure, DeepL, and Google Translate.
You can still decide what to edit even if you use the "Translate Everything" option. You can decide to: Before publishing your content, double-check the translation.
Post your translations for others to review.
Don't forget to check your translations before publishing them.
According to WPML, this feature enables translation of WooCommerce products, taxonomies, custom content types, pages, and articles.
However, WPML Add String Translation – the module must always be used to translate menus, form fields, and widgets.
According to WPML, "the context is generally not sufficient for the machine translation to translate them efficiently" in the latter cases.
What Is WPML Compatible?
According to WPML, "page translation using your preferred page builder is made simple."
In essence, when you Add WPML Language Switcher To Menu, WPML claims to integrate with the most well-known ones, including Divi Builder, WPBakery, LearnPress, Oxygen Builder, or Elementor.
By using pre-made templates, a page builder is indeed a tool that enables you to design intricate and detailed content layouts without writing a single line of code. Drag-and-drop editing frequently takes place in real-time.
We put WPML to the test using Elementor, the most widely used page builder in the official WordPress directory (5+ million active installations), in order to confirm this.
WPML states that in order for it to function properly, you must have both its base plugin and add-on module, WPML Add String Translation.
To accomplish this, I made a page and added a site template from Elementor that has English-language content.
To input data it into another language is the goal. As a result, once I'm on my page, I choose the "+" symbol for the French language in the WordPress content editor's sidebar: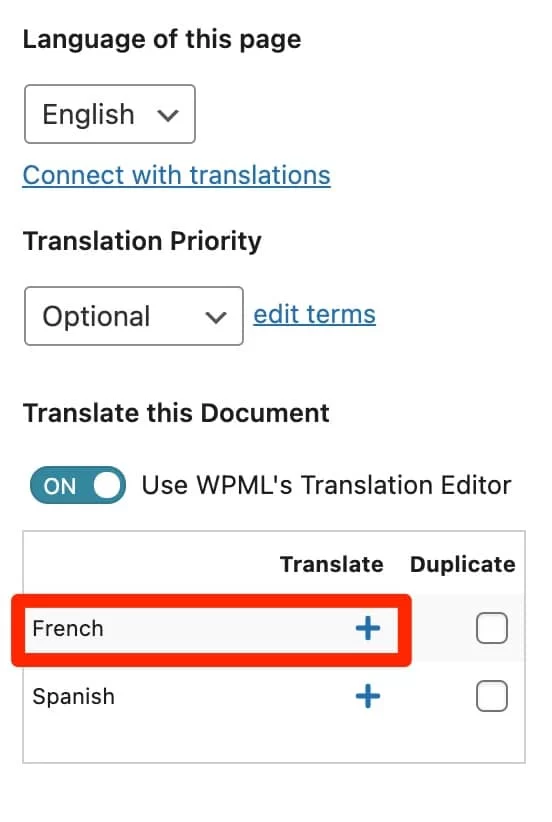 The Elementor template's entire content is then found in the WPML advanced translation editor (remember that?) (in English, then).
We ThimPress simply need to translate each text area manually (or automatically, if you have credits for that):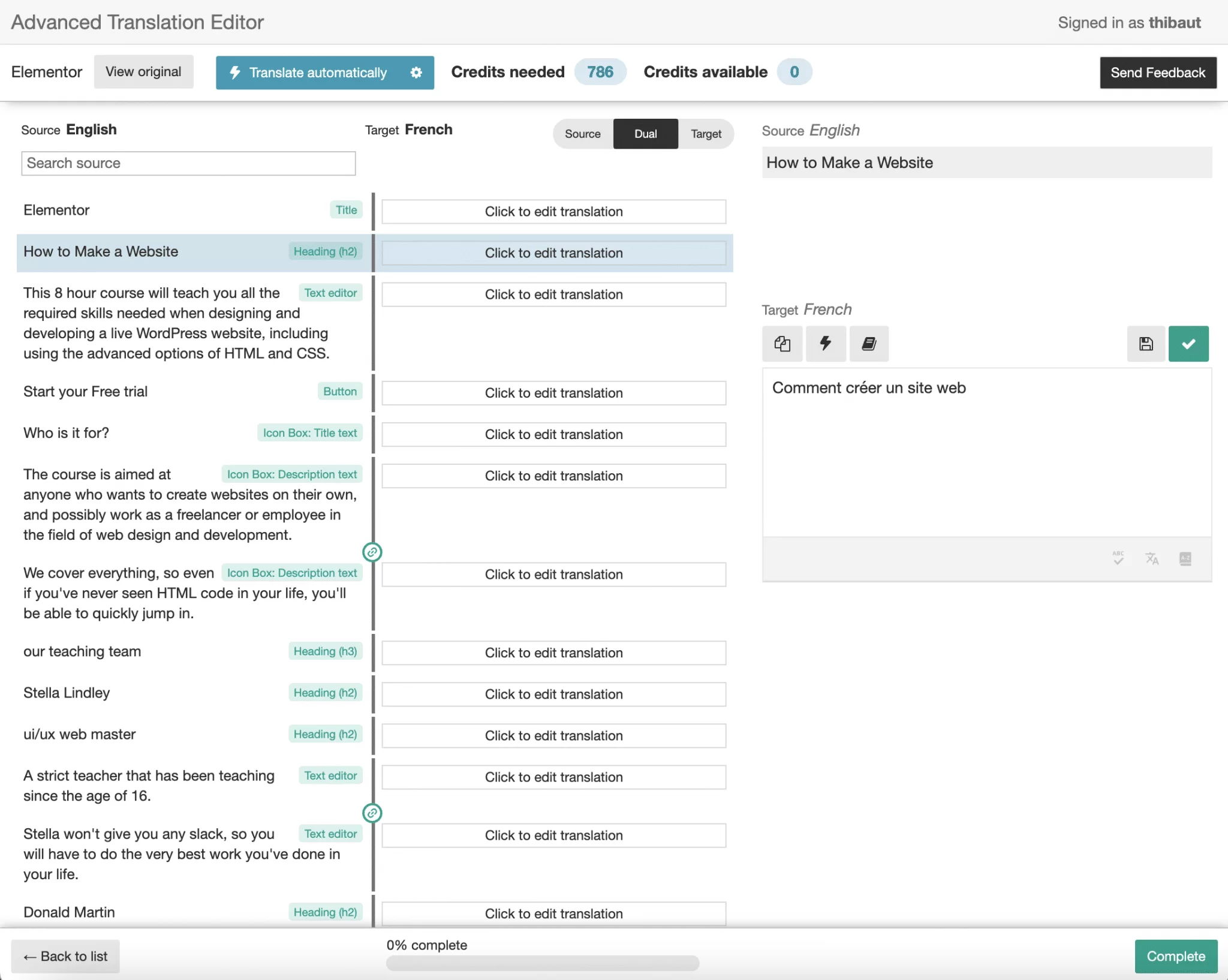 When you're finished, save your work and the French version of your page will automatically display the outcome.
Are WPML and Elementor working out for you?
OK. So let's move on to WooCommerce, another well-known plugin. Since it's active on more than 5 million websites, chances are good that you use it if you run an online store.
Additionally, you must translate all of your WooCommerce-generated pages, products, and associated elements if you want to make your store multilingual.
Conclusion
WPML WordPress is one of the top multilingual plugins on the market right now. After reading this article, you now have a thorough understanding of the WPML Plugin and how to incorporate it into your website. This is the right time for you to Add WPML Language Switcher To Menu. There are, of course, a lot more aspects of this plugin to consider. Besides, you also consider the direct rival of WPML – Polylang Plugin for multilingual WordPress websites. To keep up with news about this outstanding language plugin, follow ThimPress on all channels.
Read more: Polylang vs WPML Combats To Become The Best Multilingual Plugin Of 2023
---
Contact us, ThimPress:
Website: https://thimpress.com/
Fanpage: https://www.facebook.com/ThimPress
Youtube: https://www.youtube.com/c/ThimPressDesign
Twitter: https://twitter.com/thimpress