For an effective online presence, you need to create hype about your website. But what if you have just purchased the domain name and hosting, and your website will take a couple of weeks or more for complete setup? Every website needs a good start, and an incomplete or messed up site can disappoint the visitors. But if you are having a WordPress site, then there are plenty of plugins to save you from this. WordPress has many maintenance mode WordPress plugins that can help you set up a coming soon page so that visitors will know that you are working on it. At the same time, you can gain subscribers and display your social media handles.
In another case, your existing website need maintenance that can cause downtime. This might be because you want to change a theme or plugins, add new features, or any other technical issues.
In such cases, your site might display a blank page or errors. This can result in losing visitors and subscribers. But WordPress always has your back, providing you plugins to set up maintenance pages.
There are numerous plugins for setting up a coming soon and under construction page. We have curated the best ones for you.
1. Coming Soon & Maintenance Mode Plugin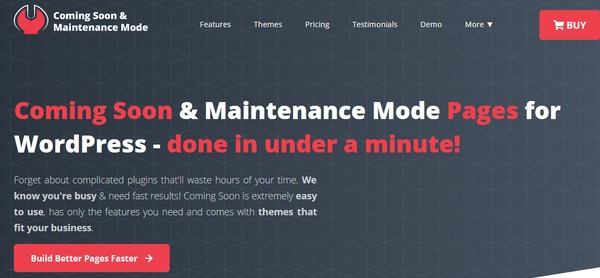 Coming Soon & Maintenance Mode Plugin is an ideal tool for creating a beautiful coming soon, under-construction or other landing pages without any coding. Aimed to eliminate the need for complicated software and enhance the user experience, this plugin provides a professional look to the pages.
It is fully customizable, allowing you to edit the themes and build a page as per the need. Believing into the proverb that an image is worth a thousand words, you get access to more than 650k high quality images for free.
When you go for website maintenance, it can affect the SEO of your website. Google and other search engines might not rank a website higher in search results if it is not working properly or facing downtime. Coming Soon plugin addresses that problem by providing built-in SEO setup along with the page.
The webpages pushed using this plugin allow your visitors to subscribe your site even when it is in coming soon or under construction mode.
Additionally, you can allow selected users to access your site rather than seeing maintenance page, by providing a secret access link.
This plugin is most appropriate for bloggers, developers, designers, enterprises, and users who conduct online webinars.
2. Under Construction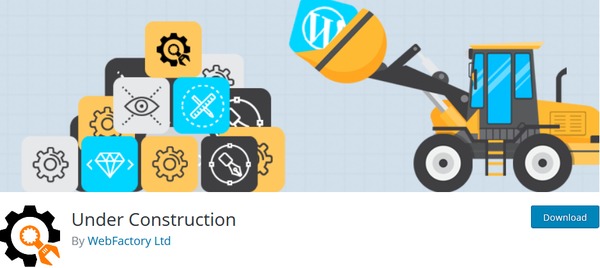 Under Construction is a simple, fast, and user-friendly plugin to hide the website behind a maintenance page. You can turn the under-construction mode on and off whenever required just with a few clicks. It allows users to schedule the maintenance mode to be turned off on a specific time and date.
On the under-construction page, you can display text and images of your choice, while choosing from a number of themes. To keep the SEO intact with the site even when it is in the UC mode, you can set page title and page description. Google Analytics will still be there for you for tracking the traffic.
You can show your social media icons like Facebook, Twitter, LinkedIn and more to allow visitors follow you there.
Additionally, you can whitelist the user roles, to show them the original website rather than the maintenance page.
The premium version provides over 50 additional features and options like drag and drop builder, advanced access control, and integration with MailChimp, Zapier and universal autoresponder.
3. Coming Soon Page & Maintenance Mode by SeedProd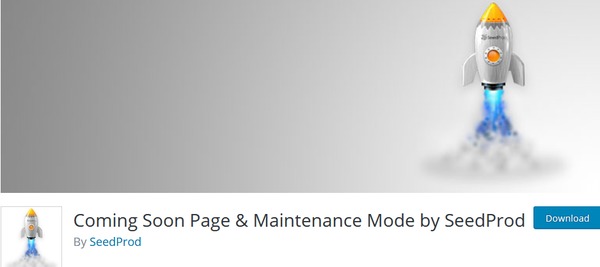 As the name suggests, this plugin is appropriate for setting up both coming-soon and maintenance mode pages while you work on your site. Working well with all the available WordPress themes, it allows customization of look and feel.
A responsive option, this plugin by SeedProd uses HTML5 and CSS3, and allows users to add custom CSS and HTML. It comes with support for multi-sites, BuddyPress, and uses best WordPress practices.
To unlock more features like social sharing buttons and integration with MailChimp, AWeber and such options, you need to upgrade to premium version.
4. Maintenance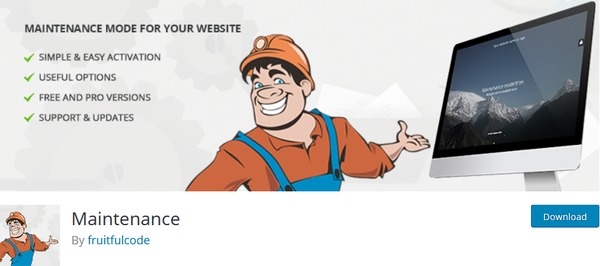 Maintenance plugin focuses on providing simplicity to webmasters while closing the website for maintenance. Since it comes with responsive layout, it looks better on all devices.
A highly customizable plugin, the Maintenance allows you to use full-screen background, apply blur effect on background, upload your logo, configure colors of fonts, icons, and background, add title, headline and text to match your brand identity.
These maintenance mode WordPress plugins allow you to enable and disable '503 Service Temporarily Unavailable' error and set temporary authorization page. You can edit authorization page from the plugin settings.
Additional features like user permissions, setting background video from YouTube/Vimeo, and more can be accessed by upgrading to premium version.
5. IgniteUp – Coming Soon and Maintenance Mode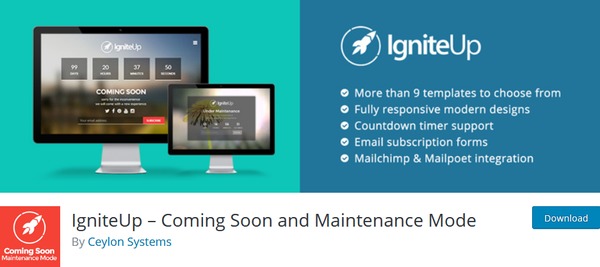 IgniteUp is another good plugin to let your visitors know that your site is in coming soon or under-construction mode. It comes with more than seven customizable templates.
Powered by Twitter Bootstrap, it is a mobile responsive plugin. Integrated with MailChimp and Mailpoet, it allows you to show email subscription forms and collect emails as CSV or BCC Text. For SEO, it notifies the search engines about the status of site using 503 responses.
6. WP Maintenance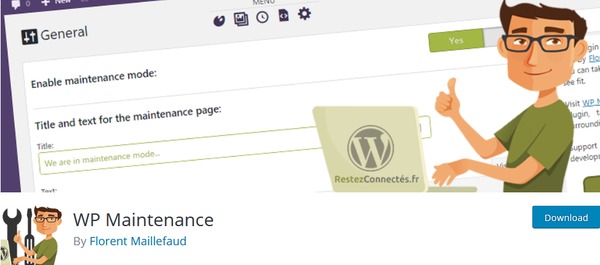 WP Maintenance is appropriate for putting your site on waiting time while you do the maintenance. With this one, you get choice over texts, colors, fonts, to customize the page and pictures.
You can upload your logo, background picture or pattern, and push social media icons on the maintenance page. It is ready for Google Analytics to track traffic.
Further, it allows you to choose access by roles and capabilities, IP addresses, and ID pages.
Wrapping up:
These WordPress plugins can be very helpful for the marketing of a website if it is under coming-soon or maintenance mode. The pages created using these plugins can display your message to visitors when you are working on your website.
Which one is best for you? Well, this depends mostly on your project, the traffic your website generates, preferences, etc.