Recently, we have just released a great LMS WordPress theme called Course Builder. Because of its wonderfully well design and new features and its perfect integration with the WordPress Learning Management System LearnPress, we are receiving more and more questions about the differences between Course Builder, Eduma, and Coaching WP. In this post, I will explain the main differences of these themes so you can choose your best Education WordPress Theme.
1. Theme Purpose
It seems like that all 3 themes are built for Education Websites and works as a perfect fit for Learning Management System Websites. However, each theme is built solely for each different purpose.
Therefore, below are some major differences in theme purposes for each of our themes:
Course Builder is only meant to build online course portals, learning management system for mid size – big eLearning projects with plenty of courses for
many different subjects. That's why course collection is highly invested in this theme. There's actually one Demo for Single Instructor or for a small group of teachers that has only a few courses. However, when we compare this with other demos of Eduma or Coaching, this is too little.
Finally, the theme's name is Course Builder | WordPress LMS Theme, so it focuses heavily on providing a better eLearning & Learning management system experience. Courses are better designed with better user experience, focusing only on online courses.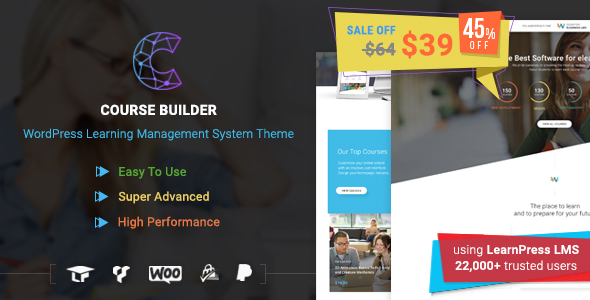 Coaching WP: As the name suggests, this theme is built entirely for Speakers, Life Coaches, Single Instructors, Mentors and Consultants and so on.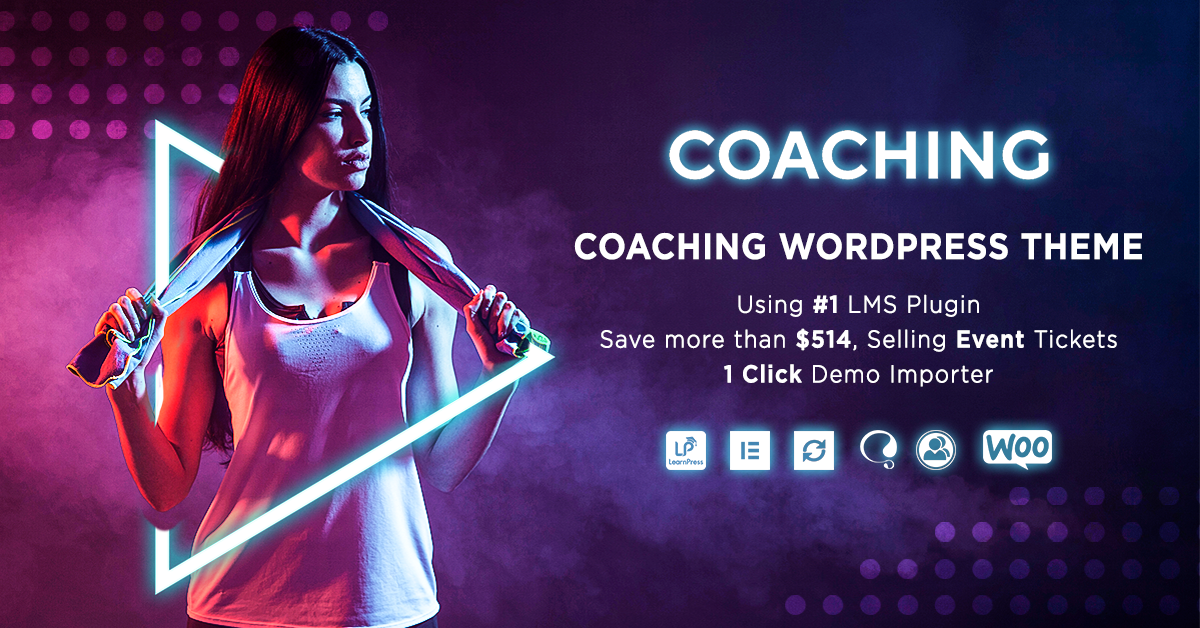 This theme focuses on showing promoting the name of the web owner and the range of service while remaining only a small portion of the site for eLearning because this is not the main focus of the theme.
Eduma: Here comes the champion! Eduma is the most multi purpose Education WordPress theme with so many designs, demos that could fit almost any purpose.
Unlike Course Builder, which mainly focus on providing a different eLearning experience, Eduma also have a mission of introducing Education institutions, the range of service in real life and also provide online training courses.

 

For example, if you have an offline training center where most actions and courses are done offline, you should definitely choose Eduma over Course Builder.
Besides, Eduma has demos for many fields that Course Builder does not have. For example University, Training centers, Kindergarten, and schools.
Especially, The amazingly beautiful Ivy League demo & Stanford demo pay only a little focus on eLearning and LMS and is still one of the most chosen demos amongst Eduma customers.
It is undoubtedly true that the differences in theme purposes lead to many differences in theme designs.
Because of these differences, you may sometimes compare one theme to another. However, we believe that each theme has its own beauty and because they serve different purposes, it's impossible to compare the beauty of one theme to another. While you may say Eduma may be better for University, Course Builder is better designed for eLearning courses and Coaching is more visually appealing for professional speakers, we consider that they are equally beautiful and well-design in general.
Let's talk more about how they are designed:
Because Coaching focuses on the Single key person who is quite famous and works with many other clients in the corporate world, the theme is designed in a corporate and traditional way.
If you pay attention to consulting companies that are working for Fortune 500 companies, they look just the same with a classy traditional and reputable look.
Also, Coaching is more likely to convert visitors to customers of your service if you are a coach, instructor or so.
For Eduma, it focuses more on Education institutions, training centers, universities, and schools so its design is a mix of modern styles and traditional styles.
In this case, tradition never means old and boring. On the contrary, Eduma's style is actually one of the major reason why it is the best selling Education WordPress Theme.
Because its design is familiar with the public, it brings a good impression to the site's visitors and they are more likely to feel comfortable with the site.
Recent new demos of Eduma like Ivy League and Stanford are being widely recognized by large education organizations and universities like …
Meanwhile, Course Builder is the definition of innovation. Course's builder is completely made purely based on the modern design style which is the current design trend.
Its style is quite new and amazing to some people. This could lead to the impression that the company behind the website is quite innovative and professional like current best startups.
However, because it's new, there could also be a chance that it's unfamiliar to some people but ultimately, it's the content of the site that matters.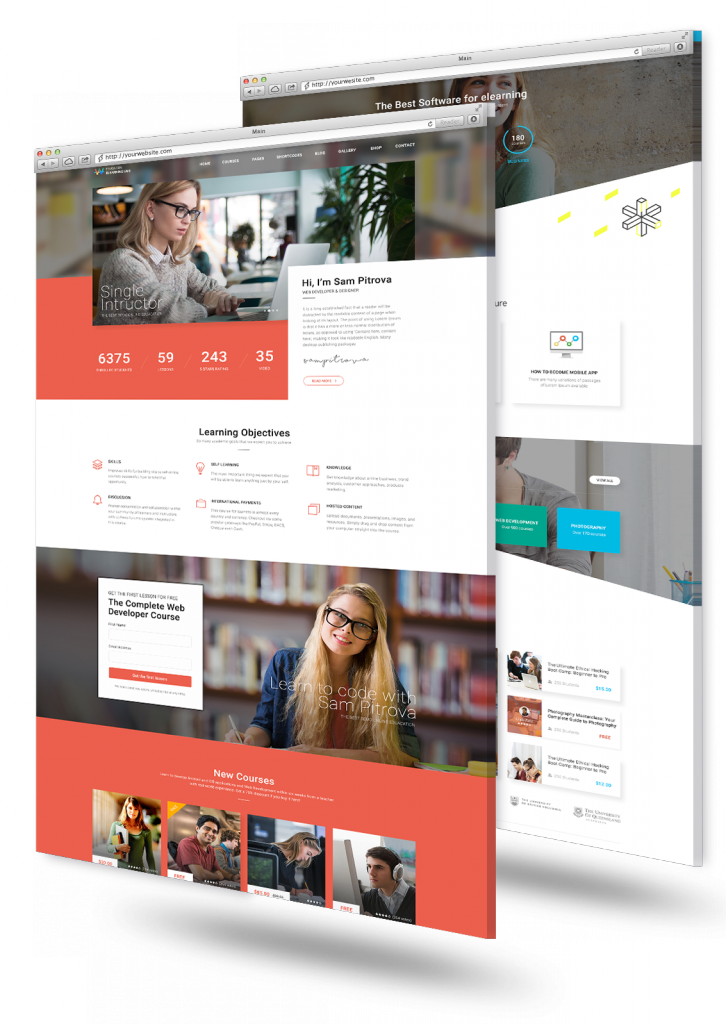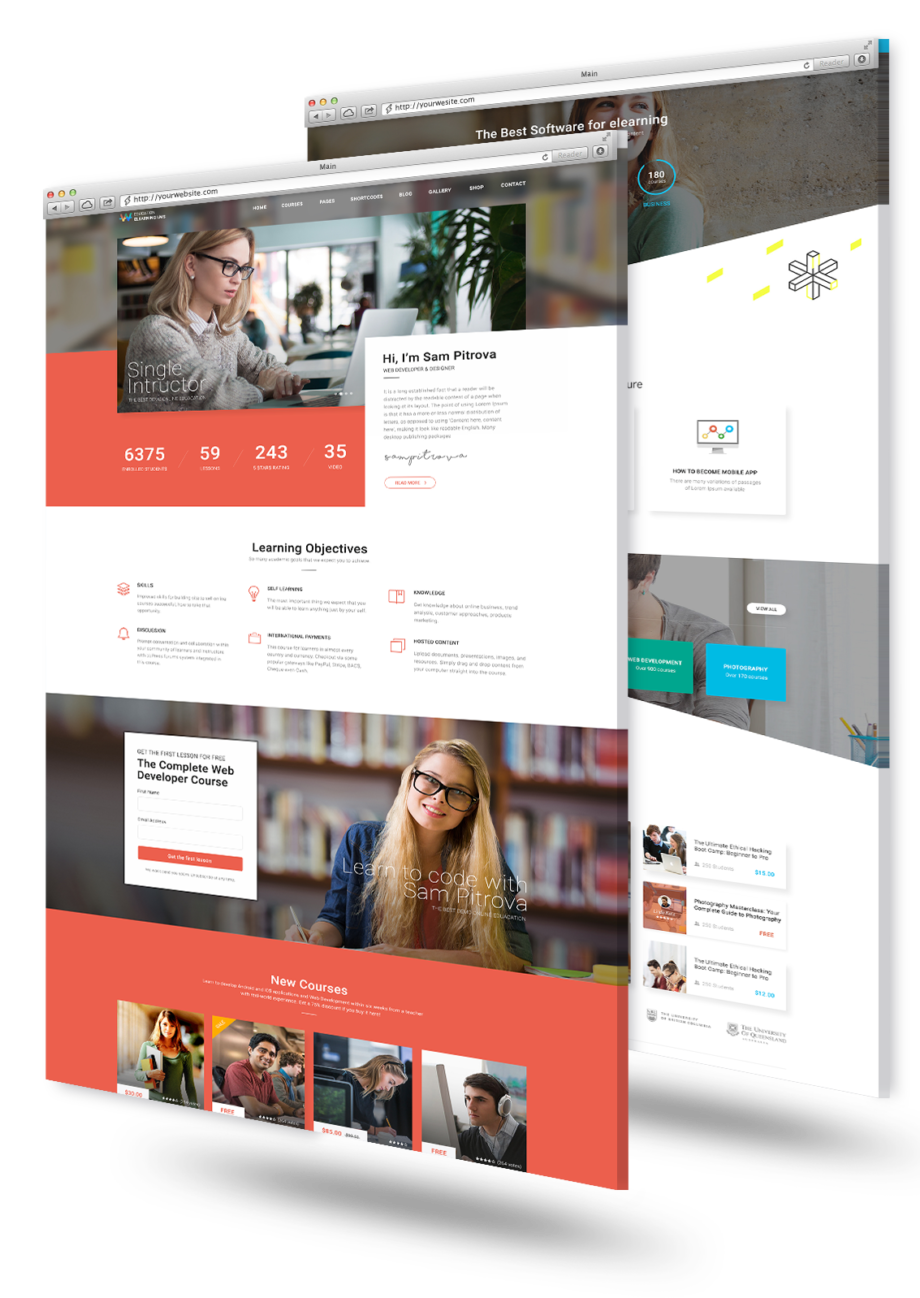 3. Theme Features
In terms of theme features and functionalities, there isn't much to distinguish the 3 themes. The reason is simple: They are all made of ThimPress's ThimCore WordPress processor and
However, compare to Coaching and Eduma, Course Builder has some new improvements that make it the best fit for eLearning and online education:
New Course Dashboard: After registration, course landing page will turn to the course dashboard where displays all information of the courses like course content, course activities, course announcements, etc so that students can focus on finishing the course without distraction.
New Course Payment Shortcode: Do you want to create your own course landing page design so you don't have to rely on the normal course landing page? Feel free to do it with this new payment shortcode.
New Course Announcement feature: This allows instructors to send email notifications and announcements to students for better communication. This is something new and only have in Course Builder.
And many more cool features you can find on the theme's description page here:
Finally, don't worry if you also want these features on Eduma or Coaching because they are incoming to these themes. Eduma and Coaching will soon have all the new features of Course Builder.
FAQ: How to migrate from Eduma to Course Builder?
Eduma and Course Builder theme share the same LMS features and functionalities, thus you can switch between the two without affecting LMS data.
If you already have your website using Eduma theme and want to change to Course Builder theme:
First, deactivate all the plugins on your site. Then install and activate Course Builder theme (instruction here).
Your site is now using Course Builder theme and current LearnPress data should be preserved, no more action needed.
If you have two different sites using Eduma on one and Course Builder on another and you want to transfer LearnPress data from one to another:
We provide a FREE plugin called Export/Import that helps to transfer LearnPress data including courses, lessons, and quizzes from one to another website. You can check the plugin usage here
If you have any trouble switching between Eduma, Coaching and Course Builder, feel free to contact the customer support on the forum and we will happily solve them for you.