The era of eCommerce
How eCommerce WordPress Themes are becoming more and more popular?
Nowadays, technology is developing significantly. And so does the commerce environment, especially in this period. The world is facing Covid-19, a horrible pandemic, not only because of its deadliness but also its affections on many aspects of the world.
Therefore, the economy is the most affected one: stagnant orders, companies' bankruptcy, worldwide unemployment… However, the economic aspect still finds a way to survive in this difficult time of the market economy: moving online.
Moving from direct-selling markets to online markets may be very difficult for many stores and shops when starting. Many things should be acquired and achieved for eCommerce and one of the most requisite is an eCommerce theme.
Why are eCommerce themes necessary? To the customers, when checking online markets for shopping, beautiful and eye-catching outlooking which are mainly websites, easily attract their impression and curiousness.
Therefore, the one that meets the expectation of most users is the WordPress eCommerce theme. The quality of WordPress online-shopping themes is affirmed from the beginning to the present moment. Based on WordPress users' experience and feedback.
WordPress eCommerce theme is a branch of the WordPress themes collection. This type of theme refers to using the Internet to buy and sell goods as well as carry out transactions of money and data. Online-marketing themes help retailers with advertising themselves online and reaching a wider customer base or even standing out from the crowd
Premium eCommerce WordPress Themes
WordPress e-trading themes are getting more and more popular, in parallel, people are demanding higher-level products. Due to that fact, authors are more promoted to create advanced WordPress e-business themes with more functions and benefits. We call those "Premium WordPress eCommerce themes".
Below are the profits of the premium version:
Partnership with WooCommerce
Compatibility with EDD plugin
Certain customizability
High-tech typography
Various colour options
Repeater fields
Amazing help from the switchboard
Partnership with WooCommerce
Co-operating with WooCommerce means the premium WordPress e-commerce themes are compatible with WooCommerce plugins. This is the most convenient part: you can get access and pay for the themes through 100+ payment gateways, which may satisfy customers from different countries and territories as they are limited by given liquidations.
On the other hand, making a hand-in-hand relationship with WooCommerce will also grab more range on online-business websites and search engines.
Compatibility with EDD plugin
EDD plugin is shorted for the Easy Digital Download plugin. With this tool, your themes' downloads are a lot easier. Not only that but this will enable your websites to be stored and advertised online.
Certain customizability
Since the selections of clients are different, this requires quite a lot of changes. All our themes contain hundreds of options to meet the need of most of them. With some clicks, your websites using our premium WordPress online-marketing themes are changed based on your taste of beauty without touching a code.
High-tech typography
The literal content is very important, and it is one factor contributing to the success of an eCommerce theme as well as the website using it. Understanding that, we adjust many functions on the font: changing font size, font-weight, and features involved in font changes.
Various colour options
With the intense width of fonts, our premium themes also provide various colour options. You can change the colour you have always wanted to give your web a better outlook and feeling. The colour list varies from basic colours to very complex-mixing ones.
Repeater field
Convenience plays an important role in using eCommerce themes for websites as the information must be kept up-to-date regularly. Adding the repeater field at the customizer panel of the web manager's account makes it so simple and convenient to add and update things.
Amazing help from the switchboard
Sometimes you might have difficulties in functioning webs or adjusting theme options. Don't worry about that, we have a team that can support you to configure our themes 24/7. Any problems involved in setting up themes or any related features will be coped with by our whole-hearted supporters.
Development Tutorial WordPress eCommerce Themes
Each online-marketing theme has its different features. Setting up webs applying WordPress eCommerce themes has become so attractive to entrepreneurs. With development tutorial WordPress eCommerce themes, you can go online with just some clicks without paying a lot of money, as well as gaining full control of your websites and adjusting as you want.
First of all, we start with the plugin. Our WordPress eCommerce themes are co-operating with WooCommerce Plugin. WooCommerce plugin is one of the most popular plugins in the world. According to research, 30% of all online stores apply this plugin. From hosted to open source options, the choices are various since when doing online business, there is no limitation of e-trading platforms to make selections.
Therefore, WooCommerce's percentage is the most obvious evidence of being the most suitable plugin for websites. WooCommerce contains limitless elements for its clients to customize their pages.
Not only endless features to adjust but it also provides web creators with a very important factor to start selling online: Payment gateways. With over 100 paying methods, customers surely assure them about their payments. Of course, they are very secure and safe.
The next factor in this is about the data or the resources on WordPress eCommerce theme selection. When applying our themes, we will provide a variety of popular and attractive one for you to pick up.
Last but not less, one of the reasons why ours are so popular is that we have WordPress security plugins. Besides convenience and a good outlook, safety is also very necessary for online stores to maintain their business.
Our tutorial WP online-business themes own some plugins that will protect users from online harmful factors like P3 (Plugin Performance Profiler), Login Lockdown, Sucuri, and many more. They are automatically set to prevent bugs and errors, as well as destroy viruses, Trojans, …
Best WordPress eCommerce Themes
We bring you some best ones for you to select, from simple to multipurpose.
Galax
Divi
Shoptimizer
Galax

Galax is an easy-to-use and modern WP eCommerce theme for making up e-stores. Because Galax is made around the WooCommerce WP plugin, it has everything you ever need to build up such a professional store to promote and sell goods. Whatever you sell online, you should have your websites covered by a very modern and stylish design, and Galax can give it all to you.
Looking into Galax demos, you can apply this theme for various types of stores such as furniture stores, shoe shops, or even technology ones.
Galax also provides you with many options for personalization. On the other hand, Galax's demo content has been made to be compatible with a lot of page builder tools, making it more suitable for you to personalize.
Divi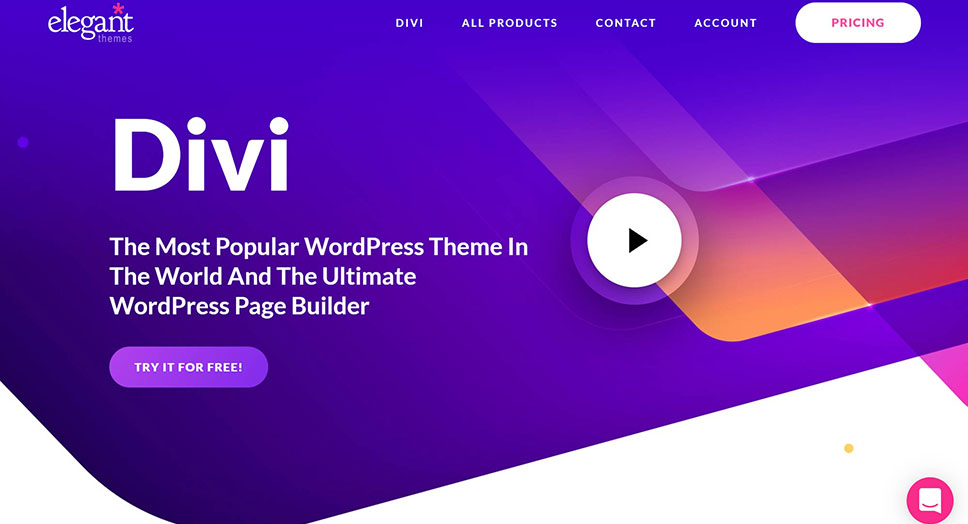 This eCommerce theme stands out from the crowd due to its page builder "the Divi Builder", which is drag & drop. The advantage here is that you can fix while designing layouts with limitless options.
If you want to go a straight path, we have many pre-built layouts, commerce fonts, pages' coverings, and more. Due to the strength and popularity, you can rely on this theme as many other users have used.
Shoptimizer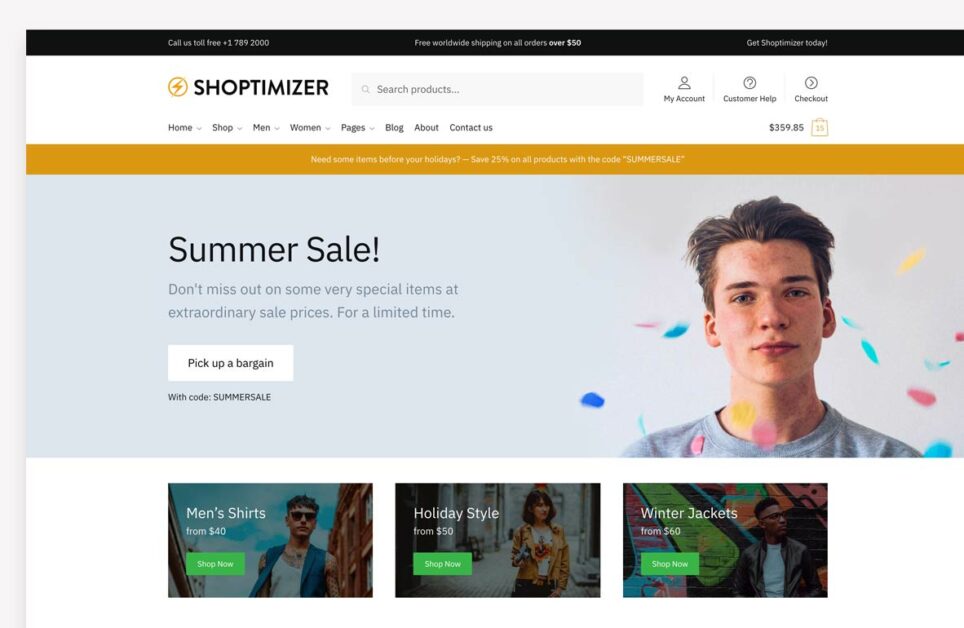 Right from the first look, Shoptimizer has given us the feeling of professional and interesting that a WP eCommerce theme should bring the customers in the first look.
This theme is built based on 2 main objectives: speed and conversions. 7% reduction conversion for a delay of 1 second, Shoptimizer easily covers that negative consequence by the ability to automatically minify the site, contributing a significant melioration in loading times. This results in keeping the customers as they don't have to leave the page due to long connections.
Surprisingly, this theme is especially well-designed for mobile edition, which has good results in search engines as Google or Bing will list them as "mobile-friendly" and suggest them at the start of the search.
Conclusion
This list can be used as indeed information for retailers to start their businesses online. The WordPress eCommerce themes collection has limitless themes for you to choose and complete your websites.
By looking at their demos, you can imagine what they will look like when applying to your websites. If you begin selling online, you can rely on us and our WP eCommerce themes to bring your website's popularity and success you've always dreamed for.