Even though LearnPress learning management system has long been a great LMS for every instructor, it still has a few missing pieces. One such of that is the feature to let instructors create and manage courses right from the frontend. However, with the launch of LearnPress Frontend Editor Add-on, this is no longer a problem for us. The newly built add-on is even built with the #1 Javascript framework VueJS, making it a great and powerful add-on. This brings a new world of possibility where instructors could be more flexibility in creating and managing their courses. Let's take a deeper look inside what this new add-on has to offer you.
What does it do
In short, it lets you create a new page for instructors to visit from the frontend where they could create and manage your courses without having to access the WordPress Admin Dashboard (wp-admin). This way, you can restrict people from accessing your site's admin dashboard, making it a more safe and secure place.
Besides, creating and managing courses from the frontend is now easier and faster. Because we are employing VueJS for this Frontend Editor Add-on. VueJS is the #1 Javascript framework for frontend. It is a new technology that has seldom been used for WordPress. By adopting this new technology, we are pioneering into making great changes to the WordPress structure to bring you a better, faster experience. Therefore, creating courses with this add-on will be a swift experience for any new instructor even though who are not very familiar with WordPress.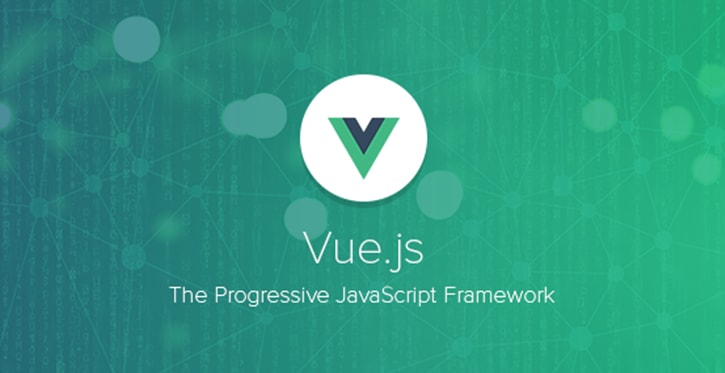 As LearnPress LMS is built with great UI/UX, this frontend editor add-on also comes with a great user experience design, which definitely will help you speed up your course creation process. Course content and course' settings are separated into different sections. All the settings are also set in a default value that will fit the majority of course makers' situation. Therefore, your instructors will have better chance to focus solely on making and crafting the perfect online course using LearnPress.
How To Use Course Frontend Editor
First of all, you will need to purchase the add-on here.
It is included in the LearnPress PRO bundle so if you have purchased the PRO bundle in the past. You can check your download section to get the add-on.
After that, just download it and upload to your website.
You will be asked to create a new page (so that every instructor can access it to manage their courses)


Simple as that and you are ready to go. Your instructors can then go to that page to manage their courses from frontend.
Below are some screenshot of how the frontend editor will look like on your website: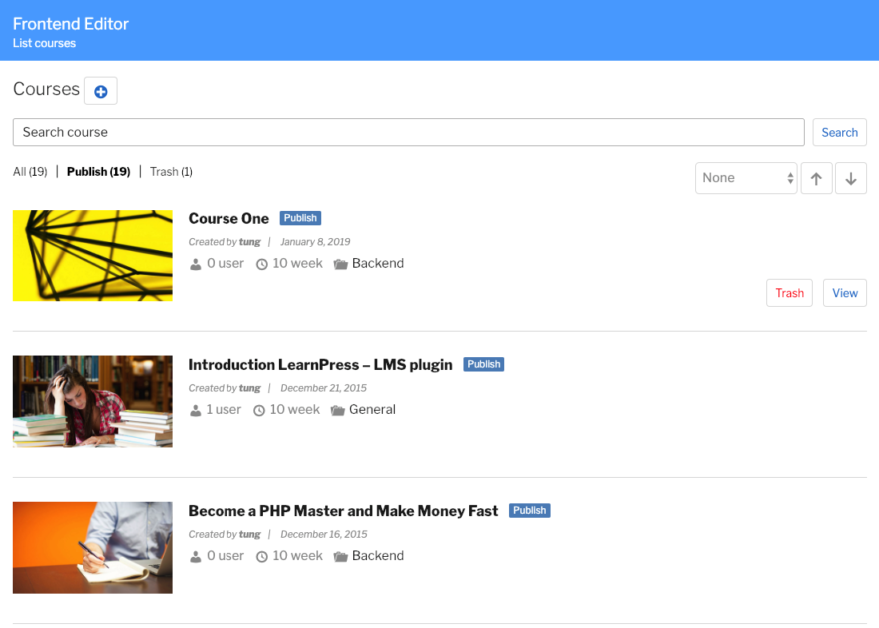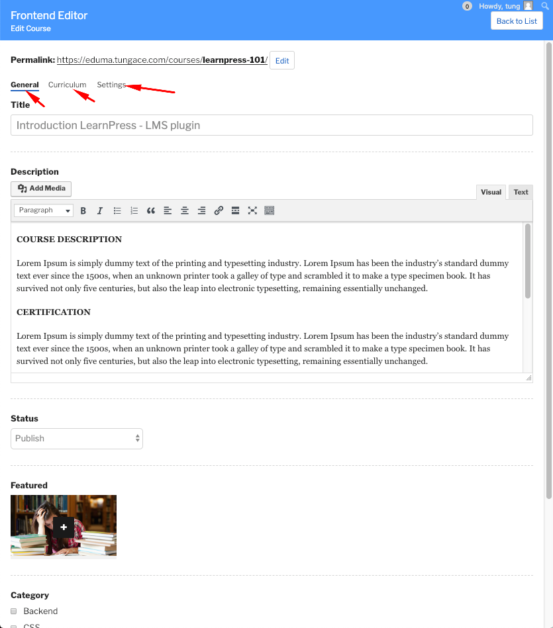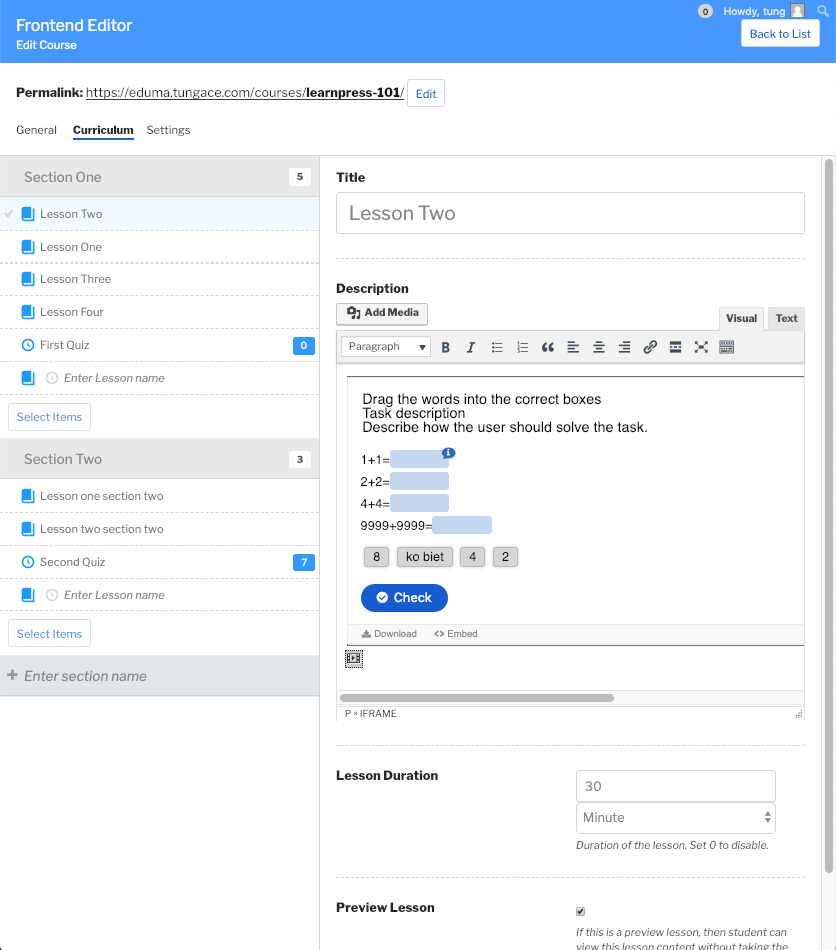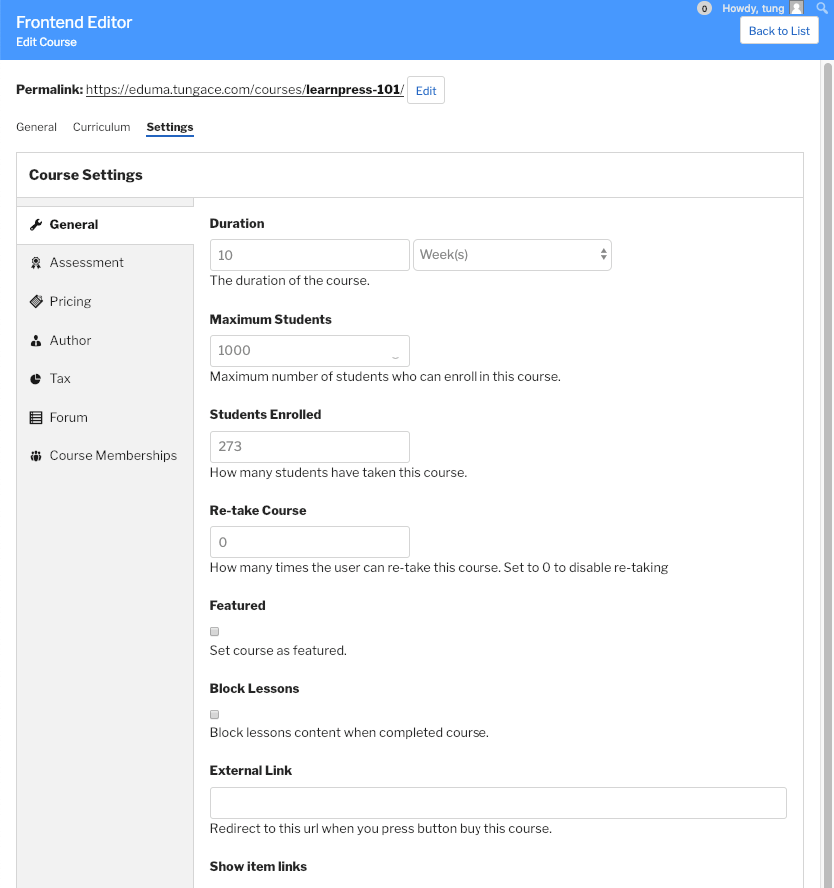 While using this add-on. If you need any technical support for this add-on, please create a support topic on our support forum for Premium LearnPress add-ons here so we can help you out: Premium LearnPress Support forum.
Read more WordPress Plugins: LearnPress add-ons for eLearning Websites