How Frontend Editor Add-on for LearnPress works
Allow instructors to create and edit courses right from the front-end
To improve the site's user experience, the Front-end Editor Add-on for LearnPress let instructors create and edit LearnPress courses right from the front-end without having to access the WP Dashboard.
Front-end Editor Add-on will create a new page from the front-end where instructors can use to start managing and configurating their courses. This page will only let instructors to change and manage what they are authorized to without being able to see other settings of the website. This will help a lot with your site's security and also help improving the user experience of your website. The front-end editor page is light weight and very easy to use.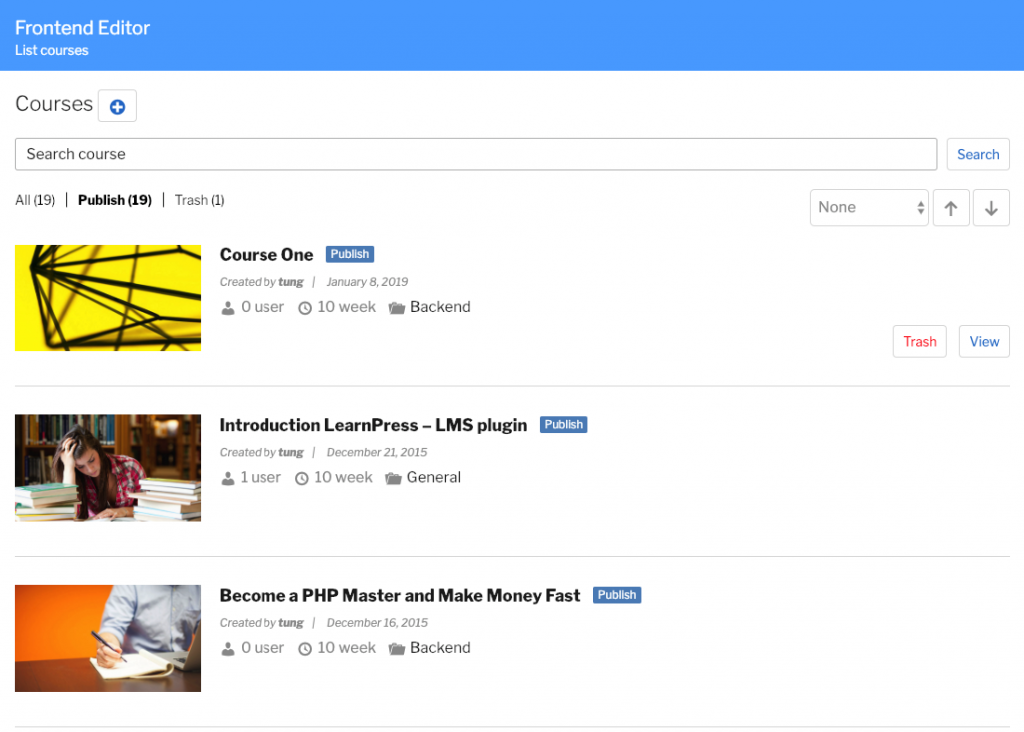 How to Create and Setup Frontend Editor for LearnPress with this Add-on
1. Download and Installation
Download and Install
Required Paid Membership Pro plugin. Download it for free on wordpress.org
To download Paid Membership Pro integration, visit 'My Account' on thimpress.com
Click 'Orders' and 'View' your order
Under 'Order Details', download the latest version of the plugin
 Install and activate both Paid Membership Pro plugin and Paid Membership Pro integration as following:
Visit 'WordPress Dashboard > Plugins > Add New'
Click 'Upload Plugin' and choose the plugin zip files that you just downloaded. Click 'Install Now' to start the installation process
After plugin installed successfully, click 'Activate Plugin' and you will be notified that the plugin is activated
The plugin is shown as activated and ready to use



 
2. Create a Frontend-Editor Page and Set it up
After installing and activating the Frontend Editor for LearnPress LMS successfully, you will need to go to your LearnPress settings to create the Frontend Editor Page so your instructors can access it. To do that, please go to your WordPress Admin Dashboard > LearnPress > Settings > Frontend Editor

Then, Create a page by typing the name of the page in the Dashboard Page setting. In this example, I used the page title "FrontendEditor-Page". You can use any page title you want. You can only use the title in your language. Then click on OK[Enter] to create the page and click on the button Save Settings to save it.

Then, it's done, you can access the page from your top menu: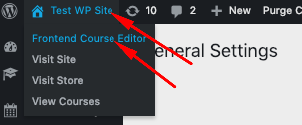 Here's how your Instructors will see in real life
1. All Course Settings on Frontend
The main page displays the number of users to the course, some basic information about it and it lists all the courses available that the instructor can manage. You can also search and do some course filter here.

2. Single Course Setting in Frontend Editor
There are three main Tabs in a course editor:
General Tab: Where we configure some general settings of the course like the title, description, feature image and category, etc.
Curriculum: The curriculum of the course, where you add/remove/edit course's lesson and quiz.
Settings: Basic settings of the course, and most importantly, the settings with other LearnPress add-ons.

General Tab

Curriculum Tab

Setting Tab