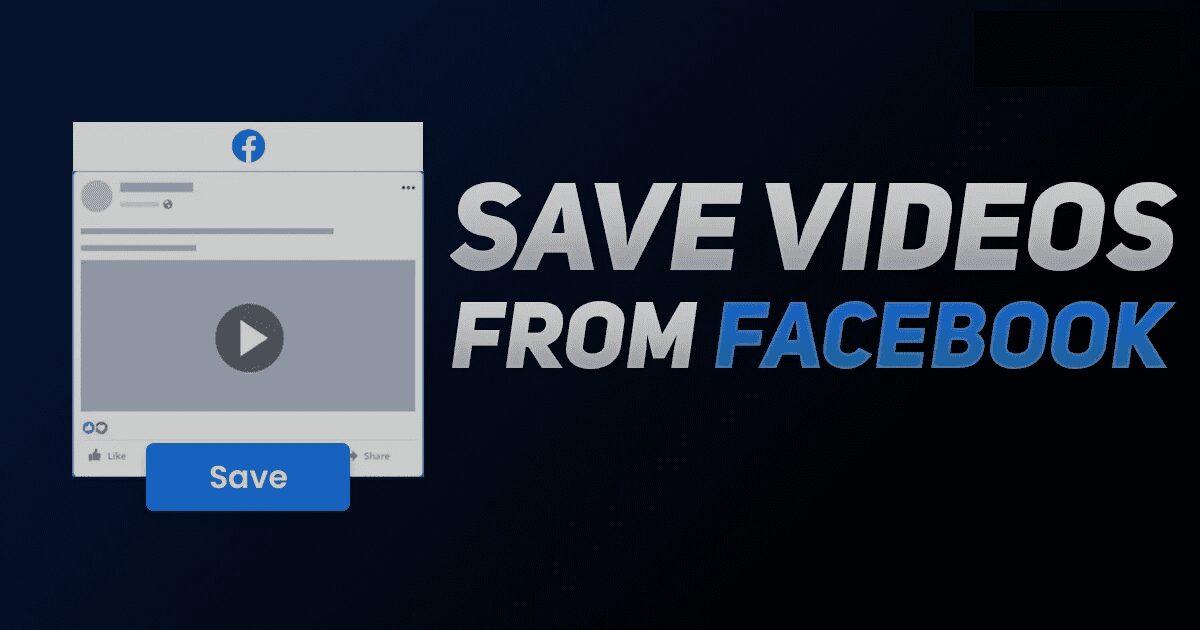 Most of the time, when you scroll through your Facebook profile without any purpose or reason, you can realize how addictive and compulsive it has become in your everyday life. So, if you want to save any of your favorite Facebook videos for later or offline watching before getting straight to the FB video saving or downloading process, let's have a quick look at why you even need to Save Facebook Video to iPhone.
Enjoy FB downloads without the internet anytime, anywhere, on any device.
Take a backup of the FB videos before it leaves the platform.
Refer to the downloaded video for personal or professional purposes.
Get inspiration and ideas for future video-making processes from the video.
Downloads are easily shareable and transferable to any device of your choice.
Watching downloads repeatedly is cost-effective for saving internet expenses.
Download unlimited videos without any restrictions.
Let's learn how you can save Facebook video to iPhone in two ways for later watching.
How to Save Facebook Video to iPhone with a Built-in Screen Recording Option?
While using your iPhone, if you are searching for an option to download a Facebook video, you can easily do that with the built-in screen recording feature of the iPhone. Without depending on any separate software, you can save your favorite Facebook videos on your iPhone with a few clicks. Here, you go with the steps.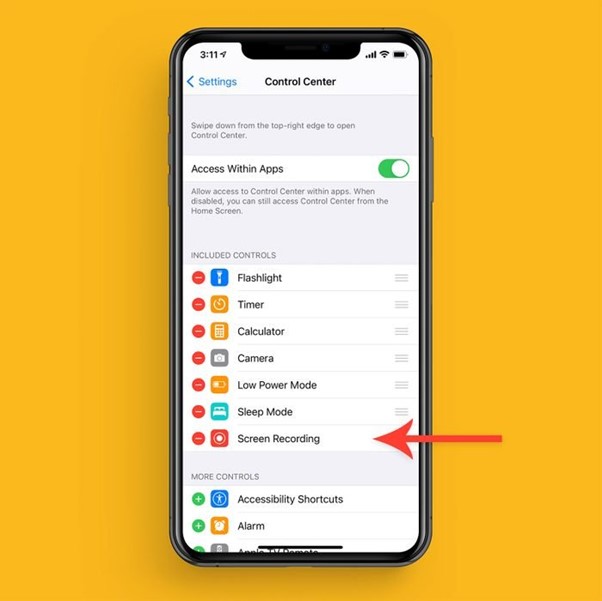 Steps to Do
After opening your iPhone, swipe up (iPhone 8 or earlier) or swipe down (iPhone 10 or later) your phone screen to reach the "Control Center" menu.
Locate the "Screen Record" option with three dots in a circle. If you can't find the Screen recording sign with these steps, follow the next step to get to the screen recording option.
Head to "Settings" > then "Control Center" > then "Customize Controls" > then "More Control Menu" & scroll through it to reach the "Screen Recording" option. Now, while selecting the green colored "+" option, you can add the "Screen Recording" option to the "Control Center" menu. On the other hand, by clicking on the red color "-" option, you can withdraw the screen recording option from the "Control Center" Menu.
After adding the "Screen Recording" option to the "Control Center" menu, you need to swipe up or swipe down your iPhone screen, depending on your iPhone's version, to open the "Control Center " menu.
Next, while clicking on the "Record" option, wait for three seconds, and the top left corner clock will be "Red." In the older iPhone model, a red color bar will be shown at the screen top instead of the clock.
To initiate the screen recording, you must exit from the "Control Center" while tapping on the screen. Your iPhone screen of any Facebook video will be recorded with audio.
To stop your recording, you can either click on the red clock or the red bar & select the "Stop" option. You can also click on the "Record" option again in the "Control Center" to stop the recording process.
How to Save Facebook Video to iPhone with the Online Tool FBDownloader.app?
When the Facebook video saving option gives you a later watch facility, the screen recording feature of iPhone and Android makes your Facebook watching experience online dependency free. Here, with the online FBDownloader.app, you can download a Facebook video on any platform and any device with a simple three-step downloading process.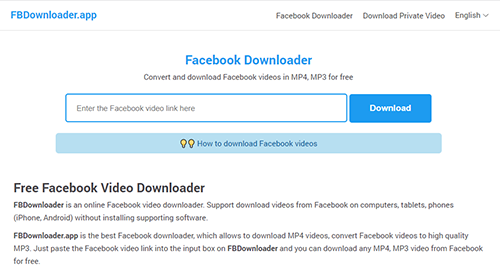 Step 1: While visiting the Facebook official website, you must open the Facebook app on your phone. Next, search for the Facebook video to download.
Step 2: Locate the "Share" option under your selected video and select the option. Then click the "Copy Link" option.
Step 3: While visiting the FBDownloader.app, you must paste the copied link in the input bar and click on the "Download" option. Next, select the video file format of Mp4 or Mp3, click the "Download" or "Render" option again, and wait a while to complete the downloading process on your device.
What Are the Most Important Criteria You Must Consider while Downloading FB Videos?
Knowing the easy method to save or download a Facebook video on multiple platforms, you must know a few things beforehand to enhance your downloading or offline watching experience.
To save your phone's storage space, it is best to get your FB downloads done on the computer.
You need to be careful about the audio & video quality of your FB downloads for future use.
It's better to save any useful FB video without commercial disturbances.
Exploring the auto-downloading option could be convenient so you wouldn't miss any of your favorite ones.
So, if you want to explore all these above-mentioned parameters on your FB downloads depending on your requirements and specification, StreamFab All-in-one downloader is a one-stop solution for that. From desktop (Windows/Mac) saving option to ads-free downloads with an audio-video quality selection option, you can experience all the customizable features with StreamFab downloader.
How to Save Facebook Video on Windows/Mac PC with StreamFab All-in-One Downloader?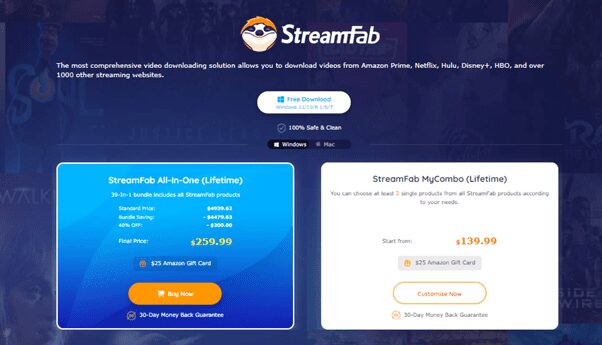 If you want to have high-quality Facebook downloads to meet up your specific requirements, this video downloader will undoubtedly give you satisfaction with the utmost customization. It is StreamFab, a sub-brand of DVDFab. While meeting all the Facebook downloading criteria, StreamFab downloader would give you the maximum flexibility in your offline watch of unlimited Facebook videos.
Features
Get ads-free FB video with 720p/1080p resolution & EAC3 5.1/ AC3 5.1/ AAC 2.0 audio quality.
Save your downloads in Mp4 or MKV format to share them with all devices.
Save unlimited videos in one go in no time.
Save subtitles and metadata of the videos if there are any.
Download scheduled videos automatically.
Blu-ray format conversion is possible.
Price
Get the one-time bundle subscription plan at $259.99 with 42-in-one StreamFab products & 30-day money return policy.
Downloading Steps
Step 1: Initiate with installation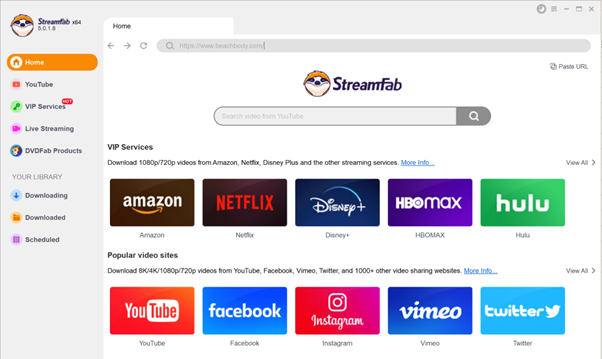 After successfully installing the software on your Windows or Mac PC, you must move to the YouTube Service Tab on the left.
Step 2: Selection of Facebook Video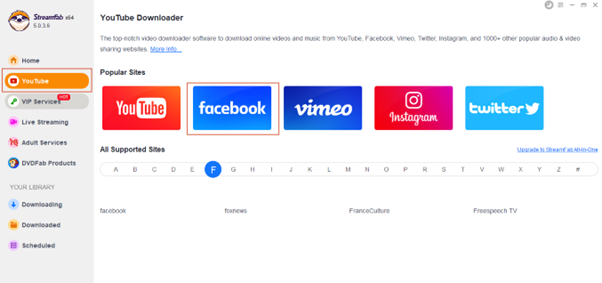 Select the Facebook website from the YouTube streaming service tab. After signing into your Facebook account, select your favorite FB video to download.
Step 3: Play & Customization
Start playing your selected video & customize your output file by choosing the audio track, video resolution, format, etc.
Step 4: Finish Downloading
After finishing your customization process, you must click on the "Download Now" option to end the downloading process.
FAQs
Q: How many monthly active users of Facebook by 2022?
A: Having 2.934 billion monthly active users by 2022, Facebook has ranked 1st as the world's most active social media platform.
Q: Is there any age limit to access Facebook platform?
A: The eligible age for using Facebook is 13 and above.
Q: How to Download FB Videos on Facebook?
A: There is a way to save the Facebook video within the Facebook platform for your convenience later watch. Let's see how to save Facebook videos on Facebook.
Steps to Do
Step 1: Choose the Facebook video to save for later watch. Next, move to the top right corner of your selected video to select the "More icon"/ "three horizontal dots" sign.
Step 2: Select the "Save Video." You will get all the saved videos in one place. To watch any of them on your computer, move to the top "Menu" option, select the "Watch" option > "Select Videos." On your phone, select "Hamburger Menu" > "Saved."
Final Feed
When you want to know the options to save Facebook video to iPhone or other platforms, this article's multiple downloading ways and steps will meet your requirements with the specification. However, to get the best benefits of your FB downloads, you must try the unparalleled downloading flexibility of many downloader, especially StreamFab All-in-one Downloader.
Read more: 10 Best Free Video Downloader Apps For Android Devices In 2022
---
Contact us, ThimPress:
Website: https://thimpress.com/
Fanpage: https://www.facebook.com/ThimPress
Youtube: https://www.youtube.com/c/ThimPressDesign
Twitter: https://twitter.com/thimpress