In this modern era, personal branding online is a very important thing. When a person first heard of your name, they will try to Facebook you or search for your twitter account to see who you are, what you do and what kind of person you are.
One thing that is really effective in telling them who you are, is your blog. Having a great personal & lifestyle blog can quickly tell people what you want them to know about you.
Besides, maintaining a lifestyle blog is also a fun and authentic way to remind you about your self and who you really are. Sharing your thoughts on your blog is easier than sharing it on your social media channels. You can have more freedom and creativity in formulating your blog posts than on Twitter or Facebook.
However, technical issues are one of the most concerning reasons that may hold you from creating your own lifestyle web blog. Thankfully, due to the fast growing WordPress, creating a website has never been easier. With the current technology, one can simply just create a beautiful blog using one in many beautiful Magazine WordPress theme out there without even have to write a single line of code.  You will have the freedom and creativity you want while not have to worry about any technical problem regarding building a blog.
Below are some stable, fast and powerful magazine lifestyle WordPress themes that definitely will be your greatest ally in terms of creating a lifestyle blog. They are the best high quality, most popular blog themes, made by the best WordPress theme development teams that will enhance every aspect of your life.
1. Magazette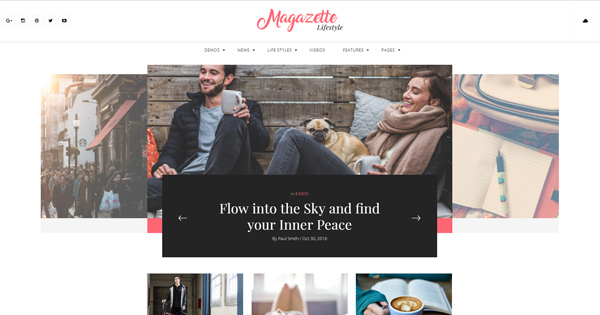 Magazette is a clean, sleek and excellent WordPress theme for lifestyle bloggers or magazine websites. The theme is made by an elite author who has more than a million page view a month so they really know how a blog should be like.
It is also being used by many pro bloggers around the world to show off their characteristics and their everyday lifestyle. Not only so, Magazette is famous for its easy of usage that you will only need to drag and drop elements you like to form the site's layout.
When it comes to effectivity, the theme quickly boosts your site's load speed and does an overall improvement to your blog's SEO score by optimizing all SEO standards in the site.
Finally, Magazette comes with 7 other demos about many aspects of life like Sport, Travel blog, Beauty Blog, fashion magazine, etc. So that you will get the flexibility that you want. This is a big plus for any content creator.
Live Preview Learn More Get Hosting
2. MagWP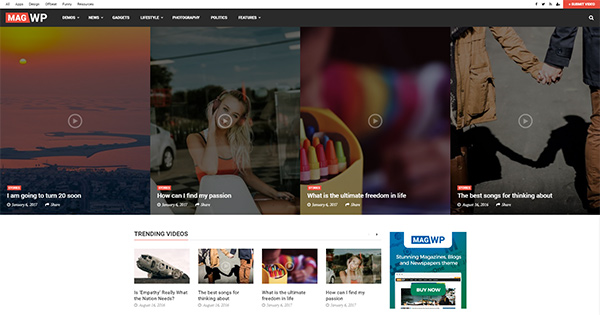 MagWP is an ideal WordPress theme for those who wish to increase the time on site of the blog. Offering many techniques in keeping users on site like Infinity post, Slide In articles, etc, MagWP will assure that your visitor will read each and every article on your site before leaving.
Choosing MagWP, you will choose experience. The theme may not look perfectly shiny as other blog themes. However, it is incredibly easy to use for both the visitors and the developer, both on front-end and in back-end. The writing process has never been easier. It is of the top premium quality, very well coded with fast-loading speed, highly robust structure, creative, effective and flexible. Its vast number of demos, feature rich options and ease of customization ability will give you the versatility you wanted. Monetizing with MagWP is also a comfortable experience. Ads areas are optimized in a way that you can put it anywhere you want without creating the distraction for you visitors.
Live Preview Learn More Get Hosting
3. Gridlove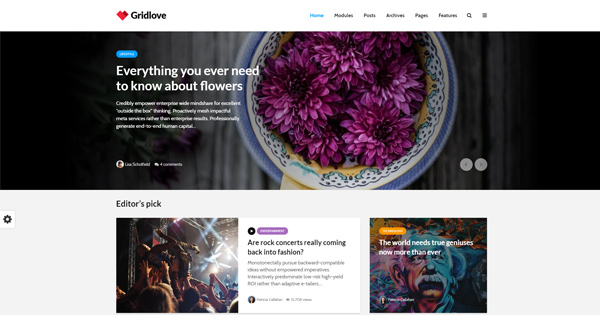 Focusing on news and magazine using the grid style, Gridlove magazine WordPress theme definitely have an unique and extraordinary style for anyone finding a new look. Therefore, Gridlove is all about this attractive and unique style and it appears in every inches of the theme.
The theme is also easy to use with the one click install that will quickly setup your site as the demo in within minutes. Supporting many features like bbPress, WooCommerce is also a big plus of the theme. Gridlove serves all types of blogs and starting a life style WordPress blog will with Gridlove be a well worth investment.
Live Preview Learn More Get Hosting
4. Ronneby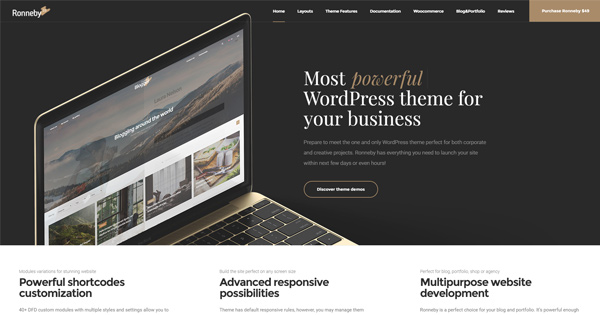 Ronneby is a extremely lean and visually amazing high quality WordPress theme with a modern, responsive and impressive look for both fashion, lifestyle and even photography websites. With the original purpose of creating a one-stop theme that grants you the power of doing everything in one theme, Ronneby covers many features with dozens of layouts, styles and options that make it excellent for a budget WordPress website.
The team behind Ronneby made a serious attempt in creating a robust, well structure and effectively coding so every developer can see the source code and tweak the theme according to their needs easily. Personal branding has become a special part in Ronneby that once visitors visit your lifestyle blog, they will quickly have an impression of your branding with your logo, slogan, who you are and what you do.
Live Preview Learn More Get Hosting
5. Typology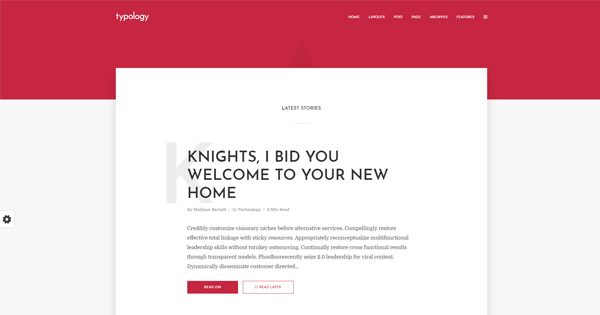 Are you a fan of text-only blogs? Do you want a simple blog that you only need to write and do not have to worry of anything else even adding images? If so, this minimalist WordPress text theme is definitely the must-see choice for you.
Using Typology, your only concern is your content and your story. This theme really reduces everything and makes your life easier. There are still some sections where you can customize according to your personality and personal preferences like font family and color combinations.
Live Preview Learn More Get Hosting
6. Gillion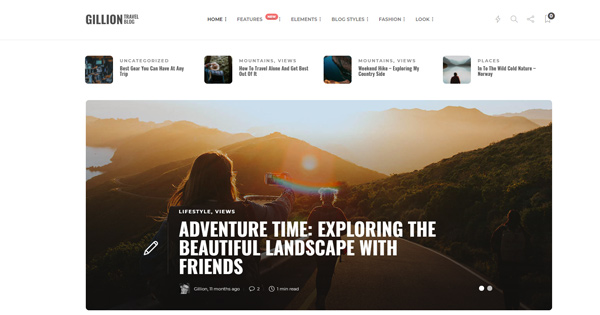 As a multi-concept blogging theme, Gillion is a responsive eye-catching WordPress theme that provides a breathaking blog interface. It has 12 demos including 6 multipurpose demos for all types of blogs and news and 6 other demos for niche-specific blogs.
The most amazing feature of Gillion is its bookmarking system that let visitors sign up and bookmark your post for later. The theme is simple and very elegant in design.
Live Preview Learn More Get Hosting
7. TheVoux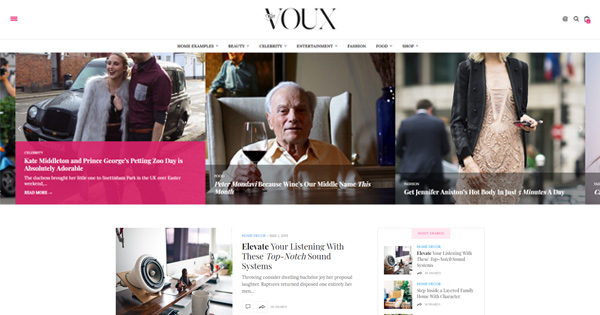 TheVoux is a resourceful, creative and responsive multi-niche WordPress blog theme that emphasizes on an elegant appearance. Being meticulously careful to even the smallest detail, the developer of the Voux magazine WordPress theme added plenty of stylish demos and powerful features hard code into the theme. Your site will be fast and feature rich and have the highest quality for any device.
Live Preview Learn More Get Hosting
8. Sahifa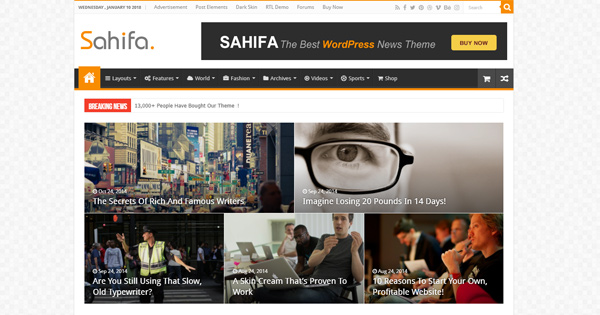 Sahifa can be considered one of the first pioneer of WordPress theme for blog. It has been proven by hundreds of thousands of people that Sahifa is a visually stunning, modern and professionaly built WordPress theme. It applies all the latest improvements of HTML5 and CSS3 styling to bring the most lively theme ever that outperforms many themes in terms of speed and ability to extend. Design is also one thing we have to consider in Sahifa.
Live Preview Learn More Get Hosting
9. Bimber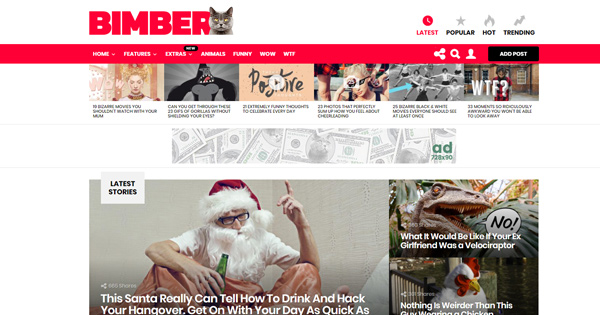 Content is now queen and Viral is the new king. That presents the whole philosophy of Bimber. This theme is really unique and amazingly designed for ambitious bloggers who want to attract more attentions. Bimber Viral magazine theme embraces the power of social network and its ability to share hot, trending articles to the world. Not only that, the theme is light weight and very easy to use. This is the theme that we use when we want to get more traffic quick.
Live Preview Learn More Get Hosting
10.Grand Magazine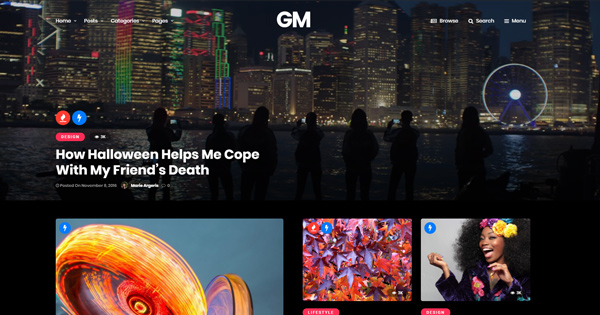 As the name suggest, Grand Magazine is a serious magazine WordPress theme for all bloggers with plenty of predesigned layouts. The theme is aesthetically sublime and amazingly flexible, youthful, visually impeccable.
Live Preview Learn More Get Hosting
11. Divi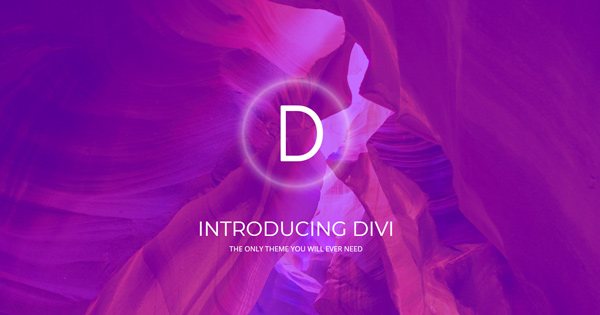 Even though Divi is not a magazine theme, it still can feature your daily life and your way of life in a vivid way.
Live Preview Learn More Get Hosting
12. Newspaper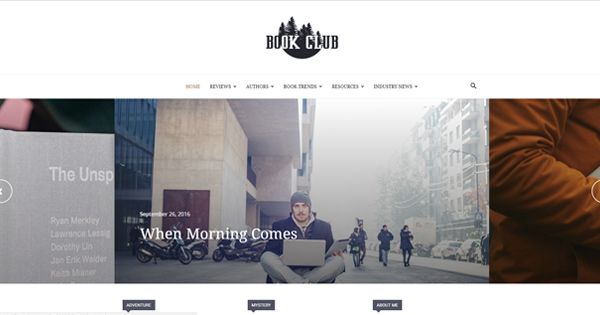 One of the most controversial theme on the web, Newspaper lets you write articles and blog posts effortlessly.
Live Preview Learn More Get Hosting
13. Herald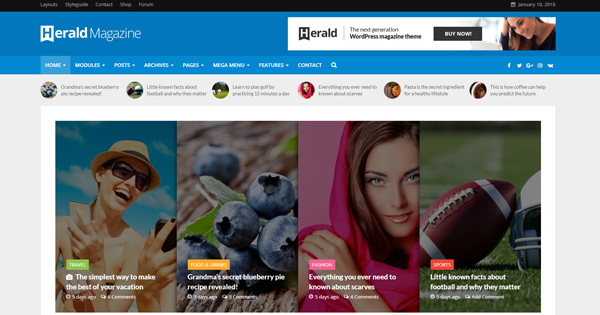 Carefully designed and developed for online news, portals and magazine themes, you could even build a media outlet's website with Herald, let alone using for lifestyle blogs.
Live Preview Learn More Get Hosting
14. WPVoyager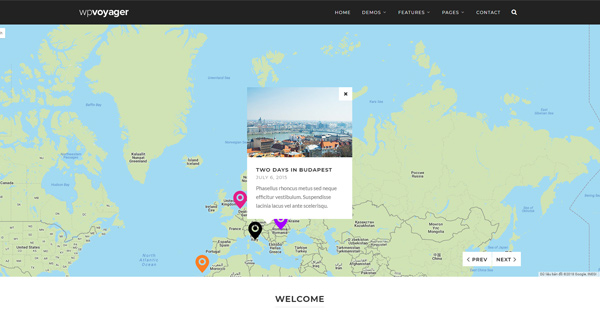 Do you have a travel mind? Try this theme and you won't regret making this decision for its sharp design that make every travel lover ticks.