LMS WordPress theme – eLearning WP is a WordPress platform designed to grow the best. With WordPress LMS plugins, LearnPress is extremely powerful, allowing you to build simple, cost-specific training programs.
When it comes to the educational WordPress theme or LMS (Learning Machine System), people will immediately remember Eduma as one of the most popular professional education topics. According to statistics, currently, Eduma is the number one bestselling theme by order of ThemeForest theme. This theme is designed to meet the needs of educational institutions such as universities, kindergartens, schools, educational centres, … Eduma will provide your corporation with the facility to create the most modern and professional online school culture aspirations.
So, what are the outstanding factors that make the WordPress Eduma theme so popular? Join us to find out right now!
Mobile compatibility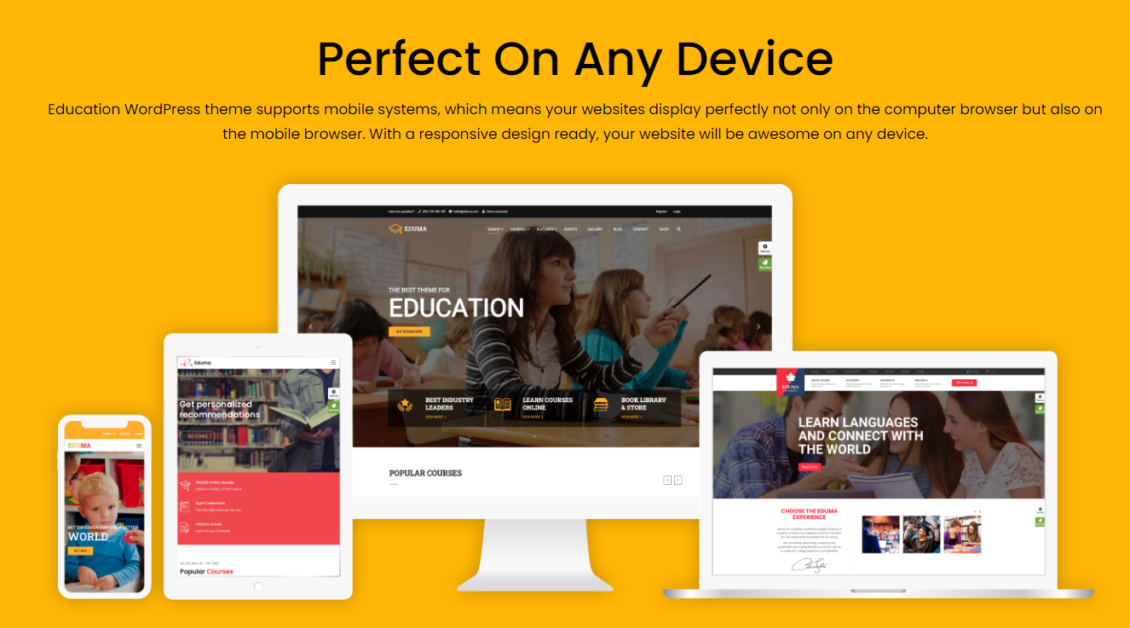 Besides focusing on website interface design, WordPress theme is designed with mobile device compatibility. This is one of the important arguments you need to remember because Google will use them to rank your web page. Therefore, your business website must be compatible with mobile devices.
This WordPress educational theme is made with complete mobile support, which ensures that your website will not only be rendered perfectly on the website browsers but also mobile devices. With a responsive interface and a retina display ready, your website will look great on any device. This function will give you more traffic.
Eduma received a lot of positive feedback from users when experiencing using this WordPress theme on mobile devices. Most people are satisfied with the look and mobile compatibility of the Eduma WordPress theme. The hidden menu on the phone is the top-rated part.
The assessment is done on a variety of mobile devices such as phones, tablets, iPads, … Thus, the most objective reviews can be obtained for editing and completion.
Design evaluation
Interface design is especially important. On the topic of education, the student and teacher experience will contribute to the user experience (UX). They are the ones who experience and evaluate whether the business website is good or not.
UI / UX optimization helps your learners find the courses they're looking for, in no time. In the lower part of each Education WP demo – a beautiful Call to Action has been implemented, to increase your chances of turning visitors into learners.
Speed rate test
How long do you think a professional website takes to load? 1 minute? 5 seconds? No, your web page will load in less than 3 seconds. Today, we are no longer patient. It should be quick. Fortunately, Eduma looks amazing based on a speed test that we did.
The website looks 43 per cent quicker than other websites. Although this might be an appropriate outcome, I would like to remind you that this score may be improved if the correct resources are used. Actually, the score depends on various factors specific to the demo and may not be available on your end site.
Customer support reviews
Okay, what if you have problems with the theme? How does the author handle support? Well, one of the things we noticed is that this topic is quite popular. Sometimes (not always), well-known authors may not be able to promptly answer queries that you can solve. Indeed, by exploring the comments section, we found that the author did not respond in time to the queries. However, this can be caused by a lot of customers that require regular support.
SEO review
SEO is known as the most interesting aspects of a topic that will help you decide if you should use it or not. The more SEO friendly the WordPress theme, the less effort you put into SEO profiles. Eduma has a good SEO score with some bugs.
Most of the results are linked to the speed of some pages, it seems that some pages take a while to load. I just want to remind you that the speed of a page depends on many different factors. One of these is an image you add to your subject. While this theme looks better with images, you should avoid using too many unoptimized images.
Using Education WP is a perfect way to get the educational website to rank significantly higher in search engines. All headlines, titles, and meta tags have been carefully optimized, just like how Google likes it. Structured data is commonly used to make the site appear attractive in Google search results. For blog posts, we are code not just for WooCommerce but also LearnPress products as well.
Supported plugins
A nice, faster, and SEO-friendly theme is fine, but what does that really offer such a unique feature? Compatibility is one of the points that should be mentioned. Eduma prides itself on being compatible with WooCommerce (for best-selling LMS products), bbPress (do you say forum?), Site Builder (Elementor, Visual Composer), Pro membership, and some cool features.
Easily manage commission rates for each course
The commission add-on for LearnPress is one of the new changes to the LearnPress Premium Plugins. It serves as a rate control system for commissions that enables you to select how much money the author or teacher can receive for every course purchase. In that way, you are getting closer to technical e-learning sites like Udemy, Lynda, or Coursera for your school, university, or training centre.
Summary:
Eduma is a good candidate for a WordPress LMS theme, and whether you're a teacher ready to create a website for a professor or a website for school or university, Eduma has you covered.
The tests we went through were more than gratifying. The demonstration is a bit confusing though as we can expect one site to point to different demos, that's not a big deal.