Elementor-Dedicated Plugins Introduce: How are you going to secure your online project from cyber-attacks and hacks? Do you need to improve your site's interface and navigational system? Are you also looking for the easiest way to empower your website performance and entire functionality? All these questions have one simple and affordable answer – make use of proper plugins.
Smart Usage of Suitable Website Plugins
If you suggest that plugins are absolutely useless and just take up space on your web server, then you're wrong. Maybe you have not downloaded the proper plugins before. Some website owners are sure that using plugins causes tons of problems with their hosting. It really can be the truth, especially, if you've run a bunch of plugins. It's rather better to choose one for a specific purpose, for example, to enhance the website menu functionality. Such a smart approach will help you avoid adding extra weight to your pages and improve only that option you really need.
That is to say that, having a personal blog or simple portfolio doesn't require extensive functionality and different extra opportunities. Moreover, setting up a business website needs all the possible extensions and tools to withstand the tough competition in the market. With each passing year, web developers create more and more usable and handy software (including a rich variety of plugins) which can be integrated into any online project. Most of the plugins are must-haves allowing website owners to:
Do things with their online project they otherwise wouldn't be able to do;
Add new functionality;
Keep a website constantly updated in accordance with the latest web trends;
Optimize your content for major search engines;
Run and maintain an effective blog page;
Improve your page load time.
Mind-Boggling Plugins for Elementor-based Websites
Whatever intention on improving your site's performance or functionality you have, you can do it effortlessly with an advanced set of Elementor-dedicated plugins. In addition, developers carefully designed extra lightweight and easy-to-use software for any user's needs. If you need to run an effective, feature-rich blog, you're welcome to use JetBlog. If you want to improve your website interface and enrich it with an impressive background and smooth page scroll, opt for JetParallax. Take a closer look at the 10 must-have plugins from Jet-package, which can help your online presence shine brighter on the web.
Title
Main Features
Price
JetBlog

Set of smart Modules
Effortless Managing
Perfect modules appearance

$15
JetReviews

Effective rating showcase
Breakthrough functionality
Versatile typography tools

$15
JetElements

Stunning animated texts
Loads of usable elements
e-Commerce options integrated

$15
JetParallax

Loads of Parallax Layers
Flexible Speed of layers
Diversity of Background functionality

$15
JetTabs

Robust widgets set
Stylish elements
Different Accordion blocks

$15
JetMenu

Complete compatibility with WP themes
Vertical Menu
Smooth functioning

$15
JetWooBuilder

Collection of specific widgets
Outstanding grid
e-Commerce extensions

$15
JetBlocks

Powerful functionality
Sticky header variants
Amazing footer styles

$15
JetTricks

Parallax effect
Animated tricks
Animated particle effects

$15
JetEngine

Dynamic types of content
Catchy listing layouts
Simple working

$15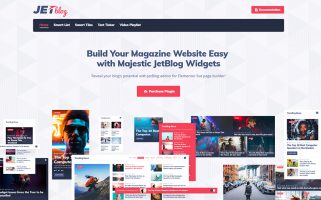 Blogging can help with getting into contact with customers, generating more leads for your business, promoting of your product or service, etc. JetBlog probably serves to make your dream blog come true without effort and as soon as possible. The plugin features:
Tons of smart widgets to organize any content imaginably;
Effortless work with the drag-n-drop modules;
The fascinating, well-thought appearance of all modules;
The mobile-friendly layout which suits any screen size.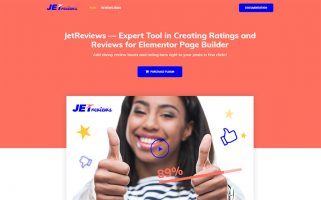 E-commerce businesses should take care of their online reviews because they incredibly boost their customer base. JetReviews is a comprehensive set of widgets that are vital for running an effective reviews system on your website. This wonderful addon set boasts:
The possibility to showcase ratings;
Top-notch functionality;
Simple and intuitive managing while creating reviews and rating bars;
The ability to adapt color, font, and the overall style up to your needs.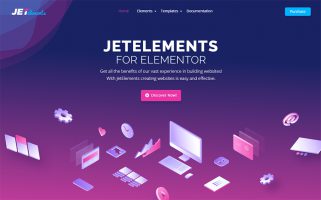 With the innovative JetElements addon, Elementor-powered website owners can easily translate a lot of digital projects into reality. The plugin adds tons of usable modules to the existing ones. It allows:
To stuff web pages with different content blocks;
Enhance e-commerce options with WooCommerce elements integrated;
Activate handy Contact Form 7 with a single click;
To stand your website out of the rest on the web.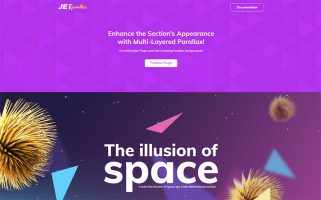 What does make your site shine? Yes, the breathtaking design does but what does make you're your visitors come back to your pages? Of course, the outstanding interface with the effortless navigation. Then based on those, JetParallax plugin is intended to assist you in accomplishing all these tasks in a few clicks. It contains:
The fascinating effect of 3D space with the help of countless layers;
The possibility to change the speed of the layers up to your preferences;
The ability to modify the background elements due to your needs;
Accurately written documentation.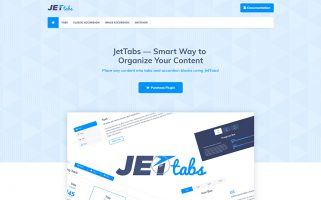 Working with tabs on the web pages can be a little time-consuming without a proper addon installed. JetTabs also helps to enrich your pages with accordion blocks, stylish tabs, and other impressive content elements:
Accordion widgets of any style: classic, image, and vertical;
The ability to switch between the different blocks with a click;
Color variations of layouts to suit your site's appearance;
The opportunity to select various typography options.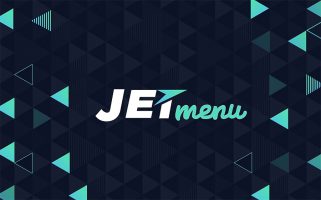 If you have a solid website with multiple web pages, you need to properly organize all of them. JetMenu not only a powerful add-on for Elementor page constructor but also allows website owners to bring all pages under control. It includes:
The absolute freedom to create vertical Megamenu;
Multiple options to style up menu according to customer's needs;
Fully compatible with widely used WordPress themes;
A simple and intuitive managing.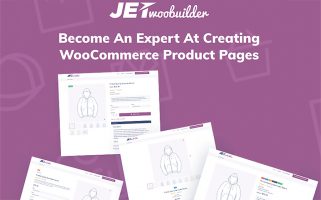 JetWooBuilder is a must-have for e-commerce online projects. This plugin allows any website owner to become an expert at crafting feature-rich product pages effortlessly. It comes with:
Multiple helpful widgets to showcase items and their taxonomies;
The ability to create a Single Product page layout;
Clear and accurate documentation;
Friendly and qualified support.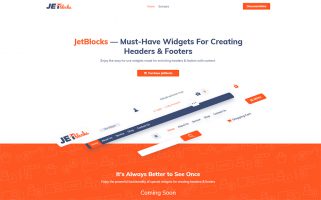 Just imagine: You visit a website but you can't find the necessary info at a glance. Even after long scrolling down, there is still nothing worth your attention. It is such a website lacks quality, a fully-fledged header, and a footer. JetBlocks is also aimed to cope with this problem in a few clicks.
Take benefits of the outstanding image or textual site logo;
Add and customize handy login blocks;
Create a hamburger panel if you need;
Place the catchy search form and other necessary elements.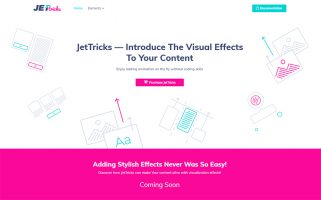 Similar to the other plugins we talked about before, JetTricks, a common, dull, unattractive website appearance and the overall interface will shine. This powerful, helpful addon boasts a number of outstanding features and opportunities:
Mind-boggling Parallax animation;
Various animated modules;
Unfolding functionality for making stylish columns;
Trendy tooltip blocks.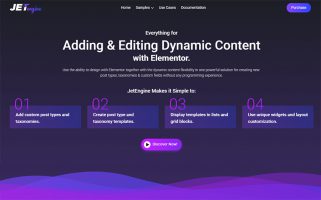 Do you desire to simplify your work with dynamic content? Try this truly complete set of modules allowing website owners to add and edit content easier and faster. JetEngine gives you a chance to:
Create any custom type of content effortless;
Add custom taxonomy templates;
Fisplay dynamic images, terms, meta, etc;
Customize various content using multiple stylish settings.
CrocoBlock looks like an all-inclusive ticket to the website developing the world. The service provides all the necessary and helpful software for Elementor page builder including a Jet collection of whopping plugins. Alongside innovative addons, it also works on professionally looking website templates with ready-made sections. Check out the opportunities CrocoBlock offers each and every website owner.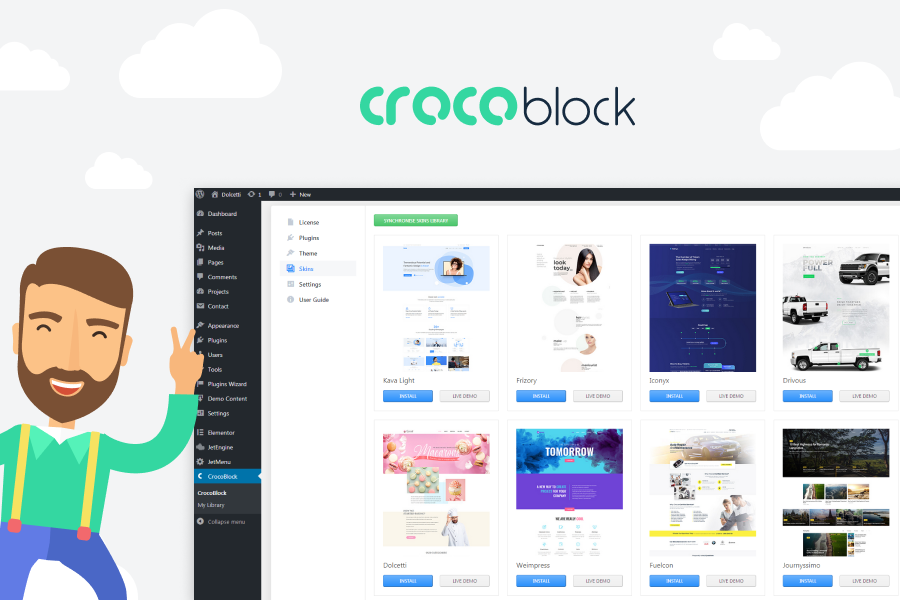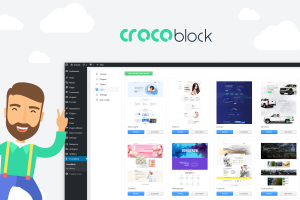 Read More: How to backup your WordPress site – very detailed
---
Contact us, ThimPress:
Website: https://thimpress.com/
Fanpage: https://www.facebook.com/ThimPress
Youtube: https://www.youtube.com/c/ThimPressDesign
Twitter: https://twitter.com/thimpress