Finding new and fascinating ideas or storylines for your fiction writing is a difficult task that you are familiar with. Or, have you ever been unable to create a short movie, novel, short story, or feature screenplay because of writer's block? That's where the AI Story Writer tools come into play.
These tools can assist you in coming up with fresh ideas and plotlines and in actually writing the story! You can use AI story writers to make interesting characters and compelling plots (including plots with a three-act structure) and ensure you have all the vital story parts.
The use of AI story writer tools by fiction authors is growing in popularity nowadays.
So in this blog post today, we handpick the top AI story-writing tools available based on their features and pricing as our criteria for ranking.
Let's begin without further delay!
8+ Top AI Story Writer Tools for 2023
Jasper – AI Story Writer Free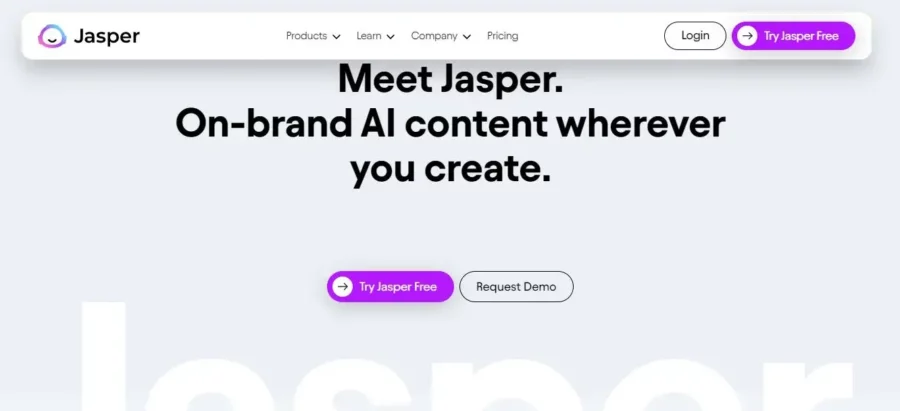 You can create fascinating ideas and storylines with the aid of Jasper, an AI-generated story writer. It creates engaging stories using a neural network and natural language processing, and it is continually learning to become more proficient at coming up with fresh ideas.
Features:
Jasper has a ton of features, such as a plot creator, character development platforms, and an idea library, helping you create fresh ideas
Jasper provides more than 50 premade writing templates. You can try the Creative Story template to create a story quickly. Its template's so fantastic for sure
Jasper makes use of a user-friendly editor that resembles Google Docs
Jasper is simple to use and accessible with all web browsers
Pricing:
There are 3 plans to choose from: the creator plan ($39), the teams plan ($99), and the business plan (custom pricing). You have a 7-day no cost trial to use this AI story writer in each plan.
Rytr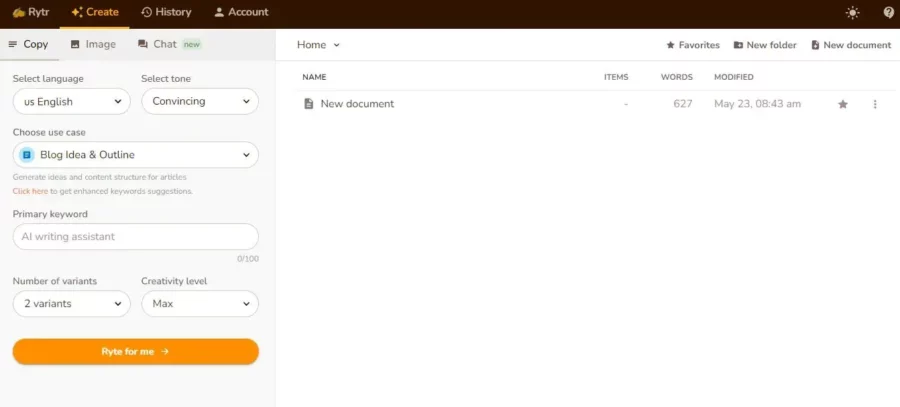 Rytr is a robust AI story writer that can assist you in finding novel ideas and plots. It uses a neural network that has learned from more than 500,000 stories. Rytr also keeps improving, so it becomes more and more skilled at creating new ideas the more you use it.
Features:
You can provide Rytr specific instructions on the story's genre, tone, level, length, and other aspects
You can choose the version of a story that you like most because Rytr can produce several versions of it
A plagiarism detector is already included in Rytr
Rytr is available in the Chrome extension library so you can add it, making it handy to use while writing
Rytr has a lot of use cases and you can try the Story Plot case to get amazing fiction stories quickly
A premium community is accessible at any level (including the free plan)
Pricing:
There are free and premium versions of Rytr. With Rytr's free plan, you may create 10K characters each month, access over 40 use cases, write in more than 30 languages, and use 20 distinct tones. It even produces up to 5 AI photos monthly.
Writesonic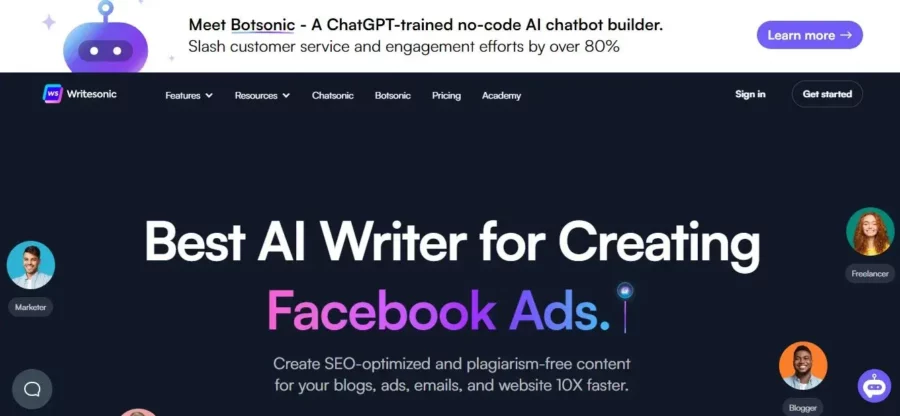 Writesonic is a fantastic story writer AI that utilizes sophisticated algorithms to produce interesting and imaginative content for all kinds of stories, from blogs to short stories, making it simple for writers to explore creative thoughts and build excellent content.
It is a fantastic writing tool for both newbie and seasoned writers because of its user-friendly interface, powerful language processing features, and multiple languages support.
Features:
Artificial intelligence-based content generation: It creates content with high quality by using advanced AI algorithms to write new and captivating content for any type of story you want
Many content options: Writesonic is an all-in-one content creation platform that lets writers create many story types, from short stories to lengthy blog posts
Support for numerous languages: Because stories may be written in many different languages, it's the perfect tool for global content producers
Creative prompts: Writesonic provides creative writing prompts that motivate and support writers to begin their writing projects
User-friendly interface: Writesonic's user interface is simple to use, user-friendly, and helps writers keep focused on their writing objectives
Time-saving features: Writers can quickly develop content ideas using Writesonic's autocomplete feature. They can edit content until it's perfect, saving their time in the content production process
Pricing:
It has a free trial with 10,000 words for 1 user, +100 AI templates, and +25 languages support. For the pro plan, it is $12,67/month with 100,000 words for 1 user and a vast of premium features.
NovelAI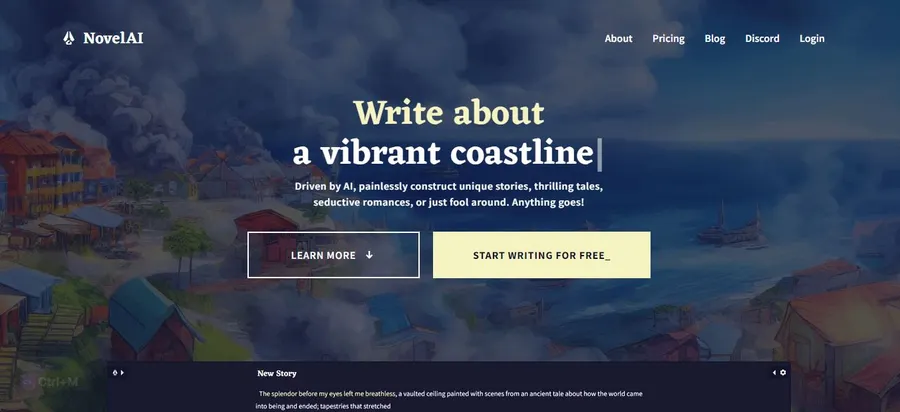 When it comes to employing artificial intelligence to meet up with story ideas, NovelAI is a fantastic tool for fiction writers. You can select the ideal genre for your story from a variety of choices provided by the app. Also, they offer assistance with character development and narrative, and they may even assist you in writing stories in your favorite author's style!
Features:
Based on the characteristics you specify, the app uses AI to create new storylines, characters, settings, and backgrounds.
Also, you can exchange ideas with other members and receive feedback on your project
Your writing is protected and confidential on NovelAI's encrypted servers
The typefaces, sizes, and color scheme of the editor can all be changed at any moment
Pricing:
A NovelAI trial with 100+ free AI text generations is included in the Paper tier.
StoryLab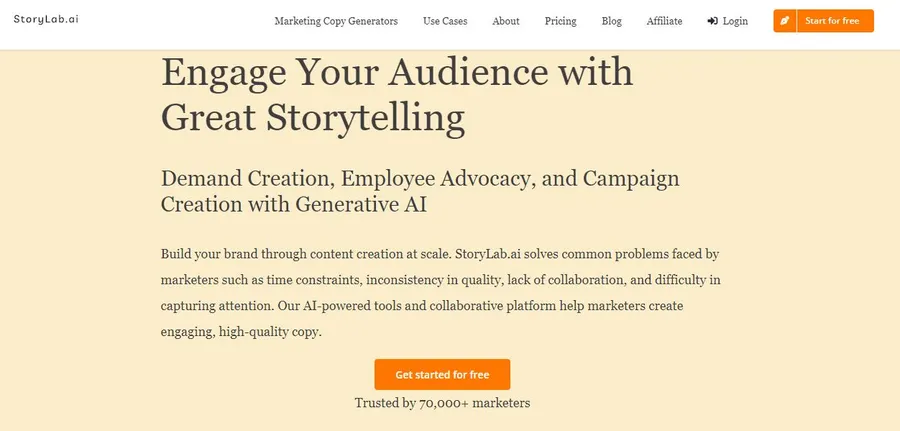 StoryLab, as its name implies, is an amazing AI that writes stories quickly and easily using AI. You can make outlines, stories, blog posts, and character descriptions using StoryLab. It is built to assist fiction writers in writing stories by giving them story thoughts and layouts. Based on the user's input, the app will make stories using a neural network.
Features:
According to user input, the app writes high-quality text using a neural network
The genre, length, and writing style of your narrative are all up to you
The tool provides you with a thorough storyline summary for your narrative
You can gain comments on your outlines by sharing them with other users, which will help you write better
New features and enhancements are added to the app frequently
Pricing:
3 AI runs are included in StoryLab's free version per month. But you can try unlimited AI with the unlimited plan, which costs $19.
CopyAI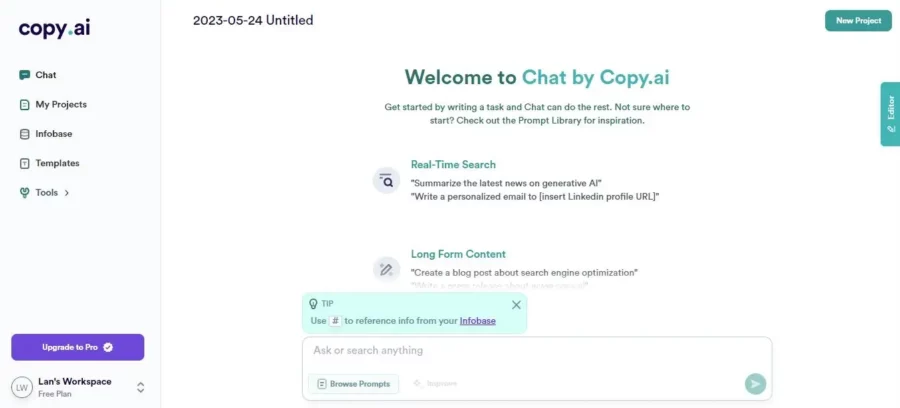 Whether you want to write creative stories, blog posts, or digital marketing ad copies, CopyAI is the perfect AI story writer for you. With more than 90 tools to build content, CopyAI makes the process of content creation a breeze.
Features:
Overcome writer's block with automated creativity tools
Create a wide range of content, from headlines to blog intros and product descriptions
100 free credits upon signing up
No credit card is required for a free account
Access to over 90 tools to generate content
Pricing:
CopyAI free plan offers 2000 words/ month, unlimited projects, and 90+ copywriting tools. Or, try the pro plan at $36/month with unlimited words, projects, and access to premium features, including 25+ languages support and a premium community.
ShortlyAI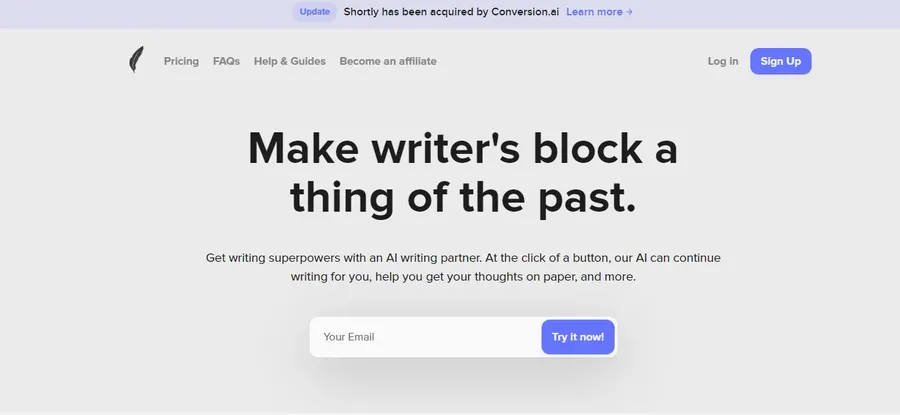 ShortlyAI isn't a free AI story writer so it doesn't have a credit system, but offering unlimited word usage. It's perfect for writers who want the freedom to create without worrying about word limits.
Features:
Write stories of all types automatically
In-built grammar checker tool
Generates 100% original content
Exclusive AI story writing template
Extremely user-friendly interface
Pricing:
Monthly plan: Priced at $79/month, this plan includes unlimited content generation, future updates, and more
Annual plan: At $65/month, billed annually, this plan offers the same benefits as the Monthly plan
Frequently Asked Questions
What are AI story writer tools?
AI story writer tools are software applications that use natural language processing and artificial intelligence to generate stories based on user input.
What are the benefits of AI story-writing tools?
AI story-writing tools help you:
Write stories automatically
Create original content
Overcome writer's block
Write stories, novels, and more
Which is the best AI story writer tool?
Jasper AI is one of the best AI story writer tools available. With pricing plans starting at $39/month, it offers over 50 copywriting templates, including story writers, long-form assistants, blog post outlines, and more.
Are AI story writers free?
Most AI story writers offer free trials, allowing you to test their features before committing to a paid plan.
Do AI story writers create original content?
Yes, most AI story writers create original content. However, it's important to re-check the content's originality before publishing or selling your stories using tools like Copyscape.
Final Thoughts
By producing interesting stories and content in a short time, AI story-writing tools can substantially increase your creativity and productivity. You can choose the ideal AI story writer to fulfill your requirements and release your imagination by looking into the possibilities given above. Don't be afraid to give these tools a shot and revolutionize the way you tell stories.
Read More: Write An Article in 10 Minutes with 5 AI Article Writer Tools
---
Contact us, ThimPress:
Website: https://thimpress.com/
Fanpage: https://www.facebook.com/ThimPress
Youtube: https://www.youtube.com/c/ThimPressDesign
Twitter: https://twitter.com/thimpress