Imagine how fast you can write an article with the help of an AI Article Writer in 10 minutes!
ChatGPT, which was first released in November 2022, has become a big star as AI becomes the most popular word this year. Users continued to come up with creative methods to use the all-powerful AI bot to expedite and simplify their jobs with each new version of the robust tool.
However, a lot of AI writing assistants came to the market in 2023, trying to snatch ChatGPT's crown of king AI for writing content that is SEO tailored. The creation of long-form text, keyword research, content creation around it, the creation of pictures from text, and a whole host of other new tools were all attempts to make writing easier. It appears that plenty of bloggers are making use of these tools to expedite their work and provide better-written content. Nevertheless, is it really that easy?
Yet, there are several disadvantages to using AI article writer tools. To make sure it is correct and smooth, for instance, the content generated could need additional editing. Furthermore, articles produced by AI tools could not have the distinctive tone and manner that only a human writer can offer. Although there are some small negatives, using AI writers typically outweighs them due to the time and money savings.
To sum up, the top AI writers of 2023 provide an amazing option for anyone who wants to produce excellent content without spending too much money or time writing. Content creation can become faster and simpler with the help of various writing tools on the market today.
Try one of these incredible AI article writer tools right away to see how much your content quality can improve. We have compiled a list of the top 5 AI writers of 2023 for you in case you need some assistance in making your selection.
Apart from writing an article, you can try some of AI Email Writer tools for your marketing campaign.
Continue to read!
How to Choose The Best AI Article Writer Tools? ai writes articles
When selecting the best tool for you, keep the following things in mind:
Ease of use
Price
High-quality output
Integrations
The Best AI Article Writers of 2023
Writesonic – Free AI Article Writer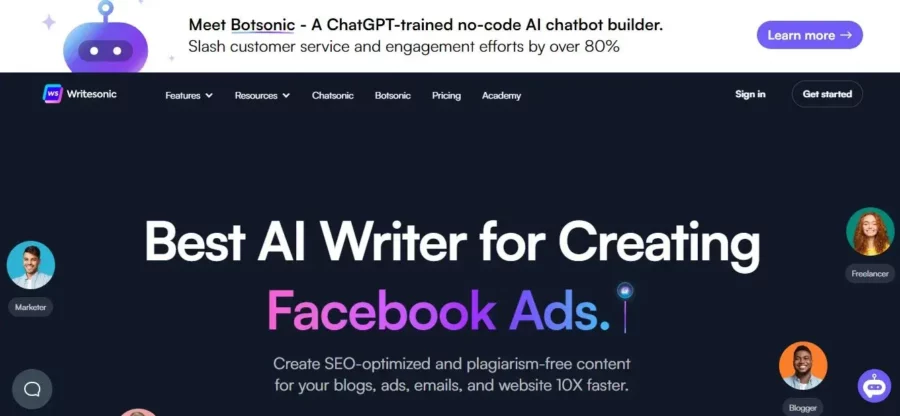 Writesonic uses the latest and greatest GPT-4 model to craft engaging and effective content, and newer iterations will probably be added when they become available. Because it has so many layouts that direct readers to the desired content, its adaptability is evident as soon as you launch it.
This free AI article writer tool is flexible and very simple to use. It supports more than 25 languages: You have more than 100 premade AI templates to choose from; just provide a short description of the content and see dozens of variations to find the one that fits your needs.
Writesonic is the solution for you if you're seeking for SEO-optimized marketing content.
Pros:
Simple and user-friendly, no technical skills required
The content sounds natural and fluent
Content is produced in a matter of seconds
A variety of templates to suit your needs
Cons:
The content might require further revisions
High fee for pro plan
Articles must be exported before editing them
Jasper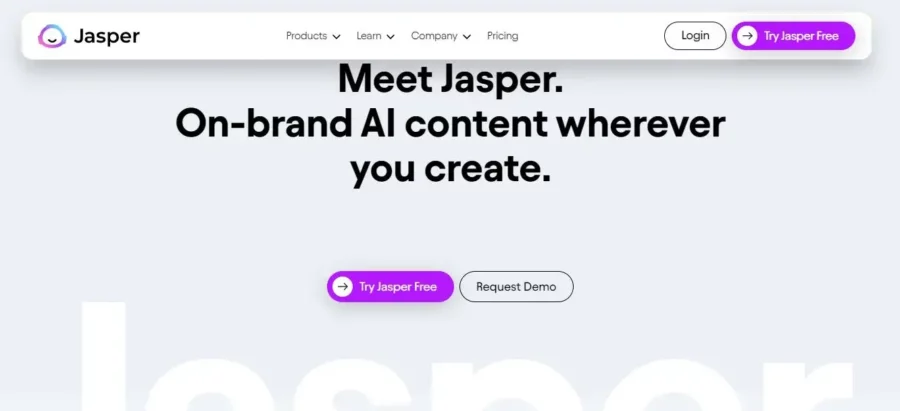 The content generation process can be sped up for almost all use situations with the aid of Jasper, formerly known as Jarvis. It's the best AI article writer tool for creating content. Once you master how it creates content, it can write descriptions for product listings (in bulk), design Facebook and Instagram ads, draft emails and blog posts, and much more.
Boss Mode, another feature of Jasper, allows for faster and more accurate content generation. This enhanced product also verifies content for plagiarism and uses Grammarly to refine grammar and punctuation.
In addition, Jasper supports more than 25 languages and has other organizational features that make it simpler to utilize for large teams.
Pros:
Amazing AI writing functions
The plagiarism model is highly accurate
The large variety of languages
Cons:
Cost
Some content is low-quality
AI Writer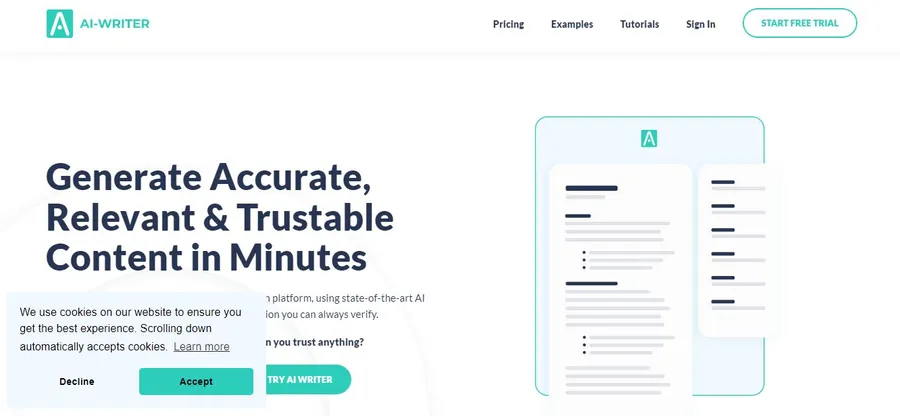 If you need AI to write articles, AI Write is the best suited for you. It comes with a stunning set of features that can seamlessly produce content for all types of articles. Moreover, it's amazingly easy to use. AI Writer can generate articles from a headline or a keyword you provide.
AI Writer features a fantastic Sub Topic discoverer that examines existing content on a certain topic, then gives you a unique angle on it, so you can express your own original viewpoint!
AIWriter's text rewording is a great feature if you want your current material more engaging. You can upload the content and let the software construct new, SEO-friendly copy for you; but, keep an eye out for accuracy as it isn't always precise.
Although having a somewhat dull user experience, the SEO text editor is effective for producing SEO-optimized material. But it will undoubtedly work when it comes to optimization!
Pros:
Offers sources
Excellent with SEO rankings
Simple to use
Sub Topic locator can be helpful
Cons:
Boring UI
Content requires much more editing
SEO optimization needs more features
When producing an article from scratch, the process is lengthy.
Ink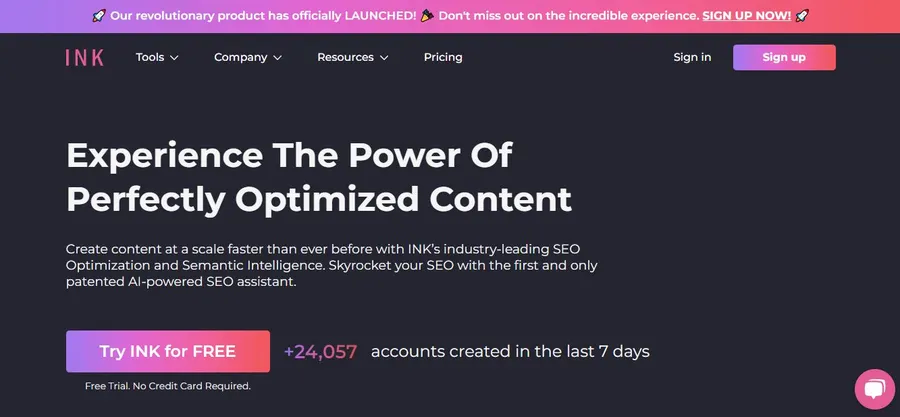 The feature-rich INK platform makes it possible to develop content from scratch, and its AI keyword research tool can be helpful when it comes to this. Furthermore, its AI keyword clustering function, which puts keywords with similar search intent together, is something you'll appreciate.
INK's proprietary tools and AI Shield, which can help you get beyond Google's algorithms for detecting AI-created material, make content production simpler than ever.
For bloggers who wish to create unique photos for their blog articles, the text-to-image tool is the cherry on top. Even though this tool is capable of wonders, it is still somewhat restricted and struggles with lengthy text-based descriptions; after a few tries, you might be tempted to give up.
If you want to write or modify something yourself, this AI article writer also features a distraction-free text editor, and it can produce many articles for each assignment, giving you a lot of options. It has grammar and language checkers as well as the ability to write material for YouTube uploads and social media advertisements.
Pros:
Smooth UI
Strong SEO capabilities
User-friendly
Reliable rewriting capabilities
Cons:
Expensive
Has a tendency to make factual errors
Article Forge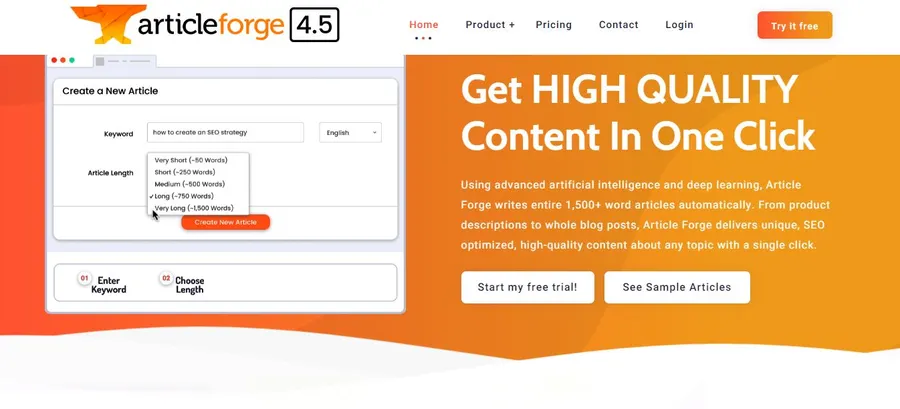 To provide users with a better experience each time they use the service, Article Forge combines deep learning and AI. However, the text generated frequently requires thorough editing and fact-checking, so a "put it and forget it" strategy won't work.
The procedure starts by providing a keyword and the length of the post you want, and the AI article writer can also alter your content with other information. You can have more control over the content by specifying a place, choosing a mood you'd like your piece to convey, or selecting a number of keywords. 
Pros:
Compatible with many platforms
Super-fast
Strong WordPress integration
Simple to use
Cons:
Content tends to be repetitive
Requires editing
High cost
Read More: Free Ai Content Writer – Top 12 Tools in 2023
---
Contact us, ThimPress:
Website: https://thimpress.com/
Fanpage: https://www.facebook.com/ThimPress
Youtube: https://www.youtube.com/c/ThimPressDesign
Twitter: https://twitter.com/thimpress