With AI Email Writer, you can automate your sales process and get high deliverability and response rates for your marketing campaigns.
But does this new technology for artificial intelligence meet all the expectations?
In this article, we'll take a glance at how AI email writer tools help you improve your cold email process, the core technology that underpins them, the final result you can receive from them, and some of the top AI email writer tools for marketing and sales on the market right now.
Let us begin.
What Are AI Email Writer Tools?
By analyzing text with machine learning, AI email writer tools can create new unique email copy very quickly for you.
The software's creators instruct their tools to generate copy based on the hints you provide.
Some tools, for example, will generate an "email opening line" for you. Based on the data or information you provide about your prospect, they will generate one or two sentences for you to use as an icebreaker in your email. These aren't true "AI," nevertheless they may be helpful in your workflow.
How Do AI Email Writer Widgets Work?
Even with the use of the term "artificial intelligence," the vast majority of these email AI writer tools fail to employ real AI as well as are not willing to alter the world.
A lot of these tools use systems like OpenAI's GPT-3, which has a "sophisticated autoregressive language model" that uses in-depth learning for text generation based on the prompts you give it.
In other words, that means when you give it a prompt (for example, "write a cold email to advertise Eduma to new clients"), it will auto-suggest a sentence or section of text based on what it guesses you're searching for.
In practice, these tools summarize text from a large collection of data and then use machine learning algorithms to determine the best answer to the prompt. It's not rare for these tools to create sentences with falsified data and statistics, or with phrasing that doesn't sound right. That is, they are not yet ready to completely replace you, but they can serve as a valuable assistant.
What Are The Advantages of Utilizing AI Email Writer Tools?
Increase Email Writing Productivity
As you know, the first important strength of utilizing AI email writers for cold emailers is that they can minimize the amount of time required to write your emails.
As you are aware, writing a personalized opening line is critical to receiving responses to your cold emails. It demonstrates that you did your tasks on your prospect.
Writing these kinds of opening lines for each of your prospects is one of the most is very time-intensive aspects of cold emailing. AI email writer platform is the best way to assist you in automatically creating your opening lines, saving you a significant amount of time.
Easily Generate New Email Talking Points
Although we enjoy sending cold emails to new leads, it can be challenging to keep improving your email copy. Over time, it's simple to get into bad habits and find yourself going to repeat similar copy and talking points.
Hence, AI tools can assist you in creating fresh ideas that you may not have previously thought. According to one report on the new tech behind AI writers, GPT-3 is similar to a "scrapbook created from millions and millions of snippets of text that it then glues together in weird and wonderful ways on demand."
With the appropriate prompts, these tools can help you create unique subject lines, email content, and talking points to engage more prospects in conversations.
7 Most Famous AI Email Writer Tools
Let's dive in at the top email writer AI tools that we strongly suggest:
ChatGPT – AI Email Writer Free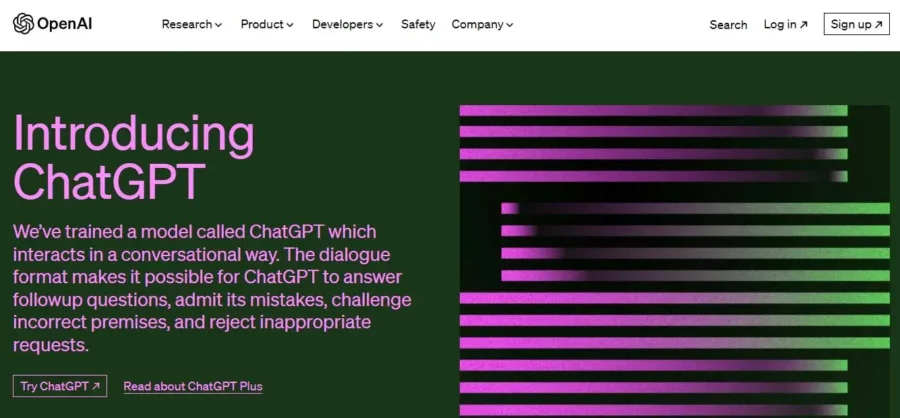 ChatGPT is a generative AI tool for writing marketing emails; all you are required to do is input a descriptive prompt into the chat. You can request ChatGPT to rewrite the email until you're satisfied because it's a conversational tool.
Pricing: Free research preview; $20/month for ChatGPT Plus
Zapier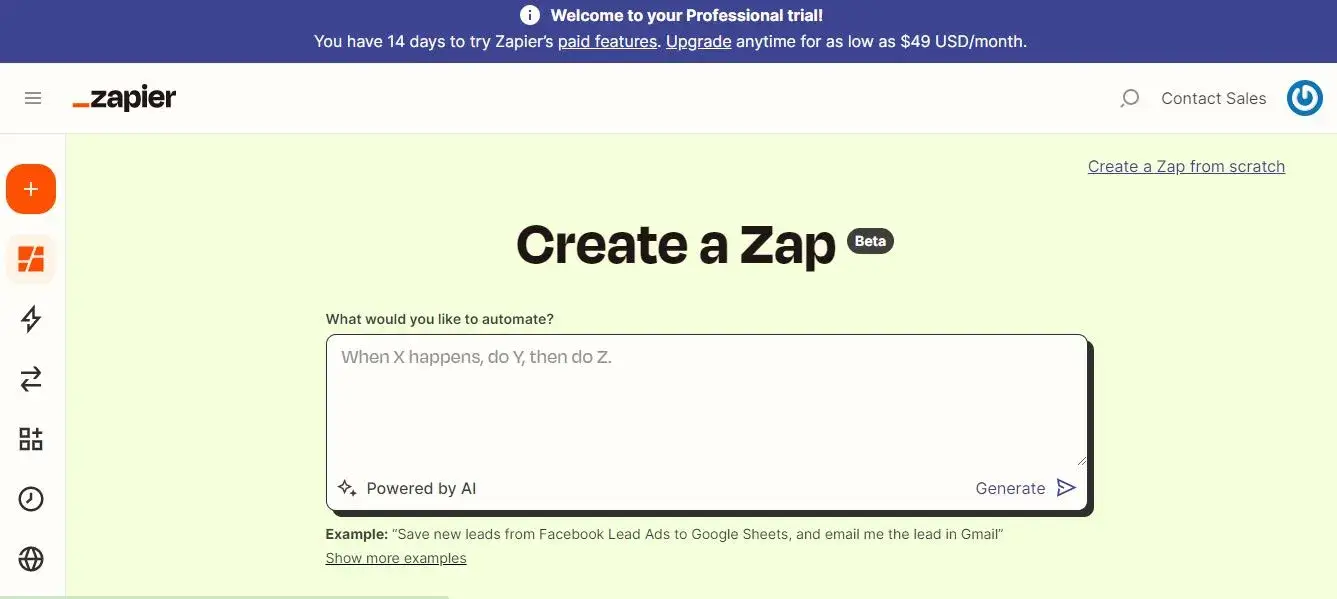 Zapier is based on Zaps, which are automated workflows that you can tailor to your specific requirements. With an API key from OpenAI, you can make an email-based Zap to generate email copies. Once you get an email that matches one of your Zaps rules, GPT-3 will prompt you to write a proper answer.
Pricing: absolutely free plan for the basics of automation; $19.99/month (Starter), $49/month (Professional), $399/month (Business) (Team), $799/month (Business) (Company).
Copy AI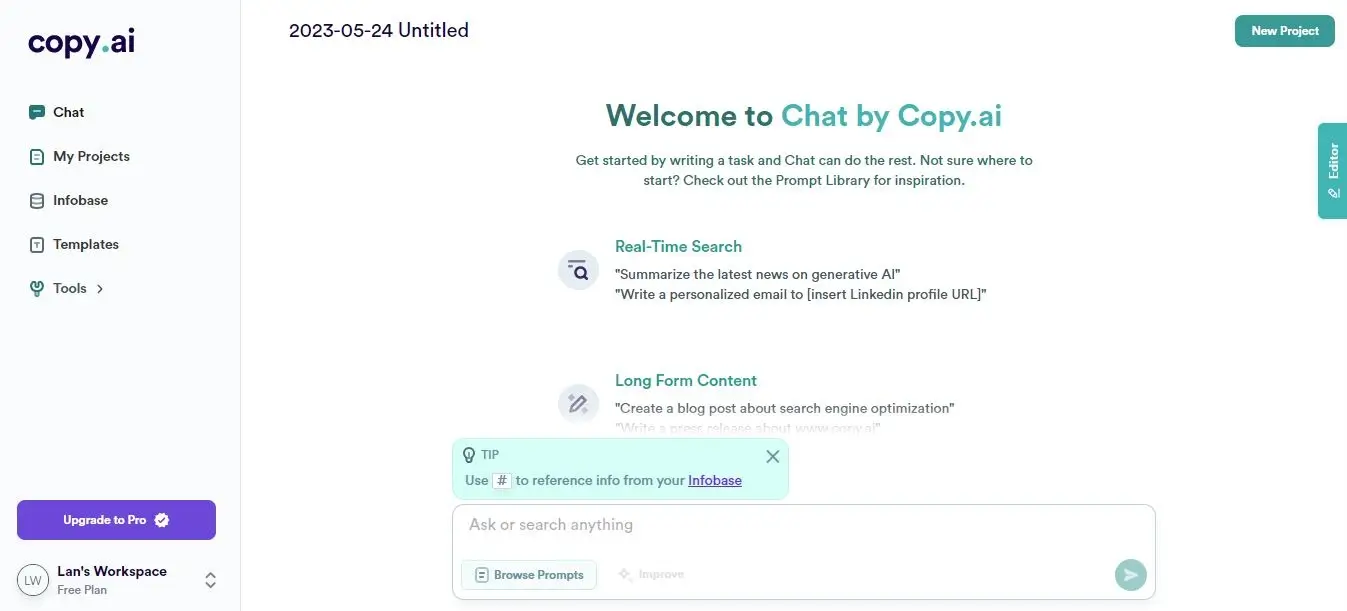 Copy AI is a well-known AI tool for writing high-converting marketing emails. It can generate email copy for you that matches your tone, style, and audience. Moreover, it can recommend subject lines and keep you on track with tips to enhance email quality.
Pricing: free plan for life; $49/month (Pro); enterprise pricing available.
Flowrite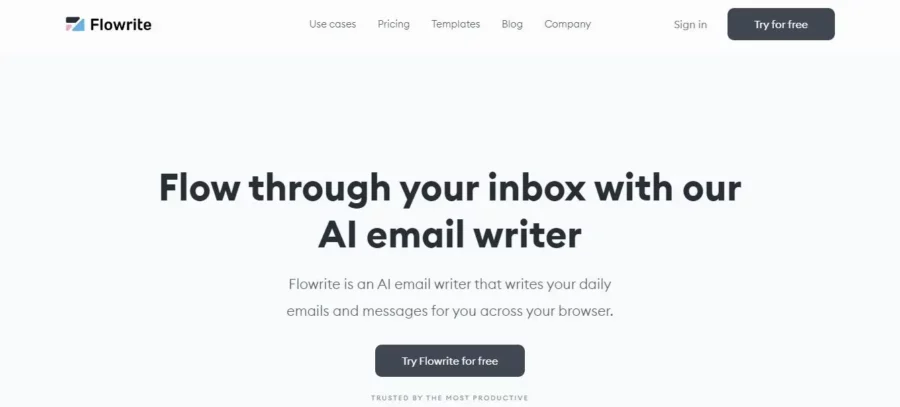 Flowrite is a smart AI email writer tool that will spare you hours every month on routine communication.
Basically, you just need to select a message template, such as a reminder email or a follow-up email, and provide brief instructions, and this AI writer will generate highly individualized messages based on the professional identity information you provide.
So that you can concentrate on the message's intention while Flowrite handles auto-suggest replies, delivery, formatting, correct grammar, and a proficient tone.
Pricing: Trial version, paid plans range from $5 to $30 per month depending on the number of messages sent.
Lyne AI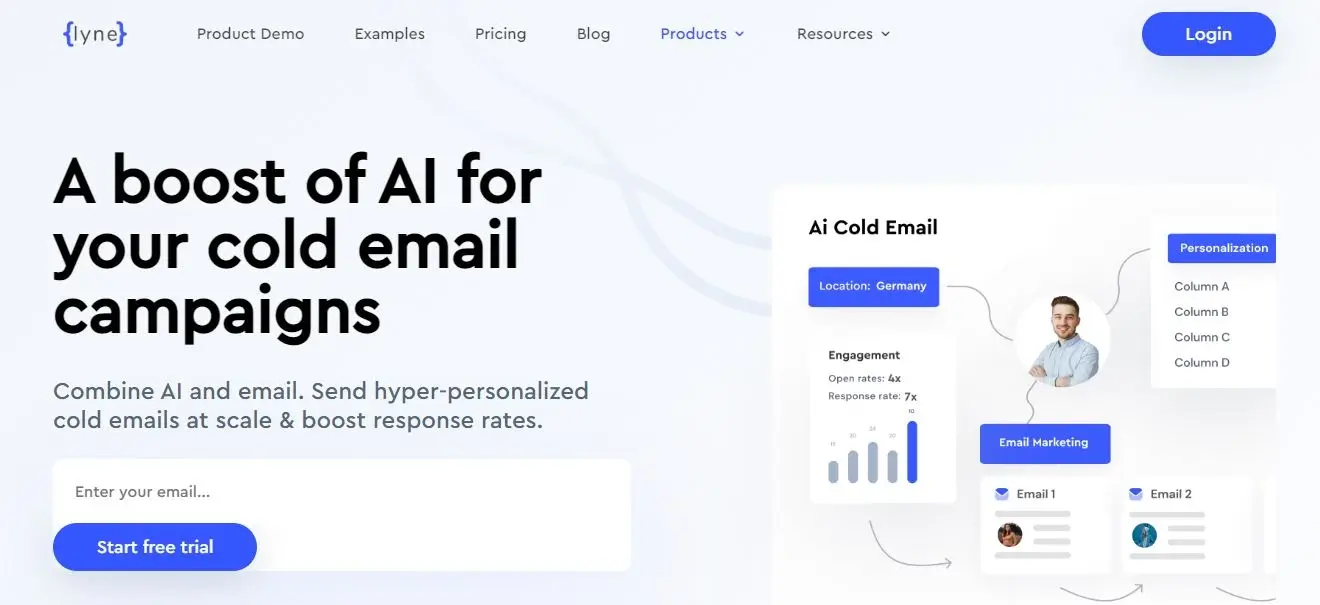 The next AI tool to write email you should consider is Lyne AI. It's used to create highly personalized opening lines for your cold email strategies.
To create your introduction lines, simply upload a CSV of your prospects' business email addresses or LinkedIn profiles. Then Lyne will detect their company web address (like ThimPress or ArrowTheme) or LinkedIn profile for critical data about them and generate an opening line.
You can ask Lyne to create short or long opening lines.
Pricing: Start a free trial, and the paid plan starts at $120.
SmartWriter AI
SmartWriter AI creates personalized sales emails for everyone you contact based on open-source prospect data from media articles, LinkedIn profiles, research studies, and more.
SmartWriter, unlike other copywriting tools that provide a lot of pre-made templates, focuses on creating email copy for cold outreach campaigns. Their templates cover everything from personalized icebreakers to cold emails, LinkedIn messages, and more.
Pricing: $49/month for 400 credits
Compose AI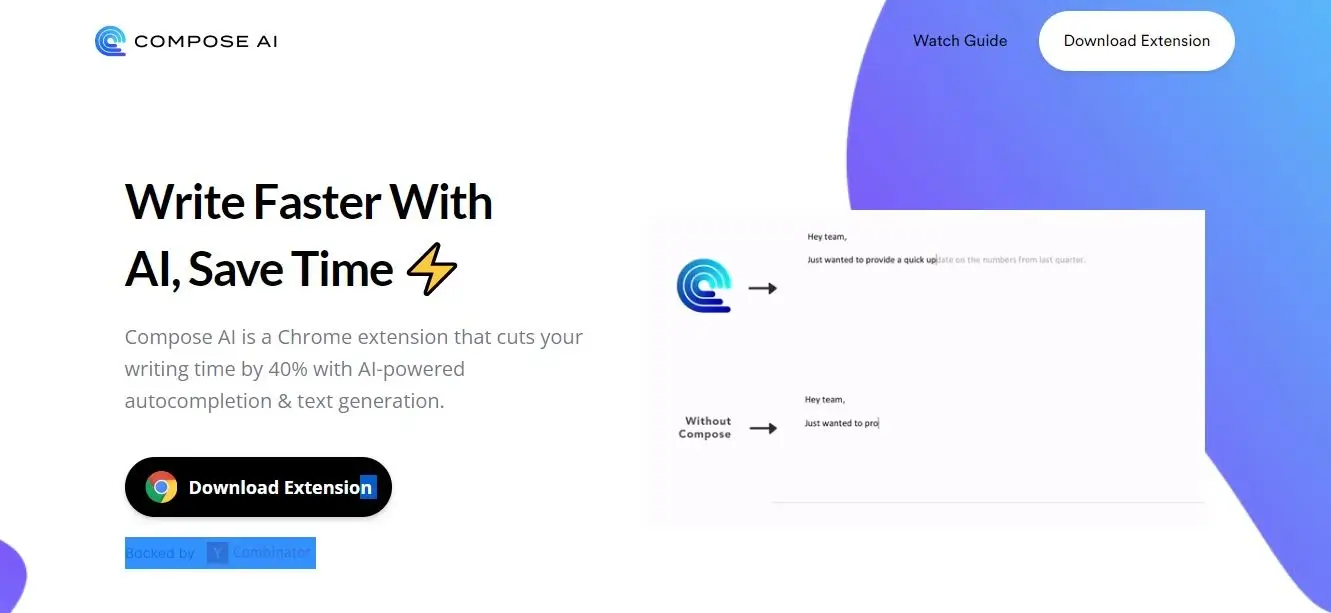 Compose AI is among the best AI email writer companies in the area today. Using GPT-3 technology, Compose AI can generate personalized and on-brand emails based on the information you provide. Moreover, Compose AI comes with an auto-complete feature that suggests you complete what you are writing correctly. Since it understands your unique brand voice, its suggestions and generations are indeed tone and brand-relevant. Plus, it is in a Chrome extension; you can easily install it and utilize your favorite websites.
Pricing: Free forever
Read more: Best Free Ai Essay Writer Tools for Any Type Of Topic
---
Contact us, ThimPress:
Website: https://thimpress.com/
Fanpage: https://www.facebook.com/ThimPress
Youtube: https://www.youtube.com/c/ThimPressDesign
Twitter: https://twitter.com/thimpress