BigCommerce is ideal for startup businesses and new online store owners because of its user-friendly interface and feature-rich but reasonably priced pricing options. You can get the Standard plan for only $29/month and enjoy a lot of essential features with no extra charges.
In this BigCommerce review, we'll go over the advantages and disadvantages of this website builder and contrast it with Squarespace and Shopify, two of its main rivals.
A Quick Overview of BigCommerce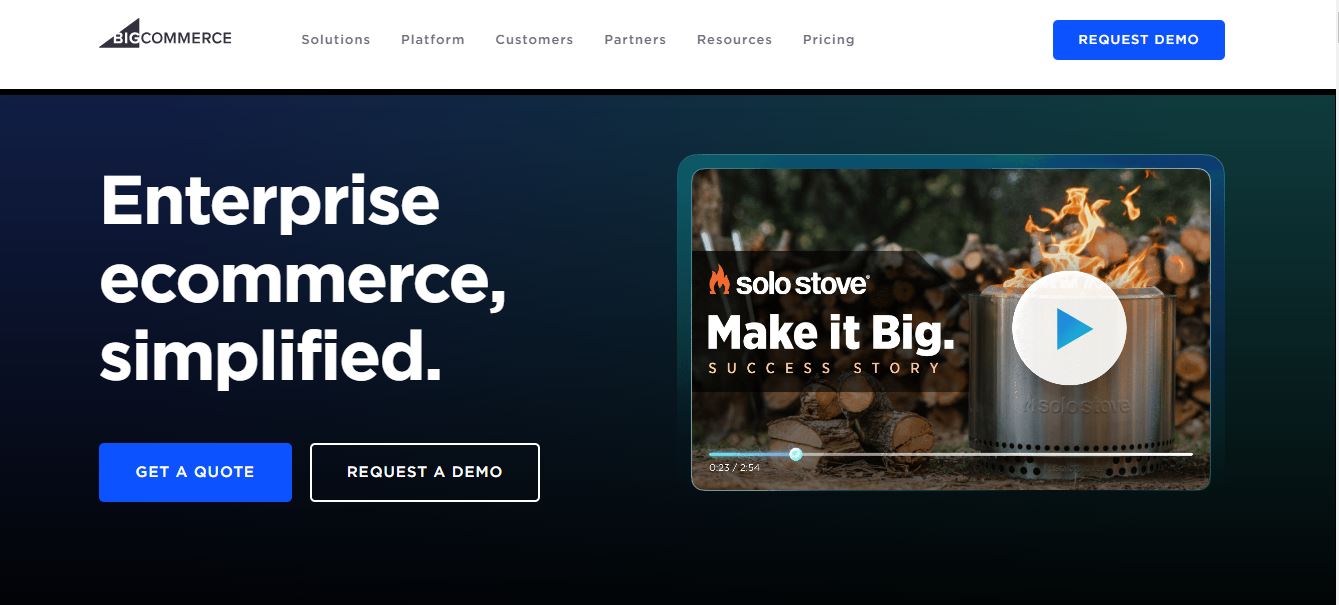 As we have shown above in the BigCommerce review instructions, this eCommerce platform provides a lot of benefits for your budget, especially for small businesses and new shop owners. Here are the specifics of the plans:
| | | | |
| --- | --- | --- | --- |
| | Standard | Plus | Pro |
| Monthly Fee | $39 | $105 | $399 |
| Monthly Fee for Yearly Plan | $29 | $79 | $299 |
| Perfect for | Individuals | Businesses | Growing businesses |
| No additional transaction fees | 0% | 0% | 0% |
| Multi-Storefront | Up to 3 | Up to 5 | Up to 8 |
| Mobile responsive website | ✔ | ✔ | ✔ |
| Multi-Currency | ✔ | ✔ | ✔ |
| Abandoned cart saver | X | ✔ | ✔ |
| Google customer reviews | X | X | ✔ |
| Customer service | 24/7 | 24/7 | 24/7 |
BigCommerce Review: Pricing
BigCommerce provides three plans for small businesses, with prices that rise in line with the number of additional features.
You have various options for plans that are priced from $29 to $299 monthly.
If you want to run multiple online stores and use the software's API, you can opt for the Enterprise solution. To learn more about this option, get in touch with the BigCommerce sales team.
BigCommerce Review: Features
The features are not the same for every plan, but these are the basic features that come with any plan:
12 free pre-designed templates
Unlimited adding products, file storage and bandwidth
Unlimited staff accounts
Product ratings & reviews
Real-time shipping quotes
Reporting tools
Coupons, discounts and gift cards
Apple Paym Google Pay, Amazon Pay, and PayPal support
Single-page checkout
BigCommerce mobile app
Built-in blog
Social media support
And more
As you can see in this BigCommerce review, the Standard plan does not include the abandoned cart feature, which lets you email customers who haven't finished their purchases a reminder. A purchase of the Plus or Pro plan is required if you want this feature.
BigCommerce Review: Fees and Currencies
There are no transaction fees for using BigCommerce. However, you might pay the credit card transaction fees of your chosen provider.
Despite being two of the most well-known companies in the industry, neither Square nor Stripe levies a monthly fee. But each transaction is charged a flat rate plus a percentage.
You can sell your products and services to customers from various regions with BigCommerce, as it allows you to use multiple currencies on your eCommerce site.
We have covered the fees and currency aspects of BigCommerce in this BigCommerce review.
BigCommerce Review: Reporting Functionality
Every plan from BigCommerce includes a number of essential reports, such as customer, sales, financial, and marketing reports.
Additionally, there are tools to help you with SEO.
Furthermore, there is a sizable app library that enables you to integrate with third-party software if BigCommerce doesn't natively support a dataset that you need information on.
How BigCommerce Compares to Other Platforms: BigCommerce Review
In this BigCommerce review section, we will conduct a comparison of BigCommerce, Shopify, and Squarespace by looking at their pricing and the features they provide to their users. This will assist you in choosing the platform that matches your online business goals and needs the best.
| | | | |
| --- | --- | --- | --- |
| | BigCommerce | Shopify | Squarespace |
| Pricing | A range of $29 to $299 monthly (on a yearly basis) | A range of $29 to $299 monthly (on a yearly basis) | A monthly rate of $16 to $49 for Advanced Commerce |
| Features | No limit on products and servicesProduct ratings and reviewsBandwidth without restrictionsNo limit accounts for staffMultiple currency salesPoint-of-sale (POS) functionalityDrag-n-drop interfaceReport feature24/7 customer support | No limit on products & servicesUnlimited data bandwidthUnlimited accounts for staffMulti-currency salesPOS featureDrag-and-drop editing | Unlimited number of products & servicesNo limit bandwidthNo limit for accounts for staffMulticurrency salesDrop-and-drag interface |
| Additional Costs | No charge for transactions | Up to 2% charge for transactions | No added transaction fees on Commerce plans |
After taking a look at this BigCommerce review section, one thing that sets BigCommerce apart from Squarespace vs Shopify is that BigCommerce does not have a feature to save carts that customers leave behind with its basic plan, and it has fewer free templates to create your site.
You may have to pay $150 to $400 for more templates. But Shopify and Squarespace have many free templates for you to build your website with.
BigCommerce charges no transaction fees and offers advanced reporting tools with its Standard plan, whereas Shopify applies a 0.5% to 2% fee for using a third-party payment processor and demands a higher-priced plan to produce detailed reports. Advanced analytics are not available on Squarespace's most basic plan.
You can easily use any of the three platforms, with an interface that is clear and simple and a website builder that enables you to drag and drop.
Is BigCommerce Right for You or Your Business?
BigCommerce is a fantastic choice for SMEs and newly opened storefronts since it provides a budget-friendly basic plan that is loaded with features. It's a great option for people who want to keep their current 3rd-party payment processor.
BigCommerce Review: FAQs
The FAQs section of our BigCommerce review is our pride and joy, where we address the most frequent and relevant questions you may have about this fantastic eCommerce platform.
What is BigCommerce?
The well-known hosted eCommerce platform BigCommerce offers all the tools required to set up an online store. This process is particularly well-supported if you already operate a physical store and need to move it online. You only need to create a BigCommerce account to get started customizing and making money off of your store.
How much does BigCommerce cost per transaction?
It doesn't have a native payment processor, so the answer is no. Users can pick their own payment gateway, which will charge processing fees for credit card payments.
With BigCommerce, is it possible to customize my online store?
Yes, there are 12 free templates available, and there are also more than 100 other templates available for purchase for between $150 and $400.
Are there any marketing features offered by BigCommerce?
Yes. The Standard plan allows you to run marketing reports. Along with blogging capabilities, BigCommerce offers powerful SEO tools with each of its plans. Integration with WordPress is required if you want an RSS blog.
Does dropshipping work with BigCommerce?
Yes, you can dropship products on a BigCommerce-built website, but you'll need a third-party app to do it.
eCommerce platform and eCommerce hosting: What is the difference?
A website needs to be hosted somewhere, which is what an eCommerce website host does. An eCommerce platform helps you design a stunning and appealing online store or a collection of web pages where customers can discover and interact with your brand. Websites are housed on servers that can handle the traffic that is directed at them.
How much revenue can I earn from e-commerce?
Although the amount will vary depending on the market niche, product, and competition, e-commerce businesses can generate significant revenue. If you pick the right product and have a well-oiled marketing system in place, a drop-shipping business, for instance, has low overhead costs, can be operated on a part-time basis, and has the potential to earn a lot of money. Increasing their sales and paying higher overhead costs are the conditions for physical goods companies to turn a substantial profit.
Final Thoughts
After reading our BigCommerce review, we hope that you gained more insight into what BigCommerce can offer you and how it compares to other eCommerce platforms.
BigCommerce is a complete SaaS eCommerce solution that makes it simple for you to launch and manage your online store quickly. It has a reputation for being the ideal fit for small and mid-sized businesses. You shouldn't overlook BigCommerce if you have a current online store and plan to expand it soon.
Read More: Wix vs Shopify: Which One is Better for eCommerce?
---
Contact us, ThimPress:
Website: https://thimpress.com/
Fanpage: https://www.facebook.com/ThimPress
Youtube: https://www.youtube.com/c/ThimPressDesign
Twitter: https://twitter.com/thimpress