ThimPress has come a long way from zero to where we are today, We have a Domain Authority of over 50 in 2023 and a spam rate of 1%.
In the early days, it was very slow, but as we gain experience, we now know how to produce effective content that meets SEO standards faster. So "What is SEO?", we will learn the SEO basics right after.
By reading this article, you will definitely have more effective ways to optimize your SEO.
What is SEO?
To understand basically what SEO is, remember the Search Engines you often use, it could be Google, Bing, Yahoo, and others; You are probably very familiar with these names because you often use them to search for information on the website, especially with the Google search engine.
In 2023, Google search engine accounts for more than 90% market share of search engines, so when it comes to SEO we often want to optimize for Google search engine.
So, SEO is the process by which we optimize web pages to achieve the best results based on the content evaluation criteria of search engines.
The goal of SEO is to achieve high rankings in search results, thereby bringing organic traffic to web pages without paying.
When we optimize for SEO and Google considers our webpages to be authoritative and have keywords to be searched, and the content we provide is useful to users, Google will "mark" this website as worthy.
And because it's worth it, your chances of being featured on the SERPs will be higher.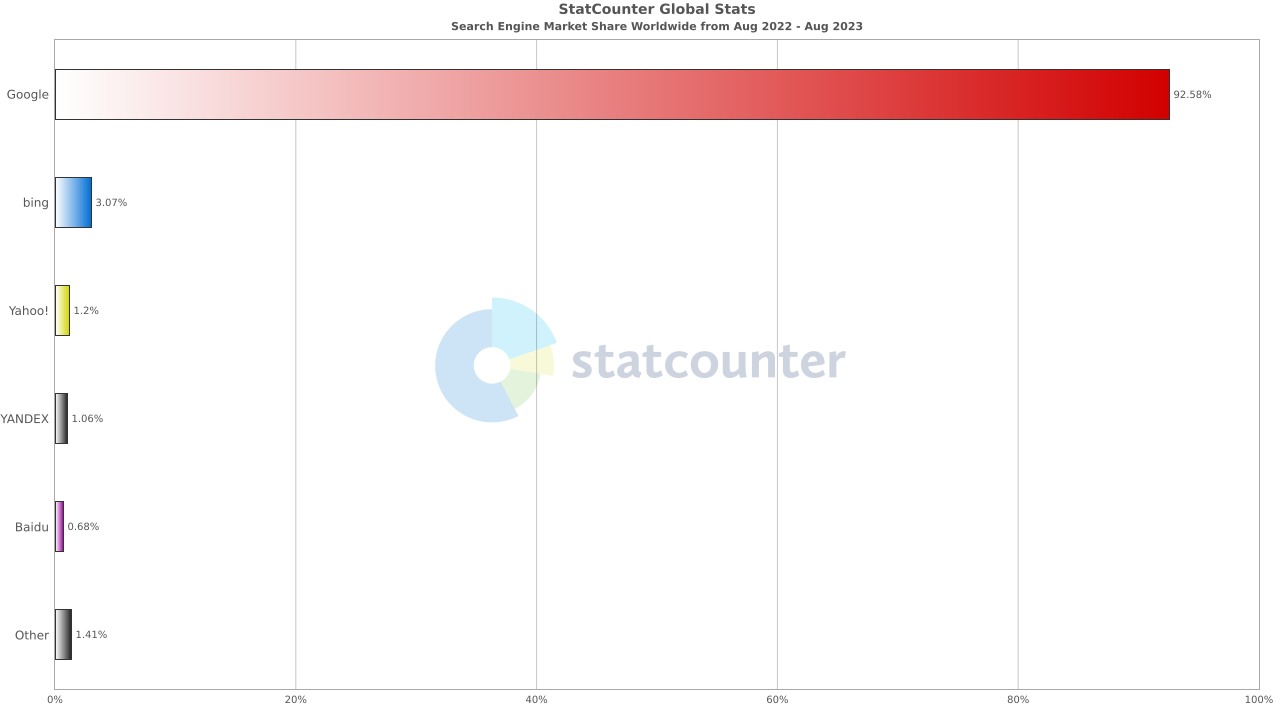 Should I Use SEO as a Strategy?
SEO is one of the many marketing channels that businesses are often interested in. Besides SEO, other popular marketing channels are Facebook Ads, Instagram Ads, Google Ads, Twitter Ads, and in recent years TikTok Ads. The common feature of the marketing channels we just mentioned is that they are all paid advertising.
Depending on what type of business you are, and what products you sell, to get a customer, you have to pay for advertising.
On the other hand, SEO is completely free, and it is an extremely sustainable marketing channel.
In addition to bringing organic traffic, efficient SEO practices also benefit the website as a whole. It is the technique by which you can make your website more attractive, quick, practical, and authoritative by optimizing all aspects.
Note: An interesting piece of information from Forbes research is that compared to paid results, organic search results typically have better click-through rates. The reason for this is that people often believe in reliability rather than advertising. Therefore, do not ignore SEO marketing channels.
Getting Started with SEO.
To understand how to start your website SEO, we will go through each of the main points that will cover the SEO components that you must pay attention to:
Keyword Research.
Content Creation.
On-Page SEO.
Technical SEO.
Link Building.
Keyword Research.
You should use this approach. Lots of article writers forget about Keyword Research.
To ensure that people like and see your product, you need to figure out what your customers want and make changes before you introduce it.
To begin, you brainstorm and come up with possible words and phrases people might search for.
After you've found a few good keywords, you can use an SEO tool like SEMrush, MOZ, or Ahrefs to see how many other websites are trying to rank for the same keywords.
This helps you understand how hard it might be to compete for those keywords.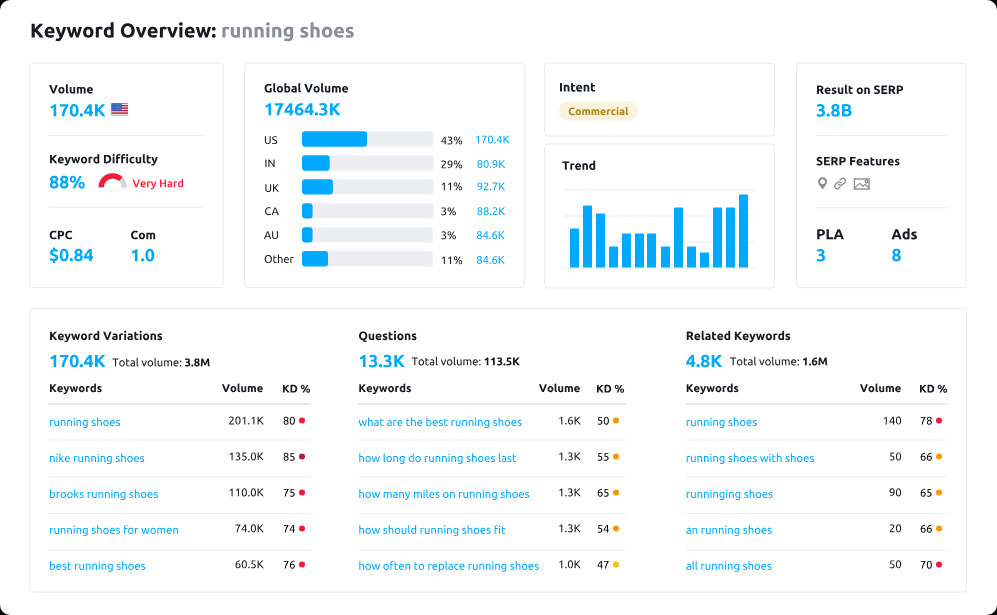 Additionally, those techniques are useful for locating new keywords, particularly so-called long-tail keywords.
TIPS: Use other audience segmentation information, such as age, gender, education, and location, to your advantage. The likelihood of us ranking for "WordPress Theme" is low, but our ranking for "Education WordPress Theme for LearnPress" is significantly higher.
Content Creation.
Content Creation is crucial right from the start of your SEO plan.
Lately, Pillar Content has become a really good way to make content.
This way of making content makes it easy for both people and search engines to understand what's on the page.
Pillar Content should be quite long (somewhere between 1,500 and 3,000 words), it should show that you know a lot about the topic, and you should do thorough research.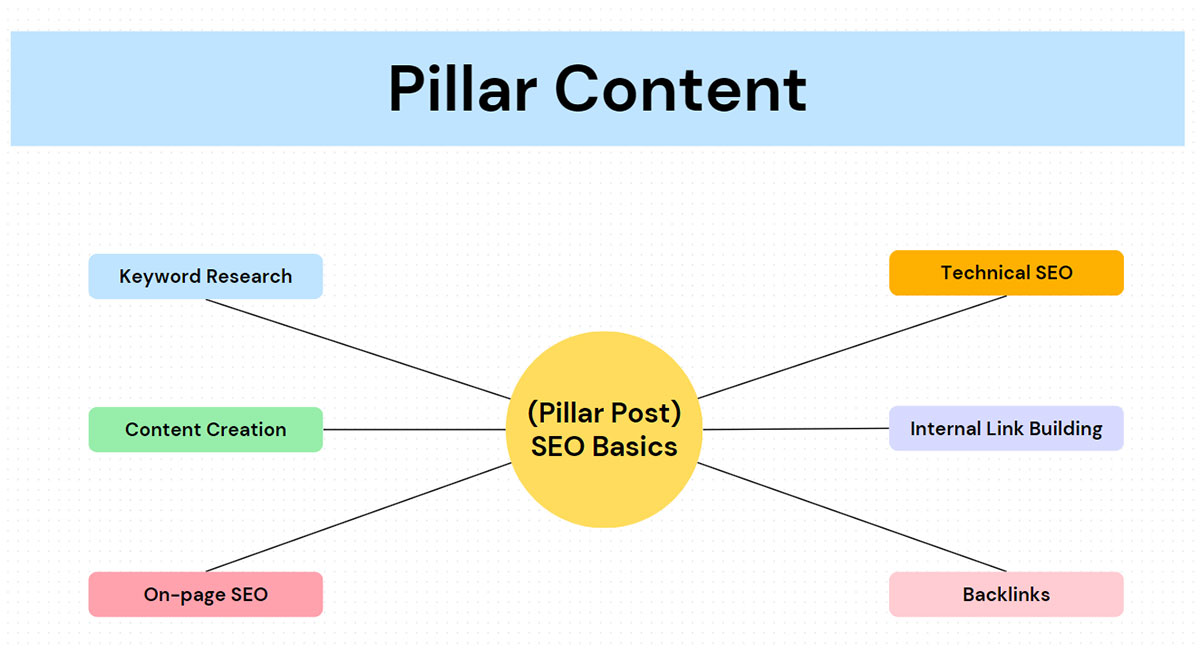 Pillar Content is effective because it serves as a foundation for your other articles to build upon. This makes your website seem more reliable and like an expert source.
When search engines check out your page, they don't just follow links. They also look at what's inside the pages they connect to. When they see that certain links are often used and important, they consider them as crucial parts of your website. This can lead to higher rankings in search results.
Additionally, it's likely that the links inside your Pillar Post will get a boost from any links from other websites pointing to it.
On-page SEO.
When it comes to increasing your website's exposure and ranking in search engine results pages (SERPs), on-page SEO, sometimes referred to as on-site SEO, is essential.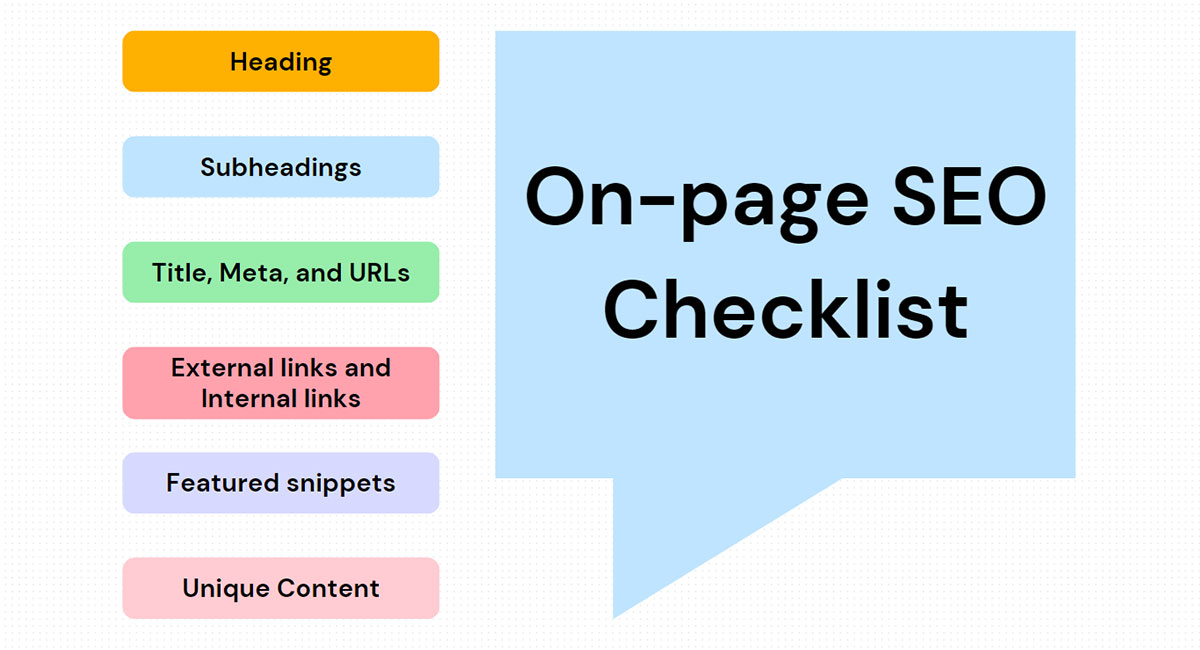 Heading. Begin with an H1 element for your page title. The H1 tag is crucial because it tells search engines what your page is about. Make sure it's short, directly relates to the content, and includes relevant keywords.
Subheadings. Use H2 to H6 tags for subheadings to organize your text effectively. These tags create a structure that helps search engines understand how your content is organized.
Title, Meta, and URLs. For each page, craft an attention-grabbing title tag and meta description. These elements are displayed in the search engine results and greatly influence how many people click on your page. Use keywords that are both appealing and relevant to entice readers to click on your website.
Make short and clear URLs that are friendly to search engines. Avoid using confusing URLs with random numbers or codes, as both search engines and users may not understand what they stand for.
Optimize for Images. Make sure your images load quickly by reducing their file sizes without losing quality. Smaller image files help your pages load faster, which is important for search engine rankings. Also, use descriptive alt text that accurately describes what's in the image. This helps search engines understand the visual content of your website.
External links and Internal links. Incorporate external links to trusted sources within your content. These links boost your website's credibility and show search engines that you provide valuable information. Also, create a web of connected pages on your site by adding internal links. This improves website navigation and helps search engines discover and index your page more easily.
Featured snippets. Make your content featured snippets ready. These are the highlighted boxes that offer succinct responses to user inquiries and are found at the top of SERPs. Make sure to respond to frequently asked questions in a clear and succinct manner to improve your chances of being included in featured snippets.
Technical SEO.
The process of optimizing your website for search engines like Google to find, crawl, understand, and index your content is known as technical SEO.
The objective is for your website to be unquestionably discovered and rated, which will raise ranks. Make sure you have Google Search Console set up for technical SEO.
Read the article on Techniques to Index Your Website on Google to gain a better understanding of technical SEO. Thankfully, there are also the most effective approaches to Technical SEO.
TIPS: Make sure your websites are regularly maintained in accordance with Google's standards since this will enhance technical SEO.
Link Building.
Backlinks, or links to your website from other websites, are very important for SEO. Without a particular number of backlinks, a website will find it difficult to appear on Google's first page of search results. Backlinks from trustworthy websites not only boost your legitimacy and reputation in Google's eyes, but they also improve natural referral traffic.
Backlinks are highly valued by Google's algorithm since they show that your content is supported by other websites and act as public validation. The question that now arises is: How can you get more backlinks?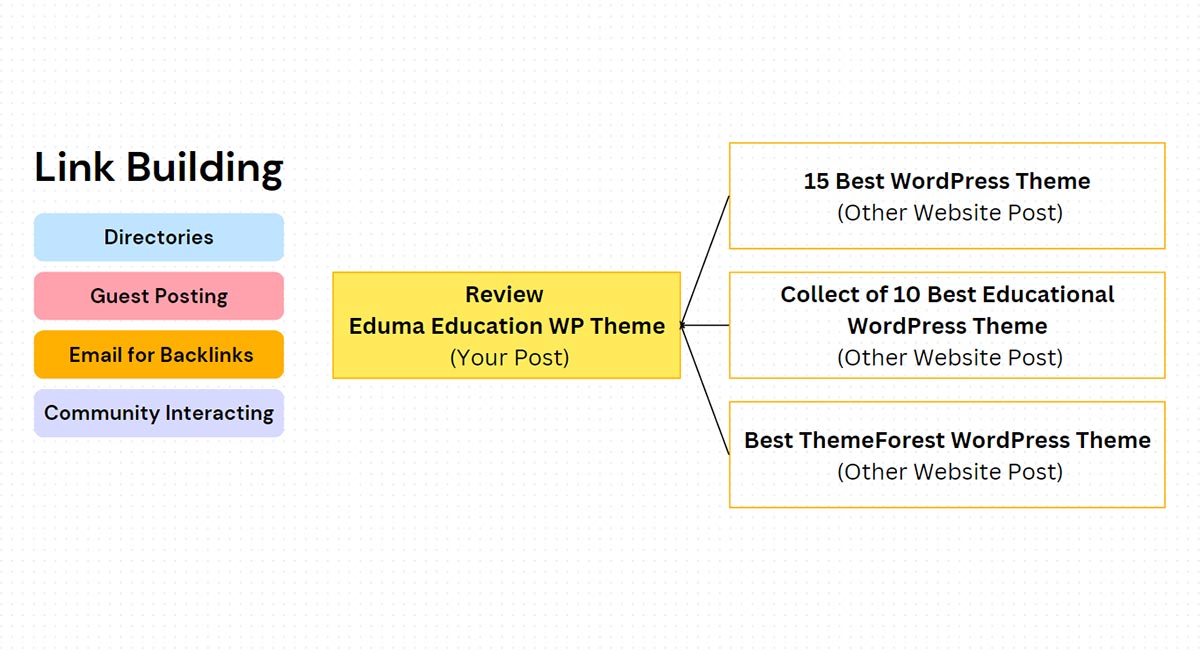 Directories. Include links to your website on review sites, small business associations, and directories for your industry like Google My Business, Yelp, G2, and Capterra. In every directory pertaining to your industry, you want to have profiles with backlinks to your website.
Guest post. Look for blogs that allow guest posting. Send them an email, create a thought-provoking essay, and don't forget to include a few links to your website. Search for "write for us/become an author" and your keyword in Google to find opportunities for guest posting. Start signing up now! bias in favor of opportunities on domains with high DA. To find out a site's DA (0-100), you can use a tool like DA Checker.
Email for backlinks. A strong argument must be made to website owners when requesting backlinks. Unless it benefits them, they have no reason to spread the word about your work.
Thus, it's crucial to consider "What does it benefit Them?"
Finding websites with the same DA threshold as yours is the most practical technique to seek backlinks via email. For instance, while seeking backlinks, ThimPress frequently selects websites with DA values between 40 and 70. You could assist them by re-linking them. To ensure relevance, keep in mind that such pages must have content and keywords relevant to your website.
Community engagement. When you can do so in a pertinent and intelligent manner, leave comments on blogs and social media. Quora, developer communities, product communities, blogs with link-sharing comment sections, and so on.
Track SEO results.
To measure SEO effectiveness, we will use 3 main goals.
Website Traffic. Reflect the usefulness of the content to the user
Keyword Rankings. Reflect on the relevance of the keyword to the website.
Domain Authority. Reflect on useful and accurate information provided by the website.
Website Traffic.
Google Analytics. Set up Google Analytics on your website to track numerous metrics, such as visitors from organic searches. It offers useful information about the number of visitors, their activity, the sources of traffic, and more.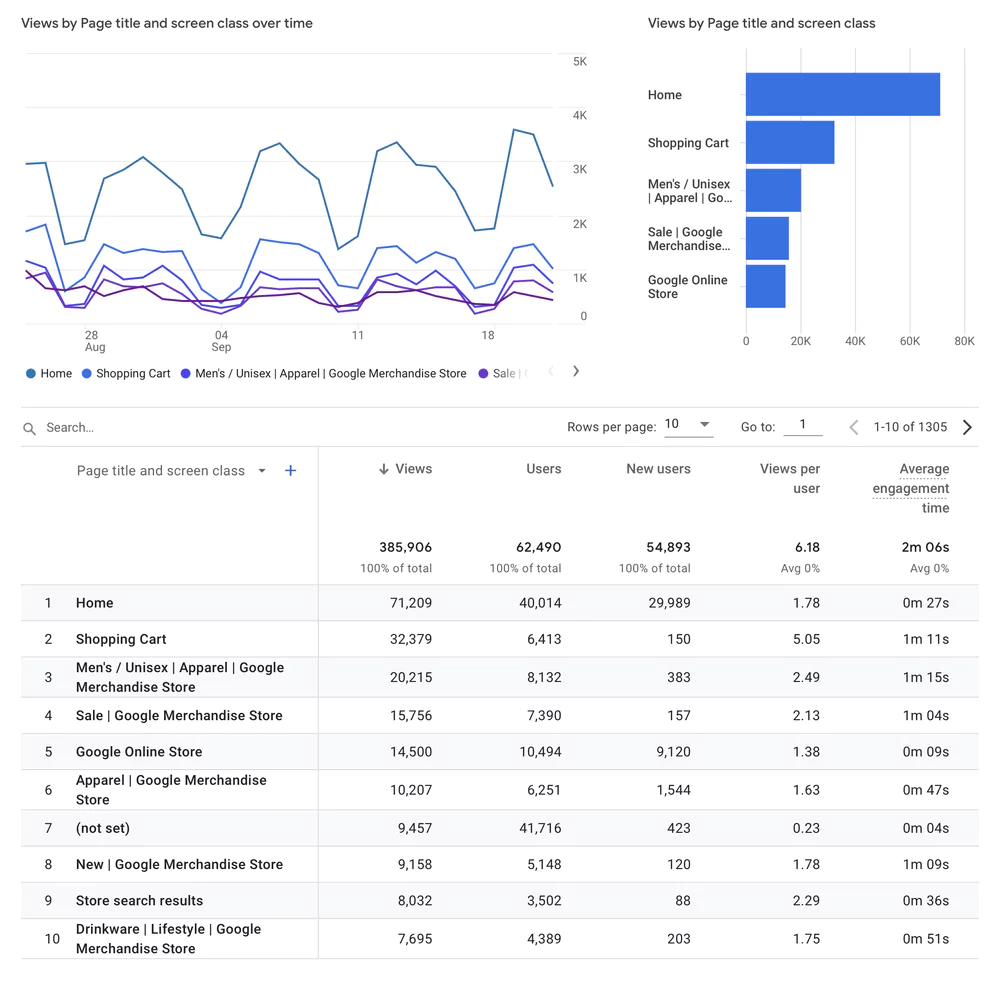 Organic Search Report. To view how much traffic is coming from search engines, go to Acquisition > All Traffic > Channels > Organic Search in Google Analytics. To gauge progress, you can monitor the general trend, spot traffic peaks or valleys, and compare time periods.
Keyword Rankings.
Rank Tracking Tools. To keep track of your keyword rankings, use software like SEMrush, Moz, or Ahrefs. With the help of these tools, you can keep tabs on a set of keywords over time, verify where they appear in SERPs, and get notified when anything changes.
Google Search Console. Set up Google Search Console to get information on how your website performs in Google search results. The ranks, impressions, clicks, and average position for your keywords are displayed in the Search Console's Performance report.
Domain Authority.
Moz's Domain Authority (DA). Moz provides a popular metric known as Domain Authority that assesses the reliability and authority of a website's domain.
Using Moz's Link Explorer tool, you may monitor changes to your website's DA. Better possibilities of ranking highly in search results are indicated by higher DA.
Domain Rating (DR) from Ahrefs. Ahrefs has a comparable statistic called Domain Rating that assesses a domain's backlink profile. Using Ahrefs' Site Explorer tool, you can keep tabs on modifications to the DR of your website.
FAQs about SEO (Search Engine Optimization)
We will answer questions related to SEO Basic that customers are interested in below.
What is YouTube SEO?
YouTube SEO means making your YouTube channel, playlists, video titles, descriptions, and metadata better for SEO so that they perform well in YouTube's search engine and in other search engines for video too. You can use YouTube SEO Tools to help your channel SEO.
What is an SEO company?
An SEO company is a company that offers services to help other businesses improve their visibility on search engines like Google. SEO, which stands for Search Engine Optimization, involves making changes to a website's content, structure, and technical elements to make it show up higher in search engine results pages (SERPs).
What is SEO content?
SEO content is content that's created with the goal of appearing near the top of search engine results pages (SERPs). To achieve this, SEO content is tailored for specific keywords that people commonly use when looking for information online. In short, SEO content is helpful content for people (according to Google reviews, of course).
What is SEO and SEM?
SEO and SEM are two terms that are often used interchangeably, but they actually have different meanings.
SEO (Search Engine Optimization) means making your website better so it shows up higher in Google and other search engines. You do this by improving your website's content, how it's set up, and its technical stuff.
SEM (Search Engine Marketing) is a bigger term. It's all the things you do to get your website noticed in search engines. That includes SEO, but also paying for ads on Google.
| | |
| --- | --- |
| SEO | SEM |
| Focuses on organic search results | Focuses on both organic and paid search results |
| Takes time to see results | Can see the results more quickly |
| Requires ongoing effort | Can be stopped or paused |
| More cost-effective | Can be more expensive |
SEO and SEM
NOW You Know "What is SEO?"
You are given a wealth of useful information on SEO in addition to being able to answer the question "What is SEO?" Therefore feel free to share this post on your site if you find it helpful. As a result, while following best practices, creating great, shareable, and detailed content should always be your top priority. You'll be on the correct track if you adopt this strategy.
Read More: WordPress for Education: A Comprehensive Guide
---
Contact us, ThimPress:
Website: https://thimpress.com/
Fanpage: https://www.facebook.com/ThimPress
Youtube: https://www.youtube.com/c/ThimPressDesign
Twitter: https://twitter.com/thimpress