SEO is comparable to a beauty competition for websites, where search engines serve as the judges and the first page of search results is the winner.
You must abide by specific guidelines, such as employing natural backlinks and producing quality content while avoiding spamming links and posts if you want to succeed. While using WordPress and modifying your website with plugins can help, winning is not guaranteed. Although effective SEO won't always increase visitors, it's crucial to try.
You can win by having a compelling page title, an understandable URL, and excellent content. Making your website appear appealing to search engines is the aim.
What are the various categories of SEO?
There are three primary kinds of SEO that you should be aware of when it comes to optimizing your website for search engines:
On-Page SEO: Individual web pages must be optimized for on-page SEO in order to rank higher and draw in more relevant search engine traffic.
Off-Page SEO: In order to increase your website's visibility and authority, off-page SEO entails optimization methods applied outside of your website.
Technical SEO is enhancing your website's more technical components in order to raise its search engine rankings and visibility.
How can you enhance the SEO for each of the different types?
You can use the following tips to improve your SEO website and increase clickthroughs:
On-page SEO: Use tools like Yoast SEO or Rank Math to help you better grasp what "search engine friendly" means and how to make your website's content as "search engine friendly" (Google) as possible. You can optimize it yourself after getting to know it well.
Off-page SEO: These are the steps you will take away from your website to improve its reputation. By engaging (as article links) on reliable and pertinent blogs, google will assess you more favorably. thereby raising your rating. You may grow your presence on social networks, YouTube, and forums in addition to blog entries.
Technical SEO: These are the steps involved in optimizing your website so that it is user-friendly, quick, and appealing to visitors. For more information, read our articles on caching plugins and performance plugins. WordPress provides a ton of great solutions for this.
Related: Check our "What Is Frontend In WordPress?" to understand more about improving On-Page SEO.
Recommended order for improving the different types of SEO
So, what is the recommended order for improving the different types of SEO?
On-page SEO: Make your website pages' content and logical layout more search engine friendly. You can make sure that your website is prepared for success when it comes to ranking in search engine results pages (SERPs) by concentrating first on on-page SEO.
Technical SEO: Enhancing your website's technical features, such as its crawlability, mobile friendliness, and security. It's crucial to ensure that these technical aspects are in good working order because they can significantly affect both your website's ranking and user experience.
Off-page SEO: Creating social signals and backlinks from other trustworthy websites to your website. As a result, your website may rank better in search engine results thanks to an increase in authority and credibility.
One crucial point is that spamming won't work and could result in negative Google judgment, so before focusing on off-page SEO, make sure your articles have quality content and user trust. In other words, excel at on-page SEO first.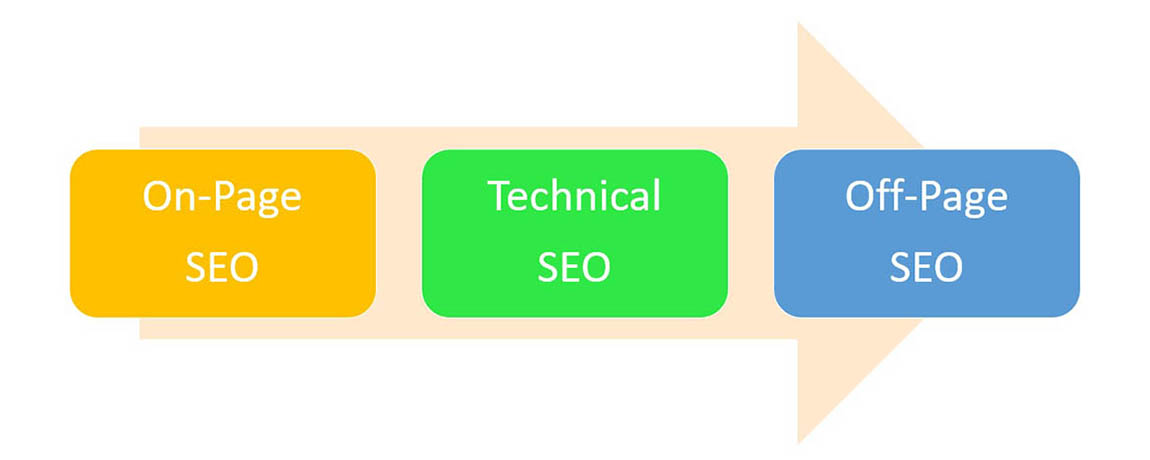 Conclusion: Now you know 'What is SEO?'
In conclusion, it's crucial to concentrate on all three of the major types of SEO in order to optimize your website for search engines. Although all forms of SEO are crucial, it is advised to give on-page SEO the highest priority, followed by technical SEO and off-page SEO in that order.
These are a few easy methods for giving your website the SEO boost it needs. Who knows, though? Maybe one day you'll be enjoying a coffee and your newfound internet fame while perched proudly on the highly sought-after top page of search results. We salute that!
Read More: What Is Backend In WordPress?
---
Contact us, ThimPress:
Website: https://thimpress.com/
Fanpage: https://www.facebook.com/ThimPress
Youtube: https://www.youtube.com/c/ThimPressDesign
Twitter: https://twitter.com/thimpress