Let's talk about something really important for websites and how they show up on search engines like Google. It's called Internal Link Building. This is when you link different pages on your own website to make things easier for people who visit your site and to make Google like your site more.
Imagine your website is like a big book, and each page is a different chapter. Internal link building is like putting bookmarks in your book so you can flip between chapters easily. It's also like creating a map to find your way around the book.
In this post, we'll explain what internal link building is and give you some tips on how to do it better. We'll also talk about special tools and tricks for people who use WordPress to build their websites.
What is Internal Link Building?
Internal Link Building is a way to make your website better for both search engines and people.
It means connecting the pages on your website so that search engines can find and index your website better. It also helps people move around your site more easily.
By making these connections, you can guide people to useful information on your website, making their experience better.
The Benefits of Building Internal Links.
Internal link building takes some time, but it's worth it because it brings three main benefits to your website and its visitors. Let's take a closer look at these advantages with ThimPress.
Enhanced User Experience.
Internal link building makes your website better for users in three key ways:
Enhanced User Experience: You can use internal links to guide visitors to related or interesting content, encouraging them to explore your website further. This keeps them engaged and browsing for longer.
Comprehensive Information: By providing internal links to valuable information, insightful articles, or relevant products and services, you increase the chances that visitors will stay on your website and view more pages.
Increased User Engagement: Effective internal linking also boosts user engagement, which sends positive signals to search engines. When search engines see that visitors spend more time on your site, they recognize that your content is valuable and relevant to their search queries.
Improved Website Navigation.
Internal link building also helps with website navigation:
Clear Signposts: When you strategically place internal links, they act like signposts, guiding users to relevant or related content. This makes it easy for people to quickly find useful resources, articles, or products/services on your site. Simple navigation layouts with internal links can keep visitors engaged and reduce bounce rates.
Increased Page Views: Internal link building increases the number of pages visitors view. People are more likely to click on internal links that lead to interesting and relevant information. When users can easily find the information they need without hitting dead ends or confusion, they have a better experience on your site.
By using internal links effectively, you speed up their journey, showing that you value their time and needs, and encourage them to explore more of your website.
Maintaining a Natural Language Flow.
It's important to keep the text around your links sounding natural and easy to understand. People should be able to figure out what the link is about without any confusion. Instead of using common phrases like "click here" or "read more," it's better to use anchor text that gives specific and relevant information.
For instance. Instead of saying, "See more information about Eduma Theme here," you can write, "You can check out our Eduma theme reviews, which can help you decide whether to buy it." This way, users can understand the link's purpose more easily and feel more comfortable navigating your content.
Diversity and Variation.
To create a solid internal linking strategy, it's important to have diversity and variation in the anchor text. Don't keep using the same anchor text repeatedly. Instead, look for different ways to phrase it that provide more context or cover other aspects of the linked page's content.
This diversity helps search engines grasp the full scope of your content, which can improve your website's visibility in search results over time.
Put The Needs and Expectations of The User First.
Always make the user's needs and expectations your top priority when choosing anchor text. Select anchor text that is descriptive, relevant, and optimized for keywords to enhance the user experience, guide users to useful resources, and improve your website's SEO performance.
When it comes to internal link building, choosing the right anchor text is a crucial step. For example, even if the anchor text is correct, avoid inserting links to plugins exclusively designed for platforms other than WordPress when your article is about WordPress plugins.
This ensures that your links match the context and meet the user's expectations.
How to Build Internal Links for SEO?
A good SEO strategy should definitely include internal link building as a crucial component.
Internal links are important because they help search engines navigate and understand your website's structure and content hierarchy.
When you strategically place internal links, you guide search engines around your site, making it easier for them to discover important pages.
These internal links also convey to search engines the significance and relevance of specific web pages on your site.
By linking from other relevant and authoritative pages to these important ones, you can emphasize their importance and potentially boost their rankings in search engine results.
Note: The position of a website in the search engine results pages (SERPs) for a specific search query is referred to as SEO ranking.
Choosing the Right Anchor Text
Selecting the right anchor text is a crucial part of building internal links and should not be overlooked. Anchor text is the visible and clickable text that links one page of your website to another.
To make your internal links work their best, you need to use appropriate anchor text. This not only improves the user experience but also boosts your website's visibility on search engines.
If you're new to this and unsure how to add links to anchor text, you can learn from our tutorial on "How to Add a Link in WordPress."
Choosing Relevant Anchor Text
Selecting relevant anchor text is crucial when building links. The anchor text you choose should accurately describe the content of the linked page so that users know what to expect when they click the link. This relevance helps search engines understand the context and significance of the linked page and also aids users in navigating your website.
It's important to note that anchor text should include keywords. For example, if you have a link with the anchor text "SEO," it's clear that it's related to the link "https://thimpress.com/what-is-seo/"
For example. At ThimPress, we use articles in the Glossary category to link terms like "themes," "plugins," and "sidebars." For posts about collections, we use anchor text like "Best WordPress Education Themes" to make it clear what the linked page is about.
Incorporating Relevant Keywords.
Another important aspect of effective internal link building is using relevant keywords in anchor text. This is a critical element because it helps search engines understand the content of the linked page and its relevance by incorporating keywords associated with that content.
For example, if people are searching for "how to optimize SEO for websites," you can use related keywords like "optimize SEO plugins for WordPress" and "optimize SEO tools" in your anchor text. This way, users can spend more time reading your post since the anchor text aligns with their search intent.
Tools like SEMrush can assist you in conducting research on related keywords, which we'll discuss in more detail below. Keep reading to learn more.
WordPress Internal Link Building Plugins.
For WordPress users, there are some excellent internal link building plugins available. These plugins are designed to automate and simplify the process of connecting to relevant pages on your website. Their main purpose is to make it easier for website owners to create internal links to important pages.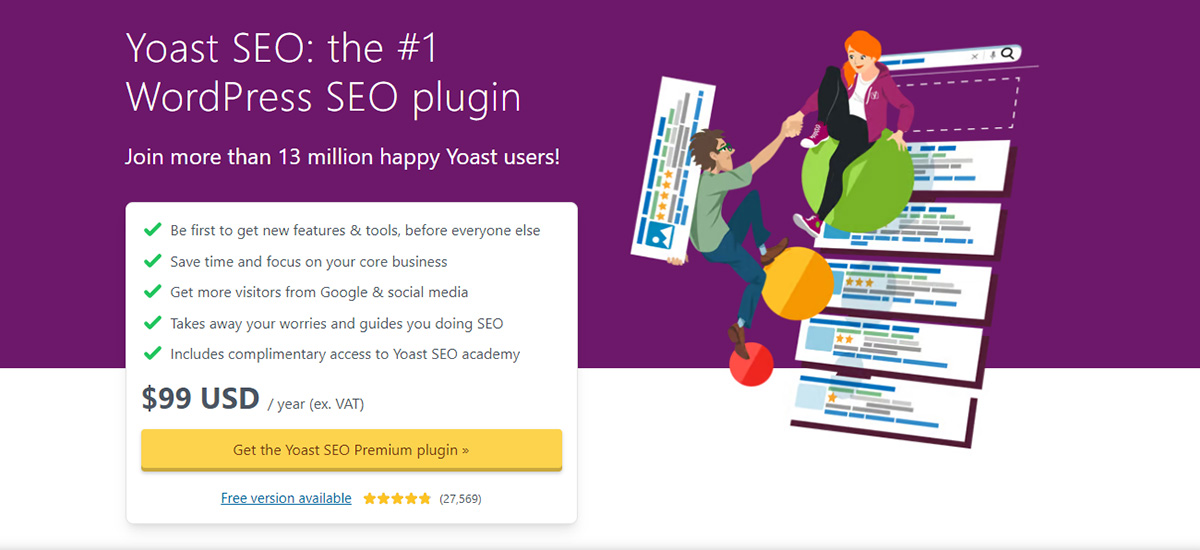 Yoast SEO is one of the most widely regarded internal link building plugins for WordPress. Yoast SEO has strong SEO capabilities, but it also has strong internal linking capabilities.
Yoast SEO assists you in identifying appropriate internal link possibilities and optimizing your linking strategy to enhance both the user experience and search engine visibility through its integrated content analysis and suggestions.
You may learn more about Yoast SEO by reading the following reviews and positive feedback:
Yoast SEO is rated 4.5 out of 5 stars by IsItWP as one of the top WordPress SEO plugins on the market.
Yoast SEO gets an 8.7 out of 10 rating from TrustRadius, based on 300+ reviews and ratings.
According to G2, Yoast SEO has a rating of 4.6 out of 5 stars based on 140+ reviews.
Yoast SEO gets a 4.8 out of 5-star rating from Software Advice based on 20+ reviews.
Pricing: Pro is $119.95/month, Guru is $229.95/month, and Business is $449.95/month.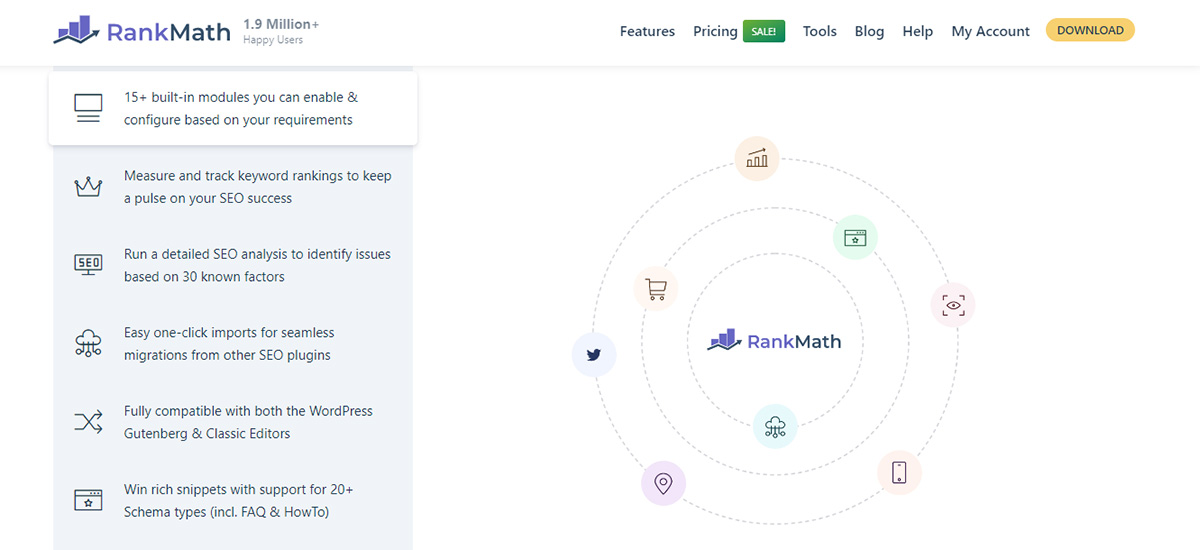 The outstanding choice "Rank Math" is another. In addition to offering complete SEO features, this all-in-one SEO plugin also has a clever internal linking functionality.
In accordance with predetermined patterns, Rank Math evaluates your material, makes placement suggestions for internal connections, and even automatically inserts internal links. It provides flexibility and customization possibilities while streamlining the internal link building process.
Rank Math also has several reviews from various sources:
Rank Math has a Capterra rating of 4.9 out of 5 stars based on 20+ reviews.
Rank Math has a 3.9 out of 5-star rating on Product Hunt, based on 340+ reviews.
Rank Math Pro is the greatest WordPress SEO plugin on the market, according to Niche Pursuits.
Pricing: Pro is $59/year, Business is $199/year, Agency is $499/year.
To know which plugin is better for your website, check out Rank Math vs. Yoast.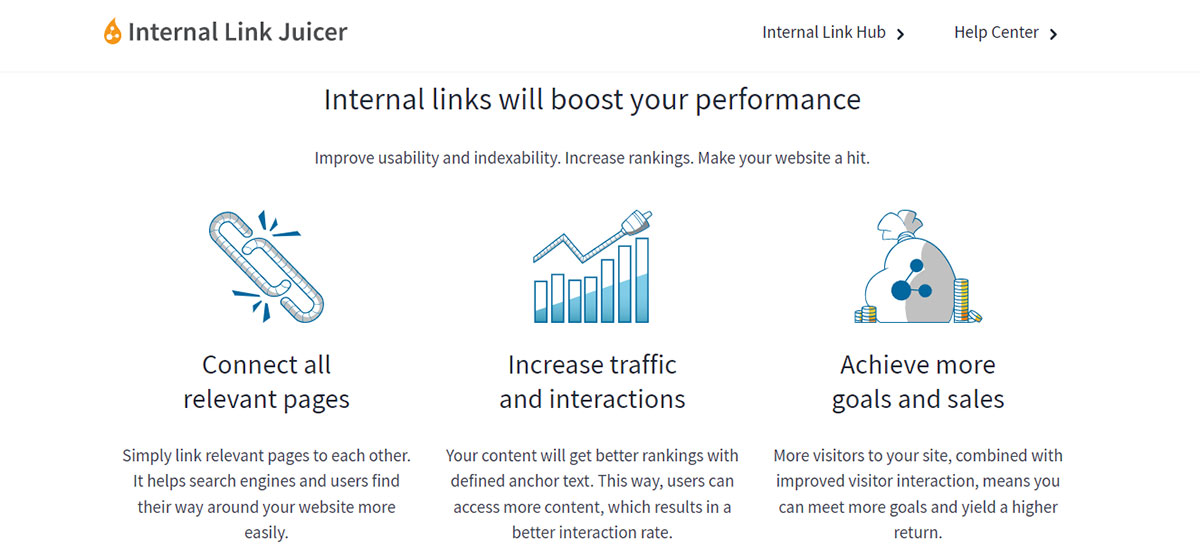 Internal Link Juicer is a great option for people looking for a dedicated internal link building plugin. Advanced internal linking features are available with this plugin, including automatic keyword linking, dynamic link positioning, and full control over link properties.
You can efficiently and precisely optimize your internal linking strategy with the help of Internal Link Juicer.
Pricing: Free; Pro is $69,99/Site.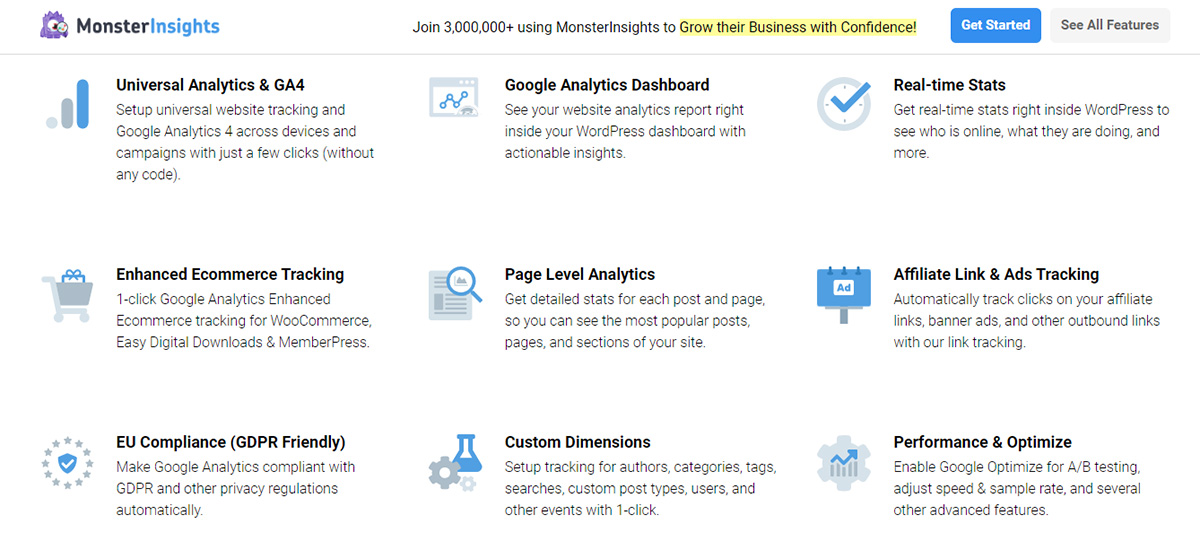 The well-known analytics plugin MonsterInsights provides internal link tracking features as well. MonsterInsights gives you useful information about how internal links are performing on your website by connecting with Google Analytics.
Making data-driven judgments for optimization and assessing the success of your internal link building activities are made easier with the use of this information.
Pricing: Plus is $99,50/year, Pro is $199,50/year, Agency is $399,50/year.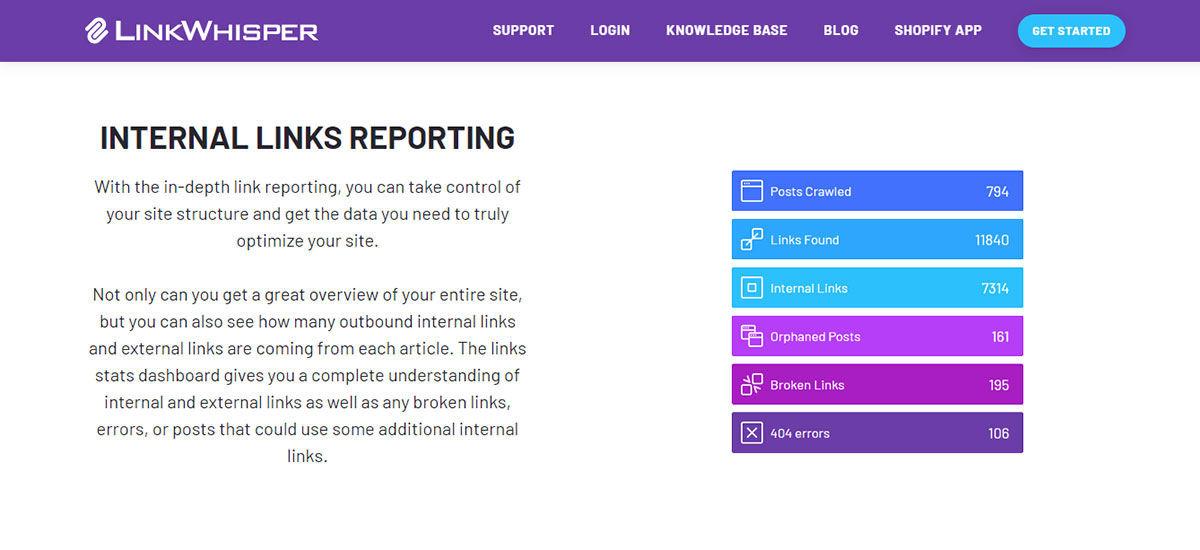 Another potent internal link building plugin for WordPress is called Link Whisper. It makes recommendations for internal link opportunities inside your content using artificial intelligence.
Link Whisper streamlines the process of adding internal connections and enhances the overall internal linking structure of your website with its user-friendly interface and automation features.
Pricing: Free; 1 Site License is 77$, 3 Site License is 117$, 10 Site License is 167$.
WordPress Internal Link Building Tools.
You don't have to rely solely on WordPress plugins for internal link building; there are also independent internal link building tools available for websites built on different platforms. These tools come with advanced features that can accelerate the internal link building process and enhance your website's SEO performance.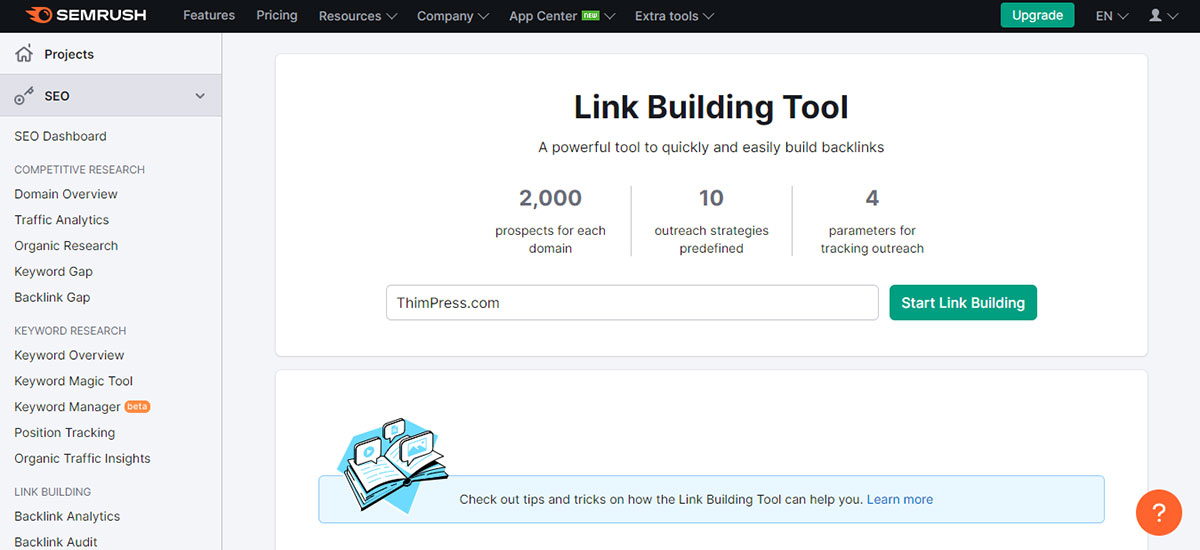 SEMrush is a well-known internal link-building tool. SEMrush, which is renowned for its thorough SEO capabilities, offers a number of services like internal link analysis, automated link suggestions, and broken link identification.
You may find chances for internal linking using SEMrush, improve your link structure, and guarantee a positive user experience.
Pricing: Pro is $119.95/month, Guru is $229.95/month, and Business is $449.95/month.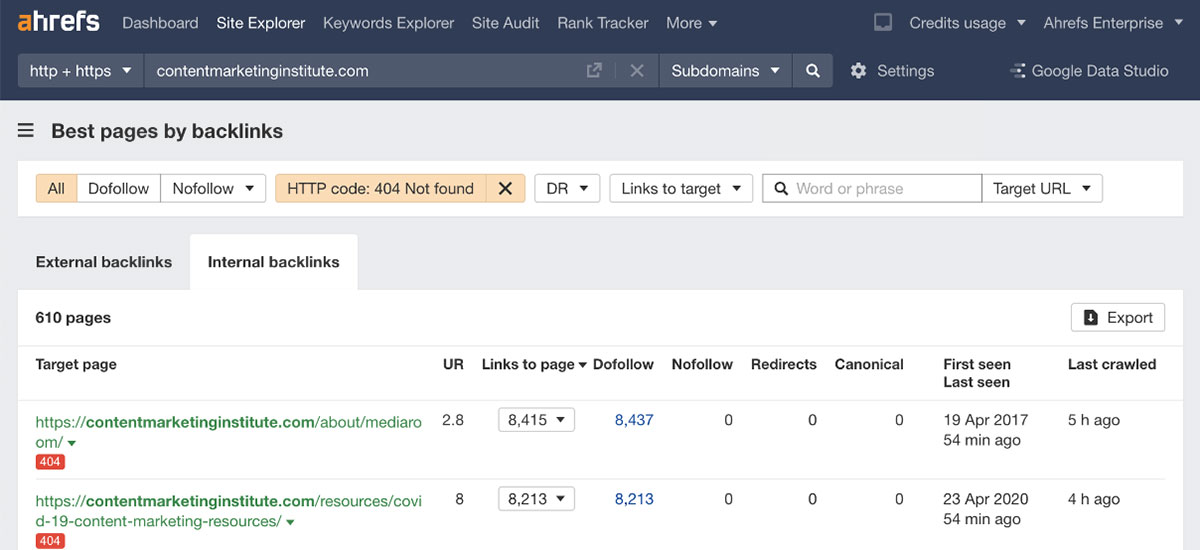 Another well-liked tool with potent internal link building capabilities is Ahrefs. You can find internal linking chances and monitor the effectiveness of your internal links thanks to its thorough backlink analysis and competition research.
You may optimize your internal link building strategy with Ahrefs by gaining useful insights into the link profile of your website.
Pricing: Lite is $99/month, Standard is $199/month, Advanced is $399/month, and Enterprise is $999/month.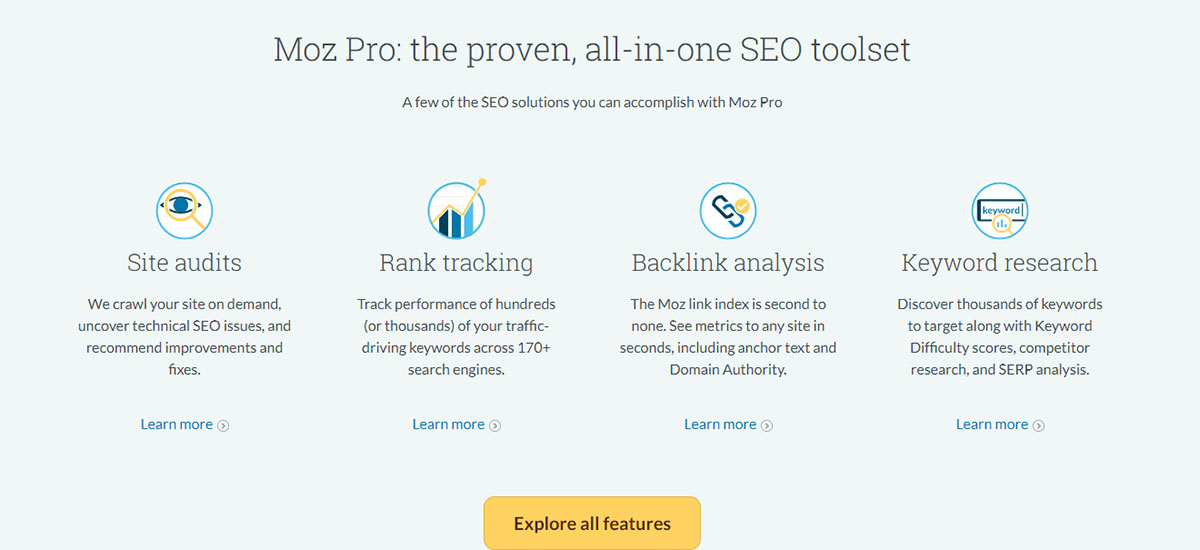 The internal link building tool from MOZ, a reputable brand in the SEO sector, is no exception. MOZ assists you in comprehending the internal link structure of your website and pinpointing possibilities for development with tools like link analysis, competitive research, and site crawl capabilities.
In order to improve the SEO of your website, it also offers suggestions for internal link optimization.
Pricing: Standard is $79/month, MOZ Local is $129/month.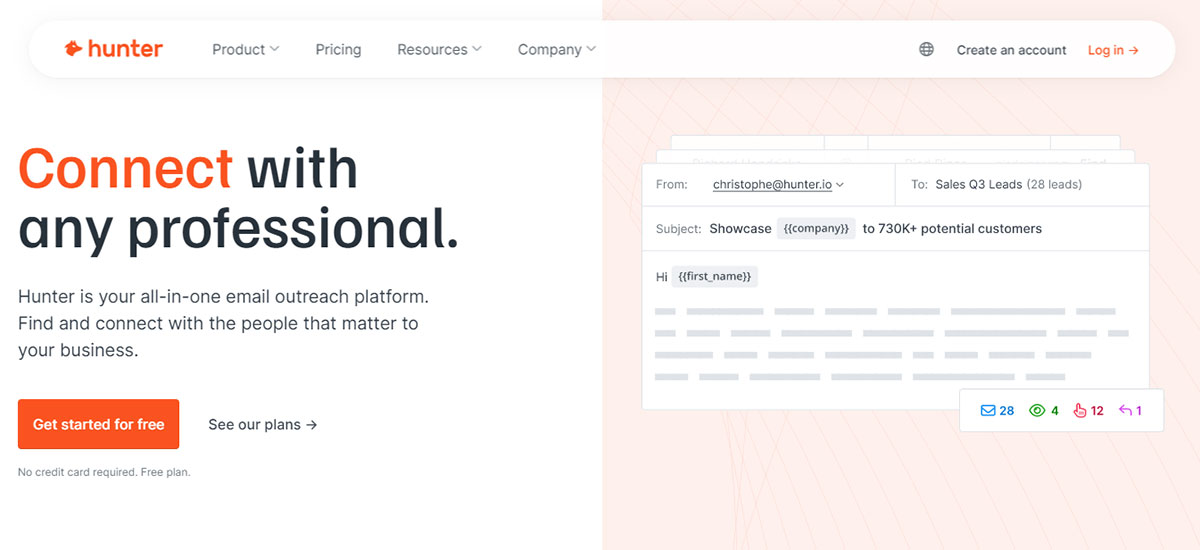 A flexible platform, Hunter focuses on email outreach and lead generation. Hunter.io includes elements that can help in locating pertinent websites and prospects for link placements even if it is not only internal link building focused.
You can find possible collaborators for joint content and guest blogging using Hunter.io, which can result in beneficial internal link chances.
Pricing: Free, Starter is $49/month, Growth is $149/month, Business is $499/month.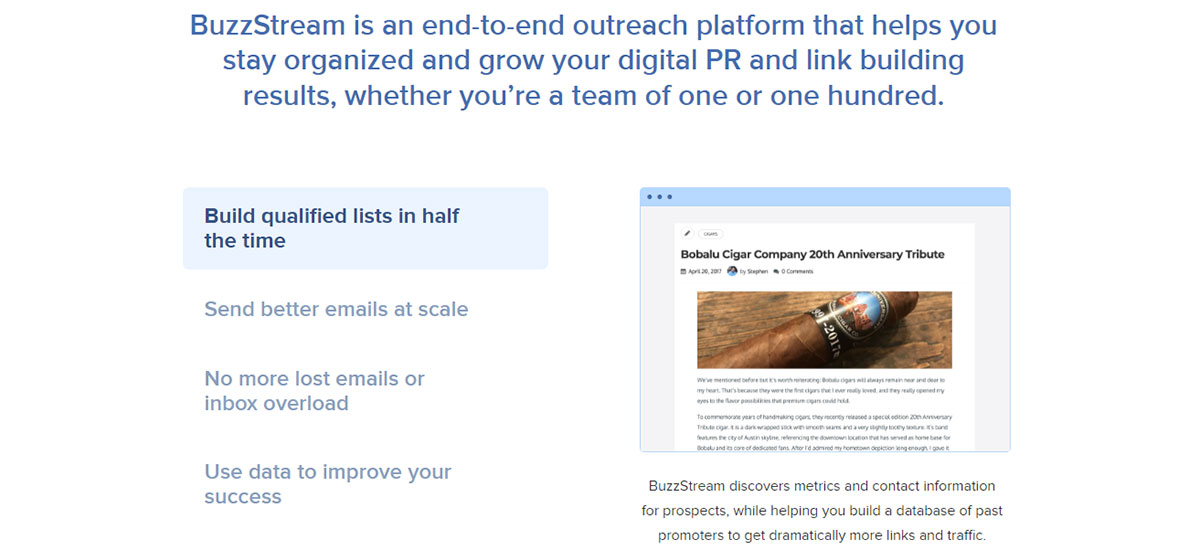 Buzzstream is a thorough outreach and internal linking tool that aids in the management of your connections with website owners and influencers. Buzzstream gives you the ability to find linking opportunities, monitor your outreach activities, and efficiently manage internal link building strategies thanks to its prospecting and linking features.
Pricing: Starter is $24/month, Growth is $124/month, Professional is $299/month, Custom starting at $999/month.
Before selecting an internal linking tool, it's important to consider factors such as your website's platform, your budget, and any specific requirements you may have. To make sure you choose a product that suits your needs, it's a good practice to compare the features, pricing, and user reviews of different options available in the market.
Frequently Questions About Internal Link Building.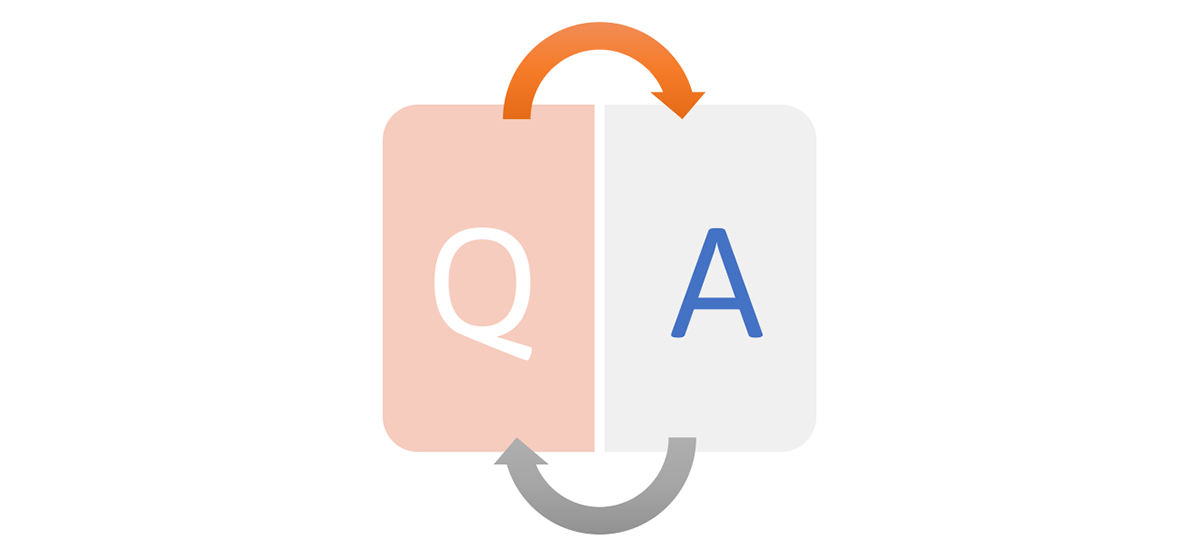 How many internal links should be in a piece of writing? Simplicity is key, particularly in developing an impactful link-building approach. Excessive inclusion of multiple links within every paragraph of a blog post is unnecessary.
However, for content-driven websites focusing on research and educational blog posts, slightly more links can be utilized. Especially for Pillar Content posts, you can attach more links to help users get to the more detailed content of those posts.
Long or short anchor text should be used? It's essential to strike a balance between being succinct and descriptive when picking anchor text for internal links. While shorter anchor text might be useful for swiftly communicating the link's goal, it's crucial to provide enough context so that users will know what to expect when they click the link.
The usefulness of the anchor text can be increased by including pertinent keywords, but you should be careful to avoid over-optimization or keyword stuffing since this might harm your SEO efforts.
Do you consider the "read more" part to be an effective internal link? The "read more" section is not typically regarded as the most successful type of internal link, despite the fact that it can be a beneficial component for disclosing or elaborating on more content. Internal linking helps users find useful content on your website by pointing them in the right direction.
Users and search engines can better grasp a page's theme or goal by using more elaborative anchor text that does so. You may improve user experience and aid search engines in understanding the context and relevancy of the linked content by using precise and pertinent anchor text.
Key takeaways.
The internal link building strategy is essential for adding information to the article and navigating the user.
Use anchor text properly so that search engines understand and benefit users.
Consider using the internal link building plugin in case your site uses WordPress.
Consider using internal link building tools to review your site's overall link health to measure your traffic and improve your strategy.
Conclusion.
We appreciate you reading this in-depth explanation of Internal Link Building. Please don't hesitate to get in touch if you have any additional queries or require more help. Our staff at ThimPress is ready to help you improve the internal linking strategy for your website and get better results.
---
Contact us, ThimPress:
Website: https://thimpress.com/
Fanpage: https://www.facebook.com/ThimPress
Youtube: https://www.youtube.com/c/ThimPressDesign
Twitter: https://twitter.com/thimpress