Welcome to the article explaining What is Anchor text, and How to properly use Anchor text? – ThimPress will commit to satisfying you with its simple but effective criteria, let's explore anchor text right away!
The visible and clickable text within a link is known as anchor text, also known as link text. It usually stands out from the surrounding text in terms of color and is frequently underlined. Link text that has been carefully written lets readers know what to expect when they click the link.

Increasing the likelihood that people will click on your link by optimizing your anchor text. Additionally, it helps search engines understand the context by offering pertinent internal links.
Identify Anchor Text
The article to which it is linked is described in the anchor text, which encourages readers to click. Because the slug and the link text are frequently coupled when used effectively, even search engines comprehend that the linked article is pertinent.
For instance, you could use anchor text similar to "SEO" to link to an article with the fundamental "What is SEO?"
When the anchor text is used correctly, links to other articles will appear natural to the reader.
Additionally, below is an image of an anchor text HTML code:

What role does Anchor text play in SEO?
After knowing the definition of what is anchor text and how to define an anchor text, we will come to the role of anchor text in SEO.
In SEO, anchor text has 3 basic roles.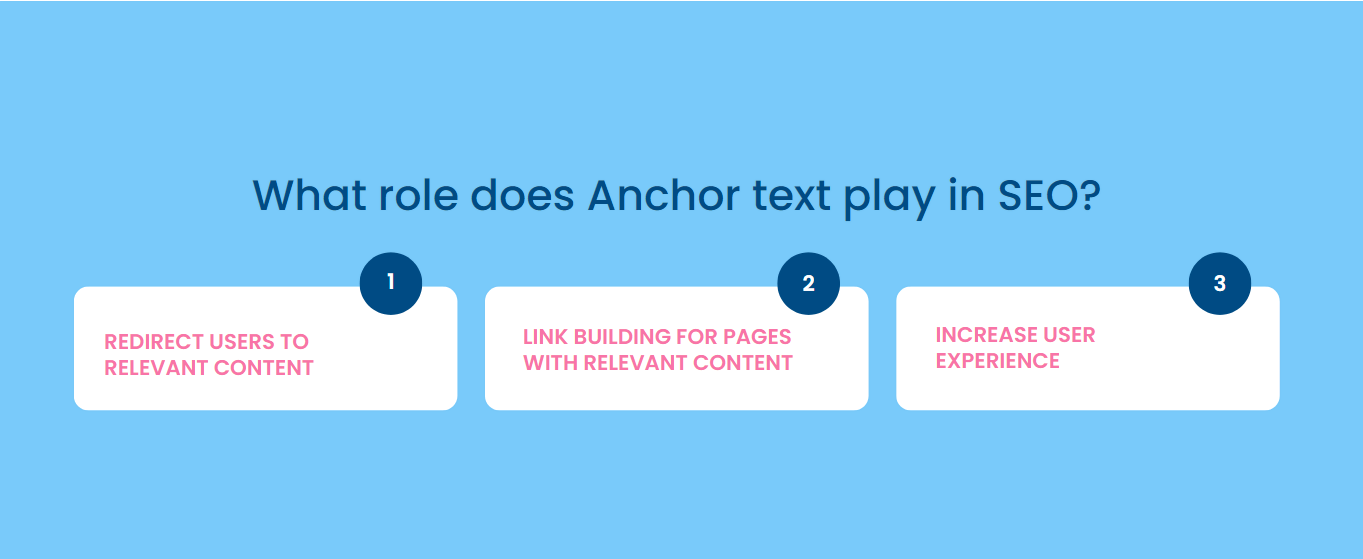 Redirect users to relevant content
When users are interested in website content, they may also be interested in other related content, which contributes to increasing the user's visit time to the site web, causing Google to evaluate your site as having useful content for users.
Link building for pages with relevant content
Building links to pages is very important in SEO, it enhances user readability and adds content to other pages while increasing SEO- friendly as Google increasingly evaluates the site by its usefulness to the user.
Increase user experience
Users don't want to read an article that is too long, they just want to find what they are looking for, linking separate content can make it easy for users to find content more condensed.
How to properly use Anchor text
Perhaps the answer to the question of what is anchor text has not satisfied you because we have not learned how to use it effectively, it is not too difficult to do that, we will summarize the main points for you.
Select an anchor text that is correct for the link
Choosing the right anchor text for the content of the attached link is very important. The reason we use anchor text is to increase the user experience and build the content layout on the website, avoiding attaching links to anchor text unrelated to the content.
For example, for the sentence "This is a collection of ThimPress's best responsive WordPress themes", use the link to an article about the collection, WordPress theme, responsive design, and highly rated themes.
Put the user experience first
Currently, many people use anchor text to shorten advertising links to bring more clicks, don't do that, it is a wrong move that will make users and Google's search engine lose trust in you. Use anchor text with the goal of putting the user experience first, which is also the purpose anchor text is used.
Design the best suitable anchor text for the webpage
Design your anchor text to match the website, by increasing the user's recognition of the anchor text, you can change the color and effect when hovering over the text so that users know it is an anchor text. At the same time, the color must also match your webpage.
At ThimPress we design red anchor text to match the logo and color tone on the website.
Use keywords of related articles as anchor text
This will help the content of the web pages be closely related to each other, especially when you are implementing the "Topic Cluster" technique, using the keywords of other articles as anchor text will create strong links tighter.
Why is that? When choosing keywords for an article, you will be writing articles with content related to those keywords, so using keywords as anchor text is an accurate way for readers to find the content they want to know through that anchor text.
Keep a natural flow for readers
This method requires the writer to summarize the articles they want to link to the anchor text and write the article as naturally as possible.
If you use words like read more, click here, buy it here, etc. the reader experience is disrupted, and at the same time it makes it difficult for search engines to identify whether the content of that anchor text is really relevant to the content mentioned before, and so the search engine cannot rate the usefulness of those anchor text links.
What role does Anchor text play in Internal link building?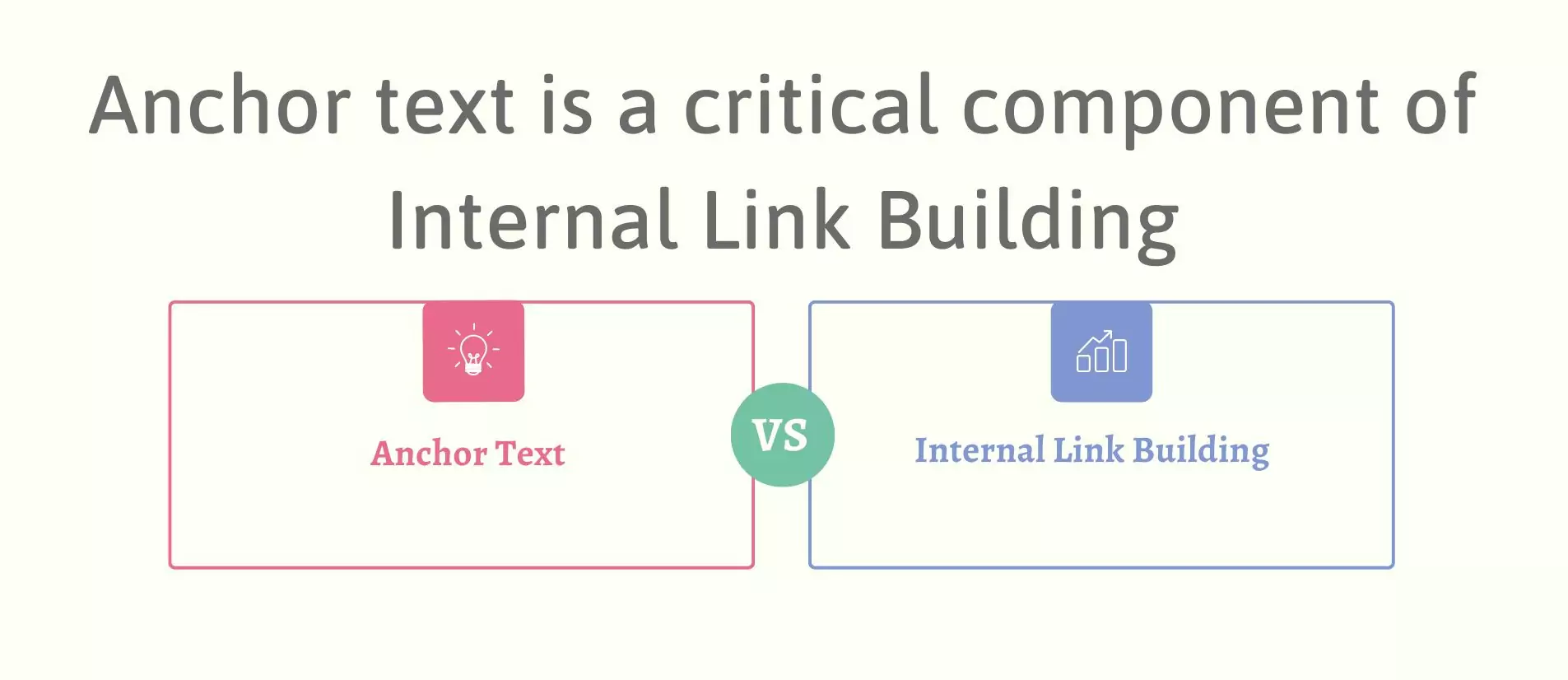 Since it is the content that is visible and clickable inside of a hyperlink, anchor text is a critical component of Internal Link Building. In order to improve user experience, SEOers might optimize their internal linking scheme.
In the first place, anchor text gives search engines important details about the linked page's content. A link's visibility in search engine results can be greatly increased by carefully prepared anchor text that appropriately reflects the connected page's content.
Second, anchor text is used in internal link building to create connections between relevant pages. Strategic internal linking increases the overall authority of the website by distributing link juice throughout it.
Anchor text can also help with keyword optimization. Website owners can inform search engines about the main subjects of their pages by using pertinent keywords in the anchor text. Maintaining balance and preventing over-optimization, nevertheless, is crucial.
In addition, if you want to measure and analyze, as well as study more about the effectiveness of internal link building, you can consider using Internal Link Building Tools. These tools will save you time and help you better understand the effectiveness of internal links.
Conclusion: Now you know "What is Anchor text?"
Thank you for reading this article on "What is Anchor Text, and How to properly use Anchor Text?" brought to you by ThimPress. We hope this information has been helpful in understanding the importance and proper usage of anchor text.
In addition, we have a lot of articles aimed at optimizing SEO for your website, don't hesitate to click on the "anchor text" in our article.
---
Contact us, ThimPress:
Website: https://thimpress.com/
Fanpage: https://www.facebook.com/ThimPress
Youtube: https://www.youtube.com/c/ThimPressDesign
Twitter: https://twitter.com/thimpress