The portion of a web page's URL that follows the domain name is referred to as the "slug" in the WordPress language. It acts as a distinctive identifier for each blog post or web page on a website, enabling site visitors and search engines to comprehend the content's subject matter with ease.
For instance, if you went to a blog post at thimpress.com/blog/, the domain name would be "thimpress.com" and the post slug would be "blog" WordPress automatically produces a slug based on the post title when you create a new post, but it does so with all characters in lowercase and dashes in place of spaces.
But you can easily change the slug before you publish the post or even after it has already been published.
What Purpose Does a WordPress Slug Serve?
Slugs, or the elements of your website's URLs that appear after the domain name, can be customized for a number of reasons.
First off, it can help consumers better grasp your content and increase your site's SEO ranks.
Slugs may be compared to computer file names to provide an example. Simply by reading the file's name, you can tell what it contains if you see a file with the name 5-best-wordpress-plugin.jpg. A file with the name IMG2554.jpg is more challenging to understand.
Additionally, customizing slugs is helpful if the post title is too long or if you intend to frequently update the content. Using the slug /best-wordpress-themes-in-2023/ for example would be inappropriate if you were updating that article once a year.
For example, here's the slug for our "SEO Power Words: Using Them to Create Awesome Headlines":

Keep in mind that readers may be able to view the URL of your article in search results or if it is shared through email or social media. Because people may choose to click a link based on how effectively the slug describes what they can expect from the content, optimizing your slugs is essential.
Last but not least, WordPress slugs also assist Google in understanding the subject of your article, which may help your content rank higher for pertinent keywords in search results.
How to Modify a WordPress Slug
Depending on the tool/plugin your site uses, there are several ways to modify the slug of a wordpress website.
How to Modify a WordPress Slug using Rank Math
At ThimPress, we modify the meta title, post slug, and meta description using Rank Math's Edit Snippet function.
Once you are logged in, navigate to the page or post editor on your WordPress site whose slug you want to change. Select the Rank Math icon in the header of your WordPress site's visual editor to open the editing interface, then click Edit Snippet.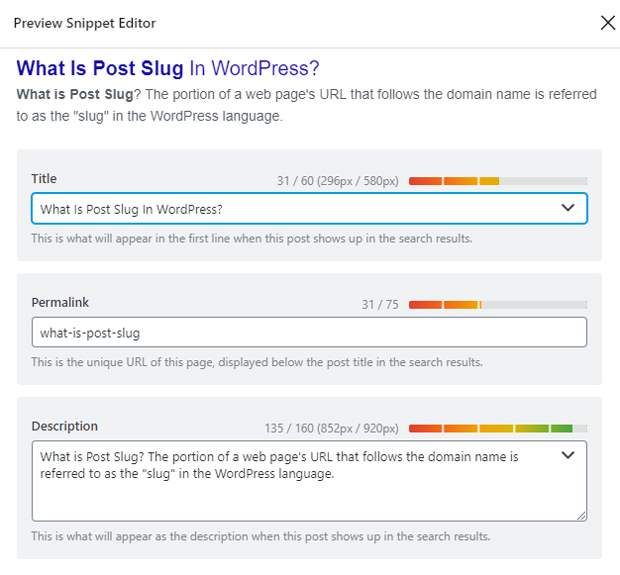 You can alter the title, URL, and meta description of your website's Google search results using this interface. The official Rank Math page "How to Enter SEO Meta Title, Description, and Focus Keyword" describes the best approach to utilize it.
Related: Check out Rank Math vs. Yoast SEO to learn which is the best SEO plugin you should use.
How to Modify a WordPress Slug using WordPress Visual Editor
Use the WordPress Visual Editor to change a WordPress slug by doing the following:
Once you've logged in, go to the page or post whose slug you want to change on your WordPress website. Under the page title or post title, click the Edit button.
Click on the "Permalink" option in the top menu bar once you're on the editing screen. You will see the post's or page's most recent slug. By using the Edit button next to this slug, you can edit it.

Click the OK button after making any necessary changes to the slug. To save the changes to the page or post, be sure to click the Update or Publish button.
How to Create a Slug that's SEO-Friendly
When determining a page's content and how to rank it in search results, search engines consider the URL of the page as one of the factors. When publishing new content, it's crucial to make SEO-friendly slugs in order to increase traffic and rank your website higher in search results.
Keep in mind these SEO pointers when releasing a new article or page:
To keep your article from being out of date in search results, avoid using dates in your slug.
Prior to publishing, decide on your slug because changing it afterward will change the URL, which serves as a permanent link to a particular post.
Use a redirection plugin to set up redirects to your post's URL if you do need to update a slug so that readers and search engines can still locate your material.
Be succinct and detailed in your slugs. Use terms that explain the substance of your article together with the primary keyword you want to rank for.
Conclusion: Now you know 'What is Post Slug in WordPress?'
To sum up, a WordPress slug is a crucial component of a website's URL that may be altered to better inform visitors and search engines about the content of a post or page.
Slugs that are personalized may enhance user experience, boost SEO ranks, and make it easier for Google to comprehend the topic of your content. When creating slugs, it's crucial to adhere to SEO best practices.
Read More: How to Update Graphics Driver in Windows 7,8, 10, & 11
---
Contact us, ThimPress:
Website: https://thimpress.com/
Fanpage: https://www.facebook.com/ThimPress
Youtube: https://www.youtube.com/c/ThimPressDesign
Twitter: https://twitter.com/thimpress