If you are having a hard time looking for the best WordPress SEO plugins to optimize WordPress SEO, you can pick one of them from our list here. However, another problem comes, you might have another struggle to choose between 2 plugins for SEO in that list: Rank Math vs Yoast SEO
Well, Yoast SEO is famous and it has been the oldest one from the beginning of WP. However, Rank Math SEO is rapidly growing in popularity now with various options even though Rank Math SEO is a newbie.
So, what to do now? Worry no more. We're glad to inform you that we are going to highlight some features and how they compare to save you treasure time and easily decide which one meets your needs.
Introduction – Rank Math vs Yoast SEO
Yoast SEO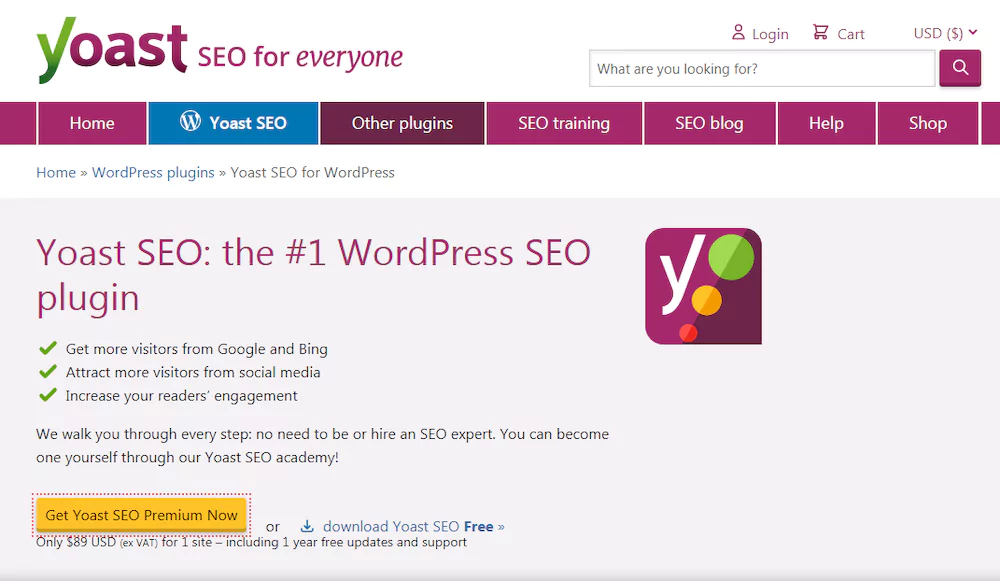 Yoast SEO was officially launched in 2010 by Joost de Valk and became one of the most powerful plugins all the time with the mission that it is SEO for everyone. With millions of users, this plugin surely helped them have good rankings in search engines. Especially, Yoast SEO is always the first name to be called when someone asks what plugin to use for SEO.
There are two different versions of Yoast SEO: free and premium. Everything needed to manage your SEO is included in the free edition. You have a ton of possibilities with the premium version, like content insights, suggestions for internal links, seamless integration of Yoast SEO in Elementor, etc.
You may also be interested in learning more about how to use Yoast in greater depth. For further information, you can refer to additional resources available here: How to SEO your course with SEO by YOAST and LearnPress
Rank Math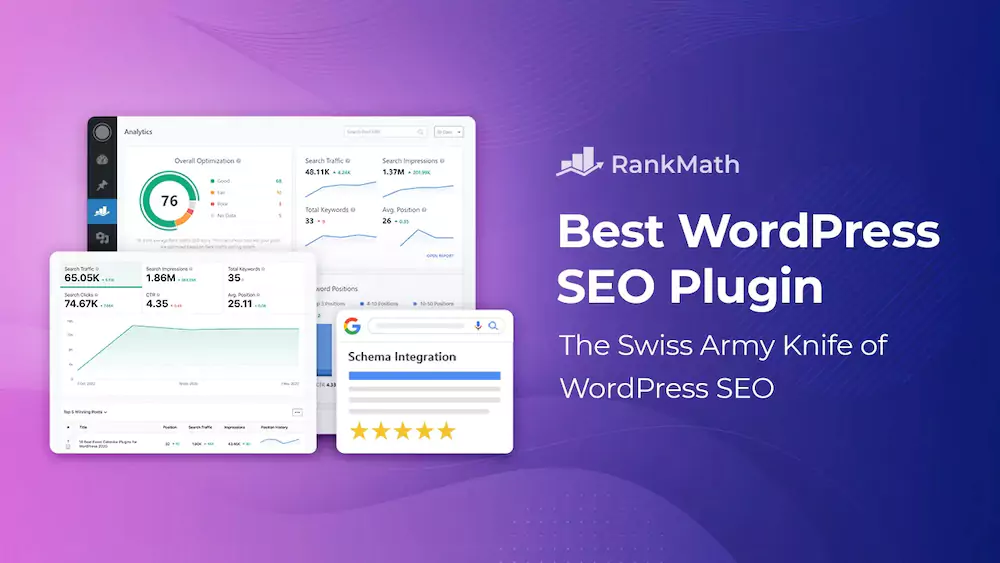 Unlike Yoast SEO, Rank Math is new which was established in 2018 by MyThemeShop. But, it is rapidly spreading in popularity by its intelligent features. This plugin comes with "smart automation features" that let you have all powers of an SEO expert with a few clicks only. Also, Rank Math is integrated with Google Schema Markup aka Rich Snippets, LSI Keyword Tool, and Google Search Console, helping you optimize your content easily and get the highest site rankings
You may choose which of the free, pro, and commercial editions best suits your requirements. You may "track 500 keywords" from the pro edition, add as many personal websites as you like, and do a lot more.
Both of these plugins are excellent for SEO. Still, there are some differences between Rank Math vs Yoast SEO. Let's check out with us!
Top Features To Compare: Rank Math vs Yoast SEO
Keyword Analysis – Rank Math vs Yoast SEO
The emphasis keyword feature should be present in every SEO plugin, and Rank Math versus Yoast SEO succeeds at providing it. You just insert the desired term(s) in the keyword field, and the plugin analyzes your text and suggests changes for better optimization.
Yoast SEO: Keyword Analysis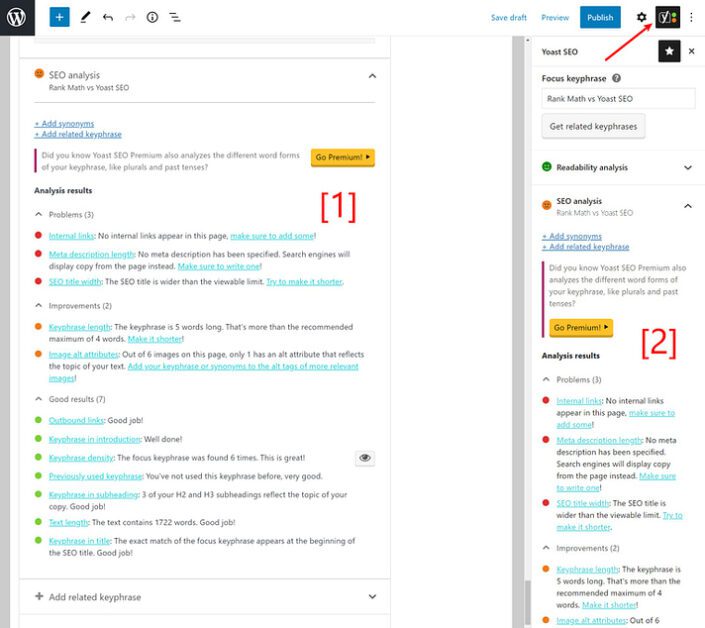 You can only insert one keyword for each post while using the free version. But, you may input numerous keywords if you upgrade to the premium version. Check out the "SEO analysis" recommendations for the content section in the editor sidebar below.
Yoast SEO comes with 3 traffic light bullets: Green color means good, yellow color means ok and red color means bad. Sadly, they do not have an exact numeric rating for you to monitor.
Rank Math: Keyword Analysis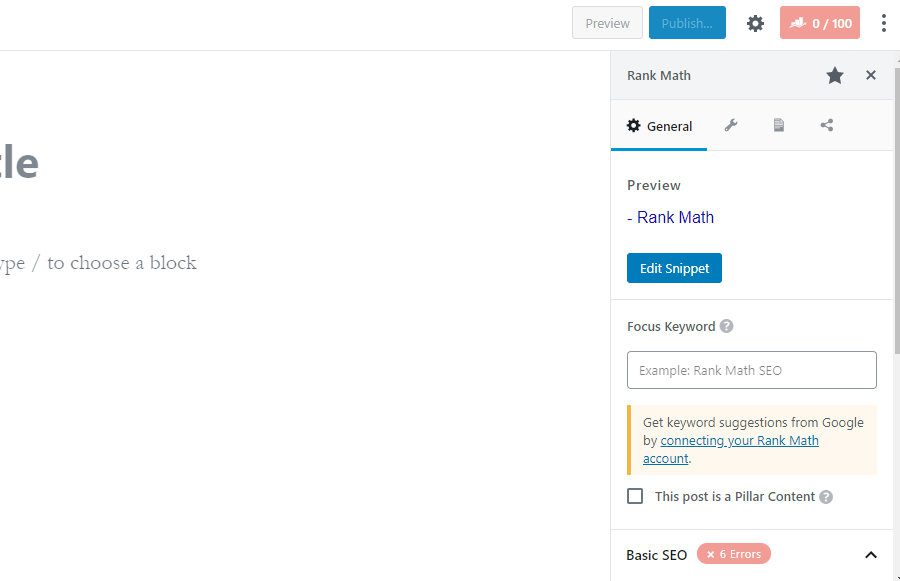 Unlike Yoast SEO, Rank Math allows you to examine up to 5 keywords in a single post. Also, by just applying a filter, you may use an endless number of terms. Just the analysis tips are displayed by Rank Math in the block editor sidebar.
Rank Math has a specific score from 0-100 together with some color-coding. If a score is above 80, it is the most optimal which is good.
Content Optimization – Rank Math vs Yoast SEO
When comparing the "readability" feature Yoast SEO vs Rank Math, Rank Math provides additional choices, including title and content readability. Both plugins offer immediate suggestions for how to make your articles better.
Yoast SEO: Content Optimization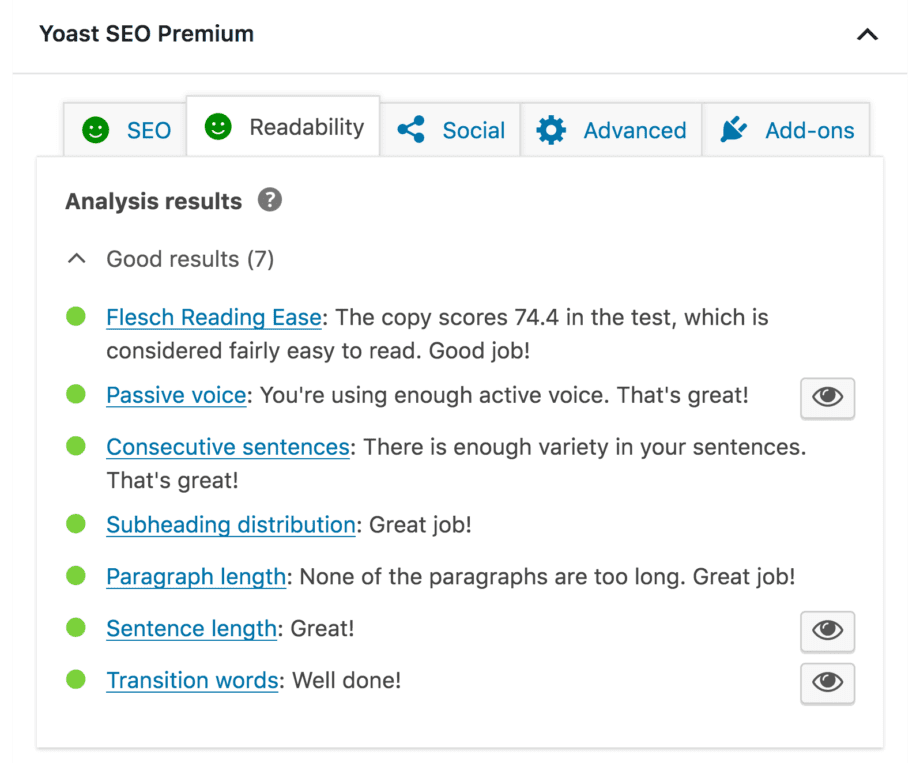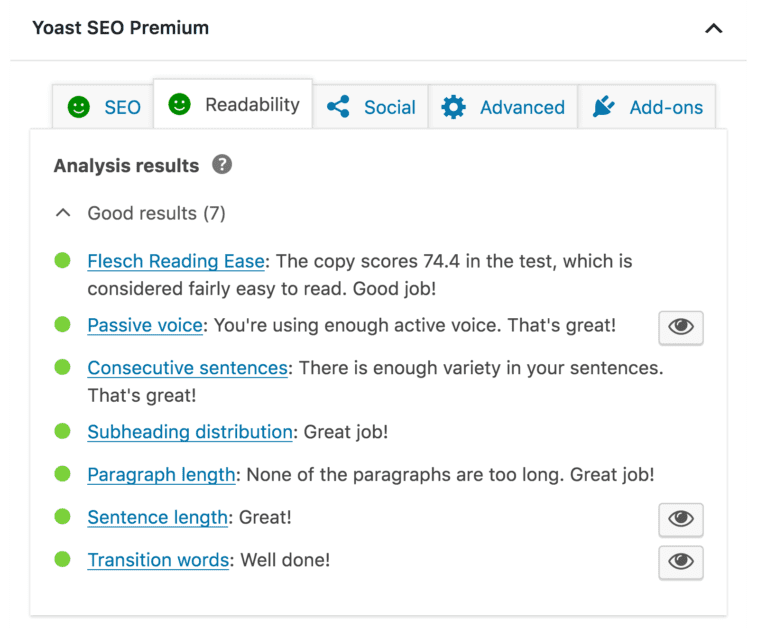 In the Yoast SEO readability part, you also see 3 colors and it turns green light if your writing reads well. If not, it suggests you want to improve.
Yoast SEO, in particular, features a "eye" symbol that you may use to identify words that require editing by coloring them purple. If you wrote more than 10% in passive voice, which is regarded as poor writing, they will check it and may even advise you to use more transition words.
Rank Math: Content Optimization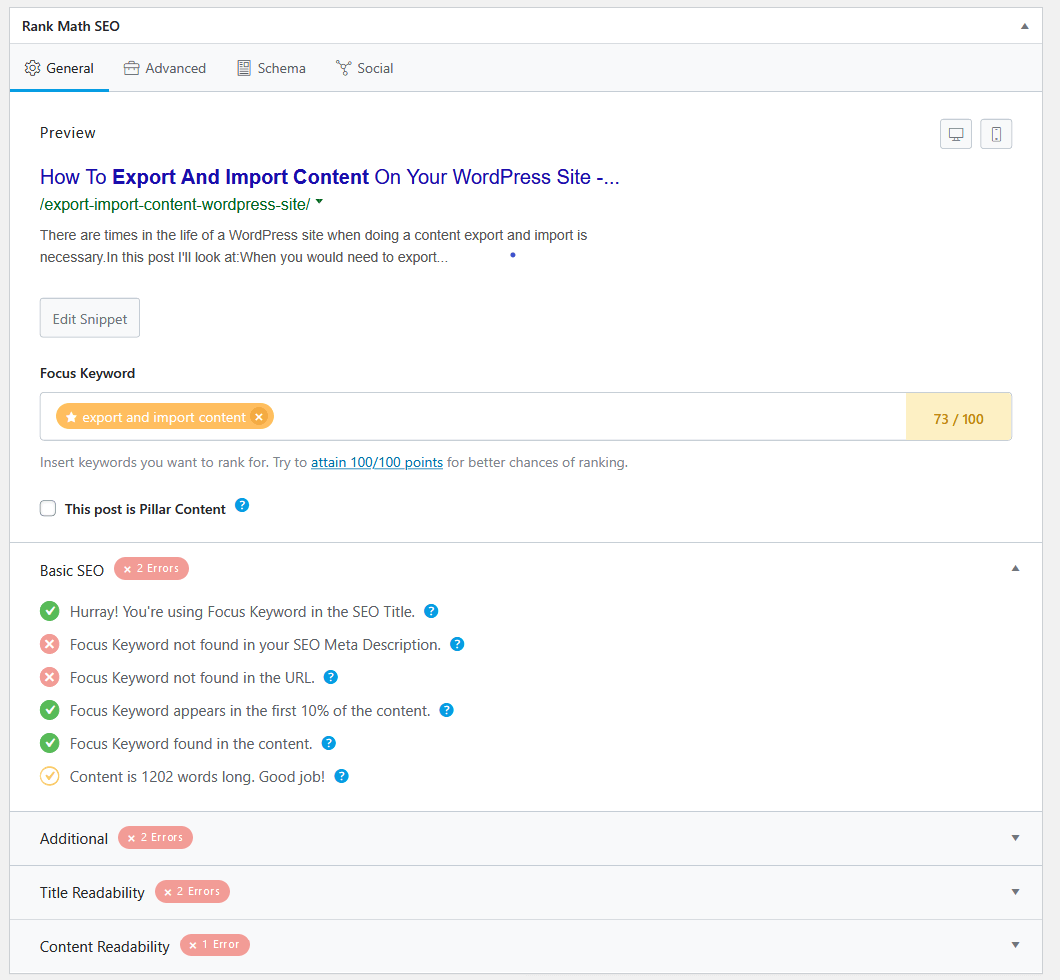 Rank Math provides similar content readability guidelines. But, they are more about the overall SEO score than a separate analysis.
Ease of Use – Rank Math vs Yoast SEO
When it comes to ease of use, both Rank Math vs Yoast SEO have their strengths and weaknesses. Now we will find the feature between Rank Math vs Yoast SEO.
Yoast SEO: Ease of Use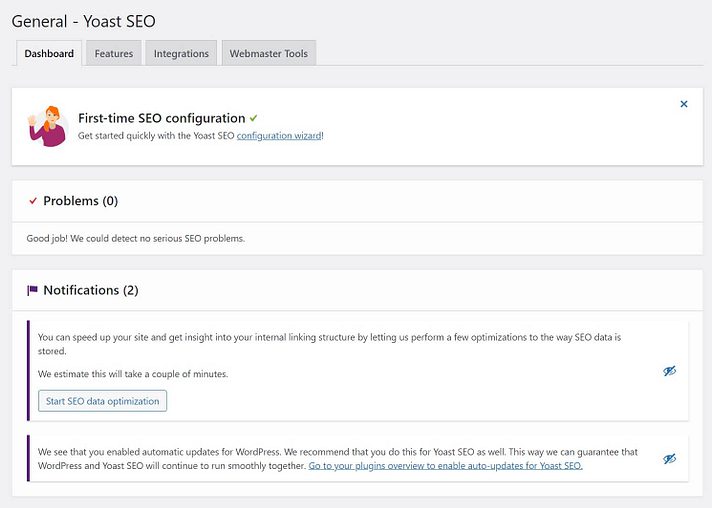 As a result, you can easily set up and run Yoast SEO with the configuration wizard. This wizard takes you through all the necessary settings like SEO title templates, schema data, and indexing.
Yoast SEO is known for its comprehensive set of features, but it may have a steeper learning curve than Rank Math.
The plugin offers an extensive settings panel that enables you to customize the plugin to your preferences. Additionally, Yoast SEO provides a content analysis tool that helps you optimize your content for search engines.
Furthermore, the Yoast SEO dashboard is the traditional one which surely is familiar to all loyal users. It has suggestions that are easy to follow if your site has any issues.
Rank Math: Ease of Use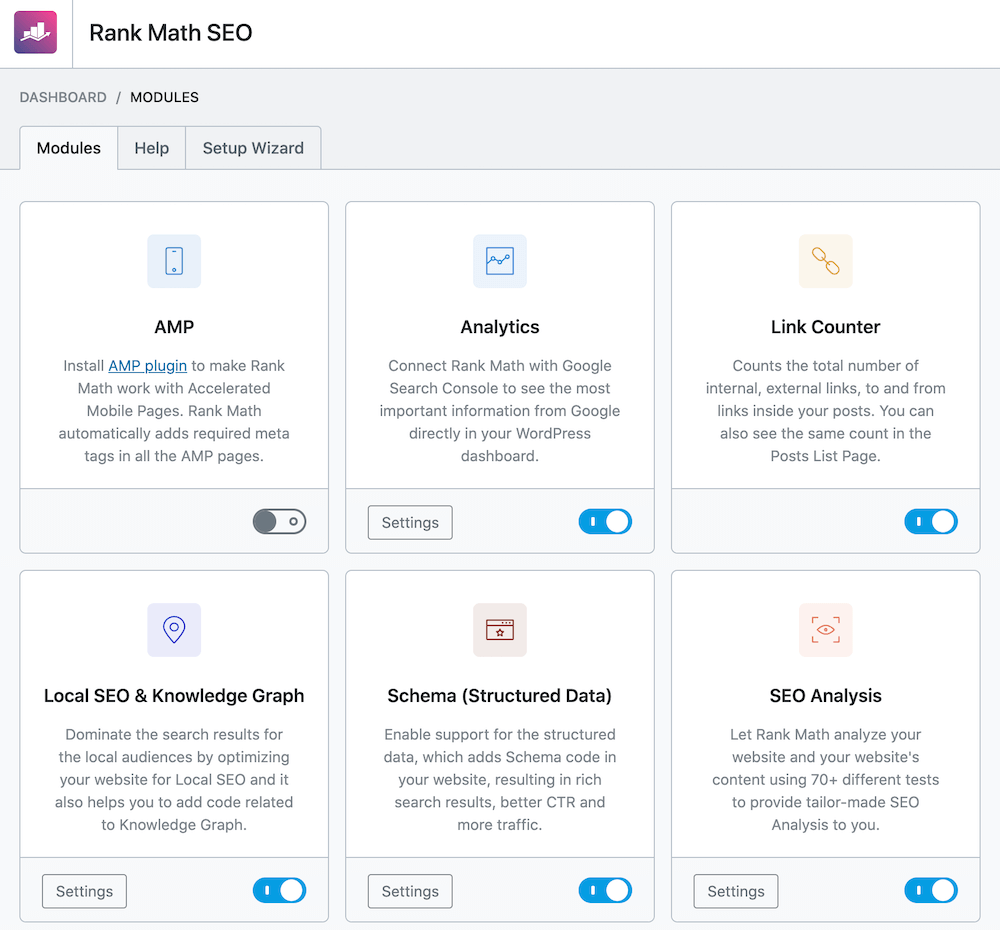 Unlike Yoast SEO, Rank Math is a little bit of a hassle. It required you to do a 4 steps configuration process after installing and activating.
Rank Math is known for its user-friendly interface and easy setup process.
You may configure the plugin using the step-by-step setup tutorial provided by the plugin. Without any technical knowledge, you can optimize your website with the guidance of this wizard. Moreover, Rank Math offers a user-friendly dashboard that provides you with a summary of the SEO performance of your website.
Yet because Rank Math is a newcomer, it has a modern UI. Both easy and advanced solutions are available. Beginners should use the easy mode, while SEO experts should use the advanced mode.
Other Features – Rank Math vs Yoast SEO
Rank Math and Yoast SEO are also the 2 most useful tools listed in the Best Internal Link Building Tools, the ability to recognize anchor text and analyze keywords to add related links is amazing.
For basic optimization, not only Rank Math but also Yoast SEO has all the important features such as XML sitemaps, post preview, social media optimization, schema markup, and much more.
Nonetheless, Rank Math gives you more features for free. For example, you can only use the internal linking suggestions and find & add high-performing keywords in premium Yoast SEO. And, Rank Math lets you access advanced keyword analytics or preview social media shares for free.
Also, Rank Math develops the keyword rank tracker feature which is great to monitor the rankings but Yoast SEO has not had this.
If you want to see the highest and lowest ranking posts, to use a powerful schema generator, google trends integration, client management dashboard, advanced redirects, local SEO pro, etc, then Rank Math includes all of these.
In Conclusion: Rank Math vs Yoast SEO
Both of the SEO plugins, Rank Math and Yoast SEO, are effective overall. Many capabilities are available in Rank Math, even in the free edition. And Yoast SEO is regarded as the best plugin if you like to concentrate on content analysis. We sincerely hope you enjoyed reading and that you now know which one you prefer.
Read More: Top 5 WordPress tools for SEO optimizing
---
Contact us, ThimPress:
Website: https://thimpress.com/
Fanpage: https://www.facebook.com/ThimPress
Youtube: https://www.youtube.com/c/ThimPressDesign
Twitter: https://twitter.com/thimpress