It's essential for any business or company, no matter how big or small. To master their market and understand how to speak to the target customers.
A company logo is a significant element of any business. It contains and communicates a quick visual snapshot of the whole organizational setup and its ideals. This is a necessity as it can significantly determine how much the business growth pace picks up online and even beyond. Create Free Logo is a powerful element of any company or business.


In the past, you have to hire an expensive designer to create a logo, now you can do it yourself. You can use tools like the logo builder provided by Zyro. It gives you all the tools necessary to easily create a logo for your brand.
Additionally, you can host a website completely free too, and make it just as easy while you're at it. But let's stick to the subject at hand – Create Free Logo, without needing to break the bank or hire freelancers.
Create Free Logo With Zyro
Create Free Logo: How it All Works
A distinct logo customized to its brand. It allows adjustments and modifications to match the company vision from the color scheme and specific design. For example, a company or business handling water services or products could make use of a dominant blue theme or use a graphic effect of a water drop or a water tap. This quickly communicates the message to any eye that, for sure, the business handles what pertains to water.
Ideally, after finishing up and being happy and satisfied with the logo outcome. I can now download the complete logo file ready for branding uses and improving a site. There is room to take advantage of the contemporary, updated, and attain the current standards that fit the business niche.
However, you need to keep in mind that while design trends should be minded, you shouldn't chase the flavor of the month trend that's currently big. It's best to make a logo and stick with it. When making it, consider whether you'll be happy with it five years down the line. Or if you will have to change it, how heavy will the changes need to be. After all, you do want your brand to be recognizable.
The logo can be placed to overlap any other existing visual material without losing the great appearance now that it has a transparent background. That's why using tools like a reliable logo maker is essential. Your logo must be a .png file with a transparent background. So you can overlay it on top of other backgrounds or even merchandise, like shirts, pens, business cards, etc.
Not forgetting to make the logo vivid, understandable, and memorable with a lasting impression and a unique touch that helps it stand out from competitors.
Create Free Logo: Steps In Logo Design
Let's cover the basics of what you should do when Create free logo:
Step 1: Add The Brand Name
First type the specific product or brand name intended. This name is to appear in the logo. It's best to simply use your brand name or website name. For this example, we'll just add "Your Business." It's better if a name resonates with what the product or business is all about.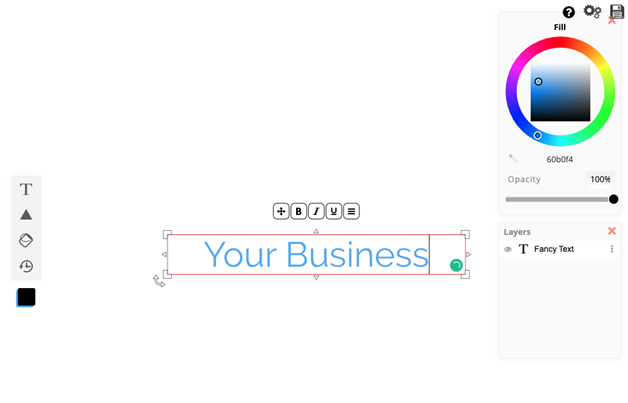 Step 2: Choose A Template
There are numerous templates and symbols available with most tools. All you need is to find that which meets my specifications and employ it to build my desired logo by adding to it the necessary secondary graphic elements.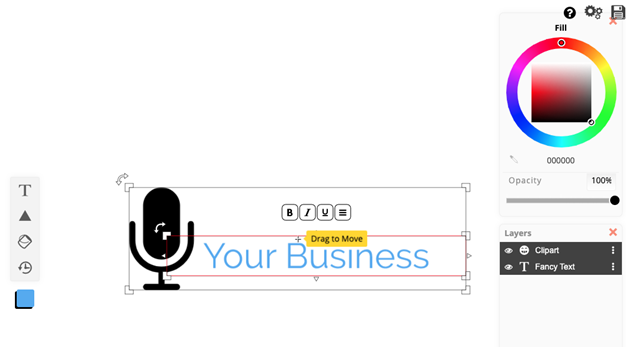 Step 3: Adjust The Logo
Upon having a ready template awaiting final furnishing, you can now employ the use of the other tools available to make more notable changes and adjustments.
This includes changing the logo color, size, and as pertains to the texts used in the logo, the font of the texts can be easily specified.
Step 4: Download The Logo
Lastly, once you are done with the design of the logo, the image file can be downloaded as a high-resolution .png file by clicking the download button at the top right – ready for business use.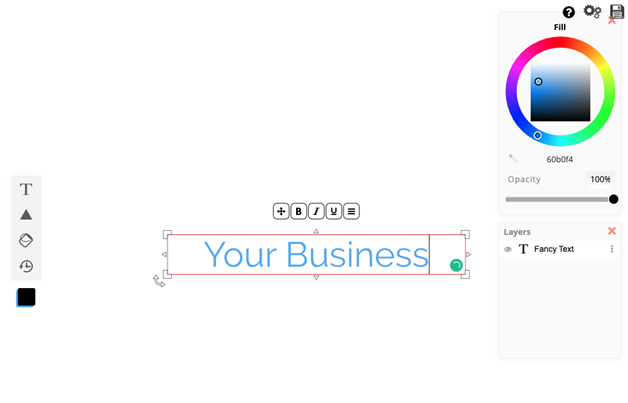 What Should You Look For When Create Free Logo?
Let's run over some key things you should look out for when choosing a logo maker that you'll use to create your very own:
Numerous templates: a good logo maker has plenty of templates that are going to match pretty much any niche you can think of, from fishing to model making. The flexibility should be there without compromise.
Ease of use: it's should be easy to make use of the logo maker and creating a high-quality logo should not be a problem with minimum effort and without professional assistance. Surely, just several clicks and you should be done! Intuitive controls are going to make the process much quicker. Ideally, the tool should be much easier to use than alternatives like GIMP or Photoshop.
Quick to make: The simplified nature of the process will undoubtedly be time-saving to any user as it's easy to handle and convenient. Essentially, you have no more than the essentials for that specific task – making a logo.
Should be free: Using a logo maker should be completely free of charge with no hidden fees and unlimited use. With the abundance of competitive options present, you shouldn't be spending your hard-earned cash on a small piece of software.
Branding kit: once you create free logo, you should be ready to use it anywhere. Look for a logo maker that has a free branding kit that comes with your creation, and use it on your site, print it on shirts, or other merchandise. Whatever uses you need – you should be ready to go.
Wrapping Up
To sum up, Create Free Logo shouldn't require massive investment or hundreds of dollars worth of software. Today, you can make a professional logo that you can proudly display on your site yourself.
Best of all, it won't take long, and you don't need to spend a dime, as we've shown in this article. I hope it helps you Create Free Logo of your own. Good luck!
Read More: How to Protect Your Business from a Data Breach
---
Contact us, ThimPress:
Website: https://thimpress.com/
Fanpage: https://www.facebook.com/ThimPress
Youtube: https://www.youtube.com/c/ThimPressDesign
Twitter: https://twitter.com/thimpress