Welcome to ThimPress, I guess you are having trouble finding Internal Link Building plugins that can assist you in your SEO strategy. You can give us your hand, and we will guide you every step of the way in finding the best plugin for you.
Now let's go!
Why Should You Build Internal Links with WordPress Plugins?
WordPress is a CMS platform that has a lot of plugins to support, the reason for that is because of the needs of the users.
The same goes for internal link building plugins, there are many benefits of internal links for users and web page SEO, this is mentioned in an official blog by Google. Let's take a look at the 3 core goals of internal links that Google mentioned in their article:
Intuitive navigation for users
Crawlable links for search engines
Use descriptive anchor text
To clarify the benefits of internal links, you can check out our Pillar Post on Internal Link Building, which also explains a lot about how to start your internal linking journey.
In this article, we will focus on analyzing internal link building plugins.
Note: If you don't utilize WordPress, you can use Internal link building tools, which are computer programs that can help you with this.
Important Notes Before Using Internal Link Building Plugins
Put The User Experience First
Keep in mind that even if we apply internal link building plugins, our goal is still to benefit users, plugins are just tools for us to do it faster and more efficiently.
I don't recommend using plugins in a fully automated way as it is possible that plugins are not completely correct as they rely on many factors to select the corresponding anchor texts and URLs/slugs, so it can be wrong.
Combine manual and automated to get the best results for your users.
No Comprehensive Internal Link Building Plugins
Internal link building plugins are developed and applied for different purposes.
There are plugins that can identify anchor texts corresponding to the article's URL; there are plugins that can identify the content of posts in relation to other posts; and there are plugins that measure the effectiveness of internal links.
Each plugin has strengths and weaknesses, their usefulness depends on the user's goals, so choose the right plugin that works best for your goals.
Don't Use Too Many Internal Links
Using too many internal links (about 100 or more) will make it difficult for Google engines to read and analyze the relevance of all linked links; then maybe Google will ignore your page and so your page will not be included in Google's index. Including too many internal links can also make you look like a spammy site, reducing the readability of your site.
There are internal link building plugins that will recommend you choose a lot of anchor texts. However, you must re-check before doing a "bulk action" to make sure the effect that the pages you link to are actually related to the page content and benefit the user.
Internal Link Building Plugins May Conflict With Other Plugins
It's important to delete any plugins you don't use in order to maximize WordPress's efficiency and speed up site loading. Using too many plugins might lead to conflicts and other issues that will make them perform improperly.
And lastly don't forget to contact ThimPress when you have any questions or problems with internal link building plugins. We will assist you to the best of our ability.
The Best 10 Internal Link Building Plugins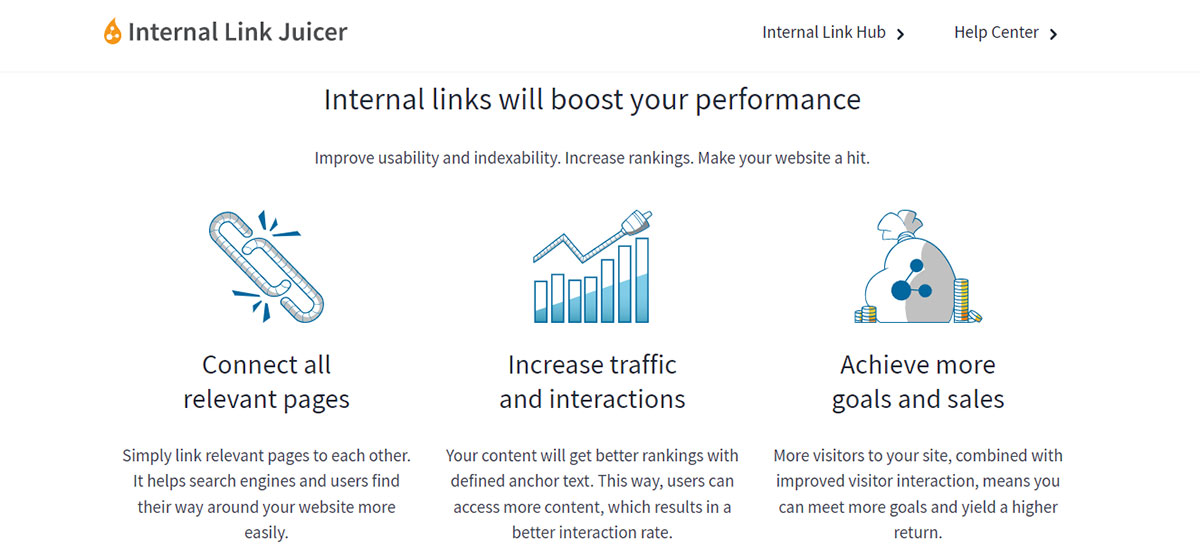 Pricing: Free; Pro is $69,99/Site.
Internal Link Juicer is at the top of our list because it has a free version and at the same time the pro version is affordable, and it is also a plugin specifically for internal links.
If you are new, I think you should start with the free version, the basic features of Internal Link Juicer can help you better understand what you will have to do with your internal linking strategy, if you want to add other features, then buy the pro version.
Let's take a look at some of the strengths of the free version:
Automatically build internal links: On Posts and Pages;
Intelligent gap feature;
Templates for the link output;
Blacklist to prevent linking on specific assets
Let's take a look at what the pro version will give you compared to the free version:
User-defined links;
Only link posts within the same category;
Consider manually linked targets;
WP-CLI commands;
User-based access control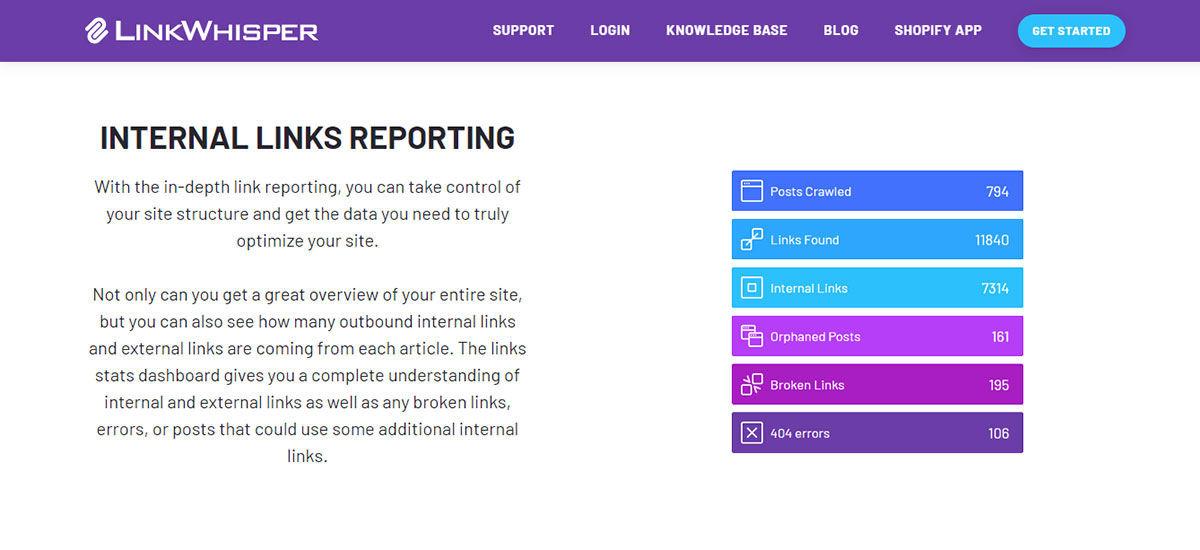 Pricing: Free; 1 Site License is $77, 3 Site License is $117, 10 Site License is $167.
When we mentioned Internal Link Juicer, we mentioned the free version and the internal link specialization, so it's impossible not to mention the plugin with the same features and even more options for you, Link Whisper.
This internal link building plugin can be used to find web pages and blog posts with few or no internal links. Utilizing the internal link suggestion tool will allow you to easily include links to these isolated pages.
Link Whisper's free version will give you the following features:
Internal link suggestions;
Automatic link suggestions as you write;
Internal link reporting;
Customize internal links suggestions.
Link Whisper's premium version will give you the following features:
Add multiple links at once;
Ability to add inbound internal links;
Add, edit, or delete links quickly to any page;
Broken link checker; And more.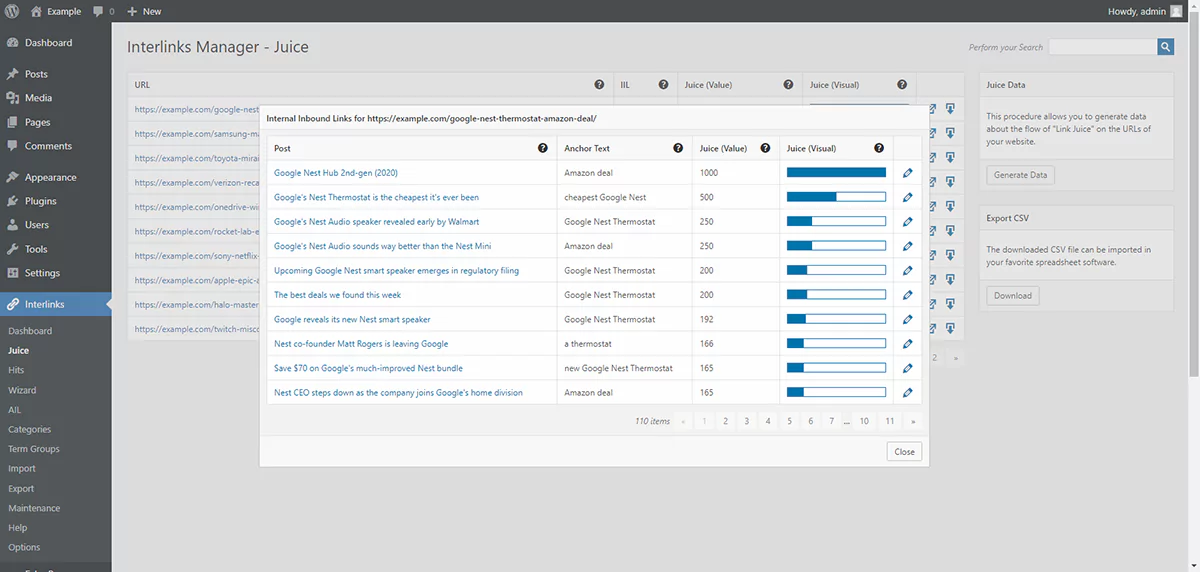 Pricing: Free; Regular is $39; Regular Plus is $52; Extended is $195.
The serious competitor of the two plugins mentioned above is Interlinks Manager, which has a free version and has more paid options to optimize internal linking strategy.
By using an algorithm to determine the appropriateness of optimization in your internal links and evaluate the link juice connected with each connection, this internal linking plugin's special feature sets it different from competitors.
Additionally, the plugin offers customization options that let you adjust the algorithm to meet your unique needs.
The following functionalities are added to WordPress by Interlinks Manager free version:
Analysis of internal linkages
Link juice evaluation
An algorithm that assesses the status of internal link optimization
The following functionalities are added to WordPress by Interlinks Manager pro version:
Establish internal links faster by providing you with suggestions.
The automatic internal linking system builds internal links depending on the keywords.
A summary of all the visits brought about by clicking on the internal links.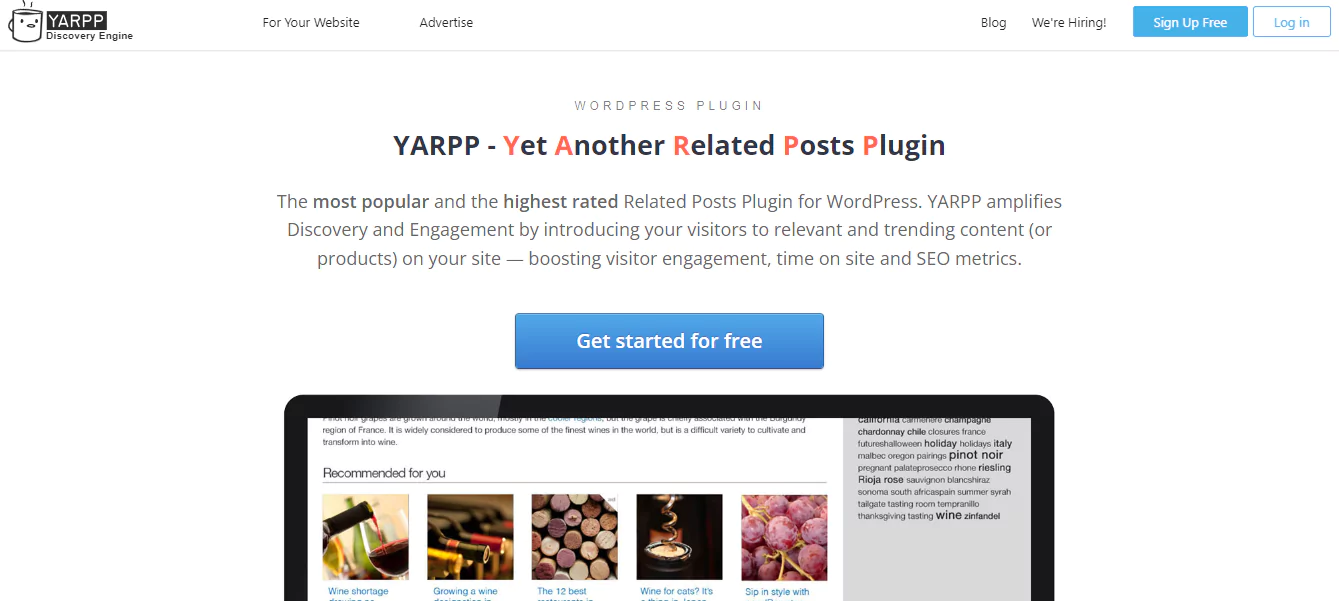 Pricing: Free.
The best and most well-liked related posts plugin for WordPress, YARPP, is well-known for its excellent features. It is simple to add similar article sections to your websites using this tool, which successfully directs website visitors to more beneficial material.
Some features of this internal link building plugin will be useful for your internal linking strategy:
YARPP employs a programmable algorithm that takes into account post titles, content, tags, categories, and custom taxonomies.
Future searches are quick and effective because of YARPP's integrated caching design.
Choose from the premade list or thumbnail templates, or fully modify the style and result presentation using YARPP's own templating technology.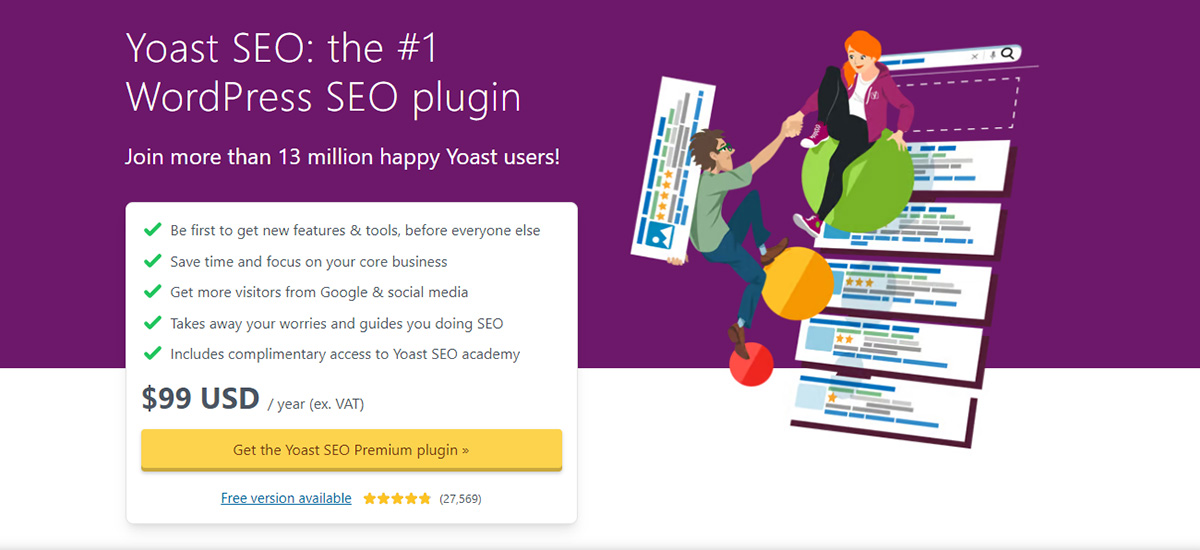 Pricing: Free; Premium Version is $99/year.
The extensive WordPress plugin from Yoast SEO has a tool for creating internal links. Your internal linking structure is a crucial component of optimizing your pages, and Yoast SEO Premium helps you make improvements.
While we list Yoast SEO as a useful plugin for internal linking, its strength lies in its premium version, some of which can enhance the effectiveness of your internal linking:
By giving a variety of block settings, the Internal Linking Blocks plugin provides handy solutions to improve the organization of your content.
This plugin offers suggestions for posts to link to while also assisting you in writing your content with automated internal linking suggestions.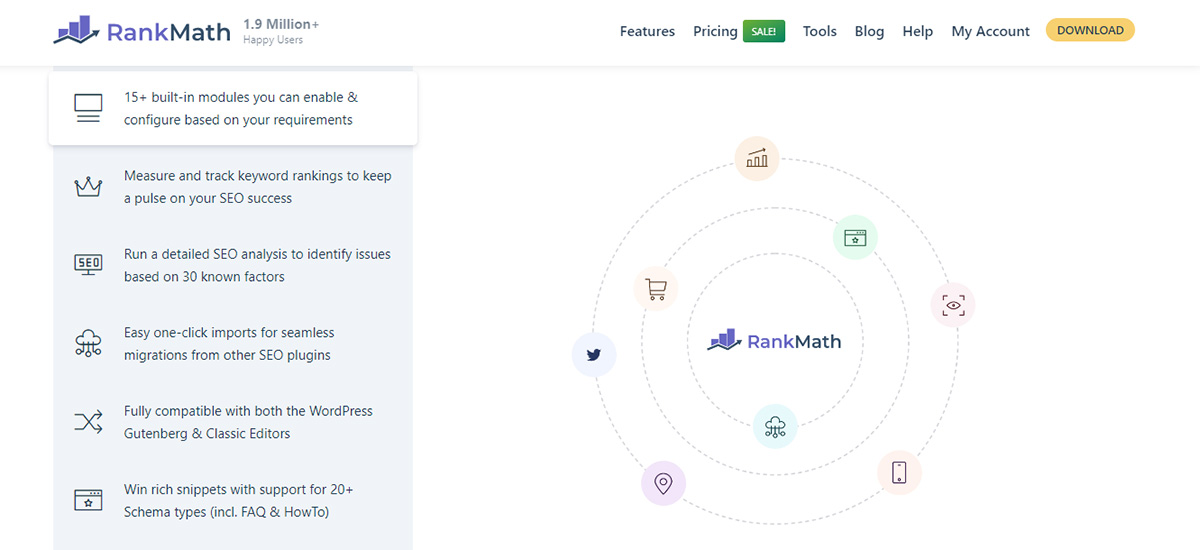 Pricing: Pro is $59/year, Business is $199/year, Agency is $499/year.
A strong internal link building plugin that Rank Math includes makes recommendations for internal links for your articles and pages. The plugin provides pertinent internal link ideas while you write, facilitating quick internal link development for your content.
Rank Math stands out as a superb internal link development tool for websites using the Pillar/Cluster model. The internal linking process is streamlined by this plugin, which lets you designate pillar posts for each blog category. Once configured, it then automatically creates link recommendations to other posts in the same category.
Moreover, Link Builder a internal linking tool being developed by Rank Math, is intended to make the process of setting up and managing internal connections easier.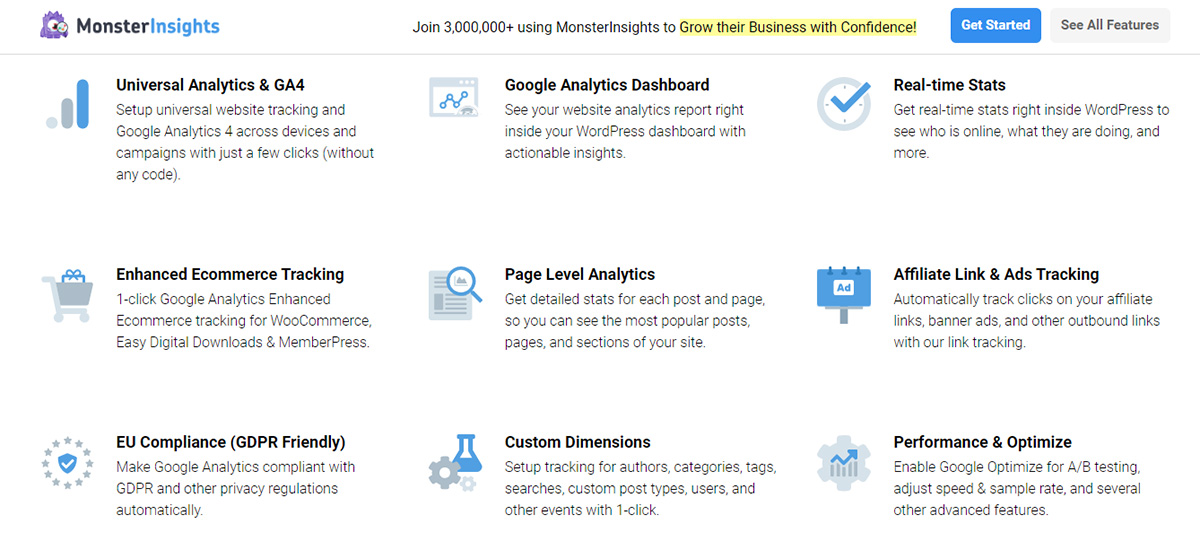 Pricing: Plus is $99,50/year, Pro is $199,50/year, Agency is $399,50/year
More than 3,000,000 professionals in the sector hold MonsterInsights in high esteem as the best Google Analytics plugin for WordPress.
Despite the fact that MonsterInsights is not a plugin specifically for internal linking. You can measure affiliate and outbound link clicks on your WordPress site with MonsterInsights in addition to its robust analytics features.
You may adjust and improve your internal link building strategy after using this priceless tool, which provides insights into how your audience engages with your content and indicates which links they click on the most.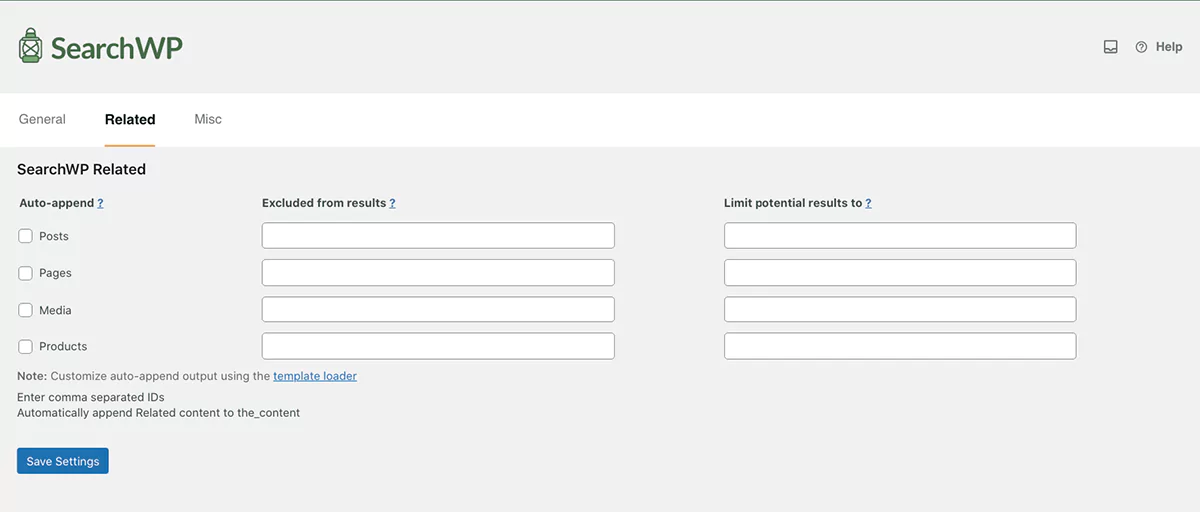 Pricing: Pro is $199/year; Agency is $399/year
The best-rated internal link building plugin for WordPress, known for its great performance and extensive functionality, is widely acknowledged to be SearchWP. It also provides an add-on called "Related" which substantially improves your content by making it simple to include similar posts.
The Related add-on has sophisticated options that give you complete control over how related articles are displayed. These options include practical elements like the ability to create exclusion criteria, restrict the number of linked posts displayed per article, and automatically attach related posts.
Note: Although this internal linking plugin has a Standard version, the Related add-on (what we need) can only be used on Pro and Agency versions.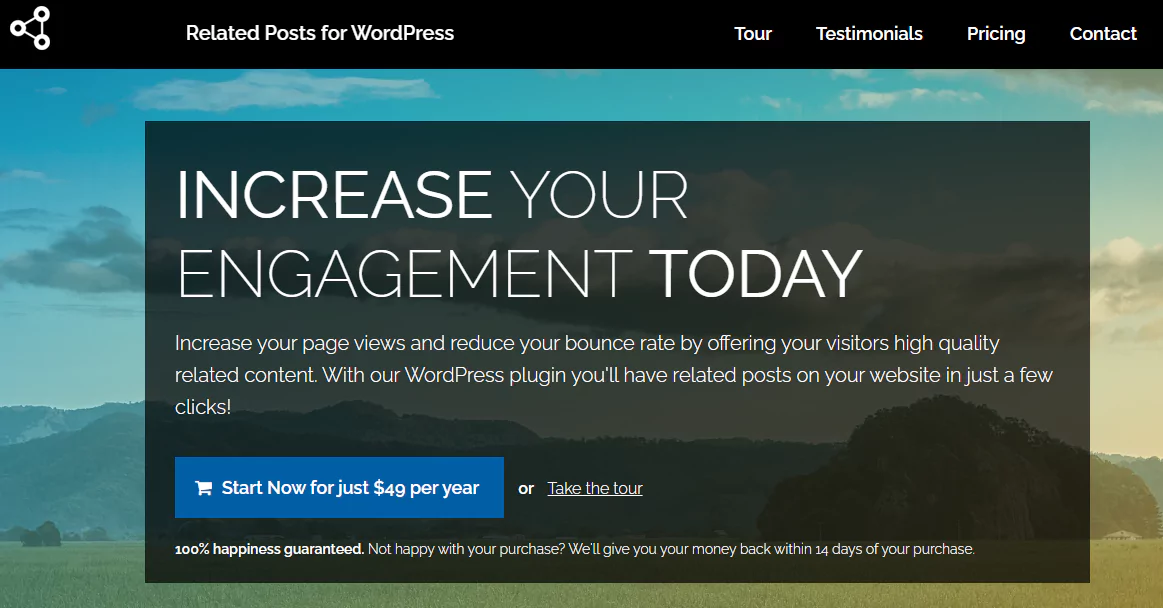 Pricing: Personal is $49/1 Website per year; Business is $79/5 Websites per year; Developer is $139 20 Websites per year
Through our setup helper, the Related Posts for WordPress plugin will automatically set up related posts for all of your posts once it is installed. Even though we work hard to offer the most pertinent related topics, there may be occasions when you wish to alter them. By updating your posts in the WordPress backend, Related Posts for WordPress gives you the freedom to independently remove or create related content.
Since everyone writes articles differently, we understand why a related post plugin shouldn't look for similar posts in the same way for everyone. With Related Posts for WordPress, you can easily pick the aspects of your posts that are most important to you, allowing for a customized list of related posts.
Some outstanding features of Related Posts for WordPress:
Automatically Matched, Manually Tweaked;
High Performance, no Server Stress;
Drag and Drop Control Over Your Layout;
Adjustable Weights;
Support Multilingual and more.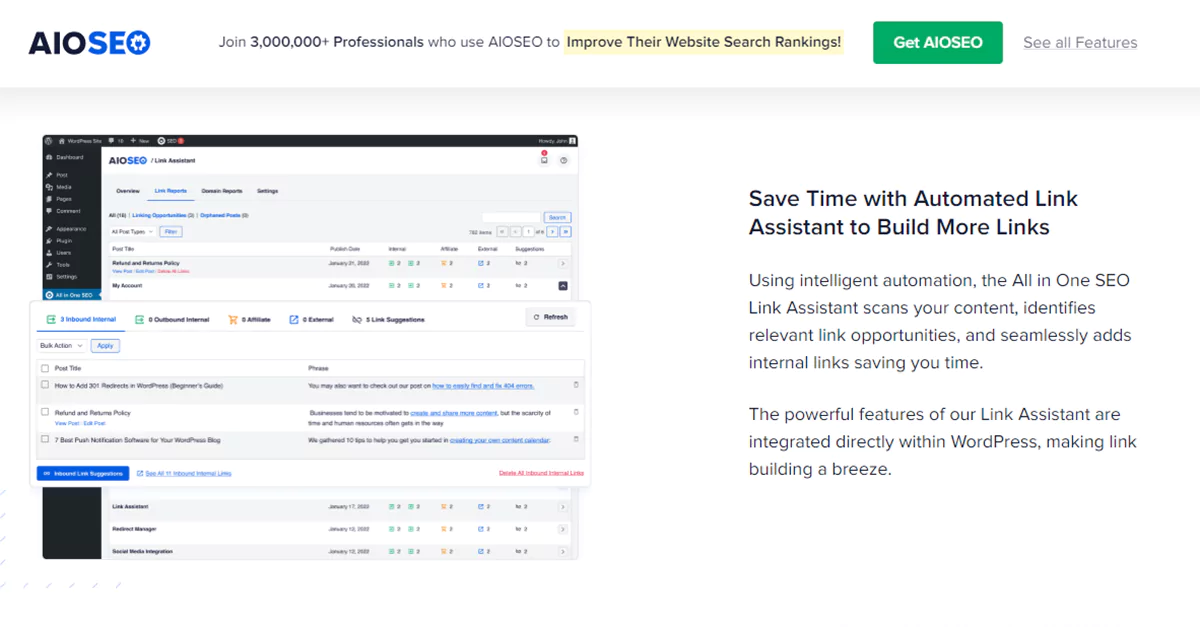 Pricing: Pro is $199,90/year up to 10 sites; Elite is $299,90/year up to 100 sites.
A thorough report is produced by the All in One SEO plugin once it has examined all of the links on your WordPress website. It offers useful details like the quantity of inbound, outbound, and affiliate links connected to each article and page.
This plugin also finds chances to improve your internal connecting structure. It draws attention to particular words and sentences that can be utilized as anchor texts in new connections. You may easily include these ideas in your text by just clicking a button.
This internal link building plugin also makes it possible for you to spot orphaned pages—pages without internal links. You may hasten the indexing of these sites and raise their search engine rankings by adding pertinent links to them.
Note: Although All in One SEO has Basic and Plus versions, the Internal Link Assistant feature (what we need) can only be used on Pro and Elite versions.
Conclusion: Start The Journey with Internal Link Building Plugins
Remember that the user experience must come first when using internal link building plugins. Although certain processes can be automated by plugins, accuracy, and relevancy must still be ensured by user interaction.
We appreciate you reading our in-depth article about internal link building plugins. We hope this article has given you helpful tips and directions on selecting the best plugin to improve your SEO strategy.
Happy link building!
Read More: Rank Math vs Yoast SEO: Which One is Better?
---
Contact us, ThimPress:
Website: https://thimpress.com/
Fanpage: https://www.facebook.com/ThimPress
Youtube: https://www.youtube.com/c/ThimPressDesign
Twitter: https://twitter.com/thimpress