With regular backups in practice. You will be able to stay focused on growing your website, and not keep worrying about the security and integrity of your site's data. If you are looking to manage your WordPress site's backup as well as its restoration and migration, the WPvivid plugin might be the best plugin out there.
All about the WPvivid Plugin
The WPvivid plugin is an all-in-one WordPress backup plugin that is absolutely free to use and provides you the option to securely back up your WordPress website. The plugin also offers one-click restoration. Using this plugin, you will also be able to migrate your WordPress site to a new domain. All in just a single click.
The best thing about this plugin is that it lets you back up your WordPress website data to some top-rated cloud storage providers such as Dropbox, Google Drive, Amazon S3, Microsoft OneDrive, DigitalOcean Spaces, FTP, and SFTP. All the cloud access is free.
In fact, the plugin designers are working hard to add more cloud service providers so that there is no limitation on backing up your data to just a handful of cloud services. A premium version of the plugin is under construction.
WPvivid has been optimized to work easily
Based on the limits set by your host, you can easily improve the success rate of your backup. The plugin has been extensively tested on shared and dedicated hosting plans from leading website hosting providers like Godaddy, Siteground, and many others.
So, it works seamlessly with all the hosting service providers. The plugin itself does not keep any Backup Size limits. However, it works in accordance with the limits set by your cloud storage and hosting account sizes.
For the migration part of the plugin. It lets you move your site from a dev environment to a new server, from a dev environment to a new domain name, or from a live server to another. You can even clone or copy WordPress sites and then move or migrate them to a new host (new domain). You can also move a site to a subdirectory, from a.com to b.com, from a.com to a.com/directory, and from a.com to b.com/directory.
If you are looking to migrate your WordPress site to a new domain with a single click, the plugin is great for that purpose as well. The WPvivid plugin has also been tested on various website builders so that you can easily accomplish the migration; all in just a single click. These are the supported page builders:
Elementor Page Builder
Page Builder by SiteOrigin
WordPress Page Builder – Beaver Builder
What are the features?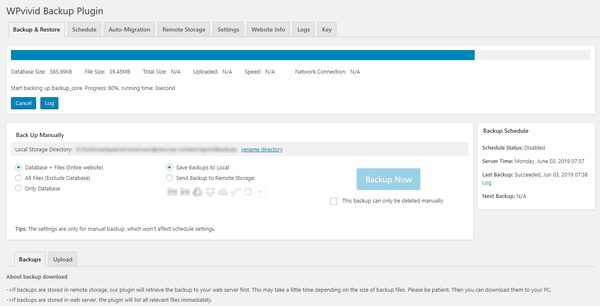 The WPvivid plugin has a responsive design so it works on all devices, phones, tablets, and PCs.
The WPvivid plugin helps you set up an automatic backup for your WordPress website. All you would be required to do is set up and forget the plugin and the plugin will automatically back up your website.
You can use the WPvivid plugin to set up scheduled automated backups for different frequencies such as every 12 hours, daily, weekly, bi-weekly, and monthly.
As soon as the backup is successfully completed. You can choose to get notified via an instant Email report on the status of your backup after completion.
You are allowed to choose the files that you want to back up. And you can easily back up the entire site, or the files, or just the database only.
The plugin also helps you restore your WordPress site from a backup with a single click. Isn't that seamless?
The plugin lets you have complete control over the backup options. If you want to keep files of certain sizes from getting backed up, the plugin will let you set a size limit for each file. Files exceeding the size limit will not be backed up.
WPvivid plugin provides support for up to 2GB of database size
The plugin also allows you to set up how many backup copies you want to keep on your servers. You can further split these backups into as many parts as you need.
You can also download your backups from your web server or cloud storage to your local devices.
The plugin is also capable of creating local backups.
The 'Clean Temp Files' feature of the plugin cleans up all the temporary and junk files created during the backup and restoration process.
If at all, there are issues that come up after the backup/restoration, you won't have to worry. You will be able to easily troubleshoot them as the plugin keeps log files i.e. a trail of activities during the backup and restorations. You can easily request this log file from the support and get your troubleshooting done.
How to Setting up?
To get the WPvivid plugin installed on your WordPress website, here's what you would be required to do. Firstly, enter your site's admin dashboard and then go to the 'Plugin' menu and run a search for the 'WPvivid' plugin. Once you find the plugin, simply click on 'Install Now' and then activate this plugin. Once done, you will be good to go.

Conclusion
WPvivid plugin is a great plugin that is a complete package in itself i.e. all-in-one backup, restore, and migration. The plugin providers also offer impeccable support via 3 channels i.e. their forum support, email support, and FAQs. We highly recommend this plugin if you are looking for a great backup, restore, and migration WordPress plugin.
Read more: Best premium and free WordPress magazine theme.
---
Contact us, ThimPress:
Website: https://thimpress.com/
Fanpage: https://www.facebook.com/ThimPress
Youtube: https://www.youtube.com/c/ThimPressDesign
Twitter: https://twitter.com/thimpress