With a growing list of over 29,000 plugins, it sometimes becomes a little tricky to figure out which of the plugins to use on your websites to get your desired functionalities and features.
A vast majority of these plugins are paid plugins. Only there are a few WordPress plugins allowing you to use them for free. Although in many cases we are to choose a paid plugin to meet our desired functionalities, there are many free backup plugins that can meet your common functionality needs. You should know about these to reduce your development cost.
Needless to say, there are many backup plugins developed by WP communities to give you a routine backup of your WordPress blogs or websites. WP backup plugins are well enough to give you a peaceful mind and save you in a catastrophic situation when your websites get hacked or deleted.
Fortunately, there are several free backup plugins to prevent a disaster. In this article, we shall discuss only on 10 free backup plugins that help you take regular backups when you make a blog or website in WP. All these backup plugins are stable and fairly easy to use.
Top 10 Free Backup Plugins For WordPress:
Duplicator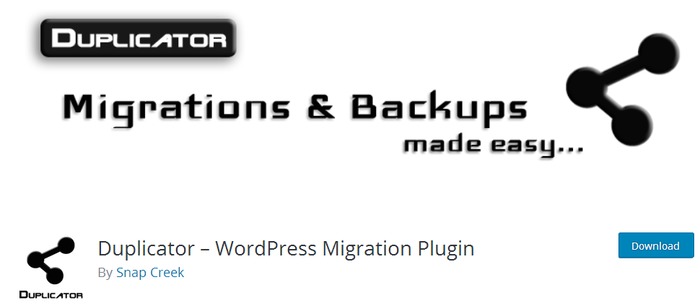 As the name suggests, Duplicator allows WordPress administrators to migrate, copy, orclone a WP website or a blog from one location to another. It includes almost all features of a simple backup plugin. Being highly useful, it has crossed the record of 1 million active and successful installations.
WP Time Capsule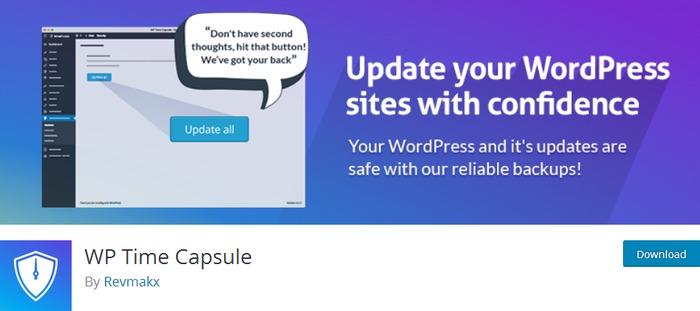 It can take back up and protect your WordPress website even before it is attacked. This backup plugin is highly active in taking a full backup (each time) of your site, saving your time significantly. It uses the cloud apps' native file versioning system to make the process exceptionally expeditious and detect changes immediately. After detecting the changes, this WP plugin takes back up of the changed files and remove new database entered into to your account. It uses Google Drive, Dropbox, and Amazon S3 as your backup location. Moreover, it saves your WP blog or site from a bad update and prevents it from being hacking due to not update for a longer period of time.
myRepono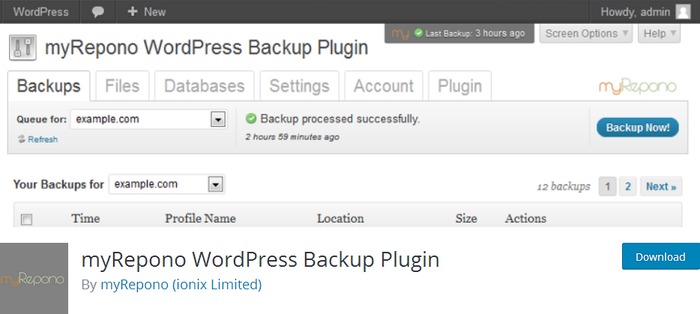 myRepono offers an automated website backup solution of your entire WordPress website, including database, comments, posts, user data, plugin files, etc. You can get back your website data immediately, using this WP backup plugins. Needless to say, myRepono provides backup management and restoration tools(for free)to establish an independent backup management and restoration system when WordPress installation gets unavailable in your system. Moreover, it ensures 100% security to your website.
UpdraftPlus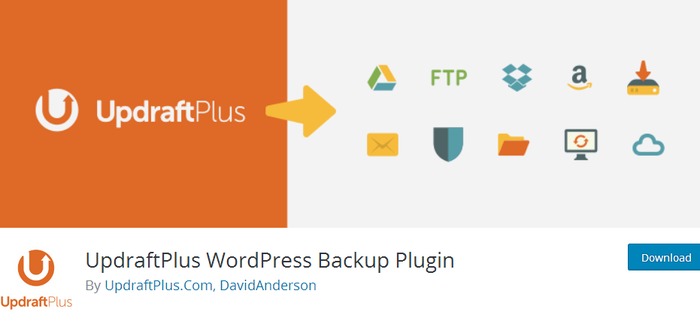 The World's most trusted and highly popular backup, migration and restoration WP plugin, UpdraftPlus helps you restore your website with a single-click on it. Depending on your choice, it takes backup directly to your Google Drive, DreamObjects, FTP, Dropbox, Updraft Vault, Rackspace Cloud, Amazon S3, Openstack Swift, and your email. The interesting part is that you will have separate schedules for database and other backup files.
BackWPup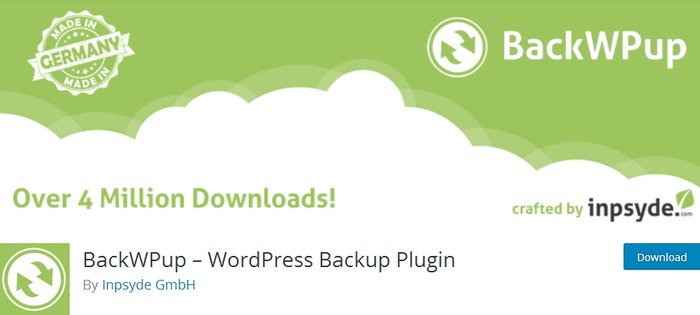 The backup plugin BackWPup serves the purpose of a complete installation, including wp-content. It could push up to an external backup service like Dropbox, S3, FTP, SugarSync,Microsoft Azure, and more. With a single backup zip file, you can easily restore an installation. Needless to say, the support system of the BackWPup Pro Version is much better than free version.
Revisr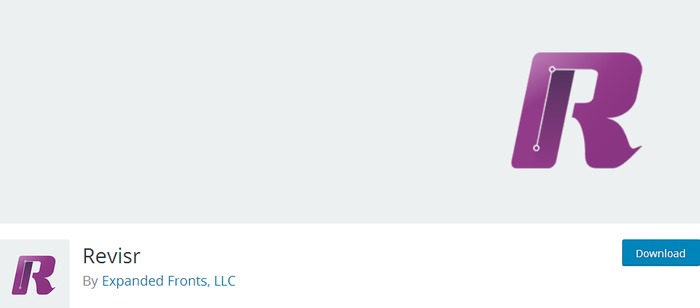 Revisr is another free backup plugin allowing users to manage their WP websites with a Git repository. Like GitHub and Bitbucket, Revisr allows you to do a number of things as mentioned below.
Have a look at these:
Restore or backup entire WP website in seconds
Track changes to an entire WordPress installation.
A user can choose a part according to his or her preference
Allow you make changes to your WordPress dashboard
Automatic back up set ups on a daily or weekly basis
Enable quickly discard action for any unwanted changes
Keep one thing in mind- test the changes before hosting it to another server. Web hosting review is a must to revert your website to an earlier version. Make necessary changes to the WP dashboard.
WPBackItUp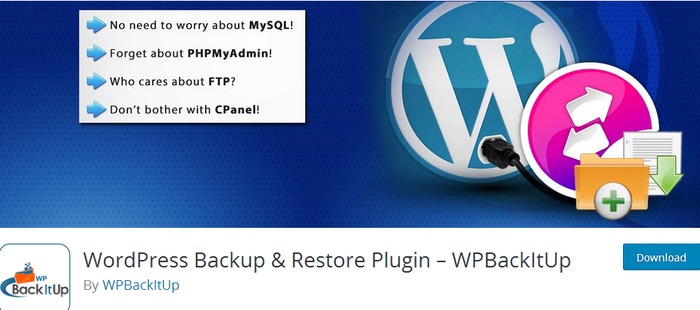 The simplest solution of taking backup and restoring WordPress sites is using WPBackItUp. No special setup is required for taking a backupof your entire website. Only a single click is well enough for doing this. Backup archives can be retrieved and downloaded easily to store safely and separately from your hosted WordPress site.
XCloner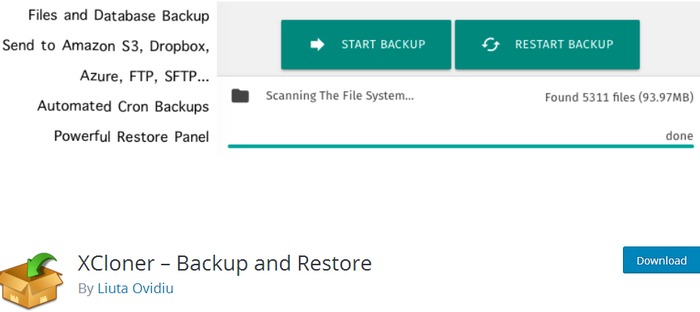 XCloner is a WordPress backup and restore-plugin designed to be integrated well with all WP sites. With the aid of it, you can create and take backups of your WP website including PHP-MySQL website and restore those in your desired place. The specialty of this free backup plugins is its complete and differentials backup capacity both manually and automatically. It can generate and create custom backups of any WP website, using custom admin.
CYAN Backup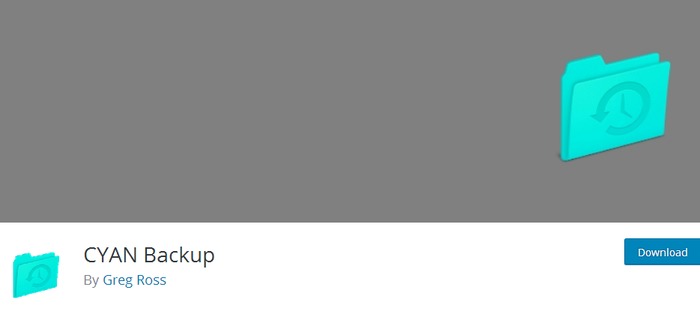 CYAN Backup is a free WP backup plugin for taking backup of your website each time when you make an update. It utilizes the cloud apps' native file versioning system to identify the changes and take back up of the just changed files, including the database to your Google Drive, Dropbox, or Amazon S3.
BackUpWordPress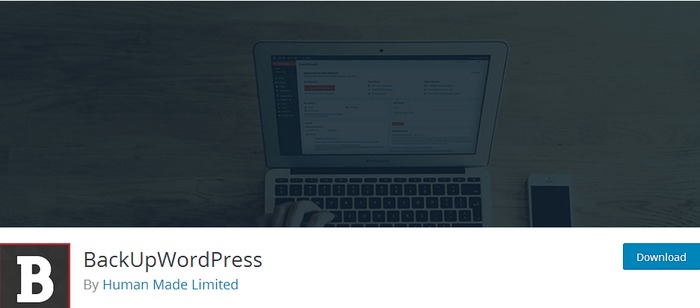 BackUpWordPress help you manage multiple schedules while you are taking back up. No special setup is required. It is worthy to mention here that it works in low memory and functions wellin shared-host environments.
Conclusion
From now WP developers need not be worried a bit about a hacked website or data loss on their work. They can take back up of their works each time while they are creating a WP website for their clients. They can auto-set the plugin to get back up of their work when they make an update or wish to take a backup of the work in their desired locations. If they face any problem or data loss, they can repair it immediately, using the above-mentioned free backup plugins. These are highly useful.
Read more: 5 Most Popular WordPress Coupon Theme & Plugins
---
Contact us, ThimPress:
Website: https://thimpress.com/
Fanpage: https://www.facebook.com/ThimPress
Youtube: https://www.youtube.com/c/ThimPressDesign
Twitter: https://twitter.com/thimpress