Coupon and Cashback websites have always been one of the favorite ways of making passive income with Affiliate Marketing. However, even now, very few shoppers have a habit of searching for a coupon before making a purchase. And so, this field still has a huge untapped potential. It is a matter of time we will see someone smart enter this field and make a big brand out of it.
The best part of Coupon business is the ratio of investment to returns. To start a Coupon Website you need to buy a domain, a hosting, and a good Coupon Theme. So the initial investment is only a couple of hundred dollars. But after a year of good marketing strategies, you should easily be making a thousand dollars every month. I even know affiliate marketers who left their full-time jobs after starting a coupon/cashback website.
But the difference between a successful and failed startup lies greatly in the theme that you base it on. So here is a list of top coupon themes that will help you be the next tycoon.
1. ClipMyDeals (Coupon + Cashback)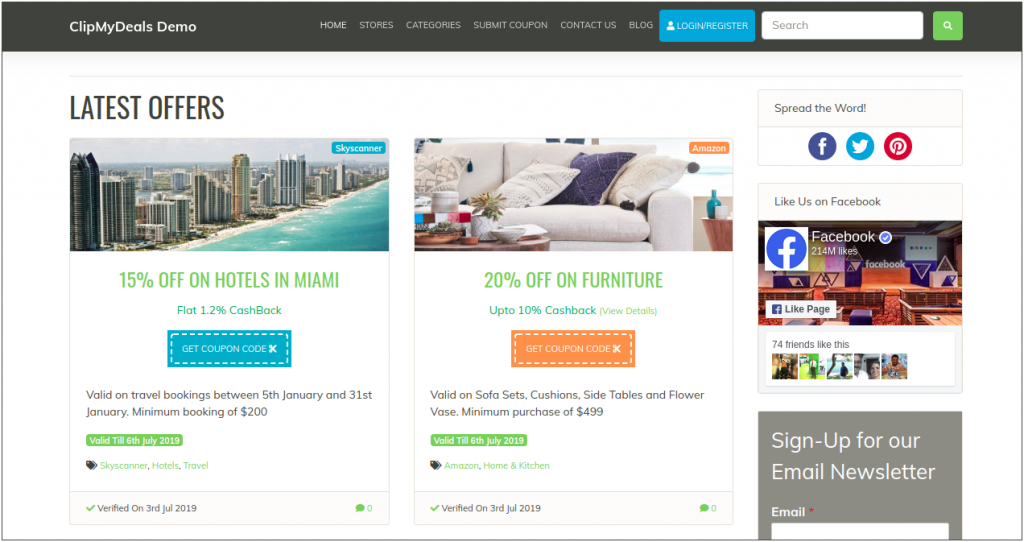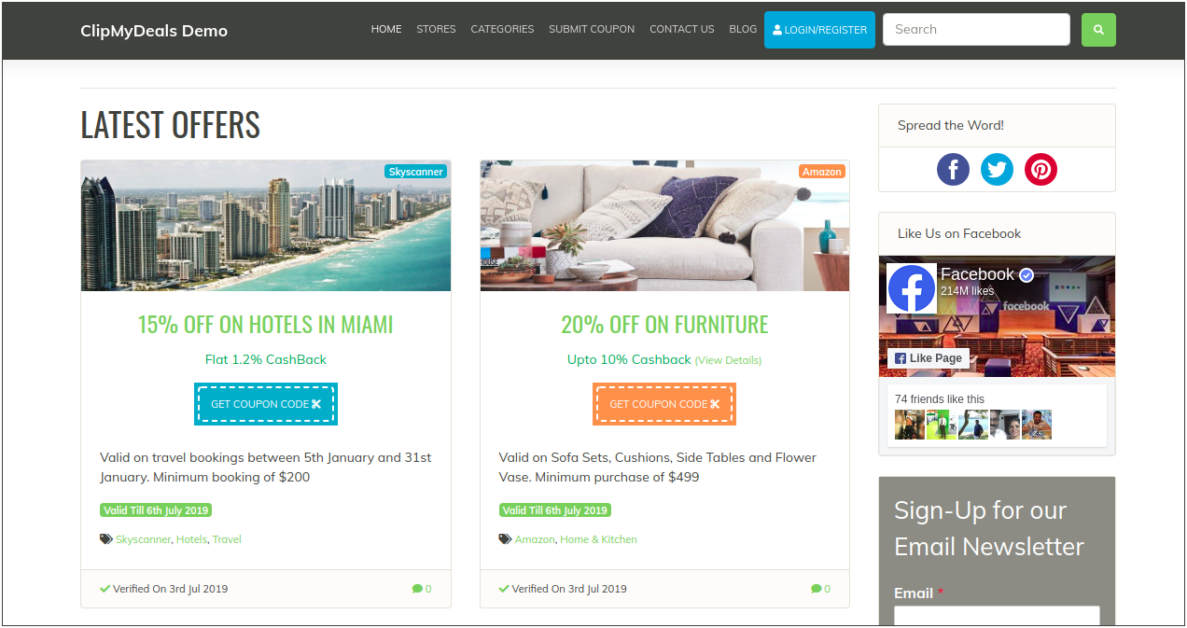 ClipMyDeals WordPress Theme features at the top of our list. This is because it is way ahead of other themes in terms of style and features.
Unlike other themes that are created by "Theme Developers", ClipMyDeals has been created by "Affiliate Marketers". So they know which feature works, and which does not. They know what is trending in the industry, and are quick to add those features to the theme. And you get lifetime support and lifetime updates for this theme, so you will never be outdated.
ClipMyDeals also has a "Cashback" plugin. This makes it the only Coupon Theme with Cashback system. You can use it with most of the popular Affiliate Networks to give rebates to your visitors for shopping via your website.
You also get a free Android App with every license of ClipMyDeals. Since customer loyalty is very important in the coupon & deal industry, it is necessary for coupon websites to have an App. To get an App built externally, you will have to pay anywhere from $200 to $500. So it an absolute no-brainer to simply buy ClipMyDeals and use the free App.
2. Clipper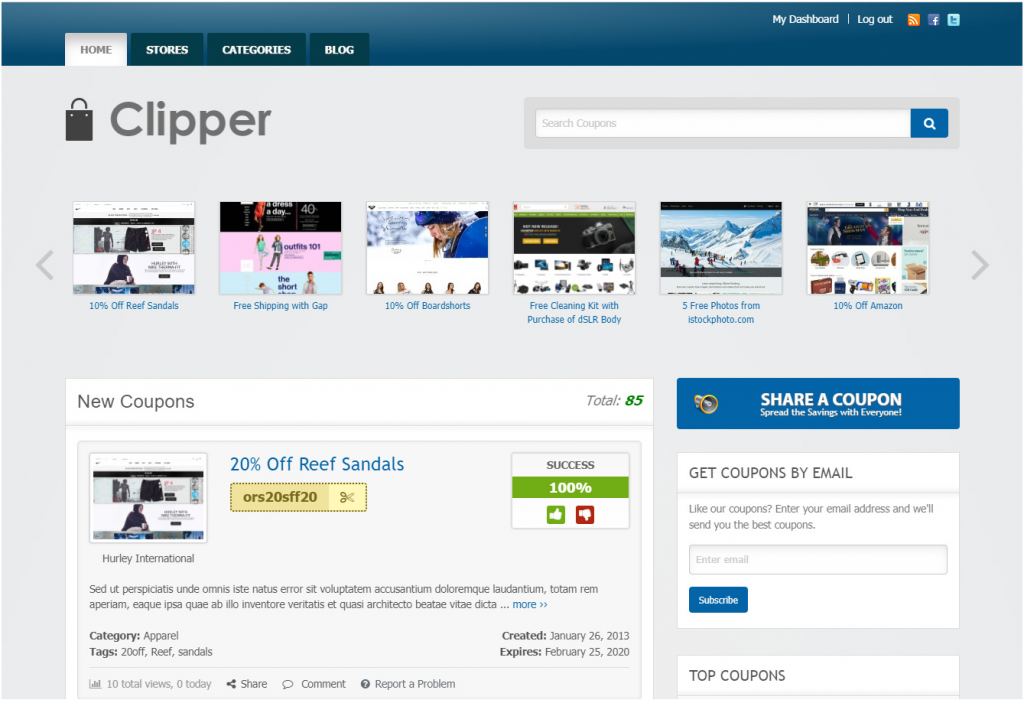 Clipper is one of the oldest themes in the market, and hence one of the most stable themes you can ever get. Almost all bugs have been ironed out over the years. If you are someone who likes to create Child Themes each time, then this makes a good parent theme to start with. In fact, there are a lot of Child Themes already available in the market for Clipper.
This is also one of the easiest themes to run a coupon website. It is very easy to understand (you won't even need to look at the documentation). It is packed with all the basic features that one needs and cuts down on unnecessarily complicated features that you will hardly use.
Overall, this is nearly a perfect theme if you want to run a basic affiliate coupon website for passive income.
3. Coupon (by KetchupThemes)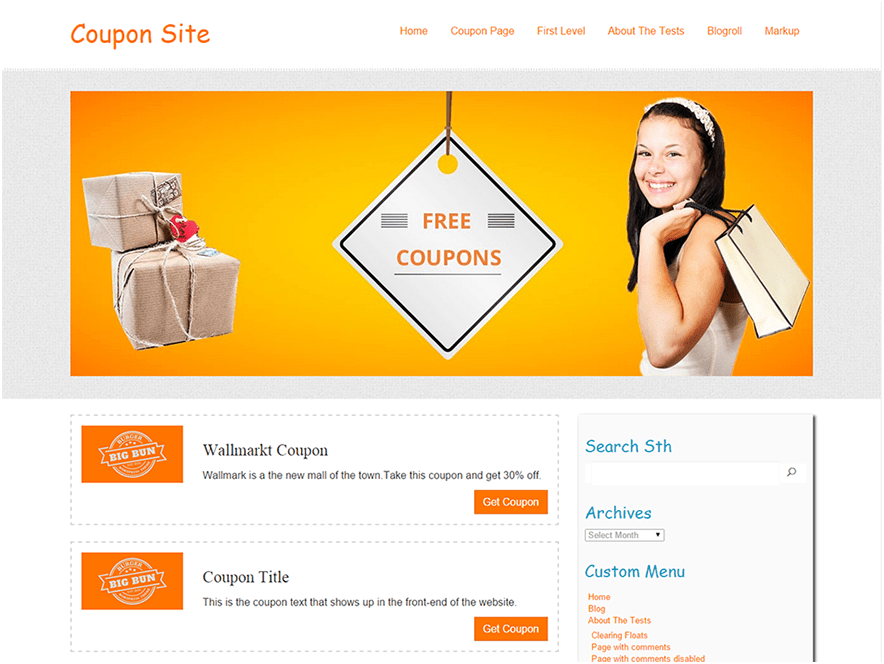 This is a free WordPress Coupon Theme, hosted on the WordPress repository itself. However, the Coupon functionality is only available in the paid version.
Nevertheless, you can install this theme and get a feel of it before you make a decision to go ahead and buy it. It is available at a relatively lower price than most coupon themes, so is an ideal candidate for early startups and people with a limited budget.
One drawback is that it has not been updated for a couple of years now. But then, no update does not mean that does not work. It is just that this theme comes with basic features, which did not need an update so far.
4. Coupon Creator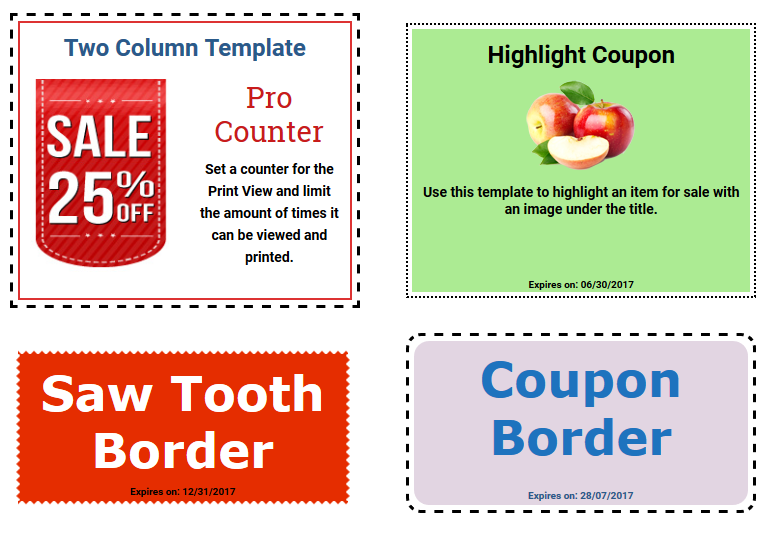 If you are already using a blogging theme to post your money-saving articles, then moving to a new theme may not be an option for you. So if you want to add coupons to your existing theme, then you can go for the Coupon Creator WordPress plugin.
There are various design options to choose from. So it is flexible and can be used with almost any color combination and theme layout.
It also works with various page-builders and widget options.
5. JC Coupon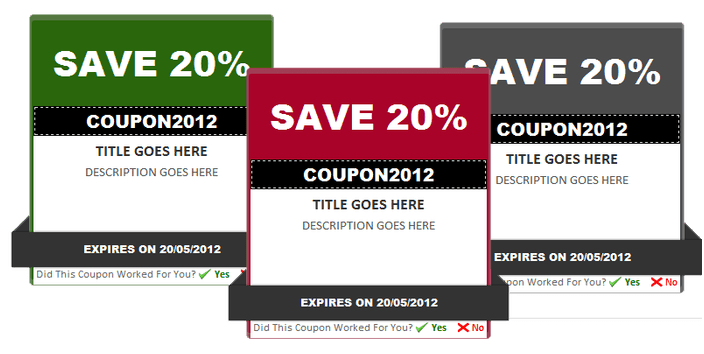 This is is yet another WordPress Coupon Plugin that can be used with your existing theme to match the layout. Unlike Coupon Creator, this plugin is actively maintained and supported.
It comes with various style options, and new styles are being added with every major update.
The best part of this plugin is that it supports bulk-import. This can be really handy when you want to upload coupon feeds from services like LinkMyDeals.com, or even from affiliate networks.
Summary:
So these are some of the most commonly used themes and plugins. They all come with certain advantages depending on the kind of website you plan to create. But if I have to select one that works on all cases, it will definitely be ClipMyDeals – because of the unmatched features & flexibility that it offers.