WordPress Travel Themes: What Are They?
An extensive list of WordPress travel themes is adequate for travel services such as accommodations, cuisine, entertainment, and other travel-related websites. This will be the only list you demand to find out which is the one you have always been dreaming for.
Among all smokeless industrial branches, the travel industry is undoubtedly the top heading and still taking further steps to modernize itself. On the other side, people who are always busy with work and life can only spend just a bit of time searching for a trip to a suitable destination.
Therefore, a travel website must be very impressive right at first sight, and the website's travel theme plays an enormous role in catching the customers' impression. Without enhancements in websites, you are running out of chances to retain clients and conserve the market.
Updating the newest travel themes is becoming very common, which also goes with the dilution in the selection of a suitable theme.
How We Choose the Best Themes
Among all WordPress themes, there will be both popular ones and unpopular ones. We wildly know that since they get so many searches, views, and downloads. Or you can say they are well-selling themes. However, don't slight the less popular themes. They can be unexplored diamonds that can become the boom.
Thus, we carefully make a detail of the best WordPress travel themes based on 2 main evaluation standards. On this list, our selections lay:
Responsive WordPress travel themes.
Envato WordPress travel themes.
Responsive WordPress Travel Themes
Just like the responsive web design, responsive WordPress themes offer an excellent user experience. When they surf across a variety of devices such as smartphones, tablets, PCs, desktop computers, and also different screen resolutions. We define responsive WordPress travel themes are themes that can smoothly adjust their layout to fit any screen size and resolution.
In the old time, before website owners publish something. They have to do some research and make different versions to fit any platform. Then, if they discovered any error, they would have to maintain all their websites.
Nowadays, with responsive travel themes, sites don't have to create different specific versions for platforms anymore. It allows us to view and experience on various devices. Without adding or using other themes and plugins at the same time. With WordPress travel themes, no more additional themes, and less data are needed.
For example, let's have a look into Sailing – one of the best WordPress travel themes. Web managers focus a lot on the flexibility of the website. Which is intimate with the client's experience of the responsiveness of the web itself.
Through all update, you can see that from the first update. The supervisors have noticed to the users use their web from a computer basis, then widen the range of users. They attract users on a tablet basis: mobiles experience is significantly improved. From those, we can recognize that their success of them is better than the standard level of customer participation.
Envato WordPress Travel Themes
Envato is a system that contains tools for designers: graphic assets, industrial-training and educational appliances, and business managing tools. Therefore, an Envato WordPress travel theme is a product in the Envato library. The Envato WordPress travel themes have become one of the two main standards for a theme.
Besides the responsive WordPress travel themes the Envato system become too helpful and popular. We can say that anything approved on the Envato website can be called "standard enough". On the other hand, if a WordPress travel theme is frequently checked by Envato. You can be assured that the theme is suitable for a lot of people. And it might be suitable for you, too
Best WordPress Travel Themes for Your Website
Below are some best WordPress travel themes. And this list will continue to lengthen in the future. We rate these themes based on their popularity, efficiency, and customer feedback.
Hotel WordPress Theme – Sailing
Adventure Tours – WordPress Tour/Travel Theme
Sailing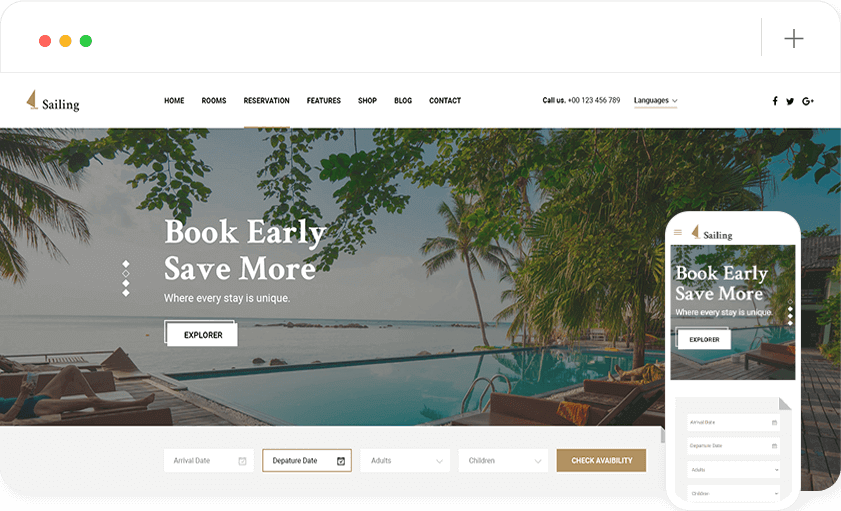 Sailing is a WordPress travel theme focused on travel accommodations for travelers by ThimPress. This focuses on improving itself and free designing for customers. The stunning parallax effect makes the web fancy. While 600+ Google Fonts and unlimited color schemes and outer skins put on the website an amazing and gorgeous outfit. Attracting users in the first impression.
Like Adventure Tours, Sailing is also cooperating with WooCommerce, using 100+ payment methods for better customer experience. By using the Sailing WordPress travel theme, the website's rank will surely stand at a higher position on search engines: Google, Bing, etc.
Adventure Tours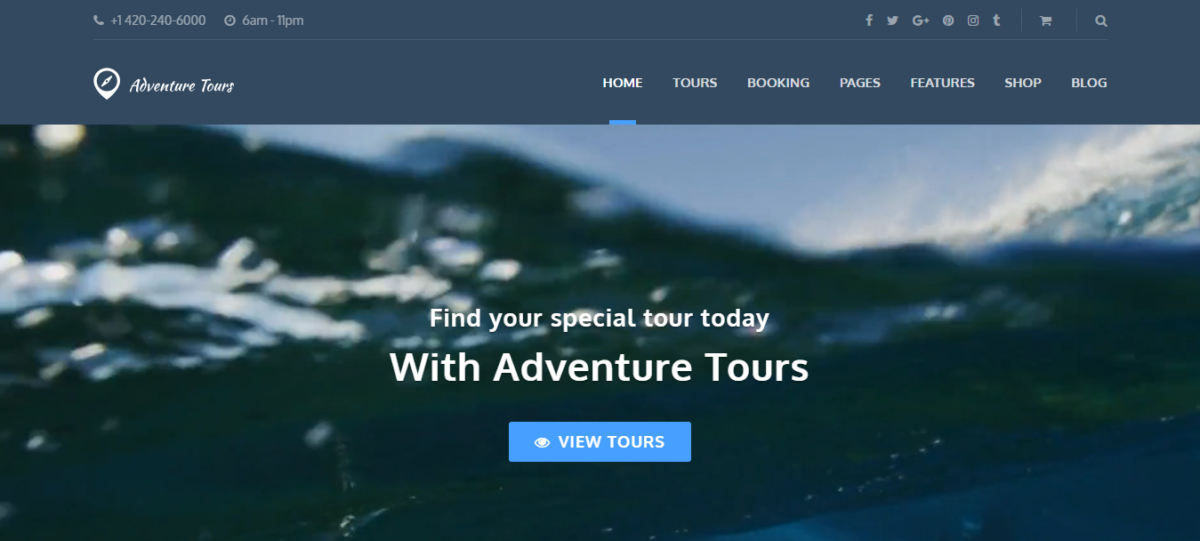 Adventure Tours is a WordPress travel theme created for tour managers and travel agencies. The main reason why this theme stands on top is its convenience and flexibility. Customers can set up as many tour attributes as they want.
You can also make up tour dates flexibly with the smart booking system. For a tour running a regular scheme, you don't need to make more tours if some specific changes happen. In addition, Adventure Tours allows many kinds of payments. PayPal or any payment gateway of WooCommerce, which can be selected from more than 100 gateways.
You can make sure about its quality and safety as it is checked frequently by Envato. Besides, the theme's authors offer the availability to get the clients' questions answered. As well as getting support with detected errors and bugs, and an included 3rd party asset.
Conclusion
WordPress travel themes by far have been very popular with people working in the tourism industry. The benefits of themes are absolutely uncountable, and people realize them and take advantage of them. Without these travel themes, the online branch of travel may have not developed well like this.
Or with many options, you can drop in our premium WordPress themes.
Therefore, through some standards and websites above, WordPress travel themes should be used more frequently, and also more flexibly. Try one now, to get the enormous privileges of the current best WP travel themes.
Read more: WordPress Blog – Create a Blog easily with WordPress Theme
---
Contact us, ThimPress:
Website: https://thimpress.com/
Fanpage: https://www.facebook.com/ThimPress
Youtube: https://www.youtube.com/c/ThimPressDesign
Twitter: https://twitter.com/thimpress