Are you struggling to set up our LearnPress Payment Gateway?
Worry no more. We will help you to solve your problem in this beginner guide. Please note that we use the Eduma theme, the best selling, and most famous education WordPress theme on the ThemeForest marketplace, to set up the LearnPress payment channel. Plus, if you use other LearnPress themes like IvyPrep, Coaching, StarKid, or so on, you can follow our steps below as well.
So our article will give you different payment options: You can start with PayPal or install WooCommerce for creating multiple payment gateways. Even if you don't use WooCommerce, you can install add-on payments like 2Checkout, Stripe, Authorize.net, or offline payment. Lastly, we include the LearnPress Paid Memberships Pro add-on to let students buy your online courses individually or via subscriptions.
Let's explore now!
The Correct Way to Set Up Payment for LearnPress
After you install a WordPress Theme – Eduma with a 1-click demo import feature, you can open your dashboard admin to start setting up payment methods now.
– LearnPress Login & Registration Error
But before doing it, try to view your theme first. There will be a "Buy this course" button for students to buy your courses. However, your education website should have the "Register" button so that students can register, sign up, and then log in to your site. If not, you will only see the login box with no registration option.
It's simple by opening your dashboard admin -> find Settings on the left sidebar -> choose General -> Membership and tick on the Anyone can register box.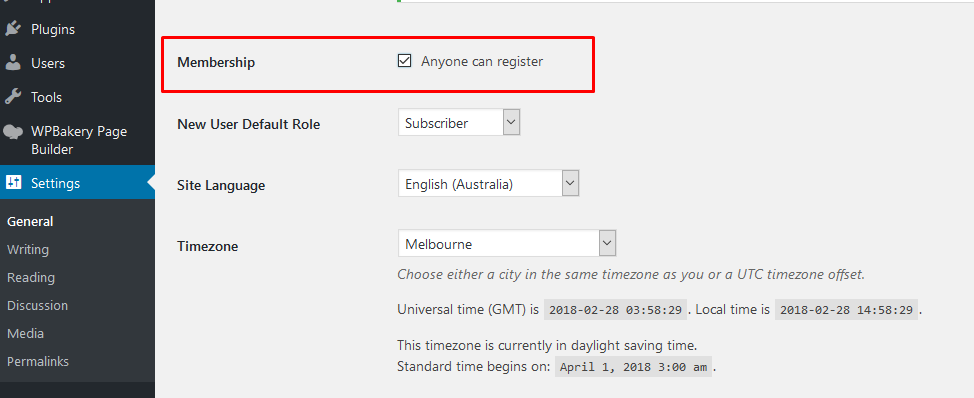 So now you can click on the Buy this course button and our system will ask you to sign up or log in before continuing the next steps.
– LearnPress Checkout Page Error
However, your user will meet another error after they logged in. It said, "Checkout page hasn't been set up or page does not exist". In another case, you can see "The following required page(s) are currently missing: Checkout Page. To ensure all functions work properly, please click here to create and set it up automatically" in your dashboard.

The reason you have this error is that you have not set up the checkout page yet.
You can fix this issue easily by opening your dashboard -> LearnPress -> Settings -> and clicking the General tab. In the Page Setup, find Checkout page -> and choose the "LP Checkout" option. After that, those errors will disappear automatically.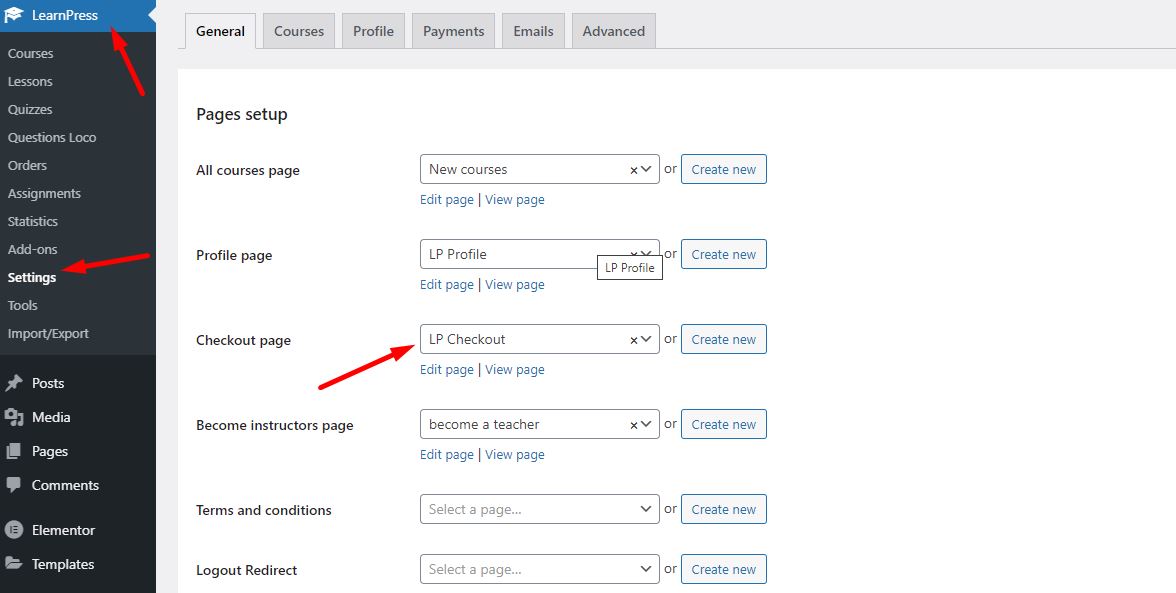 – Set up PayPal Gateway
PayPal is a LearnPress Payment Gateway Integration in the theme package. You can set it up quickly by choosing the Payments tab in LearnPress settings and selecting PayPal.

It allows you to enable/ disable PayPal Standard. Plus, you should add your PayPal email to receive your course payment directly using the PayPal gateway. There is the Sandbox Mode. You can enable this feature by adding a Sandbox email address to test the payment system.
After that, remember to Save Settings so all changes are saved.
In addition, PayPal is the main built-in payment gateway of LearnPress. So if your students have no PayPal account, it's not a problem. They can purchase your courses with a credit card method using PayPal.
Once you set up the PayPal gateway in the correct way, you can tick the "Enable Guest Checkout" box. Hence, students can click on the "Buy this course" button and they will be led to the basic PayPal payment to pay for their online course.
Set up WooCommerce LearnPress Payment Gateway the right way
Apart from PayPal, you can add another LearnPress Payment Gateway like WooCommerce addon to give more payment options for students. They can purchase your courses with Stripe, Authorize.net, offline payment, bank transfer, etc.
So how to install the WooCommerce add-on?
As shown above, we use Eduma here so you can find WooCommerce Payment right in the WordPress dashboard.
Simply open your Dashboard -> Eduma -> Plugins -> WooCommerce LearnPress Payment Add-on. Just install & activate it.
However, if you use other themes that are not from us, you can install our WooCommerce add-on too. It's one of the addons of LearnPress.
After all, you can find the Payments tab in LearnPress settings. Then click on WooCommerce Payment to set up according to your requirements. You can enable/ disable WooCommerce payment or configure payment gateways for your website such as direct bank transfer, cash on delivery, check payment, or PayPal standard.

You can test your WooCommerce payment with a few clicks as well. You'll find the Add to cart button, choose one of four payments, and see instructions to complete your payment process.
Note: You need to enable Guest Checkout for WooCommerce so your guest can purchase your courses with ease.
Open your Dashboard -> WooCommerce -> Setting -> Enable both options:
– Allow customers to place orders without an account
– Allow customers to create an account during checkout
Installing Other Payment Gateways with WooCommerce – LearnPress Stripe Payment Gateway
By the WooCommerce default, you can find only 4 WooCommerce payments. However, it's possible to add other payment methods, for example, LearnPress Stripe Payment Gateway, Voguepay, Eurobank, PayU, or even cryptocurrency payment.
To add these payments, you can go to WordPress.org -> plugins -> search for the payment you want which integrates with WooCommerce.
Most of them are free to download and install with a click.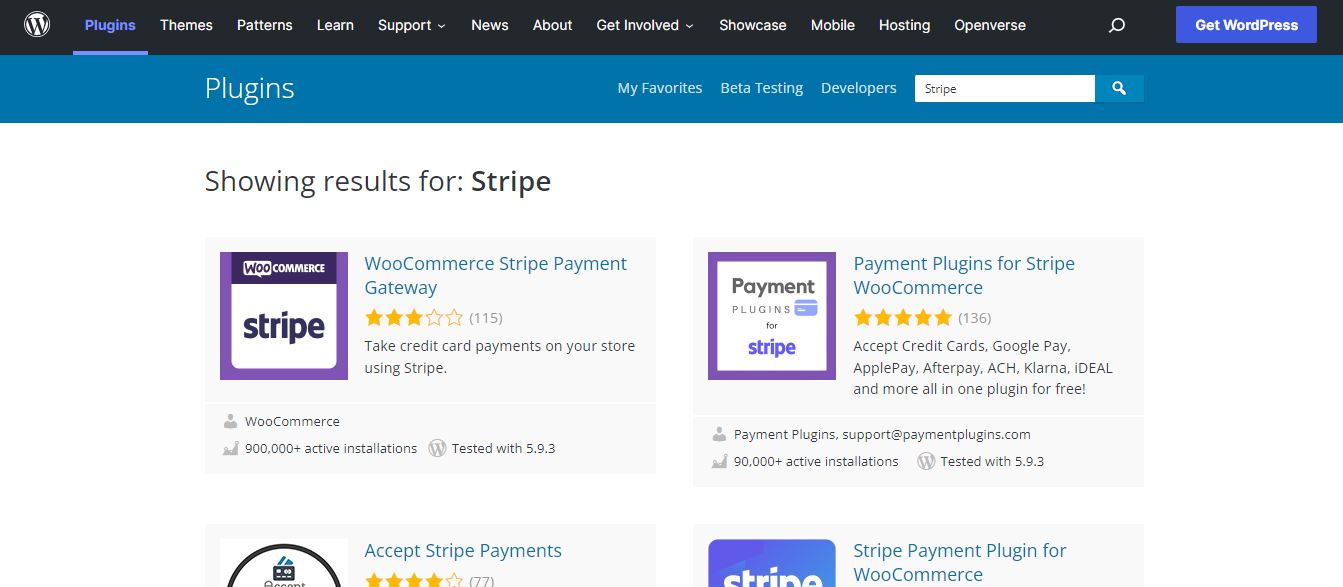 Set up Payment without WooCommerce – LearnPress Payment Gateway
WooCommerce is the most famous option to create payment gateways. However, not all of us like to use it. There are some reasons that people want to use separate payment gateways so we provided additional methods for LearnPress Payment Gateway addons without adding WooCommerce:
– Stripe add-on for LearnPress
– Authorize.net add-on for LearnPress
– 2Checkout add-on for LearnPress
In addition, you can find our LearnPress add-ons right on the WordPress dashboard if you use our education themes. You can go to Dashboard -> Theme -> Plugins to see all add-ons, just like the WooCommerce Payment add-on we have tried above. If not, you need to click on each add-on link to purchase and install it.
Setting up Membership/ Subscription
Along with Customised Code for Payment Gateway Integration in LearnPress, you can use Paid Memberships Pro add-on to create membership plans, set up monthly payments, manage subscriptions, and so on.
If you just need membership or subscription service, you can use the free Paid Memberships Pro version on WordPress.org. You also can refer to our article for LearnPress and Paid Memberships Pro integration to add membership plans in LearnPress for your education website.
Final Thoughts
Hopefully, you can connect LearnPress Payment Gateway with your theme and set up the payment you want to your website. LearnPress is a great choice for an LMS or education website that everyone should use. It's flexible and powerful with different add-ons to upgrade your site to the next level.
Read More: Paid Memberships Pro: Membership Plugin for Learnpress