Are you comparing Wix vs Shopify for a suitable eCommerce website builder?
Concerning the most suitable e-commerce for your website, there are so many choices with different aspects and features. WordPress is the most popular web platform, running over 40% of all websites on the Internet. If you are looking for a platform that focuses more on business, Shopify and Wix may be your alternative options.
In this article, we will compare these two web platforms to give you a clear view of which website platform you should go with. Let's go!
Wix vs Shopify: Some Information about Wix
What is Wix?
Founded in 2006, Wix is an old-fashioned cloud-based website that helps you with web hosting and design services. With over 500 built-in templates for different purposes, Wix allows users to build their site without having any web-developing skills or hiring a Wix website developer. You are free to make the website you want.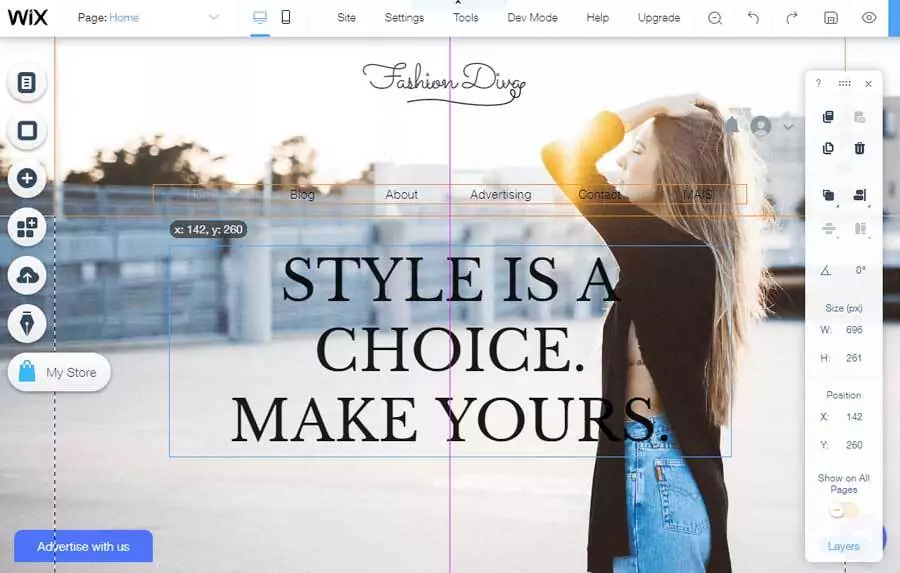 Wix has more than 200 million users across the world in 17 languages. You may find the biggest customer base for Wix in the US (57%), followed by Canada (6%) and the UK (6%). Also, Wix's customer base is usually small and medium businesses with little or no knowledge of website development.
Wix's Features
As a veteran in web development, Wix has a lot of great features for its users. You can see the most significant ones here:
500+ prebuilt templates
New drag-and-drop page builder
Free to design
Advanced SEO tools
Mobile Optimization
Web app markets
Animations, effects, and transitions
Media Galleries
Unlimited color schemes & fonts
Tailor-made content
Rapid visual frontend design
Business $ marketing widgets
Professional mailbox
Free hosting
Insights and analytics
And more.
Pricing
There are 3 pricing options for you to make a real website: Website plans, Business & eCommerce plans, and Enterprise plans.
The website plans are suitable for making and displaying a professional website.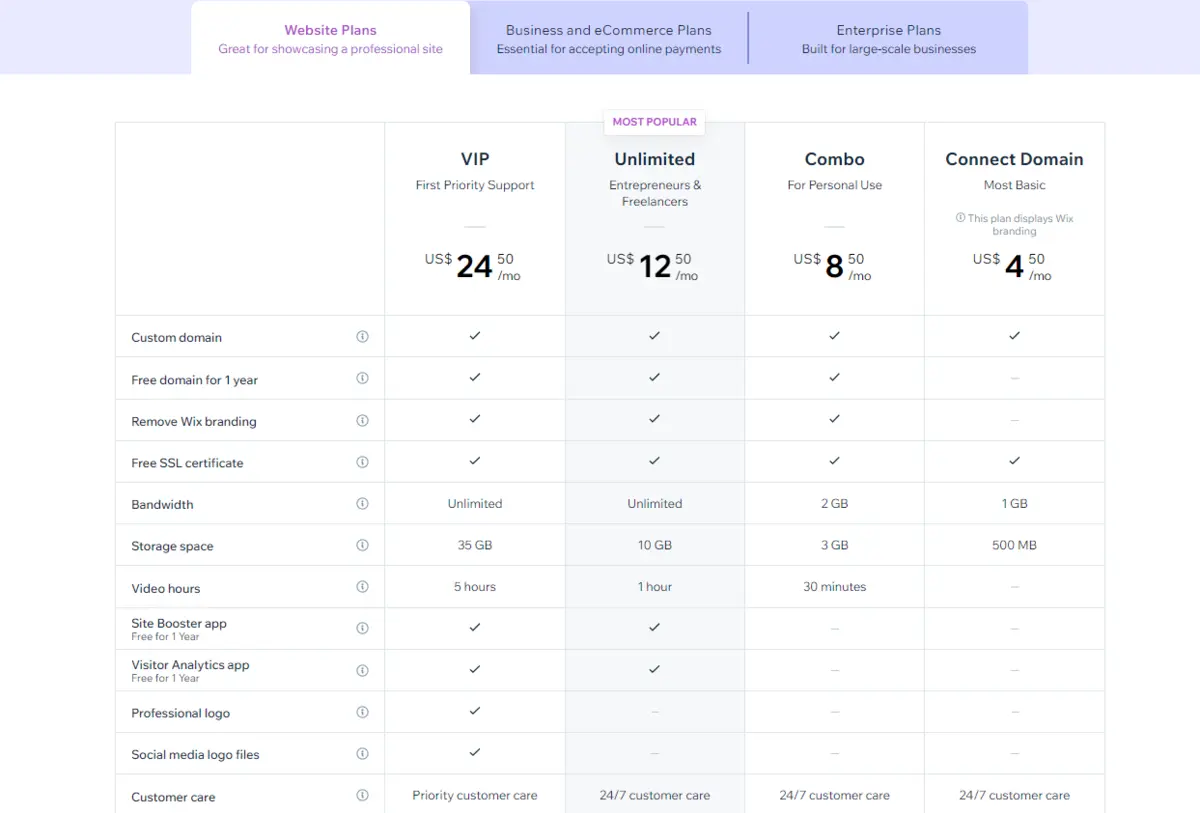 You can use the Business and e-commerce plans to start online payments on your site.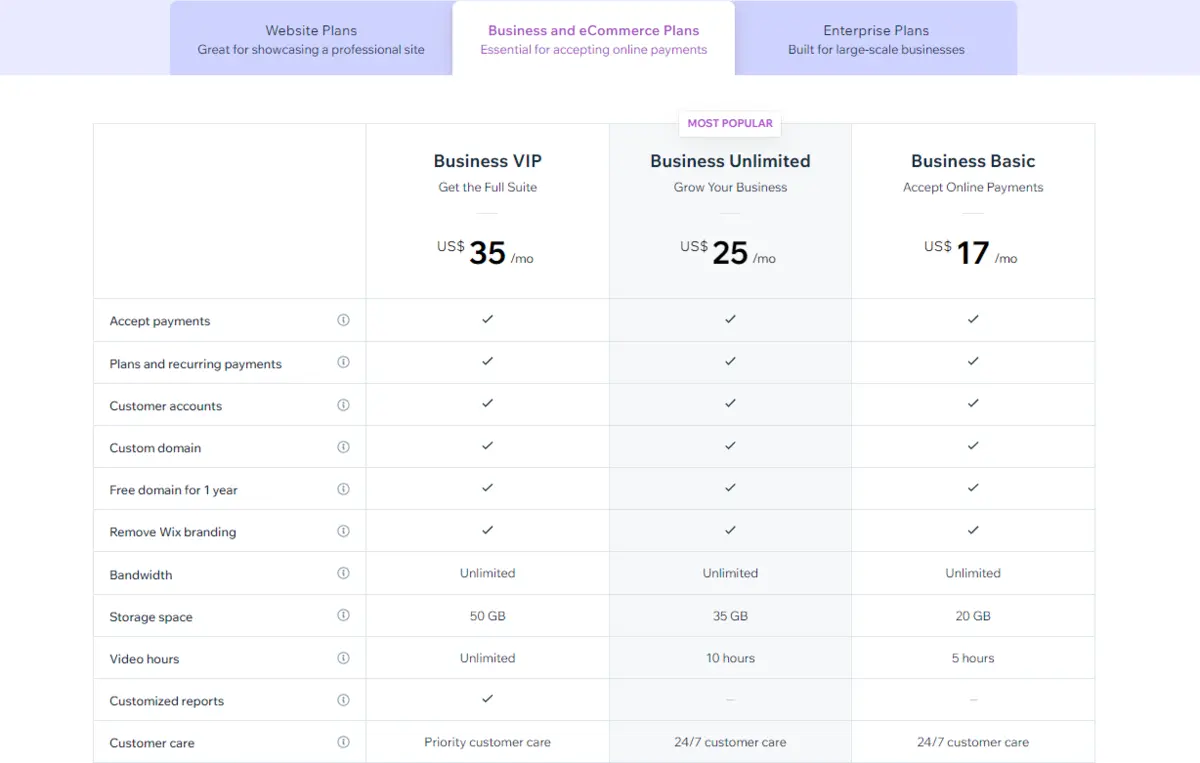 Lastly, you can choose Enterprise plans if your business is a large one.

Some Information about Shopify
What is Shopify?
Shopify is a great e-commerce web platform that offers you the possibility to create and run an eCommerce site. Just like Wix, Shopify was founded in 2006 with coverage of over 10% of all websites on the Internet nowadays. If you intend to build a website for business, Shopify should be your first choice.
With Shopify, web owners can create and customize an online store and sell on multiple places, including web, mobile, in-person, brick-and-mortar locations, pop-up shops, and across multiple platforms from social media to online marketplaces.
Shopify's Features
There are a lot of great functions in Shopify that serve both web development and online business. Some are listed here:
1 order management system for your whole business (order management, payment securing, & intuitive mobile commerce)
SEO optimizations & tools
Powerful insights & analytics
Customer accounts, profiles, & groups
Abandoned checkout follow-ups
Various payment gateways & integrations
Fast page-loading speed
Dropshipping & POS
High-security options
Personal customizations
Shopify app store
User-friendly design interface
No coding skills required
Shopify's Pricing
There are 3 popular pricing plans for Shopify users when you wanna start your journey here: Basic, Shopify, and Advanced. If you pay annually, you can save 25% of the registration fee.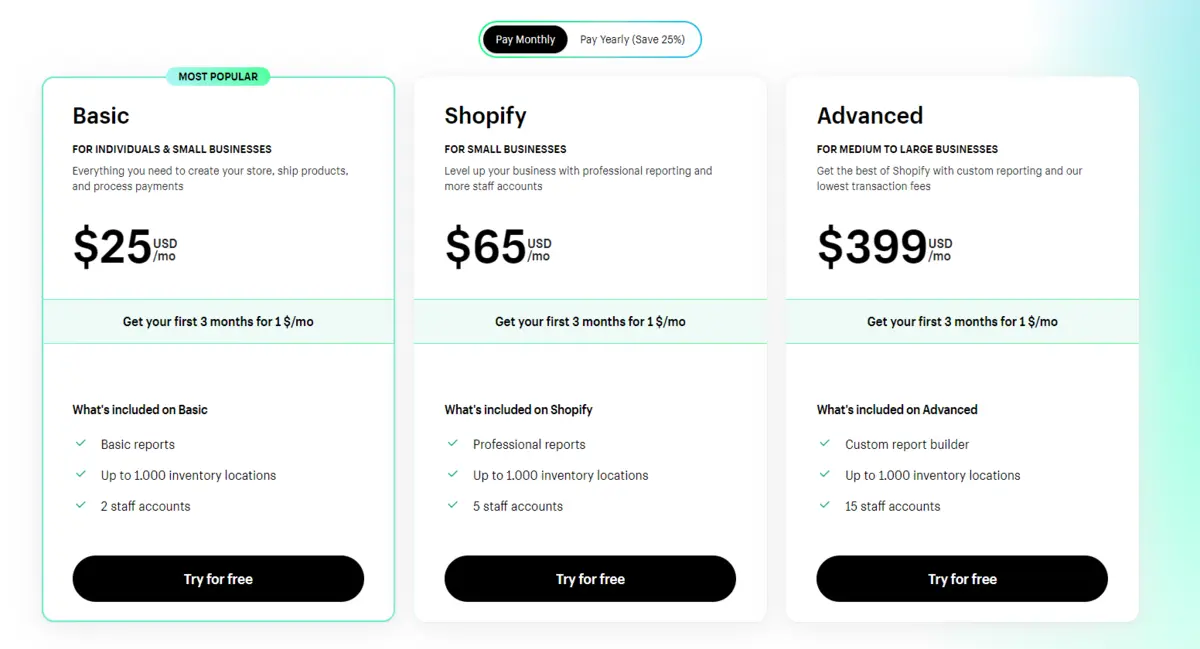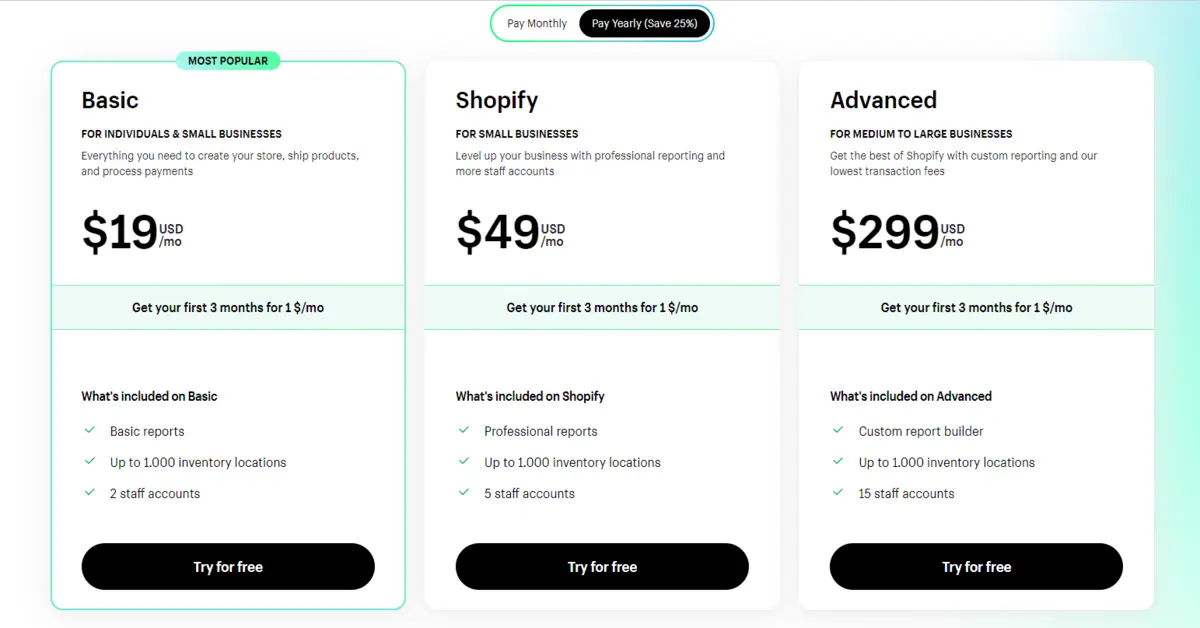 If there are chances that your business is large and the transaction number is high, consider Shopify Plus instead. Starting at $2000 per month, it can offer you an all-in-one solution for top-tier online businesses.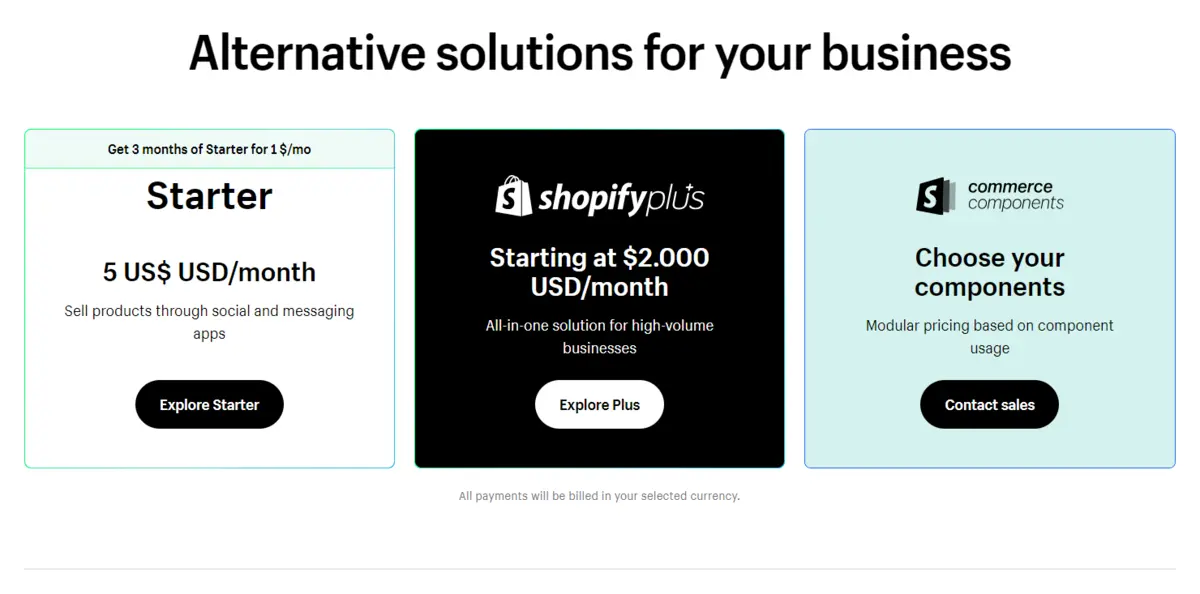 You can cancel your Shopify account at any time if it doesn't work the way you want, and you can upgrade/downgrade your plan anytime, too. Here is a short list of what you can do with Shopify:
Build & run an online store
Sell on multiple platforms
Control the product list, payments, and shipping process
Carry out online marketing campaigns
Is Wix or Shopify Better?
It's our main part: Wix vs Shopify eCommerce. Let's see which one is the best for your site.
Wix vs Shopify: User-Friendliness
| | | |
| --- | --- | --- |
| | Wix | Shopify |
| User-Friendliness | You can edit the Wix site from the frontend easily but the UI may scare a lot of beginners. | It may be a little curve at the beginning but once you are used to it, Shopify will be easy to use. |
For online businesses, time is money – the more time you save on building and managing your store, the more time you can spend on perfecting products and attracting new clients. Thus, both Wix vs Shopify is very simple to use when setting up. For Shopify, it's a powerful eCommerce web platform for online businesses and the option is very responsive to the wants & needs of a business site owner. The users can select as well as drag and drop blocks & sections for designing but you will have to switch over between frontend and backend to use certain features. In contrast, Wix's design editor lets you drag and drop sections simply in one place, one place only!
Wix vs Shopify: Designing Possibilities
| | | |
| --- | --- | --- |
| | Wix | Shopify |
| Designing Possibilities | 500+ built-in templates, not many possibilities to design | 800+ built-in templates, lots of themes, easy to manage but can't change theme if you publish the site. |
Offering a much larger range of design features, Shopify surely wins over Wix in this. In the contrary, Wix users often complain about the lack of design tools.
Wix vs Shopify: Pricing Plans
| | | |
| --- | --- | --- |
| | Wix | Shopify |
| Pricing Plans | Free store/site to build, paid plans are quite cheap | 3-day trial, affordable paid plans, can look for higher plans if needed |
Wix has 3 types of pricing plans:
Website plans: They are suitable for a personal site or a small to medium online store. The price will lie between $4 and $24 per month.
Business & eCommerce plans: Intending to open a shop, maybe a quite big one? This type of plan will cover you with $17 to $35 per month.
Enterprise plans: Looking for something different will lead you to this option, usually for organizations, that will request more calls to decide.
Shopify has 2 types of pricing plans:
Normal plans: Starting from $25 to $399 per month, you will get service with professional features and some discounts like $1 for the first month and a 25% discount for annual payments.
Alternative plans: Besides normal ones, Shopify also offers 3 different alternatives from $5/month (sell via social and messaging platforms) to $2000/month (Shopify Plus). Otherwise, the Shopify Commerce Components plan will offer you modular pricing based on component usage.
Wix vs Shopify: App Market
| | | |
| --- | --- | --- |
| | Wix | Shopify |
| App Market | Feature-rich app store but very few e-commerce apps | Feature-rich app store, has various apps on all aspects |
No need to doubt, the Shopify app store totally dominates the Wix app store. With Shopify, you may add the customer wish list, set up shipping, and more! Recently, you can find the app "Shop App" to allow users to see their favorite Shopify stores, track orders, and product recommendations.
About Wix, the apps for web design are great but for e-commerce, the number is just 50 apps – ways more narrow than Shopify.
Wix vs Shopify: Security
| | | |
| --- | --- | --- |
| | Wix | Shopify |
| Security | Free SSL, PCI DSS level 1, and prebuilt security options | Same as Wix but added fraudulent case's prevention, payment security, and breaching prevention |
Both Shopify vs Wix care a lot about security to make you stay safe online:
SSL security on all plans
Level 1 PCI DSS certificated compliant
External anti breachers
However, Shopify wins here since it has fraud prevention, card protection, Shopify Protect, and more, while Wix is based on payment gateways. On the other hand, Shopify's customer support is usually faster than Wix's.
Wix vs Shopify: Conclusion
In case you have some knowledge about running an online retailer, Shopify will be the better choice between Wix vs Shopify. The best tools for selling and capacity for all types of business are the 2 significant features. Shopify has everything you need for business: prebuilt shipping and dropshipping systems, tax options, design customizations, and hundreds of gateways. Also, some basic coding skills may be needed.
In contrast, Wix will work better when you have just started a website from nothing, even the experience. The ease to use, affordable price, and essential options for business are some biggest pros of this platform. The page editor is very user-friendly and there are many templates with built-in features. Also, Wix does offer a Free plan which you can try first and decide later.
In case you want to compare more web platforms, you can always get here:
What about you? Which one is your favorite, Wix vs Shopify?
Read more: Simplify How Search Engines Work
---
Contact us, ThimPress:
Website: https://thimpress.com/
Fanpage: https://www.facebook.com/ThimPress
Youtube: https://www.youtube.com/c/ThimPressDesign
Twitter: https://twitter.com/thimpress