Are you planning to create an eCommerce store on Shopify with a tight budget? If so, you are in the right place. You can review and then select one in the Best Free Shopify Themes below to get started quickly without any charge.
There are thousands of online stores using Shopify as their backend eCommerce platform. And of course, it's challenging to manage an independent eCommerce platform by yourself. In particular, when your store starts to take off and increase activities, you will have a hard time handling it.
Besides, you need to take care of many things to maintain the healthy status of your store. So, Shopify is a perfect solution for you to run an eCommerce store since it takes care of everything at once. It's suitable for corporations, brands, individuals, and even freelancers. With some Shopify tips, everyone can get the best benefits from its services.
In case you are looking for more information and guidance, here are some articles that could be useful for you as you browse through the best Shopify themes available.
Create an eCommerce Business With A Shopify Theme
Even though you use Shopify, you still need to keep an eye on some design aspects to make your store unique. For example, you should manage your homepage look, make attractive product meta descriptions and product author information, add and update new content to get organic traffic, etc.
Of course, it doesn't mean that Shopify designs are lacking in stock. But if you take a quick look, you can see these free themes don't increase much over the years compared to free WordPress themes. So we tried our best to find the top free Shopify themes that are perfect for your business purposes with powerful features. Simple review and select the theme you like to create an online store with Shopify quickly.
Best 20 Free Shopify Themes
Venture – Best Free Shopify eCommerce Themes

Download
Demo
Venture is among the Best Free Shopify eCommerce Themes that you can find quickly on the Shopify store. There are three theme styles: Snowboards, outdoors, and boxing for you to choose from and create a flexible store with a large number of products. To clarify, Snowboards choice is perfect for selling snowboards, skis, accessories, winter jackets, and other sport-related equipment. If you plan to open a camping gear store such as tents or sleeping bags, you can try the Outdoors theme style. This style is also suitable for selling backpacks, cooking utensils, clothing, food, and accessories too. The last theme style is Boxing, which is ideal for creating a boxing supplies store. You can sell sports apparel, boxing gloves, boxing protective gear, punching bags, accessories, etc.
In addition, Venture is easy to use and set up with a few clicks. It offers some powerful features such as a responsive slideshow, multi-column menu, different typography & color options, and so much more. Thanks to product filtering, shoppers can find items they're looking for easily. Lastly, the theme looks great on laptop and smartphone devices too. Get Venture for free today and make your store to the next level.
Narrative

Download
Demo
Narrative is our next suggestion in the Best Free Shopify Themes list. In particular, Narrative comes with creative and unique designs that impress everyone's attention at the first sight. There are four different looks to choose from, Warm, Light, Cold, and Earthy. Installation takes only a few minutes and it works amazing right out of the box. After that, it's your time to add your engaging product and impressive story.
Of course, it doesn't require to do lots of work to turn the theme into a functional eCommerce store. Narrative is ideal for your online shop with a single or a small number of products. Thanks to hero video support, you can use it to tell stories about your brand and attract your audience with an auto-play full-screen video in the header area on your homepage. Other fantastic features of Narrative include a vertical slideshow, full-width layout, fixed navigation, and so much more.
Minimal – Best Converting Free Shopify Theme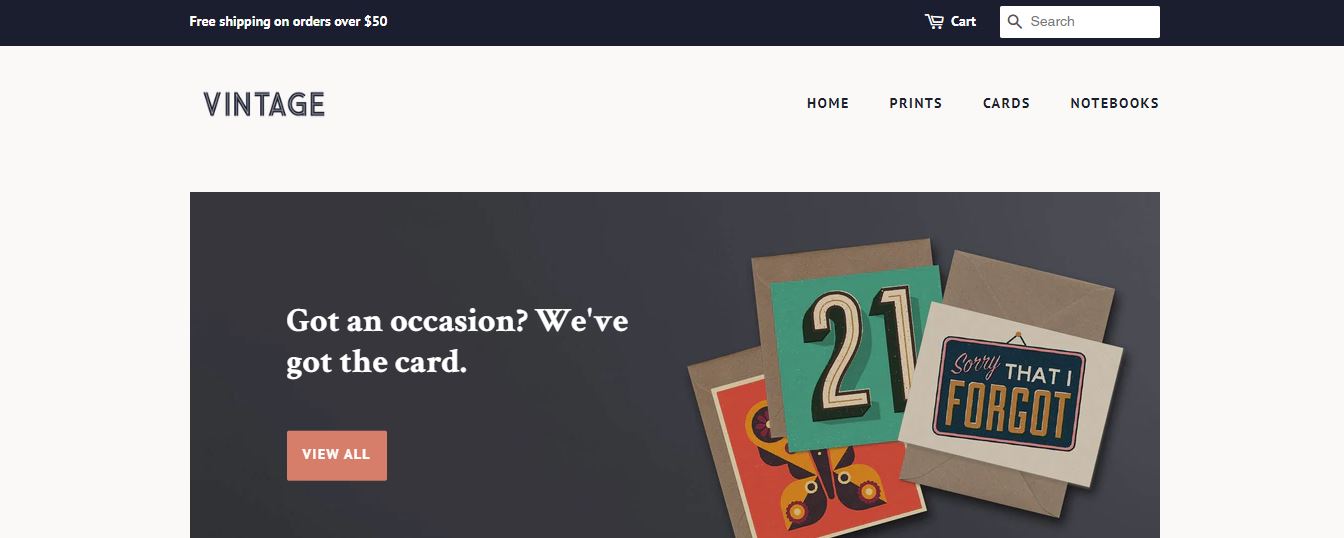 Download
Demo
Minimal is the Best Converting Free Shopify Theme with a quick setup. You'll find 3 demos to choose from, Vintage, Fashion, and Modern, covering clothing and accessories, home and garden, art and entertainment industries. Each one comes with a clean, simple, responsive, and highly converting store design. The navigation is built at the simplest level for everyone while Minimal still maintains the focus on conversions.
What's more? Minimal offers recommended products feature to display the products customers need and improve their discovery of new products. And this also helps to boost more sales on your store. In addition, the stock counter is available to let you know your product number status. Other goodies of Minimal are homepage videos, small catalogs, in-store pickups, documentation, and more. Get Minimal today!
Express

Download
Demo
Compared to other free themes, Express comes with a fast and clean theme to create the best bakery and coffee shop on Shopify. In particular, it's free to download with a quick setup to make your store live. There are 2 responsive demos for different purposes. Of course, Express is easy to use and suitable for any level. Moreover, the theme is a mobile-first design to works well on smaller screen sizes.
Thanks to the quick buy feature, shoppers can add items to their cart immediately even if they did not leave their current page. Express is also highly on-page store optimization for quick ordering. Other features include multiple featured collections, a slide-out cart, documentation, and more. Make Express yours today without paying anything!
Boundless – Best Free One Product Shopify Themes

Download
Demo
Boundless is another one in the Best Free One Product Shopify Themes list, designed to highlight your product photographs on your store website. In addition, the theme is highly optimized for large images and focuses on putting your beautiful photography font and center. Together with a clean and minimal design, your online store can impress customers right away. Also, Boundless supports home page video to share your story easily with video content to your audience, thanks to YouTube and Vimeo integration.
What's more? It includes sticky navigation to keep fixed menus visible and in the same position when scrolling down. So that your visitors can easily look for a link to another page at your online store site. With Boundless, you can present group images in a full-width grid layout, giving you a great opportunity to showcase your product imagery and engage visitors. You'll find features such as 2 premade demos, a slideshow with fading effect, a single product gallery, and more. Get Boundless today!
Dawn

Download
Demo
If you are looking for a chic and minimalist theme, Dawn is perfect for you to sell your clothing items or fashion accessories. It's among the Best Free Themes on Shopify. Thanks to the advanced customization options, you can make your own store to match your brand easily or use a drag-n-drop method to redesign your store without touching any code. The large media product page helps customers to see your products clearly.
In addition, Dawn is easy to set up and supports visual brand storytelling. It includes the mega menu to add content types to your drop-down menus. You can also use lookbooks to make different elegant custom product collections and keep your visitors engaged. Product quick view is available to help your customers take a quick look at an item without leaving the main page. Some more specialties are product reviews, recommended products, sticky header, product filtering, image zoom, enhanced search, and more. Get Down today!
Craft – Best Free Shopify Theme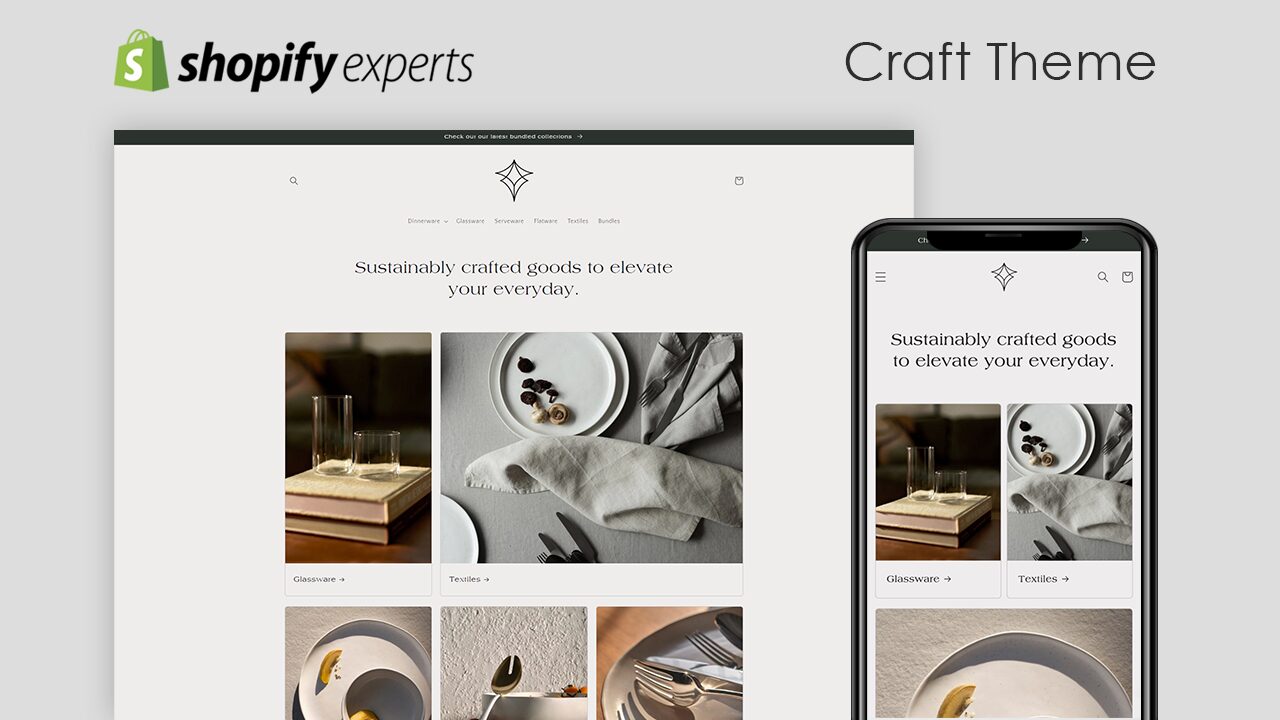 Download
Demo
Craft is the Best Free Shopify Theme that celebrates craftsmanship. The design is authentic and minimal to make your store a clean and modern look. Thanks to the drag-n-drop sections and blocks, customization is easy as a piece of cake without touching any code. Shoppers can find quickly the item they are looking for using the product filtering feature.
Moreover, Craft includes product reviews to build more trust and a clear idea of the product before purchasing. Reviews help to increase sales as well. Besides, Craft looks beautiful on desktop and mobile devices. There are also lots of eCommerce-related features too, including product image galleries, recommended products, product videos, useful mega menu, promo banners, and more. Make Craft yours today!
Crave

Download
Demo
Our Best Free Shopify Themes list can not be completed without Crave. It is an elegant theme that is suitable for the food and beverage industry. With a full-width header slideshow, your visitors will be interested in your product, thanks to high-res photo optimization as well. Mega menus are another great feature for shoppers to navigate to the products they need with ease.
What's more? Shoppers can use mobile to shop in your store with its responsive design. Crave includes the recommended product feature to boost sales. Ingredients or nutritional information are necessary to have a clear product description for your customers. Enhanced search helps to find anything easier and quicker. Quick setup, sticky header, product filtering, lookbook, quick view, and product reviews, are some of the highlights of Crave. Crave is a perfect solution to help you launch a unique online store for your business.
Simple – Best Free Shopify Theme for Comestic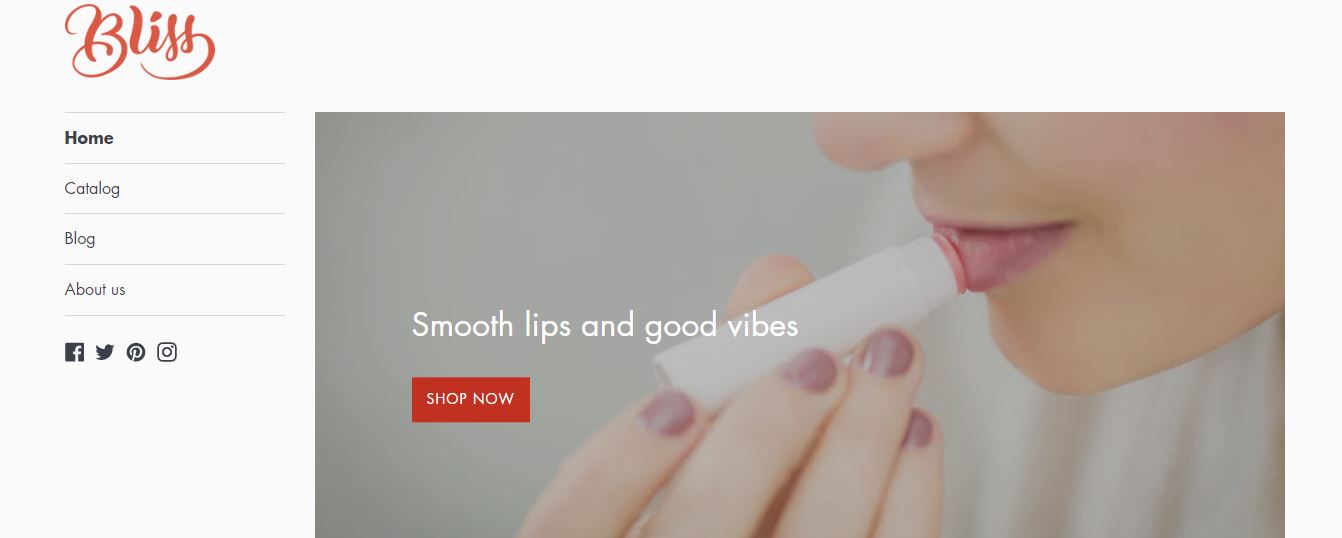 Download
Demo
Simple is the Best Free Shopify Theme for Comestic you can go with. It includes 3 theme styles to choose from, Beauty, Light, and Toy. Quick installation is done with a few clicks. The beauty theme style is perfect for you to sell cosmetics, perfume, skin care products, and other beauty-related products. To improve the navigation, there is the menu sidebar feature. Moreover, Simple includes the product image zoom, offering your shoppers a closer look at the cosmetic details in each image.
In addition, you can enable the recommended products to showcase related products on your product pages. It's an easy way to let customers discover new products and get more sales. Some more specialties of Simple are image animations, customer support, documentation, free theme updates, and more. Make Simple yours today!
Apparelix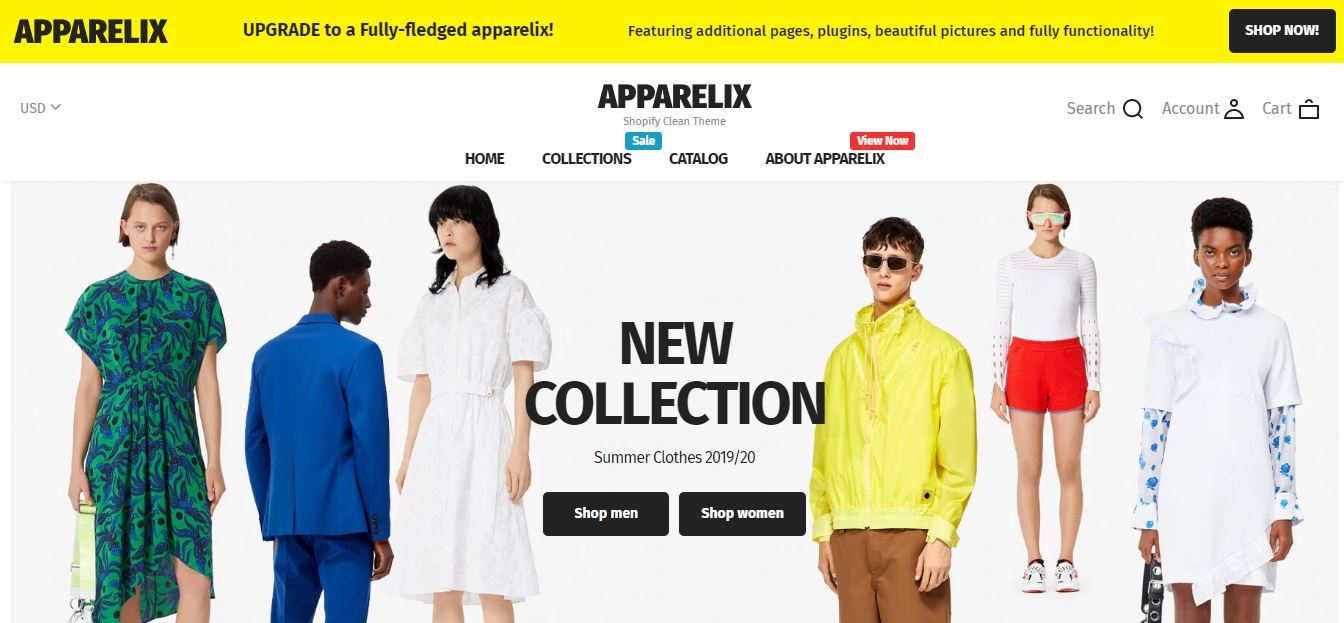 Download
Demo
With over 3,000 active downloads on Templatemonster, no wonder Apparelix is among the Best Free Themes on Shopify recently as good as a premium theme. Thanks to 4+ drag-n-drop sections, you can customize banners, sliders, products, or collections without touching any code. Besides, you can use Apparelix on any screen size since it's fully responsive. International shoppers can also shop in your store easily with translation-ready.
What's more? The theme includes a product quick view to let your visitor see your items quickly. It even supports many currencies. Other goodies things of Apparelix are SEO-friendly, slider, search form, contact form, Google Fonts, Ajax cart, newsletter, and more. Apparelix even has a full version with premium features such as 20+ homepage variations, 10+ child themes, RTL support, etc. Get this free theme now to start your eCommerce store in a few clicks!
Debut – Best Free Shopify Theme for Mobile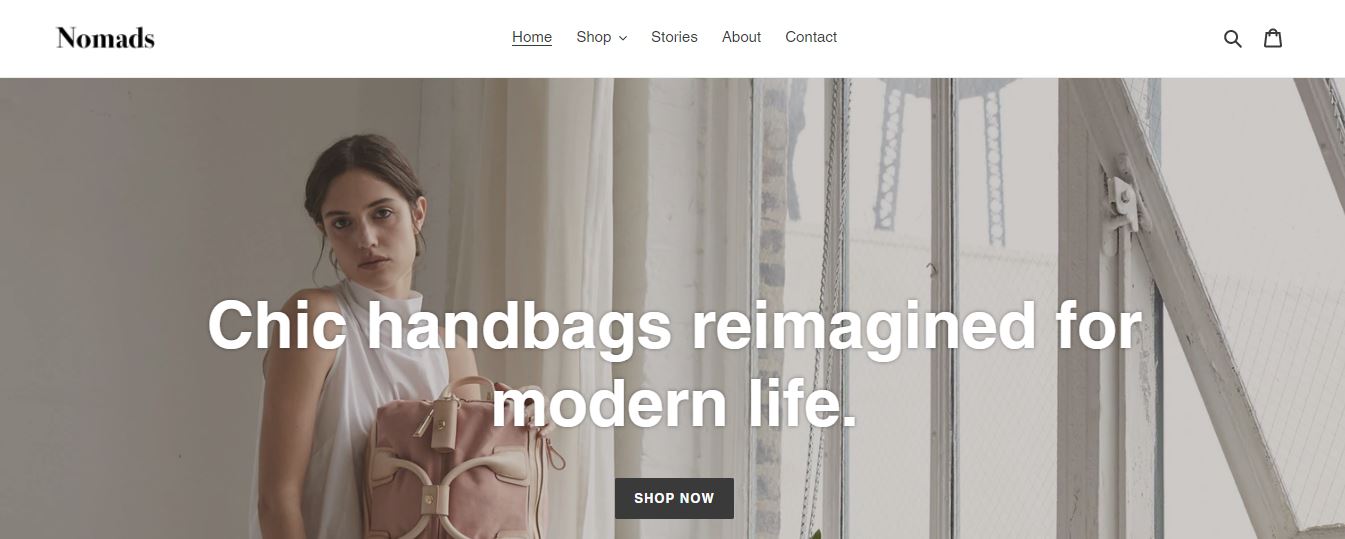 Download
Demo
Debut is our next recommendation today. It's the Best Free Shopify Theme for Mobile that you are looking for. It can work well on any device with free high-quality images. There are 2 Debut styles to choose from, promising to display your product and brand in the most beautiful way. No code is needed using Debut. Unlike others, you can enable the pickup availability to tell your customers the place items are available for pickup. Moreover, there is a live search feature to find products quickly.
Apart from the promotional banners, Debut supports customer testimonials to build more trust and promote your products to other customers. What's more? Product recommendations and product filtering are other highlights to make your store powerful. Another key point is to display a video on your homepage website. This way can reach out to new visitors and tell your brand story as well. Get this free theme now! Try Debut!
Taste

Download
Demo
Taste is another new look in the Best Free Shopify Themes collection with a spacious and appealing design. It's easy to set up and perfect for the food and drink industry. Your customers will be impressed at the first sight by its design with bold brand style. This helps to urge them to buy your food quickly. Buyers can find full product information to make good decisions before purchase such as product cards, product highlights, and even FAQs about ordering matters.
Furthermore, it has a section to recommend other related foods. Product reviews is a good way to advertise your product and service. In addition, you can use and customize the product filtering settings so your buyers can find their items quickly. mega menu, visual storytelling, cross-selling, lookbooks, product videos, slideshow, and sticky header, are some of the goodies of Taste. Discover Taste today!
Spare Parts – Best Free Shopify Theme for Dropshipping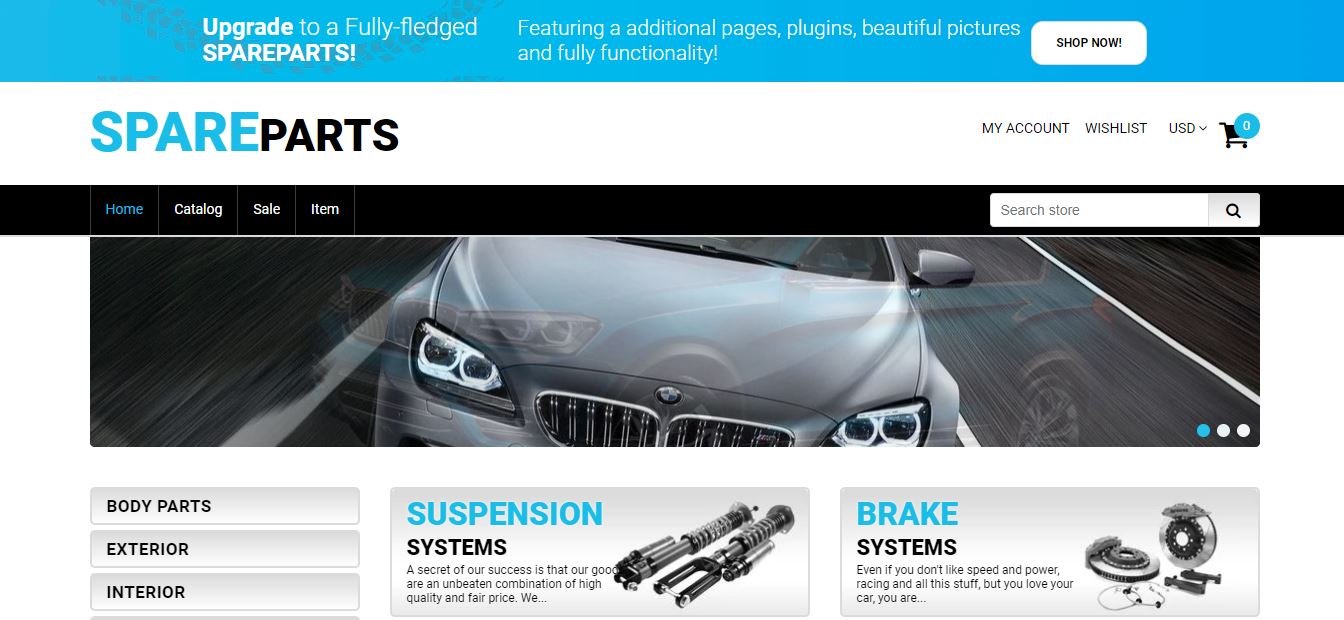 Download
Demo
If you are selling spare parts for automobiles or even bikes and want to open an online store, Spare Parts is our recommendation. It's the Best Free Shopify Theme with Oberlo integration for setup a Shopify dropshipping store within a few clicks. You can get a lot of advantages when using the theme too. Firstly, Spare Parts can adapt to any screen size with its responsive design. Next, Spare Parts are easily translatable through multilingual support. It includes multi-currency so your shoppers can know the price in their local currency and make a payment quickly.
The theme also comes with a responsive design to adapt perfectly to all screen sizes. Megamenu is another fantastic feature that you should enable when using Spare Parts for your store. If you want to generate leads from your store site, you need to use the contact form which is included in the theme package. Spare Parts also features sorting options, valid semantic coding, Google Fonts, a search form, and more. Get Spare Parts for making dropshipping stores now!
Classygift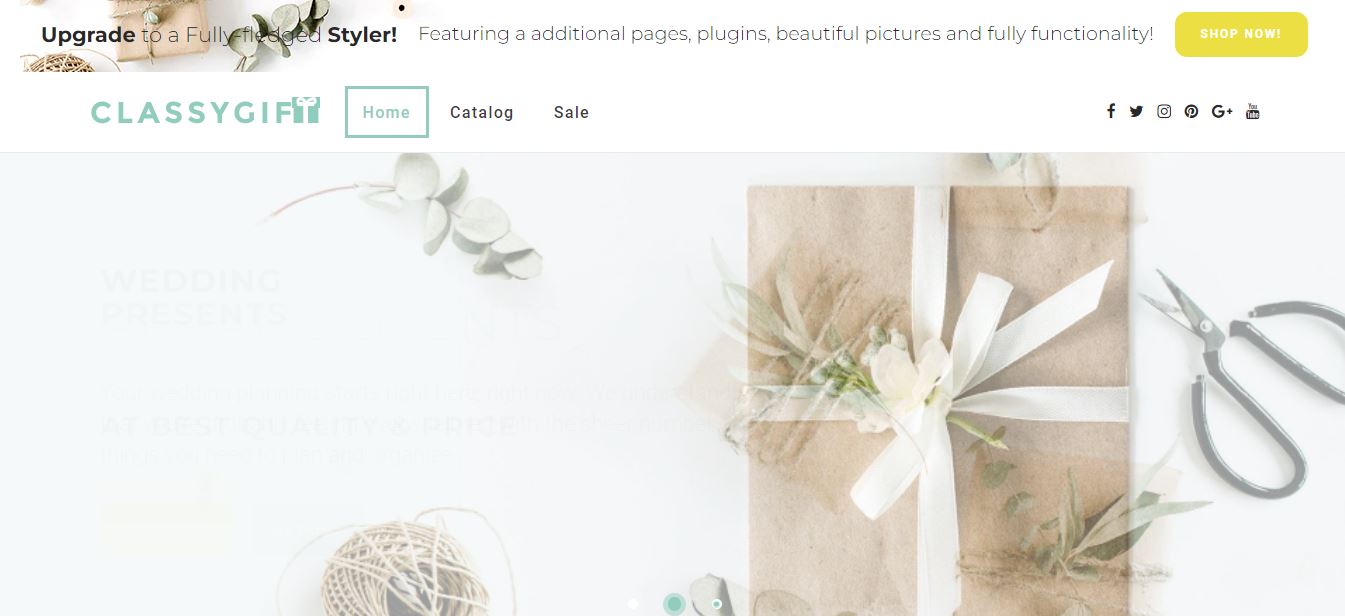 Download
Demo
Classygift is among the Best Free Shopify Themes on TemplateMonster with almost 2 thousand active downloads. This theme fits for selling presents & gifts, handmade home decor, wedding arrangements, accessories, flowers, or crafts. In addition, Classygift is quick to set up and simple to customize, promising to make an awesome online store in a few mins. Classygift is compatible with Oberlo to import products into your store and ship them to customers easily.
What's more? Classygift offers different languages and currencies to support global customers. Social media features are available to connect your online store to grow up your followers and get better chances of being visible to your shoppers. Lastly, you will find other goodies, like Google Maps, newsletter, mega menu, Google Fonts, advanced theme options, and more. Get Classsygift today!
Supply

Download
Demo
Supply is everything you need to create an online store packed into one kit. It's the Best Free Shopify Theme for you to sell jewelry, watches, and accessories. There are 2 styles for you to choose from and you can pick the most suitable for your brand. It surely makes your store site look professional and increases sales. Supply works with large numbers of products as well.
You can also find related products, a drop-down menu, sidebar filtering, a search feature, a slideshow, and social media icons. Supply is fully responsive to look great on all browsers and devices, like smartphones, laptops, tablets, and desktops. Finally, if you need documentation or help, you can connect with their support team. Make your jewelry store with the powerful free Supply! Get it today!
SuitUP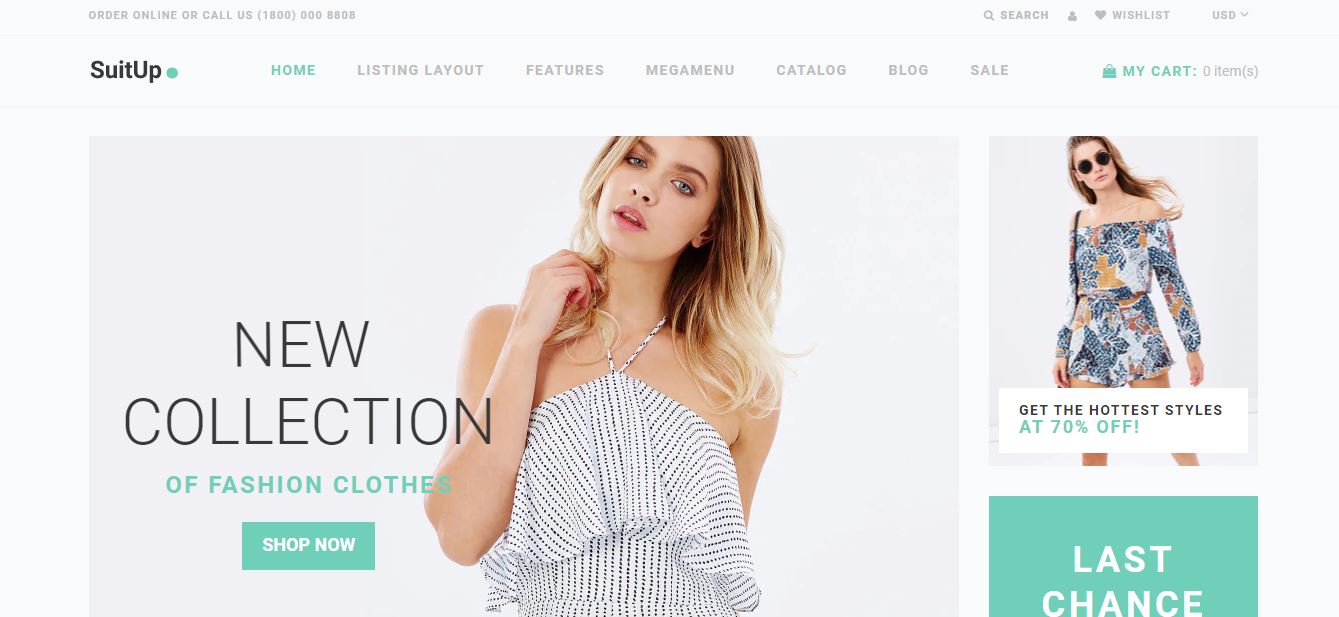 Download
Demo
Compared to other Best Free Shopify Themes for creating a fashion store, SuitUP is a great version you can try. As you can see, there are thousands of stores that sell online clothes nowadays so your store needs to have a unique, simple, and appealing look to let shoppers pay attention right at the first time. In addition, you can highlight your products and crucial information in your store with minimalist designs.
Apart from that, SuitUp includes full eCommerce features like a cart, wishlist, multi-currency, digital payments, and more. To support global shoppers, you can also translate SuitUp into multiple languages. SuitUp looks great on desktops and mobile devices, thanks to its responsive design. Megamenu, Google Fonts, dropshipping, and the search function are some of the specialties of SuitUp. Get it now!
Coffeera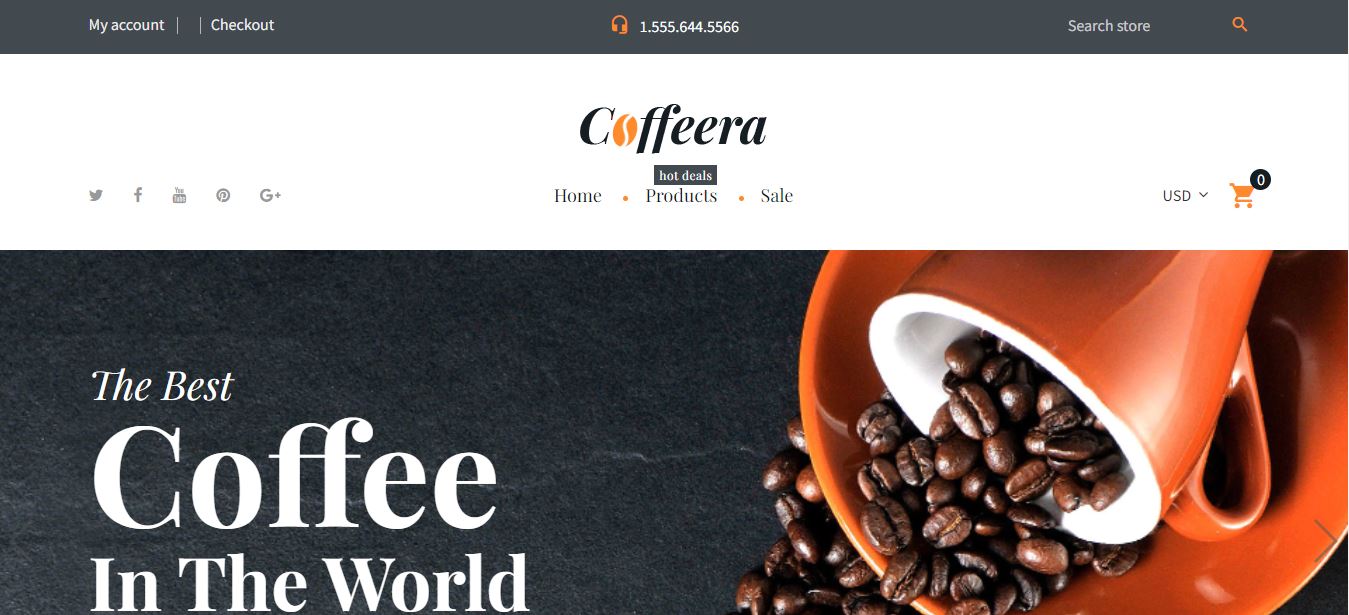 Download
Demo
Coffeera is our next suggestion in our collection of the Best Free Shopify eCommerce Themes if you plan to open a coffee shop online. In particular, it's free of charge and you can download it on TemplateMonster within a few clicks. With high-quality photos of your coffee products and modern design, your store will look amazing and attractive to anyone. Furthermore, Coffeera integrates with Oberlo – the most famous platform for building a dropping store quickly.
If you want your customers to know about your special discounts or exclusive deals, don't forget to enable social media and newsletter. There is the mega menus feature and even a search function to find items buyers need quickly. Also, Google Fonts integration is another key point for greater typography choices. Lastly, Coffeera supports multilingual, multi-currency, sorting options, and social media, to name a few. Get this amazing Coffeera theme now!
Colorblock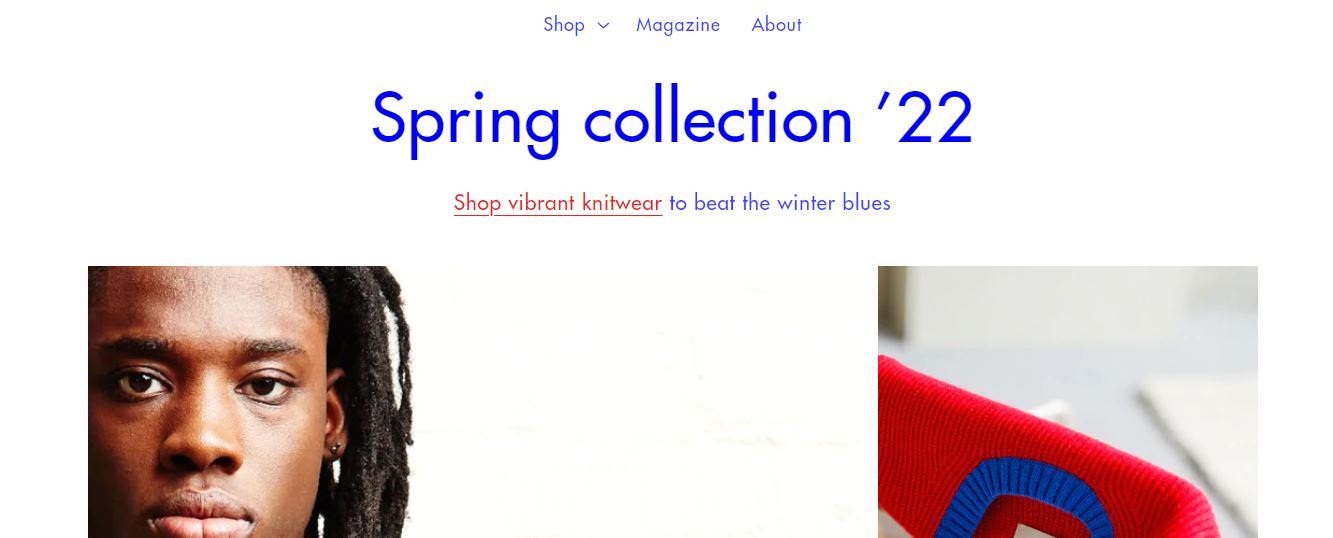 Download
Demo
Colorblock is a simple but powerful fashion theme in our Best Free Shopify Themes list today. It's the best choice for people who plan to sell clothes, shoes, or other accessories. In addition, Colorblock isn't difficult to build an online store with a pre-built design. Thanks to advanced customization options, you can customize and launch your fashion store with Shopify quickly with coding-free.
What's more? Colorblock offers a quick buy feature for shoppers who are in a hurry. It's also possible to create an FAQ page with your ideas. You can even add promo banners to your store so customers can know what deals are available right now. If you'd like to create your own fashion lookbook, you can do it with Colorblock. Some of the best features of Colorblock include product filtering, recommended products, product videos, sticky headers, and more. Get Colorblock today!
Thalia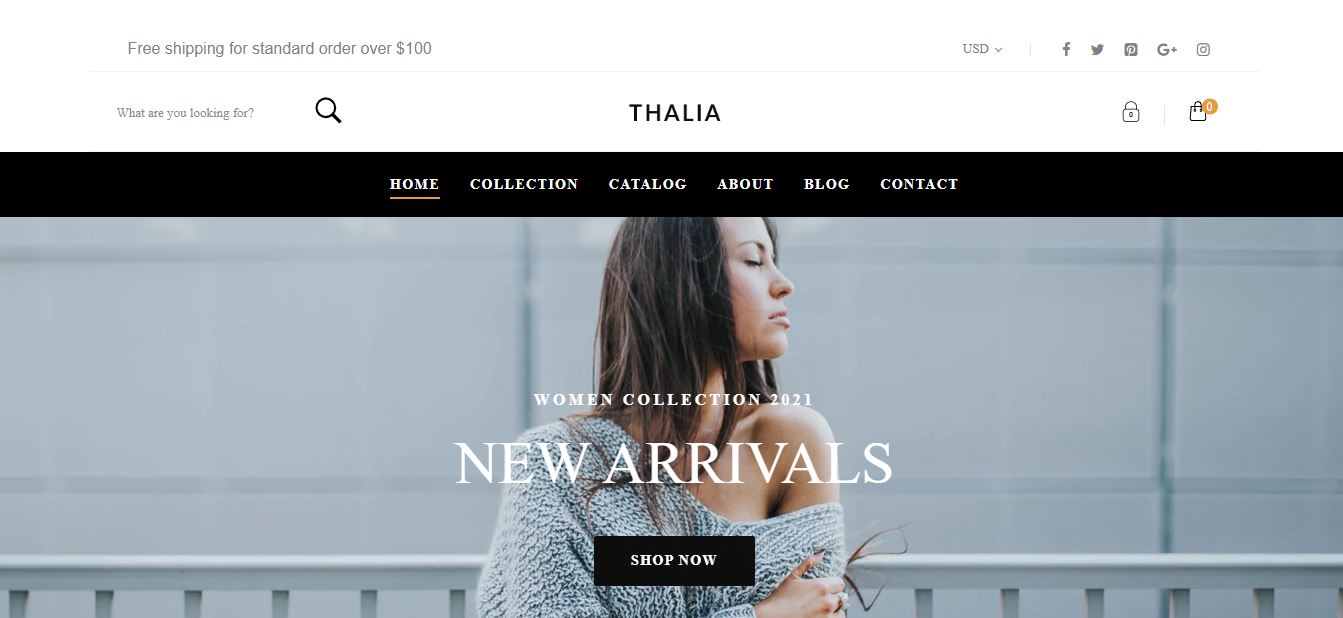 Download
Demo
Thalia is among the Best Free Shopify eCommerce Themes you should give it a try. It comes with a clean and minimalist design that is suitable for creating a fashion or clothing store. However, it can work well on other eCommerce projects as well. This theme provides advanced swatches for your product details. In addition, Thalia includes features such as Ajax cart, responsive slideshow, and advanced filters. You can change color, typography, logo, and other settings to match your brand too. Worth considering? Try Thalia today!
Fashe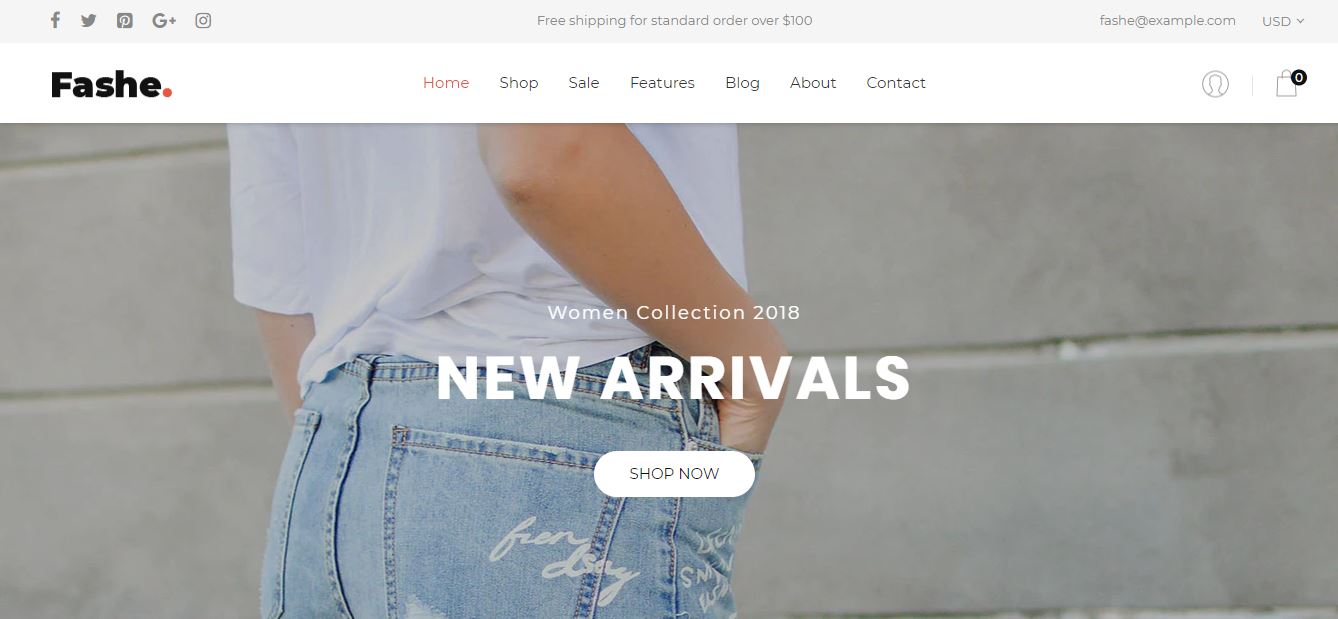 Download
Demo
No list of Best Free Shopify Themes could be complete without Fashe developed by Colorlib. It's free to download with a stylish design that is suitable for creating a fashion eCommerce store. Even though it's free of charge but Fashe is made as a premium one. So you'll get a pack of extensive features like a premium theme. Try Fashe now!
Final Thoughts
Hopefully, you enjoy our 20+ Best Free Shopify Themes today and choose the most suitable theme for you to start creating your own online store within a few mins. Surely, it helps your business go up with lots of benefits.