Do you wanna solve the question "How to Change Shopify Theme" and still maintain your content intact?
Crafting your site with a Shopify theme is no strange anymore, especially when you get one for your e-commerce site. It can do a lot of things for you and you may feel "Yeah this theme is the best Shopify theme to me, why should I ever wonder about changing it to another?". We can say that you are very right – except for some reasons we will talk about below. When the time comes, you will have to alter your current Shopify theme to another Shopify theme.
Even so, you may wonder whether your content will automatically "immigrate" to the new theme or not. Well, the answer is Yes, and No. We will talk about it later before How to Change Shopify Theme, too.
So, What Is Shopify?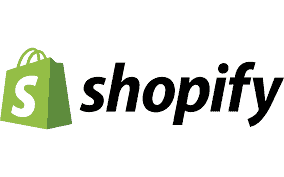 Shopify is a great e-commerce platform that helps people start, create, and sell goods online. With years of expertise, Shopify has delivered millions of successful online stores and retailers, making billions of dollars in the era of online shopping.
Also, Shopify is a global company that helps entrepreneurs all over the world build online stores, display products/services, and connect retailers for further collaborations. Working in over 180+ countries, Shopify makes sure that you can get yourself into one of the most popular online business models nowadays.
Some great points about Shopify:
Great e-commerce community
Attractive & beautiful view for all customers
Access to other e-commerce ecosystems, for example, WordPress
Surprised simplicity – Removing complexity
Lifetime update duration
How to Change Shopify Theme: How Does Shopify Work?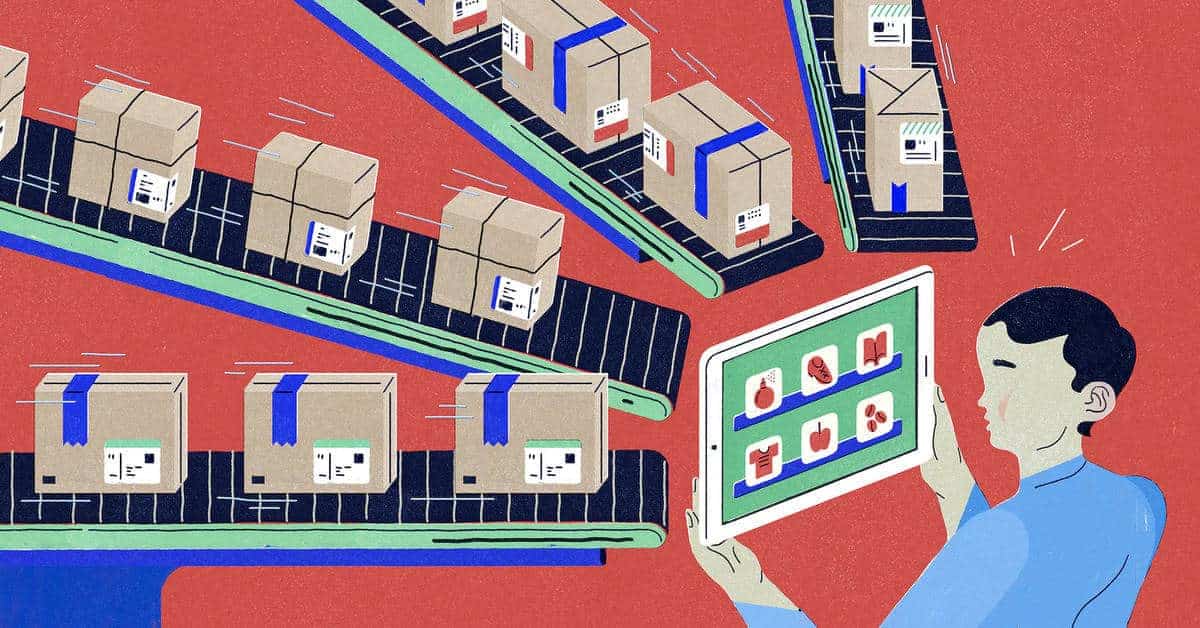 After acknowledging what Shopify is, you can start your store and optimize it for further goods.
Below, you will find Shopify's products for business:
How to Change Shopify Theme: Shopify Core Products
This is what a user will receive when purchasing/downloading any theme/plan from Shopify – all things you require to turn 1 idea into 1 business brand. The list below should be the foundation for all themes not only Shopify's:
Various templates for different purposes & Appearance
Selling techniques
Money transfer gateways
Web checkout & indexing
Also, you will get contact directly to Shopify APIs as well as developer tools for further customizing your store's capabilities for those who wish to fire out a store and experience.
How to Change Shopify Theme: Additional Shopify Products
When you grow your brand, more requirements will just come up to you and you have to meet the demand so as not to hist dust from your competitors. Understanding that demand, Shopify provides you with extensions that will help you expand your brand. These products & services are only available to Shopify customers. Besides, they are designed to provide business owners with massive competitive advantages in the market.
How to Change Shopify Theme: Trusted-Partner-Built Apps
In Shopify Appstore, you can find thousands of apps from 3rd party developers that let you customize the site without touching a single line of code. Whatever your need is, you will always find a suitable extension for your brand. Moreover, you can hire a Shopify developer from the market to make unique solutions for your site. Of course, feel free if you wanna code something yourself! Just remember to back up your data before any change.
How to Change Shopify Theme: The Reasons Leading to It
Many reasons lead you to the decision to "How to Change Shopify Theme". First of all, the current theme is no longer available and is updated by Shopify. Just like WordPress, when you use a not-available-anymore theme, your site won't receive updates – no new features, no bugs fixed, and more chances to get cyber-attacks.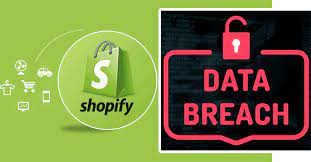 One more reason is that the current theme is running slowly & ineffective. It can start from a customer's complaint about a missing order to you checking site speed yourself (and finding out that the site is running & loading super slow). There, you will start looking for other options – faster, better design, or any improvement to your site & business.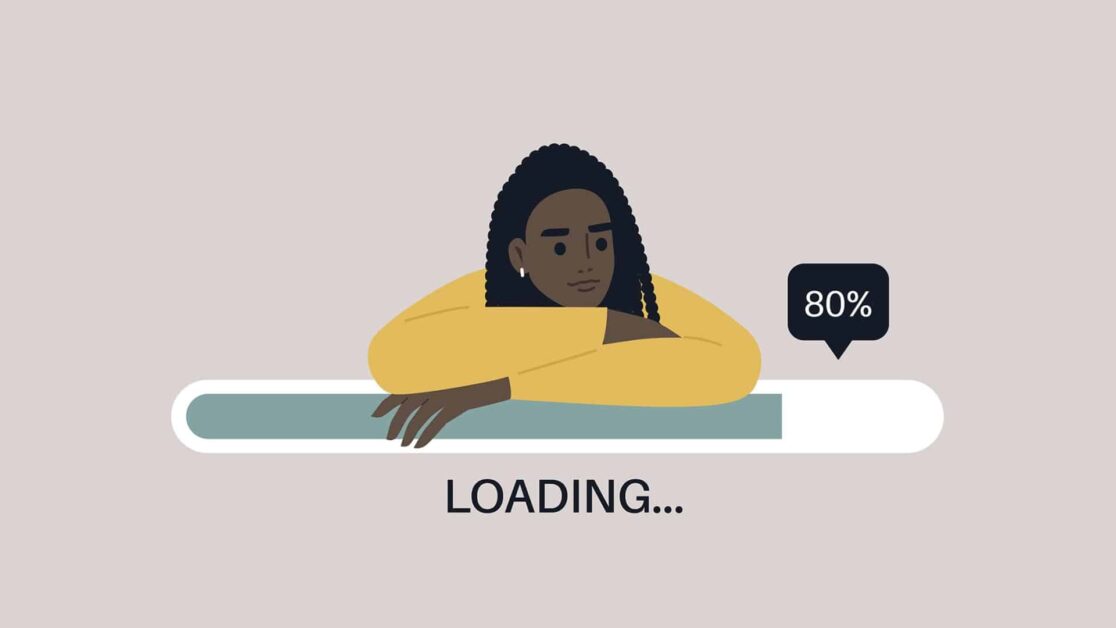 Finally, you may want to change your Shopify theme when you are going to refresh the brand. A new brand outlook should come with a new Shopify theme design, does it?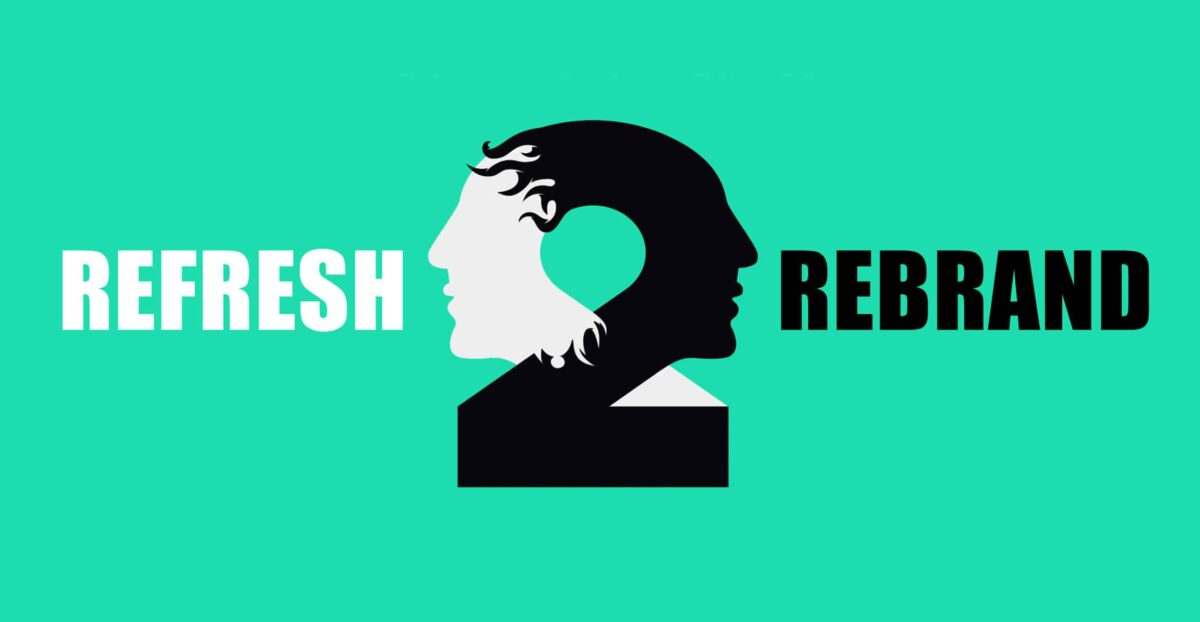 Those are the 3 most popular reasons you will pull out when concerned about a change in your site's Shopify theme. Let's get to the things you should concern about before How to Change Current Theme in Shopify.
How to Change Shopify Theme: Will My Content Get Lost?
"Will my content get lost" or "Does my content automatically run to the new Shopify theme" are the questions you will wonder a lot, since moving content from one Shopify theme to another will have some differences from WordPress.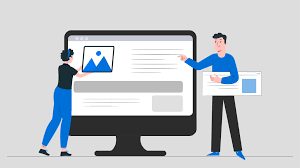 As has been said before, "Yes, and No" means you will keep some of them and you probably lose some of them.
Most of your site's elements won't be affected by these changes in How to Change Shopify Theme, Beyond the new stylish design your site will receive from the new Shopify theme, what will come around with the new theme are:
Pages & Posts
Products & Collections
In contrast, things that probably stay with the "old friend" are:
HTML/CSS editing
Customize theme pages
Pro tip: You may need to adjust & edit your content to fit the new theme. Make sure you don't have to edit much in the Shopify theme editor (saving your time & effort).
How to Change Shopify Theme: What to Do Before Migrating Your Site to a New Shopify Theme
Before changing yours, you should have a wide and full view of what will happen to your site & your business. Notifying them before the movement will be a good move to examine the effectiveness of the new one (and also in case you wanna move back to the previous theme).

Identify Aspects You Would Love to Change/Acquire in Both Current/New Theme
When you feel the staleness and outdating from your Shopify store, scratches will begin to appear and slowly destroy your business. However, before moving on, you should note down some features from the current theme such as what needs to be changed, what you should keep for the new theme, or how your business has changed since you launched the theme.
Looking for a new theme, you may wonder which features you want to add to your site. On the other side, old settings should be considered to be kept as well. We usually change without reviewing them so reviewing your code and noting all the additional added snippets of code should proceed.
Analyze Your Competitors
Whatever you sell on your Shopify site, you should go ahead and keep an eye on your competitors. Are your collection lists up-to-date with the latest products/tech? How can you win a war on social media and search engines?
Taking notes from competitors means you care about their new products or when they update their sites. Here, what you should notice is the way they showcase their products, how they build their collections/categories, whether they allow ratings & reviews/comments, which payment gateways they use, and other specific details. Then, you make a list of things that your competitors are doing differently from you and find out why.
Search for Users' Opinions
To be honest, asking for your customer's opinions about your website is such an easy & effective way. From their viewpoint, you can see a lot of things you haven't considered just a bit before!
Surveys should be the simplest way to collect what matters to them: how the store looks, how fast the site runs, what's missing, and more.
Prepare Some New Content & Photos
After a shiny brand-new Shopify theme brings your site a new look, it's time to get some other stuff for help since only a new theme won't bring up much revenue. For example, you do some makeup on a cow's face and it looks good but what about its body? You cannot just put up a fresh coat of paint on your messy design and poor-invested photography collections and then "expect a 180-degree transformation".
Also, changing the Shopify theme is a good time for you to recheck & improve your photography library. Great and clear photos contribute a lot to the conversion rate since buyers love to be sure that the product they're looking at matches their expectations. Therefore, the bigger, more obvious, and more various the pictures are, the more conversion rates you will increase.
Take a "Before" Snapshot
Hey, don't understand it literally like that! What we mean here is that you should snapshot your analytics for later comparison of how your site works and performs before and after the theme-changing event.
What should you look at? Of course, everything! However, some factors you should focus on are new visitors vs current ones percentage, bounce rate, pageviews per visit, visit duration, conversion rate, average order value, revenue per visitor/customer, and total revenue.
After 2 or 3 months, take an "After" snapshot. You will see the difference and how far you have proceeded.
How to Change Shopify Theme: Looking for New Themes, Where?
Btw, that is a good and critical question for How to Change Current Theme in Shopify. You can proceed in 3 ways: via the Shopify theme store, third-party Shopify theme sellers, and custom-build your own.
Via Shopify Theme Store
If you wanna get one from the Shopify ecosystem directly, you can go to the Shopify Theme Store To get there, log in yourself to Shopify and navigate to "Online Store" > "Theme".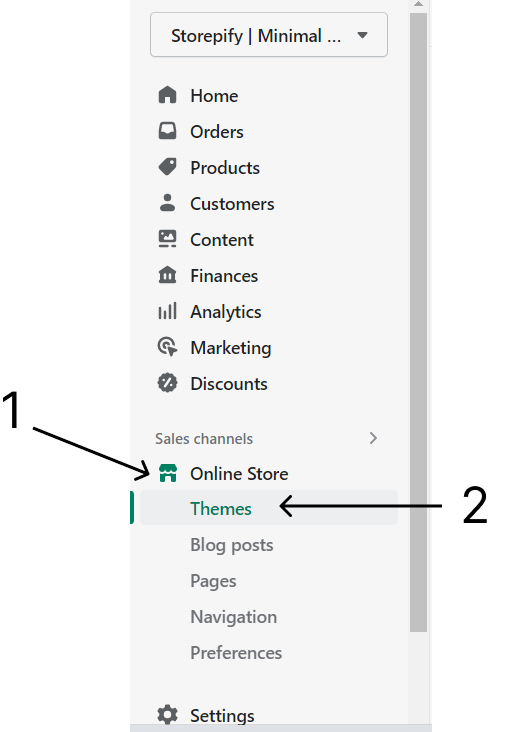 Then, scroll down to "Theme Library" > "Visit Theme Store".

Via Third-Party Shopify Theme Sellers
Besides Shopify itself, you can find both free and paid Shopify themes on 3rd-party organizations such as ThemeForest or TemplateMonster (the quality may vary a lot).

Here, third-party themes won't show up in your theme library with a click so you need to upload it to your Shopify dashboard after downloading one. Then, click "Add theme" in your Theme library and choose "Upload zip file" to add the new theme to your Shopify theme library.

Before publishing the theme in the Shopify theme library, you can customize it in the Shopify theme editor. Here, you can edit the layout and change theme elements based on your theme.
Custom-Build Your Theme
Well, customizing your theme is as same as getting one from a third-party Shopify theme seller. You will do exactly what has been done for a 3rd party Shopify theme.
Guide & Tips for "How to Change Shopify Theme"
After acquiring enough knowledge, let's get to "How to Change Shopify Theme Without Losing Content".
Check the Current Theme
Before changing, you can navigate to "Online Stores" > "Themes" to check the theme that your store is camping on.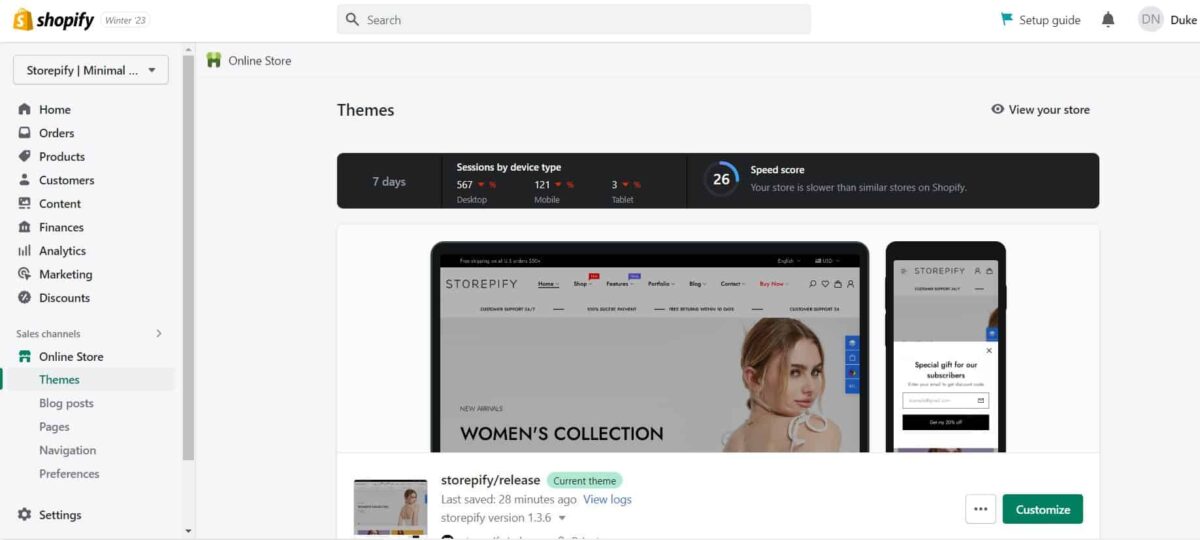 Scroll down a little bit (or no need to do that) and you will see the section "Theme Library". This will showcase all your downloaded and uploaded themes. Here, you can edit the theme in the Shopify theme editor before publishing it.
Pro tip: It's a good idea to customize the theme before you push it to your online store.
Steps for "How to Change Shopify Theme"
Let's roll out the new theme following these steps, shall we?
Step 1: Find the New Theme & Customize
In the Theme Library area, you will have a fast check for the current theme and the new theme(s). Find the one of your desire and customize it.
Step 2: Preview the New Theme's Changes
After customizations, that new theme will come up at the top place of the theme list since they are listed by the most recent changes. Thus, you should have a quick look to make sure everything is following the right way.
Choose the "Action" button > "Preview" in the dropdown menu. In the preview, you can have a whole look at your actual site. Satisfied yet? If yes, close it.
Step 3: Publish It!
Done editing? If so, it's show time! Clicking the button "Publish" will push your theme up to your site and pack the current theme into the library, laying there for later use.
How to Change Shopify Theme: Affected Content-Range
When activating a new theme, the settings that you make to the old theme will just stay with the "old friend". Let's clear them out.
Theme file management: They are the code editing you make in HTML, CSS, Liquid, and JavaScript. Since they are made in a specific theme, they will remain only in that theme and you can copy the codes to bring them to the new one. Asking for help from an expert when doing this.
Shopify theme editor customizations: Everything coming up when clicking "Customize" won't transfer to the new friend.
Changing-code Shopify apps: As has been said, anything that alters/edits the old theme's code may not work out well with the new one. You should contact the app developers so that they can solve the problems.
Best Alternatives Theme Option for How to Change Shopify Theme
Alongside the guide for How to Change Shopify Theme, we also provide you with some alternative options for a Shopify theme. They are mostly multifunctional and responsive so you can take advantage of them.
Storepify – Minimal Multipurpose Shopify Theme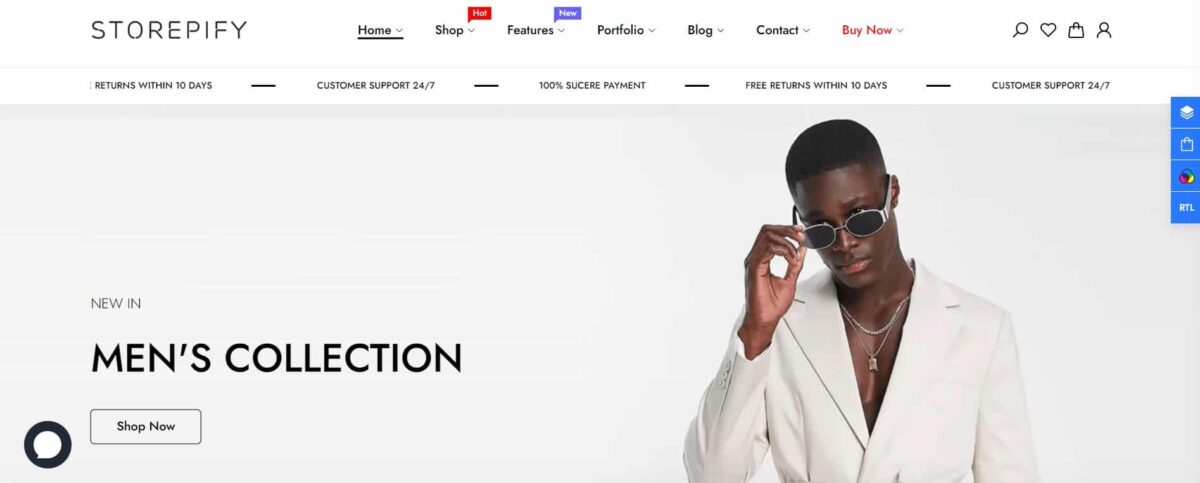 Download
Demo
Storepify is a Minimal Shopify theme that will resolve your question "How Easy Is It to Change Shopify Themes". Coming up with a niche & nice design, Storepify will impress you and your audience from first sight.
Understanding the importance of the design, the theme will provide you with 40+ design demos with responsiveness and oblivion alongside the new one-click demo importer. That will save you a lot of time and effort in making a site. Also, UX-UI, page-loading speed, & mobile/desktop layout are kindly optimized to bring your customers the best user experience.
Besides, you will receive many layout options including 10+ Category page layout options, 19+ Product page layout options, 4+ Tab Product page layout options, 5+ Product description page layout options, and 6+ Blog page layout options. In a single demo's layout settings, you will also find various header/footer customizations & some specific header/footer options for specific demos.
Some other great features of Storepify:
Grid/List mode
Ajax product filter/layered navigation/live search/load more/pagination/infinite scroll module
Multilingual support
Product reviews (app)
Various custom pages: FAQs, Contact Us, About Us, and more
Kalles – Versatile Shopify Theme

Download
Demo
Kalles is a Shopify theme that will make your store attractive to customers. With Kalles, you can accommodate your business type among a large range of businesses with simplicity and innovation.
Focusing on optimizing page speed, Kalles will decrease your site's loading speed which will bring your site more traffic and higher Google rankings. Your store with the theme Kalles will run faster and keep 100% responsiveness on all devices. No slow loading pages, no user experience sacrifice, and no additional inputs for page loading speed!
Besides, it also offers new filters which let you filter the product search attributes instead of tags. Of course, it still maintains the fast page-loading speed. The feature "Frequently Bought Together" integrates clever upsell functionality into Shopify in a convenient way. With just a simple 5-minute setup, this function will be ready.
Some great features of Kalles:
High customization
Flexible Product Detail Layouts
Product variation swatches
Advanced Ajax filters
Mobile bottom navigation
Advanced search layout
Grid/List view
Wokiee – Multipurpose Shopify Theme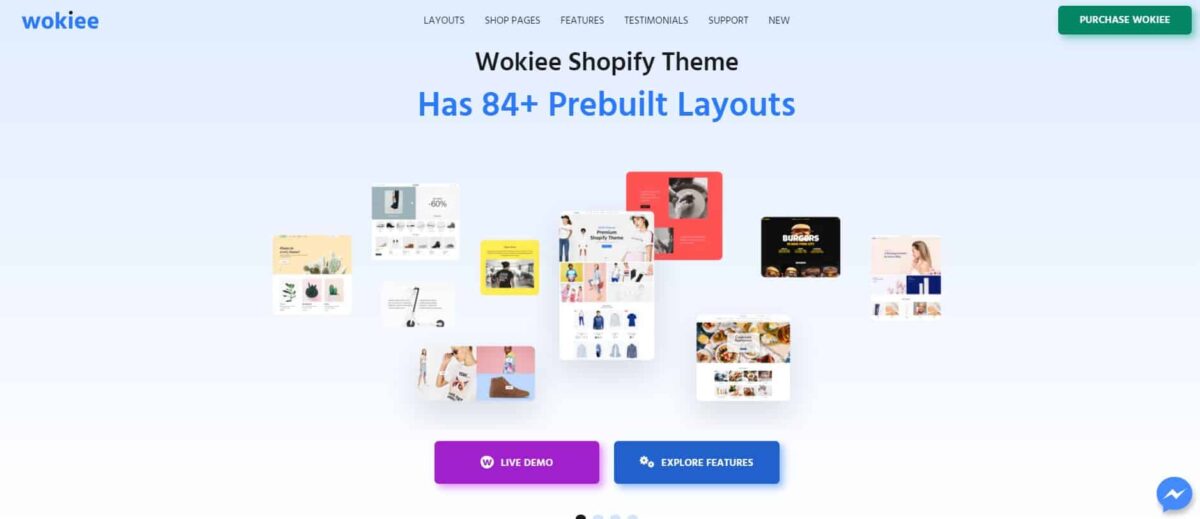 Download
Demo
Listed as one of the best Shopify themes 2 by Envato Tut+, Wokiee is more than a normal Shopify theme – it will provide you with powerful widgets to build and run your online store without a scratch. Therefore, Wokiee will be your ideal answer for all online stores.
In Wokiee, you can find all tools & widgets to build a lighting-speed and fully responsive online store website. Its wide range of layout demos enables the creation of different business types, while you can avoid spending tons of money on different themes & plugins. By using your own Content Management System, which enables you to adjust the navigation, site content, photos, items, collections, and much more, you can take complete control of your entire website.
Some amazing features of Wokiee:
Automatic image resizer
Framework bootstrap 4
Various color schemes
RTL ready
Slider Revolution integration
New 1-click demo importer
How to Change Shopify Theme: Final Thought
After all, "How to Change Shopify Theme", "How to Change Theme Shopify", or "How to Change Shopify Theme Without Losing Content" look quite easy to solve. However, some problems in this process should be advised or handled by Shopify experts or developers. We believe this article can provide you with a clear and fully-detailed guide about How to Change Default Theme in Shopify.
Read more: Storepify v1.3.6 Update
---
Contact us, ThimPress:
Website: https://thimpress.com/
Fanpage: https://www.facebook.com/ThimPress
Youtube: https://www.youtube.com/c/ThimPressDesign
Twitter: https://twitter.com/thimpress