A Category in WordPress is a technique to categorize your blog entries into distinct groups.
You can make it easier for visitors to grasp what your website is all about and navigate it by classifying content into distinct categories like "Blog," "Design," "News," and "Glossary."
The default category when creating a new WordPress site is "Uncategorized." A post will be automatically categorized in the default category if you don't provide it with a category. Only a WordPress Administrator can modify the default category from the Settings > Writing screen.
How to Add New Category
When updating the post, tick the box next to the category name to categorize your blog post in WordPress. If you want to add a new category, click the Add New Category option.
By providing it with a name and slug, you can easily add a category from the Posts > Categories screen. If you don't enter one, WordPress will generate a URL-friendly slug. Slugs produce a link to the category page of your blog, which contains a list of every article you've ever written.
As illustrated below, adding a new category while publishing is simple: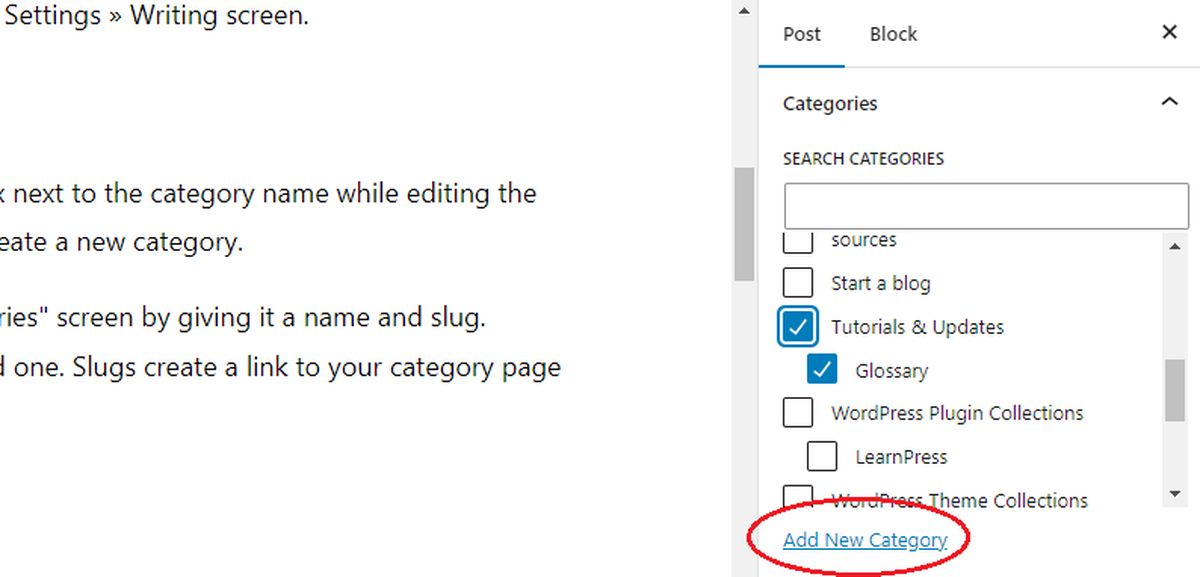 How to Create a Child Category
WordPress allows for the creation of child categories, which are subtopics within a main topic.
Go to the Posts > Categories screen, select a parent category from the drop-down menu, enter the name of your sub-category, and enter any additional information you'd want, such as a description or slug. Then click the Add New Category button to create your child category.
You can also create a child category while editing the post by choosing a parent category for it: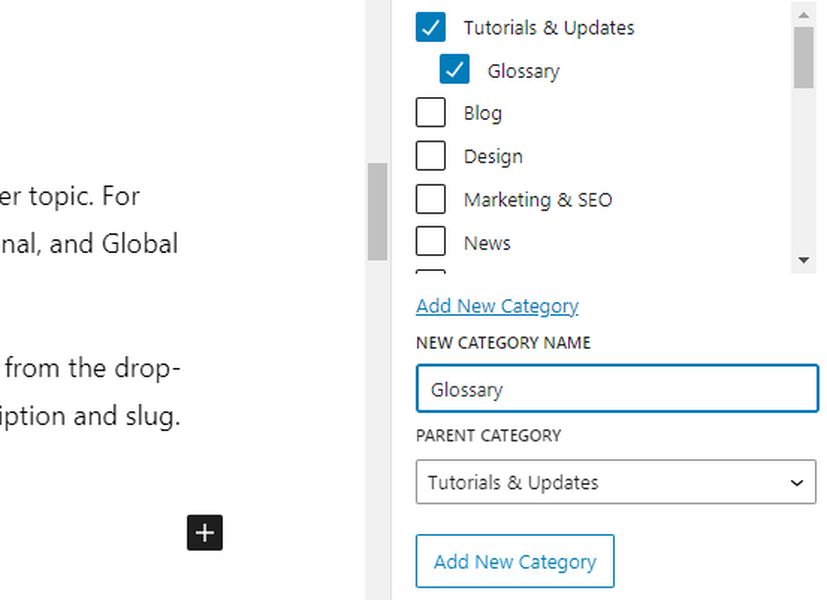 How to Edit a Category
From the Admin area screen, select Posts > Categories. From there, select the category you wish to change, and then click the Edit link. From there, you may modify the information by modifying the name, slug, or description, as well as by adding or removing parent or child categories.

From the same panel, you can remove a category if you wish. Your posts won't be deleted if you delete a category, but if you don't assign a category to a post, it will be placed in the "uncategorized" category by default. The default category can only be removed by an administrator, and they must first make a new default category or add it to an already-existing one.
Related: Check our What Is A User Role? to learn more about the role in WordPress
How to Display a Category
Do you want to make it simpler for visitors to browse the categories of your blog posts? Displaying a list of your categories in your sidebar is one approach to achieving this.
You can use the categories widget to show your categories in the sidebar. Simply drag the categories widget to your sidebar by going to Appearance > Widgets. Except for the categories with no posts, all of your categories will be shown.
You can opt to show the number of posts in each category when using the categories widget, which also allows you to display your categories as a drop-down menu or a list. The Show hierarchy option will display child categories with an indent before their names. If not, each category will have the same appearance.
The navigation menu of your website might also include categories. Select the categories you want to include by clicking on Categories under Appearance > Menus, then click Add to Menu.
What is The Difference between Categories vs Tags
Categories and Tags are the two built-in taxonomies in WordPress. Tags help to identify specific information about your postings, whilst categories are intended to categorize the material of your website into general subjects.
Consider tags as the book's index, whereas categories are as the table of contents. For your posts, you must select a category; tags are optional. Tags are not hierarchical, whereas categories are, and can have children.
How to Convert Categories to Tags
Use the Categories and Tags Converter function in WordPress to change your categories and tags. First, select Categories and Tags Converter from the Tools > Import menu. When prompted, install the importer by clicking the Run Importer button.
After installation, select the desired conversion option by clicking on Activate Plugin and Run Importer. Click the Convert button after choosing the categories or tags you want to convert.
Conclusion: Now you know 'What is a Category in WordPress?'
In conclusion, WordPress's Categories feature is a helpful tool for organizing your blog entries into different categories and improving the usability of your website for visitors.
You can communicate the core idea of your website and make it simpler for people to access pertinent content by categorizing postings. You can change existing categories and their children, add new ones, and display them in the navigation menu or sidebar.
Read More: Video Downloader for Mac: 10 Most Popular
---
Contact us, ThimPress:
Website: https://thimpress.com/
Fanpage: https://www.facebook.com/ThimPress
Youtube: https://www.youtube.com/c/ThimPressDesign
Twitter: https://twitter.com/thimpress