What is an Administrator?
An Administrator is a person or thing in charge of coordinating, controlling, and supervising the activities and operations of a system, organization, or group.
You may find administrators in a variety of contexts, including corporations, governmental organizations, educational institutions, non-profit organizations, and internet communities. Depending on the situation, an administrator's duty may change, but in general, it entails making decisions, putting rules into practice, organizing resources, managing staff, and ensuring the smooth operation of the system or organization they are in charge of.
Depending on the domain in which they work, administrators may hold a variety of titles, including system administrator, network administrator, database administrator, school administrator, or community administrator, and their duties may include undertaking operations-related, financial, human resources, or policy-enforcing tasks.
What is an Administrator in WordPress?
An Administrator user account in WordPress is a particular kind of user account with the most authority and the ability to perform any action inside the site's control panel.
Those in command of the site or who enjoy a high degree of trust are typically given this responsibility. It's critical to comprehend the various user roles in WordPress so you can manage permissions as your site grows. With the Administrator status, which this user has, you can do any action on the website.
Users with the same role as you can be added or removed. However, be cautious when giving this responsibility to others because administrators have the authority to remove content from the website. The website can be significantly altered by users with the administrator role, including updating the blog, switching themes, adjusting plugins, and editing core files.
What is a Super Administrator in WordPress?
The Administrator of a WordPress website that is not a multisite installation has total authority over the website. However, with a multisite installation, the super administrator receives some of the administrator's powers.
A Super Administrator has administrative access to every site in the network. This implies that they have the authority to modify the themes, add new users, and add plugins to all of the network's websites.
The administrator role has a set of restrictions in a multisite installation. The WordPress core files cannot be updated, themes and plugins cannot be changed, and neither can users be added or removed. Only the super administrator has access to these rights.
How to Access the WordPress Admin Area?
The Admin Dashboard, or WordPress Amin area, is where all of the information on your WordPress site is controlled by a single entity. In the Admin area, you may perform several crucial tasks like installing themes and plugins, adding new content, and expanding the functionality of your website.
By adding /wp-admin to the end of the URL for your WordPress installation, such as ilovecat.com/wp-admin, you can access the WordPress admin area.

However, to ensure security and increase the customization of your site, we recommend changing the login URL. You can do this by installing the WPS Hide Login plugin and setting your desired custom login URL. After that, use your new login URL to log in to your site. This is a simple way to secure your website and prevent unauthorized access.
How to Add a new WordPress Administrator?
Only someone with the same job (or one higher than the super administrator) can add a new Administrator to your website, so be sure to grasp the significance of admin rights before granting them to anyone.
You must access the User from the admin dashboard in order to add a new WordPress administrator. Here, click Add New enter the user's details, choose the Administrator role, and then click Add New User
User roles can also be modified by going to All Users and changing their Roles.
How to Delete a WordPress Administrator?
WordPress administrators have the ability to remove other administrators as well. Go to your WordPress admin panel and select Users before selecting All Users to accomplish this. Hover your cursor over the username of the user you wish to delete to find them. Click on the Delete option that will show up.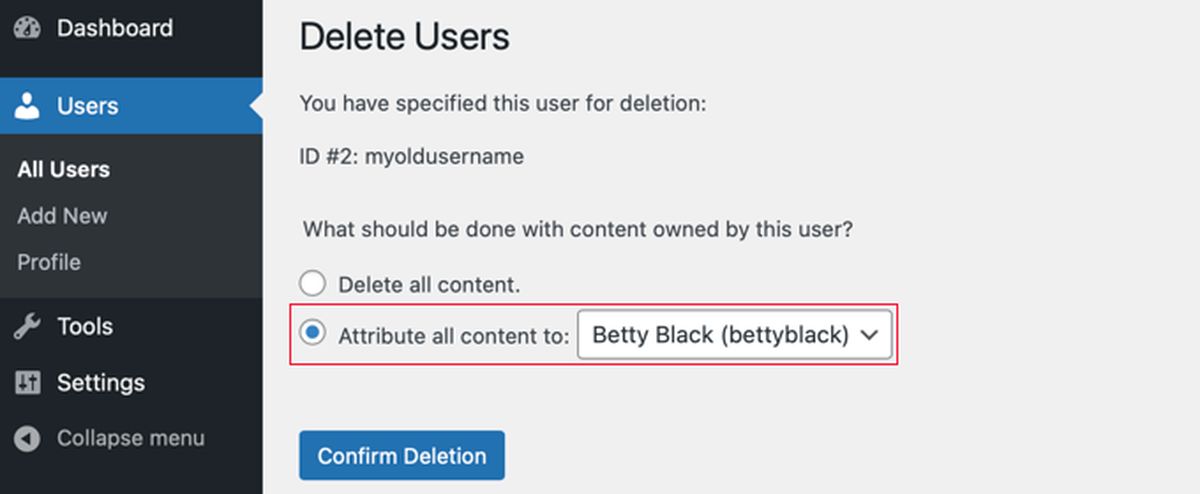 Before confirming the deletion, you'll need to determine what to do with their posts. Remember that their posts will also be removed if you don't assign them to someone else. After making your choice, click Confirm Deletion.
How to Change WordPress Admin Username?
Previously, "admin" was the default username for the WordPress admin account. Because they simply needed to determine the username, hackers found it simple to try to guess the password. To make it more difficult for hackers to gain access, you must now generate a special login when installing WordPress.
To be safe, it's vital to change the default login of "admin" because several installation options still utilize it. To protect your WordPress account, we advise replacing it as soon as you can and following our list of recommendations.

The simplest method for changing your username is to make a new admin account with your new username and then remove the old one. However, if you'd like, you can also alter your WordPress database directly or utilize a plugin.
Who Should Be Given the Role of WordPress Administrator?
It's important to limit the number of people who have Administrator access to your site, regardless of the type of WordPress installation you have. Here are some tips to help you manage your WordPress site:
If you have a WordPress site with multiple partners, it's best to create legal documents to avoid conflicts or disagreements over control and administrator responsibilities.
If you're a Small business owner with a WordPress site, you need to manage it carefully as an extension of your business. Don't give too many people administrator access – only the person responsible for updating WordPress and its components should have this role.
If a plugin developer needs to fix bugs on your WordPress site, it might be necessary to give them admin access, but do so with caution. If you are hiring them to fix the plugin then remove their role once they have finished their work.
If you manage sites for clients, it's best to be the only administrator. Assign the client another user role, such as editor or author, or create a custom role to restrict their access and prevent them from making changes to important settings.
Conclusion
In conclusion, the user role having the most access to a website's backend in WordPress is called Administrator. To avoid potential disputes, misunderstandings, and issues, it's crucial to restrict the number of administrators on a website.
You can make sure that your WordPress website is secure, reliable, and successful by managing it smartly and carefully delegating roles.
Read More: What Is The Frontend In WordPress?
---
Contact us, ThimPress:
Website: https://thimpress.com/
Fanpage: https://www.facebook.com/ThimPress
Youtube: https://www.youtube.com/c/ThimPressDesign
Twitter: https://twitter.com/thimpress