Widgets are essentially small pieces of content that you may add to various parts of your WordPress website, such as the sidebar or footer. They may have previously appeared on other websites as images, sign-up forms, or menus.
Widgets are fantastic because you can add them to your website without writing any code. You can use widgets to add functionality to your website like menus, lists of the most popular posts, calendars, social media icons, etc.
You can add widgets to your site's sidebar, footer, header, homepage, or other places, depending on your WordPress theme. WordPress widgets were developed to make it simple for you to manage the look and feel as well as the content of your website without knowing any coding.
You may typically find widget spaces in a variety of locations throughout your website because the majority of WordPress themes allow widgets. WordPress already includes a number of widgets by default, including categories, tag clouds, navigation menus, calendars, search bars, and recent posts. There are numerous WordPress plugins that let you create your own widgets as well. You can use these widgets to add various features to your website, like email newsletter forms and contact forms.
How to Add Widgets in WordPress?
Don't overlook your widgets when designing your blog! You can just drag and drop them into various parts of your website to add them as content blocks. Simply access the Appearance » Widgets page from the admin sidebar to see the widgets that are currently accessible.
The left side of the page will display all the widgets once you get there. The widget spaces for your theme will be on the right. There is a brief summary of each widget's purpose underneath it. Simply drag & drop a widget from the list on the left to the spot on the right where you want it to appear to add it to your website. Widgets can also be shifted up and down to change their placement.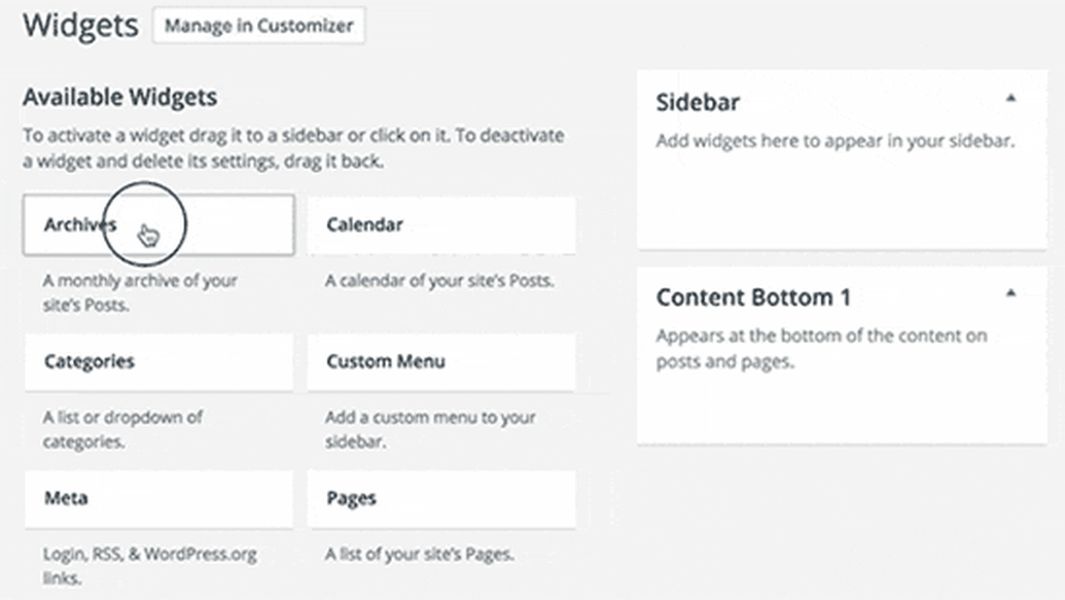 You may view the settings for each widget after adding it. To save your settings, be sure to click the Save button.
What is The Difference between Widgets and Plugins?
Many people are unclear as to the distinction between a WordPress plugin and a Widget. Consider how that compares to the distinction between widgets and apps on your smartphone.
Similar to smartphone apps are plugins. From the admin plugin panel, you install and turn on these extra features. More widgets that you can use are one of the many features and functionalities that plugins can bring to your WordPress website. Not all plugins, nevertheless, including widgets. Depending on the plugin's intended use.
You can utilize widgets, which are drag-and-drop blocks, to add content to the sidebar and other places on your website. Your WordPress installation by default includes a few widgets, and you can add more widgets by utilizing specific plugins. These widgets are positioned in designated widget regions on your website, where they are then visible to site visitors.
Conclusion: Now you know 'What is a Widget in WordPress?'
To sum up, Widgets are crucial components of WordPress that let users quickly add a wide range of features and functionalities to their websites. Widgets are simple to use, don't require coding expertise, and are simple to rearrange.
There are many preset widgets to pick from and widget support is common among WordPress themes. Furthermore, plugins can also include their own widgets on the website, thus improving its functionality.
Read More: Video Downloader for Mac: 10 Most Popular
---
Contact us, ThimPress:
Website: https://thimpress.com/
Fanpage: https://www.facebook.com/ThimPress
Youtube: https://www.youtube.com/c/ThimPressDesign
Twitter: https://twitter.com/thimpress