Ricky experts can make money by building and selling online courses. Finding the appropriate courses to build software can be a challenge if you are not sure what to look for.
We will give you tips on how to choose the best platforms for your needs and look at what the most popular Online Course Platforms have to offer. Learn how an online course platform works, too.
What Is an Online Course Platform?
By Online Course Platform, we mean an online course creation and hosting platform that also allows you to promote your courses. This is where you put all the pieces together. Upload course videos, build courses, prepare assignments and exams, collect student feedback, test their knowledge, accept payments, analyze student activities, and more.
In the context of online courses, the term Learning Management System is often used, but it is usually not used for sales but for training and education. It depends on the solution you end up choosing, and some LMS have the best of both worlds.
There are three methods for developing and advertising online courses:
Own-Hosted Website. This method is incredibly challenging to install and maintain. One advantage of having a self-hosted website is that it may be completely customized. You won't pay for things that you don't require.
Production And Hosting Of Online Courses. The region is known as the Goldilocks region. mostly because you need not be concerned about technology. The content is still yours to retain. By personalizing the learning experience, you can make it special for each learner.
The Market For Online Courses Is Online. These sites typically offer their users excellent promotion and thorough guidance, but minimal independence. With the intense competition, you might need to reduce your price. The caliber and length of courses and videos must adhere to certain standards.
Third-party platforms that give you full control allowing you to create, host, and promote your online courses, and we will focus on that option. The way these platforms work is very simple and does not require coding expertise. You just pick a template, modify it in a drag-and-drop editor, and publish it.
Online course creation platforms charge a monthly fee and/or a transaction fee, while online course marketplaces take a share of the course sales. Both give their users enough training and support to make sure their sales increase.
There are some online sales services that you should know about.
do We need A platform for creating Online courses?
You can charge through PayPal, but you can also send a ZIP file link to students that include pre-recorded courses or shared videos in individual Facebook groups if you choose to. It may work for a pilot course, but you can't use the same model if you want to build your own brand. These students will not be brought back if they are not provided professional, unskilled, or problematic learning experiences.
The old online courses are no longer effective due to a lack of engagement, interaction, personal brand growth, transparency, collecting reliable feedback, building communities, and upselling opportunities. Not to mention, they leave you vulnerable to piracy. Developing a successful education business is dependent on these components.
If you can create a jaw-dropping interactive learning experience that your students will remember long after the course is over, then why risk ruining the impression of a value-packed course? The production process will be intuitive and interesting regardless of which platform you choose.
If you start selling online courses utilizing a reputable platform, you will have a lot of opportunities:
Students' engagement, interest, involvement, and completion will all rise when you add interactive elements to your course.
Giving your course a professional appearance and feel can help you develop ideological leadership and charisma.
If you build relationships with your pupils, you will motivate them to keep going on their educational path.
With the capabilities offered by online course systems, you may alert students, track their progress, and analyze it at any moment.
Give pupils completion certificates and acknowledge their accomplishments. They will get higher praise.
To appeal to a wider audience, encourage customers to continue learning, and create a strong community around your business, you may make smart use of incentives, discounts, and flexible price options.
By conducting surveys and soliciting feedback from students, you can continually enhance the quality of your courses and upcoming goods.
Instead of attracting casual attendance, highlighting your unique brand via personalization can help you build a community of loyal pupils.
The best online course platform has integrations with email automation tools and more. You can use them to promote your courses, showcase your testimonials, and grow your student base. You can take advantage of their built-in analytic and tracking tools to understand your audience better.
Unless you have a background in sales or marketing, it is hard to convince potential students to buy your course. Powerful marketing and sales tools are also provided by many online course hosting platforms. These platforms can be used to build a thriving e-learning business.
How to choose the best online course platform for your goals
Take the time to define current and long-term needs and goals before the Rabbit Hole slips if you enter the best online teaching platform in the search field. If you pay annually, most online course platforms are less expensive.
Consider the following factors to acquire a better understanding of the type of solution you require:
What kind of delivery do you intend to use, live lessons, on-demand courses, or both, and what sort of solution do you require?
Is your course going to be entirely video-based? What do you intend to cover in the course? Many artists work with a variety of file formats.
After deducting your expenses, how much money do you anticipate making from your courses?
How many classes do you intend to teach?
Will your students be assigned homework?
Can your online course platform be coupled with your sales automation system?
Is the course arrangement dependent on human assistance?
Are you prepared to pay more for pupils to enjoy a gaming learning experience?
Which integrations are you most in need of?
What is your preferred mode of payment?
Different levels of customization on various online course platforms are something that deserves attention. It is better to go for deep customization and create a full online-school experience if you have a generous budget. You can impress your students with a professional learning environment if you minimize distractions for them.
If you're just starting out, it makes sense to test the water. The best options for growth and expansion are available. At this point, you don't need branding at all, you need feedback collection and analytic tools to understand whether your course works for your target audience.
How to encourage honest feedback, recommendations, and healthy criticism from your customers is something you can learn.
what is the best platform to sell online courses?
A platform for discussing features, prices, and comparisons, without approval, is the best online course platform. A few free online course platforms made the list despite our main focus being on paid but affordable solutions. You will find software that can help you build and sell online courses if you choose to take a series of short courses on financial security or a comprehensive course on how to obtain food photos.
Course Builder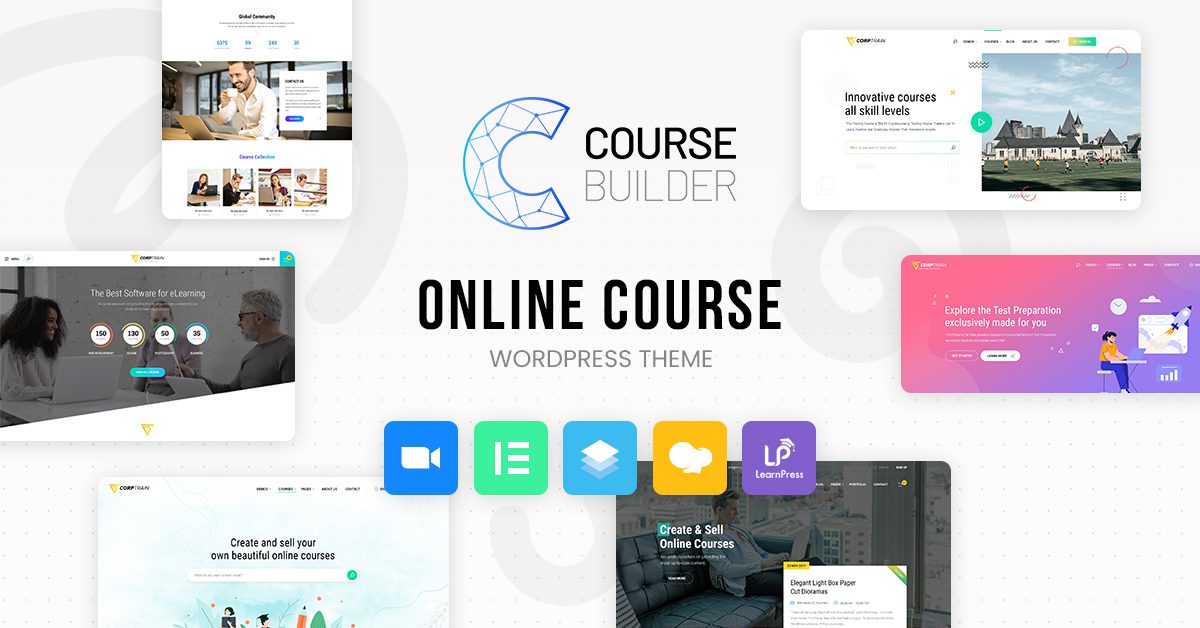 You can now create, promote, sell, and manage professional online courses in one tab, thanks to the Course Builder online course generator. The builder is perfect for seasoned infopreneurs and new to eLearning. It is based on WordPress so you have many choices in the theme for your website.
You can transform your existing assets into a cohesive on-demand course using a visual drag-and-drop builder with Course Builder. Especially, Course Builder is powered by the best LMS WordPress plugin – LearnPress. This is the easiest way to create an eLearning business.
Let's examine the essential characteristics of the online course platform:
Course material;
Simple navigation between lessons;
The capacity to add a co-instructor;
Student progress tracker;
Assignments for homework;
A unique link to the course;
Tests and quizzes;
Certificates of completion;
Integrated payment options for optimizing course sales.
You may access the rest of the toolset and manage the complete sales channel from one tab by using the online course platform. Here's how it works:
It works by creating converting landing pages for promoting your online courses and generating leads.
Send and receive individualized emails with students.
Keep updated about students and track course sales.
Build beautiful subscription forms to stay in touch with current and former students.
Push alerts can assist students in getting back on track.
Course Builder may be the best choice if you are looking for an affordable online course production platform. It is known as one of the best Education WordPress Theme on ThemeForest Marketplace at this time. You can make up to three online courses for free with up to 200 students.
Flexible pricing can help you avoid overspending on features you don't need. The final price is dependent on how many students you have and how much content you have. You need to calculate to estimate for your hosting because it is not included in the theme price.
Try Course Builder
---
Thinkific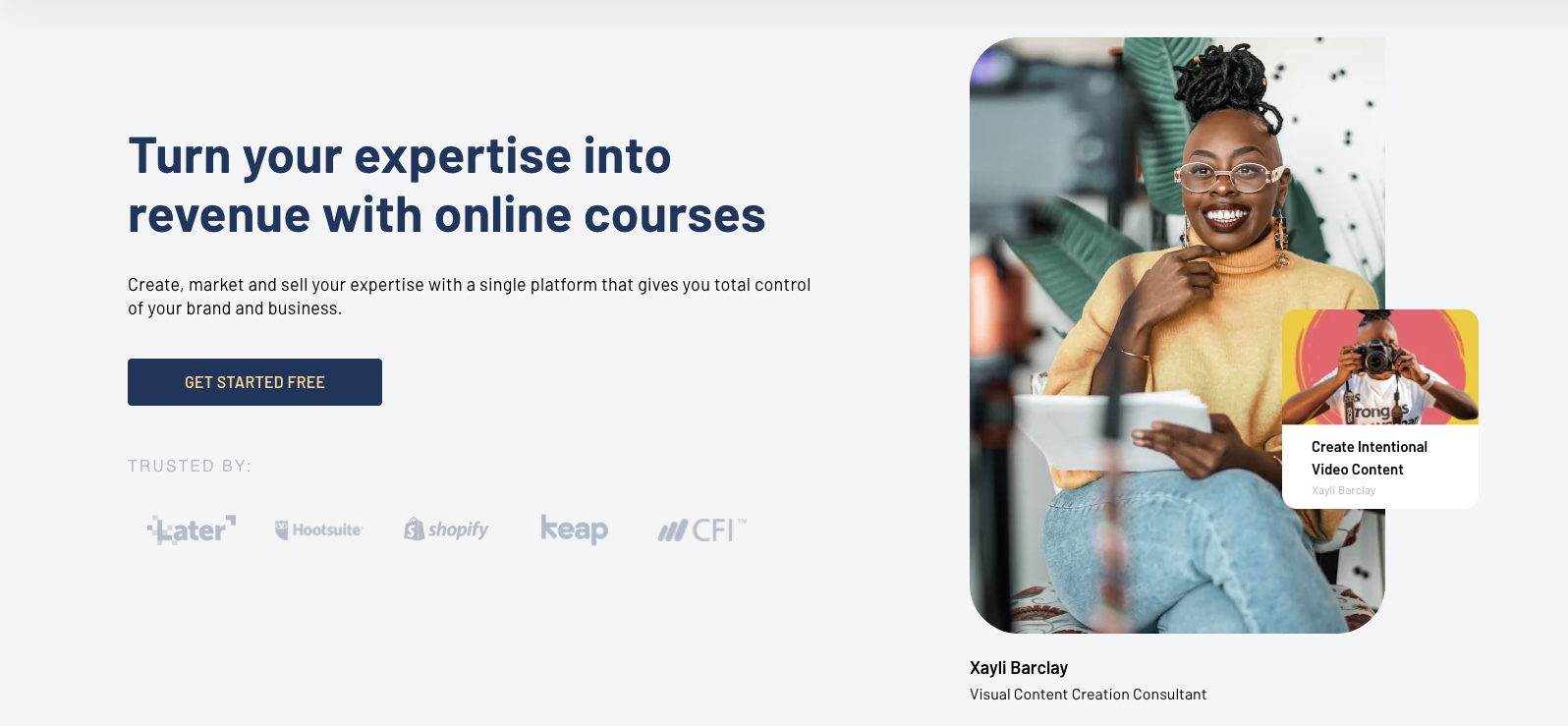 One of the most prominent online education platforms on the market built specifically with creators and entrepreneurs in mind, Thinkific is great for conducting customer and employee training too. It is possible to make money from the very beginning by creating courses in a stress-free manner.
The beauty of this platform is that it remains invisible when you use it, so your students can discover and purchase your online courses in a single click. Thinkfic gives you complete customization and seamless website templates.
Here is how Thinkific helps you create a completely branded and smooth student experience:
Make advantage of your distinctive logo, banners, and color palette;
Add new pages to your website, such as a FAQ or an About page;
Utilize sophisticated CSS/HTML modification;
Build unique domains;
Make your classes multilingual;
CTAs and promotional films should be added to your online course website.
Let your students learn on any platform, including mobile, tablet, laptop, and desktop.
Thinkific enables you to present all of your courses in a unified catalog with each course split into chapters and lessons, and you can upload your existing content assets in bulk and quickly organize them in a drag-and-drop editor.
Student progress indicators, unlimited replays, and flexible video playback control ensure students can easily catch up on what they missed.
Some notable Thinkific features include:
On-demand, drip, private, invitation-only, or hybrid courses;
There are no transaction costs.
Bulk email service;
An infinite number of pupils;
Easy interfaces with any CRM and other websites and resources;
Flexible payment methods, such as vouchers, monthly payments, or subscriptions;
Complete support for video, audio, PDF, text, HTML, and voice-over presentations, as well as downloads and third-party content tools;
Memberships, packages, and communities for students;
Tests, assignments, quizzes, and awards;
Numerous teacher profiles and admin accounts for multi-course websites;
An easy-to-use overview work-board for keeping track of new enrollments, sales, and student progress;
Built-in and integrated analysis tools via Mixpanel and Google Analytics;
Detailed student segmentation based on completion status, registration date, etc.
Thinkific has round-the-clock support, pre-launch calls, and reviews. There is a private coaching community with over 50000 members, a Thinkfic App Store, and a Thinkfic Academy.
There are unlimited student and administrator accounts in the free courses. The second cheapest plan costs $48 a month, and the Pro plan costs just $99 a month. You will save 20% if you pay yearly.
Try Thinkific
---
Teachable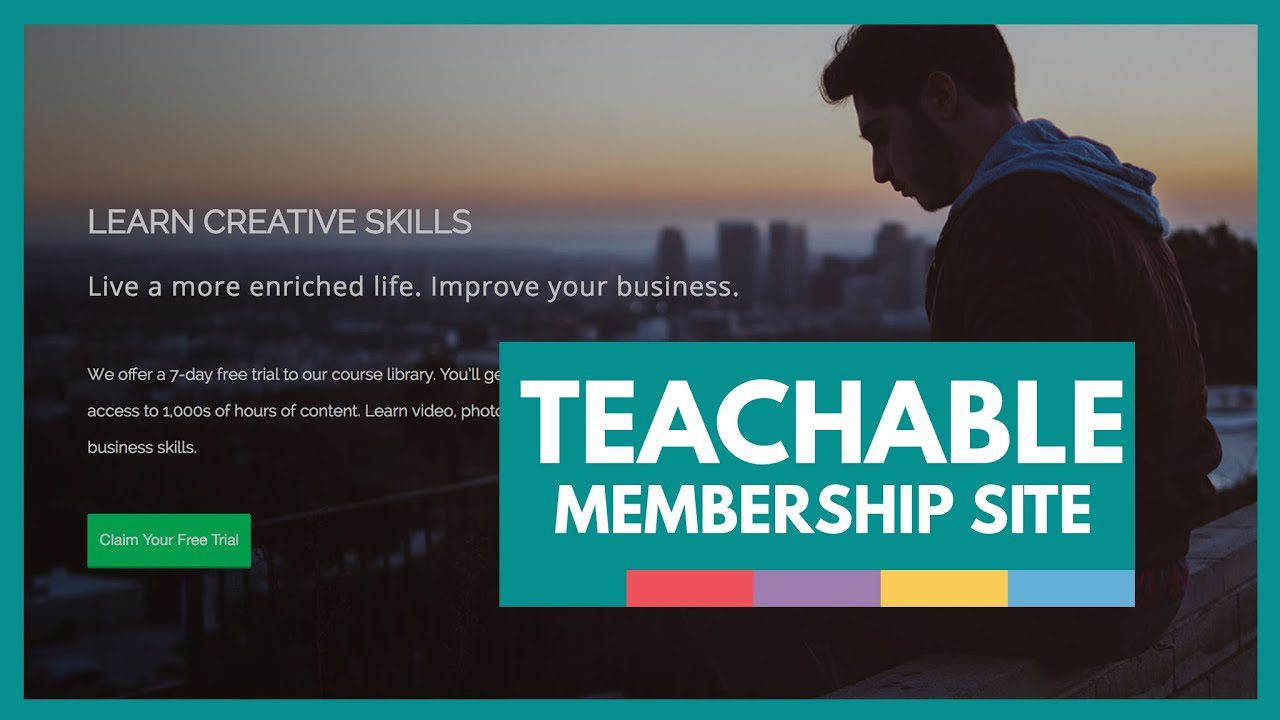 Teachable is an integrated platform for creating and selling online courses. It is possible to create a beautiful home page for your online school and leave a deep impression on students at the first contact point. Every single detail of that home page can be changed, and you can add your brand's name and logo to it.
Let's look at some additional valuable elements that you may utilize as an online course creator:
Add authors, team members, and contributors, then configure their roles and permissions in your online school, and pay them directly through Teachable.
With all premium options, you get unlimited video bandwidth, unlimited courses, and unlimited students.
Use bulk upload to swiftly combine many files into a single comprehensive course;
Sell one-on-one sessions and live coaching services in addition to on-demand courses;
To ensure your students' involvement and success, employ quizzes, course completion certificates, and course compliance measures.
Add Facebook tracking pixels, analytics tools, and other online services to your school's website;
Get funds promptly using Teachable;
Maintain track of sales and student development;
Sell your courses in packages and accept worldwide payments in over 130 currencies;
Use third-party forms and surveys to obtain student feedback and enhance it.
Streamline your communications and sales using Zapier, ConvertKit, Segment, Simo, and more connectors.
There is no need to manually code or design anything on the platform because it has a drag-and-drop generator. You can manage the online school's pages the same way you would in a typical CMS.
Teachable is not a completely free online teaching platform. A fee of 10% is charged for each transaction, but unlimited courses and all core features can be obtained, even if there are free courses. The basic plan is $39 per month, with 5% per transaction, and the professional plan is $119 per month, without transaction fees. If you want to save 20%, you should pay annually.
Try Teachable
---
Podia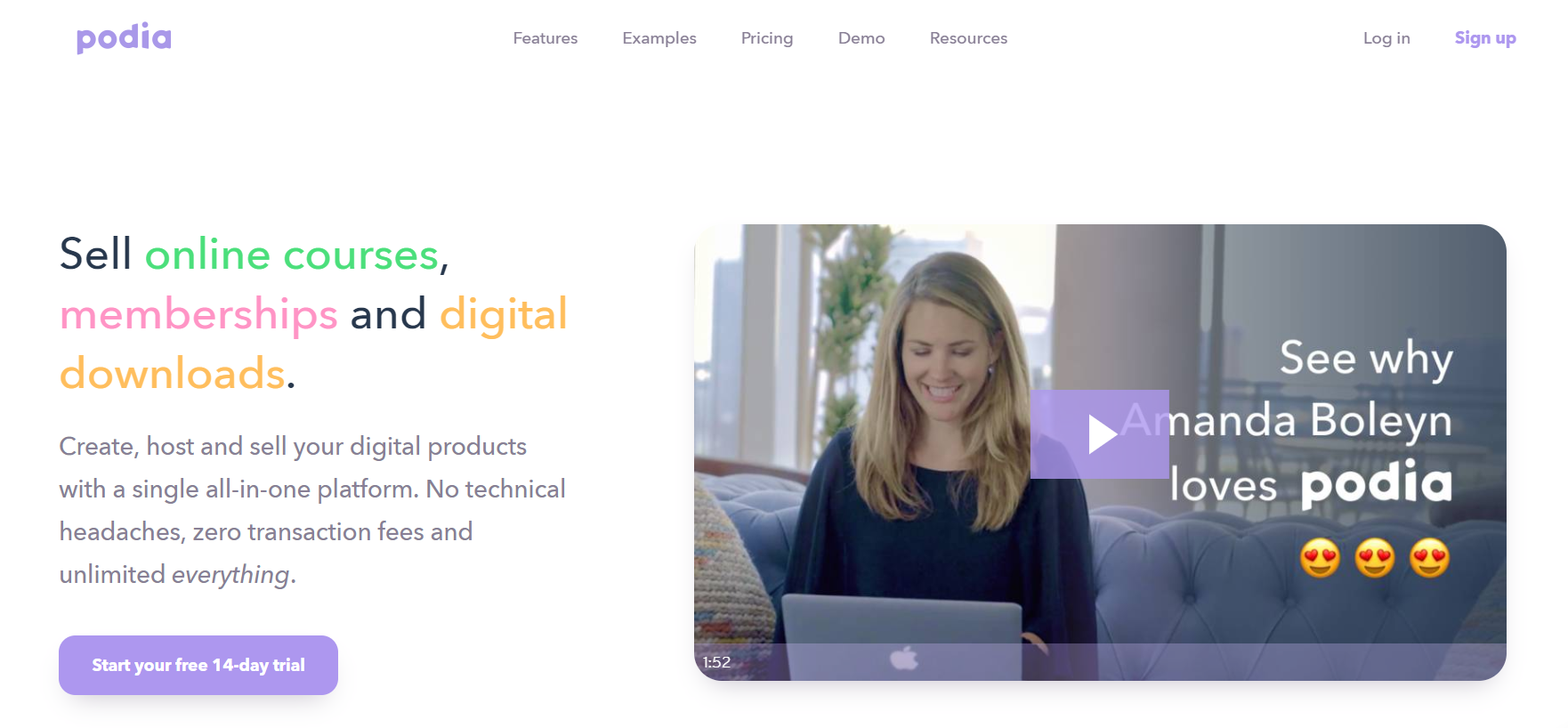 Podia is an easy-to-use platform that replaces the various tools commonly needed to create and sell online courses. Podia can be used to host and sell other content assets, such as e-books, audiobooks, PDFs, notes, lists, collections, and libraries.
Podia gives you the ability to quickly create responsive, conversion-oriented websites to market and sell your online courses and turn it into a lucrative full-time business. The Podia builder is easy to use and very visual.
The platform allows for extensive customization and a plethora of other sophisticated capabilities to ensure high course completion rates and increased sales:
Sell individual, drip, or cohort-based courses;
Pre-sell, pre-launch, or package your courses;
Message your clients directly from your dashboard and give immediate help;
Create memberships to build a community around your products;
With the Podia subscription form builder, you may increase your mailing list to interact with your students.
Translate your online course pages into 11 languages and collect payments in over 20 different currencies;
With the mobile-friendly editor, you can change your online course pages while on the road.
To build a clear hierarchy, categorize your instructional items by category.
Get limitless students, emails, earnings, and pages on all plans;
Send mass emails to your pupils using broadcasts and programmed campaigns;
Embed material from more than 1,900 platforms, such as SoundCloud, Typeform, and Twitter;
Provide payment choices and promote more things to your pupils.
Podia can be used for personal coaching sessions or webinars, which you may want to organize in addition to your on-demand courses.
Podia charges no transaction fees on all plans but offers a 14-day free trial. The cheapest plan costs $39 a month. You will pay $79 per month for higher plans. You can save 20% by paying every year. If you register for an annual plan, you can migrate your content and customers for free.
Try Podia
---
Kajabi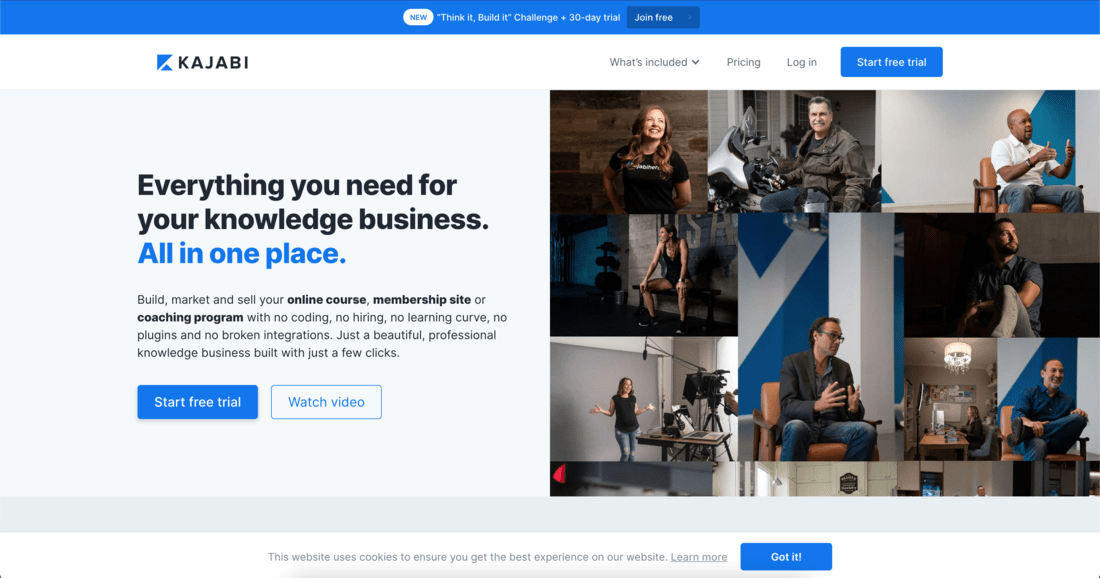 Kajabi is not just about online education — it's a multipurpose platform for seasoned creators, entrepreneurs, and online businesses already operating at full speed. If the online course platforms could replace three to five tools, it would be easy to substitute more than one tool daily for an edupreneur.
The end result will be a fully-functional website that connects all of your tools and apps, with Kajabi, you can create your course from scratch or use templates.
You can create separate dynamic landing pages, sales guidance services, and more. You can teach many disciplines at the same time and promote all of them using Kajabi because each of your products can be so complex.
Here is an example of a course created with this platform:
The extensive capability of Kajabi enables you to:
Give your pupils one-click access from any device;
Send your audience automated, content-rich email newsletters;
Automate and scale your eLearning business with pre-built pipelines for lead generation, product launches, and webinar funnels;
Add quizzes and surveys to improve your students' learning experience.
Choose from a selection of stunning, pre-made themes and customize them as desired;
Categorize, segment, and filter your pupils using whatever criteria you desire;
Automatically link your courses with your website, marketing campaigns, emails, offers, CRM, analytics, and so on;
Learn from in-depth insights powered by consumer metrics, behavior tagging, product engagement, and evaluations;
utilize a single dashboard to check how your entire internet business is functioning;
Learn from resources accessible at Kajabi University to turbocharge your knowledge company.
There is a 14-day free trial and a 30-day refund guarantee from Karzai. Transaction fees are not charged by the platform. The most basic plan is $119 per month, while the second cheapest plan is $159 per month. The Kajabi brand can be deleted. Save 20% on the annual invoices.
Try Kajabi
---
LearnWorlds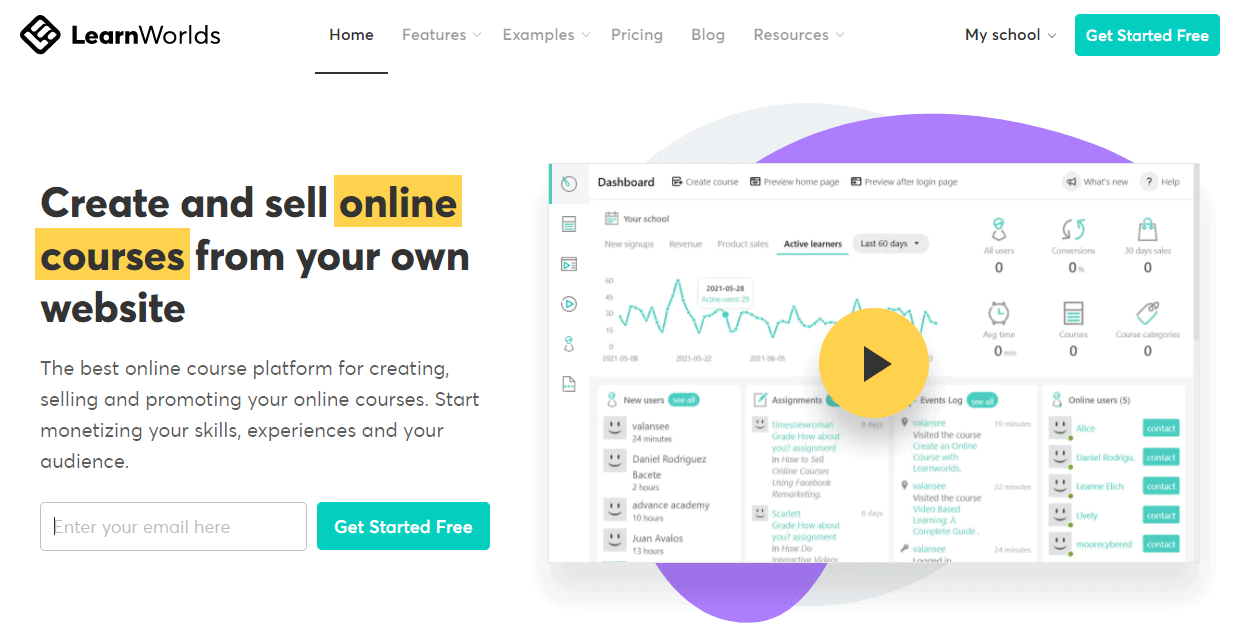 You can use LearnWorldsLearnWorlds to create and sell online courses from your own website. No coding skills are required to give your online school a professional look in minutes. Each of the theme templates can become very unique, and you can use dozens of them.
You get to design every button and column on your responsive online school website, and you can include clear CTAs, videos, offers, testimonials, a blog, animations, a countdown timer, social accounts, and more.
LearnWorlds is a means to boost your online course company by utilizing these and other sophisticated features:
Limitless free, premium, private, drip, or tailored courses;
Automatically produced transcripts, quizzes, and tables of contents;
To make films more complete, use questions, titles, hints, overlay pictures, links, and other interactivity.
Video interactions, note-taking, interactive eBooks, self-assessment, and certifications;
Simple block-based builder and hundreds of landing page and lead magnet templates;
Built-in SEO and simple localization;
student community management tools;
Five accepted payment methods;
Bundles, promotions, discounts, payment plans, and subscriptions;
advanced affiliate management;
An easy-to-use eLearning software creator;
comprehensive analytics, insights, and reports;
24/7 assistance and daily webinars with specialists.
A 30-day free trial is offered by Learn Worlds. The cheapest plan costs $29 a month and has a $5 fee per course sale. There are no transaction fees on a more advanced plan. The most popular program costs $209 per month. You can save 30% by paying every year.
Try LearnWorlds
---
Final thoughts
When it comes to Online Course Software, the rule is to try before you buy. Trial and find the error is the only way to discover your ideal solution. With time, you will be able to understand which features and curriculum design elements are essential for you and which you can do without.
It's not always worth paying for the most popular solution on the market because of Capterra's highest rating. You should pay attention to the things that aren't perfect. The larger the platform, the more difficult it is for actual human agents to answer questions. The ultimate goal is to find a platform to use in the next few years, so trying new software is always worth it.
Read More: Best Graphic Design Software Collection for Designers
---
Contact us, ThimPress:
Website: https://thimpress.com/
Fanpage: https://www.facebook.com/ThimPress
Youtube: https://www.youtube.com/c/ThimPressDesign
Twitter: https://twitter.com/thimpress