Whether you are a newcomer or an expert in graphic design, applying the right Graphic Design Software will increase the efficiency of your designs.
You may wonder how to select the most convenient tool for design. Well, you see, the best way to detect your favorite ones is to lay hands on them and experiment. They will be selected by many standards that we will talk about later in this blog.
Standards to choose Your Graphic Design Software
To select the rightest, the Best Graphic Design Software, you should list out some standards. Besides, many products provide free trials for a better understanding of them. Therefore, you can test the features and don't waste a lot of money on the premium license of a paid Graphic Design Software.
(picture)
Convenience: It should be easy to use for both new and old designers. Also, easy-to-use software will decrease the designing time and increase the quality of a design.
Multi Features: A great design software will provide users with a lot of useful functions that will serve your work at its best. The more creative you are, the more beautiful your graphic design will be. To serve it, the users should own enough tools to actualize the designs.
Performance: A design software may not work on the certainty of PCs/laptops, especially old-fashioned and outdated ones. The more updates a software receives, the heavier it becomes, and it also applies to later products/versions. You don't wanna experience a situation when you are working in the middle of a banner, your app suddenly shuts down due to low RAM. Boom and your work become ash!
Cost: On the market, there are a lot of free and paid graphic design apps for you. If you are a newbie, you may find free or low-cost Graphic Design Software to get acquainted with the design field. If you are a professional or intend to go expert mode, premium ones will suit you better.
Best Graphic Design Software List for You
Adobe Photoshop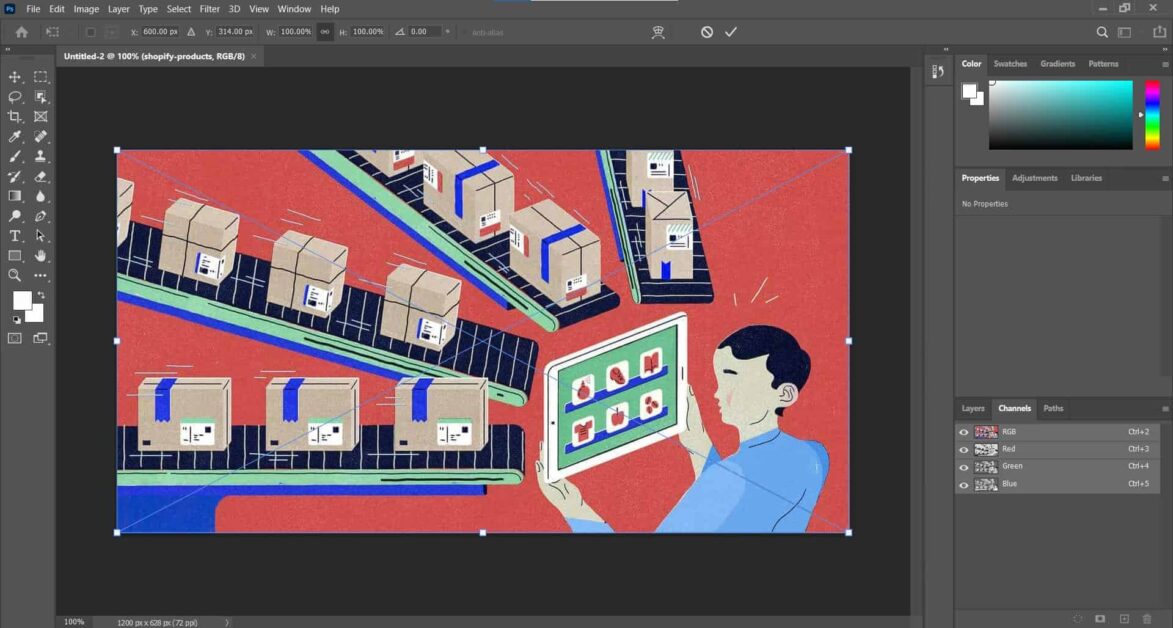 Have you ever heard the word "Photoshop"? Yeah, since you hear about this Graphic Design Software from your friends talking about designing or your colleagues arguing about which design is better, Adobe Photoshop or Photoshop in short is the most popular Software for Graphic Design in the world. Also, this app has still been working for 33 years old – a pretty old man in the design field. Still, it works very well through versions of Windows and MacOS, and it will develop more and more.
Designed in 1987, it has become the iconic symbol of professional digital art, and this software's name is also used as a verb such as Photoshop an image, photoshopping, etc. Adobe Photoshop Graphic Design Software can edit and compose images in multiple layers and supports masks, providing alpha compositing and color scheme. Photoshop uses its own PSD and PSB file formats to support these features. You can always expand with plugins in which programs are developed and distributed independently of Photoshop that runs inside it and offer new or enhanced features.
Besides image editing, you can also create artwork and compositions, even 3d models. The possibilities with Adobe Photoshop are limitless!
Adobe Illustrator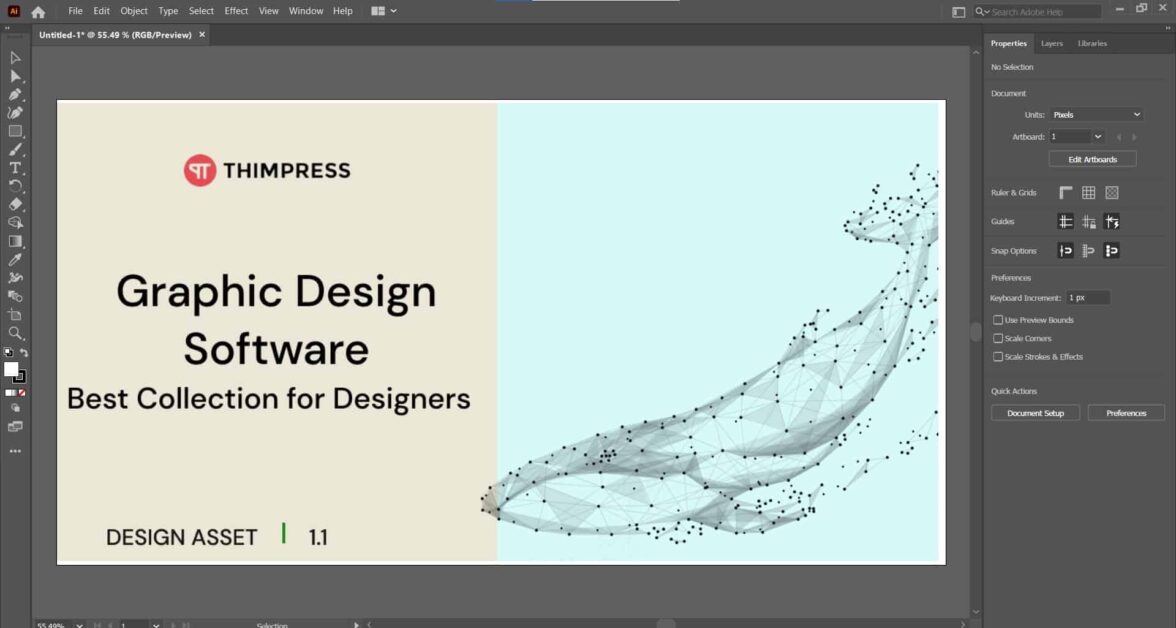 Adobe Illustrator (AI) is a Graphic Design Software that focuses on vector design. With Illustrator, you can make images, artworks, icons, banners, posters, and more that can be used for business cards, newsletters, web designs, etc. the software is used to draw, mix, and recreate designs to make 'em stunning (You may also design on your smartphone with Adobe Illustrator Draw – one of the best mobile design apps nowadays).
AI has a lot of features and plugins that boost your design speed. At the start, you may find the learning curve quite difficult to use but once you experience it for a while, it will offer you a user-friendly interface. In some latest updates of AI, we can edit the toolbar now. Here, you can draw with a shaper tool to make vector shapes. To add variations to vector lines, its users can use "Rotate View" and "Width Tool". Moreover, you can customize fonts based on your demands (weight, height, slant, width, etc.) while AI also provides you with pre-built fonts, color schemes, and templates on this Graphic Design Software.
Affinity Designer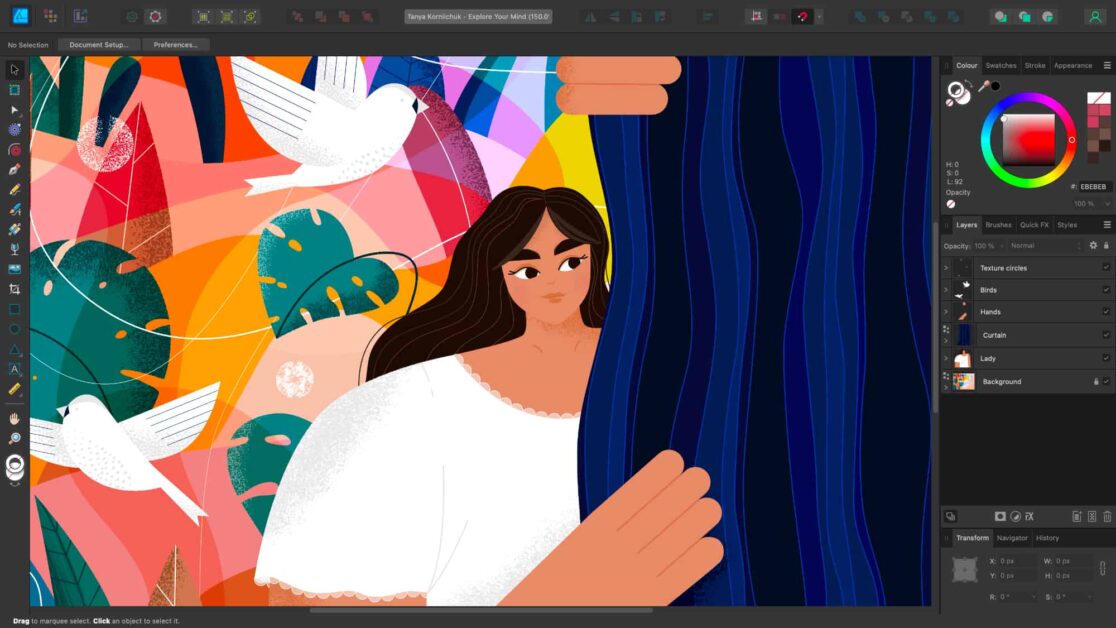 We all know that Adobe's subscription price is very high (of course it's worth it!) and you might want to look for other options with the same features but at a lower price. That's where Affinity Designer will come in handy. With only a One-off payment, you will have a license to this Graphic Design Software which can compare the closet to the modernity of AI and the multi-functions of PTS.
Here, there is a unique feature called "Serif's Affinity Designer". Besides, you can focus on both vector & raster design and switch them simply. There is no limitation in the types of devices & number of designs you can do so feel free to proceed. It also lets you work in LAB/RGB color space up to 32 bits/channel with its advanced color settings. Another great feature of Affinity Designer is the floating-point accuracy by zooming the work, even by more than a million %.
Adobe InDesign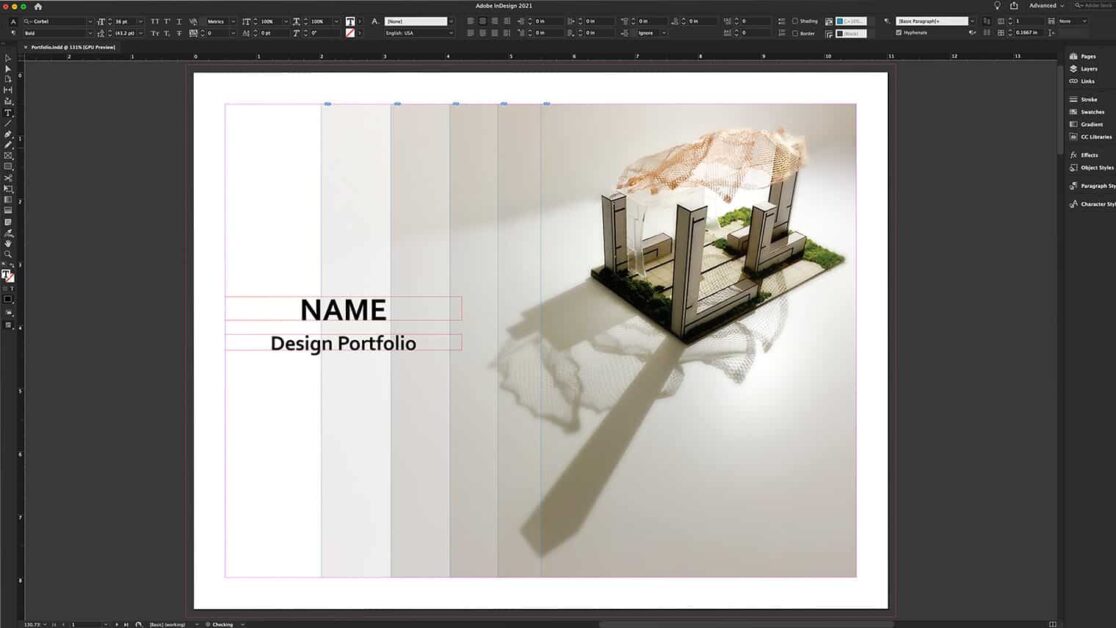 Yet, another Graphic Design Software from Adobe is listed here – Adobe InDesign. Adobe InDesign is just merely as same as other Adobe products except it's widely used in the printing and publishing industries. The reason here is that you can use it to design news pieces, magazines, information sheets, posters, books, brochures, and more. With an advanced adjusting layout, you can change the text in the document and Adobe InDesign will change the text in the graphic design accordingly.
The options panel is redesigned and customizable so that you can rearrange the options to fit you better. InDesign also integrates with Sensei technology which automatically arranges, resizes, and compresses the image. Besides, InDesign Graphic Design Software helps you share graphics and related stuff with your friends using the Creative Cloud Libraries. Further, you can quickly learn how to use this design app since it's well-documented.
GIMP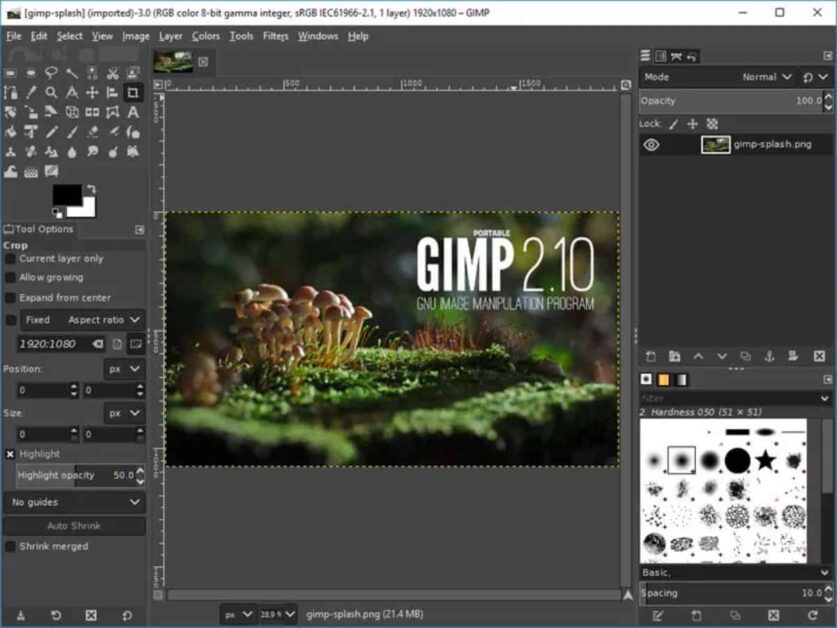 In case you want a free but effective & able to work on various operating systems (Windows, macOS, and Linux) Graphic Design Software, GIMP should be on your choice list. GIMP (GNU Image Manipulation Program) is an open-source app that lets you create digital designs as well as change the source code. Its ability even comes quite close to PTS although GIMP is a free digital design app and many other free apps can't do that.
The interface is quite difficult to work on, however, you can customize and update it to make your work easier. Everybody loves working with ease & convenience, right?
With this app, you can use a lot of 3rd parties add-ons & plugins to expand the possibilities. Even though, this app itself is full of helpful features and able to work with all file formats without any troubles.
Figma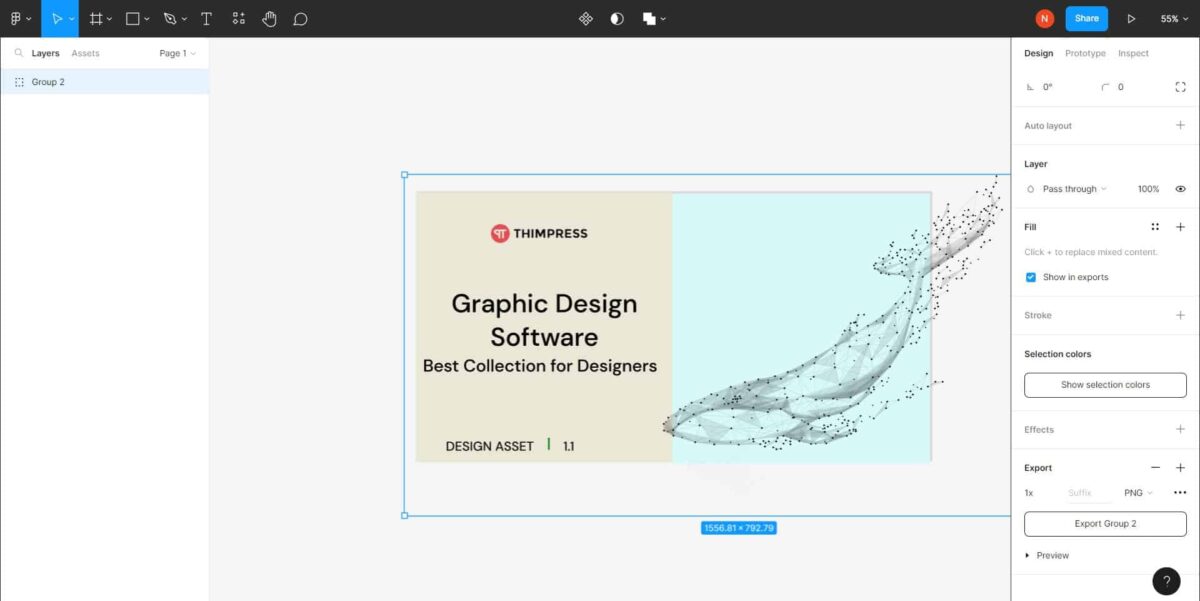 Figma is collaborative Software for Graphic Design for interface design with many additional features enabled for Windows and macOS. Figma focuses on UX/UI design in a real-time experience.
Here, Figma will provide you with a lot of vector graphics editors and prototyping tools. Also, the Figma mobile app allows you to preview and interact in real-time on smartphones & tablets. For team-working, you may find a diagram, sticky note, and workshop in FigJam – an online whiteboard where your team can brainstorm and save their ideas there. Of course, everyone on the team can see those notes!
With Figma, you can create a constant design flow with live collaborations that keeps you in the loop no matter where you are working. Moreover, this Graphics Design Software increases your design consistency with reusable models, sharable designs, and available assets. Figma is also very easy-to-use and still provides amazing art designs.
Canva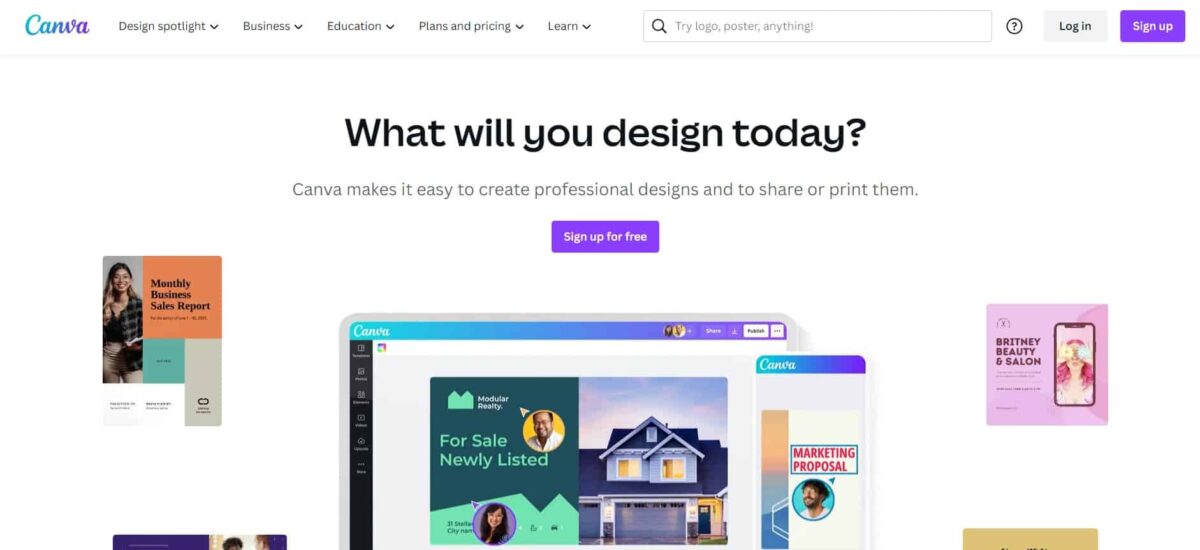 Compared to Figma, Canva is born earlier and called the "Graphic Design Software for Beginners". It's free, simple to use, and workable everywhere – why not choose it?
With Canva, you can do some "design stuff" like resizing, adding text/icons, adding filters, and more everywhere you like – on your PC, laptop, tablet, or even smartphone. Also, your work can be done on a browser or Canva mobile app and there are no restrictions for the free version such as watermarks.
Canva is not only a casual Free Graphic Design Software but it's also a fully-prepared Graphic Designer Software with all the essential stuff for creating such nice designs. Further, it features a color scheme panel, photo collage creator, font panel, infographic creator, and more. Although it doesn't reach as near as Photoshop, the free version of Canva is super great. On the other hand, you can find more tools on the PC version but the mobile version also covers 90% of them.
The premium version of Canva provides its users the Canva Pro's Brand Kit (set preset brand fonts, color options, logos, and premade templates), resize tool, or background remover widget.
Sketch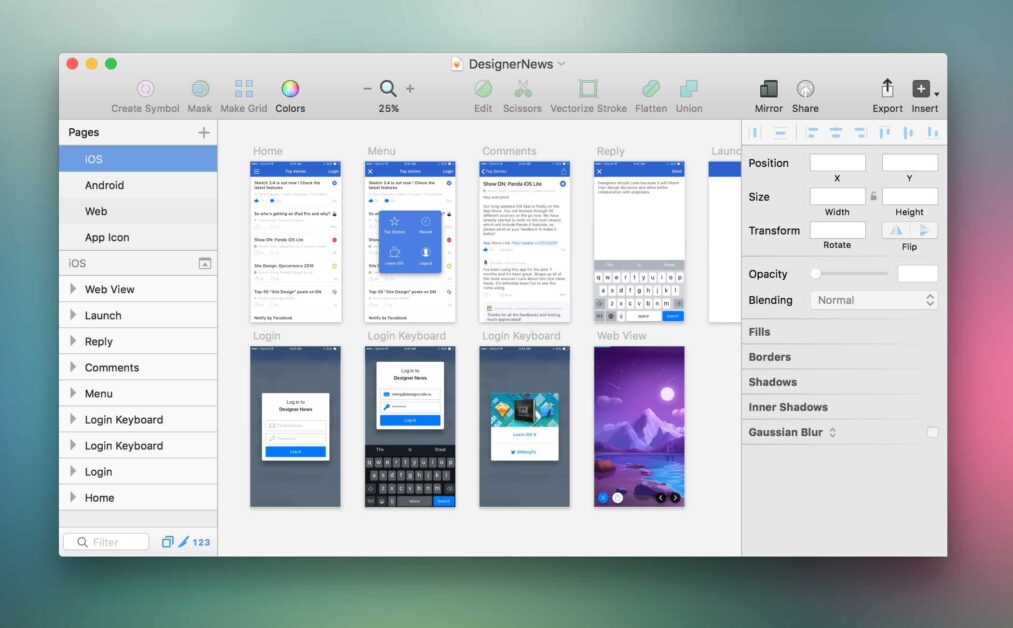 Sketch is a Graphic Design Software that is specially designed for UI design or icons/banners/posters. One specific thing here is that Sketch only works on macOS, which means you must work on a Mac device. Although it doesn't have various features like Adobe products or Affinity, Sketch is what you will need for UI, especially for UI designers.
In the beginning, Sketch gives you very careful instructions and easy-to-use UI design which also means a simpler learning curve. In 2021, this app got a really big update with the ability of other developers to view, inspect, or measure your Sketch designs from other browsers and other operating systems.
Adobe Creative Cloud Express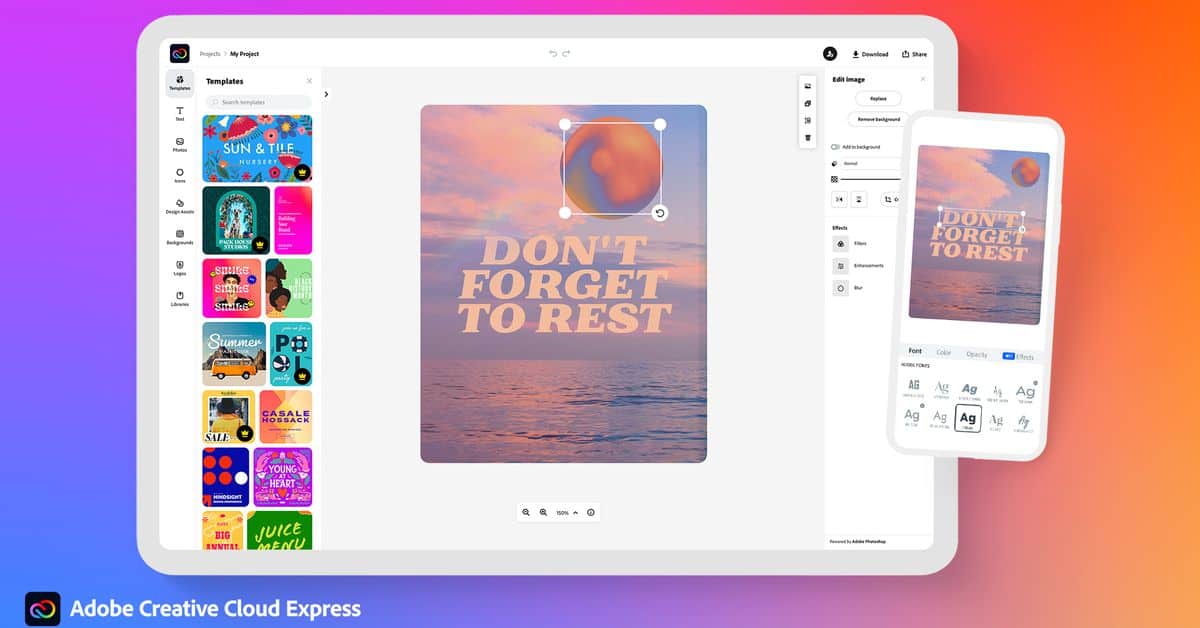 Used to be Adobe Spark, Adobe Creative Cloud Express (CC Express) is Adobe's latest family member which plays as a competitor to the entry-level Software Graphic Design field like Figma or Canva. Yeah, CC Express has a free version on both browsers and mobile versions.
In this free version, you can have basic photo/image/video editing tools and Adobe's Asset library. This version also allows you to download your work freely and unlimitedly plus use it with a limit of features. On the other side, the premium version will unlock more features compared to the free one. Also, you will have a 30-day trial of the premium version before you decide whether you will pour in your money or not.
Wrapping Up
If you are a starter in graphic design, many apps are suitable for you. Our suggestions are Canva and Figma because they are both free and easy to use. About Canva, you don't need to download this Graphic Design Software to your PC and pay nothing except if you need further functions. About Figma, its quality and variations of features are nearly as same as Photoshop, Illustrator, or Lightroom; and Figma is not so complicated, either!
For the most working designer, their standard choices are Adobe Photoshop, Adobe Illustrator, Affinity Design, and Adobe CC Express. They have various features that can help you create images, videos, 3D models, and more.
Although you have obtained the Graphic Design Software list, the choice belongs to you! Test 'em out and select the most suitable for yourself (and your computer, too).
Read More: How to Add a Link in WordPress: Starting Guide
---
Contact us, ThimPress:
Website: https://thimpress.com/
Fanpage: https://www.facebook.com/ThimPress
Youtube: https://www.youtube.com/c/ThimPressDesign
Twitter: https://twitter.com/thimpress