Until now, free WordPress blog themes are the best in providing a platform for sites to maintain and develop. WordPress is a free, intelligent, multi-purpose, and resourceful open source for anyone to dip in. You can use WordPress to make your sites without having the same design as other sites. However, to bring a WordPress website live and published, you must have a WordPress theme. From the view of newcomers or fresh web developers, they may meet the financial problems with the themes. In the last 5 years, the most popular themes have had quite high or very high costs. Well, the spent money is not the main problem but the effective outcomes you will receive. Only the outcomes can decide whether the fee on the themes is worth it or not,
However, if you intend to create your WordPress site, there are still a lot of free WordPress themes for you. Today, we will introduce you to some of the best in the market.
What Are Free WordPress Blog Themes' Standards?
We all know that people usually read the blogs on mobile devices like smartphones or tablets so the site should be responsive and retina-ready. Besides, a good WordPress blog theme should have various design options and multiple widgets to serve the readers. Coming all together, they contribute a lot to your site's success.
Let's move to the list of our recommended free blog themes for WordPress.
Magie – One of the Most Popular Free WordPress Blog Themes
Download
Demo
Magie is a well-known and effective blog WordPress theme for everyone. It is specially made for bloggers, reviewers, and content makers. Trusted by over 1 million users, Magie will surely prove it's a great choice for your blog site.
Intending to maximize the users' experience, we have optimized the theme's overall efficiency. We know that people often surf blogs on smartphones and tablets so we have made Magie mobile-prior ideology. Besides, we use AMP (the newest mobile standard of Google) to make all designs and content more brilliant and bright. AJAX technology in the theme core will help your site load much faster and not reload the page when accessing a section in the page. Also, users can interact better with your site thanks to the AJAX smart search, CSS, XML, JavaScript, and HTML. It will bring out a simple login and register page step by step for users to conduct.
On the other hand, Magie stands as a social theme. It has social sharing buttons where you can share your posts or products to other social media channels like Facebook or Instagram. Especially, the function "Integrated Submit posts button with different Editor Roles" allows you to upload stories like Facebook's story function. Therefore, your site will become more user-friendly.
On the other hand, Magie is an incredible toolbox for ads. Since the SEO system is highly optimized, you can use ads as one of the best economic benefits for you. Everything involved in SEO will maximize your outcomes. Besides great products, we also own a kind and skillful support team to cope with any problem of you.
There are still a lot of features waiting for you to discover. Check it out!
Travel Blogs – Perfect Choice for Tourism and Hotel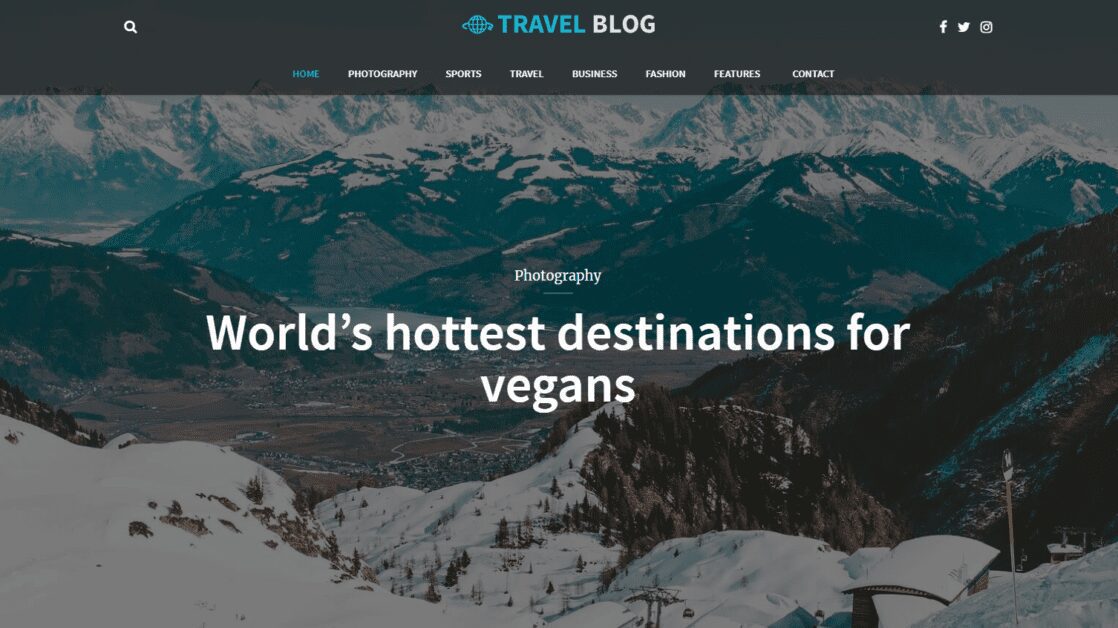 Download
Demo
From Physcode, we deliver you the theme Travel Blogs! Travel Blogs stands as a very popular blog theme WordPress for blogs, magazines, and news. Overall, the outlook of the theme will suit the travel, accommodation, tour, and blog field.
We focus much on the phone platform, so we have applied the AMP to the theme and highly optimized it. Your site will be responsive and work properly on all devices and screen resolutions. Also, you can change the theme layouts between grid and list styles as well as boxed or wide layouts.
We know the power of SEO to your site's popularity, so we have taken care of much about Travel Blogs' SEO system. All elements including tags, headings, keywords, etc. will incredibly fit Google SEO checking system. Therefore, search engines will get easier to filter data from your site.
Here are some other helpful features of Travel Blogs: CSS3/HTML compatibility, child theme integration, Contact Form 7 + WooCommerce + Mailchimp compatibility, endless color schemes, 700+ Google fonts, 1-click demo data importer, mega menu, customized header/footer options, video background, and great support team. There are more features so that you should dip in and discover.
Vividly – Niche and Nice WordPress Video Blog Theme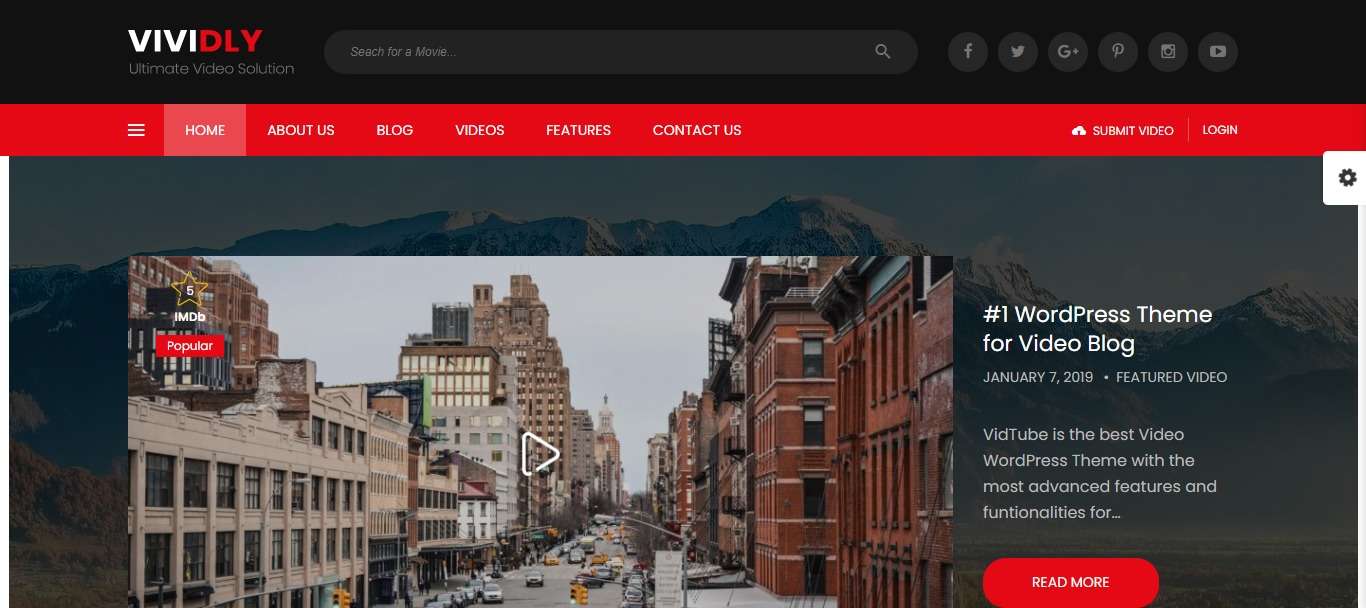 Download
Demo
In the market, you can find and use lots of image blog themes without any hardness. However, if it's not enough, you can trust Vividly – the stunning and modern WordPress blog theme. Vividly is trusted by over 40K users and this number is still going up day by day.
In the theme, you can choose between 4 pre-built site demos. Thus, you should select based on your interests and purpose. Unlimited pages can be made within your site, too. On each page, you can make posts, pictures, videos, blogs, or other stuff to enrich our blog site. All of these functions won't need any coding experience. To ensure the best user experience for users, we have coded the theme fully responsive and retina-ready to every single pixel. No matter what device the visitors use, your site will display nicely and smoothly. Following is the new drag & drop page builder which will simplify the process of posting and editing content on your site. Further, the visual custom CSS is used in Vividly.
In addition, you can find more functionalities oi the theme. Vividly offers video features for a video-focused website or page. Here, you can make/edit/delete your video playlists based on categories, list video rankings, enable YouTube Livestream, and provide access to the posters' detail. Besides, our support team will help you cope with any problem when running the theme.
Rishi – Lightning-fast Speed WordPress Theme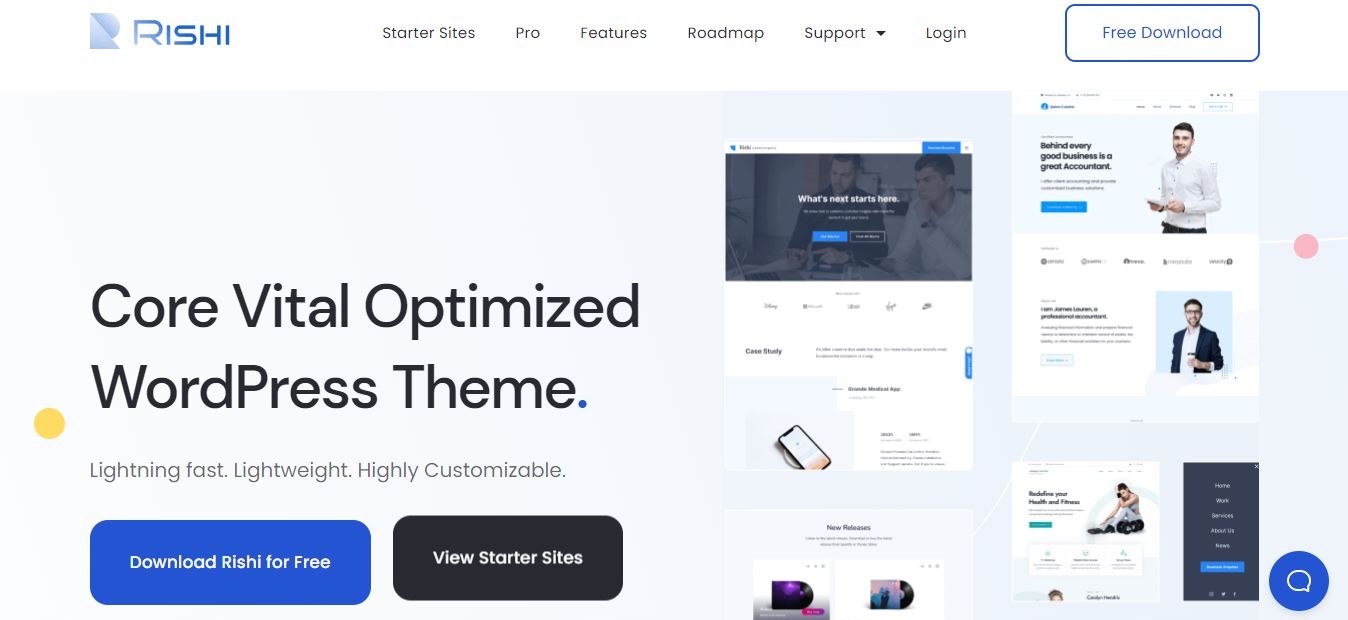 Download
Demo
Rishi is a lightning-fast speed WordPress theme which is the perfect choice theme for any kind of blogger. Be it for travel, food, lifestyle, fashion or any niche, the Rishi comes packed with several starter websites. With the one-click demo import feature, you can easily craft your blog with just a single click.
It is fully compatible with the Elementor and Gutenberg Editor tools. In addition, it comes with an intuitive drag-and-drop header and footer builder totweak your header and footer section as per your brand.
Besides that, Rishi has a collection of 1000 Google fonts, multiple color combinations and advanced typography options.
If you need any help installing and setting up a theme or face any bugs, you can always reach out to their support team via the support ticket or forum. They offer quick and friendly support.
Cenote – One among Light and Bright Free WordPress Blog Themes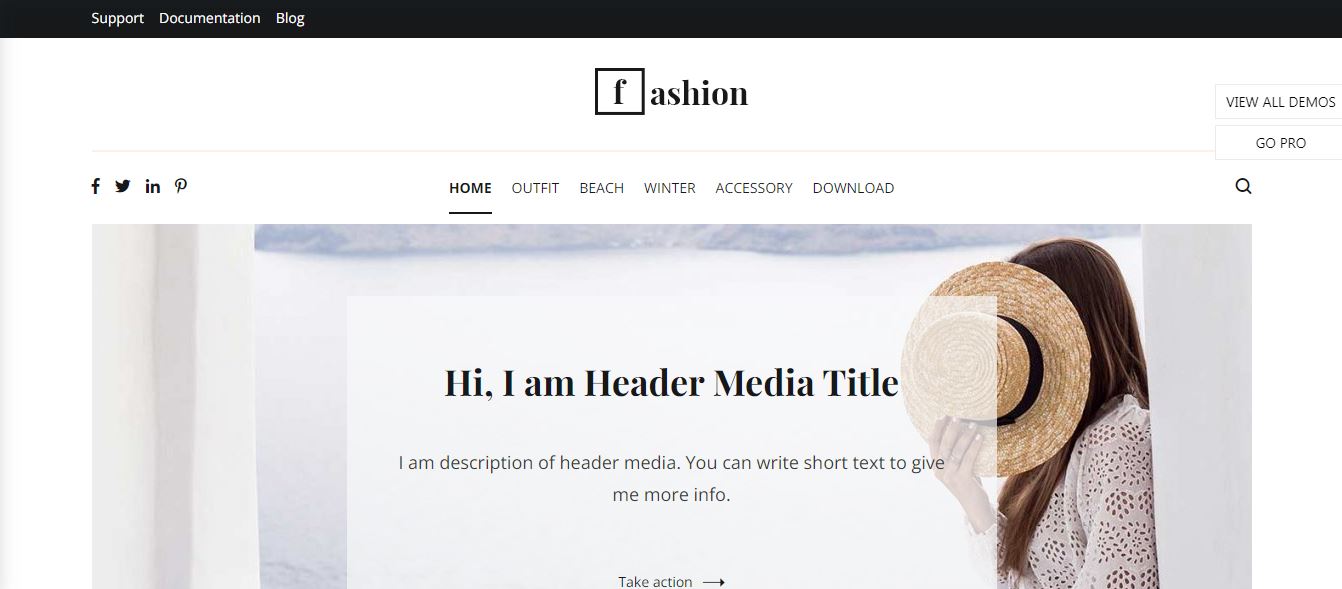 Download
Demo
If you prefer a lightweight and powerful, we suggest you use the theme Cenote.
The most significant advantage of Cenote is its elegant and stylish layout. It uses the main color tone of white and bright color, bringing visitors the feeling of comfort and friendly. Besides, you can choose between various color and Google font options based on your brand and interests. On the other hand, you can select between WordPress blog templates.
One more thing, the theme allows users to make lots of content sections on the site. Thus, the site can make posts and advertisements without worrying about the lack of space. You can always drag and drop the content to maximize visual efficiency. In the header/footer option area, you can set the proper fonts and effects. Video background is also a good function as your site will display video(s) in the background, attracting more people. Also, there are 4+ widget sections for users to add tools for clients. Wrapping theme up, Cenote owns a 1-click demo importer to simplify your building and editing process.
The theme is compatible with man famous and popular plugins in the marketplace including WooCommerce and Contact Form 7. Inside the theme, we have customized it so that search engines can crawl your data faster. Also, the site with Cenote has a faster loading speed, contributing to the users' experience. Of course, it has social buttons where you can advertise your posts, products, and your site.
Food Blog – Great WordPress Theme for Food and Blog Sites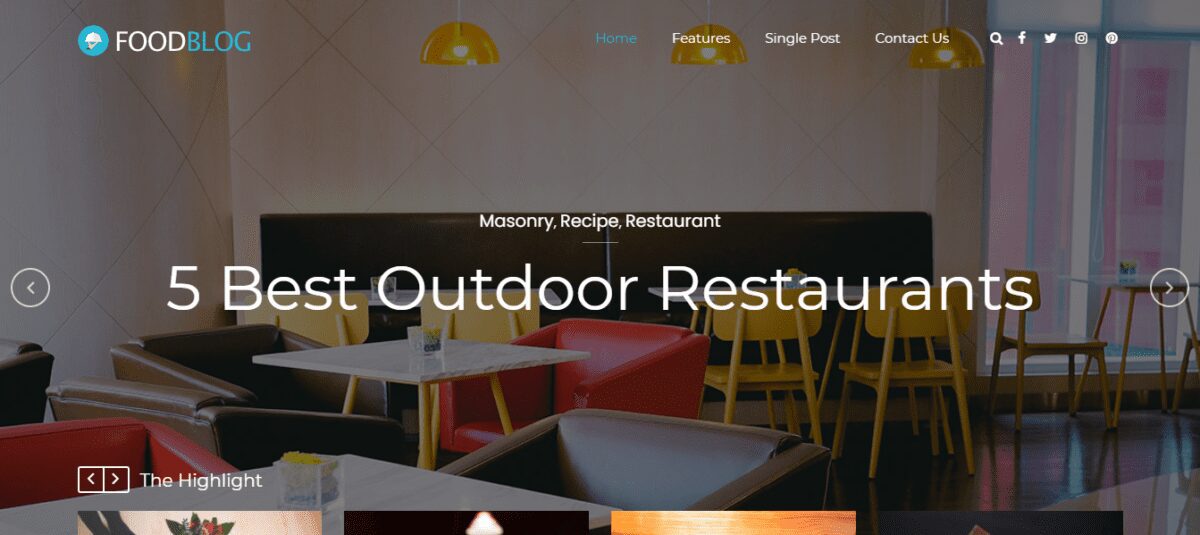 Download
Demo
In the market, many food brands, restaurant owners, and food bloggers favor the theme Food Blog. Still focusing on the mobile platform, we have implied AMP to optimize the mobile uses. Besides, it also affects SEO, making the search engines crawl your site's data more simply. You can set up the site based on 2 types: grid and list.
Below are some Food Blog features: endless color schemes, 1000+ Google fonts, mega menus, various plugins' compatibility, child theme availability, RTL language ready translation, optimized header/footer options, fully detailed documentation, and more.
If you are working on food and culinary, a Food Blog theme should become the chosen one.
Gucherry Blog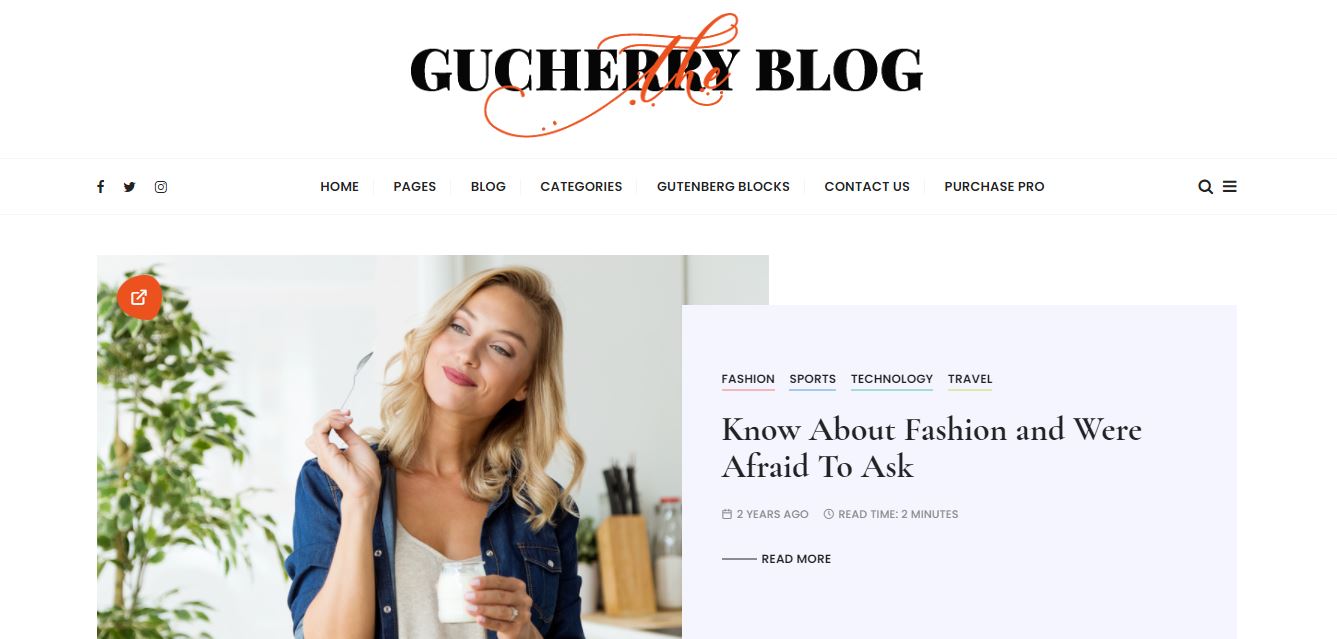 Download
Demo
Gucherry Blog is a WordPress theme that will give you the true value of fashion and travel.
With the Revolution Slider plugin, the site will be fast-loading and retina-ready. Thus, they will contribute to customers' experience and also the SEO rankings. It's our priority to serve our visitors with the best services and experience. Further, you can change color, fonts, header, footer, logo, background, etc.
Besides, you can easily customize Gucherry Blog with various sets of tools due to your plans and brands. Also, you are capable of using your widgets and uploading them for clients to use. On the site, there will be lots of space and content areas where you might put posts, ads, or even widgets. To be more specific, the theme has been coded to support all post formats, enabling users to create various posts. It also owns a related-post system to keep the viewers with your site.
Olsen Light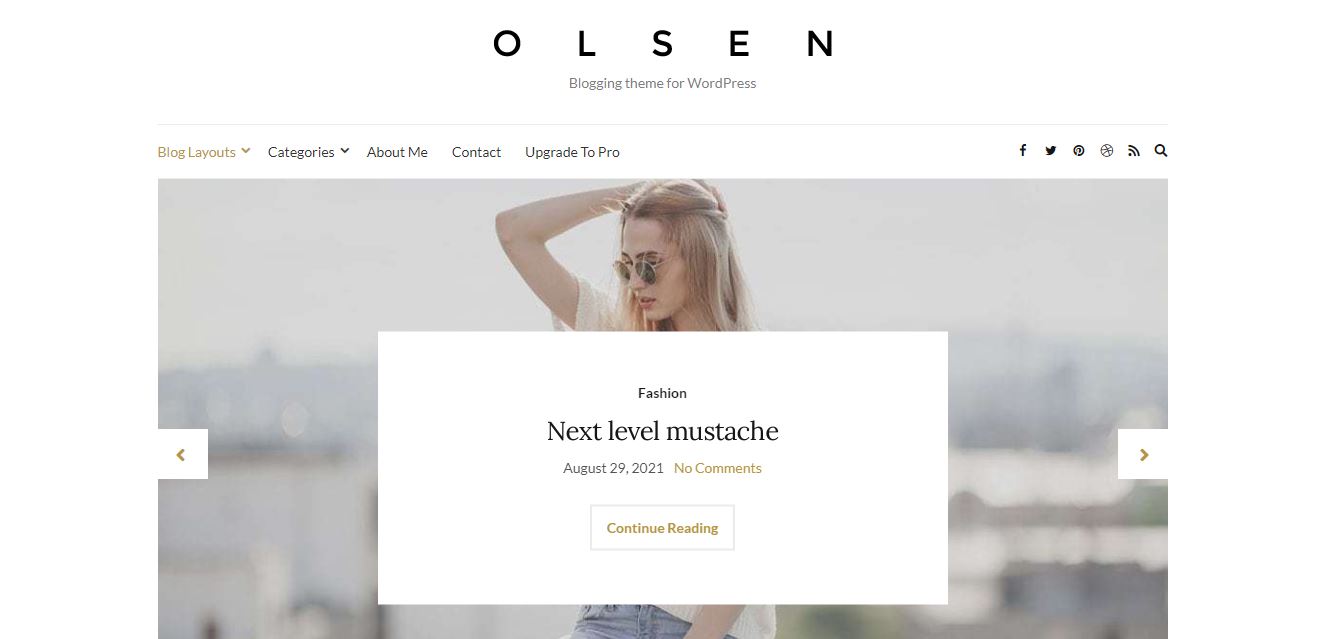 Download
Demo
Do you love a bright blog theme WordPress? If you do, choose Olsen Light! Olsen Light will attract visitors to your site with its wonderful features and outer look.
Famous for the outstanding visual, Olsen Light seems to be born for photography blogs. It offers users the best free WordPress themes for blogs and you should discover them by yourself to feel the energy and confidentiality we put in the theme. They are all free for you to make the best choice.
With the new WordPress live customizer, Olsen Light offers us an advanced but easy-to-use customization option panel. Users can upload any content, use any tool, and edit every corner of your site without a hunch. Furthermore, you can do lots of things with this new customization widget.
This theme can integrate with WooCommerce, Contact Form 7, Beaver Builder, Divi, and Elementor. Particularly, they are all popular and favorable plugins by users and systems so those compatibilities will deliver your site more opportunities. On the other side, Olsen Light's smart and fully responsive will make your site run fast and smoothly on all mobile devices, increasing the SEO rankings. About the social field, the theme also runs very well. Users can edit and show the social media buttons on each post with no plugin needed.
Masonic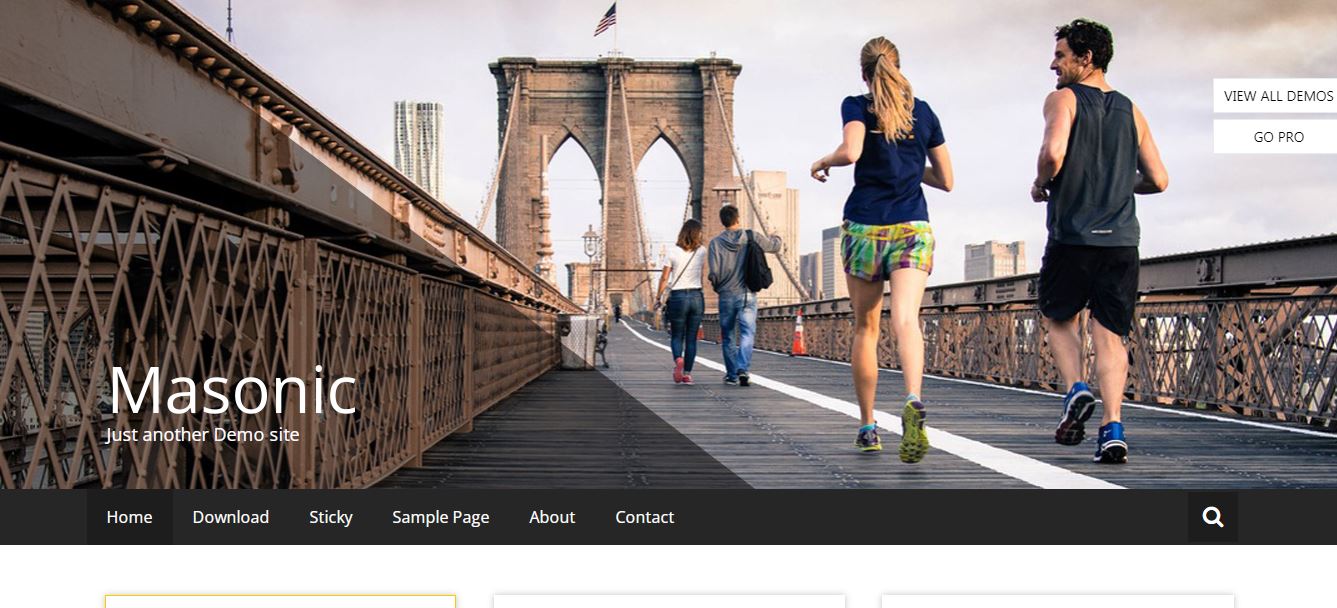 Download
Demo
Looking for another option for your blog site? Then, Masonic stays as a favorable selection for your blog website. If you focus and post a lot of pictures, we think this theme should be your first pick.
The theme is named "Masonic" after its most significant feature: the masonry layout. The developer team has designed it to captivate the visitors' first impression with the card-showing presenting style. Thus, this display style will fit the blog of fashion, cuisine, and photography. You may have a nice image/video homepage background and nice effects/transitions/animations.
Also, users can decorate the site as they want. The options vary from primary options (colors, fonts, effects) to advanced ones (tools, CSS, multi-lingual, etc.)
Although the theme does not have a lot of features, it can still serve you like the others in the market.
Hueman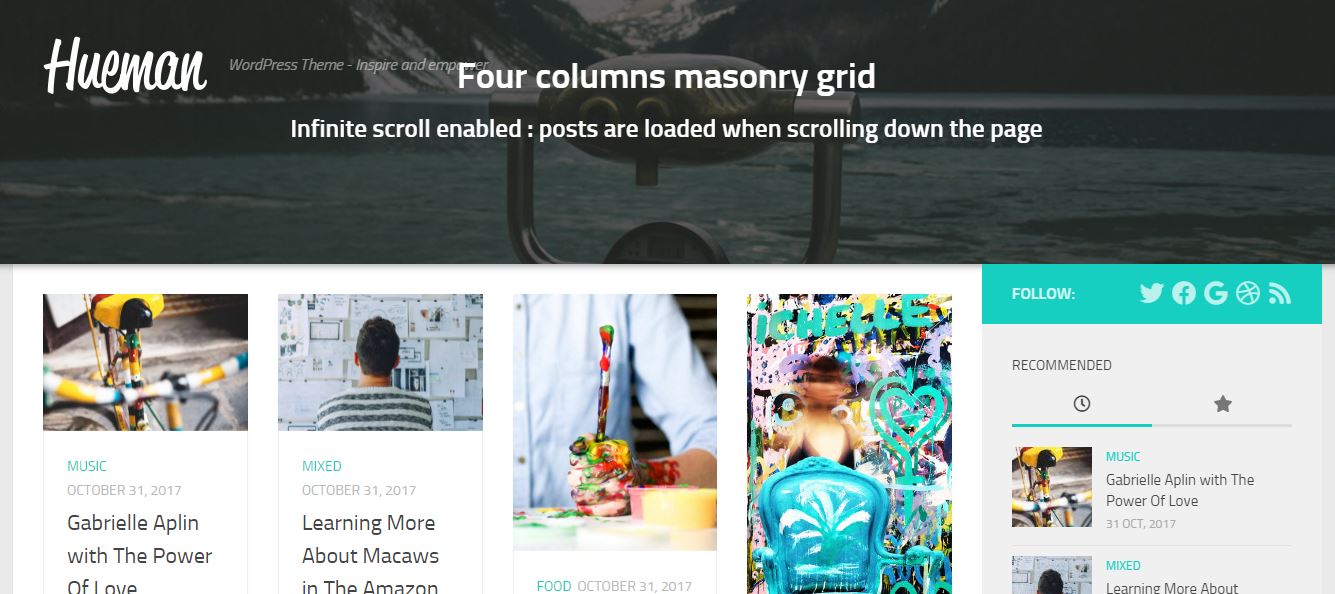 Download
Demo
Hueman is one of the best WordPress blog themes free for users.
The design of Hueman is what we have to talk about. It's elegant, simple, modern, and smooth. Besides, you can edit and manage the theme and site as you want. With the real-time WordPress customizer, you can edit from header to footer, from inside to outside, from homepage to inner pages, and more. It has 3 modes: 2 sidebars, 1 sidebar, or no sidebar. It will be proper if your site contains and posts lots of content. In the theme, users are free to edit color schemes, fonts, content areas, and more. They are all for your unique site design.
Besides, it is also compatible with many WordPress plugins such as WooCommerce, Nimble, etc.
Free WordPress Blog Themes: Conclusion
To choose a suitable WordPress blog theme for your site, you should consider: the purpose of the theme, your site's brand and products, and your budget. Afterward, the decision is yours to make.
We hope through our article, you can decide which theme is suitable for your blog site.
Read more: How to Change Your WordPress Admin Login URL (2023)