If you wish to optimize your marketing strategies, understand more about your audience and behavior, and refine your sales funnel, Google Analytics is absolutely the right tool for you. It is used to collect, report, and analyze your web data. Moreover, you can integrate this platform, Google Analytics, with your WordPress website through plugins. You can view your site's performance inside your WP dashboard among other things.
So, What are the best Google Analytics Plugins for WordPress?
To answer the above question, we recommend you read our article carefully today. All the plugins below are perfectly great and functional. Hence, you don't need to worry; you just need to check which one is suitable for your needs.
One more thing to remember is that you can use Google Analytics without a plugin. However, if you add Google Analytics to WordPress, it can save you time, unlike using separate third-party platforms.
Do We Need a WordPress Plugin for Google Analytics?
Yes, we highly recommend using it if you wish to grow your business. Why? If you are using the Google Analytics plugin, you can track a lot of valuable data. For example:
Where your customers come from and how they are finding your website: Direct, referral or organic search
The demographics (age, gender)
Track customer's interests and conversion goal
How your campaigns are going
There are more features that we can not list here. So, let's get to the details now!
Top 10 Popular Google Analytics Plugins for WordPress
MonsterInsights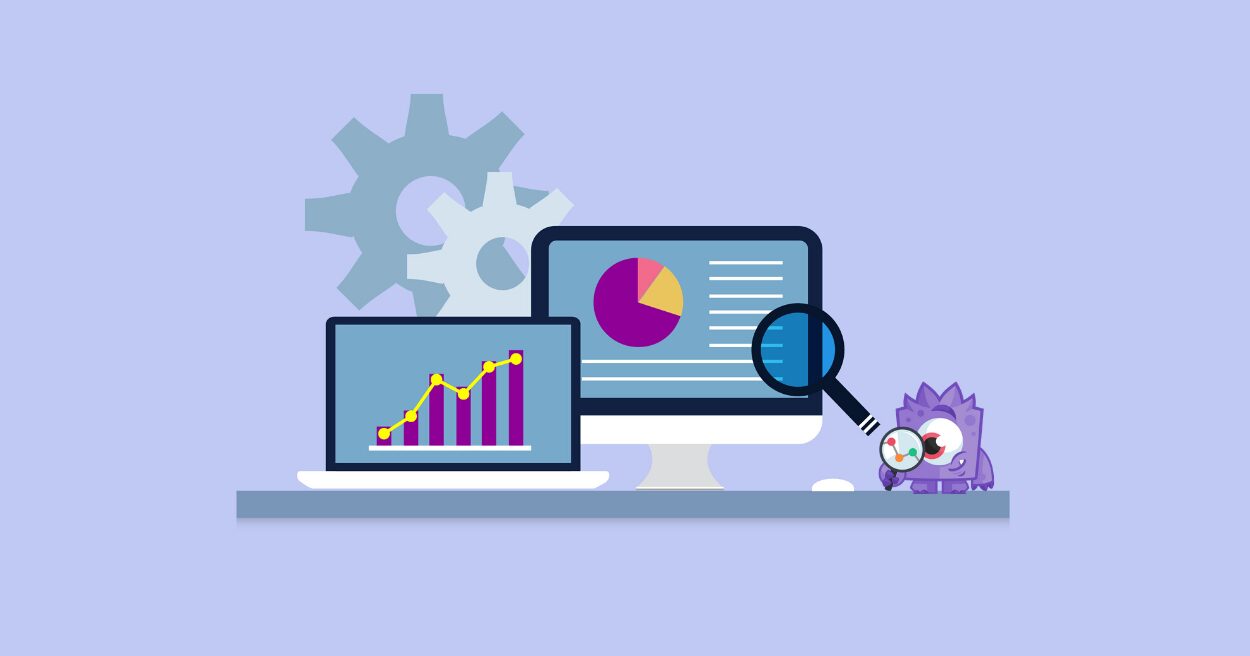 MonsterInsights is the first WP Google Analytics plugin. You can easily install and view your site traffic from the WP dashboard with a few clicks. Moreover, no coding is needed.
Once you add MonsterInsights, you can track all information like real-time stats, or page-level analytics, or affiliate link & ad tracking without leaving your WordPress.
Besides, you can view conversion rate, transactions, and average order value easily by one-click the powerful features – enhanced eCommerce tracking. and it is also a user-friend WP analytic plugin.
Plus, With over 3 million users joining, no wonder MonsterInsights are so famous in the market today.
Learn More
ExactMetrics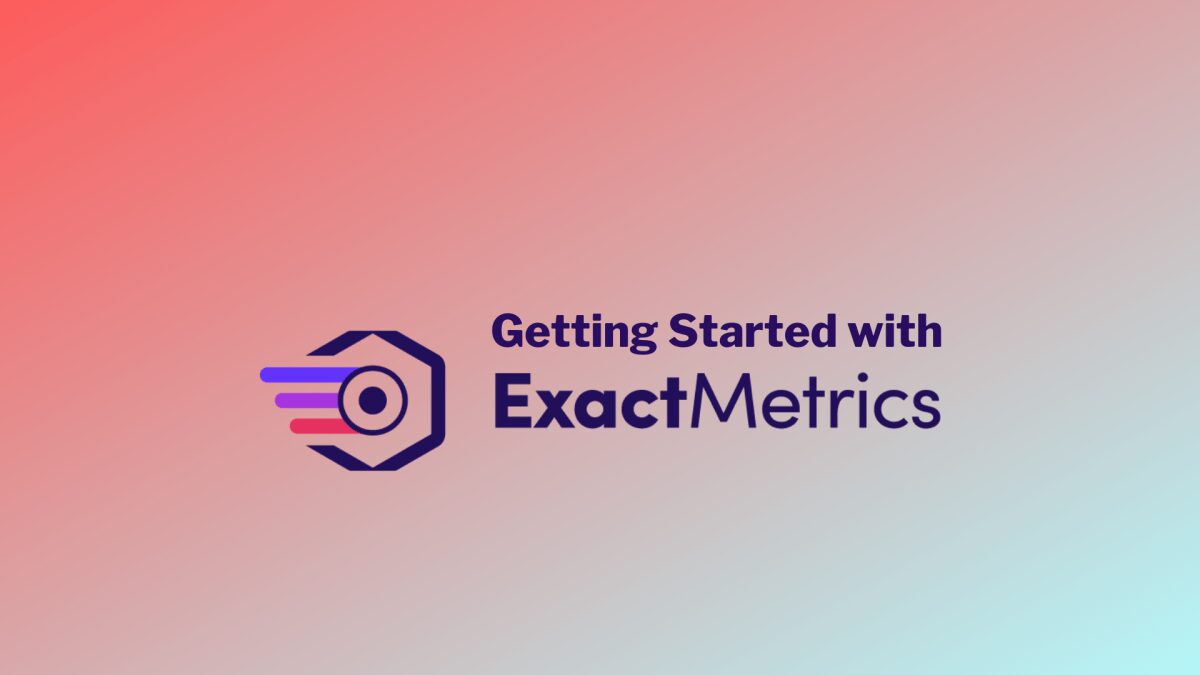 With over 1 million active installations, ExactMetrics is exactly the best WordPress Plugin for Google Analytics.
By adding this plugin to WordPress, you can track Google Analytics reports right on your WP admin dashboard such as the sessions, how many pageviews, top pages/posts on your site, and the bounce rate. Moreover, you can find organic searches, 404 errors, keywords, and AMP (stands for Accelerated Mobile Pages).
Moreover, ExactMetrics is fully customizable with advanced data collection such as page scrolling, downloads, emails, form submissions, and more. Another great feature here is "custom dimensions", it allows custom tracking for authors, searchers, users, and so on.
Learn More
WP Statistics

WP Statistics is one of the simple Google Analytics plugins. It comes with a free and freemium version. You can download it easily through wordpress.org by clicking and getting the file then adding this plugin to your WP dashboard. This plugin especially is GDPR compliant so you do not need to care about creating a data processing contract with the external company.
After installing, you can know which country and city your users come from, what kind of browser they use, their IP address, and top pages/ posts. Furthermore, you can export the data to XML, CSV formats, and TSV files. From the categories, your tags, and writers, you can analyze content too.
Learn More
Analytify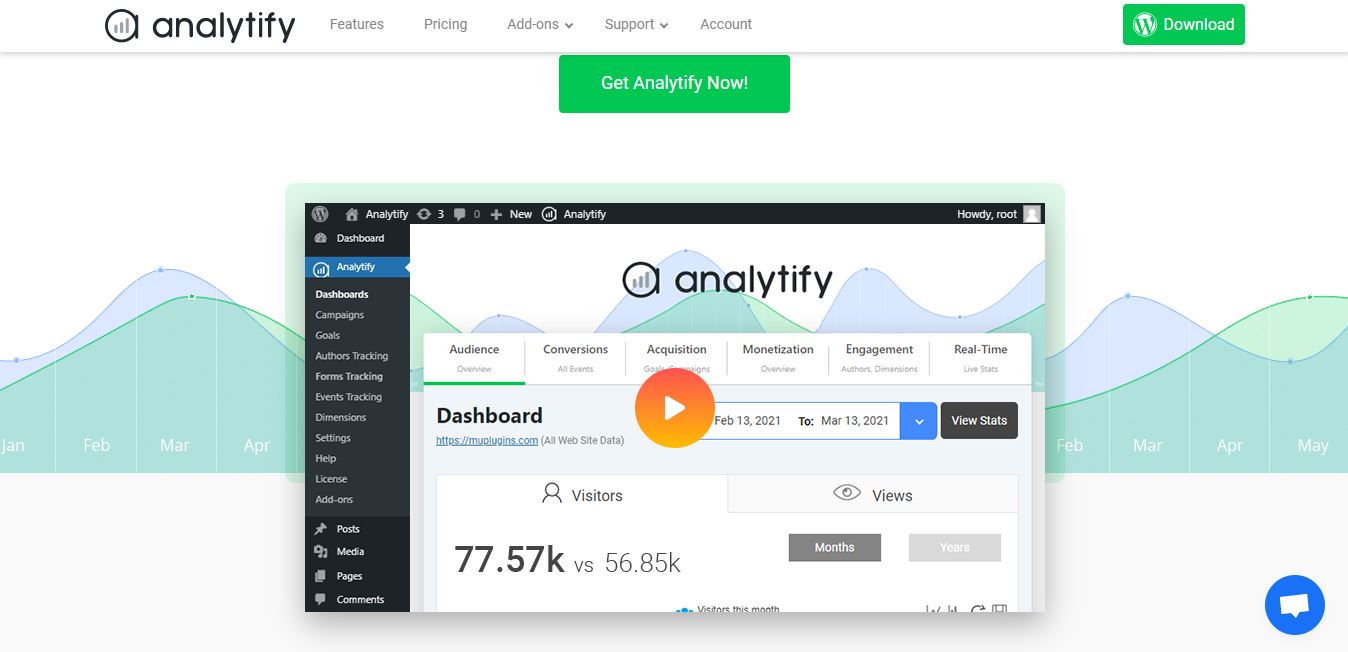 Analytify is another one we have to say in this article. My first impression of Analytify is there is a free version and it includes all features like others to view statistics (how many visitors and pageviews, number of new-returning visitors, the top pages, geographic data, etc)
Moreover, Analytify is easy to use for everyone. You can simply install to add the tracking code into your WP site within minutes then view reports on the WP admin area.
If you wonder what your page-level statistics (views, users, bounce rate) are and how to get the email notification reports, then let's download Analytify. To monitor your campaigns, their developers developed a powerful add-on to help you – UTM (Urchin Tracking Module) parameters.
Analytify also has 3 plans to choose from: The Pro plan costs $59 with 1 site support, the Conversion plan costs $99 with 10 sites support, and the Developer plan costs $299 with 50 sites support. Worth considering? Let's click our link below to see more details!
Learn More
Enhanced Ecommerce Google Analytics Plugin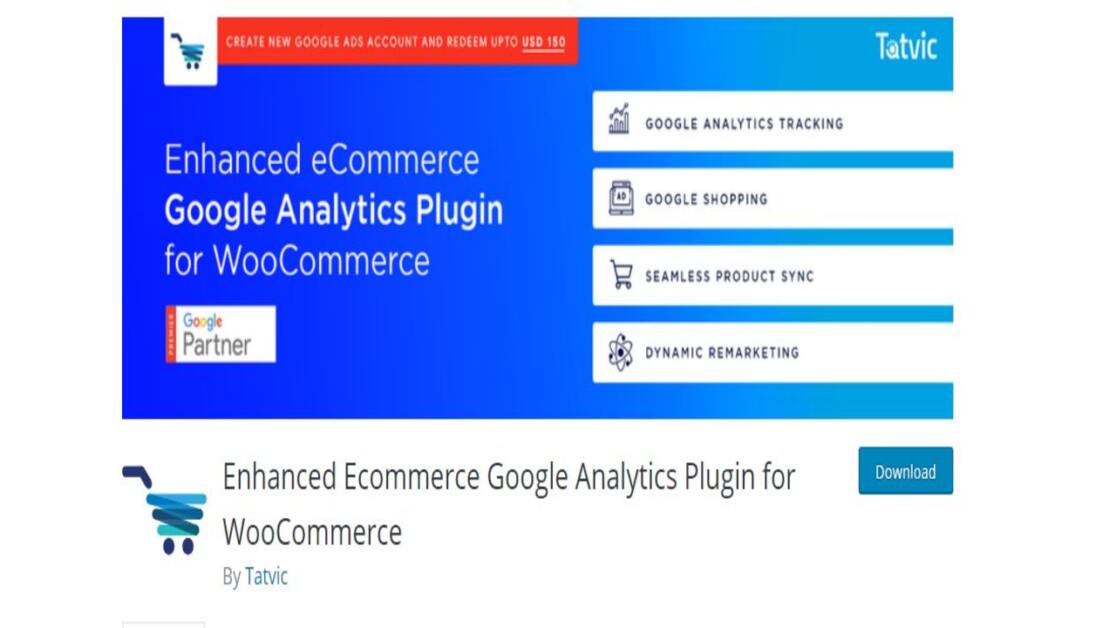 Do you want to download the best free Google Analytics plugin for WordPress in only 5 minutes? Of course, we suggest you use this Enhanced eCommerce Google Analytics Plugin. 
With the famous eCommerce tracking feature, you can learn more about user behavior and this surely helps you to optimize your online store.
Besides, the Enhanced eCommerce Google Analytics Plugin brings a new look with 4 enhanced eCommerce reports (Shopping Behaviour, Checkout Behaviour, Product Performance, and Sales Performance Report).
However, there are some limited functions of this plugin. If you are a newbie, it can help you with simple products, shortcodes, child themes, or subscription items.
Learn More
Google Analytics by 10Web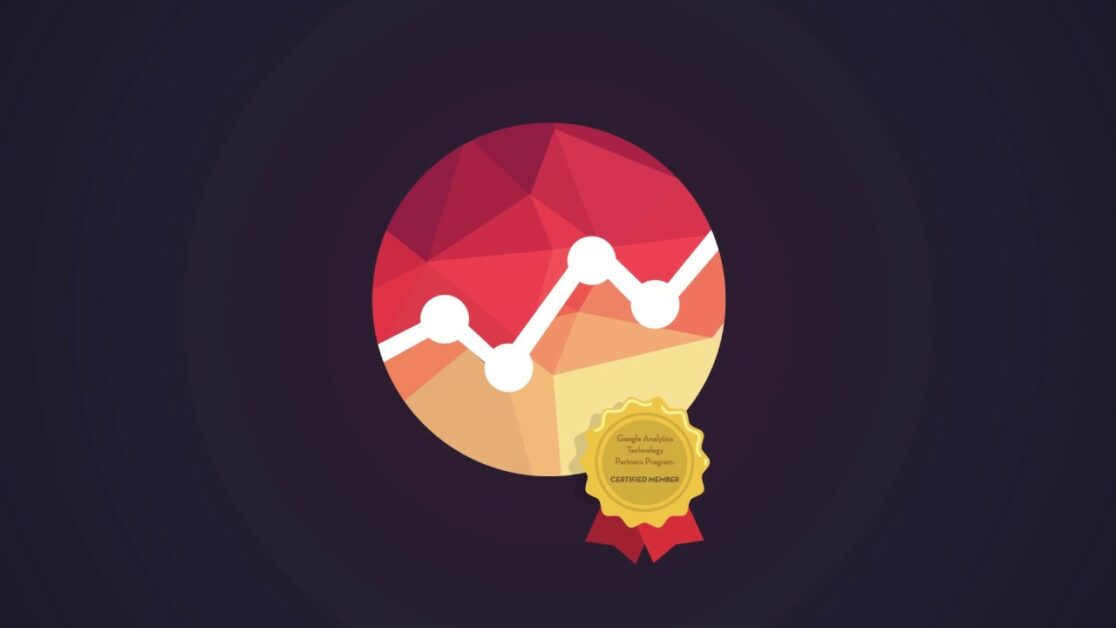 One of the Google Analytics plugins that integrate with Google Ads and also Google Adsense is absolutely Google Analytics by 10Web. You can easily collect all data of your campaigns and manage your goals without leaving the WP admin dashboard. Moreover, it takes only a single click for the installation process of this plugin then tracks Google Analytics reports.
In addition, Google Analytics by 10Web offers lots of other features such as eCommerce tracking, exporting reports into CSV files, or using automated email reports with a great customer service team that can solve any problems from users quickly.
Overall, it is worth downloading and setting up on your WP site.
Learn More
GA Google Analytics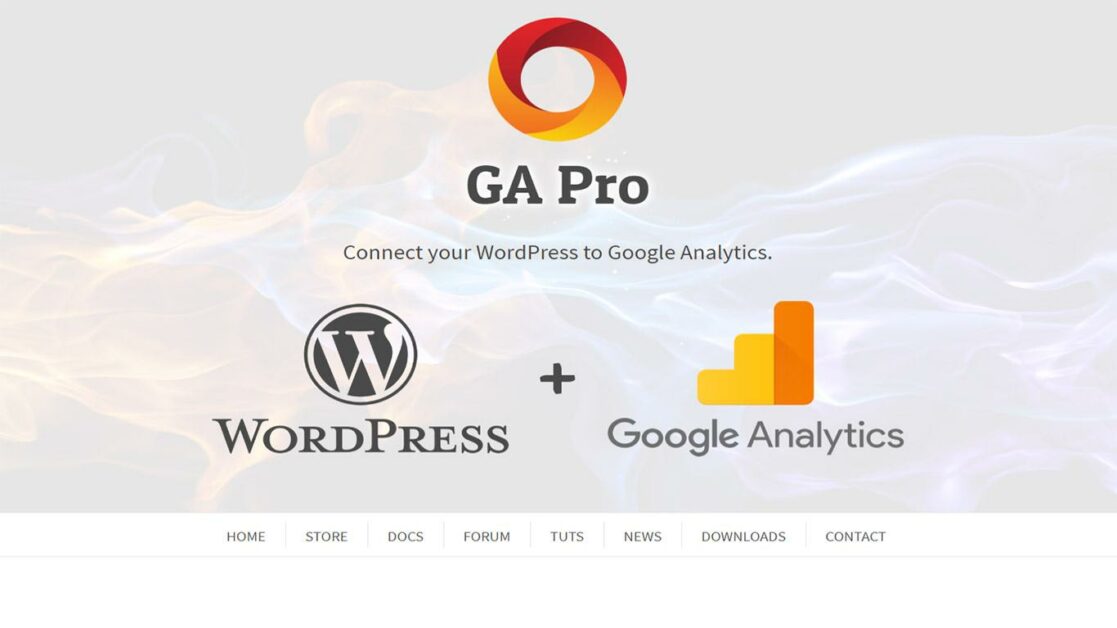 GA Google Analytics is definitely the best Google Analytics plugin for WordPress from Jeff Starr. It comes with a free and also paid version and each one has its own features.
Firstly, if you like to use a lightweight, simple & fast plugin, you can install the free one with a few clicks and get ID then add this google analytics tracking code to your site.
There are some features such as display advertising, support enhanced link attribution to know details of the links users click, IP anonymization, google optimization, and so on.
Secondly, you can get more features including the same features from the free version by upgrading to the pro version. Sadly, this plugin does not allow you to see statistics in your WordPress mind area. You have to log in via a Google Analytics account and view the data.
Learn More
WP Google Analytics Events
Last but not least in Google Analytics Plugins is WP Google Analytics Events. If you don't want to write any code but still want to track events on your site, the WP Google Analytics Events plugin is a perfect tool for you.
Tracking in-page navigation to know more users and contact form submissions, also comparing the performance of your CTA buttons are some main features of WP Google Analytics Events you can play. Moreover, go with the Pro version, you can use one-click link tracking and it supports even youtube and Vimeo.
Learn More
Final Thoughts
That's all for today and we hope that you can choose which Google Analytics plugin for WordPress is the best for your business. If you just need simple features, you can check out the free version like Analytify and if you require a reliable solution, you can go with a paid one like MonsterInsights. We hope this article is exactly what you are looking for and enjoy it.
Read More: 5 Keys To Adwords Optimization
---
Contact us, ThimPress:
Website: https://thimpress.com/
Fanpage: https://www.facebook.com/ThimPress
Youtube: https://www.youtube.com/c/ThimPressDesign
Twitter: https://twitter.com/thimpress