Today, let me tell you about a WP theme that was written as a tale: Speaker and Life Coach WordPress Theme| Coaching WP – the best WP theme for anyone who love to share his knowledge and to inspire people.
Read more on Theme Forest | Preview Demo
Coaching WP: Introduction
Nowadays, in a far faraway land, there is a kingdom. Thanks to the wisdom and the talent of the King, the residents in this area live happily together, accessing the most updated technologies ever used in this world. But the King, who used to be a great speaker of the kingdom, has now been too old to carry on his desire of being an inspirational guide for his beloved citizen.
Then he decided to make an announcement to the whole kingdom, that whoever succeeds in helping him to manage his mentoring career will be chosen to marry the stunning princess. This golden chance attracted hundreds of princes even from other kingdoms to come, but they all failed because they couldn't manage an effective method that met the King's demand: something can be able to promote his speeches and services, to act as a mentor, a trainer, a coach or even a therapist while it must be friendly to his inhabitants.
One day, a prince from ThimPress kingdom showed up in the Court Hall from early morning, said he was so impatient for meeting the King.
"What do you bring to me today, young man?", said the King.
"I would like to come here with one of my biggest designs for your website that will make you satisfy, your Majesty!", the prince bowed and answered, taking out a huge projector and screen.
"May I introduce Speaker & Life Coach WordPress Theme as known as Coaching WP… Let me show you, your Majesty, why this would be your perfect choice right now", he said.
You want to save your time, don't you? Coaching WP is super-easy to install.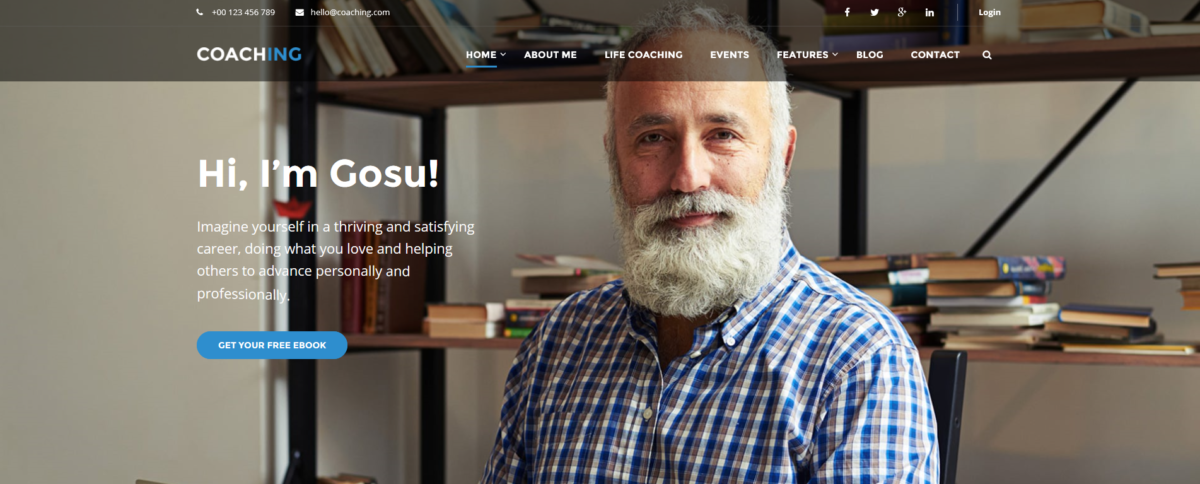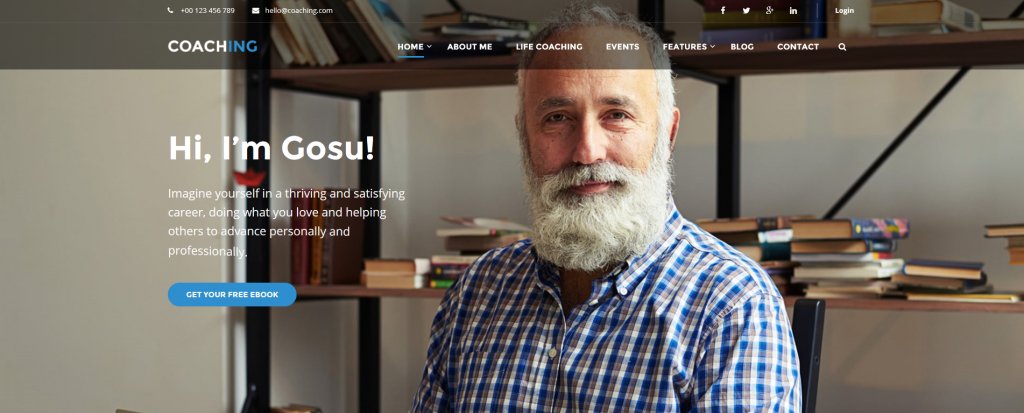 You are a leader and you have many things to do, many tasks to complete. So, what can be more wonderful if you just need 30 minutes to set up your website while it is still spectacular enough to attract thousands of views, and the rest of your time will be set aside to do more difficult duties? The powerful 30-minute-installation is ready to amaze you with astounding features. Saving time means saving effort and money.
Do you love beauty? Coaching WP is a real art of beauty.
If you want more people know your inspirational messages to the world, make them impressed. Coaching WP promises to never let you down with its fluid appearance right from the header of the page. ThimPress created various beautiful header layouts with different shades, which will surely surprise the visitors. No matter what devices they use to browse your site, Coaching WP guarantees to keep it look as perfect as possible on PC, tablets or mobile phones. Parallax effect is added as a fancy decoration for every photo you upload.
You can also adjust how your site look with a library of color scheme. More interestingly, the Drag and Drop Page builder is a magic tool for you to turn your website into exactly what you want without knowing any line of code. Yes, all you need to do is just drag and drop the blocks. You don't need to be an experienced developer to build your own site. Coaching WP will assist you to beautify it.
Get boring with texts? Coaching WP theme is full of animation on portfolio and Call To Action.
Forget the tedious portfolios with too many letters running around. Now it's the age of more creative ones! Bet that portfolio will be the very first part people tend to visit whenever they want a mentor or a coach. Therefore, it is important to make this part not only impressive but also professional. Don't let your visitor walk away. They will remember you with the special and different portfolio that they have never seen anywhere else before! But it doesn't end yet. Animation in Coaching WP helps to improve interaction between the visitors and the site. Anytime the mouse hovers the Call To Action, an elegant box pops out with detail information. Your visitors can somehow feel the excitement of your activities just through the effect on your site.
If you got trouble in managing data and events? Coaching WP is always by your side.
Events are one of the most frequent and important part of any coach and trainer's career. Coaching WP is integrated with clever system to pick the upcoming events out and a countdown clock so that nobody can miss them. Besides, when it comes to course promotion, this theme will be equipped with LearnPress LMS, the most well-known WordPress LMS, and play as a secretary for you, take care of all your courses. This powerful system will control all the courses, make them safe and go right.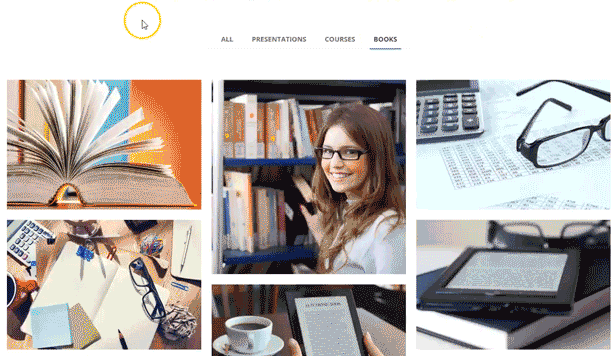 Let your course go viral with SEO on Coaching WP.
You want to spread the knowledge, but you need to make profit as well; that's why your trainees, your learners are also your customers. The best way to bring your products (courses, books, etc.) closer to your demographic is let them be seen first on search engine's result list. But how? Coach WP is an ideal solution. Google will detect all your tags, meta, texts and fields; speed up the site performance to increase your site's rank.
ThimPress always got your back.
As what I mentioned before, although Coaching WP is a flexible and strong theme, sometimes problems still come, such as plugin conflicts or other difficulties. Don't worry! An enthusiastic support team is ready all the time to answer all your queries, support you to deal with any trouble and make sure there's no threatening bugs. ThimPress believe a solid foundation will be the perfect basement to develop.
Coaching WP can do more than that…
Different homepage demos
WooCommerce added
Integrate Revolution Slider
Customize widgets & columns layouts
600+ fonts and 700+ icons
Contact Form 7
Support RTL and WPML
Mega Menu with various Menu layouts
Connect with MailChimp
If you are still reading till this line, I'm sure that you know the happy ending of this tale, right?
Now, it's your turn to experience Coaching WP yourself.
Read more on Theme Forest | Preview Demo
Read more How to Produce Quality Content for Making Money with WordPress Blog