Today I want to tell you the fascinating story of a WordPress theme called Speaker and Life Coach WordPress Theme – Coaching WP.
This outstanding theme has been created especially for people who are passionate about imparting their expertise and motivating others. It stands out as the best option for anybody looking to build a strong online presence and leave a lasting impression.
Introduction
Nowadays, in a faraway land, there exists a kingdom where the residents live happily together, thanks to the wisdom and talent of their King. However, as time has passed, the King has grown too old to fulfill his desire of being an inspirational guide for his beloved city. Consequently, he decided to make an announcement throughout the entire kingdom, stating that whoever can assist him in managing his mentoring career will have the opportunity to marry the stunning princess.
This golden opportunity enticed numerous princes, even from neighboring kingdoms, to participate. Unfortunately, all of them failed to meet the King's demanding criteria, as they were unable to devise an effective method that could fulfill his requirements. The King sought a solution that could promote his speeches and services, and act as a mentor, trainer, coach, or even a therapist while remaining user-friendly for the inhabitants.
One fateful day, a prince from the ThimPress kingdom arrived at the Court Hall early in the morning, expressing his eagerness to meet the King.
"What do you bring before me today, young man?" inquired the King.
"Your Majesty, I have come bearing one of my greatest designs for your website, a design that I believe will bring you utmost satisfaction!" replied the prince, bowing respectfully as he unveiled a large projector and screen.
"Allow me to introduce Speaker & Life Coach WordPress Theme, widely known as Coaching WP. Your Majesty, let me demonstrate why this would be the perfect choice for you at this moment," he said.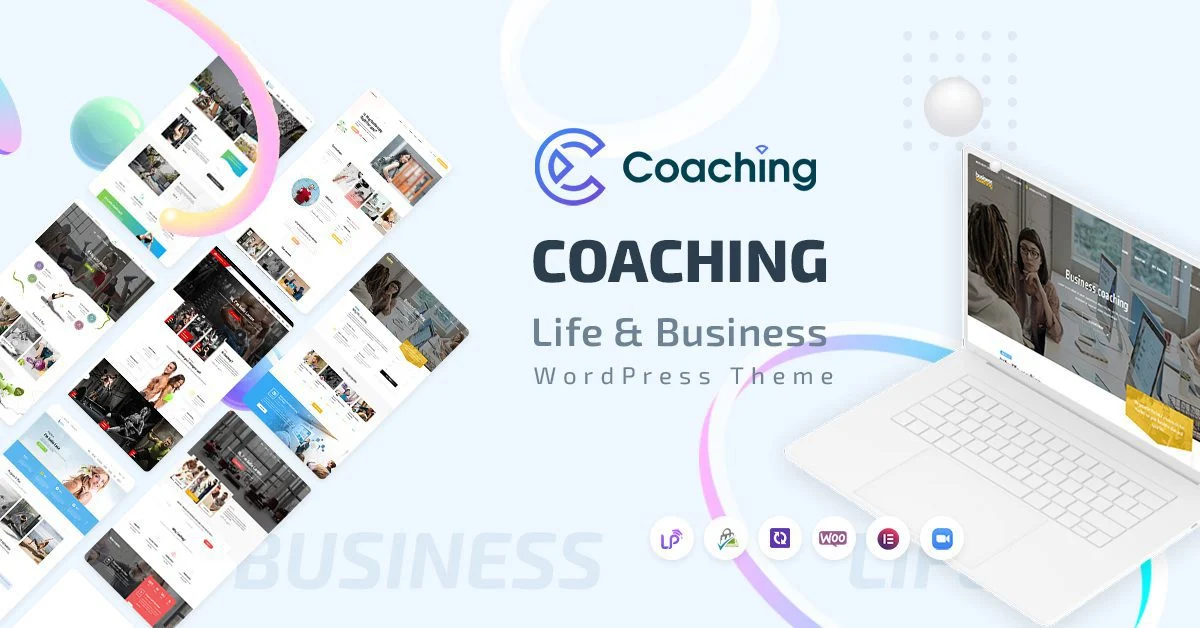 Super-Easy To Install
Wouldn't it be incredibly astonishing if you could build up your website in just 30 minutes as a leader with many duties and tasks to complete? Imagine having a website that is not only visually appealing but also has the potential to receive thousands of visitors, freeing up the rest of your time for more difficult tasks.
The impressive 30-minute installation, which offers a variety of amazing capabilities, will stun you. Your efforts will ultimately be more successful and cost-effective because you will have saved time, effort, and resources.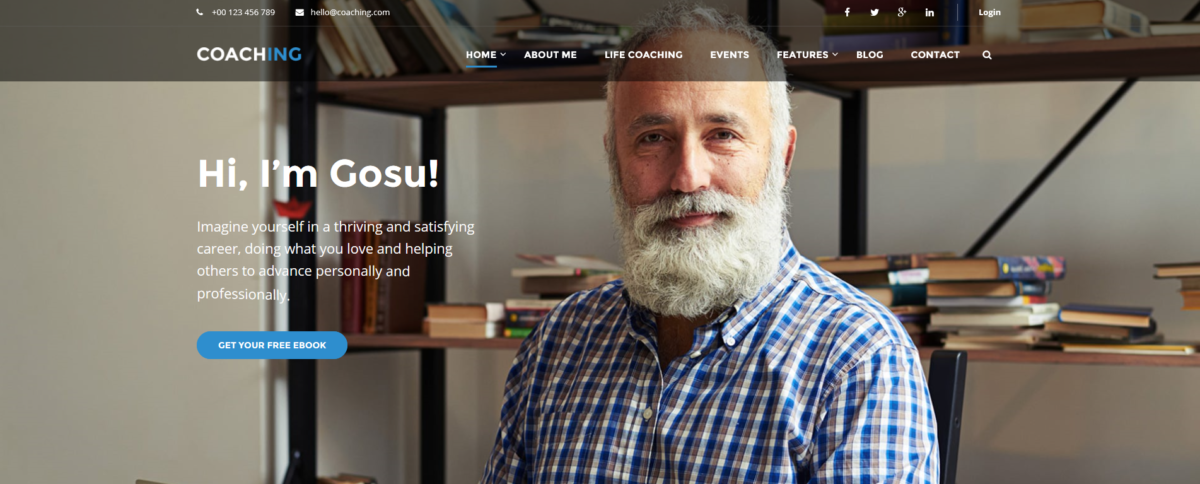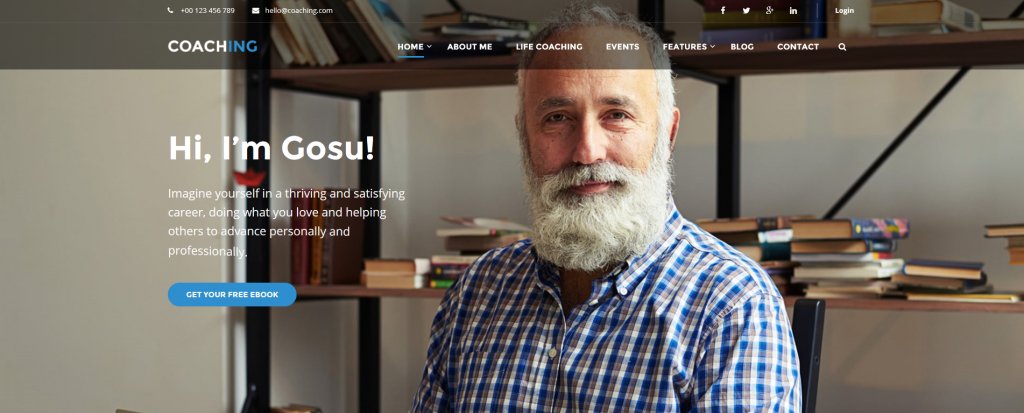 Real Art of Beauty
Coaching WP is your steadfast ally in ensuring that your motivational messages are seen by a larger audience because it offers a cohesive visual experience from your page's header onward. Prepare to astound your visitors with a selection of intriguing header templates created by ThimPress in a variety of colors.
No matter which computer, tablet, or smartphone people use to access your website, Coaching WP ensures a flawless display, since the theme is one of the best responsive WordPress themes. The captivating parallax effect further enhances each image you upload, giving your material an amazing touch.
Access a vast library of color schemes to unleash the power of customization, enabling you to precisely customize the look of your website. In addition, the drag-and-drop page builder acts as your magic tool, allowing you to change your website exactly how you want it to be without any prior coding experience. Drag and drop the blocks to see how easily your masterpiece comes to life. Whether you're a seasoned developer or a beginner, Coaching WP gives you the tools you need to easily enhance your site.
Call To Action
The days of laborious portfolios chock-full of text have long since passed. Creativity is king in this new century! Visitors will naturally look over your portfolio when looking for a mentor or coach. Making a strong first impression that is both impressive and professional is essential. You can capture your audience and make sure they never leave unnoticed using Coaching WP. Make a statement with a portfolio that is exceptional, outstanding, and unlike anything they have ever seen before to stand out from the crowd!
But Coaching WP goes a step further than that. The interaction between your site's visitors and its visitors is enhanced to new levels by dynamic animation. Experience the magic as an exquisite box filled with thorough information appears when the mouse interacts with your call to action and a subtle hover effect occurs. Through the captivating effects that have been perfectly incorporated into your website, your visitors will be completely engaged in the thrill of your activities.
Managing Data and Events
Events are one of the most frequent and important parts of any coach and trainer's career.
Coaching WP is integrated with a clever system to pick the upcoming events out and a countdown clock so that nobody can miss them. Besides, when it comes to course promotion, this theme will be equipped with LearnPress LMS, the most well-known WordPress LMS, and play as a secretary for you, taking care of all your courses. This powerful system will control all the courses, make them safe and go right.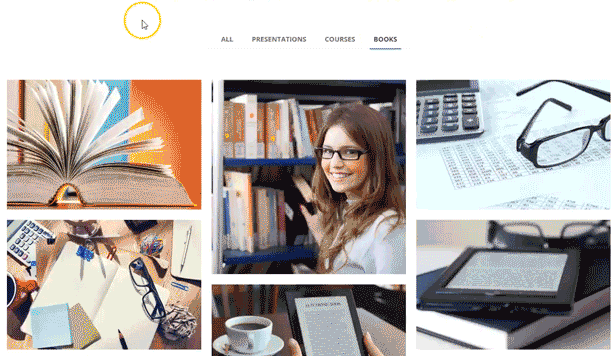 SEO optimization
It's crucial to establish a balance between making money and disseminating knowledge as a person who wants to do both. Your students and trainees are not simply valued customers; they are also students. Enhancing your items' visibility on search engine result pages is essential if you want to make sure that your offerings, such as courses and books, efficiently reach your target audience.
Enter Coaching WP, your ideal remedy. This outstanding theme optimizes a number of components, like tags, meta descriptions, texts, and fields, so that Google can correctly recognize and index your material. Coaching WP improves site performance by speeding up the loading time, which ultimately raises the rating of your site. Your offerings will be in a position to entice your target market with improved visibility and higher search engine results.
Coaching WP acts as a catalyst for bringing in more visitors, increasing engagement, and boosting your chance of success. Enable more people to benefit from your expertise while also expanding the audience for your information.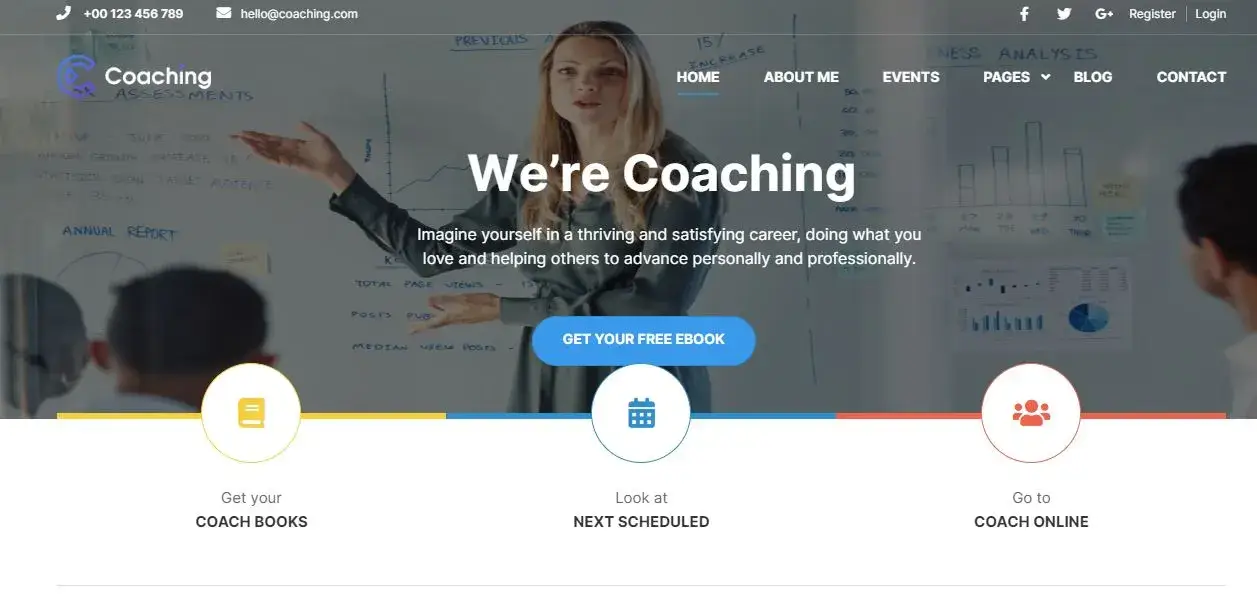 Exceptional Features
The possibilities are virtually endless with Coaching WP. Here are a few of the outstanding things you may expect:
Different homepage demos
WooCommerce added
Integrate Revolution Slider
Customize widgets & columns layouts
600+ fonts and 700+ icons
Contact Form 7
Support RTL and WPML
Mega Menu with various Menu layouts
Connect with MailChimp
ThimPress Always Got Your Back
As was already noted, despite Coaching WP's flexibility and durability, problems occasionally can occur, such as plugin incompatibilities or other issues. But don't worry! Our devoted support staff is prepared and readily available around the clock to respond to any of your questions, help you get around any difficulties, and make sure that dangerous bugs are quickly dealt with. We at ThimPress are adamant that a strong foundation is necessary for smooth development.
With our dedicated support team by your side, you can be confident that no obstacle is insurmountable. We are dedicated to giving you the direction and support you require to go through any challenges you may encounter. Our first goal is to ensure that your Coaching WP theme runs well and leaves you stress-free. We will work together to create a strong structure that will serve as the basis for your success.
Conclusion: Turn to Experience Coaching WP Yourself
The happy conclusion of the tale is only the beginning. Now is the moment for you to start your own trip with Coaching WP and benefit from its unmatched capabilities. Improve your online visibility by building an engaging website that has an impact.
Try Coaching WP right away to open up a world of possibilities for your website. Don't wait for anymore. Your remarkable journey is waiting!
---
Contact us, ThimPress:
Website: https://thimpress.com/
Fanpage: https://www.facebook.com/ThimPress
Youtube: https://www.youtube.com/c/ThimPressDesign
Twitter: https://twitter.com/thimpress