Learning Management System is still a new definition but LMS WordPress Theme is now a hot trend.
For newcomers in the business, setting up a website will be a big problem. For any type of business, you must have a solid website to support and represent your brand. Furthermore, a website needs a good platform to operate, and WordPress is the best among those platforms in the market. There are various themes for you to go on and not depend on website-developing companies.
Let's take a look at the best Learning Management System (LMS) WordPress Themes.
Eduma – Learning Management System WP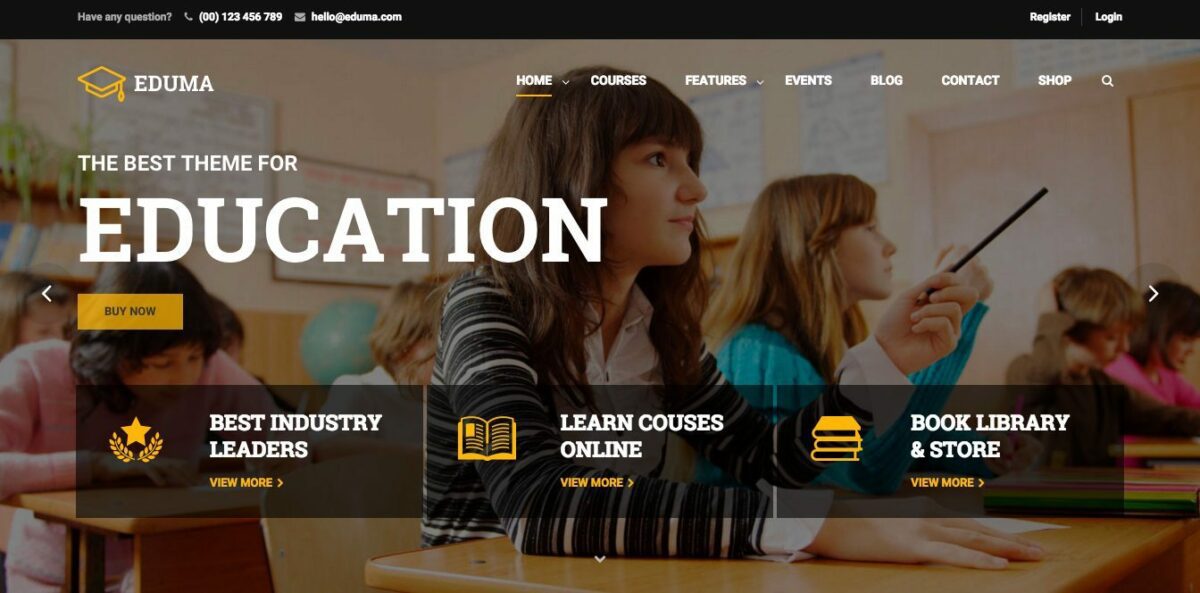 Eduma is an excellent premium WordPress theme that has prebuilt construction for education websites. This theme has LearnPress – one of the most popular WordPress LMS plugins currently. You can change, modify, and adjust every corner of your informative web.
The design is 100% responsive and user-friendly, which means your site will work perfectly on all screen resolutions and devices. We offer various payment methods, including PayPal, WooCommerce, etc. With the Curriculum Manager widget, web managers can post quizzes and courses freely. Students can simply find the courses using the Ajax search function.
You are free to edit and add/remove blocks as we have imported the drag & drop page builder. The 1-click importer will help you import demo contents fast and simply. If you buy this theme, you can use the abilities of 8 convenient LearnPress add-ons and also save a bunch of money.
Learn how to create a Udemy or Coursera clone easily with LearnPress.
Epsilon – Theme for Learning Management System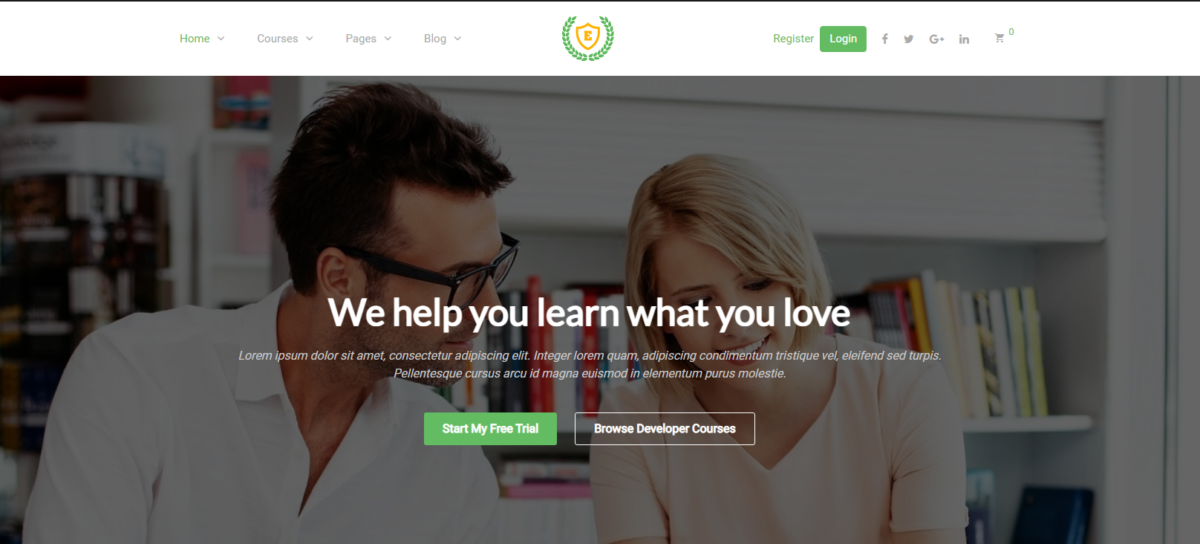 If you intend to find a modern and powerful WP Learning Management System theme, Epsilon will be a good choice for you. Having a ThimPress unique LMS plugin, it will make sure that your site will fully be designed and dynamic.
Since Epsilon and LearnPress teamed up, they have been painstakingly designed and created together. Users may now easily access a variety of capabilities, such as LMS course administration, units, sections, quizzes, video documentation, and much more. In addition to being effective, these tools are also remarkably simple to use and take only a few minutes to set up.
Additionally, you are allowed to combine particular courses or ratings within the Courses Collection to fit your needs. Online and offline payment methods like PayPal, Stripe, and others are easily accessible to further increase convenience. Since Epsilon is a part of the team of the best SEO WordPress themes, you can be confident that your website will be optimized for Google search engine standards.
It can also solve your demand for having an online shop on your site. WooCommerce will take care of it so that web owners can sell their courses or anything else.
WPLMS- Social Learning Management System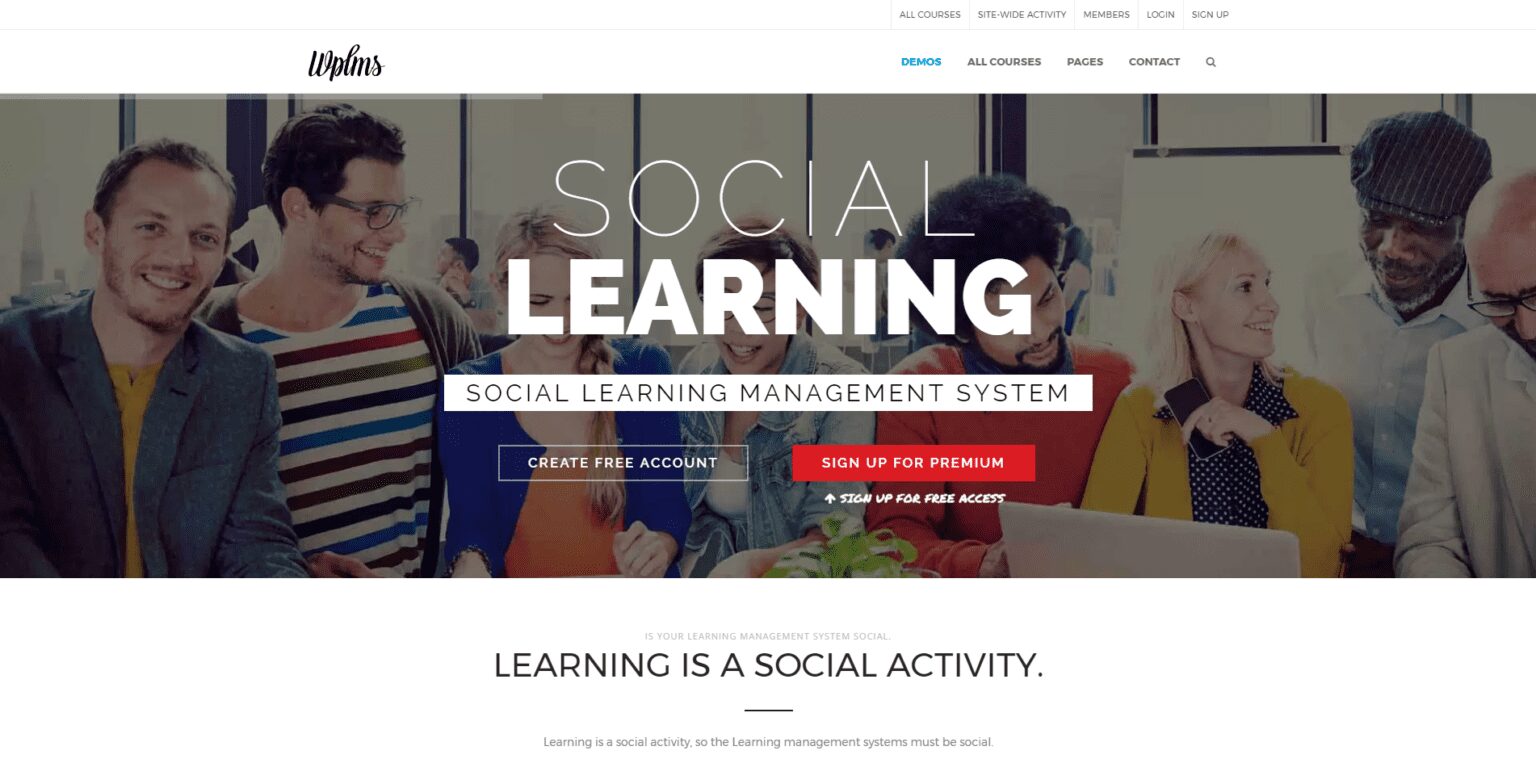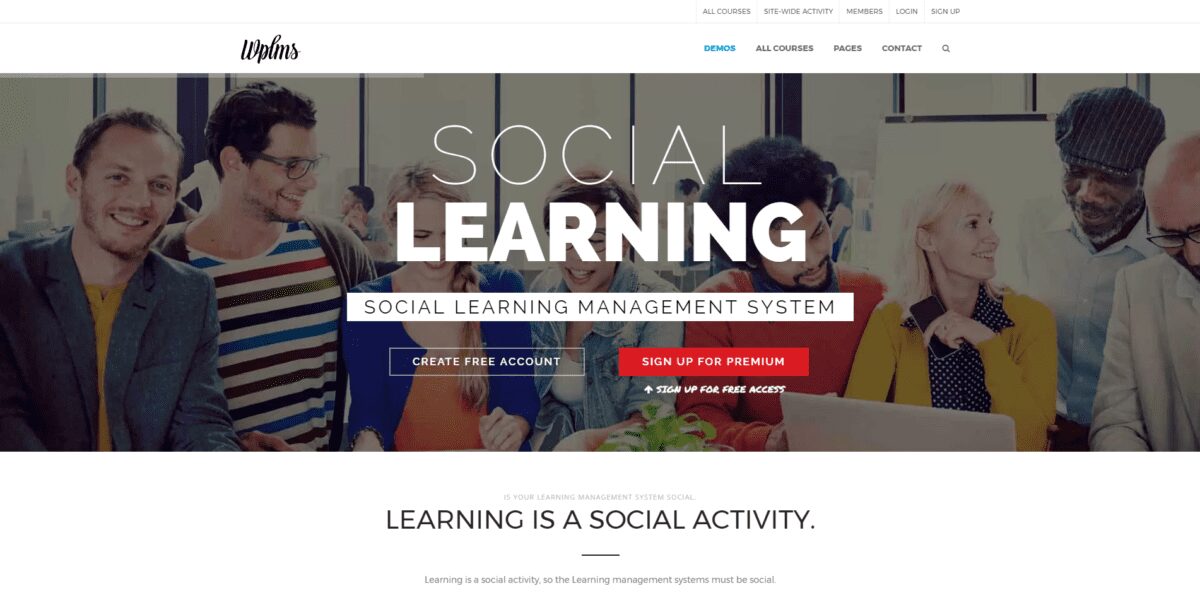 WPLMS is a high-quality WordPress LMS theme for all users. Web managers can observe, optimize, and adjust courses and activities for all students and learners. Also, you can create and advertise yours on the Internet.
How it proceeds is very simple: it will convert your normal WordPress site into an LMS. The theme is very adaptable since it can support other plugins like PMPro, DwQ&A, BadgeOS, etc. When you download the theme, it will provide you with 8 premade plugins to apply to your site. The final goal will be to improve the visitors' experience and browsing turns. You might want to check the preview to confirm the information is publicized.
Downloaded more than 6900 times, WPLMS is surely one of the most popular teaching system themes in the market. 4 distinct themes can be applied alongside the child theme with only 1 click. It will only cost you about 5 minutes or less.
Skilled – Online Education WordPress Theme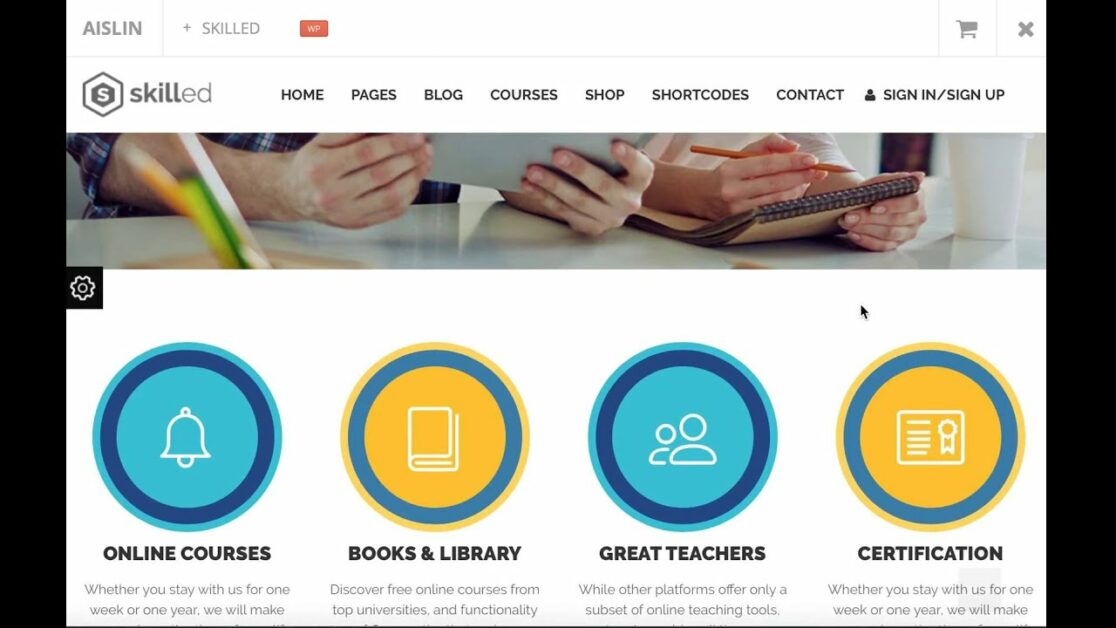 Skilled is a WordPress theme for schools and online education. If you are searching for a modern and prevalent platform, this theme will be easy to handle online courses at all levels, from beginner to professional.
With the Sensei online course plugin, users can sign up for courses or even pay for them. Thanks to the WooCommerce e-commerce plugin collection, you will have a variety of payment gateways and methods of commercializing your online courses. The additional plugins (Contact Form 7, Event Calendar) provide you the ability to gather users' information and keep them on track of unfinished lessons.
Invent – Simple WordPress LMS Theme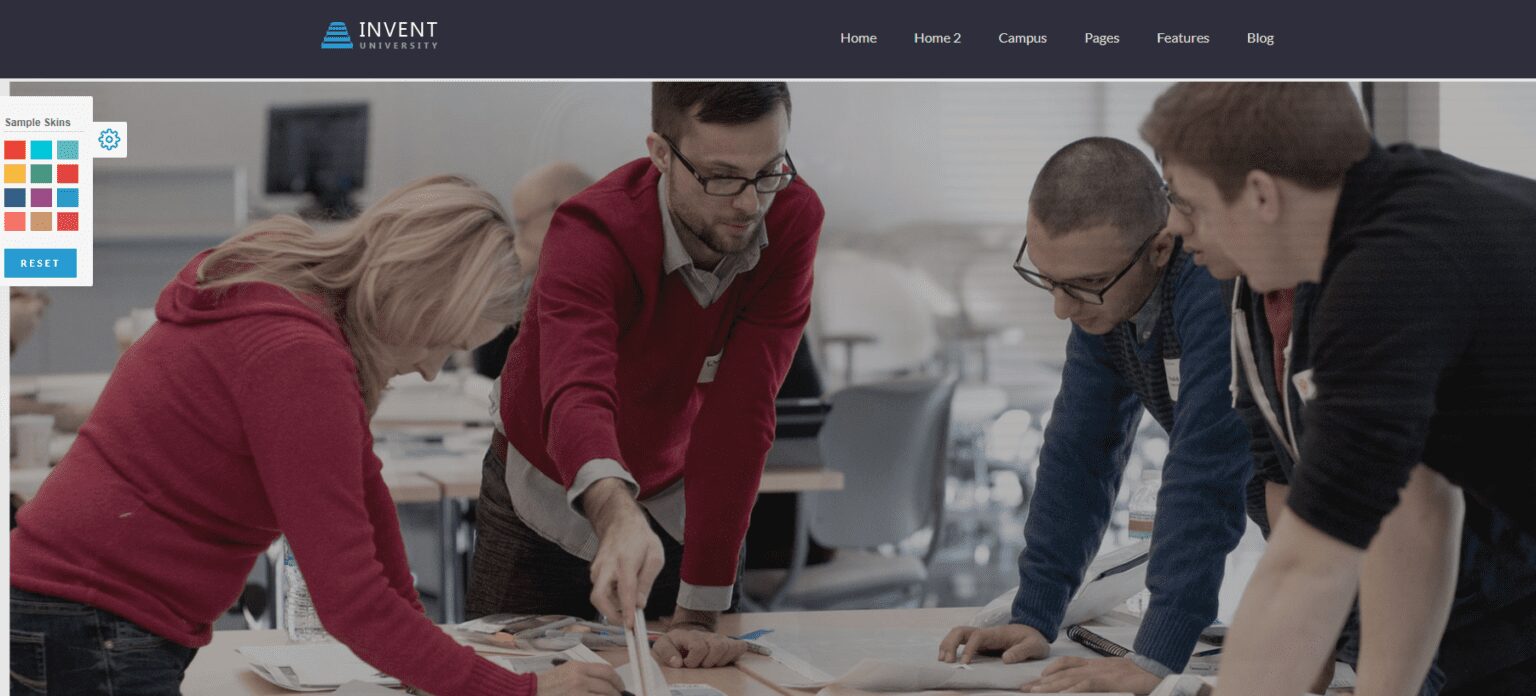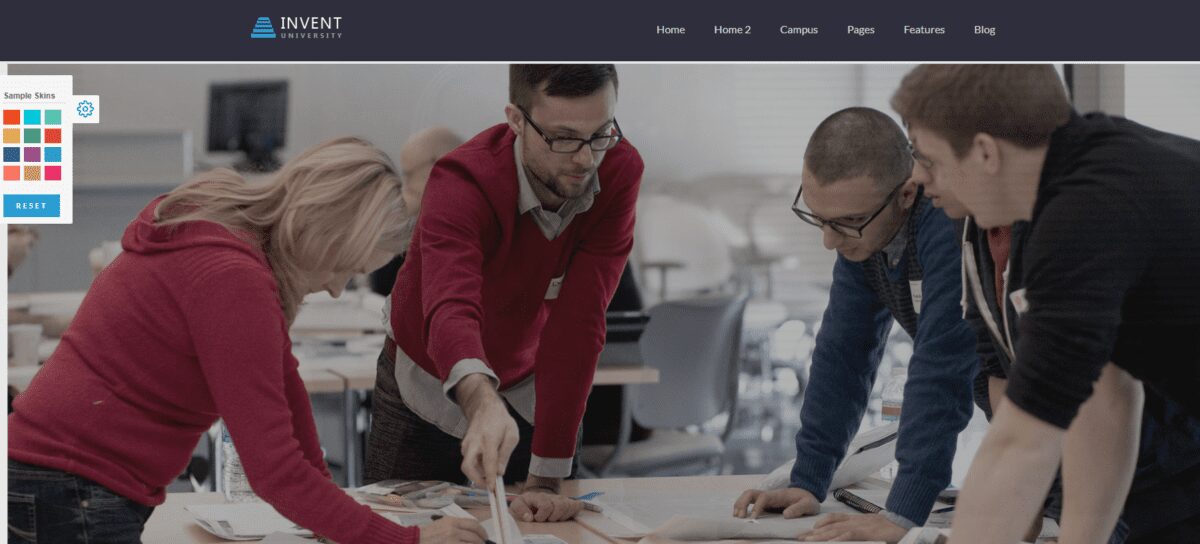 Invent is a WordPress theme that will get on well with all versions of WP. The theme is born to boost the affection of the education website with tons of features and tools. The site's outlook is unique and attractive, which may impress both current and potential learners. Not only suitable for learning organizations, but Invent can also be applied to business companies, agencies, and incorporates.
LearnDash is a very specific LMS plugin and Invent is fully compatible with LearnDash. To use this feature, you must purchase a LearnDash license first. When you get it, it will offer you a variety of page templates and personalized sidebar options. You can read the instructions in the free theme demo.
This theme provides you with the Short Code builder and 60+ personalized shortcodes for customization. Some other features are multiple post variations (Department, Courses, Events, etc), Parallax backgrounds, sliders, buttons, and carousels.
WP Education – Colorful WordPress LMS Theme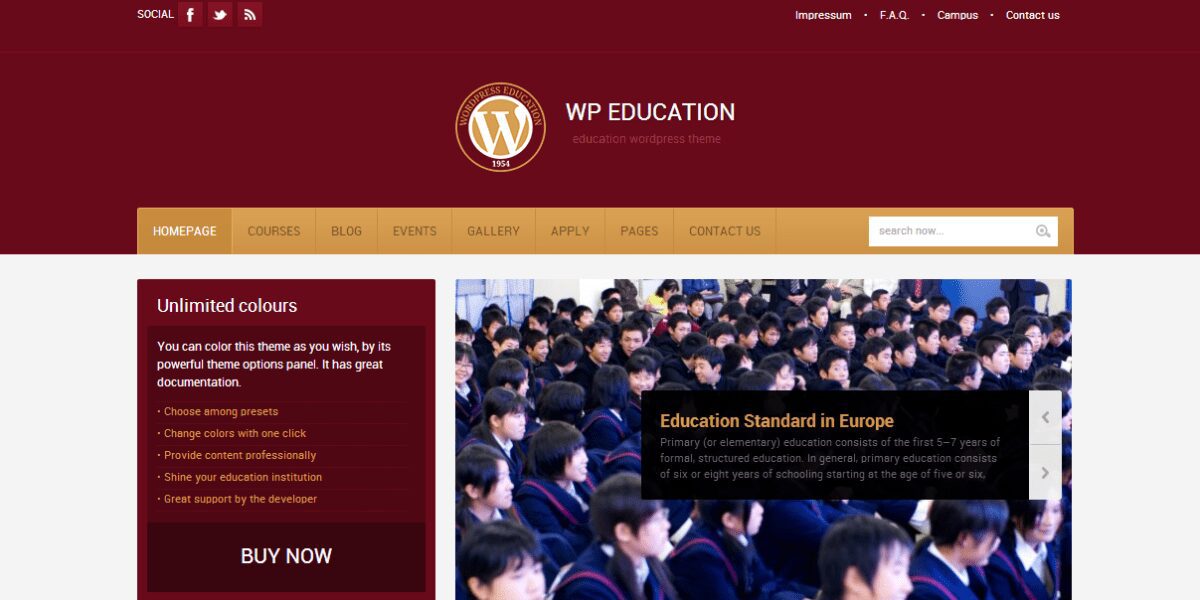 WP Education is a WordPress LMS theme that works as a gate for educational organizations to post courses, updates, and consultations.
The theme uses LMS's LearnPress so that students in class interactions are always kept in line. It will offer you a prebuilt layout for design. The drag-and-drop page builder will simplify your process of setting up and uploading entire courses. You can view and manage the customizations in the admin panel.
Once you get the theme, you will receive WooCommerce's advantages. You can simply set up registration forms and profile pages for users, and save them for later usage. It gives you 2 homepages and headers and the theme is fully responsive. Your site will work properly on all devices and screen resolutions. Also, the theme is child-theme available. In short, WP Education is a premium theme for all browsers. It will embrace and lift your website's quality and popularity.
EducationPress – eLearning LMS WordPress Theme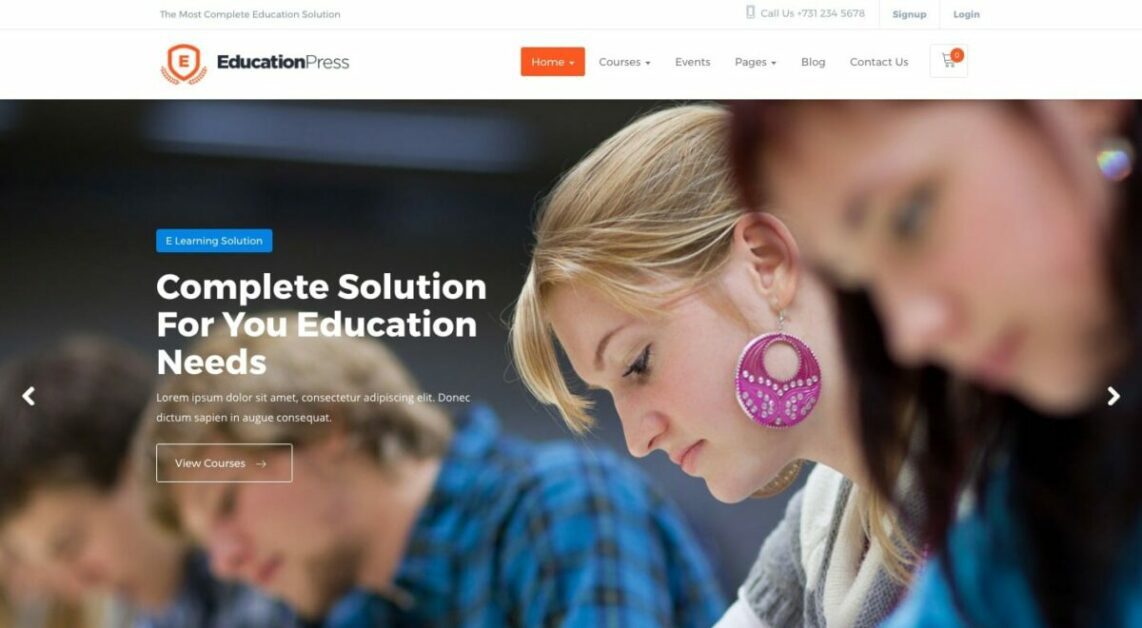 EducationPress is a powerful and colorful WordPress theme for online classes and courses. It has a set of powerful and multipurpose plugins, frameworks, and templates for universities, colleges, and all other kinds of educational organizations.
You can add new courses and classes without messing up the current routine in a few minutes. With the CoursePress Pro plugin, your site will benefit from a bunch of advanced features and widgets to increase your site's efficiency.
It provides you with an environment to take learning online: various course types (video, image, or text), quiz implementation, audio upload, and student file upload to discuss/share. There are also automated and manual instruction assessments and 13+ payment gateways.
Edukul – Academy LMS WordPress Theme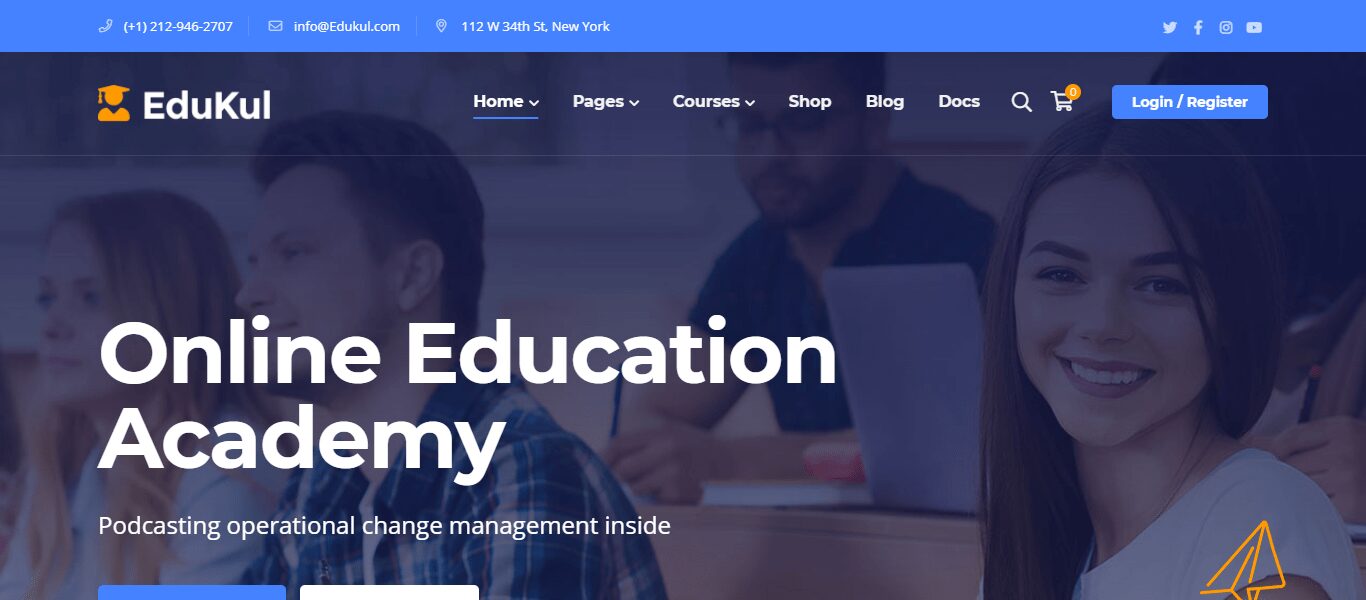 Edukul appears to be an amazing Learning Management System theme for WordPress users. When you download it, you will get 3 free pre-built homepage demos and all other features for building your planned education website. With the drag-and-drop WPBakery page builder, you will only have to spend a few minutes to set up. Besides, you can edit and manage the outlook as you like.
Edukul is fully responsive and retina-ready, making it work well on all devices. Other helpful features are slider revolution, multiple headers, 70+ elements, sticky headers, etc. Edukul has more than what is listed here, and it will be beneficial support for your site's success.
MaxCoach – Online Courses LMS WordPress Theme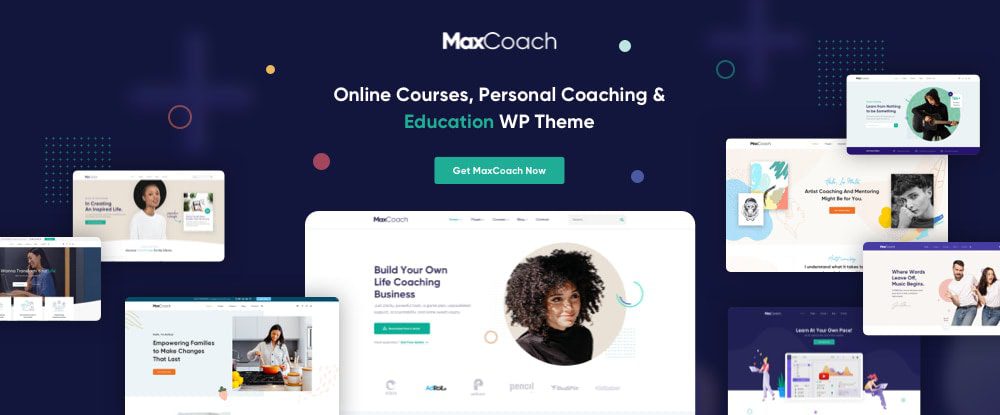 MaxCoach is a WP Learning Management System theme for beginning educational website developers. The theme offers you all tools and widgets to build your website fast and simply. No code is needed when you use the service of MaxCoach.
Many useful features will help you a lot in the process of creating the learning web: password-protected quizzes, tests, courses, social media, and RTI compatibility. The theme also is one of the best responsive WordPress themes, so your site will run continuously without a sudden stop or error.
EduMall – AIO LMS WordPress Theme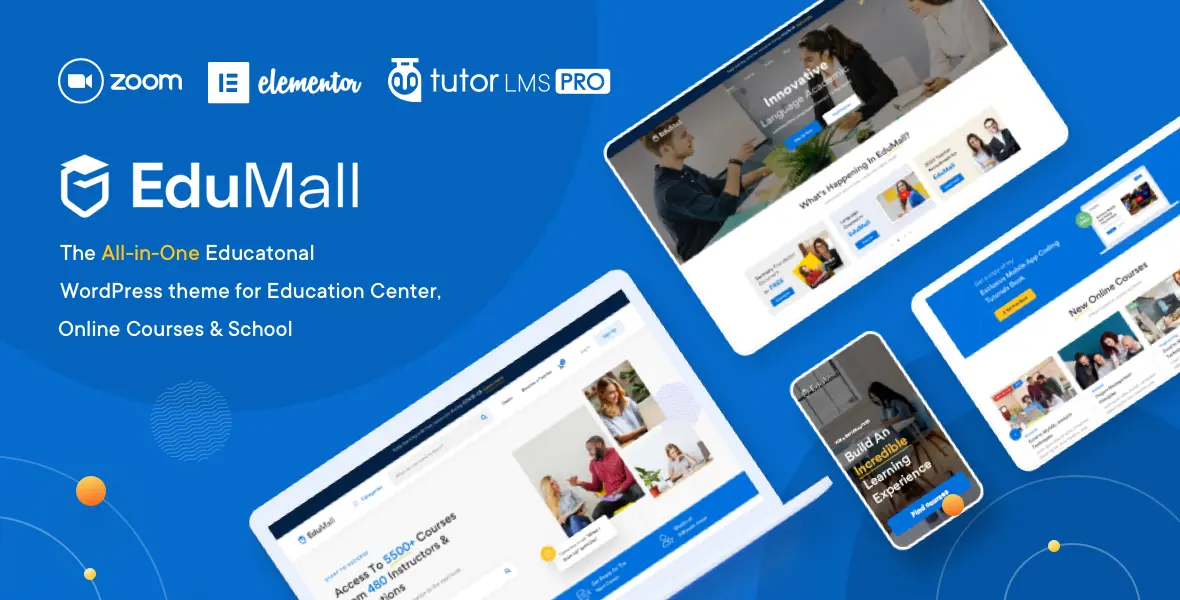 If you intend to find a WP Learning Management System theme for your site, EduMall might be one of your best selections. With tons of suitable features and tools, you can do whatever you have planned for your education website.
It provides you with an environment for your site's development: a stable and amazing platform, an up-to-date canvas, endless possibilities, and many more. EduMall is very convenient, everyone can work with it, and it is user-friendly, too.
Educavo – Education & LMS WordPress Theme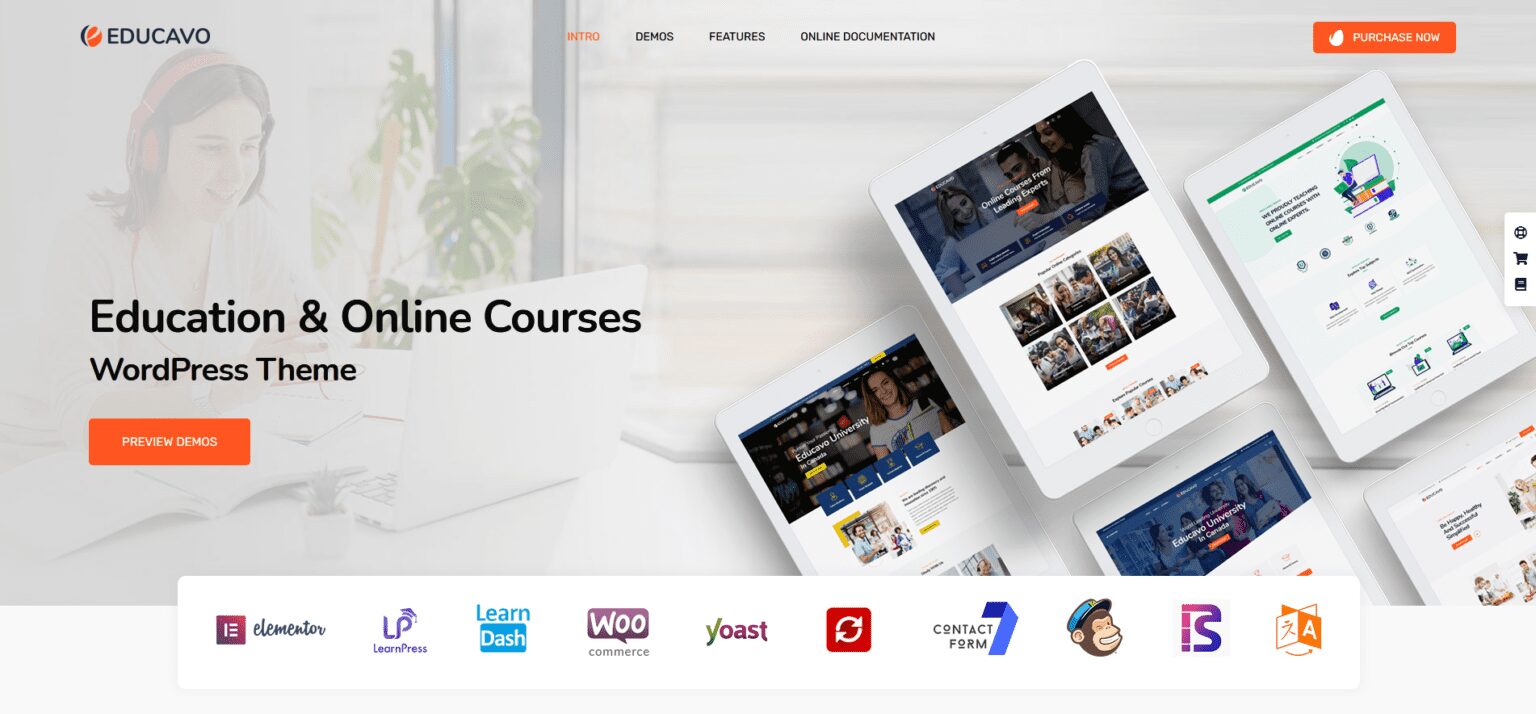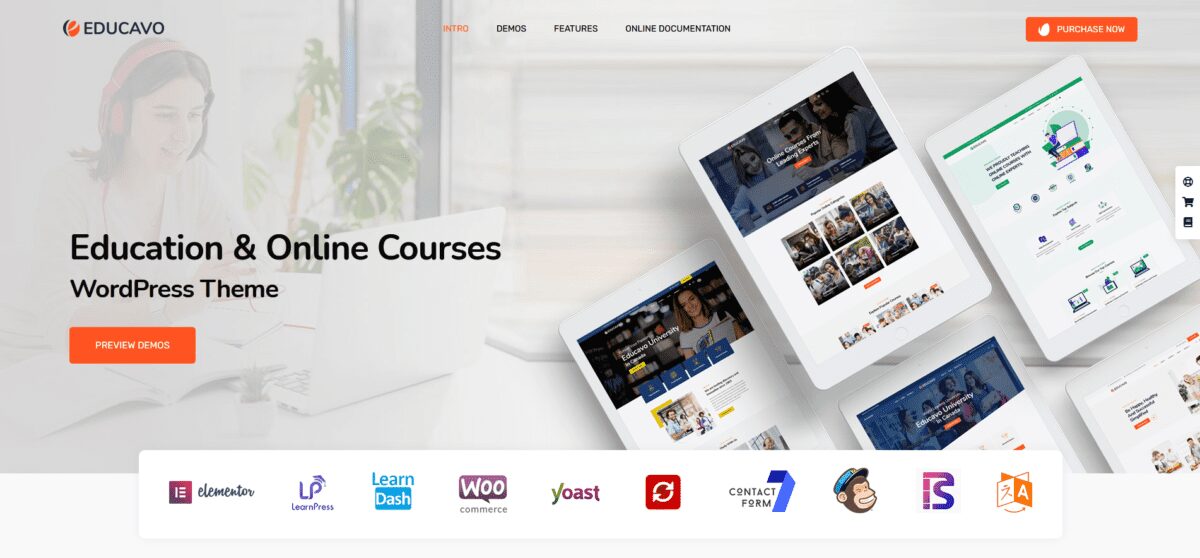 Educavo is worth having a place on this list. Using the theme, you will be given 14 demos and 120+ elements to create and manage your website. The theme is retina and RTL-ready.
The possibilities of Educavo are endless since you can do whatever you'd like your site to be with confidence and convenience. There are various pre-made demos for users to choose from. Not only endless demos but Educavo also offers you WooCommce/LearnDash/Tutor LMS compatibility, slider revolution, etc.
Skans – Learn With Skans LMS WordPress Theme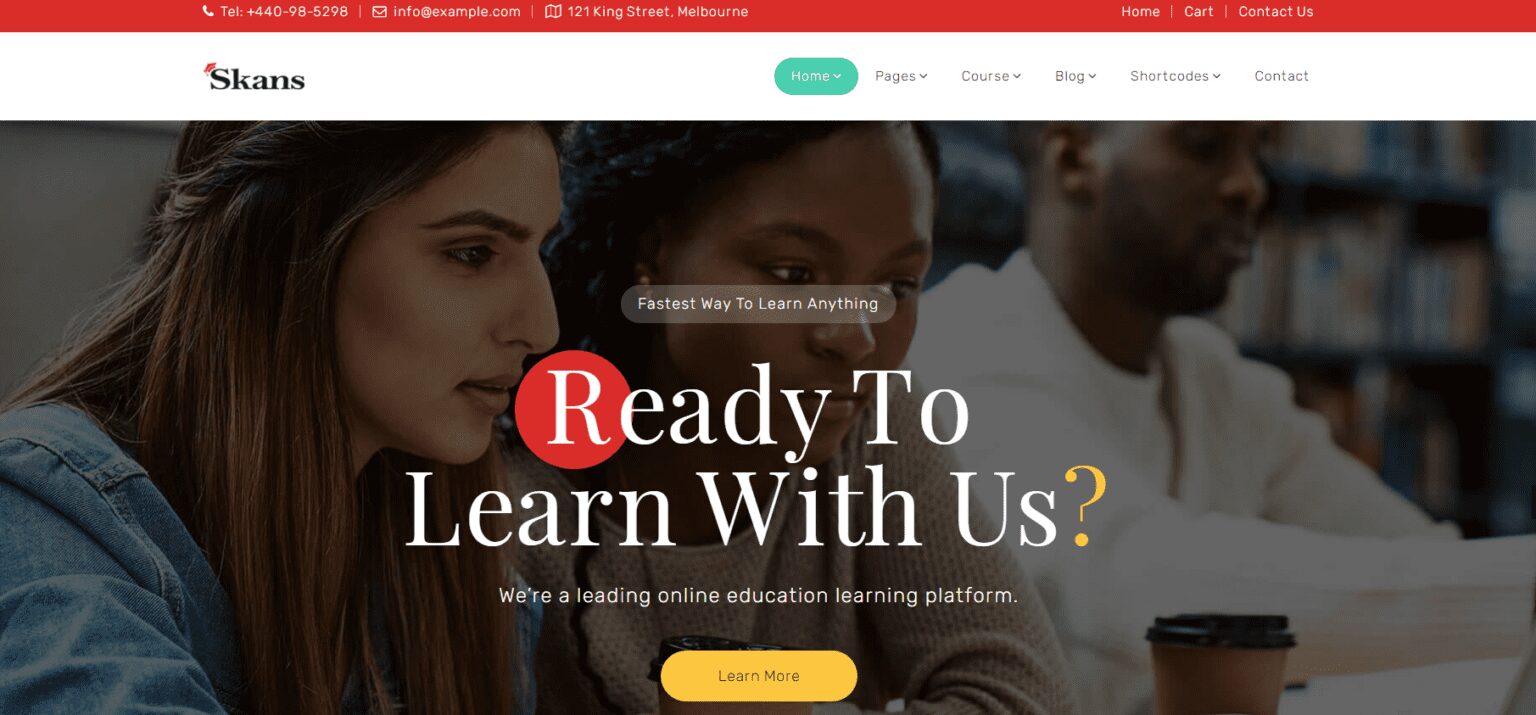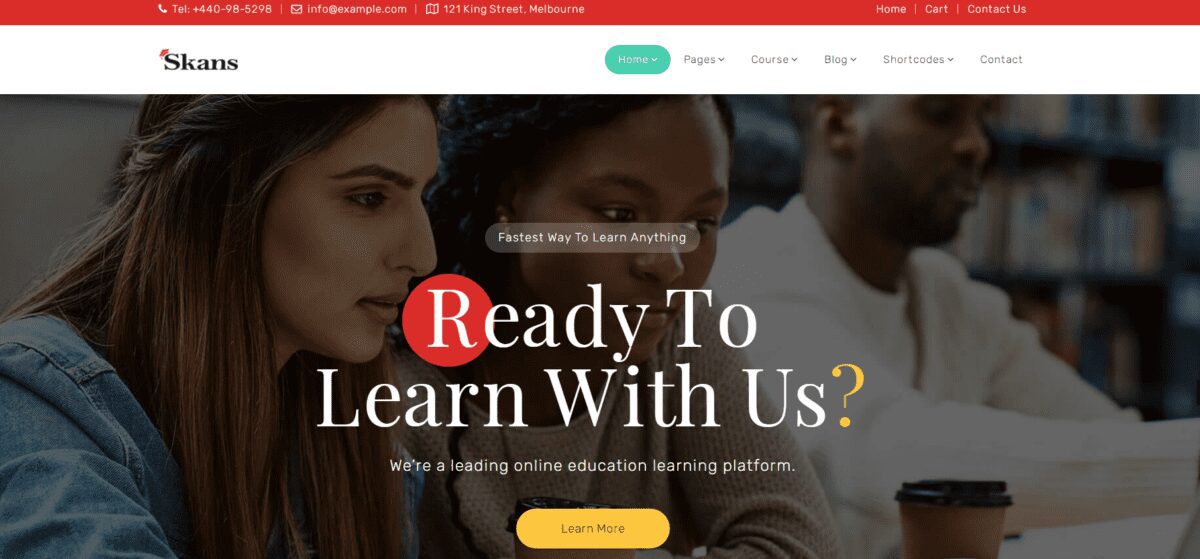 For WordPress users, Skans is very popular. It is a WP LMS theme for Learning Management Systems and other online education courses. Its main purpose is to serve as an LMS, but it can bring you to what type of site you are heading to.
You will be given a lot of premade page demos for you to apply and save your precious time and effort. The unique page builder lets you edit your website to suit your plan best. Dark/Light mode, WooCommerce compatibility, slider revolution, and easy shortcodes will help you very much. On the other hand, the theme is RTL-ready.
iGuru – Study With LMS WordPress Theme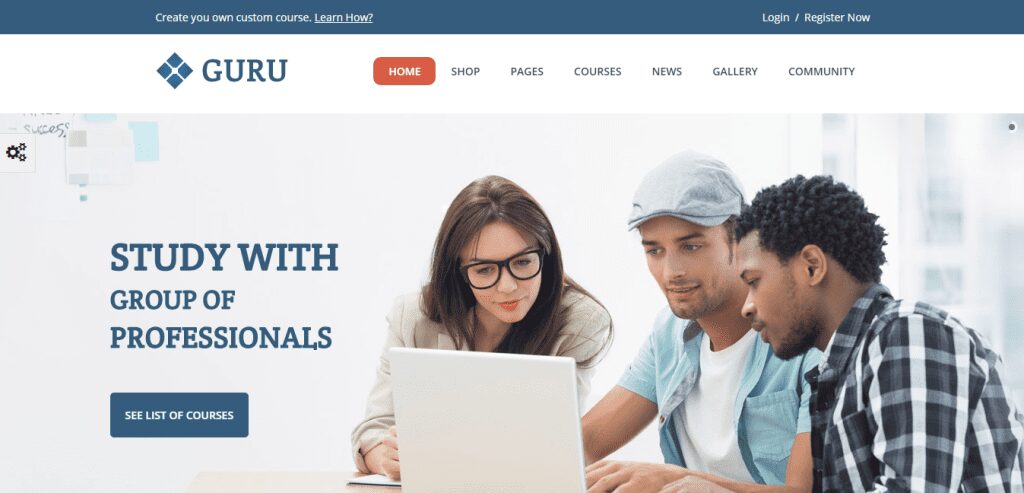 iGuru is a WP LMS theme packed with 3 premade main page demos, 2 portfolio layouts, 30+ custom elements, and 15+ blog templates. iGuru has tried its best to satisfy most customers with their needs. In short, less time adjusting your site is the best advantage of this theme.
iGuru offers you SEO customizations, 1-click import, fast page-loading, reviews, and some other attractive possibilities. With iGuru, your educational website will be unique from the others.
UOCE – University of College Education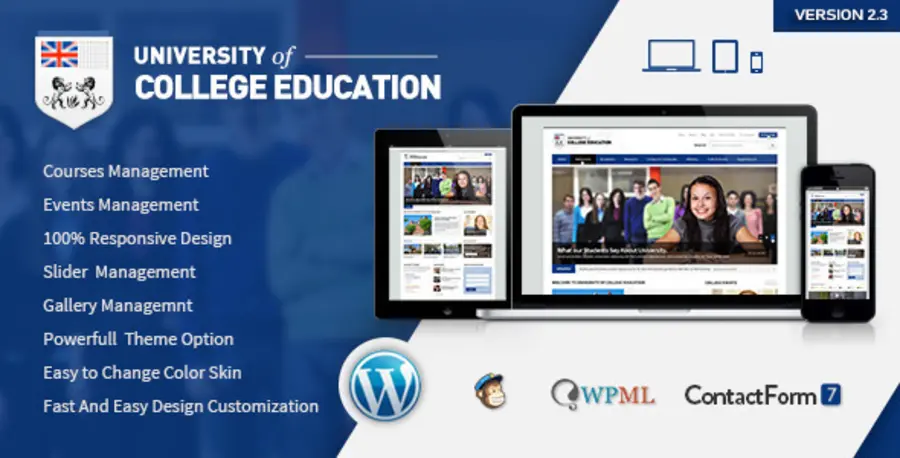 UOCE or University of College Education is a WordPress LMS theme for universities and colleges.
It is very powerful and worth trying. It has a practical event management system, a wide gallery, and perfect course management progress. The theme also offers team management options, endless sidebars, a short-code builder, an advanced administrator panel, and many visual–related features. With full responsiveness to all browsers and devices, UOCE can bring knowledge to anyone in any place in the world at any time.
Kalvi – LMS Theme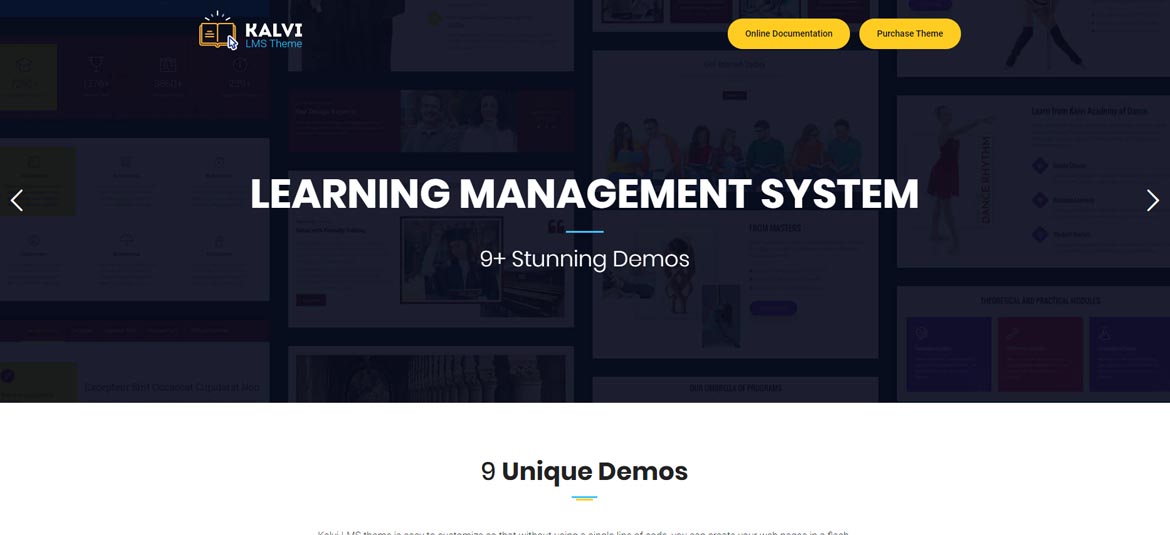 In case you are a newbie web developer, Kalvi will help you a lot in building up your educational website. Kalvi provides you with amazing and unique premade demos, loosening your effort in editing.
With course management, you can create and manage online courses. There are 250+ interface sections, 600+ page elements, and components to bring you the best experience with your site. Also, there are 10 types, of course, listings as well.
With Kalvi, you can enjoy the advantages of some other premium plugins are slider revolution, drag and drop page builder, layer slider, and many more. Kalvi will bring your site differences from the other educational websites.
Udetor – LMS Education WordPress Theme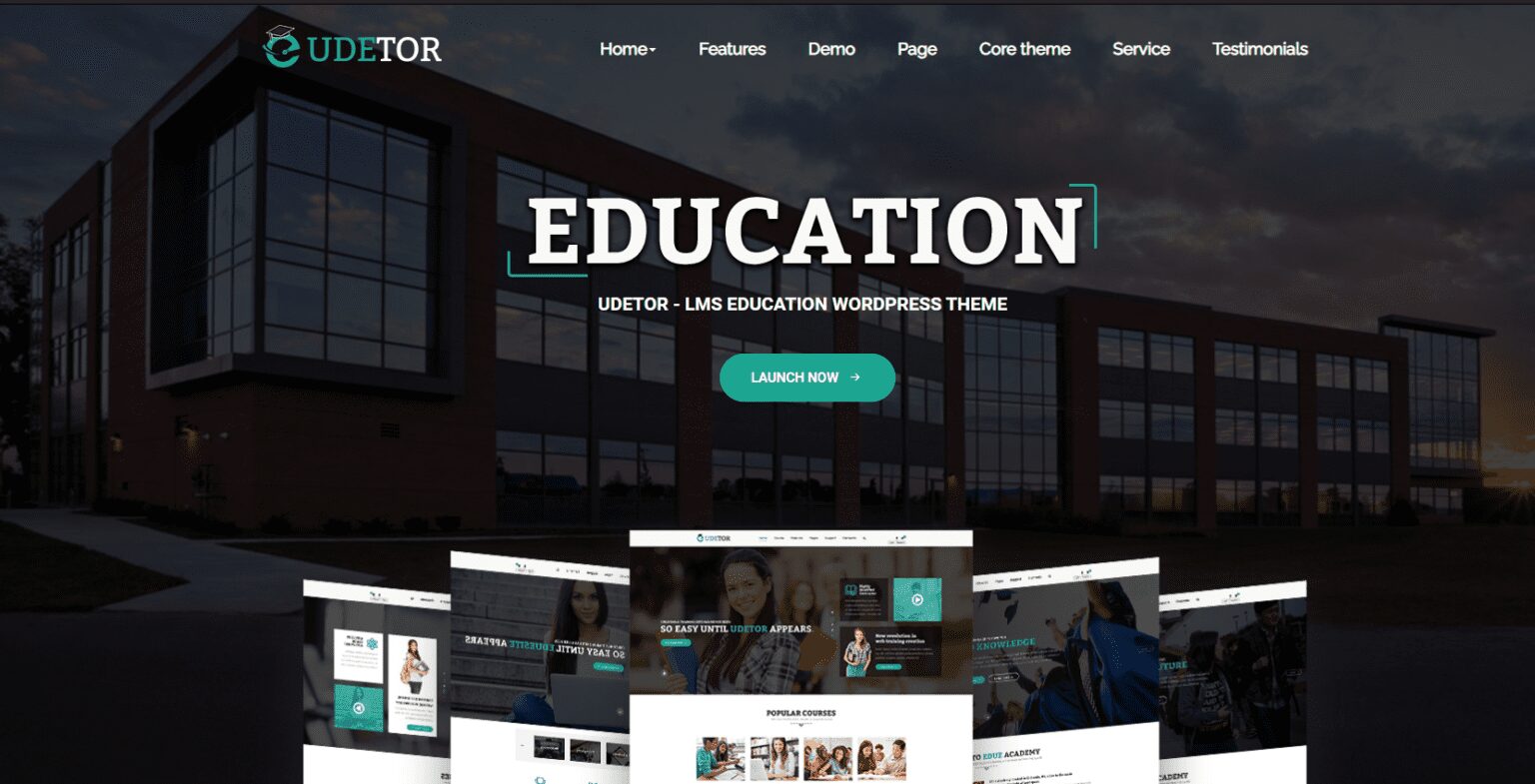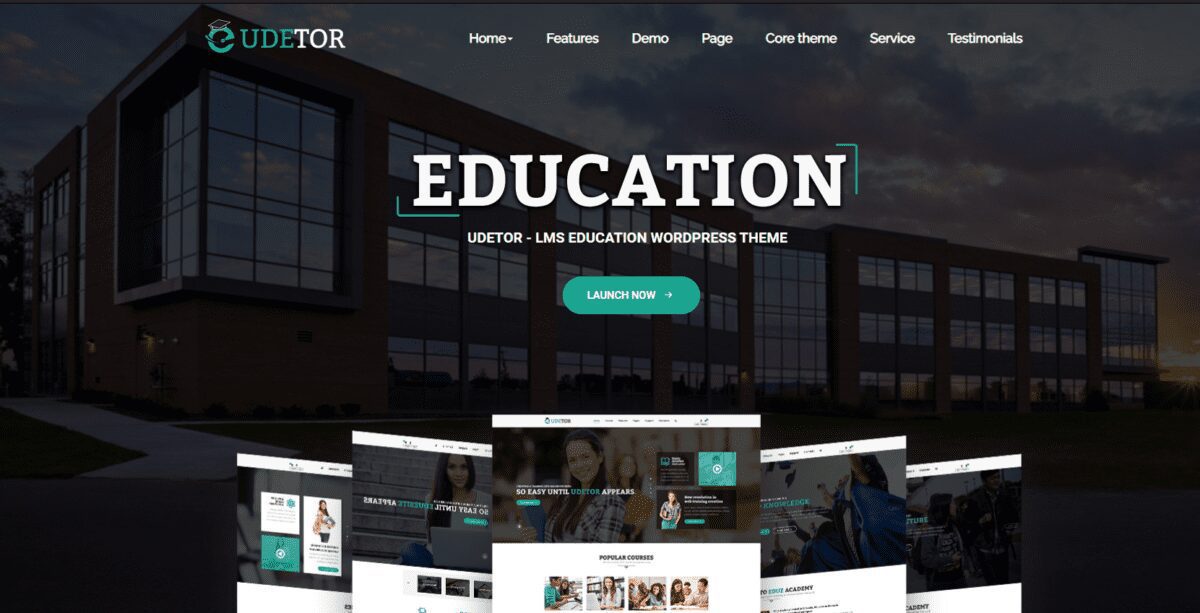 Wanna start an online education website but lack a proper platform? In that case, Udetor will bring you the elements to start your project quickly. Right at the start, it will give you 8 free demos and tons of other tools to get your page set up in a few minutes. Your site will look nice and will be able to show your courses. You can mix the pre-built samples to satisfy your needs.
Besides, Udetor has 20+ page designs for you to choose from. With Larndash LMS compatibility, A-Z course creation, and many other features, your site will start quickly and function properly.
Conclusion
We hope through this article, you will find out which is the best WordPress LMS theme for your educational site.
Read more: Why You Should Use WordPress for Your eCommerce Website
---
Contact us, ThimPress:
Website: https://thimpress.com/
Fanpage: https://www.facebook.com/ThimPress
Youtube: https://www.youtube.com/c/ThimPressDesign
Twitter: https://twitter.com/thimpress