Without writing any code, you may utilize Page Builder Plugins in WordPress to alter the design of your website. It is much simpler to build your pages the way you want them when using these plugins because they give your site an additional editing interface.
They frequently include drag-and-drop tools, pre-made templates, layouts, and design components so you can quickly and easily build pages with a professional appearance. The ability to preview your work as you edit so that you can see how your page will appear before publishing it is one of the best features of page builders.
Advantages
It can be difficult to start a blog, especially if you're unfamiliar with WordPress. If you don't know how to code, customizing your page layouts could be challenging. It may be simpler for some people to utilize a drag-and-drop website builder after leaving Weebly or Wix. While many premium WordPress themes do provide many page layouts, if you don't have coding skills, they may be challenging to customize.
It would be difficult to do without a drag-and-drop page builder, for instance, if you wanted to design a landing page with a distinctive layout. Fortunately, there are many WordPress Page Builder Plugins that support drag-and-drop editing. Without writing a single line of code, you can use these plugins to build totally unique website designs in WordPress.
Disadvantages
It's critical to be aware of a few potential problems before selecting a Page Builder Plugin.
One frequent problem is that some page builders might make your website take longer to load because they need more CSS and JavaScript to work. Increased bounce rates, poor user experience, and poor search engine rankings can all result from slow load times.
An additional factor to think about is compatibility. There may be compatibility issues between some page builders and specific themes or other plugins, which might cause conflicts and technical issues. Before selecting a page builder, compatibility should be thoroughly investigated.
It's also crucial to keep security in mind. If a page builder plugin isn't updated frequently, there can be security flaws that make your website open to attacks. To reduce these dangers, it's critical to select a dependable and frequently updated page builder plugin.
Block Editor vs Page Builder
With WordPress's new Block Editor, you can drag and drop content blocks to make pages and posts. Although it has some similarities to the Page Builders we previously discussed, it also has several advantages.
For instance, you cannot change the size of blocks, insert blocks inside of other blocks, or use columns and rows to arrange blocks in complicated ways.
Your theme does work nicely with the block editor, but you are unable to modify the theme's settings or style. Additionally, it doesn't provide you with a true preview of the final version of your page while you update it.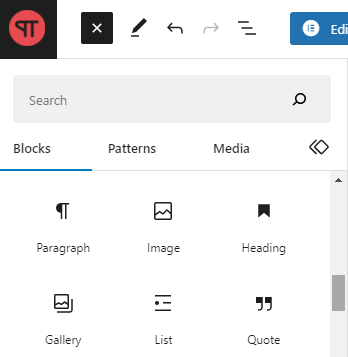 The best Page Builder Plugins for WordPress
Finding a WordPress page builder that has a user-friendly, simple interface and a selection of well-created templates to choose from is crucial. Finding the best page builder plugin requires some study because each one offers a different range of choices.
It can be challenging to select the best WordPress page builder plugin due to the abundance of options on the market. The top three options are Divi, Beaver Builder, and SeedProd. We assessed each page builder for usability, flexibility, and attractive design. These page builders have received excellent reviews from all quarters, making them excellent choices for anyone wishing to make a unique website without writing any code.
Conclusion: Now you know 'What is a Page Builder?'
In summary, a Page Builder is a tool that enables WordPress users to design and edit website pages without knowing how to write code. It offers a user-friendly drag-and-drop interface and frequently includes pre-designed themes and layouts that users may edit to their preferences.
Read More: Video Downloader for Mac: 10 Most Popular
---
Contact us, ThimPress:
Website: https://thimpress.com/
Fanpage: https://www.facebook.com/ThimPress
Youtube: https://www.youtube.com/c/ThimPressDesign
Twitter: https://twitter.com/thimpress