Do you ever imagine that you can build your WordPress website content without writing any single code and wasting your time? Absolutely yes, you can feel free to create, edit and customize your page layouts with the WPBakery Page Builder.
Why is this plugin so famous? Firstly, you can fully control/ manage your site and there are over 4 million users trusted and used. Next, almost 100% of all the themes which are available in ThemeForest are compatible with this page builder. For example: Let's visit how this plugin works well with the theme by checking out this tutorial of how to add the WPBakery Page Builder into LearnPress and Eduma's course page.
To understand more detailed information about this page builder. Keep reading to find out!
What is WPBakery Page Builder?
Of course, it is a page builder plugin for WordPress that allows you to easily drag one of the wide range of ready-to-use content elements or templates then drop it into your page/ post without touching a single line of code.
The question when you find and really want to try this powerful plugin is: Can we use it for free? Unfortunately, there is no free trial version. Hence, you have to purchase with $45 to have the license with a lifetime access. It is totally worth considering !
How to Use This Page Builder?
After installing WPBakery Page Builder and adding this new plugin to your WordPress site, remember to "activate" it in your WP admin dashboard.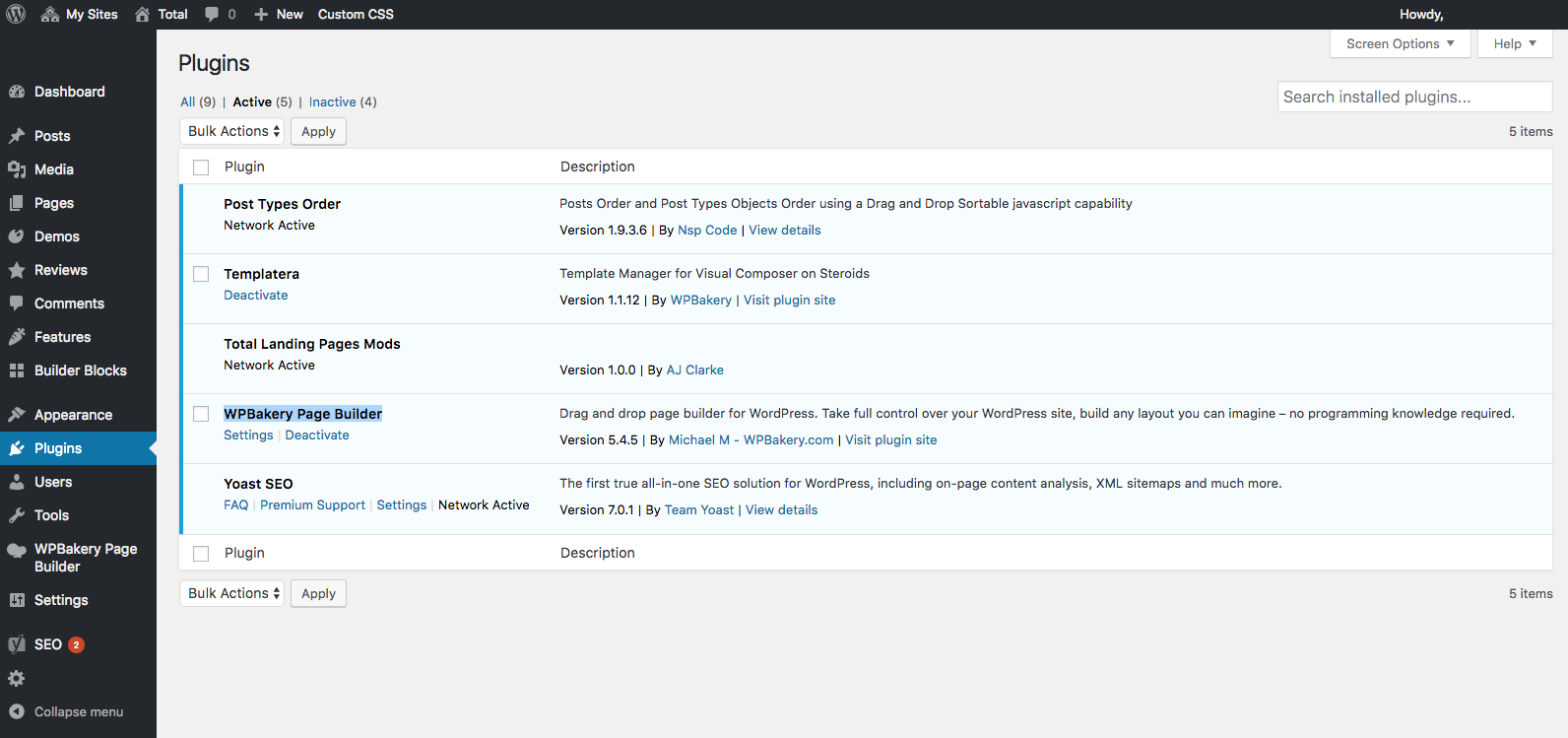 Hover to the WPBakery plugin on your WP sidebar to set up the plugin and click Role Manager to enable the composer for the Post Types. Next, ticking on which post type that you wish to have this page builder feature. One more thing to note is that there are only post types that have this feature which has a WordPress editor feature.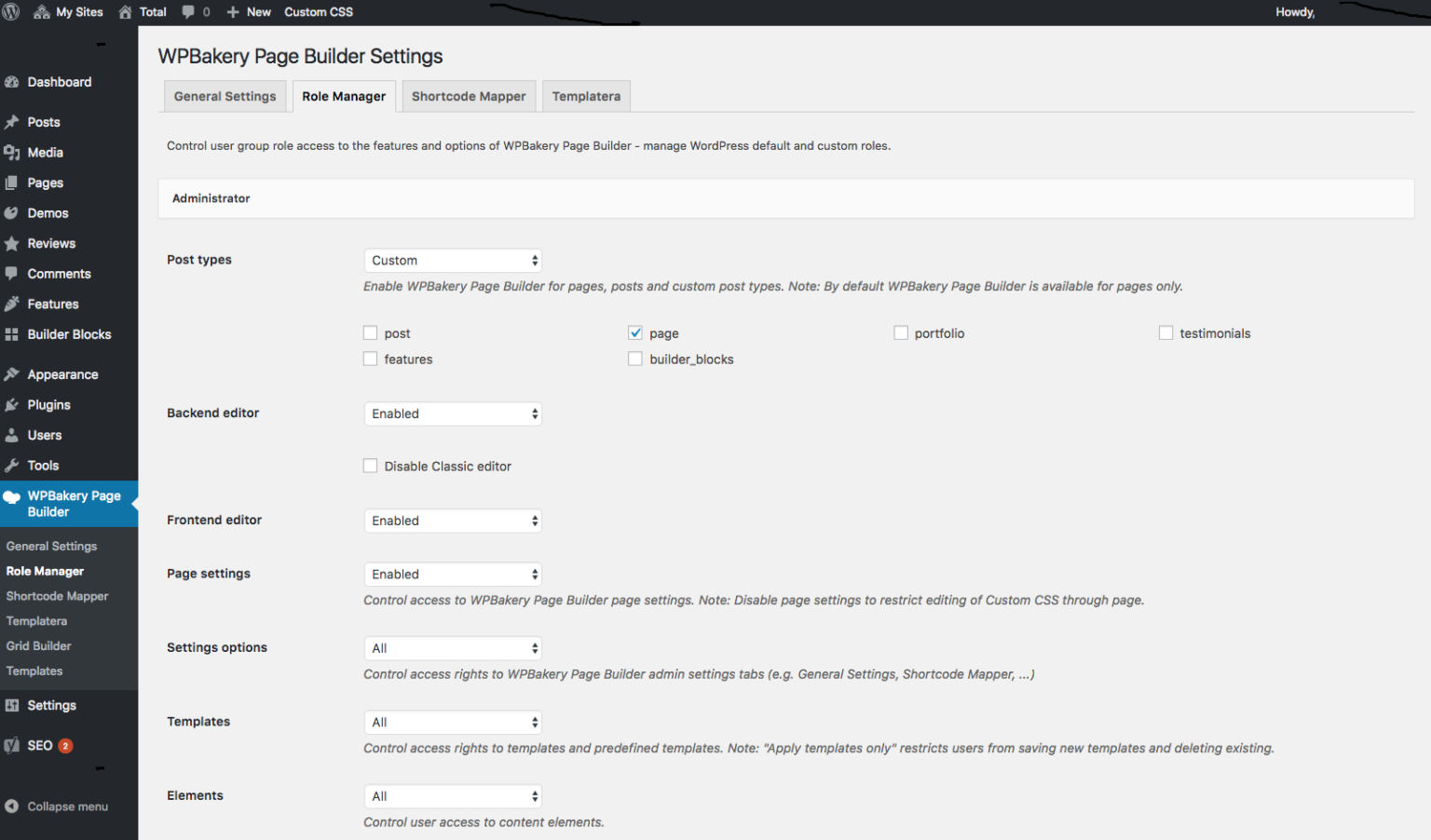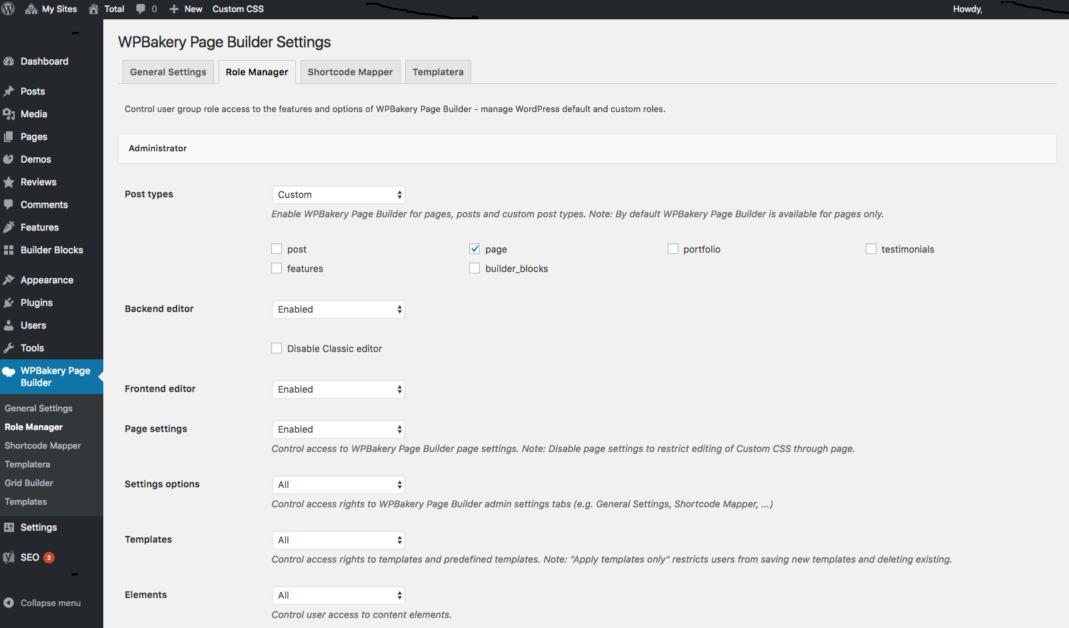 After the main settings, it's time for you to use this plugin. You can click either Backend Editor or Frontend Editor to access the builder. However, remember to save your post/ page after building.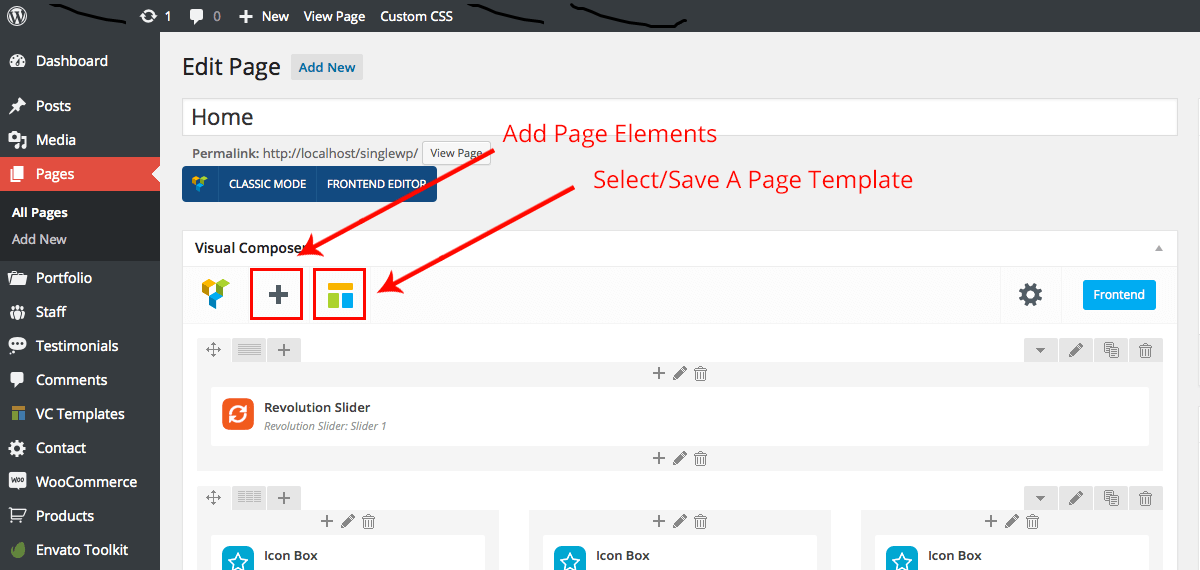 With the Backend Editor, you can quickly build a page by adding page elements or select page templates from the WordPress site dashboard. Clicking on the + symbol, a window of elements will appear for you to add. What's more? You can customize your page easily via page element options (colors, fonts, images, etc). No wonder why Backend editor is considered to be the most beloved one.

With Frontend Editor, you can see easily your content interface via any device. Moreover, you can look at the actual page elements as an insert theme instead of a placeholder.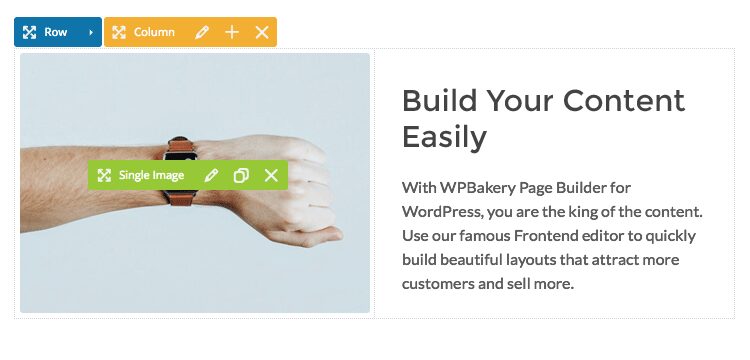 What if WPBakery Page Builder not Working?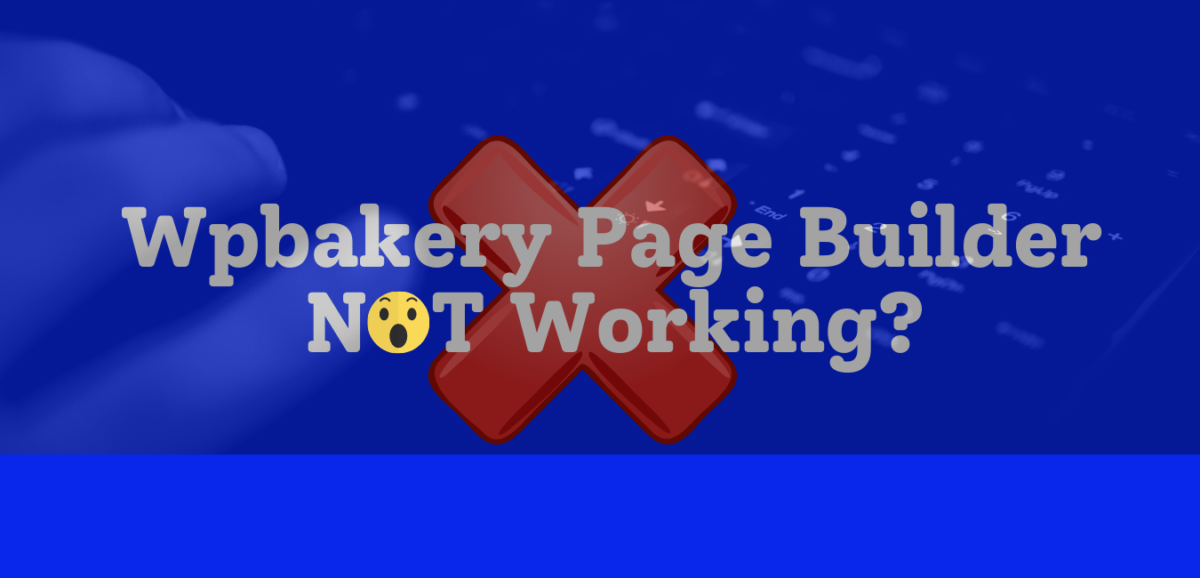 If you have any issues with this plugin, we do suggest you try some solutions below:
Re-saving your page by simply clicking the "update" button and re-try this plugin again
Updating your theme/ plugin with the latest versions.
Disable one by one third party plugins and re-try this page builder if it is working
Make sure your site address (URL) and WordPress (URL) is the same
Enable total modules so you are able to access them. Note that you might have "WPBakery Modules". If not, kindly go to Role Manager by clicking WPBakery on your sidebar and enable specific admin roles.
Disable "Redirect ugly URLs to clean permalinks" if you are using Yoast SEO. Hover to Yoast Seo on your sidebar and click "permalinks" to disable it.
Checking if there are any errors on your browser console. You can open the browser console and see the issues via URL. Most of the time the errors are from a plugin and you can go ahead to deactivate that plugin
Switching to another username. If you only have one admin user, then create a new one on your WP installation to see if WPBakery Page Builder is working. If yes, the old username surely had problems. Let's open cmd[dot]exe as administrator and run ipconfig /flushdns to fix it.
Above are some basic steps that we recommend you in case this page builder is not working. If you have more interesting solutions, feel free to comment on our blog. We are happy to know more new things.
What is the difference between Visual Composer Website Builder vs WPBakery Page Builder?
Have you noticed the name of Visual Composer Website Builder Vs WPBakery Page Builder? That naming already says all. One is a page builder and one is a web builder. Then, that's the biggest difference you really need to know.
As we have said earlier, WPbakery is used to drag and drop for only content of the pages/ posts and Visual Composer is not only for content but also allows you to create a complete website including headers, sidebars, and footers.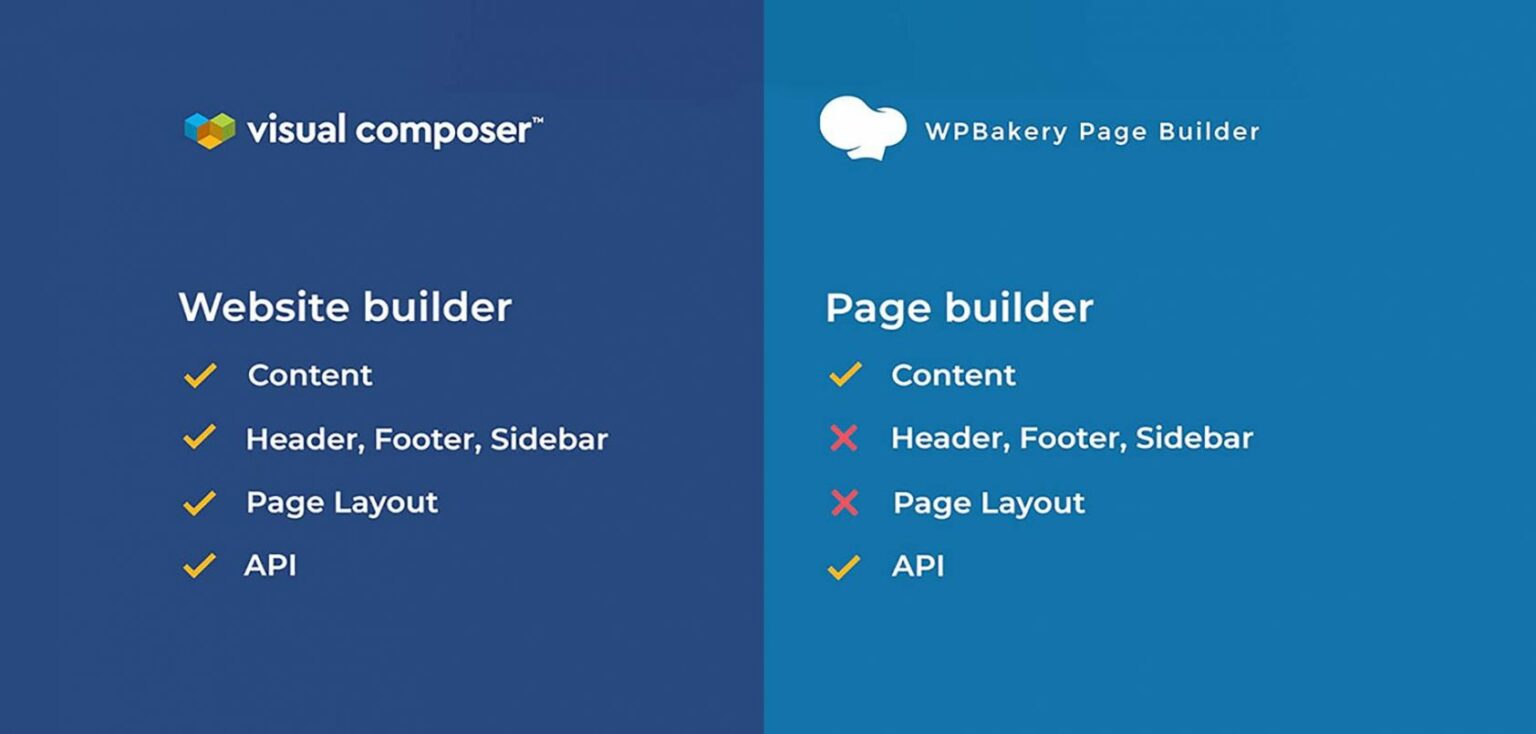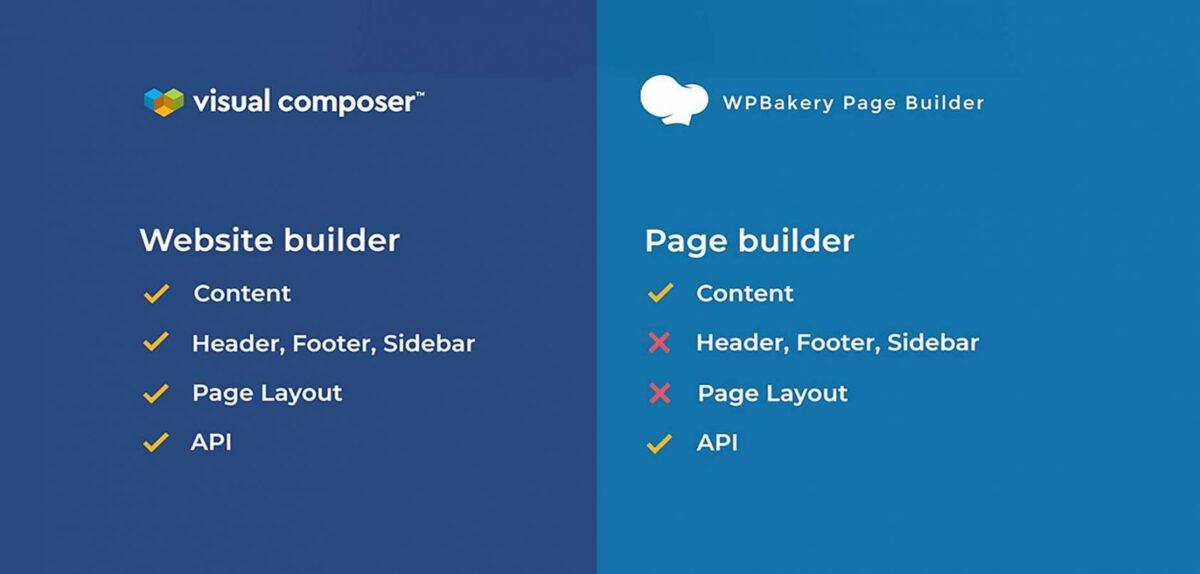 In Conclusion
We highly appreciate you taking the time to walk through this journey with us. So, why if you want to create your pages, do not hesitate to try this WP page builder which is suitable for anyone, even unacknowledged about coding. Hopefully you enjoy our article today and thank you a lot for reading until this end.
Read More: 6 Best Drag and Drop WordPress Page Builders.