A Template in WordPress controls how your content is displayed on your website. It's a file generated by your WordPress theme that can be used to modify the appearance of specific posts or pages.
Using a theme builder is the simplest approach to designing and adjusting templates. By dragging and dropping pieces on a website, these tools make it simple to change templates. There are many templates for various themes. Some themes have a selection of easily customizable templates, while others might not.
Understanding the Concept of WordPress Templates
Templates are files that include HTML and CSS code that specifies how the material should be displayed on various WordPress site components, including posts, pages, and others.
Think of templates as layout files that are part of a specific WordPress theme and regulate how various pages on your website appear and feel. While these can change based on the theme you're using, basic template files are included with the majority of WordPress themes. The style.css file is used by every WordPress theme to specify the styles to be applied to the templates.
Related: Check out "What Is CSS?" to learn more about the ways to custom themes.
Exploring the Functionality of WordPress Templates
A specific template file determines the unique qualities that each page on your WordPress website possesses. Different layouts for various forms of content, including pages, posts, news updates, calendars, media files, and more, can be found in WordPress themes.
As a result, a page template may be used to create a page from scratch, a piece of a page, or a collection of pages. Typically, page templates are created for certain pages or collections of pages. Some themes may also provide bespoke templates that include distinctive design elements, custom loops, or customized sidebars in addition to conventional templates.
For instance, your theme might include a particular template intended solely for contact pages. With no sidebars or footers, this template would present the contact page's content across the entire width of the page. Your theme might have a template that enables you to show any content at full width with no constraints.
It's crucial to remember that not all themes accept these unique templates, though.
Locating Templates in WordPress
The files that manage the appearance of your WordPress website are similar to Templates. They are kept on the server of your web host. You'll need to know how to access them in order to edit them, but don't worry, it's not too difficult.
You can follow these procedures to modify the templates on your WordPress website:
Step 1: Log in to your WordPress Admin area.
Step 2: Go to the "Appearance" section (Located in the sidebar menu)
Step 3: Click on the "Theme File Editor" (Tool for template customization)
Upon clicking the "Theme File Editor" link, you'll see the template files associated with your currently active theme.
These files are in charge of managing the layout and design of various components of your website, such as articles, pages, and other content. The template files are often displayed on the right side of the page, and you can tell which ones they are by looking at their filenames, which frequently finish in ".php."
Just keep in mind to create backups before making any modifications so you can quickly undo them if something goes wrong.
Related: You may need to know a little bit of PHP knowledge to understand better, so check out "What Is PHP?"
Template and WordPress Theme: The Difference
Understanding the difference between a template and a WordPress theme may be difficult for beginners. The following explanation may be useful:
A WordPress theme manages the visual aspects of your website, acting as its boss. It is composed of numerous files, including Template files that control how certain pages or collections of pages are organized.
A WordPress template functions as a small assistant within a theme. A single file instructs your theme on how to set up a certain page or set of pages. It acts as a kind of blueprint for how your theme should present material.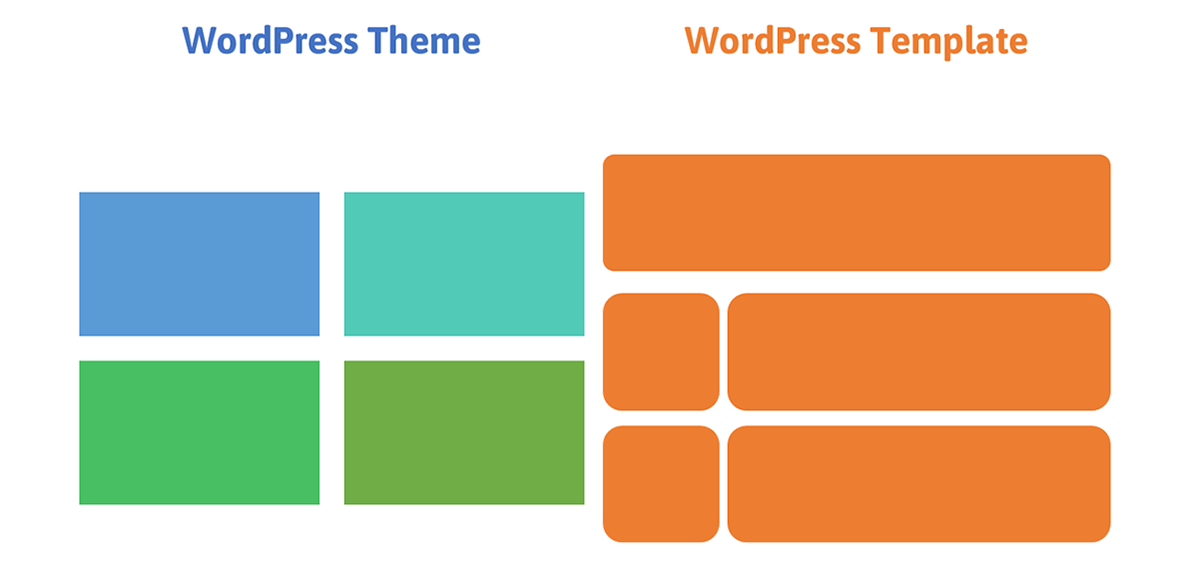 Conclusion: Now you know 'What is Template in WordPress?'
In conclusion, WordPress templates are files that regulate how your content is shown on your website. They control the design of various pages and are a part of your theme. Theme Editor in the WordPress Admin area is where users can access a theme's various templates.
Read More: 30+ Best Modern Website Color Schemes
---
Contact us, ThimPress:
Website: https://thimpress.com/
Fanpage: https://www.facebook.com/ThimPress
Youtube: https://www.youtube.com/c/ThimPressDesign
Twitter: https://twitter.com/thimpress