The Best SEO WordPress Theme might be a valuable addition to your blog. Improving search engine ranking is critical to the survival of any website these days. Implementing sound SEO strategies is one thing; having one of the best WordPress themes for SEO is quite another.
So, what exactly is the best SEO WordPress theme? For starters, it should make it simple for you to incorporate keywords that appropriately describe your niche. Moreover, your posts have a well-organized code, enhanced pictures, and a fast loading speed.
If you're looking for the best WordPress theme for SEO and speed, we've got a great selection for you now. Several of them make our list of every best SEO WordPress theme.
Here's a list to help you find the best WordPress theme for SEO available, designed to help you rank in Google. Go through them all and tell us which one is your favorite.
Let's Find the Champion for The Best SEO WordPress Theme
Eduma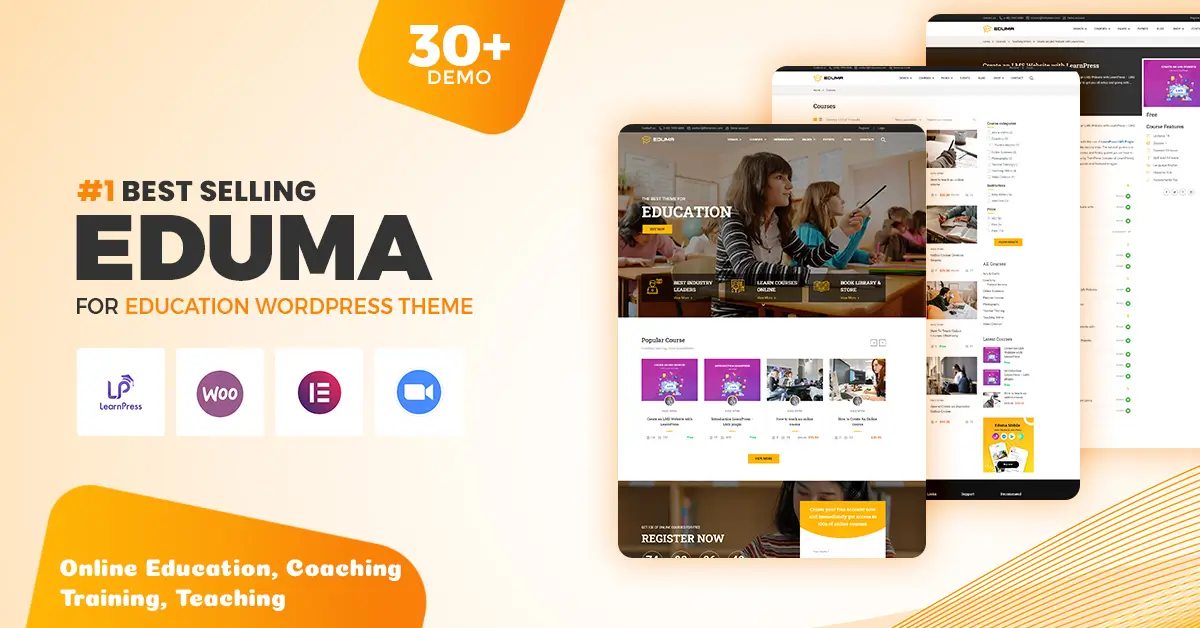 Eduma, the renowned WordPress theme designed for educators, has gained immense popularity. It holds the distinction of being ThemeForest's top-selling education theme, boasting an impressive rating of 4.9 out of 5 from a user base of over 2,000 individuals. With over 100,000 active installations, Eduma has proven its widespread acceptance and reliability.
One of the standout features of Eduma is Thim Core, a powerful plugin developed by ThimPress. This plugin optimizes the theme's speed and ensures compatibility with other plugins, resulting in an exceptional user experience.
Eduma excels in search engine optimization (SEO), guaranteeing excellent visibility for educational websites. Furthermore, its seamless integration with WordPress enhances its user-friendliness. With its extensive array of features and remarkable versatility, Eduma has become the go-to choice for educators and institutions seeking to create engaging educational websites.
Sailing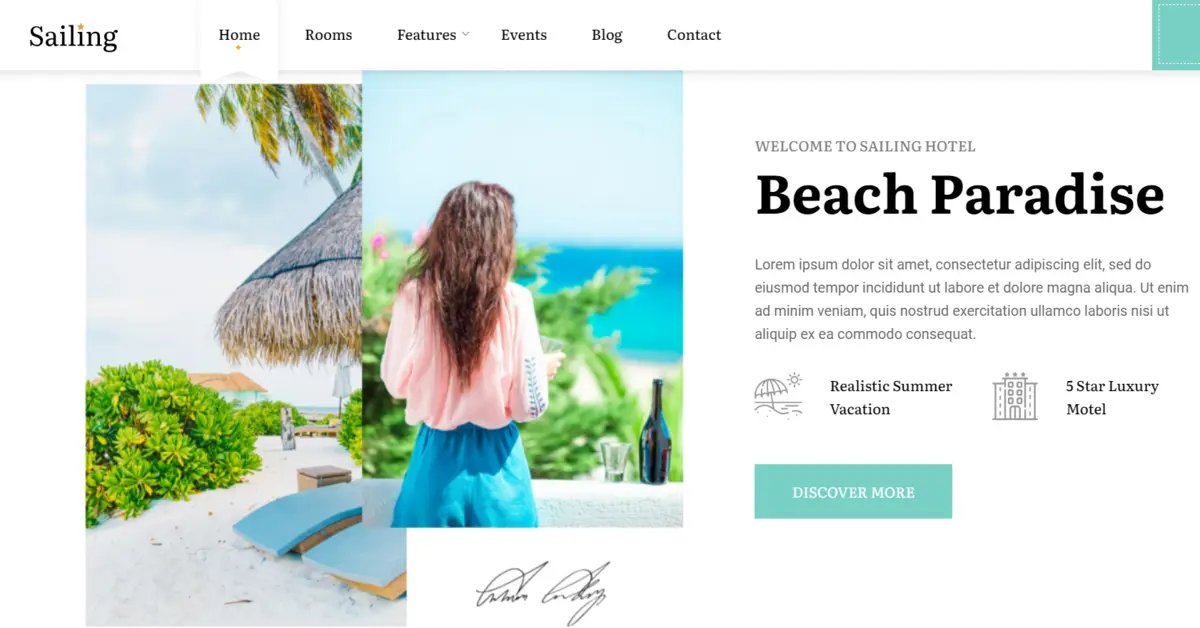 Sailing, an exceptional WordPress theme tailored specifically for hotels, offers a remarkable user experience. Its fully responsive design ensures seamless functionality across all devices, providing optimal performance. When it comes to SEO in the hospitality industry, Sailing unquestionably takes the lead.
One of the standout features of Sailing is its seamless integration with the WP Hotel Booking Plugin, which offers a comprehensive hotel booking solution. This powerful combination enables hoteliers to efficiently manage bookings and enhance their overall booking process.
With its selection of 9 pre-made demos, Sailing offers a diverse range of possibilities, allowing hotels to choose a design that perfectly aligns with their brand and style. Additionally, the theme is WPML compatible, simplifying the creation of multilingual websites and expanding the potential global audience.
Furthermore, Sailing seamlessly integrates with WooCommerce, enabling hotels to sell their products and services directly from their website and facilitating hassle-free online transactions.
RealPress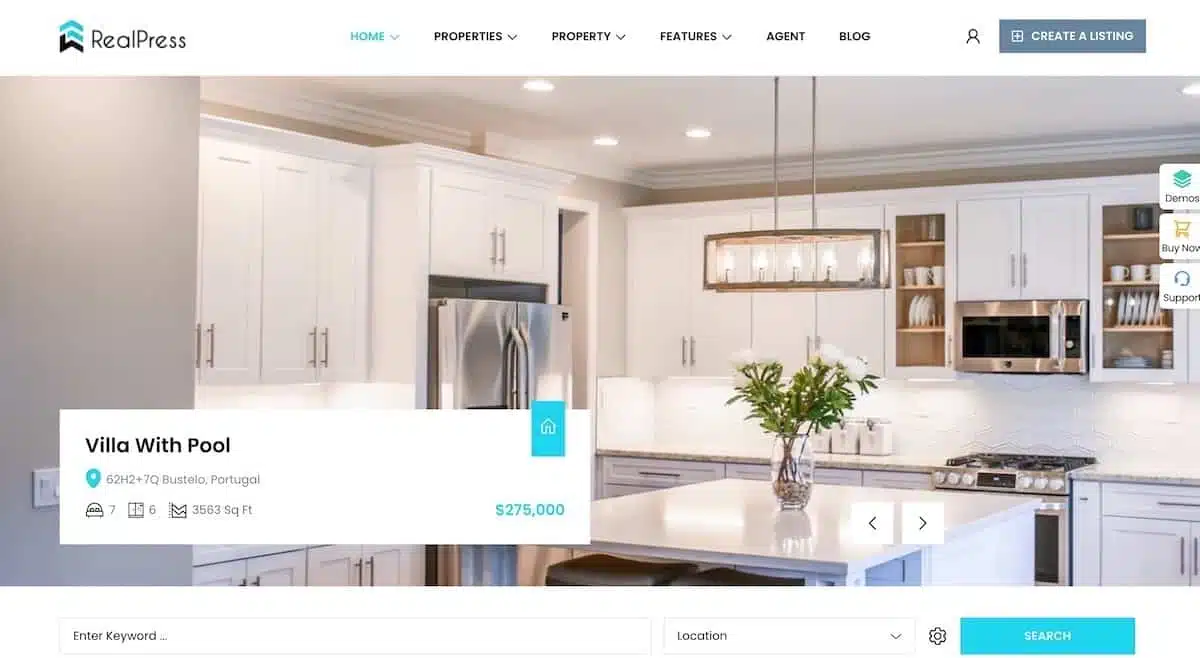 RealPress is a robust WordPress theme specifically designed for businesses, prioritizing search engine optimization (SEO). With its extensive collection of 12+ pre-made demos, RealPress offers a wide range of choices for creating stunning websites tailored to various business types and niches.
Impressively, RealPress has received stellar reviews on ThemeForest, earning a flawless 5 out of 5 ratings. This outstanding rating reflects the theme's exceptional quality and customer satisfaction, establishing it as a reliable option for businesses aiming to establish a strong online presence.
RealPress is fully optimized for search engines, ensuring maximum visibility and potential for high rankings. Its clean code and adherence to SEO best practices contribute to improved website performance and organic visitor growth.
The theme seamlessly integrates with most used WordPress plugins such as Elementor, WooCommerce, Yoast SEO, Rank Math, and AIO SEO, enhancing its functionality and providing users with a wide range of customization options.
SegmentIO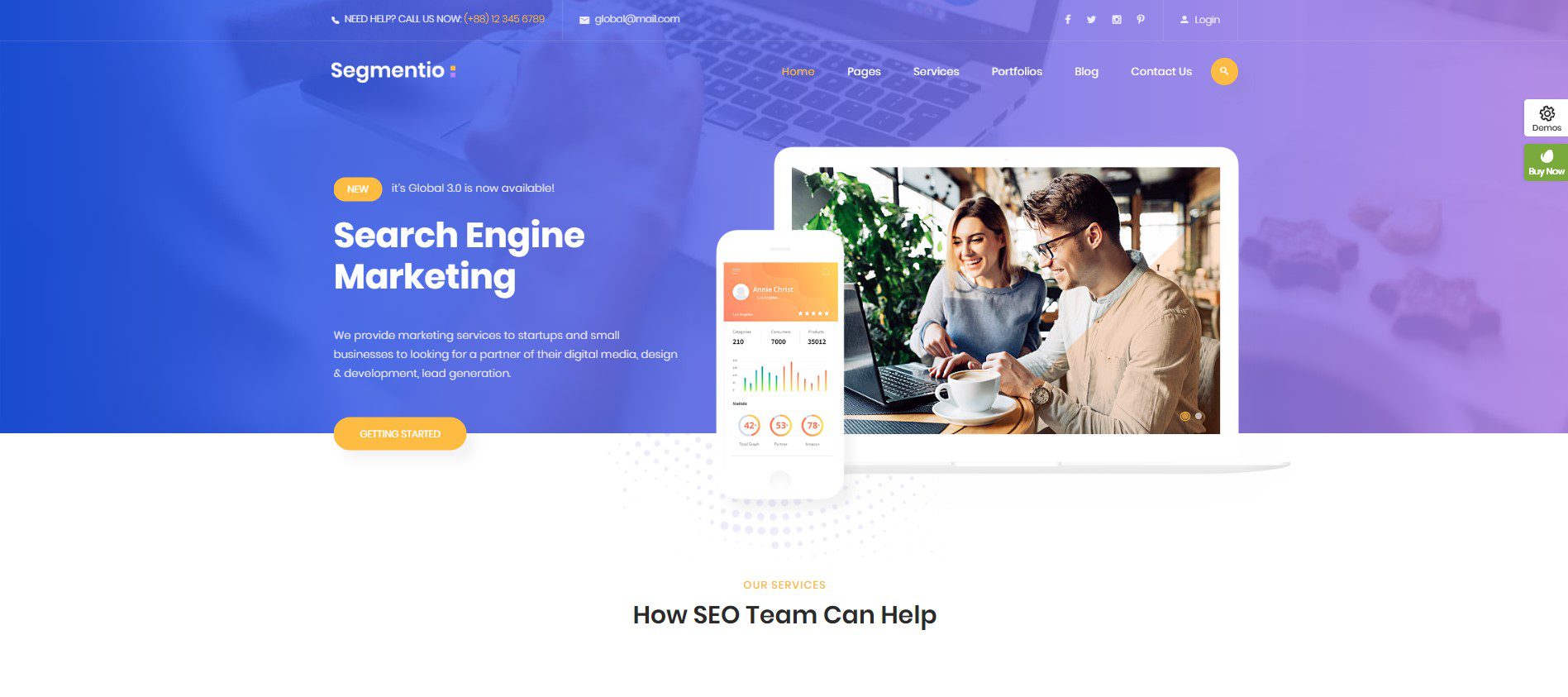 SegmentIO is the best SEO WordPress theme for creative agencies, marketing, social media, startups, and digital marketing agencies. This SEO WordPress theme is an ideal theme if you need a simple yet strong website design. These themes construct a team showcase, and a landing page, tell stories, and promote your image to your customers in an amazing way.
SegmentIO is more than simply a WordPress marketing theme. It is also the best WordPress theme for SEO and speed which solves every marketing-related difficulty for any team, company, startup, or agency.
We developed the SegmentIO theme using the most innovative functionalities and features that our preceding themes had. Because we expect to give pleasure to the web creation process. Therefore, we can follow in the footsteps of the best-selling Eduma – Education WordPress Theme for WordPress and our experience building themes for our 100.000+ clients over the last 10 years on Thimpress.
You may quickly develop a website or a landing page using this best SEO WordPress Theme. Therefore, your website exhibits your team's project and portfolio to customers in any marketing-related initiatives.
It is not an SEO Theme unless it is highly search engine optimized. SegmentIO was developed with the greatest SEO principles in mind to swiftly. This provides you an enhanced edge in the long term with SEO juice benefitted by the theme's search engine optimized structure. This implies that with the theme's present basic structure. Therefore, you could just start modifying your information and adding new articles, and you'd be SEO-ready.
SEOCIFY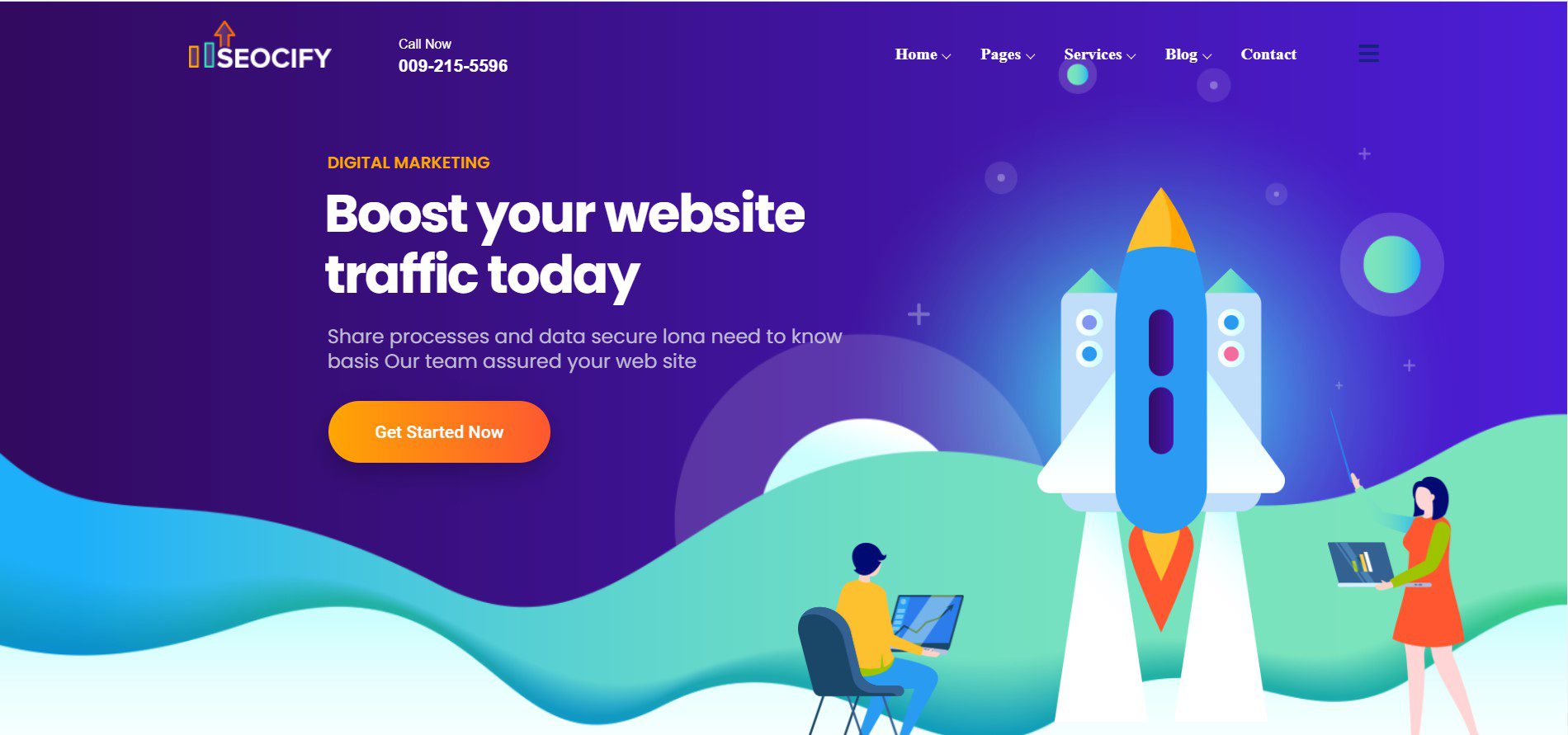 SEOCIFY provides 12 different homepage layouts, all of which were created specifically for building SEO agency websites.
With the recent addition of four new homepage layouts to the Seocify package, you now have a total of 12 designs to choose from when using this theme for your SEO agency website. Instead of an inter-business option, SEOCIFY is the best SEO WordPress theme. As a result, each piece of content you allow access to should be relevant to your project. However, the design and visual appeal of this Digital Marketing WordPress Theme before content differs enough that this theme should appeal to a wide audience.
This theme makes it extremely simple to change the overall design of your website or modify the pre-built layouts and templates. When it comes to customizing global properties like fonts and colors on your website, SEOCIFY excels.
The WordPress Customizer, which is simple to use, can be used. The powerful Elementor templates tool is included in the package to ensure that you can customize all of the templates in the SEOCIFY package. As a result, you'll be able to use SEOCIFY and Elementor to add new pages to the website, including those with custom layouts.
Litho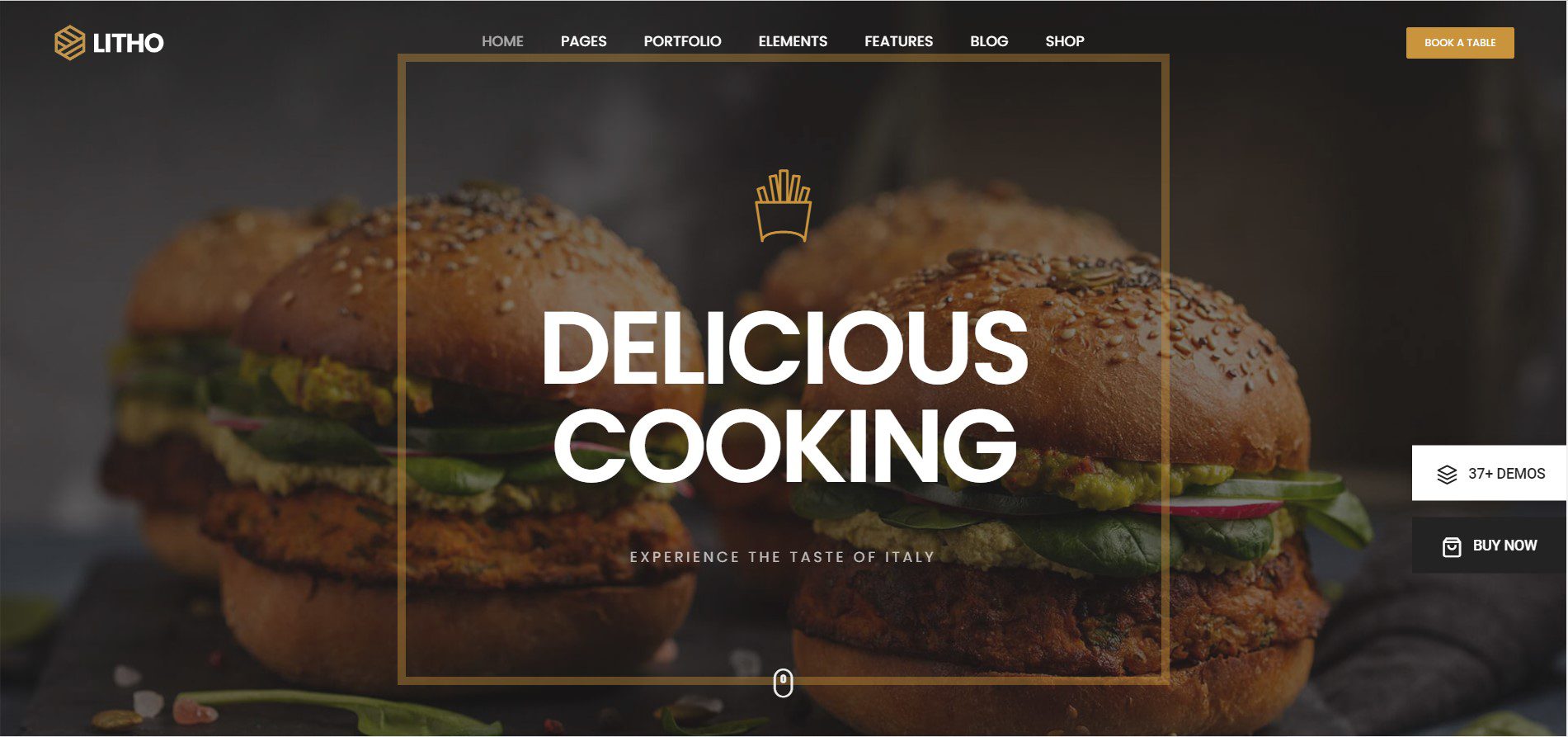 Litho includes a wide range of demonstrations ideal for practically every application.
If you pick this best SEO WordPress theme, you should be able to swiftly construct an SEO-friendly WordPress website. Because it comes with over 35 demos. In addition to the demonstrations, there are over 200 adjustable features and over 300 specific page layouts. You can utilize these while constructing your site. Because Elementor works with anything, you can construct your site using its user-friendly interface.
This best WordPress theme for SEO has been particularly developed for Google-rich snippet support to assist your website to become as SEO-friendly as possible. Litho also includes correct HTML5 code, W3C-validated code, and complete compatibility with the renowned Yoast SEO plugin. Because the best WordPress for SEO and speed features load as rapidly as possible. Your site should receive bonus points from Google for providing a speedy user experience to your audience.
Litho should have a ready-to-go demo for whatever sort of site you wish to construct.
TheGem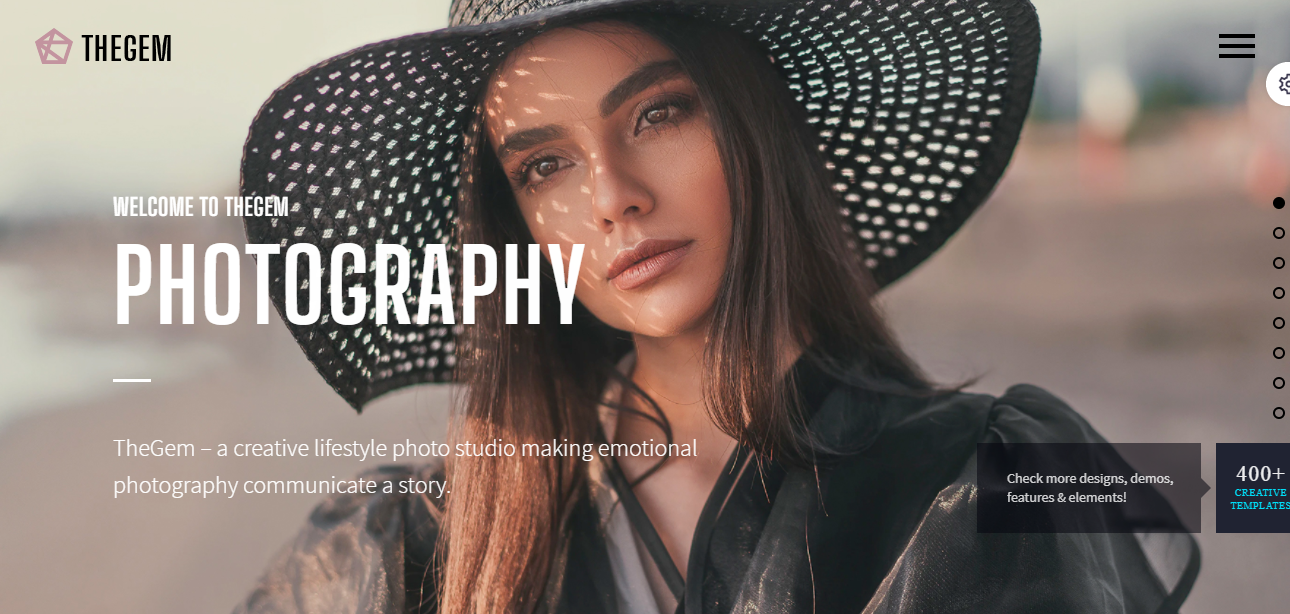 TheGem – The best SEO WordPress theme was created with SEO in mind. Because it includes everything you need to help your website rank in search engines.
This best SEO friendly theme for bloggers certainly meets all of the requirements when it comes to establishing the framework of an SEO website, with an emphasis on quick loading speeds, mobile-friendliness, and safe coding. If you pick TheGem, your website will connect with the renowned best WordPress SEO plugins and tools such as Yoast SEO. This is another advantage this theme possesses.
This best SEO WordPress theme is suitable for a variety of tasks. Because over 100 website demos are ready to import into your WordPress site in just a few clicks.
The pre-built website content from this best SEO friendly WordPress theme free is ready for every task. It is suitable for blogs, company homepages, eCommerce storefronts, and hotel booking websites. The incredible range of customization choices and settings, not to mention professional web design plugins like WPBakery Page Builder, make it simple to inject your personality and identity into TheGem demonstrations.
SEOWP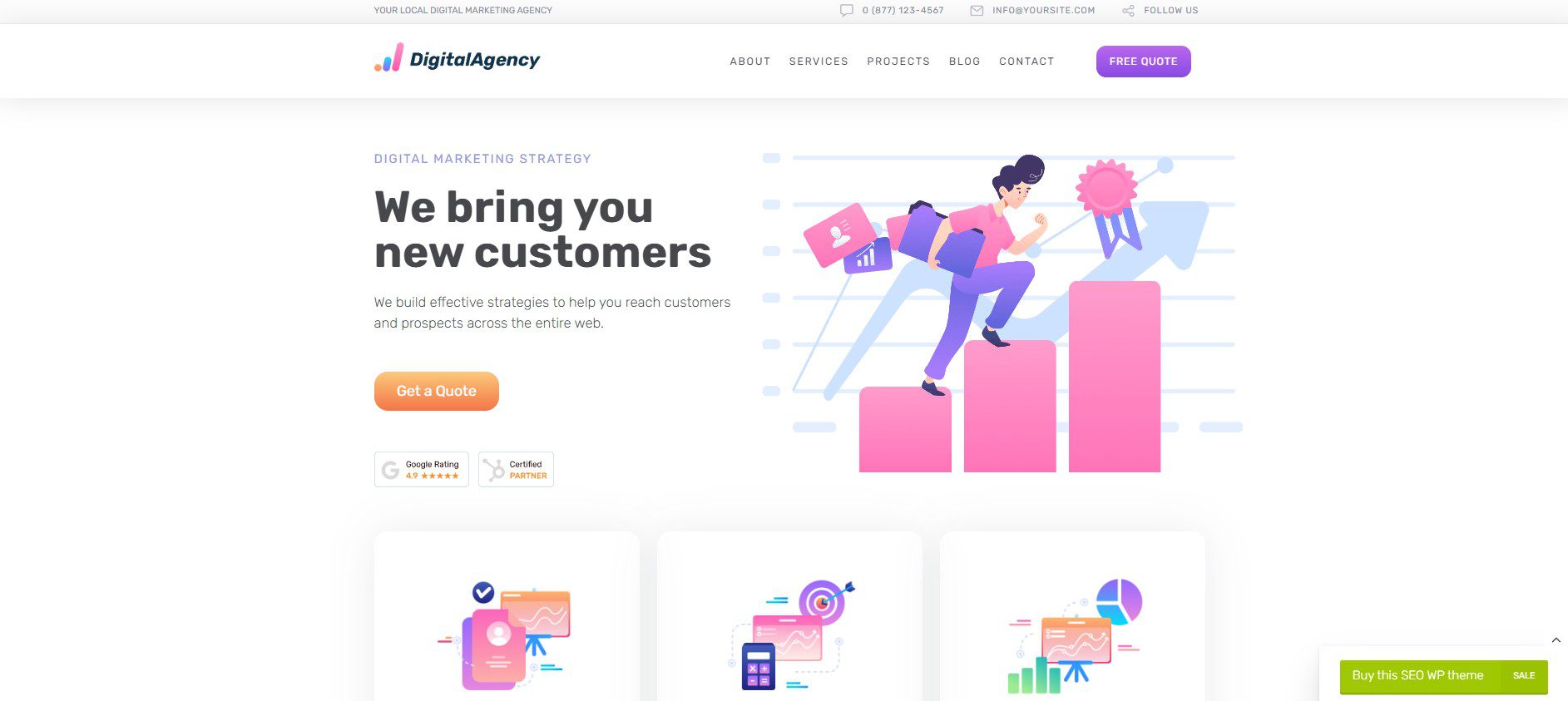 If you own a digital marketing or SEO agency, you must include SEOWP – the best SEO WordPress theme on your website. Enter SEOWP, a versatile SEO WordPress theme designed specifically for digital marketing businesses, SEO firms, and social media professionals. All of the theme's elements are search engine optimized, which may assist you in taking your online company to the next level.
This best WordPress theme for SEO includes an infinite number of header styles, page designs, footer layouts, and the best drag-and-drop page builders. So this theme lets you develop a user-friendly website with real-time modification. For a modern, pleasant feel, the theme's graphics are vibrant and rich in images.
Because this is the best SEO friendly theme for bloggers, it also comes with paid plugins for measuring and boosting your site's position. For example, social network sharing, and adding opt-in forms to convert visitors to leads.
Optimize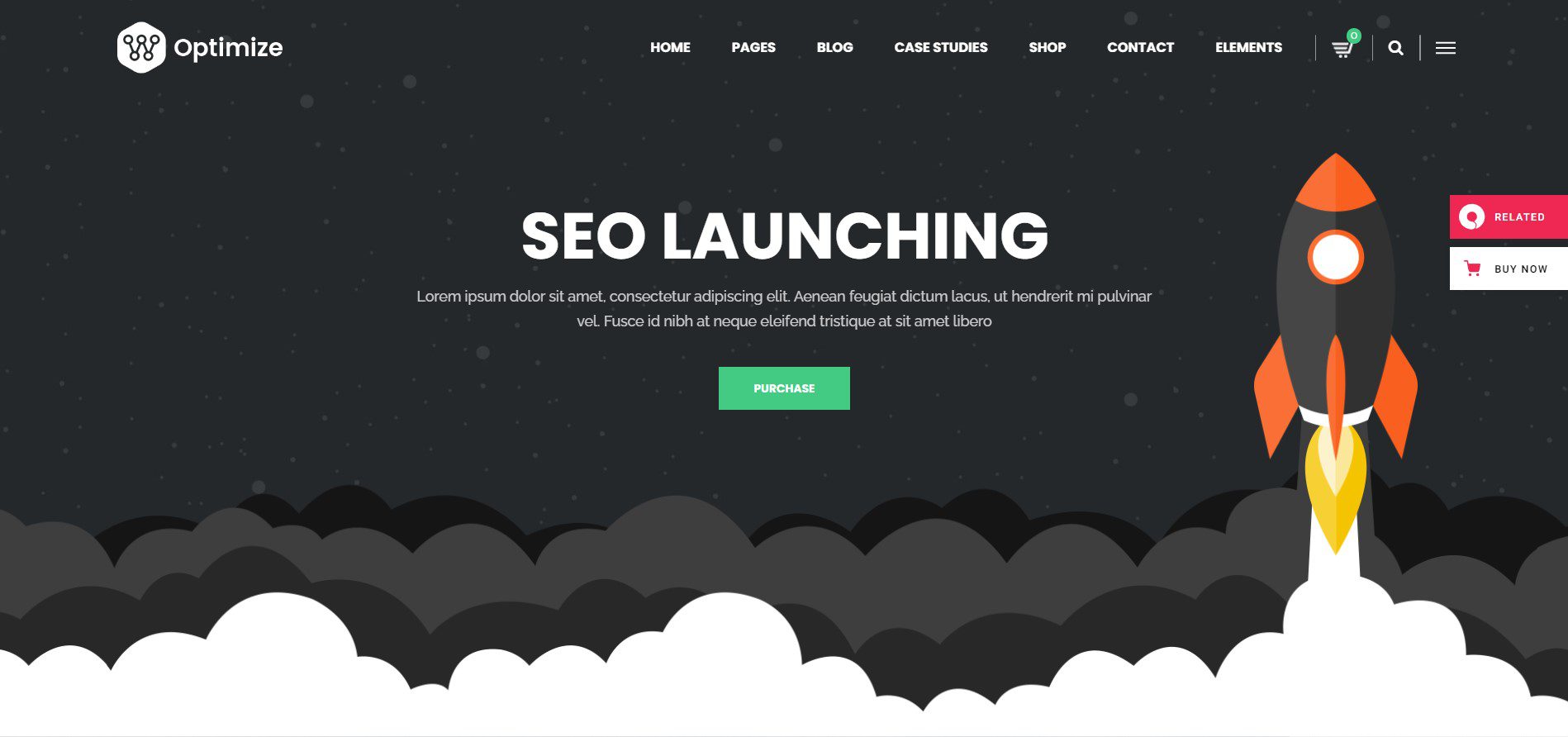 Optimize is a fantastic WordPress theme in every best SEO WordPress theme primarily for a digital marketing firm, an SEO website, or a social media marketing business. This is a contemporary theme that will pique the interest of your visitors.
This best SEO friendly theme for bloggers has a genuinely broad range of pages. You can simply change it to meet the demands of firms in the aforementioned categories of industry. And it is completely compatible with the most incredible SEO plugins. All of its aspects and features have been meticulously designed and developed for digital marketing, analytics, and SEO requirements. Get this best SEO WordPress theme today and start growing your company!
SEOsight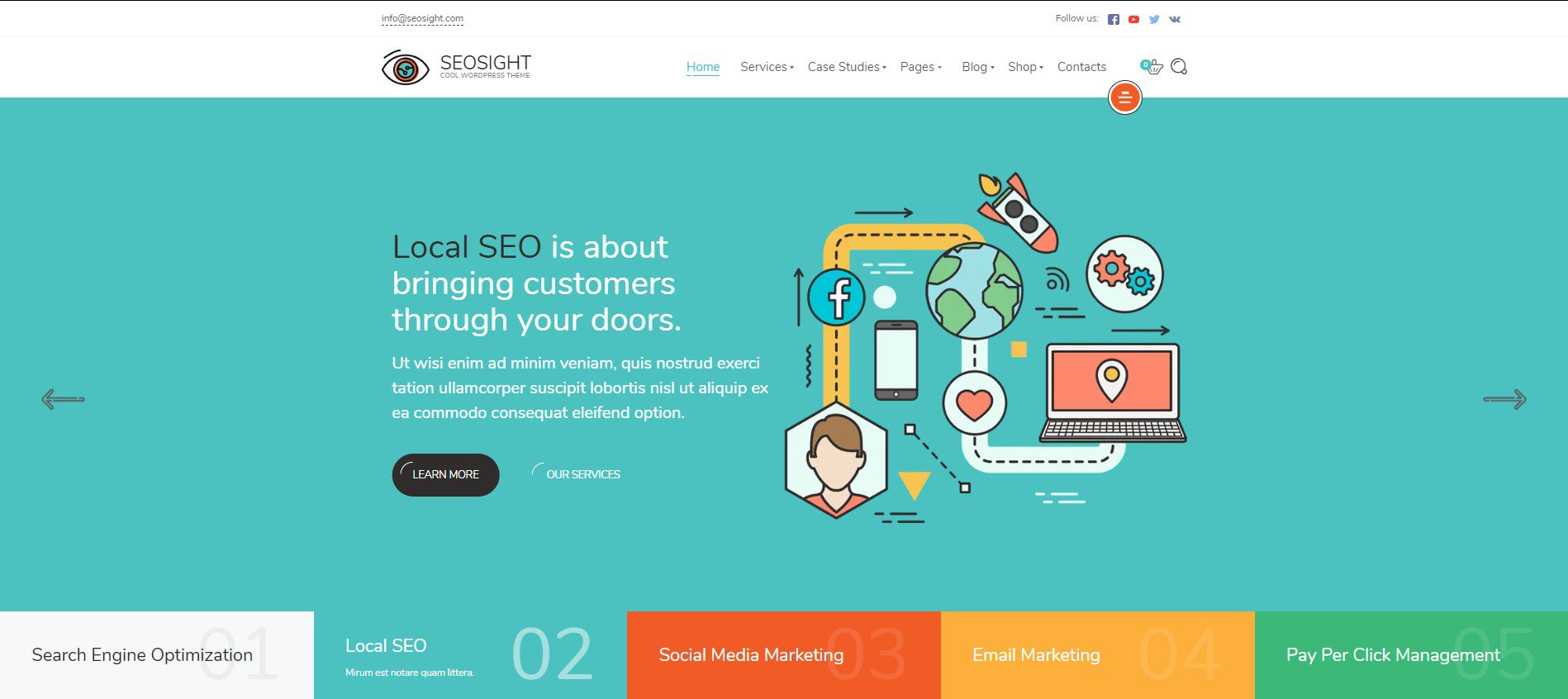 Seosight the best SEO WordPress theme seems to be a novel concept for SEO agencies, marketing firms, digital agencies, and e-commerce sites.
Amazing Seosight is the ideal theme in the best SEO friendly WordPress theme community. It is for people who work in SEO, online marketing, and social media. This lovely SEO theme WordPress comes with RTL support, a Contact Form Builder, KingComposer Frontend Live Editor, easily customizable Sliders, and other useful features. This best WordPress theme for SEO was designed in accordance with the most recent WordPress tags, rules, and best SEO methods. Its seamless operation and flawless design will wow you. Take advantage of the opportunity to design an outstanding website.
The Seosight the best SEO WordPress theme has several settings for each Page Block. Its eye-catching style draws the attention of website visitors, resulting in an increase in website rate. A website's design should be exceptional and eye-catching. There is nothing like this best WordPress theme for SEO. Due to the users' lack of exposure to anything comparable, Seosight becomes an intriguing website. Make a website stand out for visitors and you'll make far more money than you expected.
This theme supports meeting the demands of SEO companies, specialists, and freelancers, as well as Online Marketing, Digital Marketing Agencies, Web Studios, and so on. The simple 1-click demo import will save you time and stress. You are only one click away from adding a fantastic SEO theme to your website. Seosight provides a wide range of KingComposer choices, such as sliders, accordions, pie charts, and so on. This best WordPress theme for SEO and speed will expense nothing for an administrator to add another website page and change information as needed.
Seosight is a new theme with clean code that allows search engines to easily crawl your website. Take use of its possibilities for developing a fantastic SEO website or select another field. For example SMM, SaaS, or Lead Generation. This best SEO friendly theme for bloggers is an ideal blend of cutting-edge design and SEO-friendly coding.
SEOFY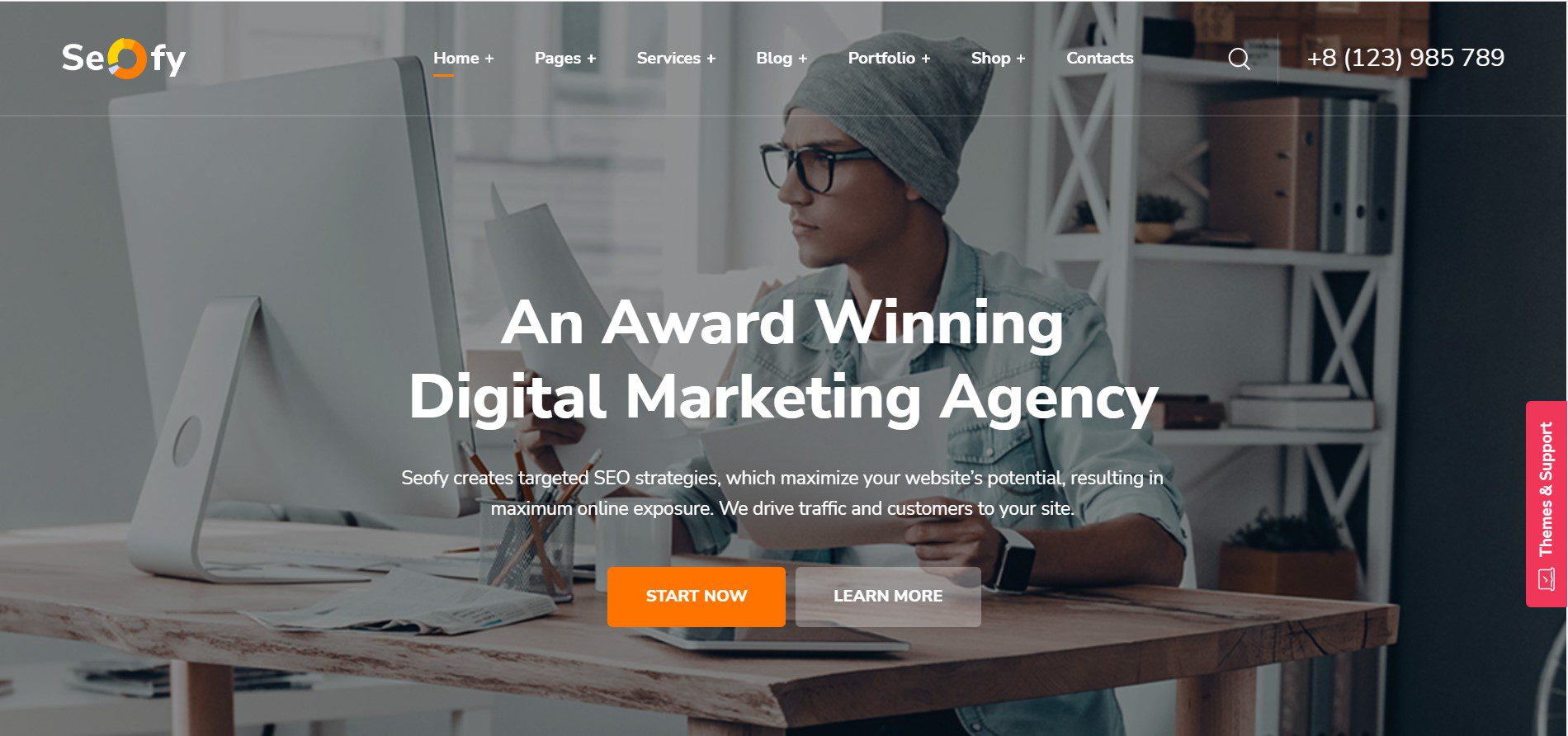 Our team meticulously created and programmed SEOFY, digital marketing, a top-tier SEO, and B2B sales best SEO agency WordPress theme. It will clearly display all of the services you provide, whether they be technical SEO audit or onsite SEO or penalty recovery; search engine marketing (SEM); SMM; or even Ad authoring or pay-per-click (PPC) optimization.
This best SEO WordPress theme comes with 5 pre-configured home pages. Therefore, you're sure to discover one that works best for your company. It also offers several members of the team page layouts, and customer and service sites. Our gorgeous galleries, which are available in 10+ portfolio page styles, will make your website come out. Our portfolio pages will clearly demonstrate your professionalism and the outcomes of your work. This invites more potential clients to a fruitful collaboration with you.
This best SEO WordPress theme features a variety of blog layouts. Adding a newsletter subscription option – will undoubtedly boost engagement on your site, dramatically enhancing its search engine rankings.
However, these are not the only capabilities that this template offers. You can also sell things or digital products and services directly on your website! This best WordPress theme for SEO and speed is fully compatible with WooCommerce. Therefore, you can set up your online store will be a breeze.
By the way, it enables one-click demo content import, full documentation, and helpful support team members who will be happy to help you if you run into any problems. This theme will make your site creation, publication, and promotion experience incredibly smooth and enjoyable.
Despite its impressive feature set, this best SEO friendly theme for bloggers leaves your site visitors with only favorable feelings since it is lightning-fast, completely responsive and cross-browser, RTL-compatible, and WPML-ready. Its style is simple and modern, and the site content is useful and well-organized. Furthermore, spectacular animations will wow your site visitors.
SEO Crawler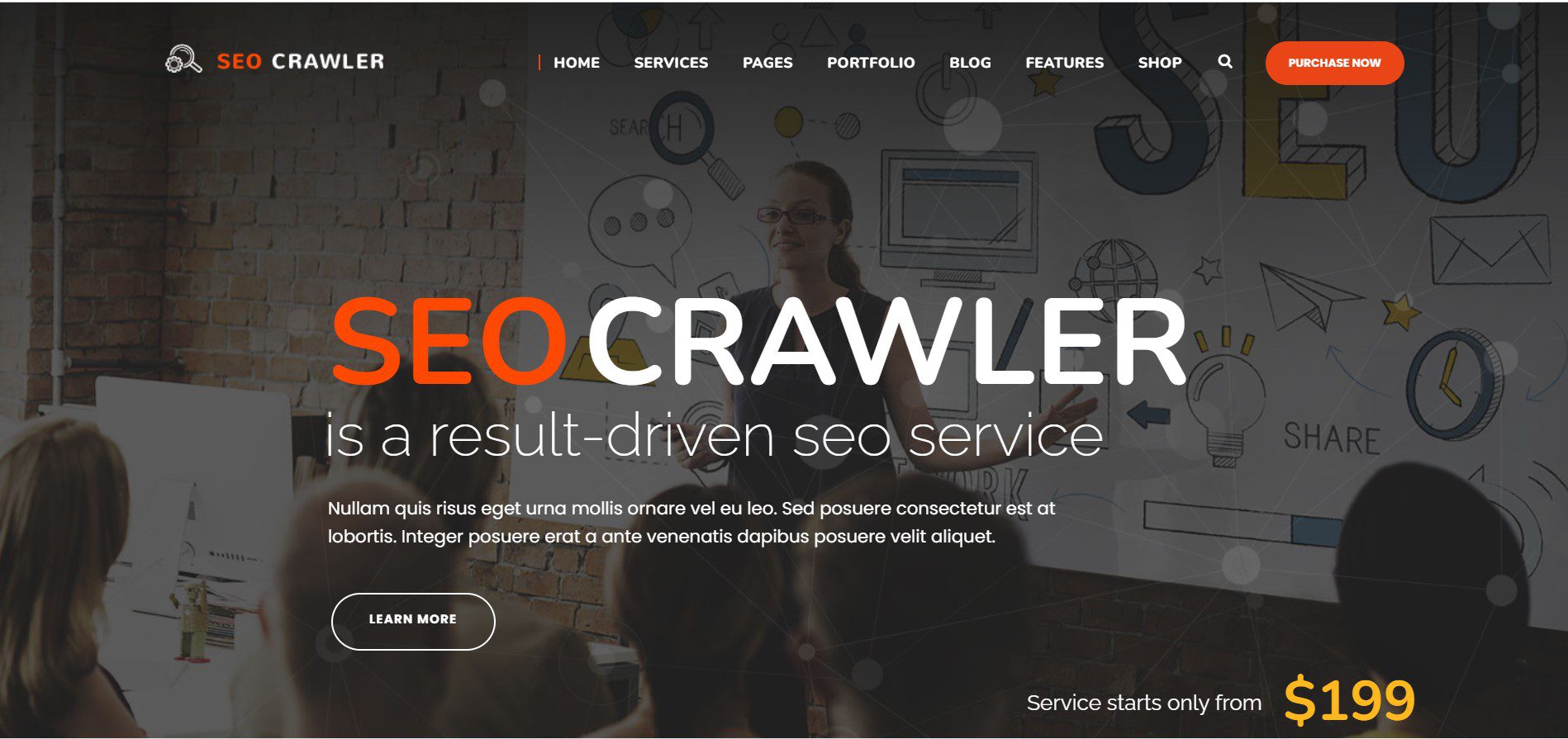 SEO Crawler is a highly effective theme in every best SEO WordPress theme. This best WordPress theme for SEO and speed is appropriate for a variety of businesses. For example, SEO agencies, online marketing, digital marketing, and social media websites. SEO Crawler includes three high-quality demonstrations as well as several constructed inner pages like service pages and portfolio posts (case study).
The SEO theme WordPress works with popular SEO plugins including AIO SEO, Yoast SEO, Rankie, and W3 Total Cache. SEO Crawler comes equipped with the most recent version of GoodLayers' incredibly strong and flexible framework. We spent about a year developing the foundation of our theme, gathering client input, and putting everything into one framework.
A robust drag-and-drop page builder is also included. It is quite versatile and has several useful features such as backdrop wrapper settings, the custom color of skin for particular item wrappers, three view modes (preview, block, and live), ajax page builder storing pre-built pages and blocks, and a lot more. The best SEO WordPress theme also includes the most sophisticated drag-and-drop slider generator, Revolution Slider, lightbox plugin, and vector icons for SEO and marketing are also included.
Marketing Pro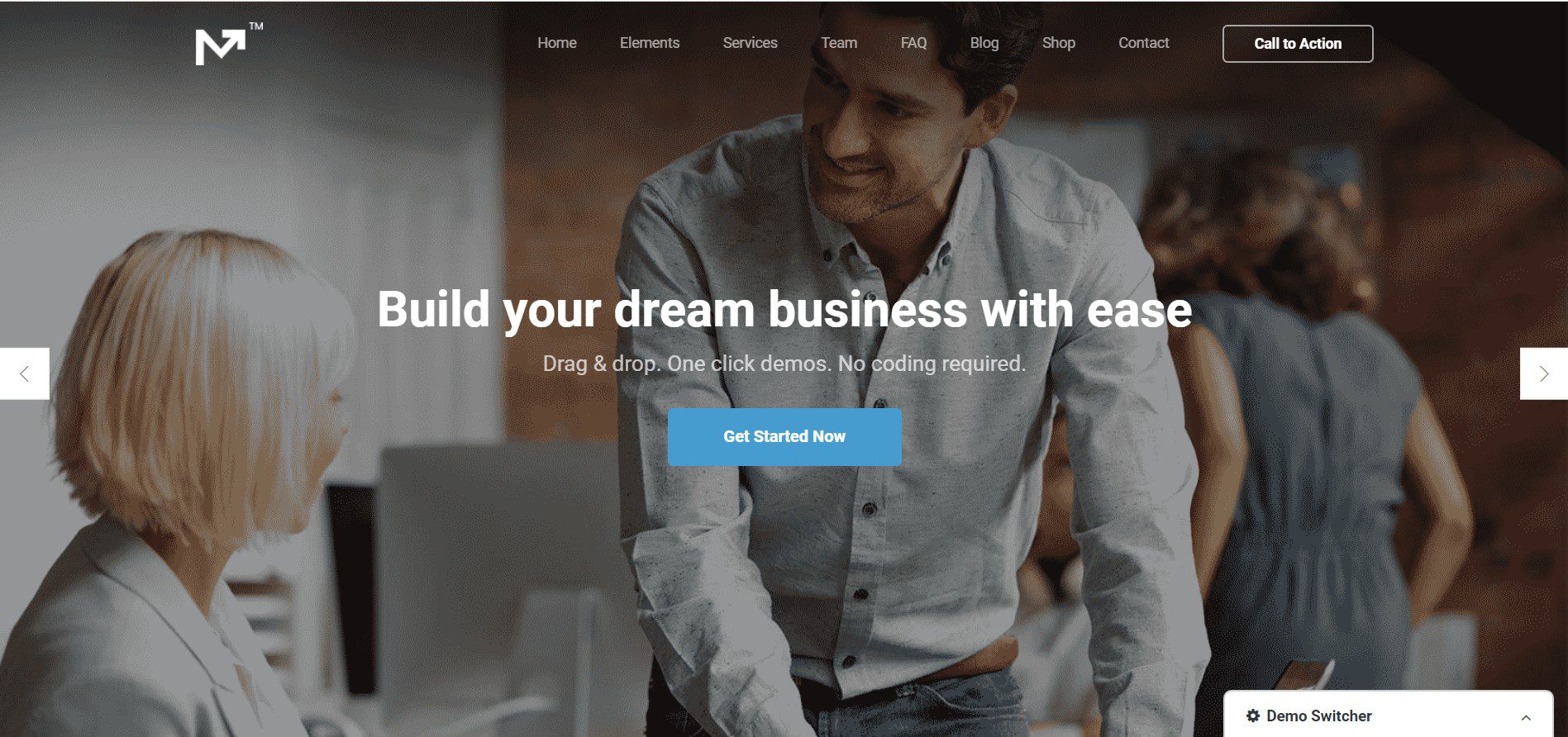 The Marketing Pro theme is intended for modern marketing and agency websites, as well as company websites that need to highlight their work in order to grow their customer base. This best SEO friendly WordPress theme free has nine stunning pre-built styles that are totally configurable. These make it an excellent choice for SEO specialists and companies to promote their services.
Because this best WordPress theme for SEO supports generating conversions, it has its own email collection mechanism. With the theme, you also receive the WPBakery drag-and-drop website builder and 11 pre-built website templates that create a simple but attractive design.
Each niche-based layout has a unique coherent design and layout. For example, we offer a marketing specialty-based layout for digital marketers and another one for SEO professionals. This SEO theme WordPress is developed with shortcodes (element blocks), allowing you to create your own site from the start. Furthermore, Marketing Pro provides several choices for changing the visual design of every piece without ever touching a single line of code.
Best SEO WordPress Theme: The End
Of course, there are other factors that contribute to increased organic traffic. There are also numerous strategies to improve your WordPress website in this regard. With so many options, you may feel tempted to put your theme on the back burner when it comes to SEO.
However, your WordPress theme contains a big portion of your site's code and greatly influences how your pages seem to index bots that inform your ranking. All of this implies that the best SEO WordPress theme might be the distinction between your website appearing on a page or on page twelve of the SERPs. If you prefer the former, consider any of the solutions listed above.
Read More: How to make your website more SEO-friendly?
---
Contact us, ThimPress:
Website: https://thimpress.com/
Fanpage: https://www.facebook.com/ThimPress
Youtube: https://www.youtube.com/c/ThimPressDesign
Twitter: https://twitter.com/thimpress