Are you interested in exploring other options besides Google Domains? If so, keep reading to get the best Google Domains alternative below.
As far as we know, Google Domains is a great domain registration service that allows you to buy and manage domain names for your website. Unfortunately, the service is terminating and relocating to Squarespace, a famous website design and hosting platform.
So you will have to transfer your domain name to Squarespace or another domain registrar. As a result, many customers are searching for another place to get or migrate their old domain names to new ones.
Let's look at the top Google Domains alternatives that you can try in this article.
Reasons to Use a Google Domains Alternative
In 2015, Google announced an amazing domain registration service to assist users in finding, purchasing, and managing a domain for their businesses.
But this service will come to an end, and the business and assets will be transferred to Squarespace. Squarespace is a famous website builder and is known for its hosting services.
As a result of Google Domains shutting down, the Squarespace platform will receive all the existing members and their domains.
Domain renewal fees will be one of the disadvantages of switching to Squarespace. Squarespace has stated that it will honor the renewal prices of all existing Google Domains members for at least a year. However, subsequent renewals will be more expensive.
Aside from that, many other best domains for small business or even large business on the market provide domain names at no cost with hosting plans. Moreover, the hosting plans often cost much less than Squarespace.
Having said that, let's find a Google Domains alternative available in our list below today.
Best Google Domains Alternatives
Hostinger – Google Domains Alternative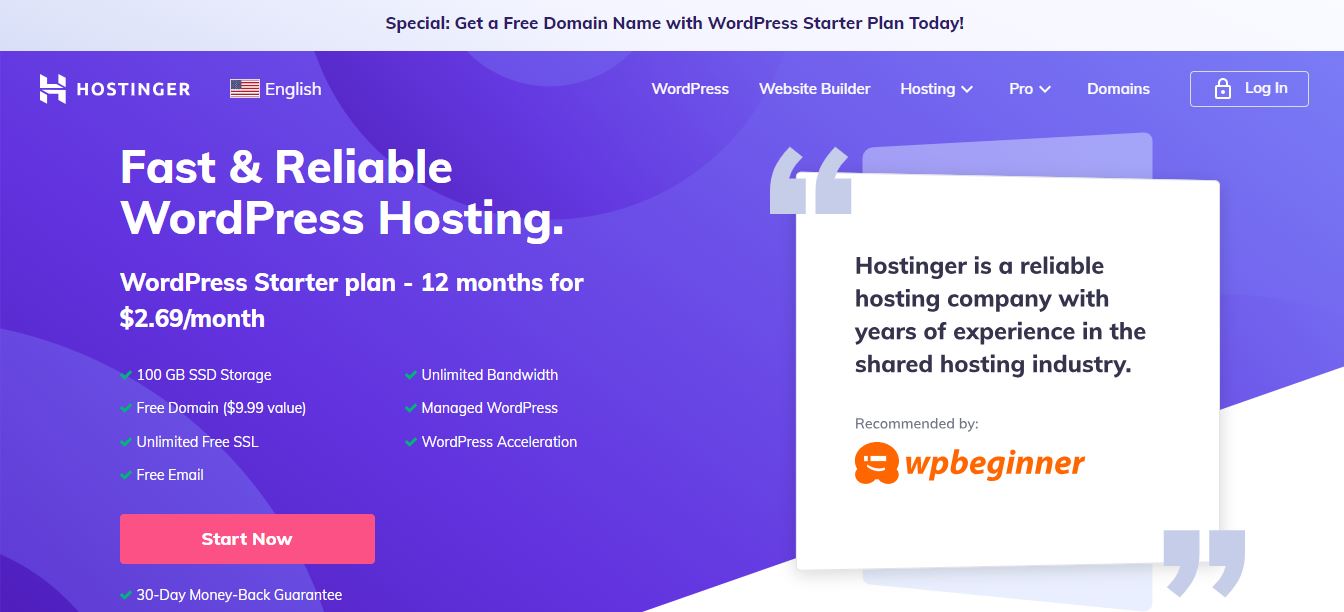 Learn More
Hostinger is a well-known WordPress hosting provider that provides free domain registration. You can select from a wide range of top-level domain name extensions (TLDs) and benefit from free WHOIS privacy protection.
Hostinger is a powerful Google Domains alternative because it offers many web hosting options, such as managed WordPress hosting, VPS hosting, shared hosting, cloud hosting, and more.
It also costs less to host your website than Squarespace, so Hostinger will be the new domain host when Google Domains stops.
Aside from that, Hostinger provides a free CDN, a single-click WordPress installation, auto-upgrade functionality, better security tools, live chat support, no-cost email service, free SSL, no limit bandwidth, WP acceleration, and so much more.
Domain.com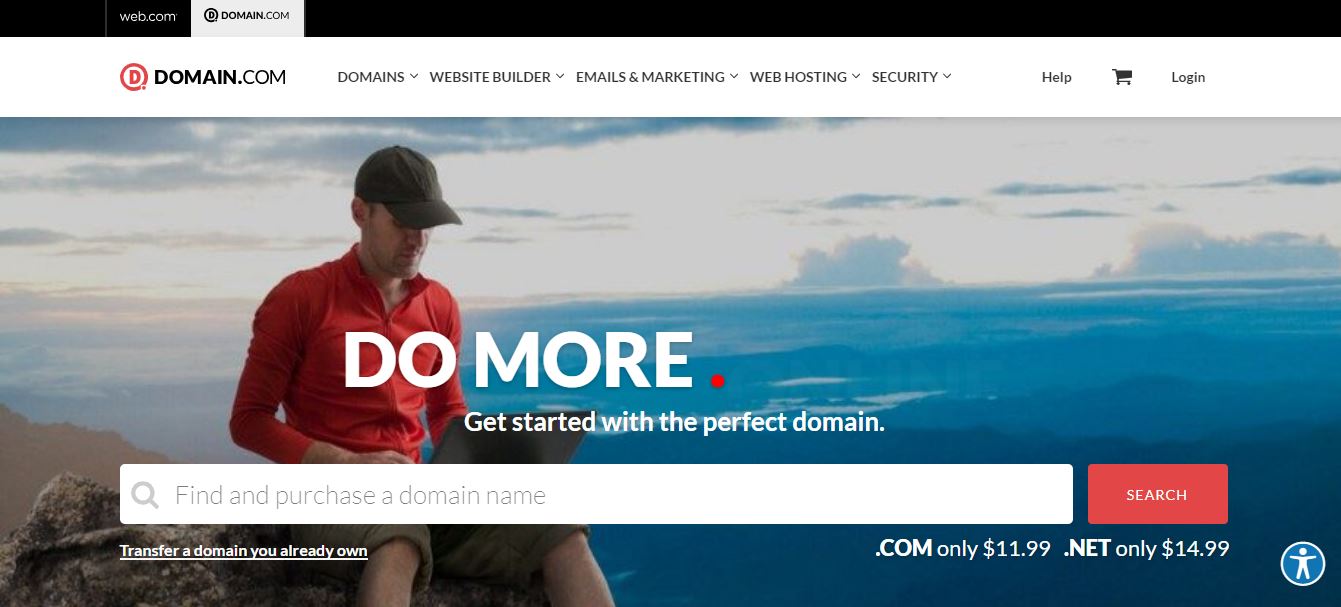 Learn More
Domain.com, the most famous domain provider, is the best domain registrar on the market. There are TLDs and a plethora of country code top-level domains (ccTLDs) available.
It makes finding and managing domain names extremely simple. Tools such as renewals, WHOIS privacy protection, private registration, bulk registration, DNS management, and others are available.
Domain.com is also easily integrated with Google Workspace. Gmail allows you to send and receive business emails and also provides you with other services like Google Drive for saving your documents. File-sharing tools and Google Meet communication are also available to you.
Aside from that, Domain.com provides some services such as web builder, web hosting, web design, email marketing, and more. Security features include DDoS protection, daily malware detection, blacklist monitoring, SSL certificates, etc.
Getting a domain with no hosting and trying it as a different option from Google Domains is easy with Domain.com, which also provides some more services.
GoDaddy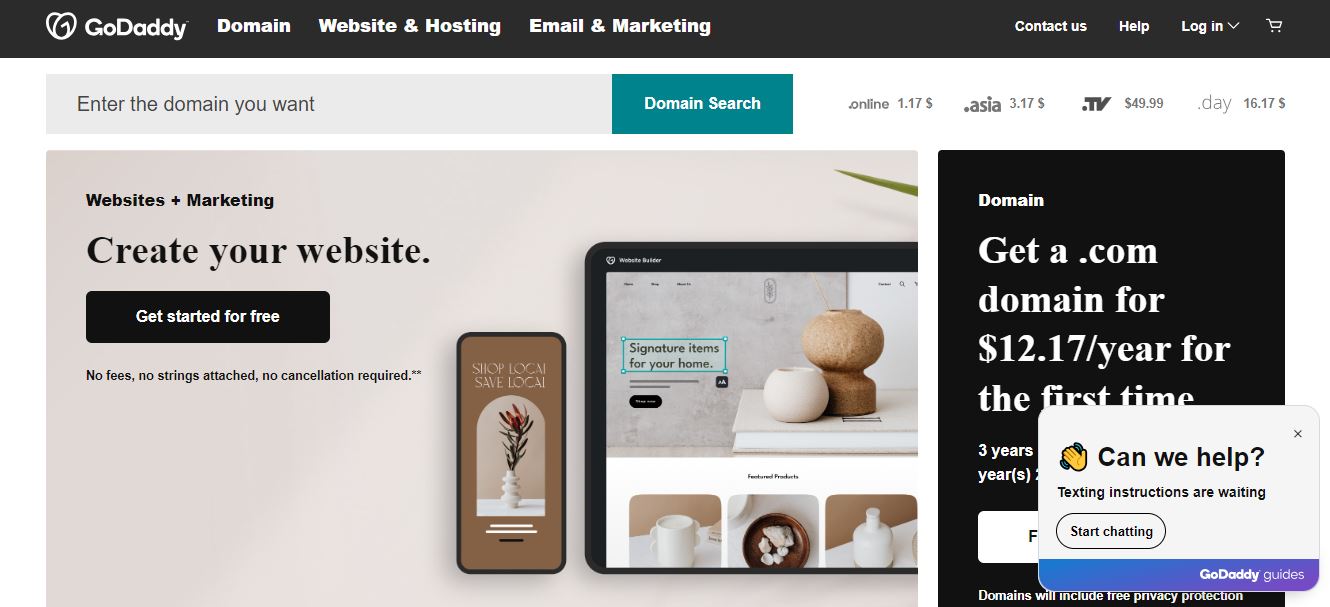 Learn More
The following Google Domains alternative is GoDaddy. It is among the most established and widely used domain registrars.
GoDaddy has +84 million domains and +500 domain extensions. It is an excellent resource for finding and registering domain names.
It is the perfect way to replace Google Domains, such as by purchasing a domain of your preference, selecting a web hosting plan, and beginning to create a WordPress website.
GoDaddy also has a WHOIS search feature and a domain broker service in case you can't find the domain you want. You can use GoDaddy to locate, negotiate, and buy a domain through the broker service.
Also, there is a section to see domains that are up for bidding. Just propose a price for a name you are interested in before the auction closes.
Other features include beginner-friendly domain management tools. This includes bulk domain renewals, domain name changes, and other services. GoDaddy also provides WordPress hosting, a web design builder, an email marketing service, and other tools.
Network Solutions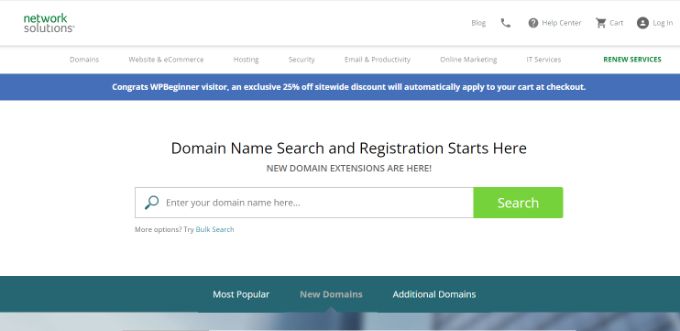 Learn More
As its name suggests, Network Solutions is the most well-known provider domain. In addition to others, it provides domain features like domain forwarding, WHOIS search, private registration, expiration security, and domain transfer.
There are different domain extensions with Network Solutions, including .com,.org,.net,.biz,.info, and other specialized TLDs.
Furthermore, it provides web hosting, a web builder, an SSL certificate, cybersecurity software, email marketing services, SEO tools, and more.
BlueHost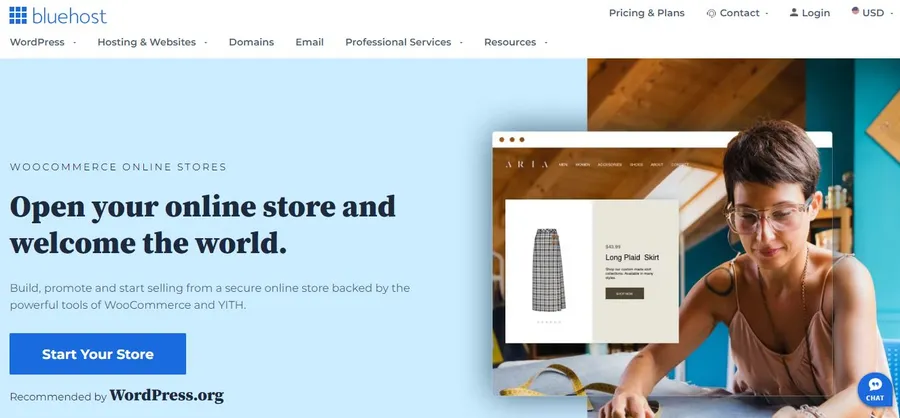 Learn More
The best web host and official hosting partner for WordPress is Bluehost. They provide domain name registration services in addition to quick and affordable hosting. It also provides free SSL and web hosting.
Each hosting plan includes a free SSL certificate and domain name. This implies that acquiring a domain or an SSL certificate is free of charge.
WordPress is pre-installed on Bluehost, which is another advantage. It assists you in managing everything from a dashboard, and it also has an interface that is user-friendly for beginners. Furthermore, you can create your business emails with Google Workspace.
Namecheap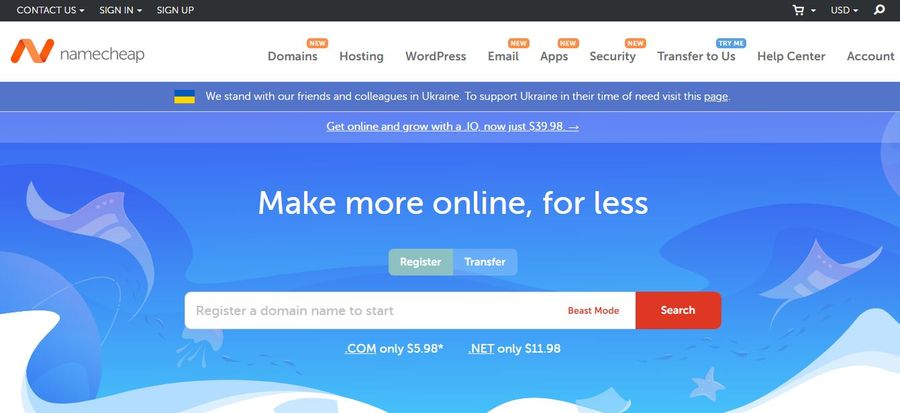 Learn More
The next best domain name is Namecheap. A strong domain search tool is provided by this well-known domain registrar. If the desired name or extension is not available, it also offers recommendations for alternative domain names.
Every domain name purchase comes with free Domain Name System Security Extensions (DNSSEC). Your domain is protected from online threats thanks to the additional layer of security provided by checking the DNS address.
Additionally, Namecheap offers a range of hosting services. Hosting options include shared, WordPress, VPS, dedicated servers, and resellers.
In addition, you receive privacy protection, 24/7 support service, a free 2-month email account trial, SSL certificates, domain transfer, and more.
In Conclusion
Some Google Domains alternative services you really should consider are Domain.com, Hostinger, and GoDaddy.
Finding a domain name with different domain extensions is incredibly simple with Domain.com. Additionally, it provides some of the top security and domain management tools.
Moreover, we heartily endorse Hostinger if you need a domain name along with web hosting. Every hosting package offers an SSL certificate and domain name valid for a year.
Namecheap and Network Solutions are great alternatives to Google Domains if you're looking to simply register a domain name. Both provide robust domain search engines.
Read More: Domain Name and Web Hosting: What You Need to Know
---
Contact us, ThimPress:
Website: https://thimpress.com/
Fanpage: https://www.facebook.com/ThimPress
Youtube: https://www.youtube.com/c/ThimPressDesign
Twitter: https://twitter.com/thimpress