Squarespace vs WordPress are the most famous website builders on the market now. However, it can be confusing when you have to decide which one to choose. Worry no more. In this article, we'll show you the difference between 2 platforms in 7 critical criteria. So you can pick the best fit for your site, your needs and your business.
Let's dive in!
Squarespace vs WordPress: Overview
Before we are going to compare in detail each criteria of Squarespace vs WordPress, let's take a quick overview of each platform's approach to creating a site. Firstly, both of them are trying to give the 2 best experience to users:
– Simple interface and accessibility to everyone, beginners to developers.
– Fully customizable and easy to add additional functionality
WordPress is the most basic and user-friendly platform with features that make site control simple for beginners when compared to other content management systems. Contrarily, Squarespace offers limitless freedom but is depending on your budget.
Also, we are comparing the open source WordPress CMS to the closed source Squarespace. Yet more often than not, we pay attention to the dynamic of user experience and adaptability. Thus, in the next section, we will elaborate further on this distinction.
How Easy Is It To Create a Website on Each Platform?
If you check out the steps of creating a website on WordPress vs Squarespace, you should go with Squarespace. Of course, WordPress is also really easy to make a site as well but not as easy as Squarespace.
Squarespace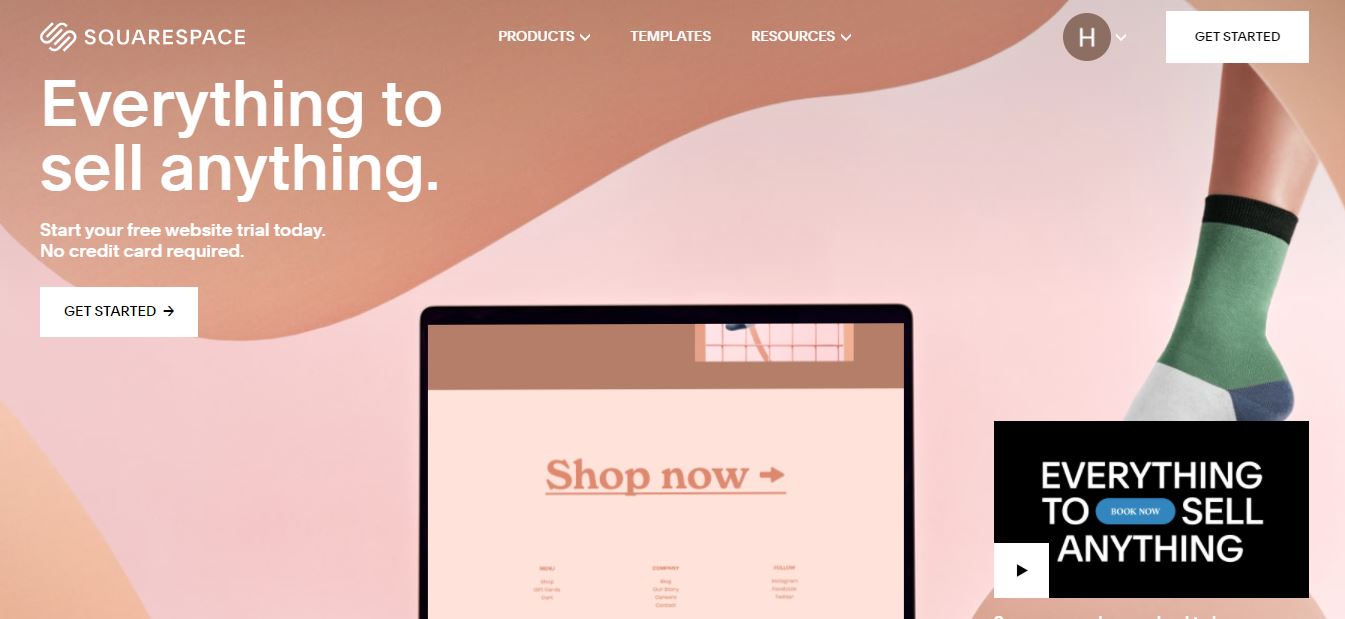 If you visit the Squarespace website, all you have to do is register for an account and submit to a few questions about your business and topic. Following that, Squarespace will provide the best template matches based on your response. You can choose the one that best suits your requirements.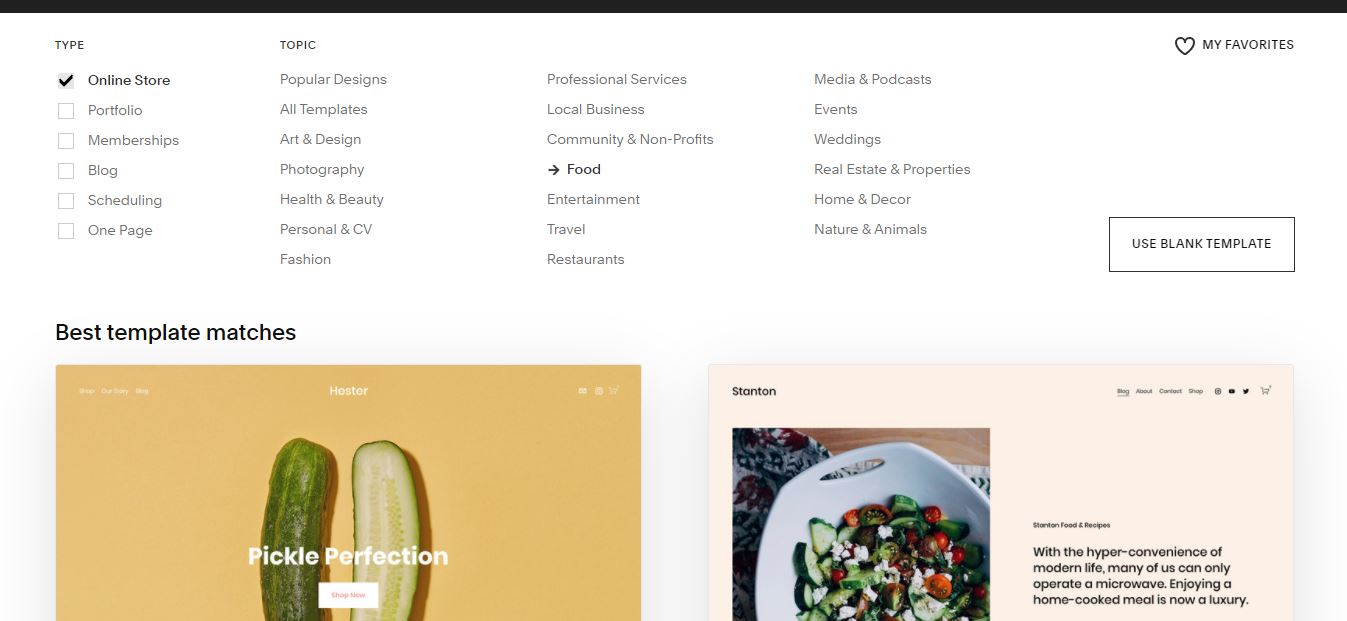 At this step, you just need to customize from the default to your text and images. And it's done. The Creation process with Squarespace is not more than a minute. No domain name or hosting required at all. Is it easy?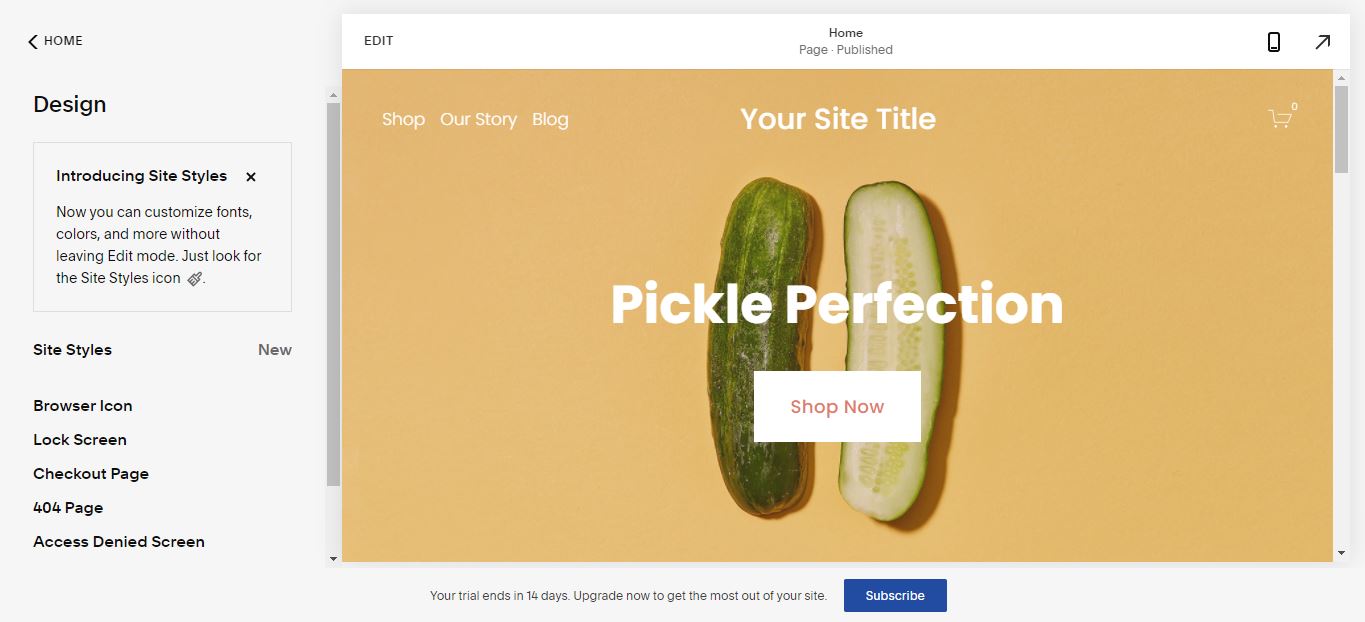 WordPress
With Squarespace, you have to find the best domain and web hosting to purchase before using WordPress. Once you complete these 2 steps, you can install WordPress with ease in a single click right on its official website. Next, you have options to install a free or premium theme to change your site looks on the admin dashboard area. It takes 5-10 mins to finish setting up your site.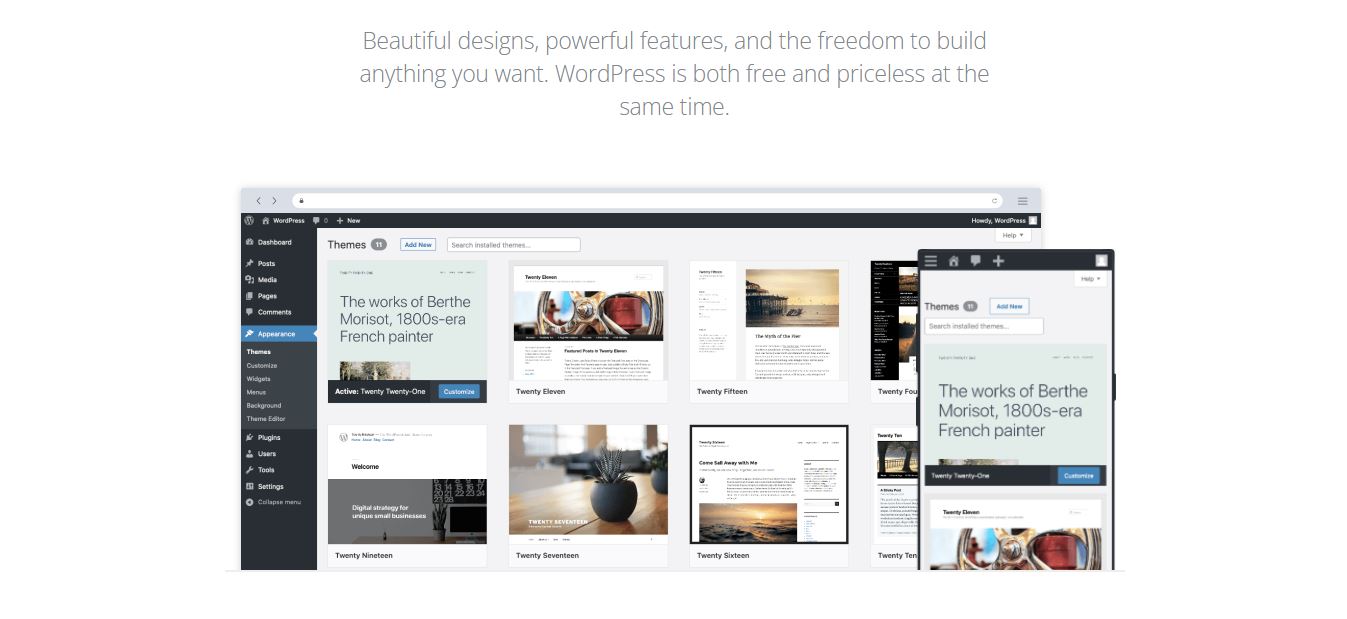 Using WordPress has more steps than Squarespace but newbies or beginners can do it well without any issue. Even if they need help, they can directly contact each platform's customer support or its community or their purchased theme's support team too.
How Much Control Do You Have Over Your Website's Functionality?
If we compare Squarespace vs WordPress on controlling a website's functionality criteria, WordPress is the perfect winner. Because it offers a thousand of free & paid plugins and themes to meet any requirements. Whatever functionality you want, WordPress can provide that suitable plugin within a min. Unlike WordPress, Squarespace supports very little in the set of integrations and plugins.
Squarespace
The platform lets you edit content, customize design layouts, add custom CSS, use analytics, enable social sharing buttons, and manage the SEO settings from one single interface.
Thanks to the drag-n-drop interface, you can create your own layouts based on blocks too. However, Squarespace does support a few in-house apps.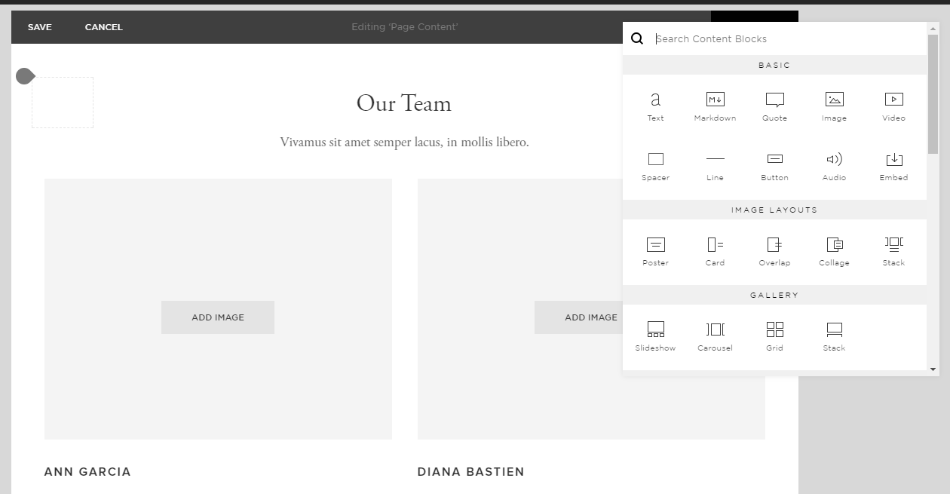 WordPress
As I've already indicated, there are literally millions of plugins available for WordPress that you may add to increase functionality. For instance, you might use one of the well-known page builders to alter and create the appearance to your liking. You can easily drag and drop pieces without touching any code, similar to Squarespace.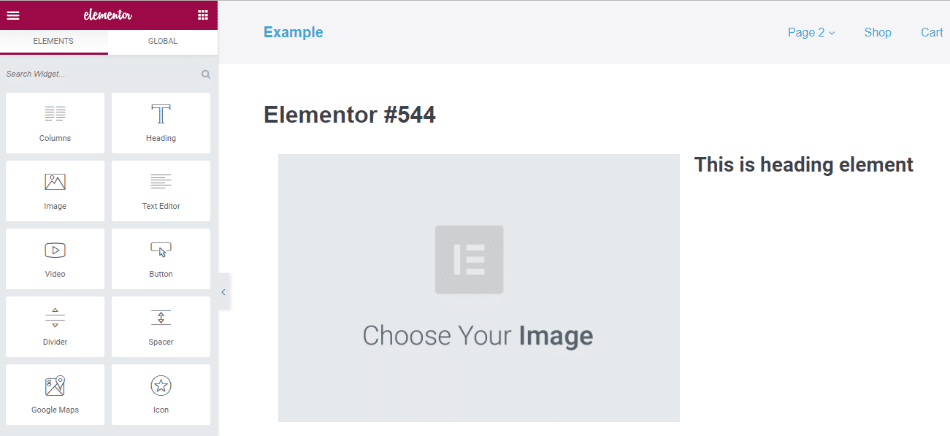 Also, WordPress enables you to add as many plugins as you wish, including plugins for social networking, advertising, backup, security, and other functions. Everything is yours due to the enormous library of plugins. WordPress is still worth it to get a ton of capabilities and flexibilities, even if you have to pick the finest plugin for each feature you desire.
How Does Squarespace vs WordPress Handle eCommerce?
For selling online products via your site, WordPress is the better choice to go with. It's a perfect way to earn money when using Squarespace vs WordPress for bloggers.
Squarespace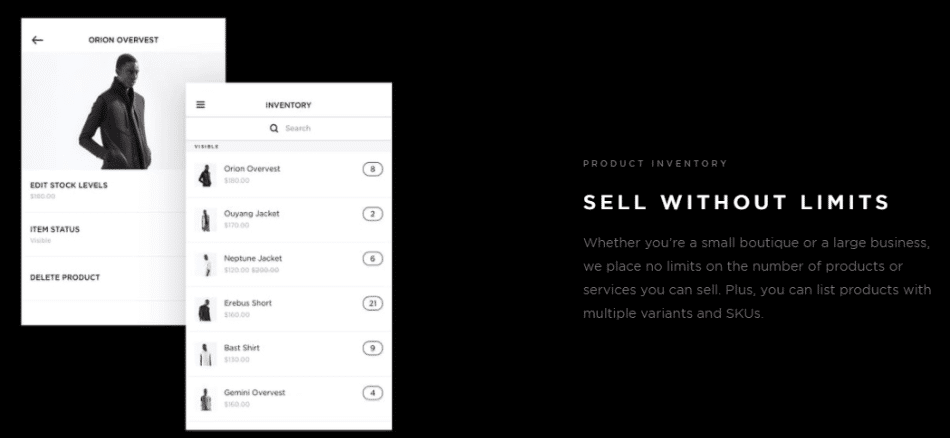 Squarespace has an eCommerce function but it does not have as many options as WordPress. Card recovery emails point is the highlight of Squarespace for the eCommerce store. However, you have very limited options.
There are only 3 payment channels to choose from: Stripe, PayPal, and Apple Pay. That's a tiny list.
So if you upgrade to eCommerce plans, you can avoid the downside in Squarespace. However, it's expensive, beginning at $30/ month. You even have to pay $312/ year minimum if you don't want to be charged a 2-3% transaction fee on your credit card.
WordPress
With WordPress, it has a lot of choices to turn WordPress into an eCommerce store. And the most famous plugin that you can see everywhere is WooCommerce. The plugin helps you to sell online products easily and quickly.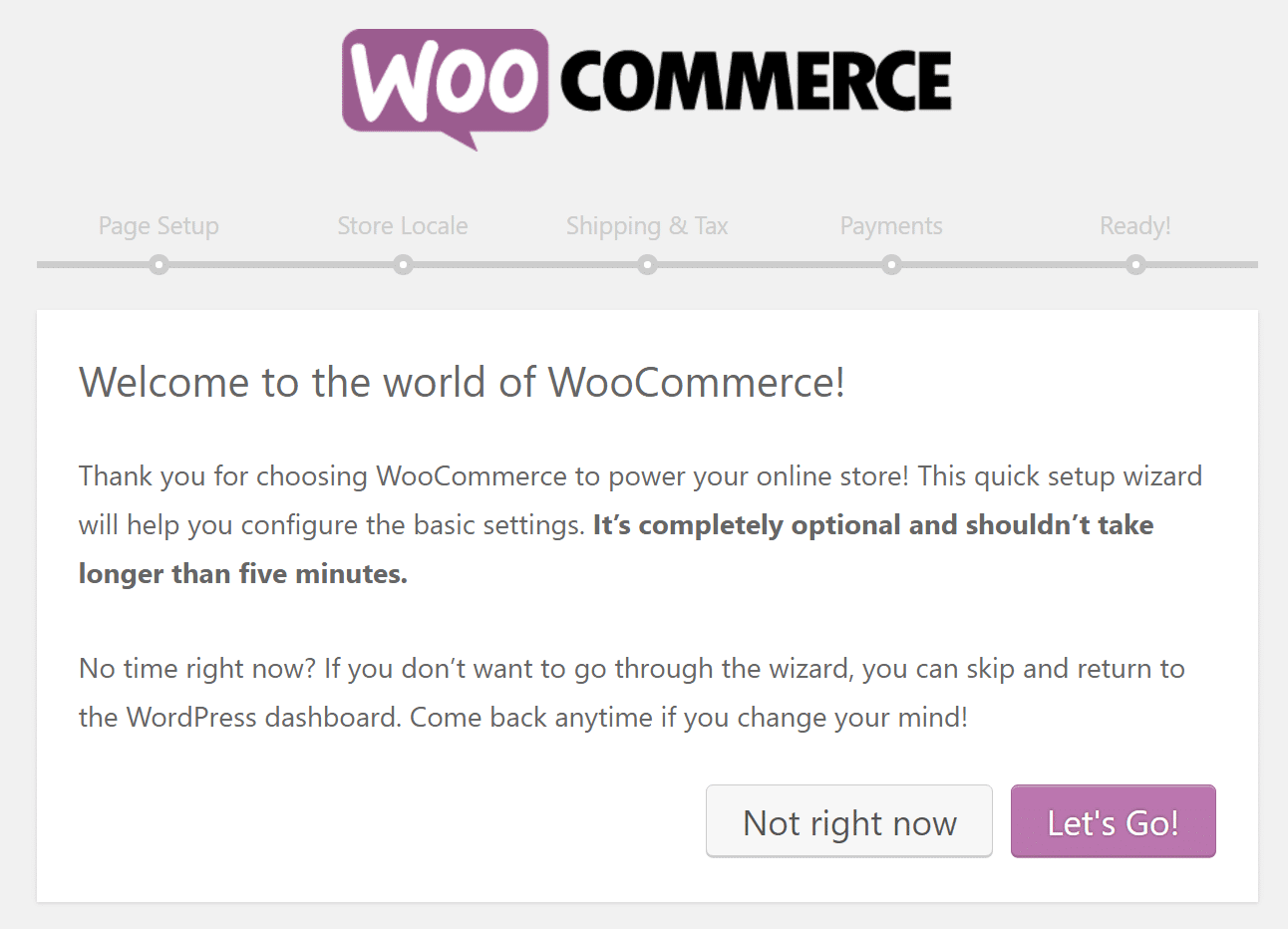 Apart from WooCommerce, you can try the Easy Digital Downloads plugin which is for selling digital products too.
Furthermore, you won't ever have to be concerned about transaction costs. You can get the best plugin on the market even if you wish to connect affiliate networks to your online business.
Which Platform Controls Your Data better?
Nothing to compare between Squarespace vs WordPress at this point since WordPress is an open-source system. Hence, WordPress is truly a winner if you plan to move your content to another platform.
Squarespace
You can not export everything to another platform with Squarespace. You can only do it with some of the content below into a .xml file:
– Regular pages
– 1-blog page and every posts of it
– Gallery pages
– Text blocks
– Image blocks
– Comments
And below are the content that Squarespace does not allow to export:
– Product, event, index, album, and cover pages
– Folders
– More than 1-blog page
– Some of blocks like Audio, Video, product
– Custom CSS
– Drafts
– Style changes
So if you are using Squarespace, it means you can not have a complete copy of your site data and files.
WordPress
Unlike Squarespace, WordPress allows you to export all users and data to another platform. Plus, you can download a full copy of your website database & files. It means you 100% own your entire website. Also, others can not access your site to do it.
How Does WordPress vs Squarespace Handle Ongoing Maintenance?
The Difference Between WordPress and Squarespace in handling ongoing maintenance is based on each feature. WordPress is an open source system so you might take care of it to maintain your site. But Squarespace is different. It's a closed source system so you can forget about maintenance.
Squarespace
For ongoing maintenance or updates, Squarespace does it all for you so you don't need to touch anything.
WordPress
With WordPress, you are the one to handle ongoing maintenance like updating plugins or themes, backups, or security.
However, it is not as hard as we think. It is very simple with simple steps. Plus, these can be automated quickly with specific plugins like security or backup plugins.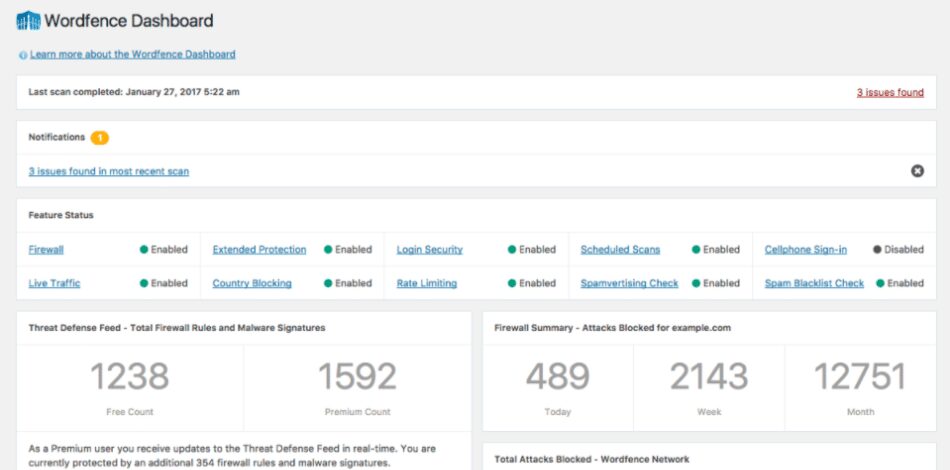 Also, if you're using a managed WP host, they will do these things for you. You can even hire a WP maintenance service as well.
How Much Does Each Platform Cost?
Depending on each plan and service you choose from Squarespace vs WordPress, we can not actually tell you which one is cheaper. But Squarespace gives you the exact amount of each plan when using it.
Squarespace
Squarespace offers 4 plans with bundled features. You can choose a personal plan, business plan, basic commerce plan, or advanced commerce plan. And the business plan is the most popular one with $18/ month. However, it will charge 3% of the transaction fee if you run an eCommerce store.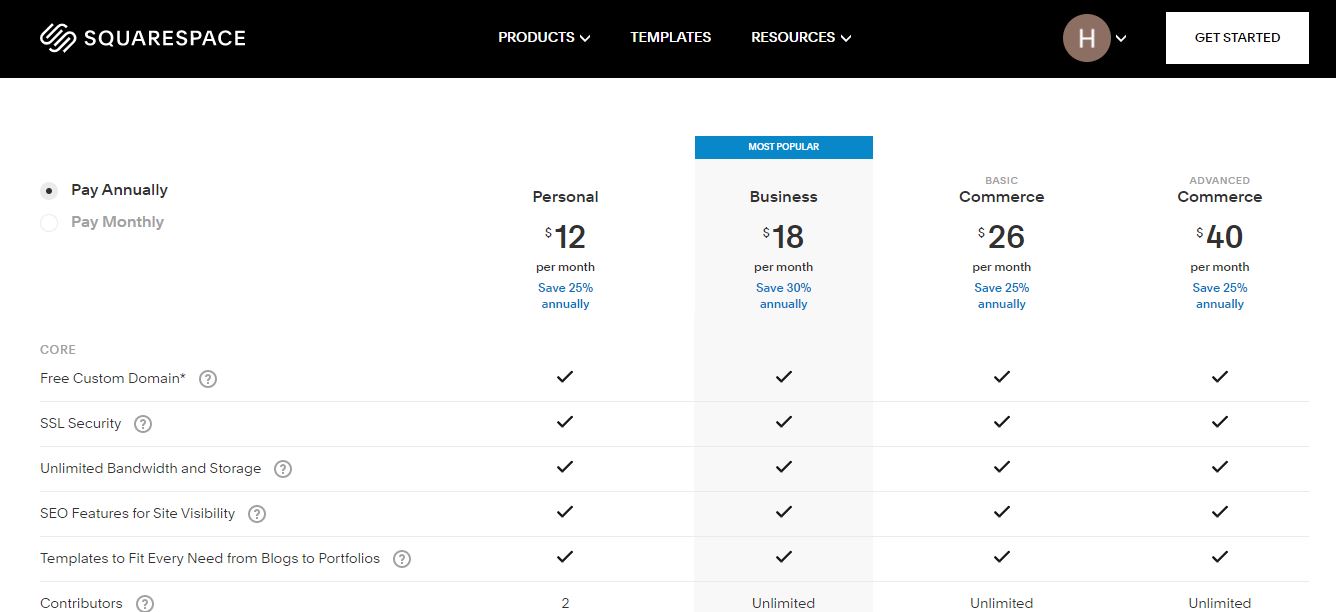 WordPress
With WordPress, you have to purchase hosting and domain so it's hard to say the exact cost. Besides, you might spend more to pay for the premium theme and plugins to make your site fully functional and powerful.
Migrate From Squarespace to WordPress
You can easily migrate your site with Squarespace vs WordPress for blogging and others. Plus, it's possible to migrate from Squarespace to WordPress and vice versa with ease.
You can even migrate WordPress site to another host as well.
Squarespace vs WordPress: Which One Should You Choose?
Depending on the purpose of creating a website, there will be different option. If you just need a simple website without requiring much flexibility or owning the entire website, you can go with Squarespace. Plus, you just need to pay for your preferred plan and your site is ready.
However, most people will choose WordPress to create a website because it's an open-source ecosystem. There are many options to build an amazing site like functionality and flexibility. Even if you are a beginner, you can simply install and set up a theme and plugins. Plus, you get 100% power to do anything on your site.
Final Thoughts
Hopefully, you understand the Difference Between Squarespace and WordPress via our article today and have your own decision to choose which one for creating your site.