So the day has come and it's our honor to announce that LearnPress WordPress LMS is now GDPR compliant. You can start downloading the latest version of LearnPress (or just update LearnPress to the latest version). It makes your online course site to be GDPR Compliant.
This is what is GDPR if you don't know.
GDPR: Knowledge Base
How did we do it?
So WordPress recently rolled out a new version WP 4.9.6 with 2 new tools. That makes it compliant with GDPR: Export Personal Data and Erase Personal Data.
To help make all this GDPR thing easy for website owners and also the wide variety of LearnPress course users. We decided to hook into these to new WordPress tools so that when they request to export personal data and erase personal data, their LearnPress data will also display.
People won't need to request twice to get the data or won't need to reach different tabs on their WordPress website to export data.
This should be a one-click action and provide a seamless experience as our products always do.
What's next?
It means LearnPress is now Compliant with GDPR. If anyone asked to get his stored data, you can just verify if he is eligible for this (the true owner of the account and a European citizen). Here's how:
Set up a Privacy Policy page in which you specifically include a statement that if anyone needs to practice their right to Exporting Data or the Right To Be Forgotten, they will need to send an email to our email address. Or they could also submit a contact form.
After you've received the information, you can go to your WordPress Dashboard > Tools > Export User Data > Submit their email address.
An email will be sent to the user's mailbox asking if he wishes to perform the action of Export Personal Data. There is a link he can click on if he agrees.

Once the user clicked the link from the email, in the backend, you can see that the request is confirmed. You can then download the file and send to the user or click on the Send Email button to let the system send the file for you.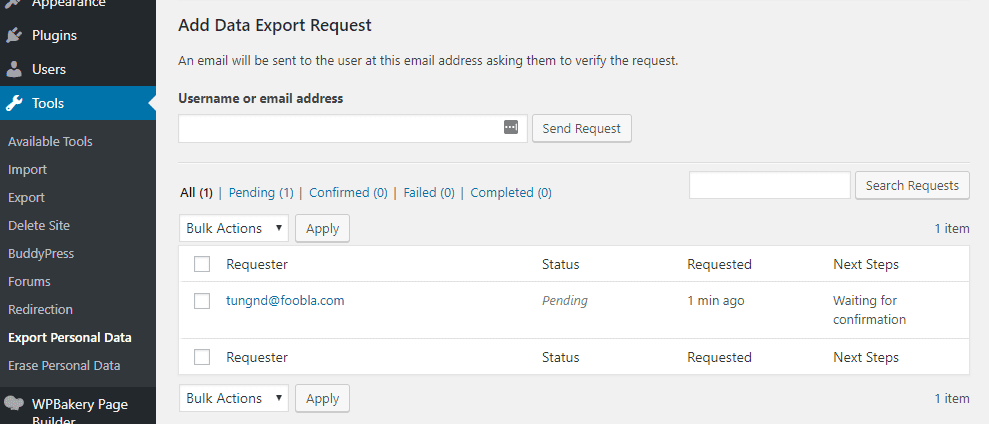 Removing data works the same way as this is WordPress's default feature.
The final exported files will cover your course's data, which course you created, which course you purchased, which lessons/quizzes have finished, your personal information, your orders, and other WordPress-related information that is stored by WordPress.
You can check this image for a preview of what LearnPress's exported data looks like.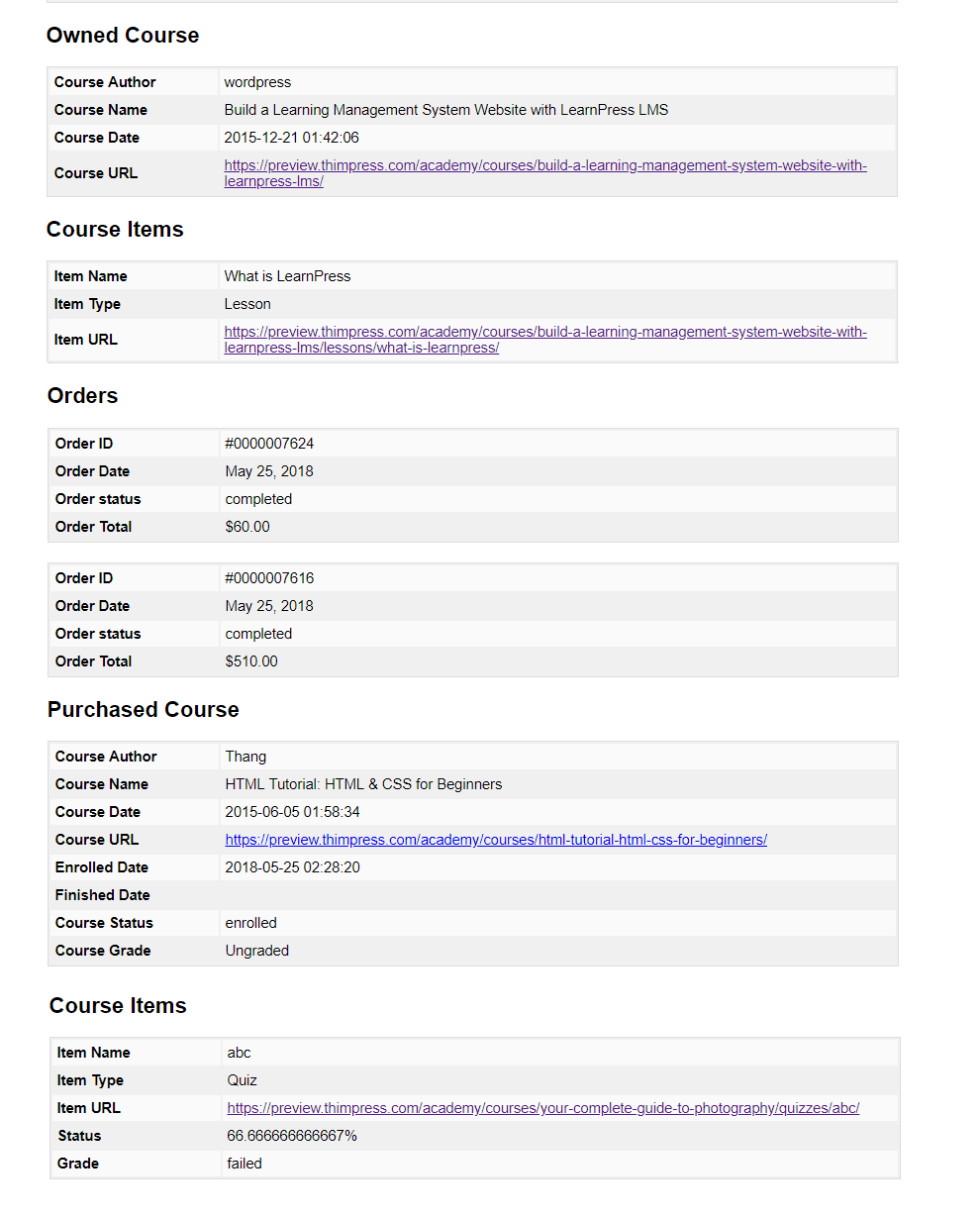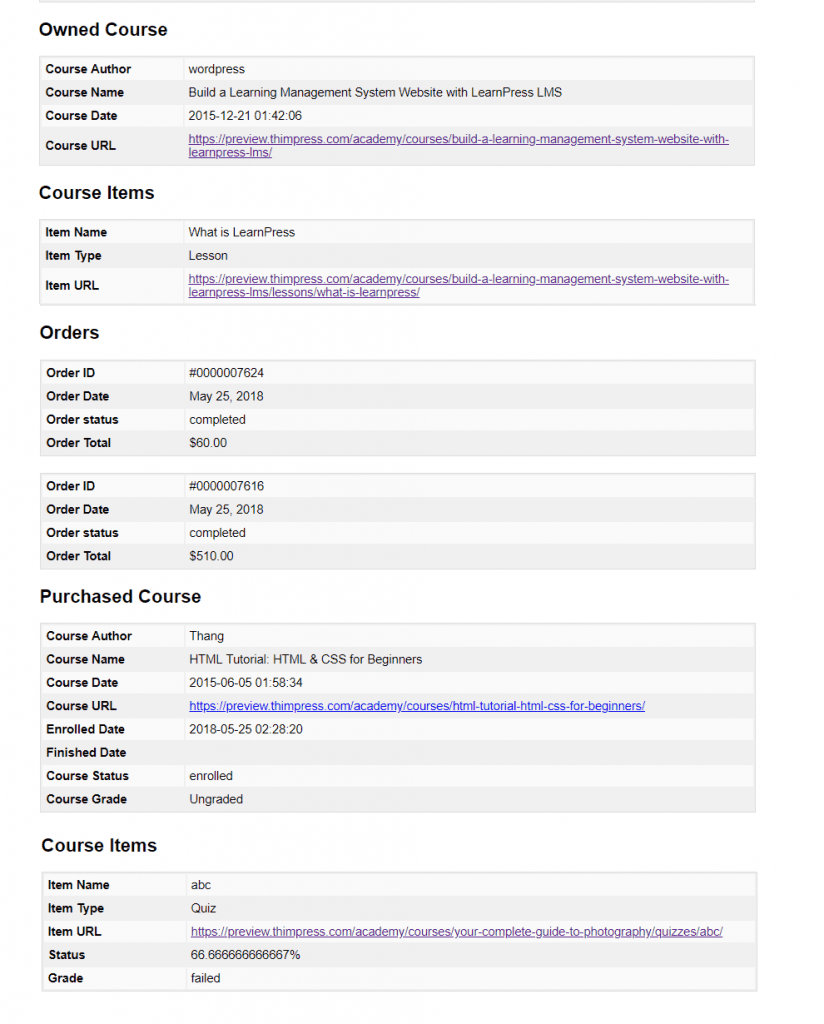 Summary
With LearnPress now GDPR compliant, it ensures that users' data is handled responsibly and securely. This achievement reflects LearnPress's commitment to providing a seamless and compliant learning experience for its users.
Read more: LearnPress Payment Settings: The All-in-one tutorial
---
Contact us, ThimPress:
Website: https://thimpress.com/
Fanpage: https://www.facebook.com/ThimPress
Youtube: https://www.youtube.com/c/ThimPressDesign
Twitter: https://twitter.com/thimpress