In this article, we will look at the possibilities of WordPress for education. We'll check out its many features and see that even though it's often seen as a social network, it can also work as a complete learning system.
We'll also dive into LMS WordPress plugins, education WordPress themes, and other tools that schools and teachers can use to make their teaching better.
The Potential of WordPress for Education
Big changes in society have happened because technology has really advanced. In 2023, we will see more progress in things like eco-friendly technology, super-fast computers, gene editing, smart computers, and the metaverse. These changes will affect how people learn and teach in the future.
But, before COVID-19, most of the teaching happened in person. Technology for teaching has come a long way, from old-time radio and TV to regular computers, then the internet, web 2.0, online learning, and mobile learning.
Now, we have cool things like Augmented Reality (AR), Virtual Reality (VR), Artificial Intelligence (AI), and the metaverse. However, before COVID-19, these fancy teaching methods didn't have a big impact.
COVID-19 showed us one good thing: it made virtual teaching tech more important. This opened the door for other new technologies to help with teaching, learning, and school stuff.

Since the year 2000, WordPress has been a super popular tool for managing websites. By June 2023, half of the top 10 million websites used it. This happened because of the WordPress community and the cool things it offers, especially for education.
There are lots of helpful education plugins you can add to WordPress, making it even better. It also supports sustainable tech, metaverse stuff, and smart AI.
What Makes WordPress Potentially Useful in Online Learning?
Since the early 2000s, WordPress has been a popular tool for managing websites. But now, it's not just for websites; it's also great for creating and promoting online courses.
WordPress has a lot of potential for online learning. It's better than traditional learning systems that many teachers use because it's more capable, interactive, and flexible.
It's easy to learn, and you can make it fit your needs. Besides, it's a useful tool for teachers and course creators to make money and reach more people.

You can make your courses even better with LMS WordPress plugins. LearnPress is a top choice, especially since COVID-19 hit. It's free and works well on different devices. You can offer your courses for free or charge people to access them. This way, you can make money and reach more learners.
User-Friendly Interface.
WordPress was made to give people an easy and simple way to work on the internet. This means they don't have to spend a lot of time writing complex code. Instead, they can focus on making educational stuff.
Content Management.
WordPress makes it easy to handle and organize educational content. Teachers can use LMS WordPress plugins to create, publish, and update information like text, pictures, videos, and files in various ways.
Online Course Creation.
WordPress has special plugins like LeanPress, Sensei, LearnDash, and more that can transform it into a powerful Learning Management System (LMS). These plugins come with features like lesson planning, tests, assignments, progress tracking, and student certificates, making it possible for educators to create and offer online courses.
Monetization Options.
WordPress provides opportunities for teachers and educational creators to earn money. They can use e-commerce WordPress plugins like WooCommerce to offer courses or educational materials for a one-time fee or a recurring charge, or even provide them for free if they prefer.
Community and Support.
WordPress has a big and active community of users, developers, and fans. If you're an educator, you can benefit from the WordPress support forum. It's a place where you can get help, share ideas, and find lots of useful stuff like plugins, themes, and tips.
Also, the people who make education WordPress themes and plugins offer help too. For example, if you use LearnPress and have issues, you can contact our support team or open a support ticket to get assistance.
Compare WordPress vs. Other LMS Platforms
WordPress is considered one of the best content management systems because it's easy to use and doesn't need much training.
Its user-friendly interface makes it simple to navigate and promotes effective communication and interaction with learners.
However, when it comes to specialized features, dedicated Learning Management Systems (LMSs) perform better than WordPress.
Let's take a look at the strengths and limitations of WordPress vs. Other LMS Platforms.
WordPress for Education as an LMS platform.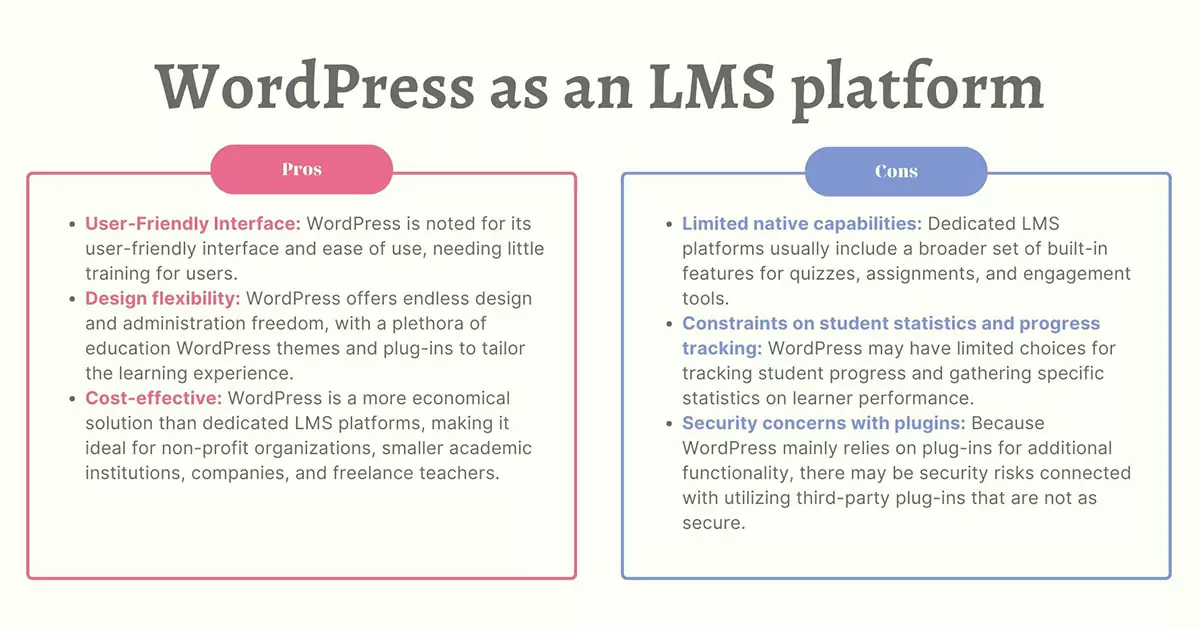 Dedicated LMS platforms.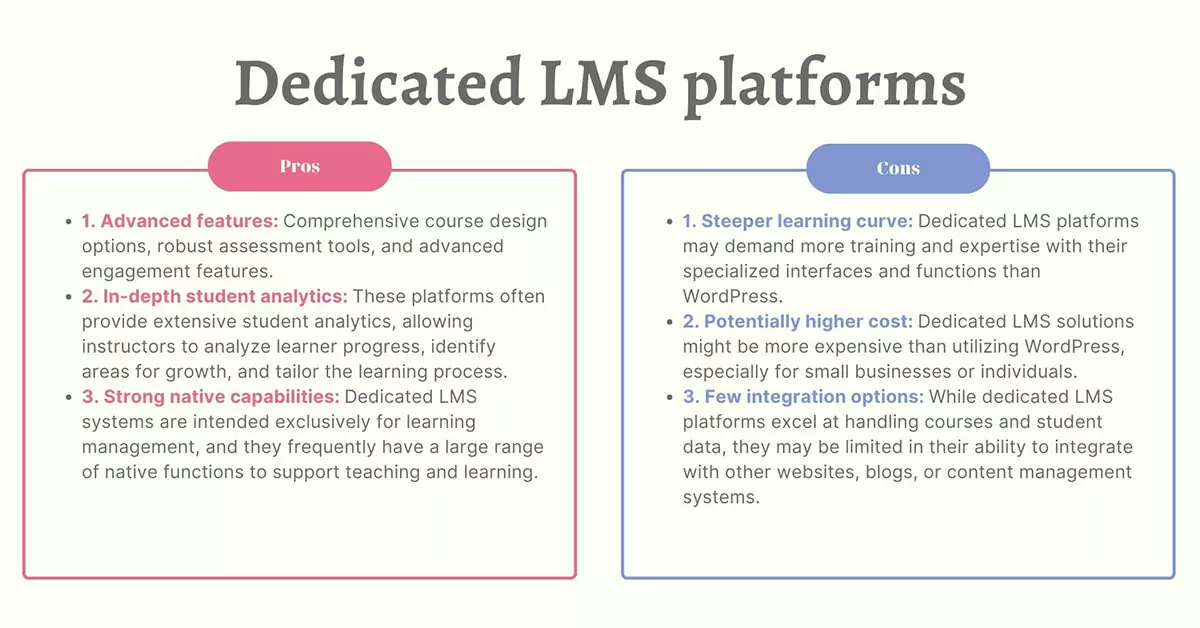 We've discussed the advantages and disadvantages of WordPress compared to other LMS platforms. It's important to remember that these points are based on general knowledge.
Many of WordPress's drawbacks can be fixed by using plugins or specialized education themes. Likewise, the cons of other LMS platforms can be reduced by making changes to compete better with WordPress.
But, considering how quickly people's needs change nowadays, it's clear that WordPress is more adaptable because it's naturally flexible.
This flexibility makes it easy to adjust and meet evolving requirements, making it a good choice in a changing environment.
Step-by-step Instructions for Setting Up a WordPress Website
The User-Friendly Interface, Community, and Support of WordPress all contribute to its simplicity, as we said previously. In order to help you set up your WordPress website as quickly as possible, the WordPress developer offers a comprehensive step-by-step tutorial.
We will walk you through the process of setting up a WordPress website to keep you from becoming overwhelmed by text.
Choose a Domain Name.
Choose a Domain name that accurately describes the goal or identity of your website.
You may choose from a number of domain registrars to register your domain, including Google Domains, Domain.com, GoDaddy, and Namecheap.
If you need additional guidance on how to choose a domain name, WordPress also has a What-is Domain Name post.
Choose a Web Hosting Provider.
Find a trustworthy web Hosting provider that enables WordPress installations. SiteGround, DreamHost, and Bluehost are a few well-liked choices.
When choosing, take into account aspects like performance, customer service, and cost.
Thankfully, ThimPress provides an article on How to choose the hosting providers mentioned above; you will need it to make your choice.
Set Up WordPress.
A one-click WordPress installation process is provided by the majority of hosting providers.
If you decide to use Bluehost as your hosting provider, for instance, they will give you instructions on How to install WordPress.
Access Your WordPress Dashboard.
You'll get the login information for your WordPress dashboard after the installation is complete. Go to yourdomain.com/wp-admin to access it. Use the admin username and password you created during installation to log in.
Customize Your Website.
You may start personalizing your website as soon as you log in to the WordPress dashboard. Install the education WordPress theme of your choice.
Free WordPress themes are available on the official WordPress theme directory, and premium WordPress themes are available on the Envato Market.
Install Essential Plugins.
Install plugins to increase the functionality of your website. Yoast SEO or Rank Math for SEO, W3 Total Cache for speed, and Wordfence Security for security are the most used WordPress plugins.
To prevent speed difficulties, only install the plugins you actually need.
Choose The Best LMS WordPress Plugin for You Courses
You've now completed the fundamental stages for installing WordPress; the next step is to create a class for your education WordPress website.
Fortunately, ThimPress provides a comparison article about LMS WordPress plugins. Please read it and then choose which plugin to use. Our methods for building classes will vary depending on the plugin.
You can use the article How to Create Online Courses with WordPress Themes as a reference for the process of creating classes on WordPress after selecting the LMS WordPress plugin you prefer.
ThimPress offers you a detailed tutorial on how to create classes of the most popular LMS, including LearnPress, Sensei, LifterLMS, Zippy Courses, and LearnDash.
Additionally, we also have a playlist detailing how to Create an LMS Website with LearnPress that's guaranteed to make you a LearnPress master after watching. Don't miss it!
Best Education WordPress Theme for Creating Online Courses
If you choose the wrong education WordPress theme to create online courses, all of your efforts will be for naught because there are numerous additional aspects that will affect your website.
Our recommendation is to select education WordPress themes that are SEO-optimized, responsive, fast, and have clean code.
Furthermore, a decent education WordPress theme must ensure that there are many pre-made demos to offer a good experience for students, as well as teaching add-ons.
To match those requirements, we've compiled a list of the top education WordPress themes available today, along with their qualities; using them, you may quickly create an Udemy or Coursera clone.
Let's go exploring now.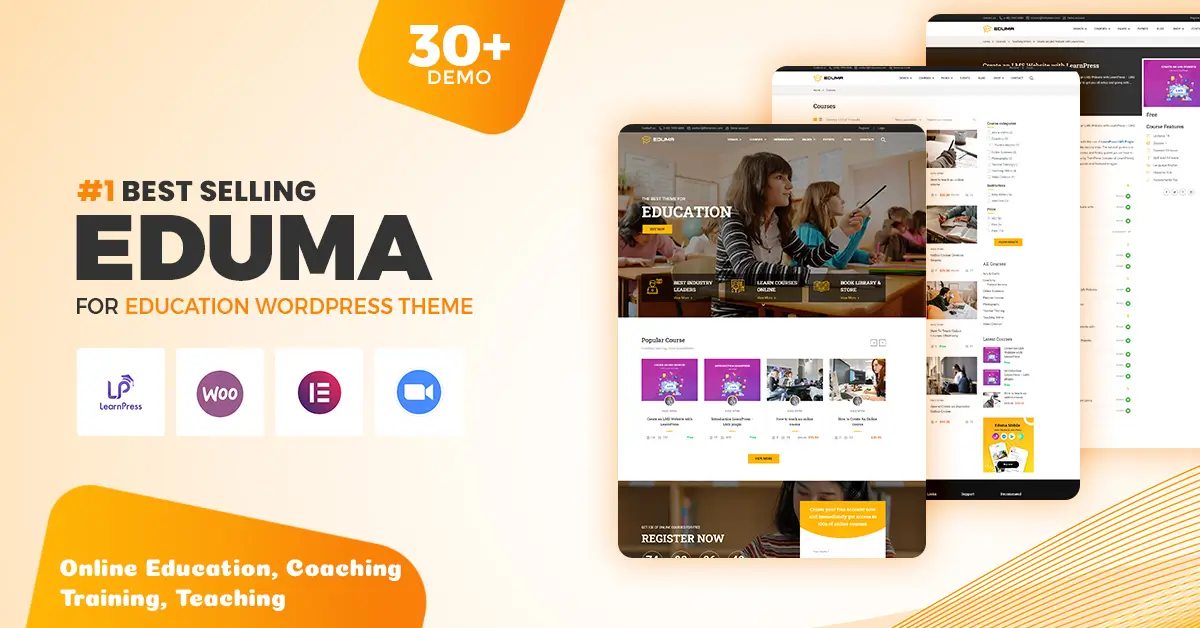 Download
Demo
When it comes to LMS and education WordPress themes, Eduma is the clear winner. Eduma, created by the ThimPress team, the founders of LearnPress, maximizes LearnPress's full potential like no other theme. Eduma is now the best-selling theme on ThemeForest, with an outstanding rating of 4.9/5 from over 40,000 purchasers.
This best eLearning WordPress theme provides an excellent collection of 30 pre-designed demos for schools, universities, kindergartens, course centers, and other institutions. ThimPress gives Eduma additional attention, putting it at the forefront of our responsive WordPress themes.
With Eduma, you can create your dream online school, similar to platforms like Udemy or Coursera, in less than 30 minutes and without any coding skills.
In addition to its numerous features and well-designed layouts, Eduma is well-known for its outstanding customer service, which is always ready to assist you with any theme-related concerns.
What distinguishes Eduma is its excellent value, which includes a premium package of LearnPress add-ons as well as countless other premium plugins. This translates into huge cost savings for you.
With all of these benefits, Eduma is an excellent choice for anyone wishing to easily construct a platform similar to Udemy or Coursera utilizing LearnPress.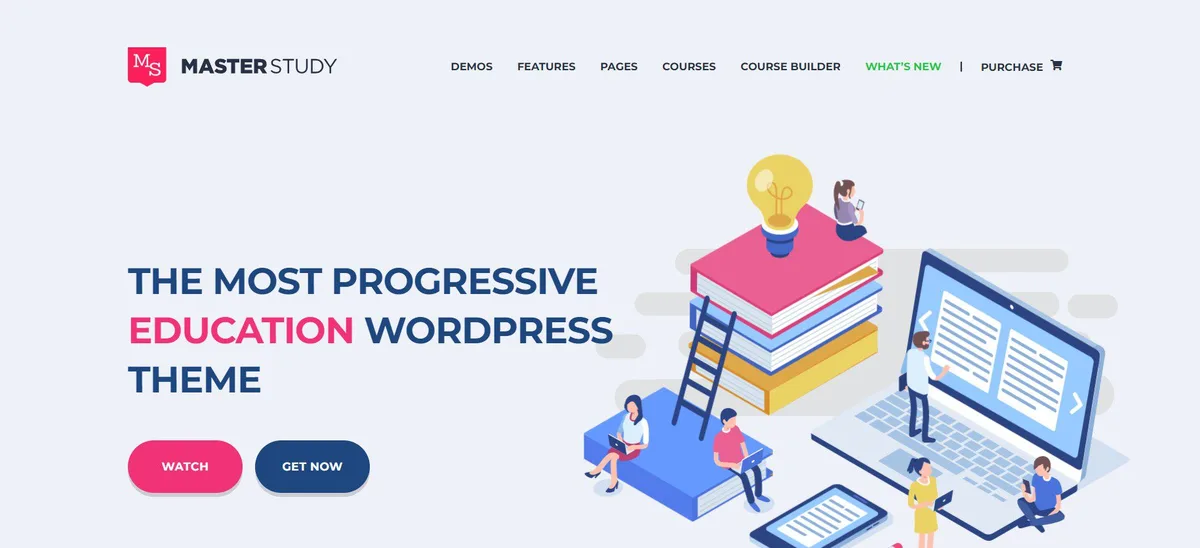 Download
Demo
Masterstudy is a popular WordPress theme for online courses, with over 15,000 sales and a 4.7 out of 5 rating on Envato Market. It provides a wide range of customization choices with its 15+ pre-made samples.
The theme works perfectly with Zoom video conferencing, allowing for interactive virtual courses. A certificate builder and advanced quiz tools enhance the learning experience, while a point system rewards pupils.
Furthermore, Masterstudy makes it simple to offer courses using WooCommerce.
This WordPress education theme is a comprehensive solution for establishing and administering successful online learning platforms, and it includes a slew of other capabilities.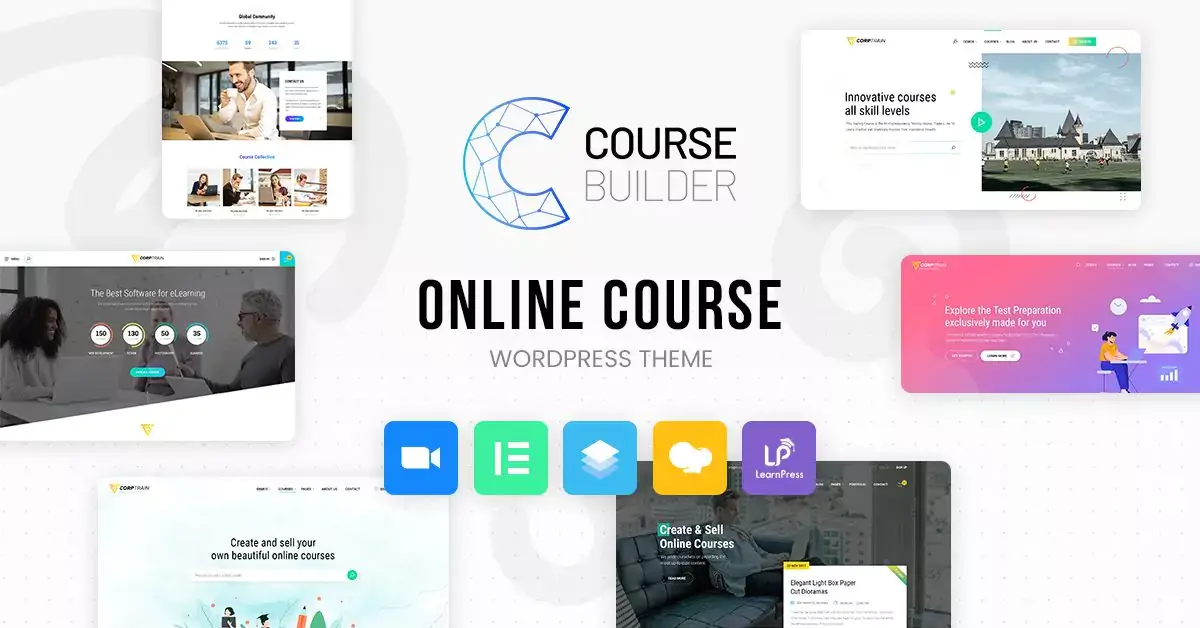 Download
Demo
Course Builder is a top-rated Online Course WordPress Theme with a rating of 4.8 out of 5 on ThemeForest and over 5,000 sales. This theme has robust Learning Management System (LMS) capabilities that improve the online learning experience.
It allows you to create and manage online courses, arrange paid courses, manage students, integrate virtual classrooms, and use homework testing, evaluation tools, and more.
You can easily sell your courses utilizing numerous payment processors using Course Builder, making it convenient for both instructors and students. The theme also integrates seamlessly with WooCommerce, allowing for simple course transactions.
Furthermore, by being available in many languages, Course Builder appeals to a global audience. It fully supports multi-languages thanks to interoperability with popular plugins such as WPML and others.
Course Builder is a comprehensive solution for building and managing an online learning platform, whether you are an educational institution or an individual educator.
The user-friendly interface and powerful capabilities make this education WordPress theme a popular choice for developing interesting and interactive e-learning environments. You may use Course Builder to deliver high-quality courses, manage student progress, and efficiently monetize your knowledge.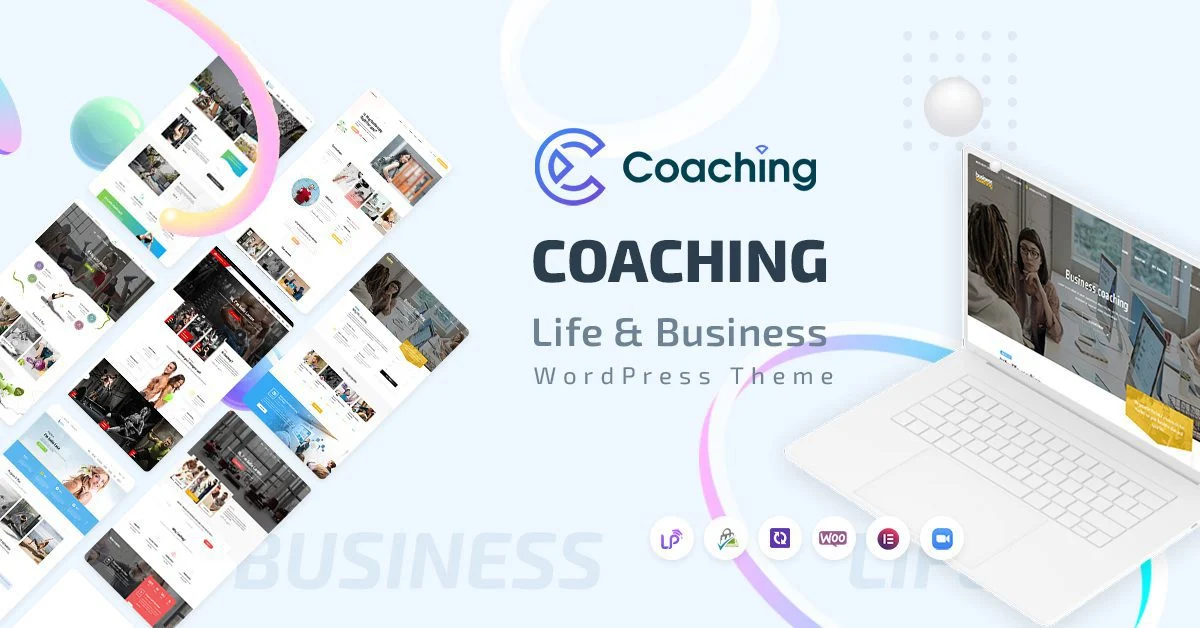 Download
Demo
This versatile and multipurpose theme, commonly known as Coaching, intends to help individuals and businesses in the coaching field promote their talks, services, and consultancies.
Coaching stands out due to its outstanding and visually engaging designs, which capture visitors' attention and provide a seamless browsing experience.
This theme provides optimum pleasure for both site owners and visitors thanks to its user-friendly website template solution. It is fully compatible with the renowned Elementor page builder, allowing for quick customization and the development of visually appealing layouts.
Furthermore, this eLearning WordPress theme was created with SEO in mind, making it one of the greatest solutions for increasing search engine exposure. Coaching assists coaches and trainers in attracting more organic traffic to their websites by using SEO best practices, improving their online presence and reaching a larger audience.
Whether you're a speaker, mentor, or coach in a variety of fields, Coaching provides a variety of features and design options to successfully exhibit your experience and services.
This WordPress education theme enables coaching professionals to construct appealing online platforms and generate a strong online presence, allowing them to interact with customers and grow their reach in the coaching field.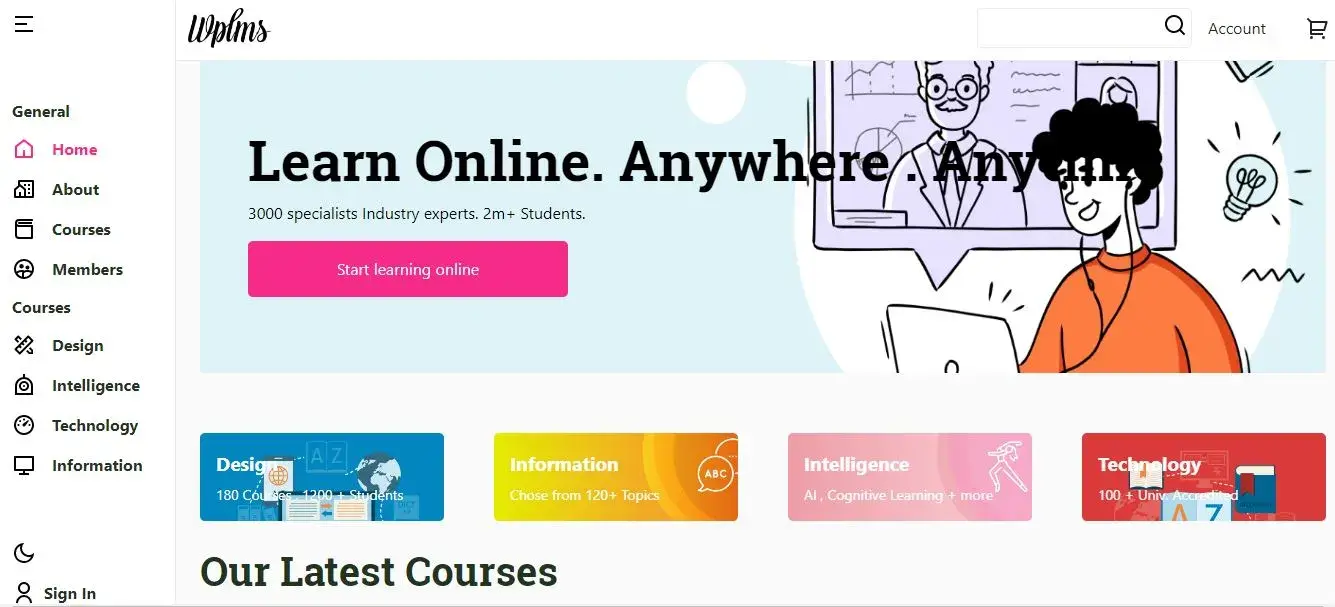 Download
Demo
WPLMS is a well-known WordPress theme for educational purposes, with over 25,000 sales and a 4.5-star rating on ThemeForest. This learning management system makes knowledge distribution easier.
It provides smooth communication between teachers and students and has a variety of features, including over 100 customizability choices.
This WordPress education theme also makes it easy to convert web pages into mobile apps. Instructors can develop courses straight from the front end, improving the user experience.
Furthermore, the WPLMS GA add-on delivers in-depth analytics for complete insights. WPLMS is a strong tool for constructing and administering educational platforms because of its broad capabilities.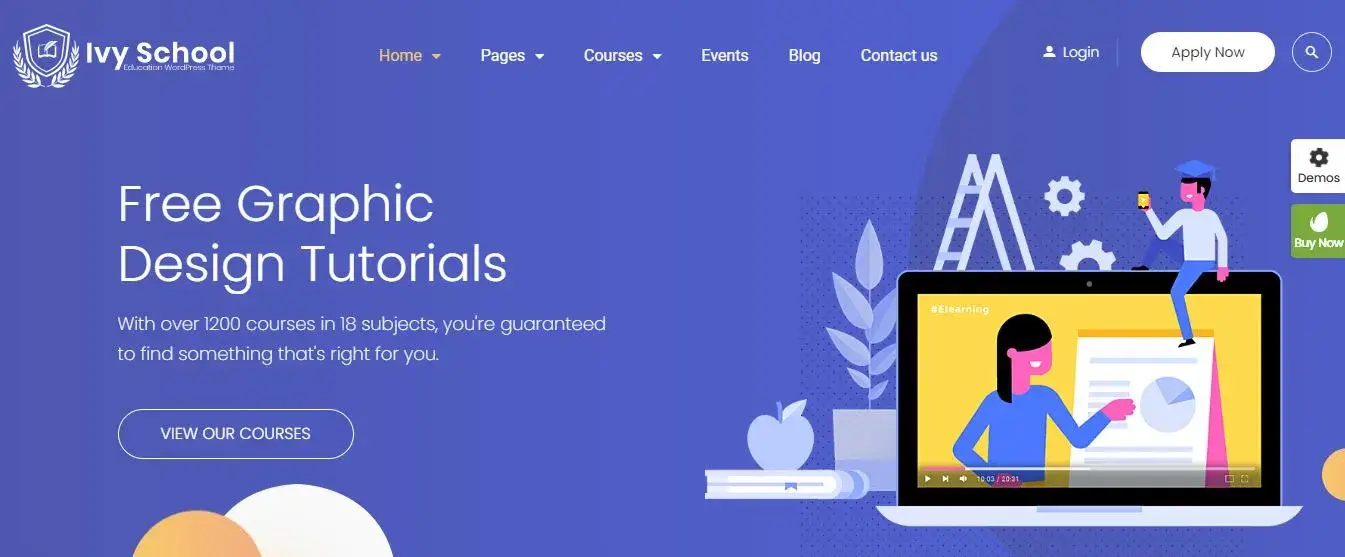 Download
Demo
Try out the IvyPrep – Ivy School WordPress theme's strength for yourself, and see how it can take your educational website to new heights. Ivy School is the ideal option for schools, colleges, universities, and any other educational institution with its contemporary design and cutting-edge functionality.
Don't pass up the chance to improve your online courses and increase student engagement. Join the 1,500+ pleased users who have already made the decision to use Ivy School, giving it an outstanding rating of 4.95/5 on Envato Market.
You may unlock a wealth of materials and obtain access to upcoming updates by purchasing this theme. Take advantage of the 15+ LearnPress add-ons and the 14 elegantly pre-made pages to save time and work for your education website.
You may build a dynamic and fully functional website with Ivy School's seamless integration with popular plugins like Slider Revolution, Visual Composer, and WooCommerce. With the option of Elementor or WPBakery drag & drop page builder, customization is simple and ensures that your website matches your distinct brand and vision.
Final Thought on WordPress for Education
The potential of WordPress for education as a learning tool goes beyond its traditional use as a blogging platform. It distinguishes itself from other Learning Management Systems with its expanded capability and cost-effective plugins for building eLearning courses.
WordPress can reach a wide audience due to its flexibility and numerous features, making it suitable for freelancers, professors, instructors, organizations, and educational institutions. It provides a strong foundation for educational efforts and extends the opportunities for online learning.
---
Contact us, ThimPress:
Website: https://thimpress.com/
Fanpage: https://www.facebook.com/ThimPress
Youtube: https://www.youtube.com/c/ThimPressDesign
Twitter: https://twitter.com/thimpress