Do you need to create a website quickly and easily, even with no coding skills? The best CMS platform is here for you.
CMS stands for Content Management System. It's a famous platform that assists you in creating a website with no knowledge. There are various CMS possibilities out there, which may make it difficult to decide on the best CMS platform for your needs.
In this topic today, you'll learn what a CMS platform is, how to choose the best one, and a full list of the best CMS platforms.
What is a CMS Platform?
A CMS is a famous software platform that assists users in creating, managing, and modifying website content without requiring specialized technical knowledge.
Web pages are typically coded in HTML, PHP, JavaScript, Python, and CSS. You have to understand these languages and write a lot of code to build a website without using a CMS platform.
Let's explore the best CMS 2023!
How To Choose the Best CMS Platform?
Choosing the right CMS platform can be difficult due to the multitude of options available. You need to look at some aspects below to get the best CMS platforms.
Ease of use: It should have a drag-n-drop interface to create and edit content easily.
Flexible design templates: You should have access to many pre-built templates with your CMS software and customize them easily to suit your requirements (preferably code-free).
Data transferability: A best CMS platform should enable you to export your data effortlessly and transfer it to another location.
Extensions and add-ons: Extensions and add-ons are solutions to different website needs. No CMS platform can have all the features that would suit every website. These are extra pieces of software that you can add to your CMS software to improve its features and get new ones when needed. They work like apps for your CMS platform.
Customer support services: Even though CMS platforms try to make website building as easy as possible, you'll still have questions. There are CMS providers will only offer a few FAQs and a slow customer service team. Others will have a supportive community that can help you at any time.
Reasonable price: Some CMS platforms don't cost anything. Others have a monthly fee. Even if you choose a free CMS platform, Web hosting services, designs, and/or third-party extensions are usually not free. So, you should check carefully which CMS platform is suitable for your budget.
10+ Best CMS Platforms (Based on Testing)
WordPress.org – The Best CMS Platform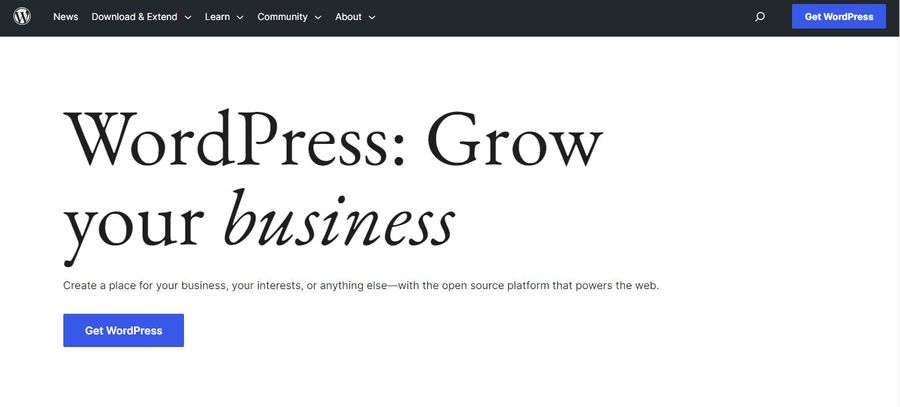 Learn More
WordPress.org is the best CMS platform, in our opinion. It is the most widely used CMS software in the world. Remember that WordPress.org vs WordPress.com are not the same. 
WordPress.org is not only free but also an open-source platform that was originally designed for blogging. However, it is now used by a wide range of websites and even online stores.
Advantages:
WordPress lets you build all website types (online store, auction site, membership site, etc.) with flexibility and freedom.
You don't need any technical skills or coding knowledge. The WordPress content block editor helps you create pages with ease.
You have complete control over how you generate income through your website.
There are thousands of paid and free WordPress themes and plugins available.
WordPress is extremely well-suited to SEO.
It has a large and supportive community since WordPress is quite famous.
This best CMS platform has a high level of extensibility, making it an excellent CMS platform for both beginners and developers.
WordPress allows you to download all of your content in XML format, making it simple to migrate to a different system in the future if you so desire.
Disadvantages:
You'll be responsible for things like security and backups, as well as setting up your hosting and domain name.
Because WordPress provides so many options and flexibility, getting started can be a little intimidating. This is why many WordPress beginners use drag-n-drop page builder plugins.
Pricing: WordPress itself is free to use. However, you will need a domain name (typically $9 – $15 per year) and a hosting account with a web host that supports WordPress (typically starting at $7.99/month).
WooCommerce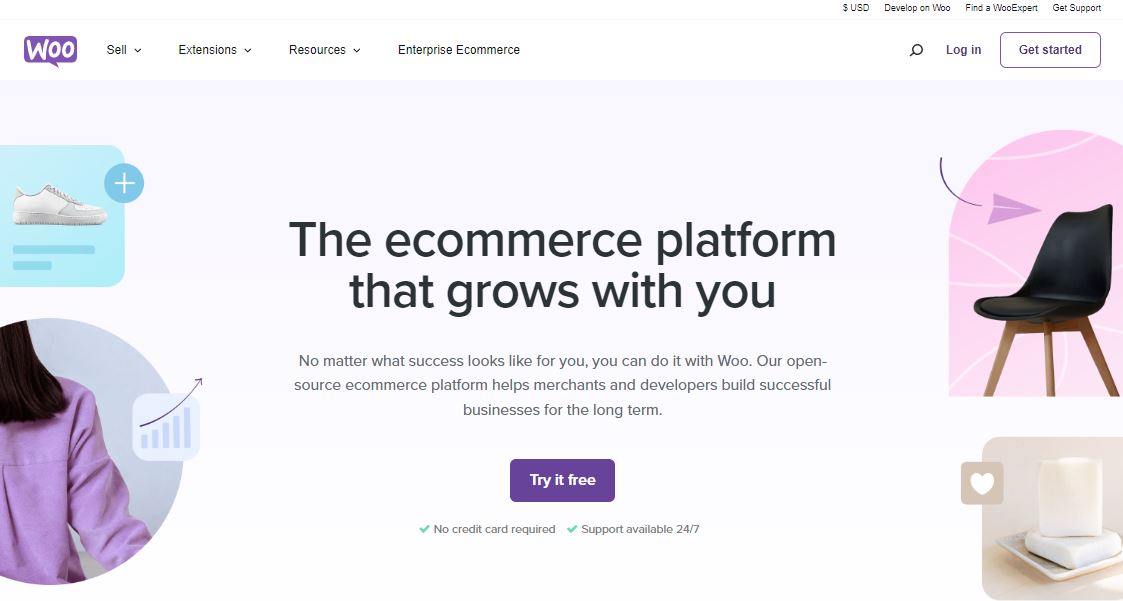 Learn More
WooCommerce is the most widely used eCommerce platform worldwide. It's extremely adaptable and simple to manage.
WooCommerce is not, in and of itself, among the CMS platform examples. Instead, it functions as a WordPress plugin, so you must have WordPress installed on your site in order to install WooCommerce.
Advantages:
You can download WooCommerce at no cost, but to get started, you'll need WooCommerce hosting and a domain name.
There are numerous WooCommerce themes available, making it simple to customize your site.
WooCommerce provides a wide range of extensions (also known as WooCommerce plugins) that let you add additional functionality to your site.
This best CMS platform assists you in selling both physical and digital products. Through affiliate links, you can even sell affiliate products.
WooCommerce lets you fully control your inventory, making it simple to keep track of the items you have on hand.
WooCommerce, by default, accepts PayPal and Stripe payments. Other payment gateways can be added using extensions and add-ons.
Disadvantages:
WooCommerce has many options, which can be hard when you're new to making a website.
WooCommerce can work with any WordPress theme, but you may want to use themes made for WooCommerce for more help.
Pricing: WooCommerce is free, but you may need to pay for more plugins and extensions for your store.
Wix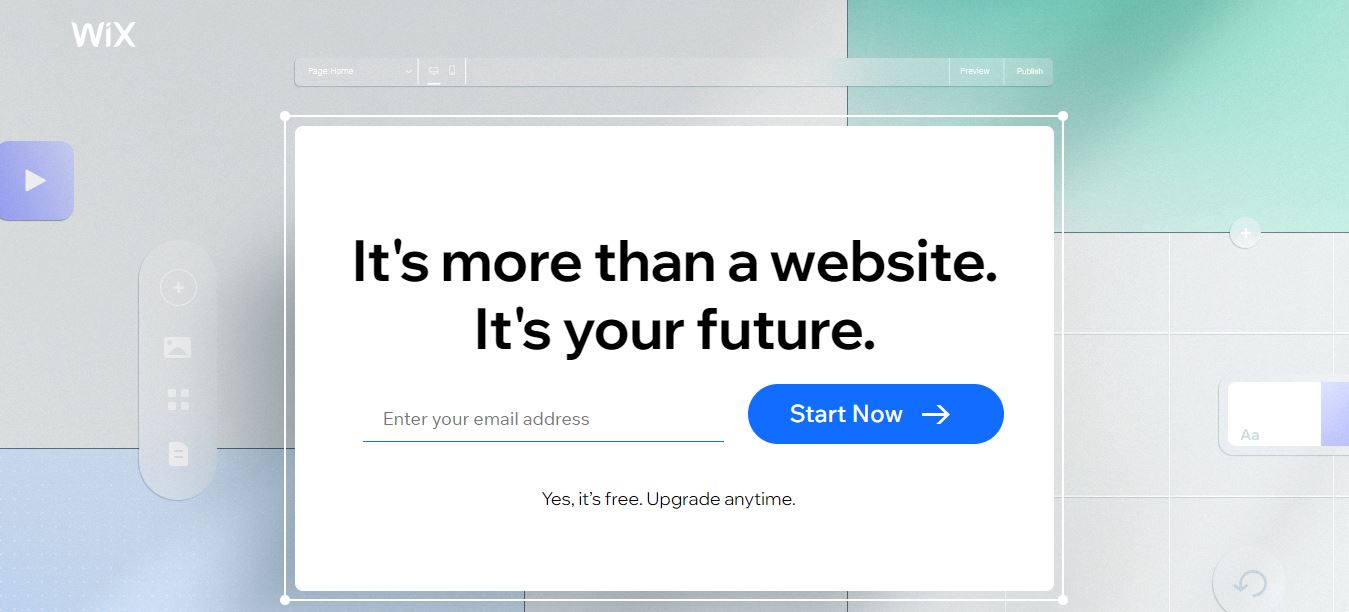 Learn More
Wix is the next best CMS platform, which we highly recommend you try. It's user-friendly and lets you create a free website with drag-n-drop technology, professional features, and hundreds of templates.
Advantages:
It extremely simple to create pages that look exactly how you want them to. You can begin editing any part of your page by selecting it.
Wix provides a lot of pre-made templates from which to choose. These are fully responsive to look great on both mobile devices and computers.
The Wix App Market has a plethora of apps that you can add to your site. These operate similarly to WordPress plugins, adding new features and functionalities that improve your website.
Disadvantages:
Once you've selected a template on Wix, you can't change it. This may result in you being stuck with a layout that isn't quite right for your site.
Wix does not allow you to run an eCommerce store unless you go to a premium plan, and even then, you can only accept payments through PayPal or Authorize.net.
Wix does not make it simple to download and export your data. Moving your blog posts (but not your images) is easy by downloading them, but if you have any pages on your site, you must manually copy and paste them.
Pricing: If you use the free plan, you will get a Wix-branded domain name. Paid plans provide greater flexibility and begin at $6 per month (paid upfront annually). If you want to have the online payments feature, you must pay at least $9 per month (again, upfront annually).
BigCommerce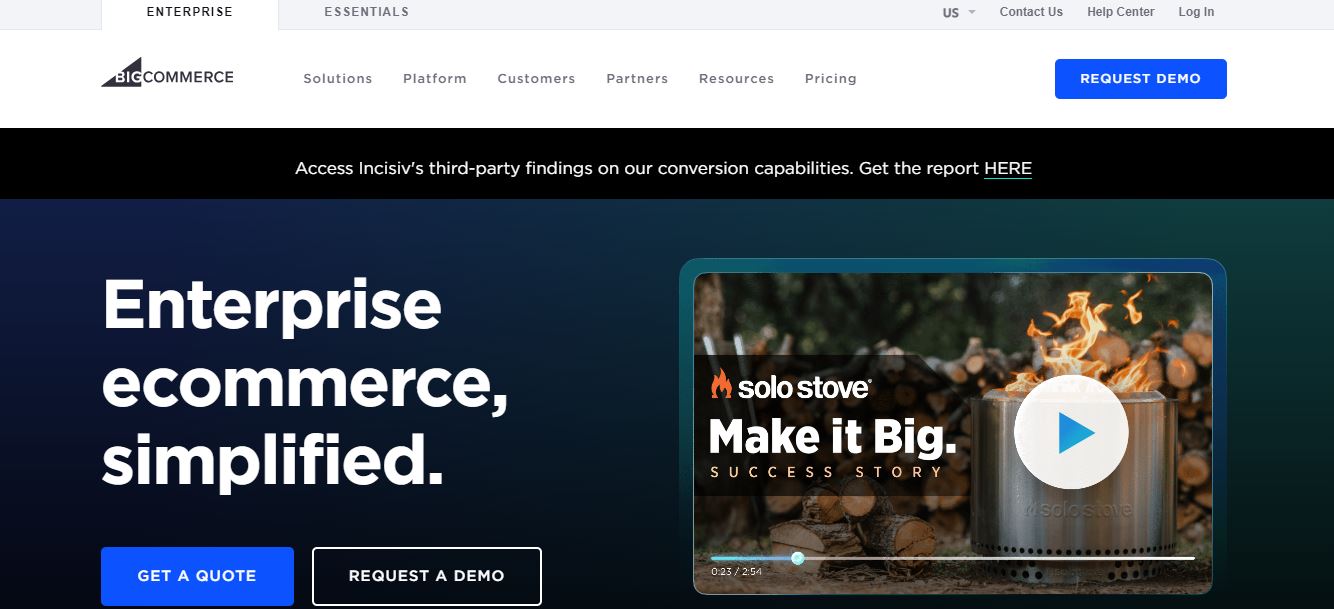 Learn More
BigCommerce, fully hosted, is a comprehensive eCommerce platform. If you're a beginner, you can get started quickly.
BigCommerce will host your website as well as provide the best CMS platform. It also manages your security and backups.
Advantages:
There is a trial plan available, so you can try BigCommerce before committing.
You can use a free BigCommerce domain name, such as mystore.mybigcommerce.com, or you can pay for a custom domain name.
It lets you accept payments in a variety of ways. Customers can pay with digital wallets such as PayPal, Apple Pay, and Amazon Pay, or with a credit or debit card.
BigCommerce offers support options that you can access directly from your dashboard at any time. Live chat, email, phone support, community support, and other options are available.
Disadvantages:
BigCommerce does not provide you with the same level of control over your store as WooCommerce. The number of themes and integrations is limited, which may prevent you from using a third-party service to grow your business.
You will automatically move up to the next pricing plan level once your yearly sales go beyond a specific limit. You could face difficulty with this if you spend a lot.
Pricing:
BigCommerce requires a monthly subscription fee, making it less cost-effective than some other options. You can save money on all of the plans by paying upfront rather than monthly.
Standard pricing is $29/month. The most expensive plan is the Pro plan, which costs $299/month. After that, you'll need to get a custom Enterprise plan.
Shopify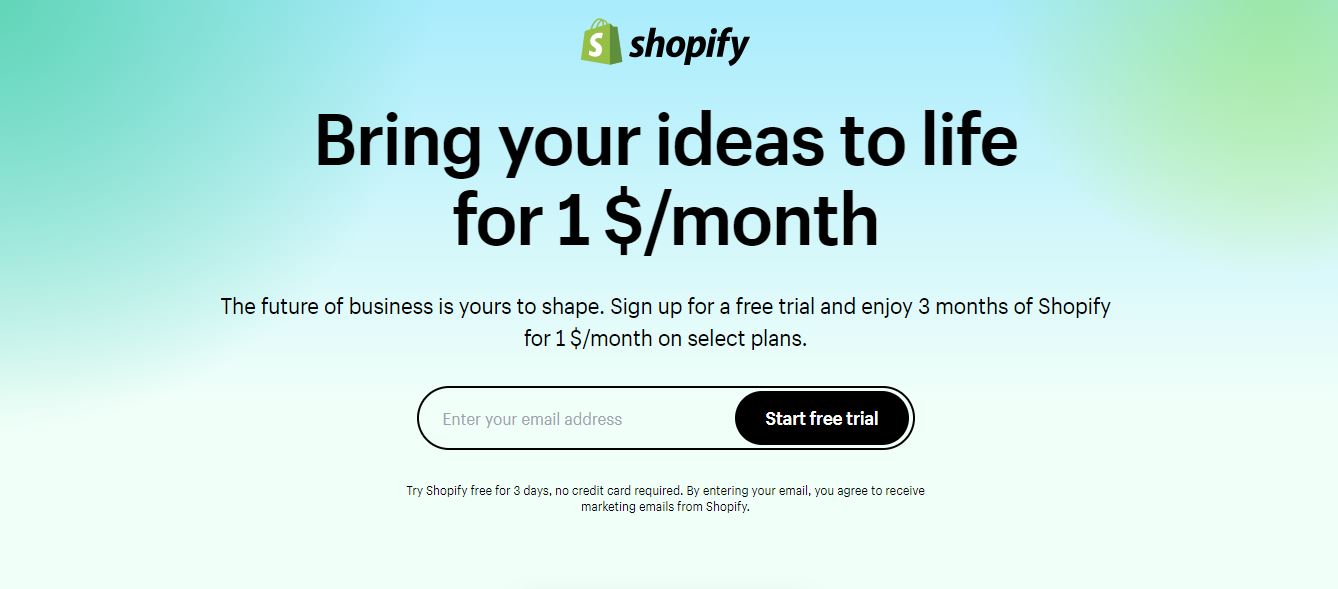 Learn More
Shopify is yet another hosted CMS platform that does it all. You will not be required to purchase hosting, install software, or manage updates and backups. No wonder it's the best CMS platform.
It features a simple drag-n-drop interface. It enables you to sell in-store, which is handy if you run both an online and a physical store.
Advantages:
Shopify Payments, Shopify's integrated payment solution, allows you to accept credit and debit cards. PayPal is another of Shopify's default payment providers.
There are numerous Shopify extensions and themes available. Third-party Shopify apps can be purchased to add a variety of features to your online store.
You do not need to upgrade if your sales exceed a certain dollar amount, as you do with BigCommerce.
Shopify offers live chat, email, phone, and even Twitter support 24 hours a day, seven days a week. There is also a wealth of documentation (including written how-to guides and video tutorials) as well as online forums.
Disadvantages:
Your costs can quickly add up, especially if you plan to add a large number of third-party apps to your store.
You may discover that you require functionality that is simply not available: Shopify apps are more restricted than WordPress plugins.
Pricing:
Shopify fee is comparable to BigCommerce's. But there is one significant difference. Shopify does not force you to upgrade to the next plan based on a specific dollar amount in sales.
The most affordable plan is $25 per month. The most expensive option costs $399 per month and includes more features. Paying for a year ahead of time earns you a discount.
WordPress.com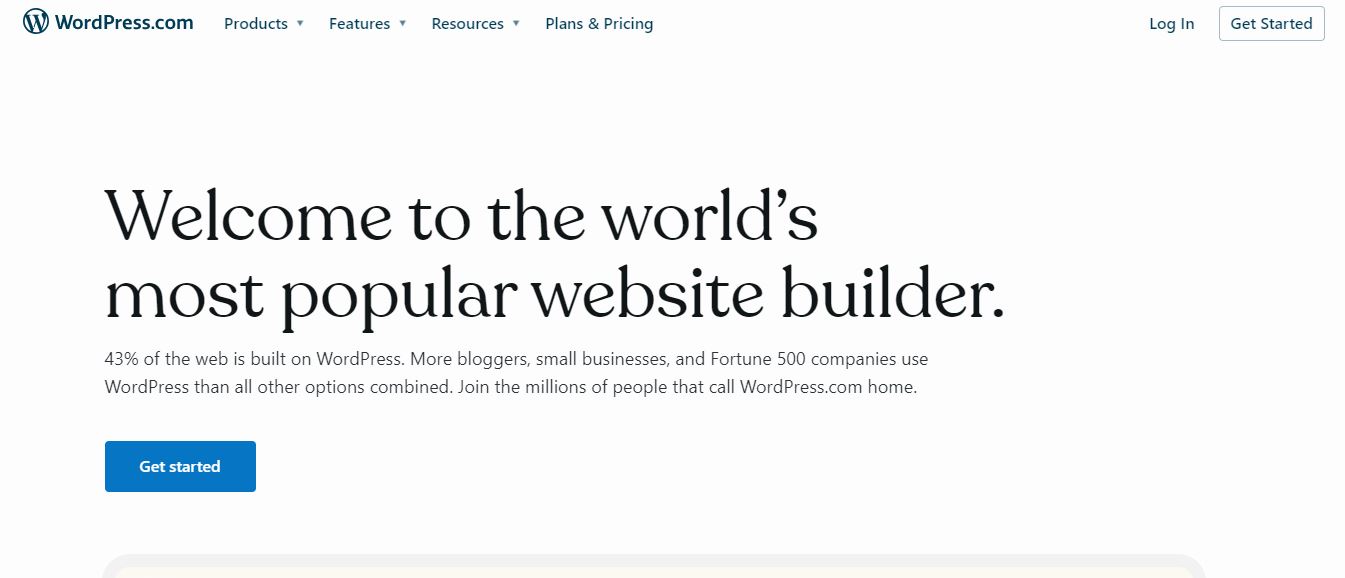 Learn More
WordPress.com is WordPress's commercially hosted version. It's easy to mix it up with WordPress.org, which is an open source best CMS platform and self-hosted.
WordPress.com provides a complete CMS platform that is hosted for you. If you want to use a free WordPress.com subdomain or buy a domain name, both are possible.
Advantages:
WordPress.com is very simple to use. You can easily add and edit content, and it's a simple CMS to use for beginners.
You can build a website using WordPress.com for free. You should probably pay for at least the cheapest plan so you can use your own domain name.
For your WordPress.com site, there are many themes available for you as well
It's possible to upgrade to a new plan as your site grows in size and popularity. There are numerous options available, including one with eCommerce features.
Analytics is included in WordPress.com, which lets you monitor the numbers on your site audience in your dashboard. However, Google Analytics is only available if you have a Business Plan.
If you decide to upgrade to a more powerful and flexible CMS in the future, switching from WordPress.com to WordPress.org is simple.
Disadvantages:
Even with its business plan, WordPress.com has few options for monetization.
Adding a custom domain name is only possible with at least the cheapest paid plan.
While there are plugins available for your WordPress.com site, there aren't nearly as many as there are for WordPress.org.
You have less control over your site compared to WordPress.org.
Pricing:
There is a free WordPress.com plan available, but if you want your own domain name (and to avoid WordPress putting ads on your website), you must select one of their paid plans.
The cheapest plan is $48/year ($4/month), but you can upgrade to other plans, such as the eCommerce plan for online stores, for $540/year ($45/month). In addition, there are WordPress VIP options that provide additional features.
Magento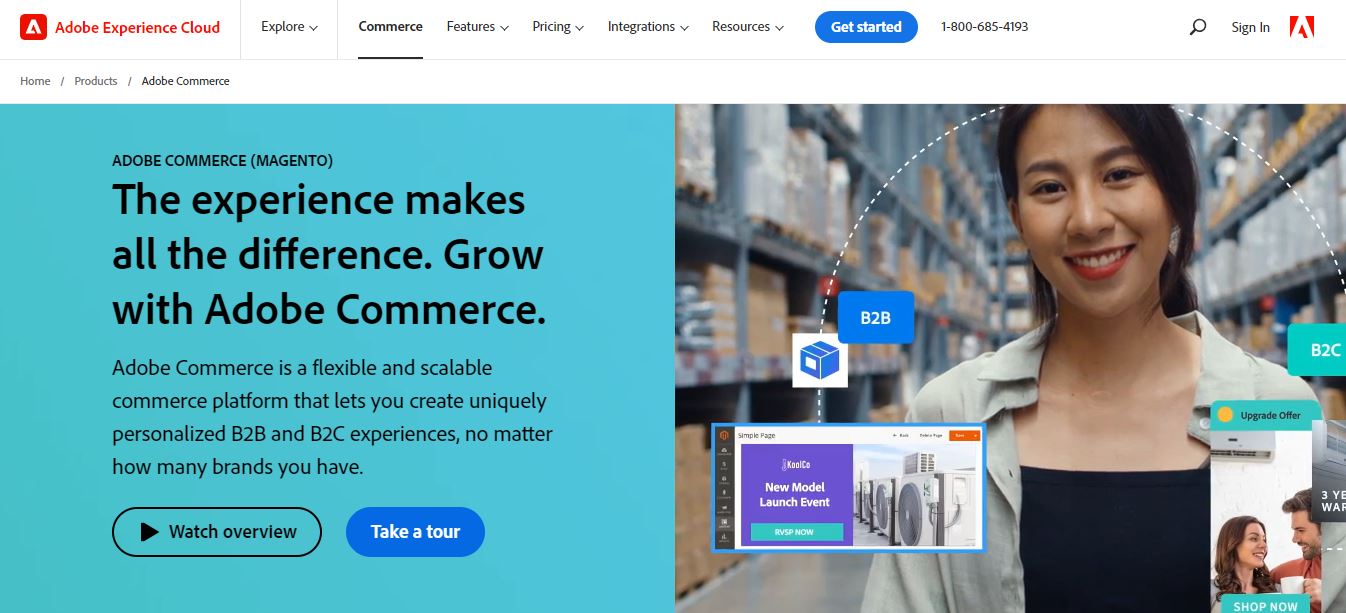 Learn More
Adobe's Magento is a powerful open-source eCommerce platform. It is a free version that you can download and install on your own web hosting account.
If you want to use this, SiteGround Magento hosting is the simplest way to get started.
If you prefer, you can pay for Magento Commerce. This comes with full support and is hosted for you, but it is very expensive.
Let's check why it's the best CMS platform.
Advantages:
Magento is highly customizable, and there are numerous third-party extensions available to add extra features.
You can manage a large number of products and customers using Magento. It allows your company to expand easily without slowing down your website. (However, you'll almost certainly need to upgrade your hosting plan.)
Nike, Ford, and Coca-Cola are just a few of the well-known companies that use Magento.
Magento supports various payment gateways. It also includes built-in options like PayPal, cash on delivery, and bank transfers.
Disadvantages:
If you're new to eCommerce, Magento may appear intimidating.
Finding good developers for Magento projects can be difficult, and hiring them can be costly.
The support available varies.
Pricing:
Magento Commerce is not inexpensive. It's so expensive, in fact, that the Magento website doesn't even tell you how much it costs.
Prices start at around $22,000 per year, which puts it out of reach for many new businesses.
Read More: WordPress eCommerce – Platforms and Themes for the Beginners
---
Contact us, ThimPress:
Website: https://thimpress.com/
Fanpage: https://www.facebook.com/ThimPress
Youtube: https://www.youtube.com/c/ThimPressDesign
Twitter: https://twitter.com/thimpress