If you want to display multiple currencies on your WordPress site and automatically update the exchange rate, you need a multi currency WordPress plugin. This allows customers to choose their preferred currency when they are buying a product.
So which is the best one? Let's check out the best multi currency WordPress plugins we have picked carefully for you!
The Advantages of Using a Multi Currency WordPress Plugin on Your Site
A multi currency WordPress plugin is a must-have for any website that sells products or services to international customers. They make it easy for visitors to see prices in their own currency with a click of a button and to make purchases without having to worry about exchange rates.
Of course, the plugin assists you in attracting more customers and targeting users from various countries. They can quickly see the product prices in any currency, all on the same page.
It will improve the customer's shopping experience. The plugin prevents any pricing misunderstanding that people may encounter. This helps you keep customers on your website and increase sales.
Now, let's see the best multi-currency plugins for WordPress below.
Easy Digital Downloads – Multi Currency WordPress Plugin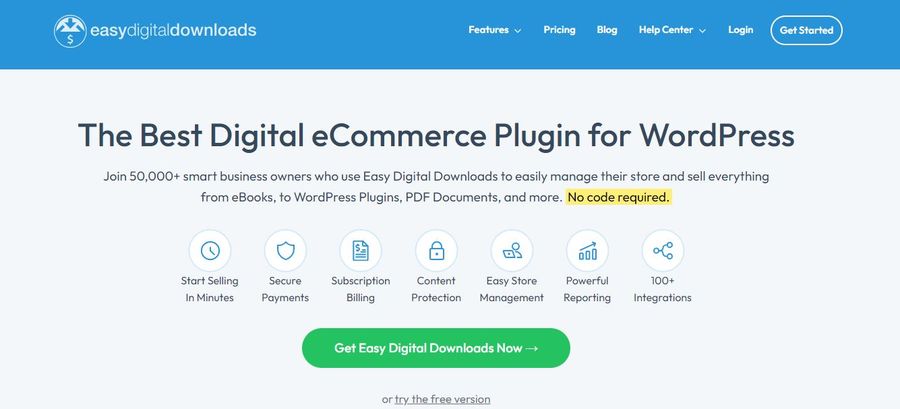 Learn More
Easy Digital Downloads is the top multi currency WordPress plugin for selling digital products such as ebooks, music files, digital art, software, and more.
It supports multiple currencies and lets you display prices in various currencies. With over 200 currencies to choose from and complete control over your exchange rates, you can easily customize the currency settings to meet your specific needs.
The plugin has an automatic option that updates the foreign exchange rate and converts the product or service prices from USD to the customer's local currency. But you can also adjust the exchange rate manually.
In addition, Easy Digital Downloads makes it simple to sell digital downloads. It includes unlimited file downloads, a shopping cart, full data reporting, and other features.
It also integrates seamlessly with different payment channels such as Stripe and PayPal, as well as third-party tools such as AWeber, Slack, and ConvertKit.
Pricing: It's a premium plugin with annual fees beginning at $99.50.
YITH Multi Currency Switcher for WooCommerce – Multi Currency WordPress Plugin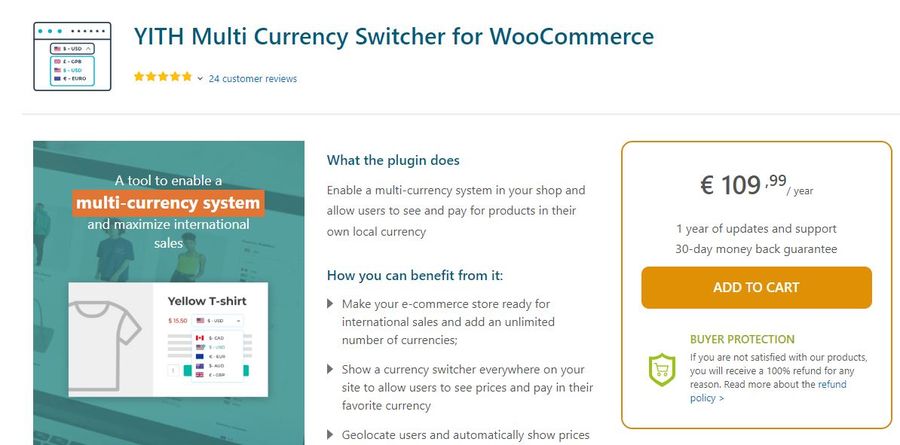 Learn More
YITH Multi Currency Switcher for WooCommerce is another famous multi currency WordPress plugin we highly recommend.
It's extremely simple to use and lets you add an unlimited number of currencies to your eCommerce store. You can display a currency switcher on your WordPress website and allow customers to select their local currency.
In addition, the plugin detects users' locations and shows prices in their local currency. It works with APIs from Google Finance, the European Central Bank, and other famous providers to update exchange rates automatically.
You can also choose how frequently the exchange rate is updated. For instance, the plugin can check it every day, two times a day, once a week, once a month, or every half month.
Furthermore, customizing the currency switcher, showing different payment gateways for certain countries, and more are some of the options available to you.
Pricing: It is a paid plugin that costs $99.99 per year.
WP Simple Pay – Multi Currency WordPress Plugin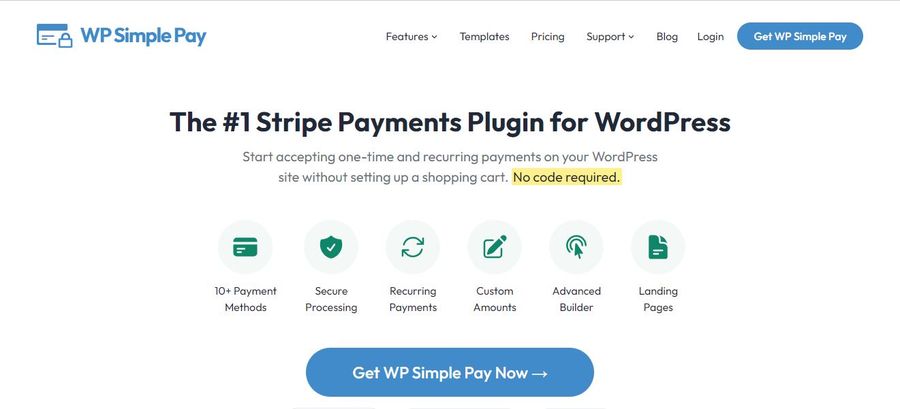 Learn More
Another best multi currency WordPress plugin is WP Simple Pay. It assists you in accepting payments on your site, either one-time or recurring. Moreover, you don't need to create a shopping cart if using the plugin to accept payments.
It is a multi-currency plugin that supports over a hundred currencies supported by Stripe. There are options to choose your site's region's default currency, tax rate, and format.
This means customers can pay in their local currency, and you will receive the funds in your preferred currency.
WP Simple Pay includes a drag-n-drop payment form builder as well as more than ten different payment methods.
There are various methods to accept payments, such as credit cards, debit cards, Google Pay, Apple Pay, ACH direct debit, and more.
Pricing: It costs $49.5 per year. A free version is also available for you to get started
CURCY – Multi Currency Plugin WordPress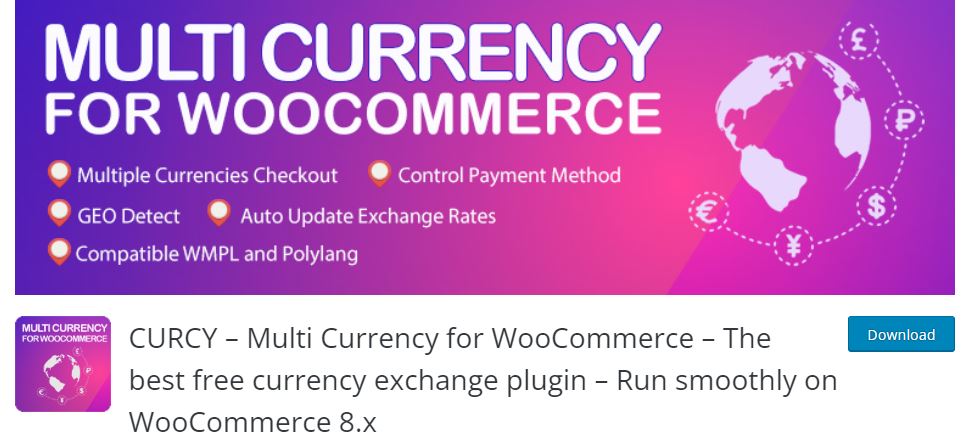 Learn More
CURCY is a free multi currency WooCommerce plugin. It enables you to accept payments in a variety of currencies and assists customers in changing to their preferred currency.
The plugin is simple to install and use. It automatically detects your WooCommerce store's users' location and shows products in their local currency.
You have various options to control the exchange rate. For instance, you can set the rate manually, fix the product prices in different currencies, and control the exchange rate fee. Or, you can let the plugin do its job by setting the exchange rate for you automatically.
Pricing: It is available as a free plugin.
WooCommerce Multi-Currency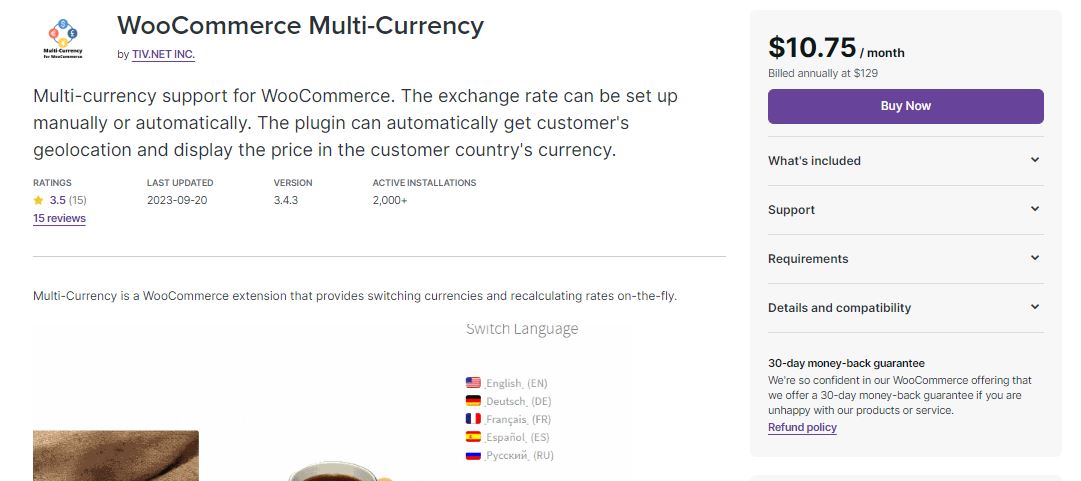 Learn More
WooCommerce Multi-Currency is a paid WooCommerce multi currency plugin WordPress that assists you in displaying product prices in the currency of the customer's country.
You can set the exchange rate either manually or automatically, of course. The plugin supports the APIs of various exchange rate providers, including Open Exchange Rate, Exchange Rate API, Abstract, and others.
The currency switcher can be displayed anywhere on your eCommerce store by using a shortcode. It also includes a sidebar widget that allows customers to quickly convert the price they see into any currency they want.
Pricing: It starts at $129 per year.
Currency Switcher for WordPress
Learn More
Currency Switcher for WordPress is yet another free and easy-to-use plugin for displaying many currencies on your site easily.
It integrates with the Open Exchange Rate API to automatically convert prices into various currencies based on the exchange rate. The exchange rate can also be controlled manually.
Moreover, customers from the US, Europe, Australia, and India can use this plugin to convert currency quickly.
Using shortcodes lets you add a currency switcher to the page you want with ease. Furthermore, the plugin works well with the best WordPress page builders such as Elementor, WPBakery, or Beaver Builder.
Pricing: It's a free plugin.
Which is the Best Multi Currency WordPress Plugin?
Choosing the best multi currency WordPress plugin depends on your website's needs. But you can refer to some of the best ones, such as Easy Digital Downloads, WP Simple Pay, and YITH Multi Currency Switcher for WooCommerce.
If you sell digital goods and want a simple-to-use plugin, consider Easy Digital Downloads. It lets you choose from over 200+ different currencies. Setting the exchange rate is as easy as you wish, and you can choose from unlimited currencies.
If you have an eCommerce store, YITH Multi Currency Switcher for WooCommerce is the best option. Product prices are converted automatically based on the user's location, which is detected by the plugin. There are different providers to choose from for setting the exchange rate.
If you want to get online payments from your website without a shopping cart, let's consider WP Simple Pay, which supports over 135 currencies.
Read More: 7 AI Email Writer Tools – Best For Marketing and Sales in 2023
---
Contact us, ThimPress:
Website: https://thimpress.com/
Fanpage: https://www.facebook.com/ThimPress
Youtube: https://www.youtube.com/c/ThimPressDesign
Twitter: https://twitter.com/thimpress