Set up a Landing Page to attract attention, acquire leads, and prepare to launch your site if you're confused about how to get your next website off the ground. This collection of Best Landing Page WordPress Themes will direct you to start off in the correct direction.
If you're about to debut your website or a new product, there's no better way to advertise the launch date and capture visitor information than with a Landing Page Theme Free. They are also useful when hosting a webinar and allowing people to register and participate.
Best Landing Page WordPress Themes work so effectively. Because they focus solely on one goal: collecting information from anybody who visits the website. Besides, it might also be encouraging visitors to follow accounts on social media. And then visitors will purchase a particular product, or receive support in some other manner.
I'll show you the greatest WordPress Landing Page Examples in this article. We'll also provide you with some pointers on how to make your landing page convert.
7 Best Landing Page Themes For WordPress
Vividly – The Stunning One In The Best Landing Page WordPress Themes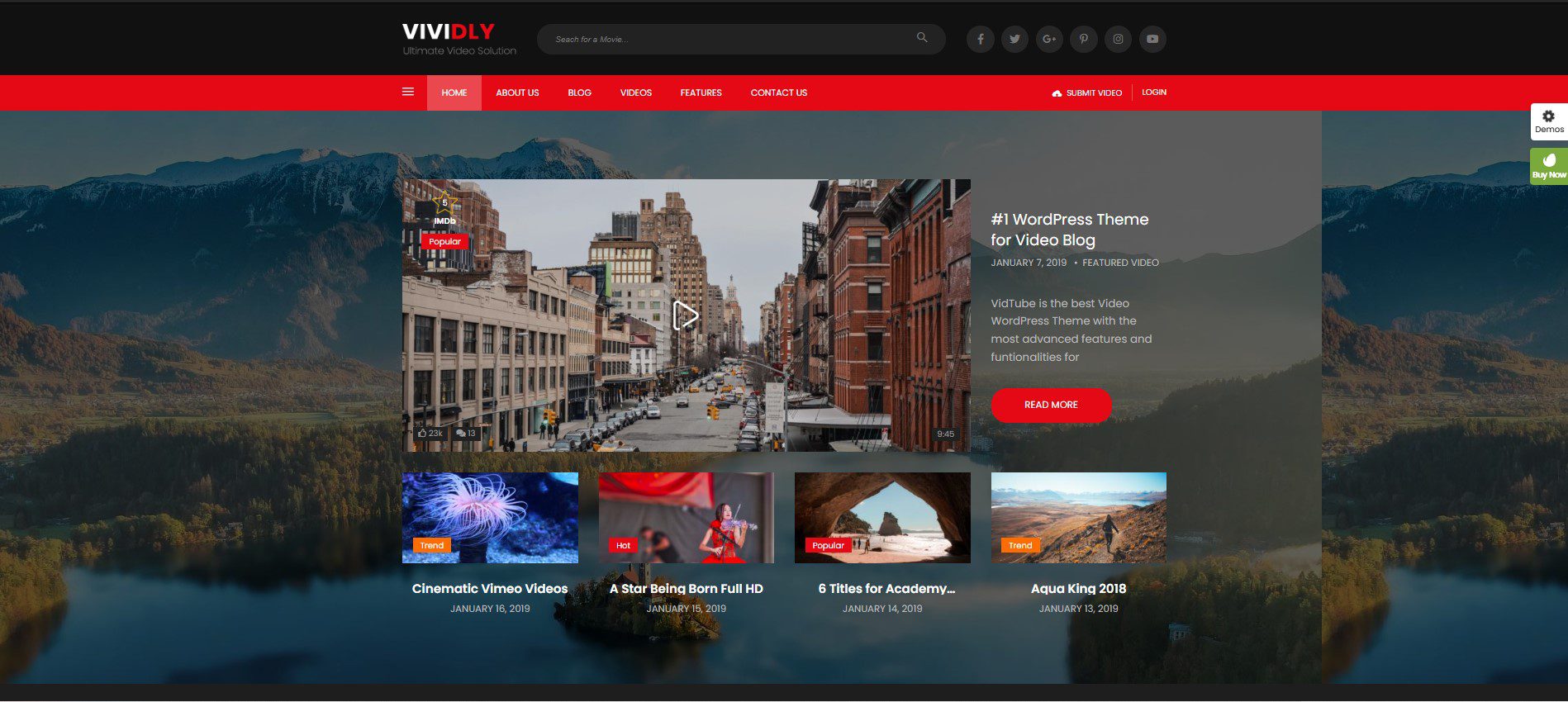 Download
Demo
Vividly is a video production theme and a member of The Best Landing Page WordPress Themes. This theme is perfect for filmmakers, videos, vloggers, streamers, Youtubers, gamers, magazines, movies, and video blog websites. This Landing Page Theme is incredibly user-friendly, making it ideal for use on a variety of websites and projects of all types, whether you want to create a personal blog with a video showcase or a website for your business.
With the Vividly theme, you can effortlessly show your photos, movies, and posts in an appealing manner. Being a part of the Best Landing Page WordPress Themes army, this theme offers four unique well-before demos from which you may select the best solution for your specific requirements.
As WordPress users, we understand all of the differences that users must deal with when using this CMS platform. Furthermore, this Free Landing Page WordPress Theme has done tasks as a template, making it simple to install and adjust. There is no requirement for any coding or programming experience to set up above your expectation.
The theme is entirely responsive, therefore we ensure that every pixel will respond elegantly no matter what device your visitors are using, including desktop, laptop, tablet, or smartphone. With WordPress Drag & Drop page builder integration, this Best Free WordPress Theme For Landing Page makes it easier than ever to create pages and edit any element on the page. Additionally, using the visual shortcode system, theme users may build a limitless number of page and content styles.
The Best Landing Page WordPress Themes are retina-ready and pixel flawless. As a result, I am confident that the Vividly – WordPress video theme will look beautiful on every browser and device. Therefore, you can provide your audience with the finest video/movie/vlog website user experience.
Mobile App Landing – A Cutting-edge Landing Page Theme For WordPress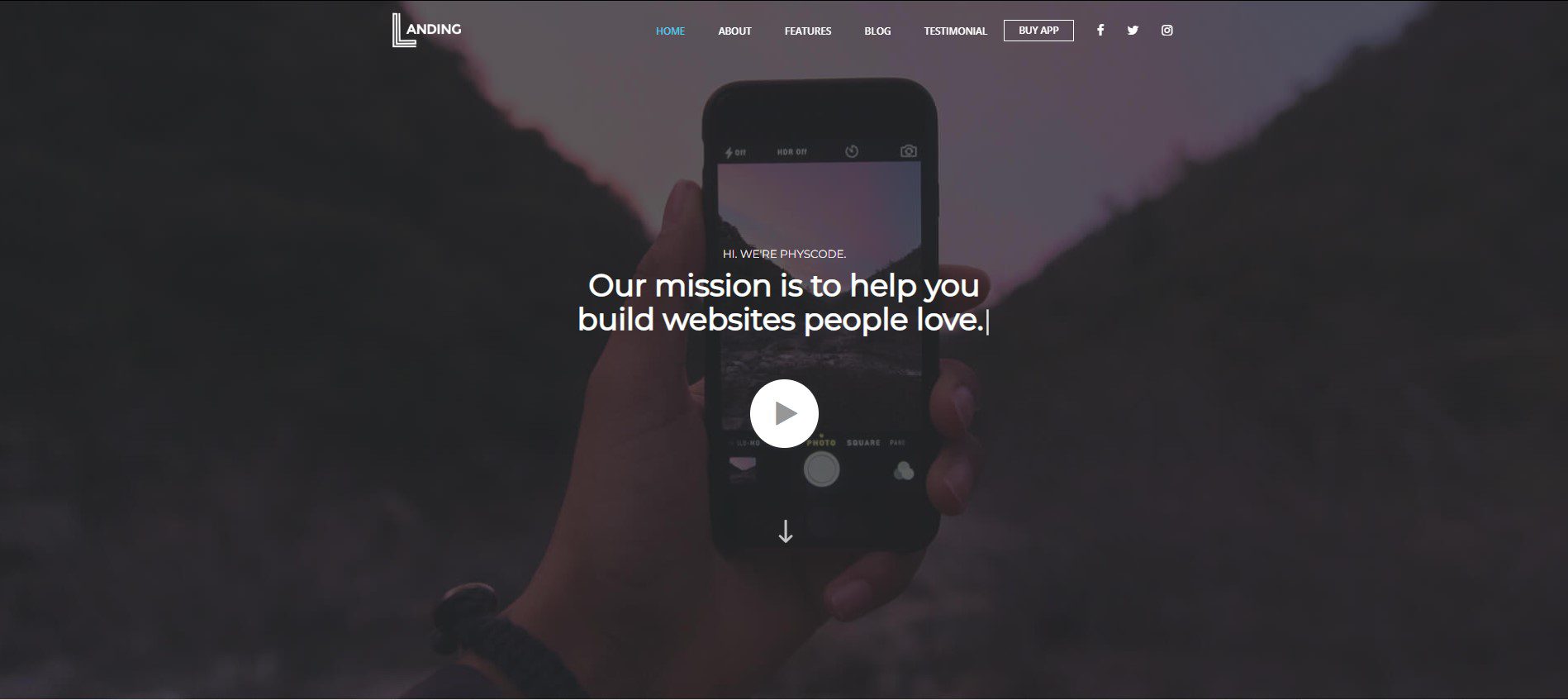 Download
Demo
Mobile App – the Best Free WordPress Theme For Landing Page seems to be a versatile responsive WordPress theme. The theme features a modern and professional style that can be used for any type of landing page. Such as a smartphone app landing page, a mobile app showcase, a mobile game, and many more.
More homepage designs, Mailchimp, infinite color schemes, and other features are available with Mobile App – a suicide warrior in the Landing Page WordPress Themes army. The well-commented Advanced theme feature and page builder will make it extremely easy to alter the theme.
Squareroot – An Effective Theme for The Landing Page WordPress Website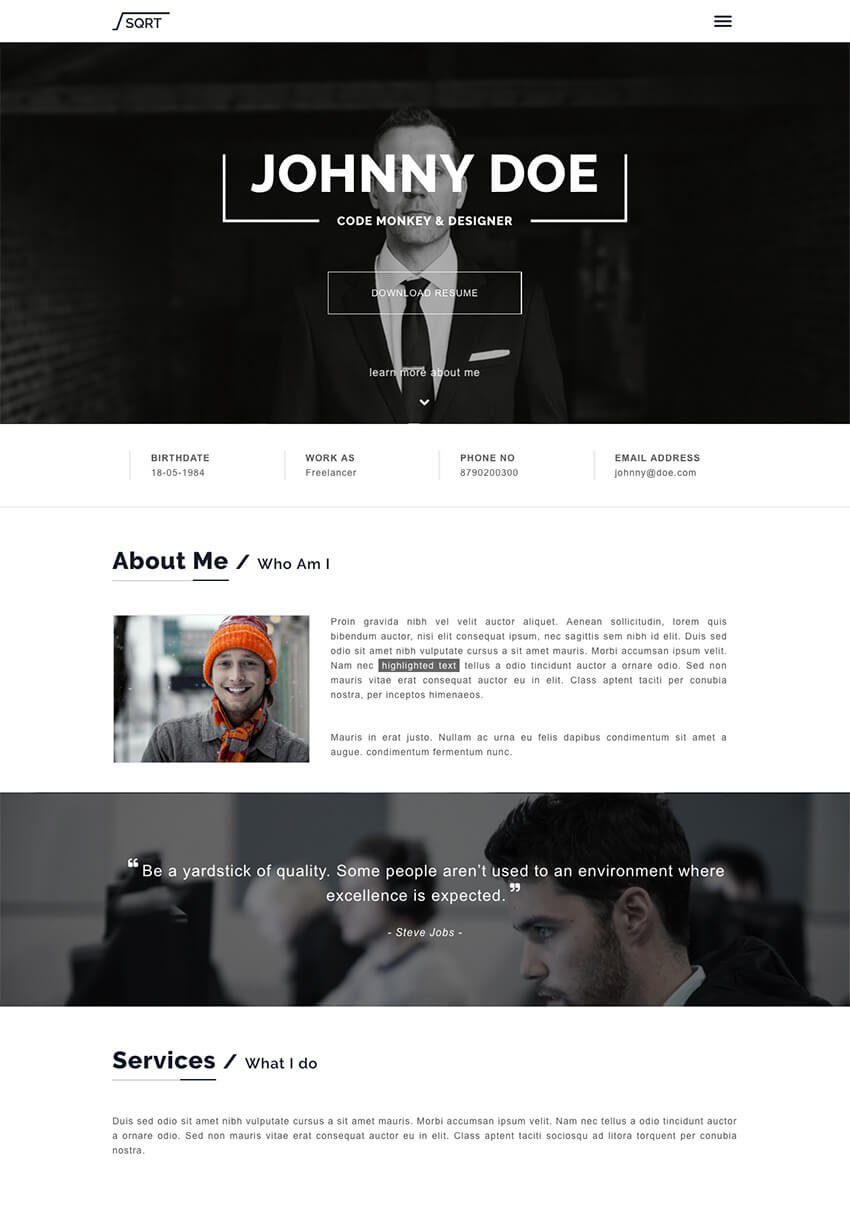 Download
Demo
ThimPress produced this CV Landing Page WordPress Theme with a completely responsive style. This responsiveness guarantees that your website runs efficiently and looks great on a variety of mobile devices. This WordPress Landing Page Example is compatible with all major browsers, ensuring that you will not find any compatibility issues.
Squareroot Resume Theme includes four home variations, three navigation layouts, and backdrop customization (images, colors, or patterns). With the extensive stylistic customization capabilities, you feel liberated when developing your website. You may use colors, pictures, or patterns to modify the navigation styles and backgrounds for each area (header, sections, parallax, footer, etc.).
This Best Landing Page WordPress Theme has over 240+ symbol fonts, giving you complete control over site development by allowing you to use these symbols via code snippets on every page. You may change the icon's size, color, and type. There are also many other fantastic features to maintain you interested and delighted.
Furthermore, the Squareroot Resume theme incorporates Parallax JavaScript, which results in Parallax parts in this resume theme. It improves the aesthetics and creativity of your website. Therefore, it becomes simple to create a CV or Vcard website with this Landing Page WordPress Theme.
A comprehensive guide is included, taking you through the use of the Squareroot Resume theme and explaining the fantastic features. Furthermore, you may always file a request to our helpdesk with any questions or difficulties. We take customer service very seriously. Every support query will be handled within 24 hours on weekdays, and generally within 12 hours due to timezone differences.
Onepage – A Powerful And Simple Landing Page WordPress Theme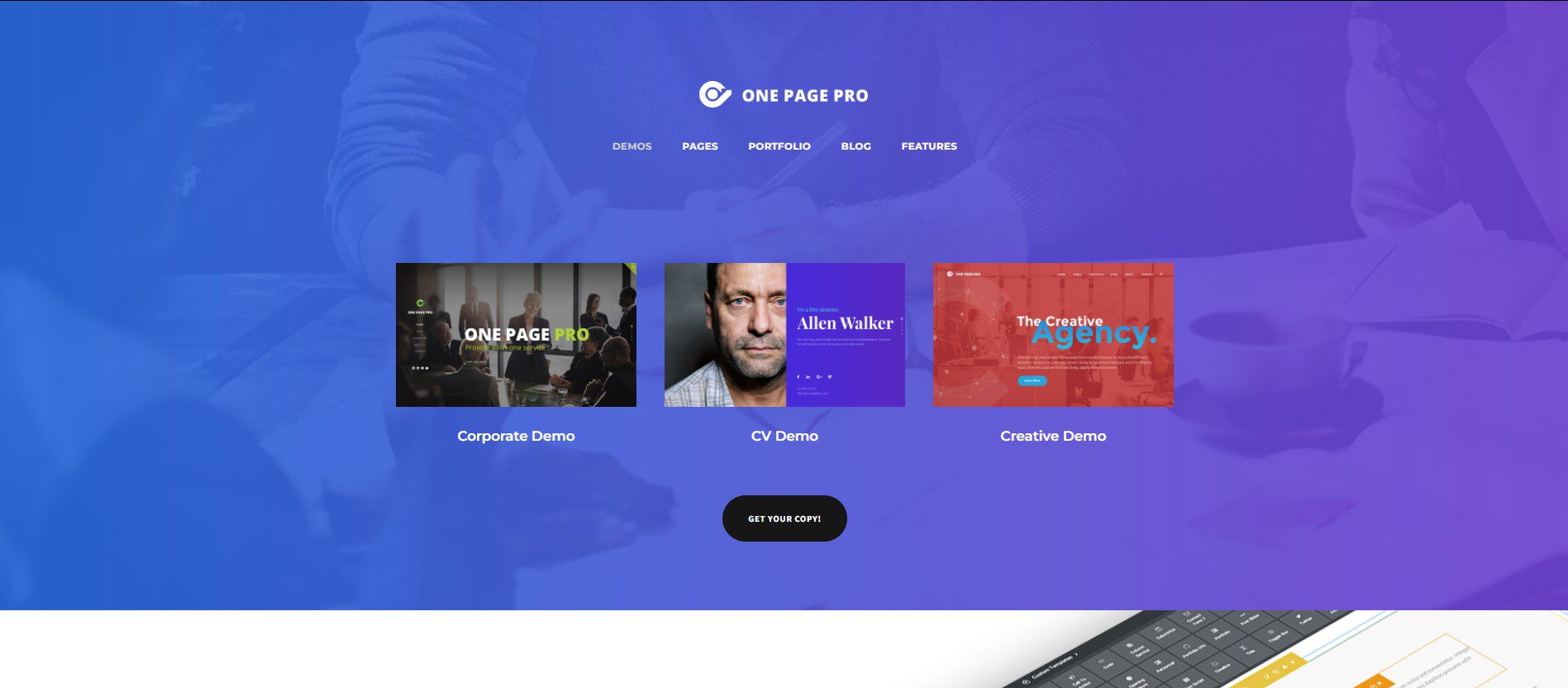 Download
Demo
OnePage is a "brave combatant" in the army of the Best Landing Page WordPress themes available for purchase. It supports creating a fast site for your online business. If you're just getting started, One Page is a great choice because it shows all of your material on a single page. You'll receive all the advantages of having a website without having to manage many pages.
This Landing Page Theme Free is completely responsive and adaptable. It has a frictional pressure builder and a powerful theme settings panel, which make creation simple even for total beginners.
You get limitless color options, font icons, parallax scrolling, price tables, a counter, a custom post kind for portfolios, and a Services section with a built-in slider with this theme. These and other elements might assist you in attracting and converting users to your website.
Landing – Lead The Minimalism In The WordPress Landing Page Combat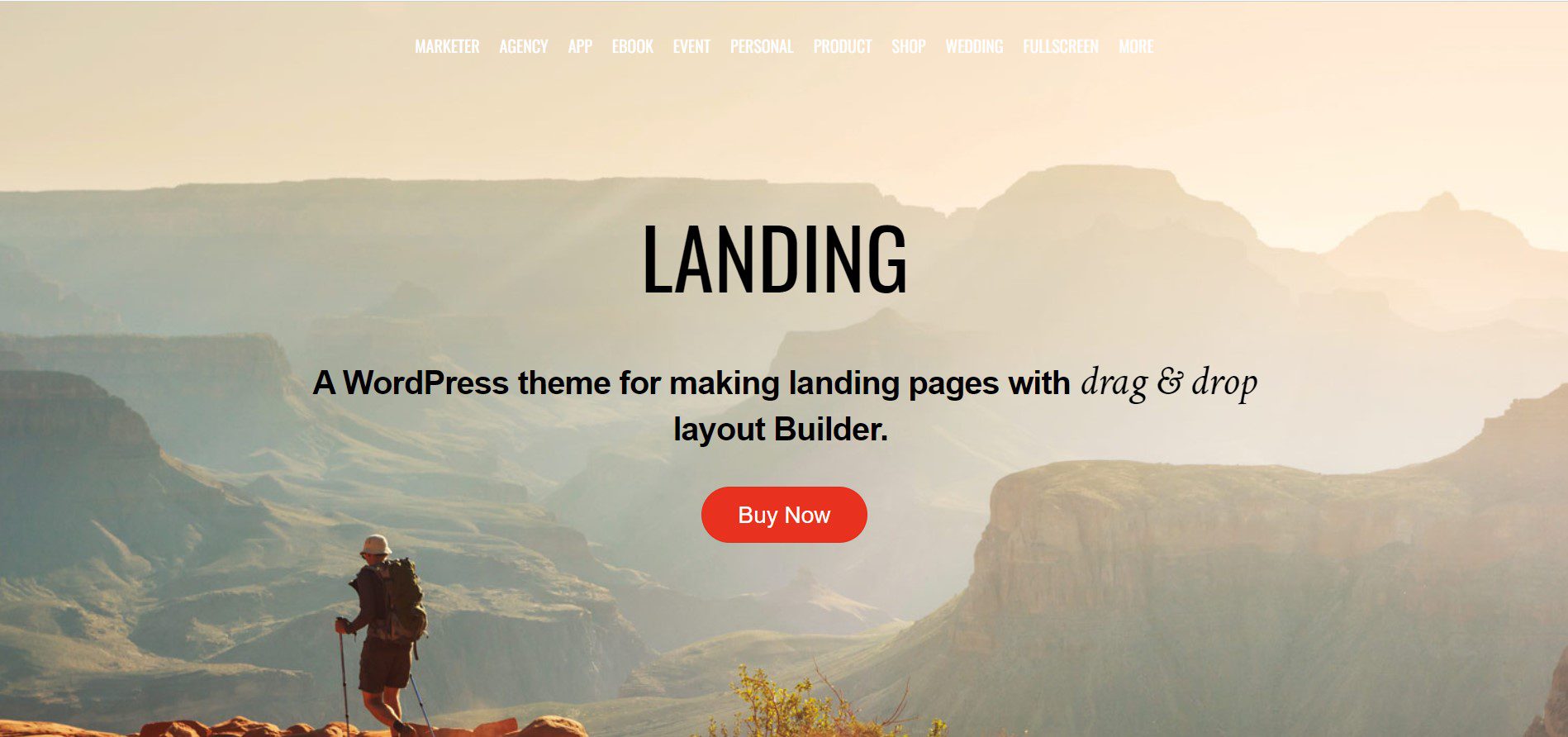 Download
Demo
Landing may help you enhance the conversion rate on your site, whether you want more social followers, subscriptions, or purchases.
There are 25 well-before designs for a range of genres and purposes, such as weddings, agencies, marketers, and events in This Free Landing Page WordPress Theme. You may download and install these samples with a single click. And then you can personalize them with the sophisticated drag-and-drop page builder. Here's an example of the Agency layout with no changes.
The WooCommerce plugin and MailChimp also integrate with this theme. That is, you may add a storage area and a newsletter signup form by WordPress Contact Form Plugins to your WordPress site.
LandingPage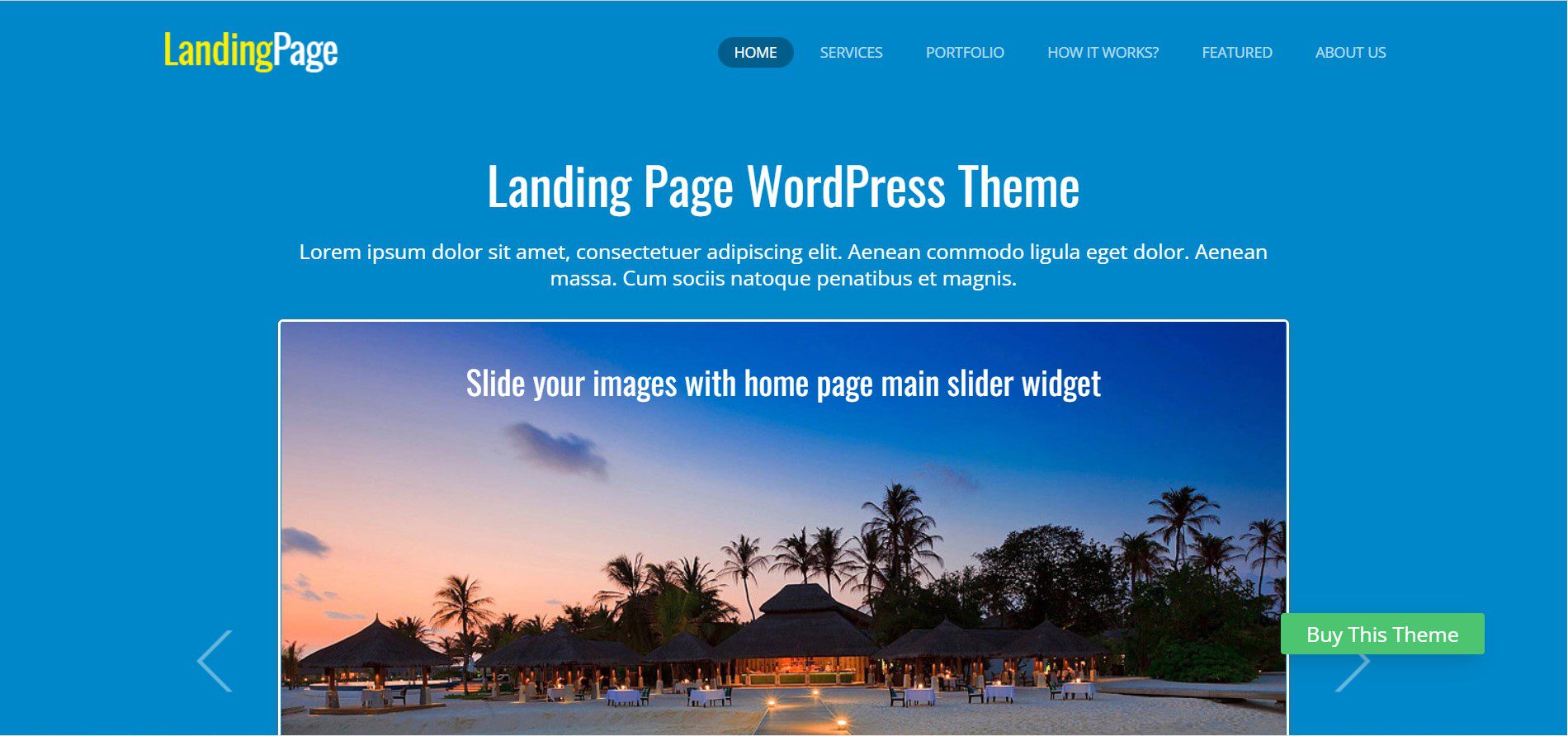 Download
Demo
Like many other Best Landing Page WordPress Themes, this theme, as the name implies, is intended to assist ecommerce and online company owners in creating a high-converting single-page site.
You may use this versatile theme to highlight the high-quality aspects of your products and services. You'll have control over every area of the website, including the use of infinite colors, allowing you to showcase your goods and services, staff, testimonials, and price tables.
You may also add and configure a responsive mega menu, slider, header, and footer to maximize website real estate. You may make these adjustments using the WordPress theme customizer in your dashboard.
The WooCommerce plugin also integrates with this LandingPage theme, allowing you to simply construct an online store and sell your items straight on your website.
Meminz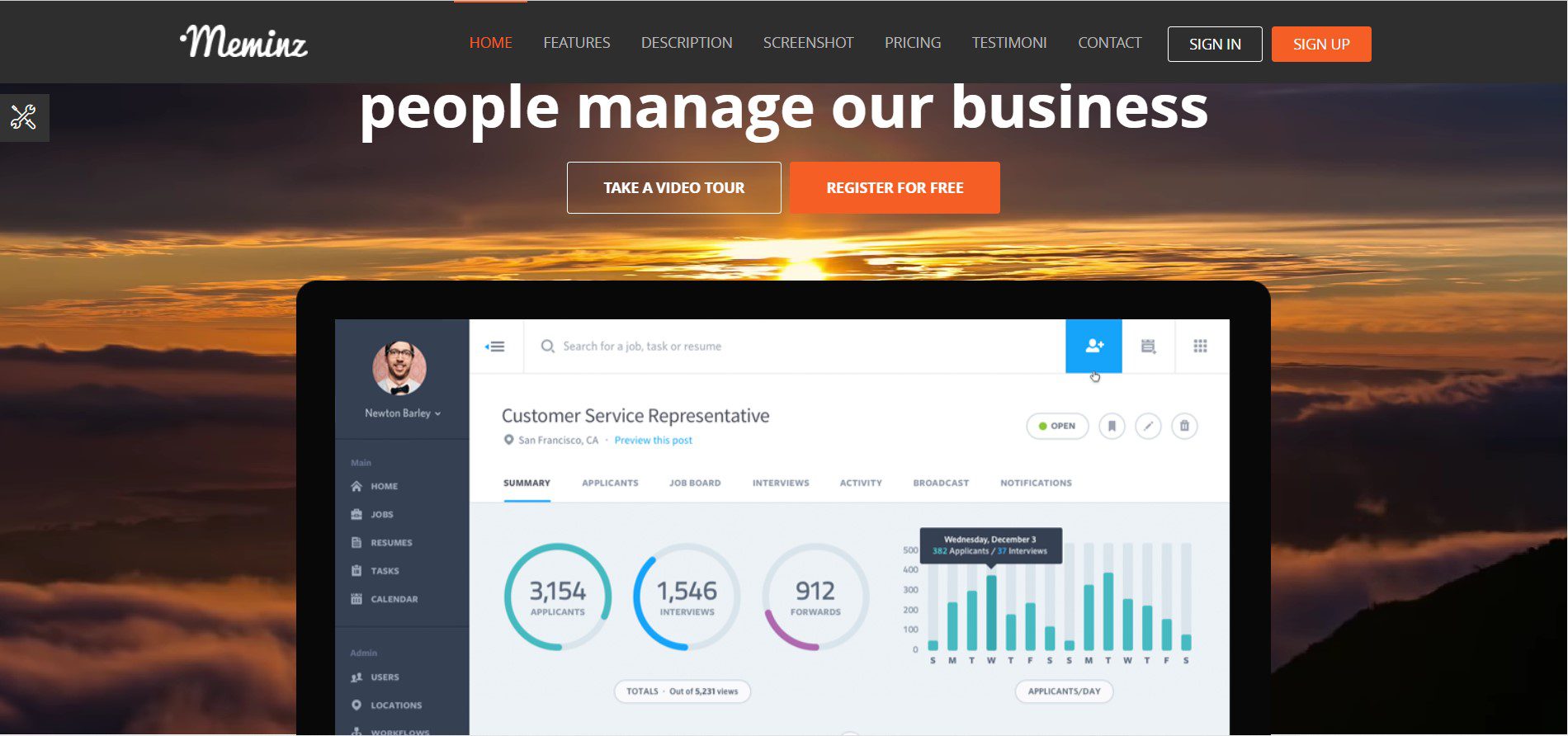 Download
Demo
Meminz is a low-cost solution for individuals seeking The Best Free WordPress Theme for Landing Page. This theme works particularly well for software firms, but it may also be used by other enterprises.
Meminz, a completely responsive and SEO-friendly theme developed with HTML5 and CSS3 and based on the Bootstrap framework, has a lot of current features. It has an unlimited number of color selections, hundreds of Google fonts and Font Awesome icons, CSS3 animation, and other features to help you customize your website.
This Best Landing Page WordPress Themes also provides eight layouts, including a login and registration page. Moreover, as well as six landing page templates with various background, text, and form possibilities.
In Conclusion
We hope you found what you were searching for in our compilation of the 7 Best Free Landing Page WordPress Themes. To create a high-converting WordPress Landing Page, you may also use landing page plugins.
If you want to read more WordPress-related articles, you may keep checking our website – ThimPress.
Read More: Free Landing Page WordPress: 11 Super "Wizards"
---
Contact us, ThimPress:
Website: https://thimpress.com/
Fanpage: https://www.facebook.com/ThimPress
Youtube: https://www.youtube.com/c/ThimPressDesign
Twitter: https://twitter.com/thimpress