These days, fierce competitions are something we all expect in almost every industry. Especially when it comes to food and drink. Opening a restaurant is already a tough experience since you have to conform to all the laws and regulations regarding food safety. You also have to serve the best meal to your customer so that they will come back.
One more thing to do after having a lot of great dishes and cuisines ready is how to attract your customers. The first step in doing so is to build a high-quality website about your restaurant and send it to other people. The key is how to have a beautiful nicely designed Restaurant website without paying too much time on it. Let me help you with that, below is the list of the 6 best and most Luxury restaurant WordPress Themes for you that will definitely help you with your business.
WordPress Restaurant Theme – Resca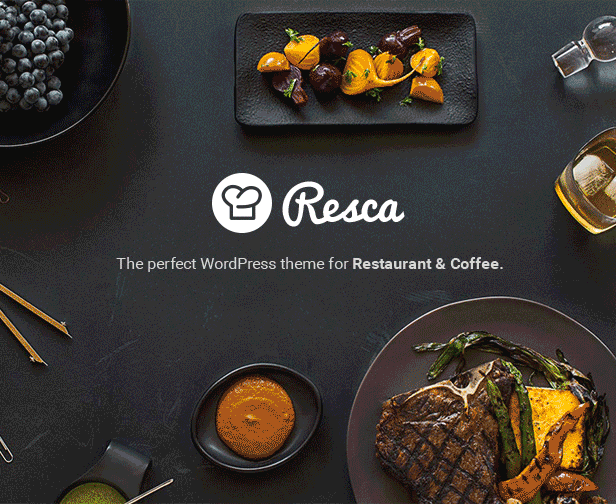 Resca is a warm, welcoming Luxury Testaurant WordPress. It's designs are beautiful and inviting. It also appeals to every customer to enjoy the wide range of delicious morning pastries, sourdough bread, lunches, and dinners from the restaurant.
More than that, Resca combined all the features of a perfect restaurant online: Showing off the menu list of your fancy food, allowing guests to order, making a reservation…
What's better in Resca
Easily configure: With the drag-and-drop page builder. Practically almost any design, template, and layout can be made without even writing a single line of code. In addition, the theme's Customizer covers hundreds of options for you to change your restaurant website to the one you had in your mind.
Smart and improved Restaurant menu and reservation plugin. They are made exclusively for this restaurant theme, make it different from all other restaurant themes.
WoodPecker WordPress Professional Theme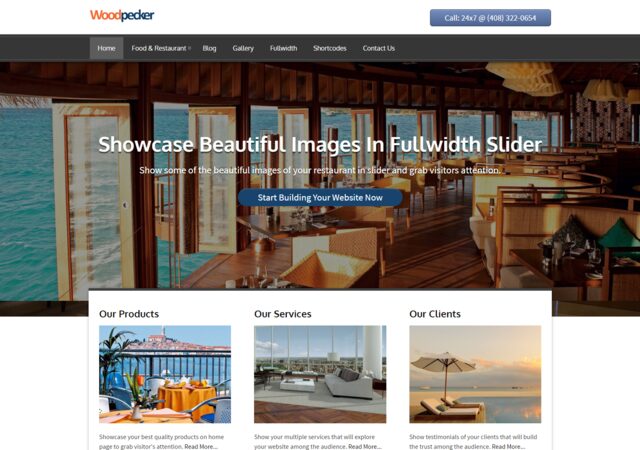 WoodPecker is a food and restaurant business WordPress theme. It comes loaded with tonnes of astonishing features and also easy customisation option. You can give a classic look to your restaurant & food ordering business. This theme is also multipurpose through which you can design any business niche specific websites.
Star Feature Of The Theme –
Homepage bottom tagline feature where you can give a catchy tagline related to your restaurant and food offers with a button text that will redirect visitors to your contact address.
This theme is a good choice to go with if you want to establish a thriving website for your food and restaurant business.
Restaurant WordPress Theme – NEM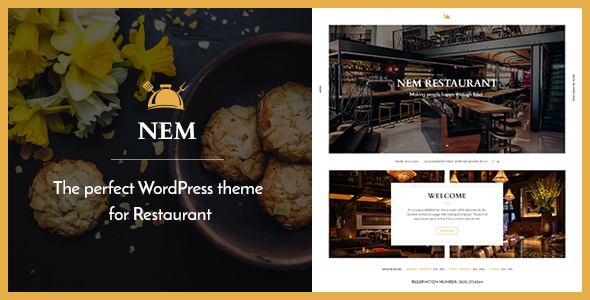 Recently released WordPress Restaurant theme NEM is undoubtedly one of the most gorgeous themes for restaurants. This is one of the most Luxury restaurant WordPress
NEM is so special because it makes delicate and fluffy cakes, food on the site look even more amazing. Are you a restaurant and serving killer foods and drinks for your customers? And you also want a killer website to make your customers love you, even more, to make them obsess with your food and your restaurant? NEM is the theme you are looking for.
It will bring an authentic and original look and feel to your clients, give them a whole new ordering and eating experience. With the help of NEM, your website, and your restaurant can easily become a go-to place for all foodies.
Harrington – Super WordPress Theme for Business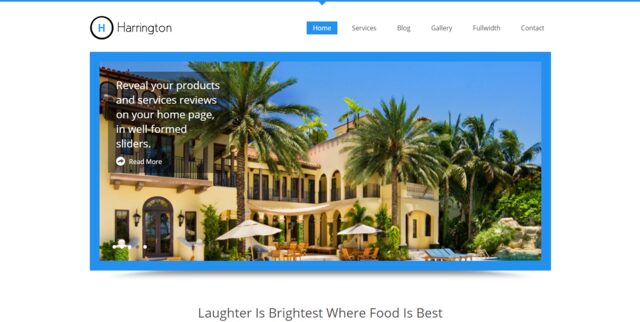 Harrington is another an ideal solution for the restaurant and cafe type of business. The theme is fully flexible and completely responsive that gets adjusted on all types of devices. A phenomenal website can be constructed through Harrington WordPress theme that will let your business stand out of the line.
Conspicuous Feature Of The Theme –
Ken Burns slider with the animation effect that makes Harrington completely outstanding as compared to other WordPress themes. You can adjust the speed of slider from the theme options panel. The maximum you can put six slider images with their description and links. And you can turn on/off the slider option according to your requirements.
Multiple templates such as for blog, services section, full-width, contact page, etc. comes with the theme. One click installation with great configuration will lead you to create a perfect and beautiful restaurants business themes. Grab this amazing theme in just $59.
Holiday – Summer Resort Online Booking WordPress Theme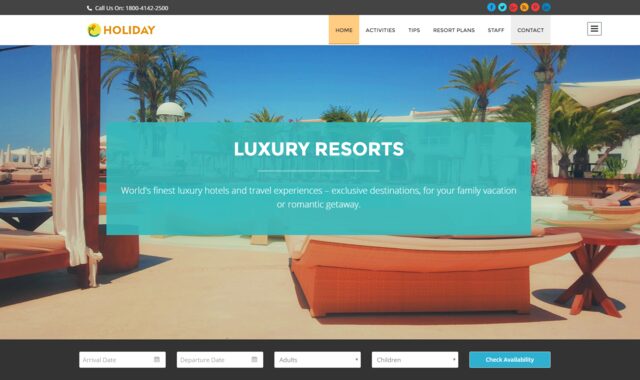 For luxury resorts, restaurants & clubs, hotels, apartments, vacation home, travel booking, spas, retreat centers, leisure hotels, motel, and so much more. Holiday WordPress Theme,which is a Luxury restaurant WordPress, is the one stop solution. This One-page template is so easy to customize and fully responsive. Showcase your restaurant & food corner space in the full-width image slider.
Distinctive Features Of The Theme
Booking Valley Plugin allows customers to check availability and book tables or rooms instantly. Moreover, set Room Facility visitors can select any room and their choice of amenities.
PayPal Payment System offers online/offline payment, and multiple currencies are accepted. A visitor to your website can book instantly with this secure channel payment gateway mode.
Stimulate your business and grab more leads, earn high returns and let communal fall in love with your amazing Holiday WordPress Theme.
FoodCater – Food Catering Service WordPress Theme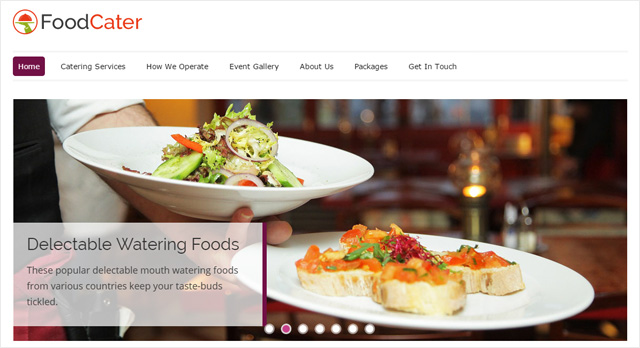 This finest food catering service provider theme can be used by Food Caterers, Restaurants, Cafe's, Wedding Planners. Further, all type of Party Organizers, Event Managers & Coordinators. FoodCater WordPress Theme allows you to build a perfect website in just a few clicks where you can portray all your catering services and ambience in an elegant manner.
Magnificent Feature Of The Theme
Lead Capture Form allows you to grab more leads and convert them. Visitors can also ask for any enquiry through this form. At the backend, all the emails will be saved which you can use it to notify customers about new updates and services regarding your catering service by sending automated emails.
The best method to gain the trust of the new clients is the appreciation of the existing customers and to accomplish this the theme offers you ample opportunity to highlight your facility. Get this beautiful WordPress template in just $79.